Belize and San Pedro
1998 Memorial Weekend trip to Belize. Fly out Thursday morning. Stay 2 nights in the rain forest at Jaguar Paw resort http://www.jaguarpaw.com/ , then 2 nites on Ambergris Caye (island). Highlights:
Inner tubing on the Caves Branch river through 5 caves.
Swimming with Sting Rays and holding a Nurse Shark.
Belize Pictures:
Resort in the rain forest
Inner tubing in caves
Night safari
San Pedro on Ambergris Caye
Snorkling
International airport in Belize City.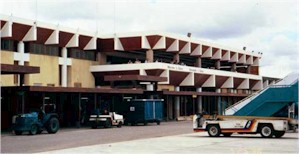 1.5 hour ride on awful roads to get to Jaguar Paw resort. From Belize city, take the Western highway for 37 miles, turn left and go about 7 more miles.Me in front of the main building. at Jaguar Paw resort. Cy and Donna bought 200 acres and opened this place 3 years ago. Great food, friendly people, lots to do.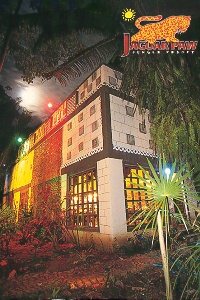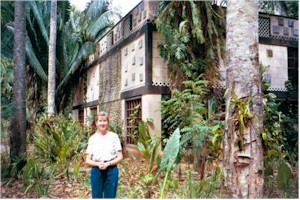 The "scrabble area" behind the main building.
Our room. There were 16 rooms (2 per building). Each was decorated with a unique theme.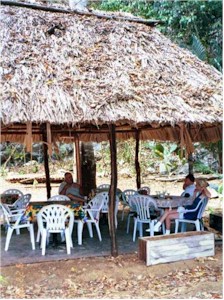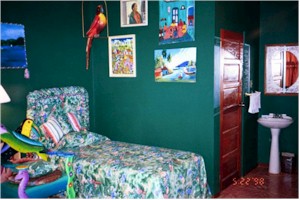 | | |
| --- | --- |
| The pool at Jaguar Paw. | A howler monkey. Donna had a pet howler monkey. They also had 3 dogs, and some coati mundi's as pets. They look a like an anteater. |
| | |
| --- | --- |
| Spelunking anyone? Crystal Cave was a 10 minute walk from our room. | Steps down to Crystal Cave. |
Looking out of Crystal Cave. Pictures don't do this fabulous cave justice.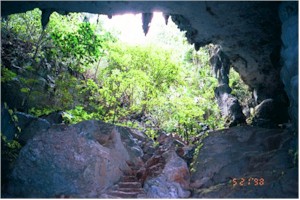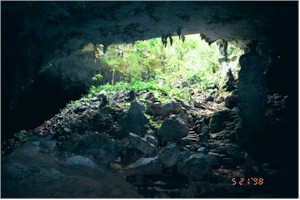 We floated in inner tubes through 5 caves down the Caves Branch River. The water was crystal clear and the caves were very very dark. Our head lamps illuminated beautiful stalagtites and stalagmites. There were no mosquitos and no insects because the numerous cave bats ate them all. Crystal Cave was the most beautiful. We had a 1.5 hour hike to get to the put-in spot. It was sure worth it.
This picture is the entrance to the 5th and last cave on our inner tube safari. This cave was a 2 minute walk back to our room. This is what you see when you enter the cave: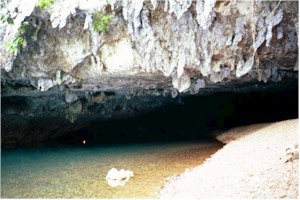 | | |
| --- | --- |
| Me inside the cave. | Inside the cave looking out. |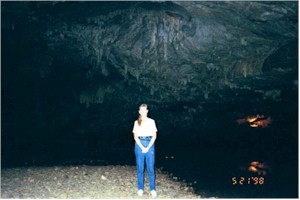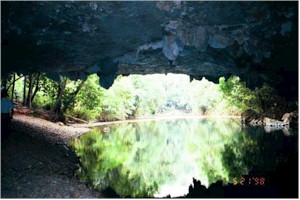 YEOW! I'm glad this didn't happen to me!


Orlando Woman Dies On Dark-Cave Tubing Cruise Excursion In Belize

http://www.wftv.com/news/17577889/detail.html
Sunday, September 28, 2008 updated: 10:48 am EDT September 29, 2008

ORLANDO, Fla. -- A Carnival cruise ship passenger from Orlando died over the weekend while tubing through caves in Belize.

The 52-year-old nurse was reportedly healthy. She had even run a marathon recently, but the river was too much. Witnesses said the river she was tubing down was too full, the current was too strong, and that no one should have been in it in the
| | |
| --- | --- |
| Ready with our head lamps for our night safari. A 2 hour walk through the very dark jungle spotting animals....... | A 5.5 foot very very poisonous yellow-jawed pit vipor snake. You're dead in 25 steps. |
| | |
| --- | --- |
| A lizard on a log | A keel-billed toucan. |
A tarantula crawling up Tarah's arm. She also ate termites. Roberto looks on.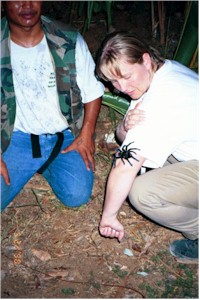 On our walk with the inner tubes, we walked through burned areas of the forest, and slash&burn areas. So sad.
| | |
| --- | --- |
| Burned area near the resort. Slow-moving forest fires were burning out of control all over Central America. | Slash & burn area. Govt encourages "enhancing" the land, so the local burn the forest and plant a pineapple plant. |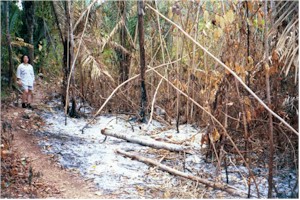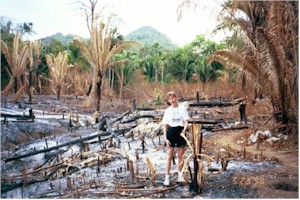 San Pedro on Ambergris Caye (island)
| | |
| --- | --- |
| The Municipal Airport in Belize City. | Our island hopper plane that we took to San Pedro on Ambergris Caye. |
This is the view from the airplane! You can see 50 feet down in the water to the barrier reef. WOW.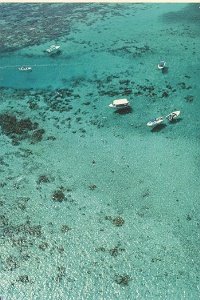 | | |
| --- | --- |
| The Sunbreeze hotel across from the landing strip where we stayed in San Pedro. | The pool at the hotel. |
| | |
| --- | --- |
| One of the three sand streets in San Pedro. | Mayan statue |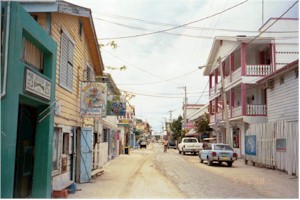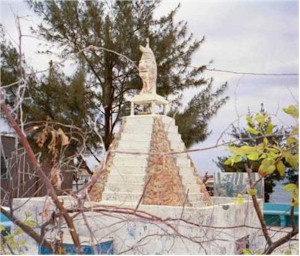 | | |
| --- | --- |
| . Above-ground cemetary | Soccer game |
Here is the dive shop where we rented snorkeling mask. We snorkeled at the Hol Chan Marine Sanctuary so we were guaranteed to see tons of fish, we did. We saw a Grunts, Horse-eye jack, Margates, Nurse Sharks, Sting Rays, Leopard Rays. Wow.. We also saw Brain Coral, Gorgonian, Sea Fans, Sea Whips, Yellow Tube Sponge.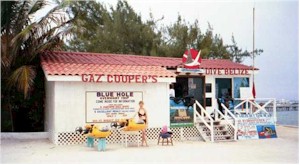 | | |
| --- | --- |
| A nurse shark. I held one like this! | |
Regae band.. red red wine... you make me feel so fine... feel so fine.. all of the time...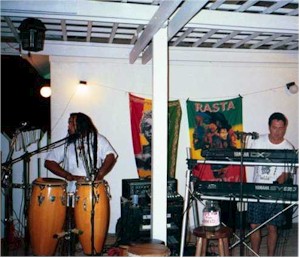 This page and all other pages in the http://www.mytrips.com web site, along with the journals, images, and photos are Copyright © 1997-2018 by Suzanna Travels. All publication rights are reserved. Email: web@ mytrips.com Remove the space after the @