My Far Out Far East Experience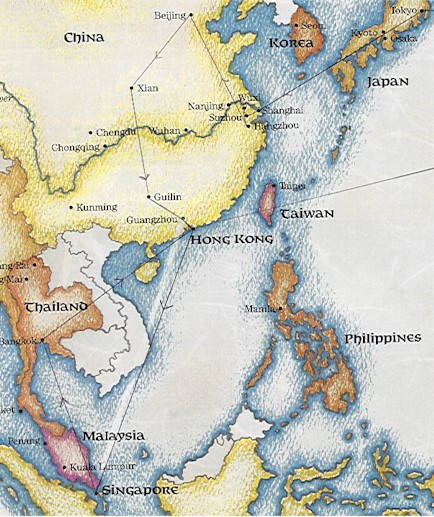 (Also see Vietnam and Cambodia journal.)
I visited the far east in 1993. I spent a month traveling and absorbing as much about this foreign land as I could. This is a short log of my trip through China, Singapore, and Bangkok. Some tips for the trip :
You must see Guilin. It was more awe-inspiring than the Grand Canyon. The Reed Flute Caves were more beautiful than Carls Bad Canyons or Ruby Falls any day. This is where the Joy Luck Club movie was filmed.
Bring a calculator. You don't need to know the language to buy something. You negotiate your purchases by passing the calculator back and forth.
Bring plenty of U.S. $1 dollar bills. Some American money will quickly close any deal.
If you're not eating in 5-star restaurants, bring some beef jerky, peanut butter, and granola bars. I lost 8 pounds on my trip through China and gained it all back in Thailand.
Learn how to eat with chop sticks. Always wipe your silverware before using it.
You can purchase better silk clothing cheaper in the United States.
Always have a card from the hotel with you - in case you get lost….
Always watch them wrap the item you've selected to purchase so they don't switch it with a lower quality item. I learned this lesson the hard way.
Fresh water pearls are very cheap - salt water pearls are more expensive.
---
My trip itinerary of cities included:
USA: Seattle, Washington;

Fly to Tokyo, then to:

Fly to Shanghai;

Train to Suzhou;

Grand Canal cruise to Wuxi;

Fly to Beijing; Xi'an; Guilin; Guangzhou;

Train to Hong Kong.

Fly to Singapore and

Fly to Bangkok, Thailand.
Back to top
---
This was a tour with Pacific Delight Tours, Inc. http://www.pacificdelighttours.com/
Cost was $2490. 14 Days visiting 7 cities.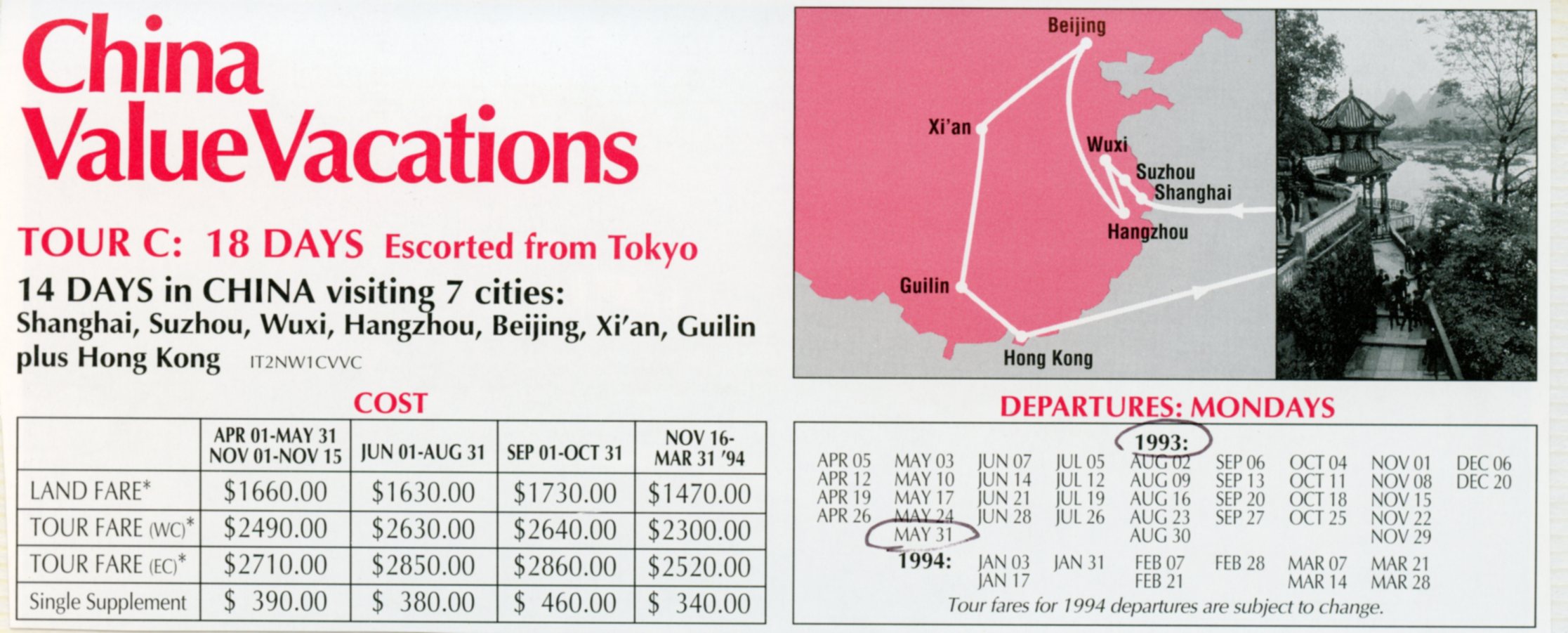 Seattle, Washington and Portland Oregon
Click here to see Washington and Oregon pictures

Before I flew to China, I planned a couple days to visit my 48th state (Washington) and 49th state (Oregon) in the United States.

Leave Atlanta 9 am, layover in the Minneapolis-Saint Paul, arrive Seattle, Washington 1pm. Rent a car. See stuff in Washington State.

Washington State Capitol - I was at the Washington State Vietnam Veterans Memorial on Memorial Day. What an emotional moment to see people read the names carved into the marble wall. I saw the POW/MIA flag that only flies on Memorial Day.

Seattle Space Needle - I went to the top!

Folk Festival - Lots of food, Baltic dancing

Mount St. Helens National Volcanic Monument and Park - Wow!
I drove to Portland, Oregon to visit my 49th state. See stuff in Portland, Oregon:

The International Rose Test Garden
The Grotto - a place of solitude, peace, and prayer. The heart the grounds to Our Sorrowful Mother carved into a 110 foot cliff. It is a white marble replica of Michelangelo's Pieta that I saw in St. Peters Cathedral in '78. It was a great place to start a wonderful trip.

64 acres.

It is a wooded sanctuary.

A 10 hour, 4700 mile flight to Tokyo, then to Shanghai…

Change money. Check into Juan Guo Hotel
Shanghai means "above the sea

"

Population: 13 million with 6 million bicycles. It is the largest city in China.

The pace quickens here, people move faster

.

It embraces a "cacophonous urban life". It is a "frenetically busy metropolis".

Started as a tiny fishing village over 5000 years ago.

Founded in the Song dynasty (960-1279).


Situated at the estuary of the Changjiang River, Shanghai is China's largest industrial and commercial city.


The town of Shanghai was founded in the Song dynasty (960-1279) and became a thriving trading port in the 17th century.
After the Opium War, the city was forcibly opened as a treaty port and suffered from inperialist aggression.
The First National Congresso f he Chinese Communist Party was held in the city in 1921.
There are many scenic spots and place of historic interest in the city such as Yuyuan Garden, the Jade Buddha Temple and the Longhua Temple.
Since liberation, Shanghai has changed into a major industrial base and foreign trade port. It is also one of the scientific, technical and
cultural centres of China.


SHANGHAI
Shanghai is a world-famous metropolis and one of the largest cities in the world.

It occupies a total area of 620 km2.

According to the statistics collected at the end of 1987 the city has a population of 12.495 million.

It is situated midway on China's east coastline and 28 lm upstream the might Yangtse River.


In the early days Shanghai was a fishing village. It gradually developed into a trading port by the 13 century and became China's largest textile
center int he 16th century. From the 19th century Shanghai thrives as one of the leading seaports in China. After the Opium Way in 1840 Shanghai
was forced open as a "treater port" byt he colonialist and reduced to a "paradise of adventurers".






The Yu Yuan Garden is exceptional. "Yu" means pleasure, so it's the Pleasure Garden. It took 18 years to build this 2.5 acre garden 400 years ago.

Children in the garden kids are very special in this country.

Walk along The Bund at the end of Nanjing Lu (road) to try to get away from some of the people. So many people. As an American you may be asked to pose in many picture, especially if your female, and tall with blonde hair. Boy, do you stand out then.

Walk along the waterside Bund. Along the Huangpu River near the Yangtze River delta, the estuary of the Changjiang River?


At the end of the road is the Bund Waterfront.

Our bus paused in front of the "stock market" in Shanghai. People were actively trading in the street. They saw us and started cheering "Americans! Americans!". How lucky we are to have a free market in the U.S.

Nanjing Lu (road). One of the busiest streets. We drove down it many times.



The Shanghai Exhibition Hall
Along the bund, May and I had our picture taken many times - a father with his daughters, and a guy followed us and took our picture --"look at the
Americans!"



Dragon Wall. There is a pearl in his mouth and a fog under his chin.


The Jade Buddha Temple is a famous temple in Shanghai. It was built in 1882, the epoch of Kuang Hsu in Ching Dynasty.
The architecture of the temple consists of three halls:

The Heavenly King Hall
The Grand Hall and the
Wisdom Hall
and upstairs is the Jade Buddha Chamber.
In the temple, there are also Meditation Hall, Reclining Jade Budddha Hall, Bronze Buddha Hall, Mercy Buddha Hall, Monk's Dining Hall, and Hall of
Charitable and pious Deeds etc. with magnificent appearance and all of the building still remain the style of Song Dynasty.


On the ridge of the house: sculpture of Hanshan, Shi de
The Bronze Buddha Hall
Inside the Grand Hall
The Grand Hall

Some of the deciples in the Bronze Buddha Hall
You must take your shoes off before going in to see th Buddhas.


A Pagota is where they store the scriptures. A Pagota is always an odd number high (5,7,9). Monks live in the Pagota and they never go in pairs because an even number will cause the Pagota to fall. We saw a Pagota with 7240 volumes of the Sutra.


This is the building where they keep the Sutra (holy papers).
There are 7240 volumes of Budddists scriptures.


Buddha means "someone who has been enlightened".
The Sitting Jade Buddha "Sakyamuni"
1.9 meters high, 1.3 m wide.
It is a solid piece of white jade. Gems and diamonds all over it.

Great Jade Reclining Buddha. Brought to Shanghai from Singaport by the Zhen Chan. Jade Buddha is 4.05 meters long.


We toured Rug and Jade factory. Saw a 2.5 ton sculpture that took 13 people 5 years to carve.





Making a rug.
She is using the pattern on the paper and knotting threads of wook onto strings.

This is the Great Wall Tapestry took 3 people 4 months to make from the picture. It costs $5000 USD.

Trimming the rug with shears to give it a 3D effect.

Jade sculpting

Jade pieces ready for sale. So beautiful.
Preparing the wool for the rugs.
Sightseeing in Shanghai started at am. Non-stop till 10:30 pm. Put suitcases in the hall for pick-up at 11:30 pm. Wake up call at 5:15 am. On the bus at 6:15 am. Train to Suzhou left at 7:35 am.

Absolutely beautiful train ride.

Ancient Chinese proverb : In heaven there is paradise, on earth, there is Suzhou..

Population 700,000 with 500,000 bicycles. Ancient Chinese proverb: "In heaven there is Paradise, on earth, there is Suzhou." Marco Polo said this was the Venice of the East.

There are 200 gardens, 35 canals and 168 bridges. Gardens are a product of Taoism - "everything and everybody is created equal".

We toured the National Embroidery Institute where they do the famous double-sided embroidery. Silk thread on silk cloth - exquisite works of art. I have a peacock on my mantle. There were 500 workers, 85% are ladies. They work 5.5 days, 50 hours a week and get a 15 minute break every 2 hours. Average income is $150 (US) a month.

We saw Tiger Hill - built in 961 AD. Burial place of King Wu (490 BC)

It is a Chinese custom to adorn the entrance to a new restaurant.

Typical dining experience: 10 people to a table. They bring many plates of food.

Selecting eels from a tank for our dinner. A favorite question was "What is this?"

May learned to not tell us what it was until after we ate it.

We rode on the Grand Canal to Wuxi. The canal is 1400 years old. It is the world's oldest, longest, man-made waterway. It was open to navigation in 486 BC. It crosses/connects the five biggest rivers in China. One fifth of the industrial goods in China are transported on the canal. Cement boats are very common.

Cruise on the Grand Canal to Wuxi. Cruise took 1.5 hours.

We had spectacular vista from our hotel room.
"Wu" means without, "Xi" means without Tin - They ran out of tin in the city. Our tour guide here was the translator for Nixon! He was an intellectual at the university so he was put in a forced labor camp for 1.5 years during the cultural revolution. He was persecuted by the "gang of four". Reagan invited two people for dinner during his visit to China � one of invited guests was our guide�s uncle.

Wuxi produces 3 million pieces of porcelain a year. We toured a factory where each person makes 100 pieces a month and makes 200 Yuan ($35 US) a month.

We saw a fresh water oyster opened.

The production of fresh water pearls is down to a science here. They draw membrane from breeding oysters and plant it (inoculate it) in another oyster. There are water surface and fishnet breeding areas - the lower the oyster in the water, the darker the pearls. Pearls grow a minimum of 3 years, maximum 15 years.

They eat pearl powder for health.

Wuxi is was of Shanghai, the the Taihu Lake on the sourth and the Yangze River (fresh water) on the north.

It is in the Jiangsu Province. It is known as the pearl on the Taihu Lake.

It has a history of 3000 years, and area of 4650 square km.

Population of 4.5 million. It is one of fifteen economic centers.

The West Garden. 11 acres.

Ming Dynasty

500 arhats are guarding it. Each one has a different expression that seems to change as you move.

The Garden of the Master of the Fishing Net. Built 700 years ago. The smallest and oldest garden.

Me in the Humble Administrators garden.

The garden is a product of Taoism "everything and everybody is created equal."

Everything in the garden expertly shows "view interrupt" and "view framing"

Xihui Park is a beautiful 2.5 acre garden. The Emperor loved this garden so much that there is a duplicate of it Beijing.

400 year old dragon pagoda.

A temple is a building for worship. A pagoda is where they store the sutra (scriptures).

Pagoda is always an odd number high (5,7,9). Monks live in the pagoda and they NEVER go in pairs. They are single. If there is an even number together, the pagoda will fall down.

Cruise on the Grand Canal from Suzhou to Wuxi was1.5 hours.

The Grand Canal to ride from Wuxi to Hangzhou was 5 hours. It was about 75 degrees. Lunch on the boat. A 20-minute massage was $3 U.S. dollars.
It is written that those who have not seen West Lake, cannot even imagine such loveliness to exist. The foreign currency, the Yuan, has a drawing of the "3 pools mirroring the moon" on West Lake. The mid-lake pavilion was made 400 years ago. They drained the lake, made it deeper and added 3 new islands.

The Laughing Buddha is carved into "Fly Mountain" where the Lingyin Temple is located. It is believed that Buddism came to China via India. The mountain is so named because it looks like a mountain in India and it 'flew here'. There are 344 buddhas carved into the mountain - a sight to see. The Laughing Buddha represents Taoism - "Take everything easy, let things happen naturally." It is a huge carving in the side of the mountain. You must always smile when you are in the presence of the Laughing Buddha.

We toured a Tea Garden. There are 10 types and 16 grades of tea. A tea bush can grow 100 years. Black tea is fermented green tea. Green tea is tossed in 80 degree pot until ready. Use the leaves to make 3 cups: the first cup is fragrant, the second is for taste, and the third is both.

There are 120 silk factories in Hangzhou. The story of Silk: A female moth lays 400 eggs. They hatch into silk worms. (We saw live worms.) The worm eats 50 mulberry leaves each and grows to about 2" longs and 2" fat. They go dormant, then at 30 days old they spit out silk filament to make a cocoon. There are five crops of cocoons: Spring (the best), Summer, and 3 in autumn. They kill the pupa and soften the cocoon by boiling it. Dead pupa is used to make soap, medicine, etc. Cocoons are sorted - each one yields 1200 meters of silk filament. 10 filaments are reeled together to make one thread. It takes 1000 cocoons for enough silk for one long sleeve blouse. We saw silk looms, dyeing, weaving, printing, drying, ironing, then finally ready to sell at ~ $12 US dollars a yard.
The capital of the Peoples Republic of China. The mandarin pronunciation of this city is "Peking". It gets 1.5 million tourists a day. Mostly Japanese, then American, then European.

We visited a Cloisonne factory. This is copper body and wire inlaid in enamel. "Chingtai Blue" originated from this process.

Tian'anmen Square is the world's largest plaza and the arena for democratic masses. The square is 98 acres (of concrete). It can accommodate a rally of one million. The square is truly majestic and solemn. It is lined with monumental public buildings and the front of the Forbidden City. The Forbidden City and the Imperial Palace was the permanent residence of the emperors of the Ming and Qing Dynasties. It is the largest and most complete extant group of ancient Chinese architecture. You can stand in the Hall of Supreme Harmony, the Hall of Preserving Harmony, the Palace of Earthly Tranquility, and the Hall of Mental Cultivation. Make sure you see the 9-dragon wall. Only the emperor could use the number nine and the color yellow.

The Ming Tombs is a burial sight for 13 of the Ming Emporors. The first tomb was built in 1409. The dragon and phoenix (a female dragon) gate is the entrance to the approach that is lined with magnificently carved stone and marble sacred animals and figures. The stele resting on the tortoise back represents longevity.

The soul-stirring Great Wall is 7300 km of a solid military defense project with superior technical levels of architecture. Up to 50 feet high and wide enough for six horses to walk side by side. You need to see it to experience it.

The Summer Palace, I believe is truly one of the most beautiful places I have ever seen. Do not miss this spectacular sight. You can walk along a half mile outdoor corridor and see 8000 unique paintings - it leads to a take-your-breath-away Marble boat (Qingyan Fang). See the stage with three layers of trap doors and where Empress Dowager Cixi eat a 124 course meal.

The Temple of Heaven (Tiantan) is a consummate expression of the philosophy that architecture is "music in space." There are 3 levels of altars. Earth is lowest, then human, then heaven. The emperor is the intermediary between earth and heaven. There are 50,000 blue tiles in the beautiful structure.
The Atlanta Journal Constitution Dec 8, 2015 article by Edward Wong:
Beijing issues first red alert over air pollution. Residents brace for "airposcalypse".

Air quality index is above 200 for more than 72 hours. Ranges above 200 are "very unhealthy" 301-500 is "hazardous". Beijing reading 7pm was 253.

Schools are required to close 7am to noon, cars barred from the city on alternate days.

The West has called President Alexander Lukashenko the "last di

ctator in Europe."

"Every election has held since becoming president in 1994 has been condemned by the West as undemocratic.
This is where you can see thousands of life-sized terra-cotta warriors, no two alike, unearthed in the mausoleum of emperor Qin Shi Huang. It covers over 20,00 square miles. They stand in battle formation guarding the tomb. A typical warrior is 1.8 meters high and 150 kgs.

P

it 1 - Discovered in March 1974 when a local farmer was digging a well. Contains 6000 warriors, 40 war chariots.
Pit 2 - Discovered May 1976. Contains 89 war chariots, 356 chariot horses, 116 saddles horses, 900 warriors
A landscape of jutting, mist-caressed peaks marching in ghostly procession beside the lazy Li River. This is where scenes from the movie "Joy Luck Club" were filmed. Do not miss a cruise down the Li River - a highlight of my trip that I will never forget.

After the cruise, visit the Reed Flute Caves - they are far more spectacular than Carl's Bad Caverns or Ruby Falls Cave in the U.S.
Formerly "Canton." The Sun Yatsen Memorial was far bigger than the Fox theater in Atlanta and you could clearly hear someone speaking on the stage if you were sitting in a rear balcony seat.
Before it was given back to England. Where do I start with this city. I didn't have a good experience here. I wouldn't go back. It was worth seeing at least once in a life time though. Take the Peak Tram up to Victoria peak, see Repulse Bay, Stanley Market, Aberdeen.

A cemetery plot here 3' by 5' is $50,000 US dollars. A country club membership is about the same cost.
A beautifully clean immaculate country. Chewing gum is prohibited. We took the cable car across the harbor to visit Sentosa.
Bangkok, Thailand
My grandparents lived here in 1960's! What a treat to visit the exact same temples where they were 30 years ago. My picturees match their slides! I acquired some rice paper charcoal rubbings that my grandmother made on the side of the temple walls. You can't even touch the temples now!

Don't miss the Grand Palace and Wat Phra Keo - a massive complex of sumptuous palaces. The Temple of the Emerald Buddha dates to 1464 and is embellished in a flamboyant style with painted murals, inlaid mother-of-pearl, and a liberal amount of gold leaf. No other Wat (temple) is so ornate. It is mystical, majestic, and awesome. I'll always remember the elaborate richness of the Wat Phra Keo.

The Wat Arun, the "Temple of the Dawn" is also inspiring. It has the steepest steps I've ever climbed up to the central prang for a view of the Chao Phraya River. It is covered in mosaics of broken Chinese porcelain.

The Vimarn Mek Palace is the world's largest teak building an worth seeing.

Road traffic was horrendous - there are no rules. We rode in a tuk-tuk (like a golf cart), saw the royal barges. Skip the Klongs of Bangkok Tour. They take you to gift shops along the canals.


Though never officially recognized by Guinness -- contrary to wide claims -- it's safe to say Bangkok has the longest place name in the world. The city moniker stretches out to this name:
Krung Thep Mahanakhon Amon Rattanakosin Mahinthara Ayuthaya Mahadilok Phop Noppharat Ratchathani Burirom Udomratchaniwet Mahasathan Amon Piman Awatan Sathit Sakkathattiya Witsanukam Prasit.

About the river from the book: Hungry Ghosts by John Dolan

Chao Phraya, muscling its way through the city like a slothful blue-brown lava flow. It carries with it sediments of the alluvial plain through which it has passes on ite long journey to the sea, hence the colour. Sprinkled with week and rainbow spirits of leadked oit, the river nevertheless has a kind of graniloquence, continuing on its way like it doesn't care what anyone thinks.


I was awake for 50 hours for my trip home - I was glad to get back in the US, back is the US, back in the USA!
This page and all other pages in the http://www.mytrips.com web site, along with the journals, images, and photos are Copyright © 1997-2018 by Suzanna Travels. All publication rights are reserved. Email: web@ mytrips.com Remove the space after the @