New Zealand / Sidney
14 day trip in April, 1999
Gwen, Martha, and me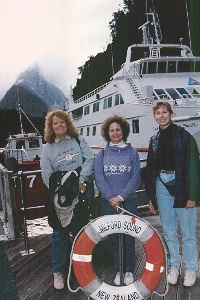 I went down under! What a fabulous trip. Rent a car and drive all over the South Island, then fly to Sydney, Australia. We saw penguins, fur seals, sheep, hugged a Koala, and petted a kangaroo.
We drove all over the South Island:

Atlanta to Auckland (12 hours) to Christchurch
West through Arthur's Pass to Westport
South to the Glaciers, Milford Sound,
East to Te Anau, Dunedin,
West to Queenstown
Fly to Sydney.
Sydney to San Francisco (14 hours) to Atlanta
---
Tips etc.
You can drink the tap water. It seemed so odd for me to be in a foreign country and fill my water bottle up from the tap. None of us got sick.
Gwen booked ALL our B&B's on the Internet.
Make sure to take time one night to stop and gaze at the Milky Way.
Expect rain at Milford Sound and make sure you wear insect repellent for the sand flies.
Do not just settle for a wildlife boat tour in Dunedin. Drive to the Yellow-eyed penguin reserve and walk through the trenches to see penguins up close.
Domesticated deer on the menu is "Cervena" instead of "Venison". Sheep is called "mutton" on the menu
Lamb is less than one year old.
Sheep are shorn twice a year. Marino sheep are the dark ones. They are finer wool.
Web sites:
Australia: http://www.immi.gov.au/index.htm
My airline flights and times:
Atlanta to Denver 3.5 hrs
Denver to Los Angeles 1.5 hrs
LA to Auckland 10:30 pm to 6 am - 13 hrs?
Auckland to Christchurch - 2 hrs?
Sydney to San Francisco 11 am to 9:30 am - 14 hrs
San Francisco to Atlanta - 3 hrs.
My cost for all this air travel was 1320 US$
---
Tuesday 4/13 New Zealand bound. Travel Day
Right now I'm on the plane from Atlanta. I don't feel like writing yet. That's odd. I'd rather watch people. Maybe I'll write during the flight from LA to Auckland. 16 hours!
OK write. I want to remember this. I'll just have to type it all later. Maybe if I write neat enough then OCR software will be able to read this if I scan it in. We'll see.
Totally lost track of time now. Atlanta to Denver was about 3 hours. Denver to LA, about 2 hours. We had a 30-minute layover in Denver but all we had to do was walk across the hall (concourse) and we were there. We had about an hour in LA. Flight left at 10:30 p.m. (1:30 am body time) It's a 12 hour 40 minute flight. When we got on they said the time was 5:30 in Auckland so I reset my watch. My watch says 4:20 now so it's been 11 hours. Hasn't been too bad. They served beverages first. I got cranberry juice for a change. Ginger Ale on the other flight. Then they served dinner. They were out of the beef so the stewardess recommended the chicken. It was exactly the same meal as the Atlanta -Denver flight so I traded it for the pizza. I thought it was delicious. (So was the chicken the first time, but I sure didn't want it a second time.) So they had started the movie during dinner. It was Meet Joe Black. I had started talking to the nice people beside me but I really wanted to see the movie. It was pretty good - but I'm glad I didn't pay for it in a theater. So after dinner, after the movie, time to sleep. Yeah right. I was dying. I was so ancy. I could not sit still and I knew I was in trouble. The thought of 10 more hours in that seat. Shit. The lady in the aisle got up so I had an escape. I crawled over the big guy next to me and I was free. Stretch legs, go to the bathroom, relax, then
Crawl back to my window seat and I went to sleep. I slept straight through from 8 p.m. to 1 am. I took 2 Benadryl with dinner and had a little bottle of wine. That finally kicked in. I dazed a couple more hours.
Wake up around 1:30 for a snack. Sandwich and fruit. Looks like we'll be getting breakfast here shortly at 5 am. We're supposed to land at 6. I think. I smell coffee.
---
Wednesday 4/13 Lost day traveling
6 a.m. Arrive in Auckland. It is a beautiful country from the air.
I got a very good first impression of NZ - the bathroom in Auckland airport had very nice soft toilet paper.
M got her suitcase first. Mine came next. Gwen spotted hers so we went on. Turns out it wasn't Gwens bag. Damn. First challenge. Stay positive. Only one flight a day and they said it would arrive the next day. We decided to fly onward.
9:30 a.m. Now we're on the plane to Christchurch. What a fabulous country. Beautiful day, great weather. I can see many islands below. Mountains everywhere. And were' going to drive through them.
We got the rental car, then drove to the B&B. We checked in and met Marge & Tony. Todd was their son. Then we took off to see what there was to see in town.
We parked right by the cathedral in Cathedral Square and walked around. We went "Punting on the on Avon". It was gondola ride on the river. We drank the last of the wine from the airplane. Saw Hagley Park from the boat.
We were all feeling the jet lag so we stopped to get a cup of cappuccino. My body was sure feeling a little tired. I slept five hours on the plane, but I could still tell that I was dealing with a little body abuse.
We went to the Christchurch Botanical Gardens next. Wow. 7500 acres of incredible things to see.
We saw the Bridge of Remembrance. Built in 1923 as a memorial to the New Zealanders who died in WWI.
After walking around a lot we decided to go for a drive up the scenic drive on the mountains. We went to Summit Road. It runs along the Port Hills and there were cows on the road! There was a beautiful overlook of the valley below. There are no guardrails on these roads! We were driving on the left side of the road and I was in the passenger side on the left and the cliff (the rim of the crater) dropped off right beside me. Yeow. I was a little, no a lot nervous when Martha pulled over on the left side of the road so we could stop to take a picture.
We found a nice place for dinner. I had a wonderful curry coconut chicken with veggies and noodles soup.
We got back to the B&B around 7:30.
We stayed in at the Ocean View Lodge at http://www.flyfishingnewzealand.co.nz/
Drive right through Sumner as if you are going to Lyttelton, then the last trun on your left is Ocean View Terrace. First driveway on the right.
Rates are $100 for a couple, $95 for a single. We got a room for all 3 of us for $160 and meals $105 so total was $265. email Marj Allan info@flyfishingnewzealand.co.nz Ph/Fax +64 3 384 1477 Mail: 42c Maces Road, Christchurch, New Zealand
I showered and was in bed by 8:12 p.m. Sound asleep by 8:13.
---
Friday 4/16 Christchurch thru Arthur's Pass to Greymouth to Punakaiki to Hokitka
9:30 am. We all slept great. Martha woke up around 6:30.
We were going to leave Christchurch today, but we'll go sightseeing here instead to wait to see if Gwen's suitcase makes it.
We had a very nice breakfast of pancakes. There was also some type of passion fruit.
Marge washed Gwen's jeans and shirt. Gwen bought a sweatshirt to war until her luggage gets here. She called this morning and they had her bag in Auckland. Good news! It was on a light to CHC this morning. Vacation is getting better.
We check out and paid 53 (26) $ each for our room. Nice people.
We went to the Antarctica exhibit next to the airport. That was very interesting. It was 14NZ$ (7 US$). Exchange rate was .55 so all priced divide by 2 to get the US value. That's pretty easy.
In another exhibit we put on heavy coats and rubber boots and walked in around that was 20 below zero. There was an igloo and we slid down the pile of snow and ice. M and I sledded down the snow hill.
There were some good educational movies and exhibits too. After seeing all that I pretty much decided that I did not want to visit Antarctica.
It's very very cold. Nothing to see. Nothing to do. Maybe I'd consider a cruise that goes there but you stay on the ship. Anyway. I was impressed with the exhibit. It successfully showed how it could feel to be there to show me that I don't want to be there.
Gwen's bag arrived around 11:30. We were very relieved. Gwen was so calm about it all. I gave her a T-shirt and some socks. She was going to buy clothes - jeans, underwear etc. Thank goodness things are really working out now.
What a great trip.
12:30 p.m. Now were on our way to Arthur's pass. 171 km. It's about 7000 feet. A little over a mile. It's sunny out now and little rainy. Intermittent rain. Not bad.12: 30 p.m. We'll pass 6 ski resorts on our way)
Pampas grass grows to 15 feet tall here. They seem very (anal, no that's not the right word) attentive about trimming their hedges and trees around here. There are lots of wineries in this area and lots of "Manicured hedges".
Grapevines are covered maybe in preparation for winter. Lots of sheep and cows in the fields. Even a whole field of llamas (or alpaca).
Tallest mountain around here is ~ 10,000 feet. There are no indigenous mammals here in NZ.
Passed a "Ski Porter Height" sign.
We're on highway 73. It's a major road and we just went over a one-lane bridge! Speed limit is 100 km. Another 1 lane bridge and some switchbacks.
Light rain turned to snow now. My ears are popping with the altitude.
Really incredible views.
I took a picture of Martha looking at Castle Hill. Jagged rocks jutting out of the side of the mountain. Lots of snow capped mountains here.
How fortunate we are to have this opportunity to enjoy this country. This is the way to see it - driving around. Nice road.
M said it look kind of like Alaska - pastures with mountains all around. We're driving through a valley between the mountains. There's a scraggly river running through a huge riverbed. I'm sure it's a raging rapids when the snow melts in the spring.
We stopped at the side of the road to take a picture of a highway they are building to replace this windy road that we are diving on. It is a little dangerous. Many one-way segments around switchbacks.
We saw a cute little bird. It was about 20 feet away when I took a picture. Then it started walking closer to us. It got right next to the car! We thought it was so cute. We did see a sign earlier "Do not feed the Kea". So that was a Kea bird.
Another sign in Arthur's pass "Give way to up-hill traffic". So the up-hill traffic has the right-of-way.
There are lots and lots of waterfalls around here. Water gushing off the mountainsides. I took a picture of a waterfall that went down the mountain, under the road, then on down the rest of the mountain.
Headed West http://west-coast.co.nz/
4:20 and we arrived at Greymouth. It's at the mouth of the Grey River at the ocean. We could go south and find our B&B, or we could jaunt north to see the Pancake rocks. We went north through Greymouth to Punakaiki.
Seems so odd to see green pasture going all the way down to the ocean. If this were the US, it would all be developed with buildings.
There are lots and lot of white waves.
Punakaiki was well worth the trip. I wish we could have spent more time there. I could have stayed hours watching the waves crash into those rocks and spray into the air.
It started to drizzle rain so we started walking back. Then it started to rain. Then it started to pour. Raincoats only cover so much. We all got a little damp (very wet).
M drove us south to find our room for the night. On the way we came to another one-way bridge, but this bridge had railroad tracks. The sign said to give the train right of way. Duh. So we didn't see any train and no car coming from the other way so we drove on the RR tracks across the bridge. On the over side the train tracks kept going straight, and the road veered off to the right. M didn't see the road and it looked like she was going to keep driving on the tracks so we yell to turn turn!
What a trip. What if there was a train? And what if there was a car on the bridge already.
It was dark when we arrived at Hokitika. We followed the directions that Gwen printed from the Internet and found the Shining Start Log Chalets http://west-coast.co.nz/Search/SearchResult_ov=2918_.htmL and http://www.accommodationwestcoast.co.nz/. We checked into our chalet - It was a log cabin just for us. 1 queen bed (M and I shared) and a twin. One bathroom, kitchen. Right on the ocean. Paid $103 for a three of us in one cabin.
We drove into town for dinner, then that night we went ISO (in search of) the GlowWorm Dell. "The largest above ground glow worn colony in the Southern Hemisphere" Driving driving driving. Martha was sure intent to find those worms. On the map it looked like it was up this road across from the place we were staying. Well, we drove through a cemetery. No worms in sight yet. We did see a huge bunny. There was a psychiatric hospital / mental institution up the road and a hostel. Martha knocked on the door, but no one answered.
We ended up about giving up and drove back to the main road. Drove a block north and there was the sign for the glowworms! It was right there after all. Directly across from our hotel like the ad said.
You definitely need a flashlight to walk along the path up to the worms and we didn't have any. Thank goodness there were 2 nice couples from Oregon who had lights so we walked with them. . It was about a 25-yard walk. Pitch black. We were all in quite a jovial mood - oh yes. The worms were a highlight of the trip, quite incredible. Quite a sight to see thousands of glowing globs all over. Yeah right. It was interesting. Almost like a cave of trees
Glowworm life is 4 stages:
Eggs - 3 weeks to larva. 1.5 inches for 8 months. They drop 70 threads.

Change to pupae and hang from ceiling by threads. Adult emerges after 2 weeks.

They live the 3 days to fuck and die. What a life.
It was a really rough night last night, but a fabulous morning and day. The chalets are literally right on the ocean. A storm blew through last night. It sounded like 100-mph wind. Gwen and I slept right through it. M had vivid reminders of her tornado experience. She said she thought of getting up to close her suitcase so stuff wouldn't scatter if the roof blew off. I slept great.
---
Saturday 4/17 Hokitika to Fox Glacier
We had beautiful weather this morning.
Room was 103 NZ$, so 33 (16 US$) each. Cabin had queen bed and a twin. We took a walk on the beach in the morning. Great surfing waves. Lot and lots of white water breaking on the beach. Went to some tourist places in town.
We drove in town for breakfast and some shopping. We went to a Jade factory. I bought a Paua shell hair clip.
10 a.m. now. On our way to the Hokitika gorge. There's a huge suspension bridge.
It was about 20-mile drive to the gorge. We after lots of turns. There was a gravel road for about half a mile. We drove to the end of the road. It ended in the forest. We couldn't see a bridge anywhere. We parked and found a path. About a quarter mile walk and we saw the suspension bridge. We did a beautiful walk through the forest and over the bridge. Lots of ferns.
So after we "gorged" ourselves, we found our way back to the main road. There were lots of turns.
We've all been drinking tap water here and so far so good.
There are lots of deer paddocks around here.
It's 11 am now and we're starting our trek south. 170 km to Franz Josef glacier, then the Fox glacier after that.
There are only 3 glaciers in the rain forest. 2 here, and 1 in Chile. The glacier moves 1 meter per day. 1 km in 14 years.
Over 80% of the West Coast is protected as a National Park.
Speed limit is about 100 on highways and about 50 in towns.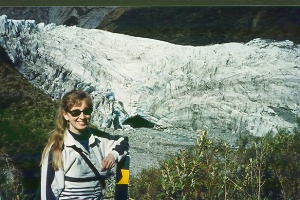 We stopped at the Franz Josef Glacier first. There seemed to be numerous tour buses. What a turn off. We got out of the car and looked, then decided to drive on to the next glacier and hour south. I'm glad we did. The Fox Glacier had no (few) tourists. We parked our car next to about 20 others right there on the dry river bed. We did a short walk/hike to the Fox Glacier. You need to pay a guide to walk on the glacier.
Fox Glacier descends to within 200 meters of sea level. It is 25 km to the Tasman Sea. Glaciers are remnants of the ancient ice sheets, which once covered South Western New Zealand.
When we got back to where our car was parked, the Kea birds were on someone's car devouring it. Kea Birds chew rubber on cars. They had already done the damage to our car. I wonder what the rental company will charge for replacing all the rubber seals around the front and back windows. We don't like Kea birds any more.
After the Glacier we did another walk/hike around Lake Moriaki. There was one cafe there. It didn't sell beer! Oh well.
Then we drive one hour south to the Wilderness Lodge http://www.wildernesslodge.co.nz/wildernesslodge/lake-moeraki/. This was our one night to splurge in a 5-star resort. It was 190 (100 US$) each. Includes an awesome 3 course dinner. Venecin and perfect veggies. Decadent dessert: Chocolate cheesecake with raspberry sauce. I had lemon coconut "loaf" with vanilla sauce on top. Yum Yum Yum. Wine too.
We were the only guests in the entire resort so they really catered to us.
That night wash hair and to bed at 8:52.
---
Sunday 4/18 Lake Moeraki (about 1 hour south of Fox Glacier) to Wanaka.
Yet another beautiful day. Not a single cloud in the sky. About 60-65 degrees F. Perfect.
Breakfast (served from 8 to 9) was fabulous - yogurt etc., then eggs or pancakes.
I asked again at breakfast if there was anything that would make this venture any more perfect than it is. We couldn't think of anything. Definitely not a man. That would really put a damper on our in-sync travails.
We all stop quite often for a picture and there is usually one of us in each picture. A guy would never have as much patience with all these pictures.
Gwen commented that "you never see a sheep with its head up" They are always busy eating.
This morning after breakfast we went for a 30-minute walk through the rain forest.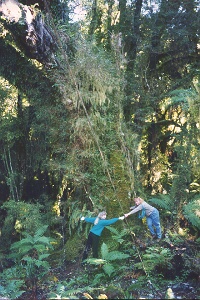 We saw the tallest tree in New Zealand. Walked to the edge of Lake Moeraki. A glacier carved this lake over 14,000 years ago. It is 137 feet deep. Bottom of lake is 100 feet below sea level. Saw a 1000-year-old Matai (Black Pine) tree.
After that walk we went on a walk to feed the eels. They; eat anything rotten and stinky. That was an experience.
After that walk, we packed up our stuff in the cars then set out on a 1.5-hour hike (45 min each way) to the beach.
Seemed so odd to walk all that way in the rain forest (very dense) then end up on the beach. Some sand flies, but not enough to justify bug spray. [I actually should have used it. I was itching for a long time. G or M didn't get bit at all!] Black Fly (Te Namu) or sandfly live on a diet of blood and water. Yup, they sure got some of my blood.
Today we drove from Lake Moeraki (about 1 hour south of Fox Glacier) to Wanaka. Very leisurely nice drive. We stopped just about everywhere for pictures because it was such a sunny day. Today we saw:
Thunder Creek Falls
. 28 meter high (90 foot) falls into the Haast River.
The Gates of Haast
- where the river drops quickly.
Haast Pass
- It seemed uneventful compared to Arthur's' Pass. It was a nice road. Awesome scenery. We all have many pictures of lakes with mountains in the background.
Fantail Falls
- 1800;s there was a waterwheel to drive compressors.
Blue Pools
- Where the Blue River joins the Makarora River. Blue color is from the light refraction on the clear icy water.
There is moss growing on the road here!
I'm not getting much written in this journal because the views are so incredible.
New Zealand has incredibly well maintained walking paths every place that we've been in this country. They put wood walkways so you never walk in water. They put chicken wire over the wood and Martha found out why - the wood can get very slippery here in this rain forest.
When we got to the B&B tonight it was dark. We all got out of the car and just stared up at the sky for a long time. It was the Milky Way! I had never seen that before. It was a cloud of stars sweeping across the sky and a big black hole in the middle.
The lady in the house finally came out to see what was going on. We were gawking and in awe of the sky. She mentioned that she didn't know they were so special to be able to see the Milky Way all the time. Wow.
We stayed at Monterey Lodge. 173 Camphill Road, Hawea Flat, RD 2. Wanaca, South Island, NZ. +64 2 443 1983
I think this is picture of the place. Does this look like heaven or what?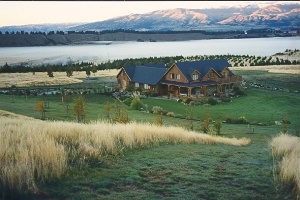 They only have 2 off months - busy all year cause there are 2 downhill ski resorts and one cross-country resort near by.
We drove into Wanaka for dinner. I had a wonderful fish and local beer. The label says "Brewski". Gwen had the sirloin. It looked very good.
---
Monday 4/19 am .?..to Wanaka (stop in Te Anau) to Milford Sound
Another beautiful day in the neighborhood.
Breakfast. - she had put cucumber slices in the pitcher of water - that was interesting. I got to smell vegemite - yuk. Yeasty and salty.
Drive to Te Anau and stop at the B&B to drop off our luggage and pick up the boat ticket. There was no one home. Jeff and Jan were not there, but BJ (the terrier) and Floyd the cat and Nicholas (Hound dog) met us. The front door was wide open so we put our luggage in the back bedroom. We found our ticket on the kitchen counter.
We stopped in town and I had a sandwich at a bakery. M & G had fish and chips. M was going to eat leftovers, but the fish looked so good. We also got dessert, Anyway.
The road from TeAnu to Milford Sound wasn't too bad. Curvy with some switchbacks. Quite nice actually. I say that of course because Gwen and Martha are doing all the driving. Thanks!
Homer Tunnel was closed from 9 p.m. to 8 a.m. every day. It's a very long dark sloping tunnel with 2 bus passing bays. When we passed through the tunnel it was a beautiful sunny view of the mountains. A couple buses passed us. Captain Steve said that up to 2000 people a day visit Milford Sound. That is a lot of buses in peak season. I'm so glad were here now. Perfect weather. No people. We arrived at MS around 3 p.m. There is a lodge there. They sold bug spray and brake fluid in the cafe inside.
We got to Milford Sound around 3, boarded a boat around 3:30. 20 people on board. Full ship is 70. Very nice.
For info go to http://www.redboats.co.nz/home/. We were on "Lady of the South Pacific". 125 feet long, 43 feet wide. Sleeps 67 passengers overnight.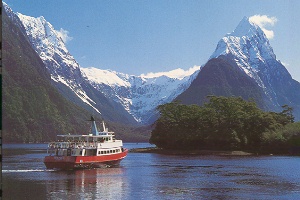 OK - this one is too incredible for words. Here I am sitting on the deck of this boat at the end of the earth. We're cruising out to Milford Sound. I have a glass of champagne in my hand and we are dining with the captain tonight. Now I truly ask - how in the world can it possibly get any better than this?
We're staying overnight on the ship. There seems to be maybe 20 people on board. It can maybe handle 70. It's nice to be here off-season. It's still beautiful out. Maybe 55 degrees F. I'm wearing a turtle neck and light jacket. No gloves (yet). It's very pleasant.
Before we boarded, we did a short walk to saw Sterling Falls. 550 feet. Three times the height of Niagra Falls.
Facts about Milford Sound:
A fiord is a deep glaciated valley. Long and narrow with steep sides. Flooded by the sea following the retread of glaciers. A Sound is a river valley flooded by the sea from rising sea levels and a depression in the land.
There is 10 meters of fresh water on top of salt water. Dark brown tannins wash down. And clear water below. 2-layer movement of water is called estuarine circulation.
The place where the Sound meets the Tasman Sea is (300 meters) 1000 feet to 90 feet deep. Glacial bounders fall into the sea.
There are 200 wet days a year. Yesterday it rained for 23 hours. They get 7 meters (250 inches) (up to 9 meters) of rain a year. A dry spell may be 3 days with out rain believe it or not. Drought in a Fiord is 10 days without rain. At Te Anau rainfall is only 1.5 meters a year
Granite walls rise 1,200 meters vertically from the sea. Mitre Peak is 1722 m.
100 mph wind through the smallest part of the fiord.
The water in the fiord is very calm, even through there are 2 tremors per day in this area.
We saw Bridal Veil Falls. There's a falls named that everywhere there are waterfalls in the world. "This one is ours," the captain said.
The Tasman Sea is named after Abel Tasman.
They have to scrape the bottom of boats before they enter the Sound so they don't introduce foreign animals or plant life to the fiord.
The weather was nice so the captain took us out to the Tasman Sea. He said he hadn't been able to do that in awhile. Some people did some fishing. Funny captain announcements - "Matt will help you. He is a Master Fisherman. And he will even help you bait your hook. He is also a "Master Baiter".
Dinner was fabulous. Appetizer (they call it entree) here was shrimp, mussels, calimari (cooked and cold), and raw oysters. Calimari was the best. I had M & G's oysters too. They were good too. We sat at the captain's table. He had fish. We all had rack of lamb. We had to request mint jelly (mint "get") since they don't usually serve that with lamb.
It was a small portion of meat, but very good. Dessert was a mocha souffle Captain (his name badge said "Master" was very interesting to converse with. He signed my book.
After dinner we had all seen the movie "The Edge" with Anthony Hopkins so we went to bed. I think it was about 10 p.m. Very thin walls on the boat so M and I put in our earplugs after the symphony of belches and farts next door. (He was quiet when his wife arrived)
---
Tuesday 4/20 Milford Sound to Te Anau
Up around 7. Breakfast at 7:30.
Our first rainy day. We do see sun ahead though.
This morning we stopped at the giant floating underwater observatory http://www.redboats.co.nz/Milford-Sound-cruises/423/Underwater+Observatory.aspx 10NZ$. It was interesting, but maybe not worth the cost. I'm glad I went anyway. It is not an aquarium. It goes up and down with the tide. Underwater viewing is 8 meters below. Each viewing window is 160 kg & 120 mm thick.
| | |
| --- | --- |
| | Can stay underwater |
| Fur seals | 10 minutes at 230 meters |
| Emperor penguins | 18 minutes at 458 meters |
| Dolphins | Surface at 5 minutes |
The anchor weighs a half ton.
Mooring is 3 tons cement structure underwater. A buoy floats ropes to tie to. Opened
Sept 6 1995. Make under water world accessible to everybody in the worst weather.
Butterfly perch is white with black dot on them.
Black coral can live over 300 years and 4 meters tall.
Workers on the boat work for 7 days, then they are off 7 days.
The cruises go through the end of April, then the boat is used for research for 3 months (off-season). Maree (served us on the boat) said she would try to find a job in Queenstown for that time. Richard gave Martha his phone number. We will be in Queenstown on Friday. Maybe she'll call him.
We got back to the car around 9:30. The misty rain made for some perfect conditions for rainbows. We saw nine rainbows when we were driving to Te Anu today.
Interesting twist of events. We decided to go on the tour of the caves and glow worms and there is a tour group of over 20 Japanese people on the same boat. It's 30 minutes across the lake. Then the tour of the caves you get in and out of boats in the caves. Usually I am the one in the big tour group, but not this time. The group does expect preferential treatment. I remember vying for the best seats with Globus people on a Cosmos tour. I find myself trying to get away from them (the people in the tour) so I can enjoy the event.
It took 250,000 years to make these caves. They are sandstone and mudstone layer with limestone. This cave is 12,000 years old. The water is 8 degrees. Water level gets up to the waist deep where we were standing.
A brighter light on a glow worm means the worm is hungry.
There are more possum than sheep in New Zealand! Over 70 million on them! They consume over 20,000 tons of fruit, seed, and leaves per day.
Interesting way of writing here. In the newspaper I was reading yesterday they put a "t" instead of "ed". Like "Learnt" instead of "Learned"
Nice place here in Te Anau at Kepler Cottage http://www.fiordlandaccommodation.co.nz/ and http://www.ginz.com/new_zealand/accommodation. Gwen had to wash some jeans again because she got a big grass boo boo from a hidden hole that her foot found when she was walking around the ranch.
Not many people seem to have dryers here. They dry their clothes outside. And it rains so much here - how does it get dry? After Gwen's clothes were done in the wash, they put her jeans on a bar over the dire and raised the bar to the ceiling with a pulley system. Heat rises. Her jeans were dry in the morning. What a great idea.
Sad note: A plane went down in Milford Sound the day before we were there (Saturday) It was a beautiful sunny day and they just lost contact with it somewhere closer to Te Anau. Than Milford Sound. Jeff owned (or worked on) that plane. He has been quieter than normal Jan said. He knows the pilot well. Pilot was a newlywed. Last December he got married. 4 other people on the plane. A married couple and her parents. It's been 2 days and they haven't found anything yet.
Bathrooms and separate hot and cold spigots everywhere.
Every toilet has 2 flushing options - half and full. The Half option saves water when you don't need a full flush. What a great idea. We should do that in the US.
In two of the B&B's that we've stayed in the toilet has been in a separate room from the shower and sink. Odd..
Population of the south island is 850,000.
Population in Dunedin is 100,000
Kea - A robust and fearless parrot. Makes a "Kay-aa" call. They are attracted to human structures. Cute entertainer. Can be come a destructive nuisance. Kea character to dismantle any attractive item with its powerful beak and claws. Vegetarian diet including the rubber window seals on our rental car. Hope that doesn't cost too much to replace.
In Australia they eat Vegemite. But in New Zealand, they eat a similar food called Marmite. It's a yeast spread: yeast, sugar, and salt. I tried it three times. Didn't like it.
University. 3 year degree cost about $70,000 NZ$. Get a "B. Comm" or "B. Arts" degree.
Jeff showed a huge Rock lobster that he had in his freezer.
He also had antlers in the freezer. A vet sawed them off when they were in the "velvet stage". It's called a "Money tree" cause you get $200 a kilo. I buck yields about 5 kilos. The vet has to anesthetize the buck before cutting off the antlers. Then they apply a tourniquet because there lots of blood.
They had a pet sheep named Kramer in the front yard.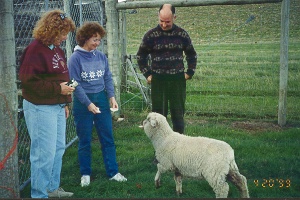 Takahe bird.
Prices are very reasonable here. Dinner in Te Anau:
Lamb - 18 (9 US$)

Venison 19

Sirloin 9 ounce - 20 (10 US$)
Tourist shops know how to gouge you though. T-shirts, sweatshirts, etc are normal prices US$15 to $60.
---
Wednesday 4/21 Te Anau to Dunedin
Driving from Te Anau to Dunedin today. Going through tows of Clinton and Gore.
Population in New Zealand is 3.5 million Jan said. Pop in south island is probably less then 850,000 now. Pop is declining. Banks are closing then businesses close. The government is making bigger parks because nobody seems to want to develop.
Only in NZ would this happen: We were driving down the road and there are about 200 sheep traipsing down the byway. Too funny. Shepherd and 2 tired dawgs are riding on the ATV behind the flock. Sheep appear to be very stupid. They stood right in front of our car and all around it. They had no idea where to go. I'm sure they were very tired too. They finally figured out that we were not going anywhere so they moseyed on down the road. Actually tip-tapped on the road with their hoofs. That was the cutest sound. Gwen would tap here nails on the table to remind us of the sound.
That little event was one that I will never forget.
Arrive in Dunedin. Go to the visitors center to get info. Booked a boat tour and penguin tour.
Drive out to the William Larnach Castle http://www.larnachcastle.co.nz/index.pasp. Checked into our room and did a self guided walking tour of the castle.
Built in 1871-76. Castle was built for W.J.M. Larnarch 1833-1898. E was a banker and politician. Has 250 square meter ballroom. Beautiful Georgian hanging staircase. Italian marble fireplaces.
Everything here is so "unspoilt". Natural beauty everywhere.
We went to the Glenfallach Gardens. It was free (donation requested). Very very pretty.
Dinner at the castle was one to remember. It took a very very long time - but I guess it was supposed to. We sat for it seems and hour staring at our bread roll (bread is a "knot" over here. M asked the overworked lady if we could start. "No" she said. After a long time we asked the man and he said he didn't really mind what we did. So I ate my bread and so did everyone else.
The "entree" (we call it "appetizer") was squash-pumpkin (they called it vegetable") soup. Excellent. I ordered lamb. G and M got fish (cod). Mine was very good. There was a long wait, then finally the dessert - traditional sweet called "Pavlova". Meringue with fruit. I bought the recipe and plan to cook it a lot at home (it's been a year - I've cooked it once). Very low-cal,
Dinner took from 8 to after 10 p.m. It was nice visiting with the other people. Couple next to us was on their honeymoon. Quite a romantic place to come on your honeymoon.
We stayed in the Philodendron room. 1 full bed, a twin and a roll away. We flipped for the beds. G got the rollaway. I offered to sleep in it the second night but she said cocooning in it wasn't that bad.
I've been brushing my teeth and filling my water bottle from the tap - so odd to be able to do that in a foreign country.
---
We had a leisurely breakfast in the stable. Then we drove to the end of Otago Peninsula. The castle was about in the middle of the peninsula so it was about a 40-minute drive to the end. We paid 17 NZ$ to the tour of the Albatross Colony. They had a very informative movie and a nice museum. It was short walk up to the viewing house to see one baby albatross sitting on the hill.
About the albatross:
They travel up to 500 km a day

They can go up to 140 km per hour (that's fast)

Feed only at sea.

Spends over 80% of its life at sea

Only goes to land to breed

There are 24 species of albatross

They lay one egg every 2years. It takes about a year to raise a chick (Sept to Sept) and they take the next year off (at sea), mate, then 13 days later lay an egg, Incubate 80 days. Baby takes 3 days to get out of the shell. One year later is flies for 4-5 years at sea - flying all the time.

They fly from NZ to Chile in 5 days.

They crash land into land the first time (cuz they've been landing on the water for 5 years). Broken bones take days to heal

Lay their first egg at 8 years old.

They usually live 35 years old. "Grandma" lived 65 years old. She laid 12 eggs

Main predators are cats, ferrets, and stoats. They have traps around the chicks here to catch the animals

A study by the British Antarctic Survey, published in the journal Science, reveals that albatross make rapid, round-the-world flight on a regular basis when they are are not breeding. A team lead by John Croxall tracked one gray-headed albatross from its nesting site on the island of South Georgia, deep in the Southern Ocean, as it flew almost 14,000 miles in 46 days. More than half of the birds the team observed circumnavigated the globe, with three of them going around the world twice all in an easterly direction. Since the species breed only ever second year, that leave them 18 months between breeding to go sight-seeing. Universal Press Syndicate copyright MMV Earth Environment Service
I am so glad that we paid to see the albatross. I learned a lot and we got to see the baby albatross pretty close.
Before the albatross tour we drove down to Tairoa head beach but didn't even got out of the car because it looked like just another beach. We didn't know any better. Gwen found out that is where the seals are! We drove back after the albatross tour and got out of the car this time. We could walk between the seals. On the beach there was a dead Blue Shark. I met a lady on the boat tour whose daughter lives here in Dunedin. She said in the summer they put up a double net around swimming areas because of the sharks. Each morning they free the sharks from the nets. There are a lot of sharks around here.
Next adventure was our boat tour. We paid 22.50 for the Monarch Wildlife Cruise.
The boat went along the shore and the baby we saw up close was just a very very small white spec on the side of the hill. We did get the albatross flying though. They came very close to the boat. Quite majestic. Also saw a spec of a blue penguin and fur seals.
Since you only got to see the albatross and penguins & seal from a distance. It really wasn't worth it...
The people on the boat tour didn't see much. I am so thankful that I did not do a cheesy bus tour of NZ now. They were headed back to the bus after the boat tour. We drove minutes to the yellow-eyed Penguin Reserve http://www.penguinplace.co.nz/. WOW. Not enough words to brag about this place.
Yellow-eyed penguins
- the highlight of the trip!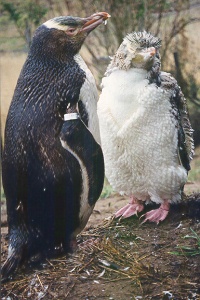 23 NZ$ well spent for the Land Tour of Yellow Eyed Penguins on the Dunedin Penguin Reserve at Harington Point , Otago Peninsula. We booked this through the Dunedin Visitor Center at the Octagon yesterday.
We walked through covered ditched to viewing rooms that were dug into the ground. We were literally 5 inches from 2 penguins who were just sitting there molting. It was spectacular. The absolute highlight of my trip.

Quite a network of trenches. Wouldn't want to get lost in those. I wonder if the pengees could walk over them. We went to maybe 5 or 6 of the viewing boxes build into the sand. We watched the penguins come in from the ocean. They come washing up on shore on their bellies. They are very tired from fishing all day. They just stand on the shore to get their energy back before they start the trek back to the nest. I didn't take any notes at the penguin reserve. It was difficult enough to manage the extra raincoat, binoculars, camera, and panoramic camera. I remember that he said that penguins molt once a year and it takes about a month to molt. During that time they stay in one spot. The mate always waits around until they are done molting. That' the couple that we saw up close. One was done molting; the other was about half done. One had to gashes in his tummy from shark attacks. He spent some time in the penguin hospital, but at least he didn't die. The guide said the yellow-eyed "pengees" are the only type that absolutely cannot be domesticated. One was in the hospital 6 weeks and he was just as ornery that day he got out as the day he went in. Other types of penguins become more tolerant and amenable to humans, but not yellow-eyed.

Amazing that we could get so close to them then. They could see us and hear us talking. Didn't seem to phase them.

We walked along paths between nesting penguins. We gawked at them and they tried to ignore us. The reserve really is a good place for them to nest and the increasing number of birds there prove that humans around in these tunnels don't seems to affect the nesting pengees. They said in 1990 there was a bad algae that almost wiped out the entire colony. The reserve managed to save some and the colony has increased in number since then. I forget how many - maybe 80 couples. Our tour was at 4:45 when the pengees were coming in from fishing. It was starting to get dark by the end. I sure hope all those picture come out. That tour (for me) was definitely the highlight of my entire trip.
Another penguin preserve is at Katiki Point. Check out http://www.penguins.org.nz/
Dinner was absolutely the best dinner of the entire trip. We left the penguin reserve and drove about 15 minutes to the 1908 restaurant in Portobello. M and I ordered "Baa baa black sheep" on the menu, which was written out on a blackboard. It was a large fillet of medium rare lamb. Fabulously good. We all got dessert too. Steamed bread pudding with vanilla sauce and ice cream. Pure decadence. After dinner we waddled back to the car and drove home our castle room
Thursday night - 10 p.m. OK, I had to ask. What could possibly make this vacation any better? Well, we just had the best day and the best dinner of this entire vacation. Baa Baa Blacksheep for dinner. Yum Yum.
And 2 nights at the Castle so it was so relaxing not to pack and unpack. Tonight - pack up to move out tomorrow.
---
Friday 4/23 Dunedin to Queenstown
Breakfast at the castle was in the stable.
There was normal good spread of pitchers of juice, milk. Coffee and cereals, yogurt, fruit (cherry plums - yum) toast, then cooked food by request. The lady looked so over worked who was catering to everyone. Most dinners on this trip were in the restaurants that were run by one overworked couple. He cooked, she waited tables.
Today we drove from Dunedin to Queenstown.
All men here are gorgeous. The shorts that the men here wear are well above the knee - shows off their nice legs.
No one is overweight here.
Lots of Asian tourists. Big groups of Japanese.
Gosh, we had such a nice time. The last night here in Queenstown we all had individual tiny rooms with a bad and a sink. Toilet and shower was down the hall. I started unpacking, and then they found a better room for all of us to stay in. One king and 2 twins. That was nicer than being confined and lonely in our individual rooms. Besides it was our last night together and we wanted to be to together.
It was 42 NZ$ each.
We walked into town for dinner. G got a steak and M & I got ravioli. It was OK. Sauce was good.
Oh I need to tell about our adventure - we went up the Gondola 12 NZ$ each and rode the Luge ride at the top. That was super fun.
Saturday 4/24 Queenstown to Sydney
Small airport here in Queenstown. This is a big tourist town too. Only 2 gates. Hafta walk out onto the tarmac to walk up the stairs to the plane.
We had an hour to kill before M & G's flight so we moseyed/ bee bopped around the lake and gardens. There was a big bus of Japanese that stopped, jumped off the bus, snapped many pictures of the lake and mountains, jumped back on the bus and drove off. That was probably their only photo opportunity. Any here we had an hour to enjoy this phenomenal scenery.
We fed the ducks. I fed one with a broken foot.
"Netball" is a sport here. You play it on tennis courts but with a basketball nets on each end of the court.
Well, M & G left me. I miss them already. I asked M to take one of my bags back for me so all I had to take with me to Sydney was a carryon.
Saturday newspaper said they found the fifth body from the plane wreck by Te Anau. So sad. Paper also had articles on the drought here. Our good fortune with the weather is not helping the drought situation. Too bad.
I arrived in Sydney on "Anzac" Day. Acronym stands for: Australia, New Zealand, Army Corp. Winston Churchill said "The men from the colony were expendable" on 4/25/1915. They sent 80,000 to Turkey. 8,500 were killed. But in 1901 they were a nation not a colony. They don't like Churchill.
I stayed at the Westend Hotel. 412 Pitt Street, Sydney, New South Wales, 2000, Australia.
Pone 02-9211 4822. I paid $85 US$ for a single room with a shower. The hotel is located in the city center - good location to walk to sights.
They have 91 rooms. I think the 90 other rooms were taken by gorgeous men visiting the city for the Anzac holiday.
I booked tours through
Australia and New Zealand Travel Marketing

Level 1, 16 Princes Street Marina, Newport 2106

Sydney Australia

Tel: 61 2 9999 4336
A Combo Tour - Morning sight of Sydney, Harbor Crouse and a Wildlife Tour. Cost was $104 US$.
The symbol of remembrance is a "poppy" in NZ and it's a stick of rosemary in Australia.
There are 11 ferries named after 11 ships that brought the convicts to Australia. Australia was started as a penal colony.
This is the only bridge that you can climb. Only started that 6 months ago. You have to wear a gray suit so you don't startle the driver below.
Flags on the bridge are at half-mast today only for Anzac day.
Ferries will be used for the secure transport of dignitaries and athletes during the Olympics. Covered (sleek) ferried are named after female athletes.
It's 9 a.m. and I'm on the ferry. "Rivercat" ferries. Rivercat holds 230 people. They have 6 of them. They ordered 8 more. They hold 180 people each. It's a beautiful day. It's about 60 degrees F. Blue Sky.
I'm headed to the Blue Mountains 2 hours west of Sydney. I'm going to see how these mountains compare to NZ.
The Blue Mountains west of Sydney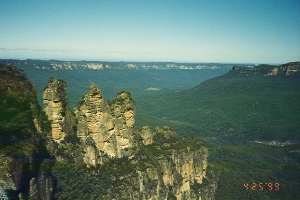 There is lots of Olympic stuff around here. I've already seen an entire shop devoted to pins. They had a couple hundred Atlanta pins already.
Exit Rydalmere. Board bus. 15 minutes to Koala sanctuary.
We are traveling on the Parramatta River. It means "where elves (eels?) Lie down". It's about 40 meters wide.
View at the Blue Mountain is 100 km and 100 percent visibility today. 10-15 degree C.
The 10 most poisonous snakes in the world are here in Australia.
There are 2 types of crocodiles: "Johnson River" and salt water type crocodiles.
Expensive homes around here at 270,000 AUS$.
Koala Park started in 1915.
Greeted by a dingo dog.
Saw a wombat named "Matilda"
Kangaroo and Emu on the coat of arms because neither can take a backwards step.
Dingos can jump a 6-foot fence. or climb a 8-foot fence.
Wombat. burros under ground. Matilda weights 72 pounds. 20 years old. Herbivor.
Weigh up to 30 kg. There are 2 species "common" and "hairy nose"
Lives in colonies.
I hugged a koala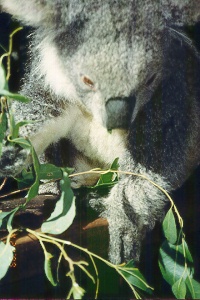 Koalas live 12 to 15 years. There are 45 Koalas in the park. They sleep 18 hours a day to conserve their energy. Their diet isn't very healthy. They are nocturnal creatures. They only eat eucalyptus leaves. Low in protein and carbos so they don't have much energy. They have a good balance.
Our guide has been here 10 years- she has only seen 2 fall
Male had grey line on his chest which he uses to mark the tree at the base.
We saw kangaroos, emus, Wallaroo., Swamp Wallabies, Red Kangaroo, Red-necked Wallaby, Laughing KooKaburra (also called Giant Kingfisher or Laughing Jackass.), White Cockatoo.
The first fleet arrived in Australia in 1788 Jan 26. It took 25 years to find a way over the Blue Mountains.
In 1805 - 300 Irish convicts rebelled and broke out. They were caught at Vinegar Hill.
Sydney is > 4000 sq. km. Over 170 nationalities live here. There are over 700 suburbs and more than 100 McDonalds (statistic comes from the American Embassy).
Our driver lives 45 km SW of Sydney and pays 800 AUS $ a year to the "council". They maintain roads, parks, and pick up garbage once a week.
To slow down traffic they are building round a bouts here and taking out the traffic lights.
60,000 for a "block" (acre") of land. You usually buy the land then build the home with a ~25 year mortgage.
Flowers are good idea if you're alone or in trouble.
We're driving through Kedlyville and Rousetill.
"mushys" are mushrooms.
Over 600 varieties of eucalyptus. Koalas only eat about 18.
Fire retardant.
Bush fires are necessary for eucalyptus trees. Gum nuts from eucalyptus tree only open with the heat of a bush fire. New trees grow.
Aborigines people here 40 million years ago. Only 210,000 left.
Sydney bordered by rivers and a national park.
Now we're driving through Windsor. 113 km (167 miles).
They have a "Bridge to Bridge" ski race here. 43 minutes is the record time. A water skier is towed at 170 km per hour.
Australia exports camels to Arabia. Hump is fat and gristle. Drink 30 liters of water. They can live off fat in hump. Starving camels have small humps.
1823 build 100K road through mountains with convicts in 6 months. They got their freedom and a land grant.
Now we're driving through Agnes Banks. We went over a bridge that was 12 meters under water a month ago.
The Blue Mountains are part of the "Great Divided Range". The widest part is 400 km.
Pop USA is 300 million, pop AUS is 30 million with about the same landmass.
Pop Sydney is 4.5 million or 50 of pop lives in 3 cities. Sydney, Melbourne, and Brisbane.
We're climbing 305 meters, then stop for picture, the 760 more meters.
There is a fine of $3000 for cutting down a tree without permission.
470 km of straight railway lines. The straightest in the world. and longest railway in the world. Sydney to Perth.
Speed limit is 30 km. Fine is $3000 for speeding.
95% of power is from thermal generators. Powered by coal. They may switch to solar or nuclear some time but they have enough coal to last 200-year now.
Town of "Faulconbridge" 5 vowels and half the letters in the alphabet.
There is a stand of Wallamide Pines here- only 38 trees left. They are over 200 million years old. They are the oldest and rarest trees ever.
I took a picture of the Jamison Valley and the "Three sisters"
Skyway is 900 feet above valley.
Railway is 53 degrees steep. 450 meter incline. 250 meter vertical drop tunnel (all natural) 80 meters. I've been on 4 funiculars (Rio de Janeiro, Brazil, Capri, Italy, and Tennessee.) This one was the steepest that I can remember.:
At the end there is 12 steps up and to the right for 6 minutes
Blackheath 1065 high.
Lovette Leap - William Lovett assistant surveyor discovered it June 1831. 690-foot waterfall called "Bridal Veil"
We're in the Blue Gum Forest and Grose Valley.
I took a picture of Aborigines person. They were here 40,000 years ago.
Bus, no "Coach" driver is allowed to work 16 hours a day by law. But only allowed to drive 12 hours a day. Gauge in bus tracks time bus is running. This bus holds 1000 liters of petrol.
I met a girl on the bus from Israel - Nova
1770 Captain James Cook discovered Australia
1816 - Oldest cottage.
Olympic stadium cost 615 million to build. Holds 110,000 people. Plan to tear half down after Olympics so it will only hold 85,000, but 104,000 came to a rugby game already!
Solar powered Olympic Village. Time lapse video cameras on all towers all over the area. Train moves 60,000 people an hour. Olympics starts 9/15/2000. 1956 Olympics were in Melbourne.

Swimming pool bottom raises up so you can adjust the depth of the entire pool or make it level floor. Movie "Ballroom Dancing" was filmed there.

Olympic animal symbols: Platypus named "Sid", Echidna "Millie", Kookaburra "Ollie".
October 1999 Americas Cup in NZ.
70% of the working force did belong to unions. Only 18.2 % now.
Tunnel under harbor. Original building built in 1788. 1932- completed Sydney harbor. It has 6 million bolts and rivets. Cost 21 lives.
Opera house 1973 -completed . Estimate 2 years to build, but it really took 13. 500% over budget. Problems with unions. Conservatoire of music.
We drove my King Edward on horse and St.Marys Cathedral. The Cathedral has never been completed because you don't have to pay land tax until the building is complete. They finally closed that loophole and made them pay tax.
Mrs. Macquires Point and the chair carved into the stone where she sat and painted her pictures. 305 meters high. Highest in Southern Hemisphere.
"Woolliimooloo" means baby kangaroo.
Kings Cross - red light district of Sydney. It is where sailors would come for entertainment.
Population Australia is 19 million. 3.5 in Sydney and suburbs.
Double Bay ("Pay" because it's so expensive) area. Elton John was married here.
I took 2 pictures of harbor from Rose Bay. Got some tile roof in one picture. Many many roofs were damaged in the hailstorm last week. Newer tile withstood the hail.
Homes with a harbor view are worth more than homes with an ocean view.
Drove by the Vauclause House. Owned by Wentworth Family. He was first doctor in Australia. Charles Wentworth (his son) was one of the first to cross the Blue Mountain. The Australian constitution was signed in this house.
There are many many million $ homes here. One sold for 16 million. They tore it down, build 2 smaller ones, sold one for 13 million and they live in the other one.
Watsons Bay. This is where Doyles famous seafood restaurant is.
South Head - entrance to Sydney Harbor.
During WWII they put a net across here to stop submarines. 3 sneaked in behind ships and on sub sank the HMS Kuttable. Cost 17 lives. There are 3 hulls of subs on display.
Bondi Beach was the first beach in the world to have lifesavers on duty.
Oxford Street area - gay and lesbian Mardi Gras held here every year.
Walkabout Sydney.
Fountain - commemorates the association of Australia and France in the Great War 1914-1918. Erected in 1932. Sculptor Francios Sicord. Given by J.F. Archibald to his fellow countrymen.
Barracks Museum in Queens Square.
Convicts Barracks 1819-1848
Immigrant Depot 1948-86
Courts and Legal Offices 1887-1979
Museum 1979 to present.
Built by Frances Greenway architect - a convict transported for forgery. He designed several buildings in Sydney. He was ordered to go back to England because convicts shouldn't have such nice places to live.
St.James church across the street.
My pen is starting to run out of ink.
This is my Last night in Sydney.
Need to tell about my great days here. Right now I'm enjoying a Victoria Bitter Beer. I've been walking for about 4 hours seeing this beautiful city. My feet are killing me. It's about a 6-block walk back to the hotel. This beer should help.
Sign by the Sydney airport "Building our Olympic Airport"
There is lots of construction around the airport, but not much around the city.
Now I'm on the plane home
So far so good. Window seat in the empty row. 10 more minutes to take off. 1 p.m. 13.5 hour flight. close call. Someone wanted to move to the aisle seat but I asked him to move to the aisle seat on the other side. 5 minutes to take off. The aisle seat in this row is supposed to be taken. Anyway.
So what did I do in Sydney.
On Sunday and Monday it was a national holiday in Aus and NZ. ANZAC Day. Aus NZ Army Corp.
Many streets in the city were closed for a big parade of all the war veterans. I wondered what all those men checking into the hotel were in town for. It's like our Veterans Day, but it's bigger here. Only 3 men are still living that fought in the World War I in 1918. I think NZ only had 3 still living too. All the people who served the country are in the parade and celebration.
[I made it - what luck - empty row on the 13-hour flight]
---
On Sunday I went on a tour of the Koala / Wildlife park, the Blue Mountains, and Olympic Park.
They picked me up at the hotel across the street at 8 am Sunday. Took a Rivercat boat ride ~ 30 minutes across the harbor, then a short bus ride to the Koalas. I petted a 75-pound wombat and put my arms around a koala. Petted a kangaroo with a full pouch. Saw lots of other kangaroos, birds, etc.
That was well worth it. It was included in the tour. It was ~20 AUS$ (11 US$) if you paid separately.
After the park we rode the bus up to the Blue Mountains. Lots and lots of Sunday drivers escaping to the Mountains. It's about 1.5 hours drive out of Sydney. People were getting out of town cause of Anzac day I guess. Bus driver was very very good. Kept us entertained with stories. Mountains were nice. They were like the Grand Canyon, but with trees everywhere. Just lots of rolling valleys of trees. Saw the three rocks they labeled "The Three Sisters". (There were hundreds of those formations in this Grand Canyon in the US - I really didn't see the big deal.
Say very wispy waterfalls "Bridal Veil Falls" Every country has falls named that. They said the blue color comes at dusk - the eucalyptus leaves color this valley. Well, I have to admit I wasn't overly impressed, but it was worth seeing - just to get out of Sydney for a day.
There was a bad traffic jam back to Sydney too. Road goes from one lane to two-lane back to one. Driver made an interesting comment that if they kept it all one lane, then traffic would keep flowing. Anyone in Atlanta would say to widen it all to 2 lanes.
We got back to Sydney and it was dusk. We stopped at Olympic venues. Swimming stadium. I was very impressed. They are more prepared for the Olympics than we were. Atlanta still had soggy cement. Looks like Sydney is almost ready. It's only construction is around the airport.
Go back to the hotel ~ 7:30 p.m. Very tired. Sent dad, Mary Jo, Sharon and email that the Internet cafe across the street from my hotel. Then I ate Pud Thai. Very good.
Next day (Monday) more tours. City sights in the morning. Lots of other tourist at these places. At Mrs. Macguires chair I put on my Olympics 2000 Beijing (Peking) t-shirt. I sure got a lot of second looks from the Japanese people. That was fun. I tool scattered notes on this sightseeing day. After City Sights - lunch cruise around the harbor. Good food. Perfect day.
T-shirt temperature. Sunny. Took lots of pictures of the harbor. There were 3 other people on that tour from Rhode Island and a nice girl from Israel. They were busy talking at the back of the boat so they almost missed the stop to get off. I waved for them to come on and get off the boat. They had to put the exit gangplank back up for us.
Adventure next. Driver assumed everyone was going to the Koala Park. He was talking about something over the microphone and starting to cross the Sydney Harbor Bridge. I had to stop him because I had already seen the koala. He would take me back to the hotel and I did not want to see the koala again so he told me to just get off the bus right there on the bridge. I was miles from my hotel. I was a little perturbed but what else could I do. I contemplated investigating the bridge climb, but decided that I didn't need that thrill. I walked around the Rocks area. Lots of shops and cafes then go ton a bus going south. Got near Victoria Mall and got off the bus. It wasn't far from the hotel and I wanted to see this mall. Beautiful inside 3 story building. Stained glass windows, very ornate.
I found the perfect beige lambswool seat cover for my car. I still have the one I bought at the sheep farm too. I found some more at the shop next to the hotel. Solid white, fluffy larch for 55 AUS$. That's the best price, but I had no idea what I would do with another sheepskin so I did not get it. Got 2 T-shirts for 8 AUS$ each.
That afternoon I walked all over the place. Went to Darling Harbor, all through Hyde Park, from the war memorial to the other end. Toured a museum.
Limped back home on my very tired feet.
Slept great last night with earplugs so I didn't have to listen to the drippy toilet. I stayed 3 nights for 200 $AUS . Not bad.
Monday 4/26 Sydney to San Francisco to Atlanta
Sydney to San Francisco 11 a.m. to 9:30 a.m. - 14 hrs
San Francisco to Atlanta - 3 hrs.
Sure is nice to stretch out in these airplane seats. Sydney was very easy to get around on the buses and monorail. There is also a subway.
Yup, Americans in general sure are a lot bigger. Sitting here in the San Francisco airport. A stinky lady just sat down beside me. I think I'll try to call mom again. Sharon was home. I get a flight directly to Atlanta instead of going through Denver.
---
WORD
Tramping = hiking.
Jambles = Sandals
Rubbish dump = garbage
"Rolled" ice cream is "scooped"
Ski resorts are "ski fields" here.
Lets get pissed = drunk
Jumper = sweater.
Cash dispenser + ATM
Judder Bars = Speed Bumps.
Sign
Congealed Road = paved road.
Concealed Road = hidden road.
Golf Links = Gold course
Slippery when frosty = slippery when wet.
"New Seal" = Road construction ahead
"Turn left any time with care"
Overtaking lane = passing lane.
Sign approaching Waihola on the road said "Slow Down". The next sign said "No Doctor, No Hospital, One Cemetery".
Class Pommies" is a British person to Australia's "Aussies"
NZ people call Aussies "West Islanders"
There are 70 million sheep on 28,000 farms.
Population in New Zealand is 3.5 million Jan said. Pop in south island is probably less then 850,000 now. Pop is declining. Banks are closing then businesses close. The government is making bigger parks because nobody seems to want to develop.
This fish on menu at dinner was called "Gurnard".
If you visit, check out
Gray Line tours: http://www.grayline.com/Grayline/destinations/pacificislands/newzealand.go

Swain Australia Tours: http://www.swaintours.com/index.htm

6 West Lancaster Ave, Ardmore PA 19003 1-800-22-swain

Gateway to Australia:

Mount Cook Lines http://www.discovernewzealand.com/ 1-800-345-3504

Orient Flexi-Pax Tours http://www.isram.com/orient/index.htm

Air New Zealand http://www.airnewzealand.com/gateway.jsp

New Zealand Tourism Board

Contiki Tours http://contiki.com/ 1-800-266-8454

Quantas Airways

Australian Embassy http://www.austemb.org/

---
This page and all other pages in the http://www.mytrips.com web site, along with the journals, images, and photos are Copyright © 1997-2018 by Suzanna Travels. All publication rights are reserved. Email: web@ mytrips.com Remove the space after the @