Sri Lanka journal posted February 19.
Explore Worldwide tour http://www.explore.co.uk/ Trip code. SLM
I booked with US company Adventure Center www.adventurecenter.com.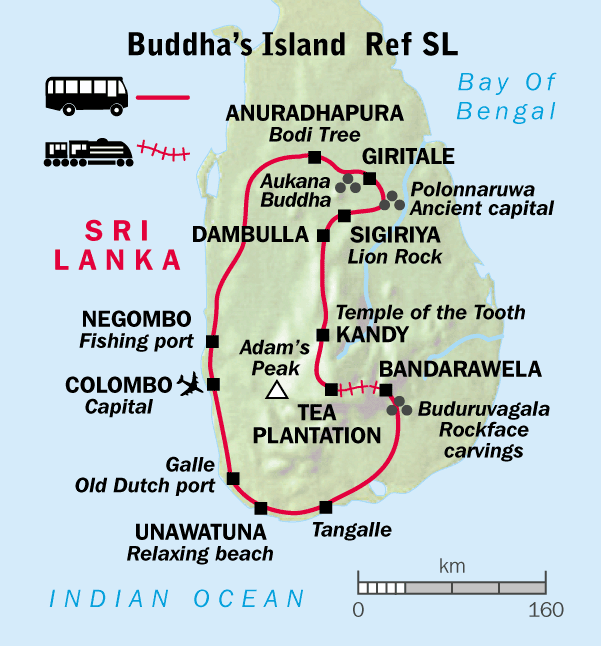 TABLE OF CONTENTS
Introduction Pages 2- 5
Travel Tips for this trip, Web Sites, Money, Food, Weather,

About Sri Lanka, About Monks, UNESCO Sites,
Getting There Depart Thursday Dec 15 Arrive Sunday Dec 18 Page 6
Day 1 Sunday Dec 18. Join tour Colombo / Negombo Page 11
Day 2 Monday Dec 19 Tile Factory, Coconut Shell Processing, Toddy Tapping, Hindu Temple Page 13
Day 3 Tuesday Dec 20 In Anuradhapura; Mihintale Page 16
Day 4 Wednesday Dec 21 Aukana, Dambulla, Batik Factory, Elephant Ride Page 21
Day 5 Thursday Dec 22 Polonnaruwa, Jeep Safari Page 23
Day 6 Friday Dec 23 Sigiriya, Wood Carving, Spice Garden; Kandy Tooth Temple Page 27
Day 7 Saturday Dec 24 Kandy Botanical Gardens, Gem Shop, Elephant Orphanage, Cultural Show Page 32
Day 8 Sunday Dec 25 T-shirt Shop, Univ, Tea Factory, Christmas Drive to the Tea Plantation Page 36
Day 9 Monday Dec 26 Adams Peak Page 38
Day 10 Tuesday Dec 27 Train to Bandarawela, Nuwara Eliya Page 41
Day 11 Wednesday Dec 28 Waterfalls, Buduruwagala, Drive to Unawatuna Page 44
Day 12 Thursday Dec 29 Galle Tour Page 47
Day 13 Friday Dec 30 Unawatuna Page 49
Day 14 Saturday Dec 31 Colombo Tour, River Boat Ride, New Years Eve Page 49
Day 15 Sunday Jan 1 Colombo, National Museum Page 52
Day 16 to Day 22 See The Maldives Journal Pages 53-54
Fly to Male, Hotel, Speed Boat Transfer to Dhoni moored at a nearby island, Sail to Fenboa Finolhu on Meemu Atoll, Sail to Dhiggaru, Sail to Felidhoo; village visit, Sail to Emboodhoo Finolhu, Cruise back to Male; sightseeing tour.
Day 22. Sunday. Jan 8 Tour ends Male Page 54
Adam's Peak - Sri Pada Information from Various Web Sites Pages 54-58
The pilgrimage to the sacred mountain dates back to 100 BC, The Way Up, Sunrise on Top,
The Footprint, Religious Sri Pada, How safe is the climb up Adam's Peak? Perils on the Peak,
Guidelines for Adam's Peak first-timers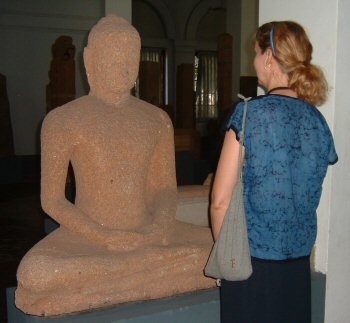 Sri Lanka pictures by Galen Frysinger: http://www.galenfrysinger.com/sri_lanka.htm
You cannot have your picture taken with your back towards Budda!
---
TT's (Travel Tips) for this trip
Arrive a day before tour starts to rest because

it's

non-stop go go go from day 1 to day 10.
Go barefoot to toughen up the bottom of your feet!

It will help you enjoy the temples more if you are not agonizing over your tender tootsies.

 

You can wear socks, so bring some thick padded socks for the temples.
A temples where you must remove your shoes, swap a shoe with someone else because no one is going to take a mis-matched pair of shoes.
At temples you must cover your shoulders and knees, so make sure you pack appropriately.

I would say that is true for entire trip also, especially visits to local towns.
For ladies, a skirt is not such a good idea at temples where you must cover your knees.

If there is a lot of climbing (like Mihintale) you can't be holding your skirt because you need both of hands to hold on!
Do all the optionals. Even if you've done something five times before, every time you do it, something else unique happens.

I've done

safari's

, but this was a first when the jeep got stuck in the mud. That was great fun!
Take Malaria pills.

I did not and I was fine (so far I'm fine one month after the trip, but malaria may not reveal symptoms for 6 months to a year!).

However, the pills are like insurance - just buy it/do it for your own peace of mind.
It doesn't matter if you miss something (significant) on a tour/trip. If you don't feel well, you will have bad memories, so it is better to relax and rest and recover instead of pushing to see and do everything.

If you feel you can't do it, don't make yourself do it.

 

(Both Steve and Clare made a good decisions in Mihintale.)

There is plenty of water at 50 cents a bottle on the bus and snacks (cookies) every day at 11, but sometimes you have late lunch or dinner, so carry some food munchies with your.

On LAX to TOKYO flight. Sit on the right side of the plane so you see the coastline.

For better airport bathrooms
In the LAX International Terminal, bathrooms on the fifth floor are cleaner. You don't need an authorization to enter an airport lounge if you just want to use the bathroom.
Narita in Japan - Take elevator to 4th floor and use the bathrooms up there. You only need a pass to get into the lounges, not the bathroom.
Helpful Web Sites
Pictures: http://www.galenfrysinger.com/sri_lanka.htm and http://www.galenfrysinger.com/maldives.htm
Georgia Buddhist Vihara www.gavihara.org Theravada Buddhist Temple and Vipassana Meditation Center - The Georgia Buddhist Vihara is dedicated to the promotion of the Theravada Buddhist teachings through the practice of meditation, study of Buddhist scriptures, Dhamma School for children and regular religious ceremonies. The Vihara was established in 2000 in Atlanta, Georgia.

http://www.srilankatourism.org/
http://www.worldheritagesite.org/countries/srilanka.html
Flight Tracker http://www.flightview.com/TravelTools/default.asp
Travel Warnings and Consular Information Sheets http://travel.state.gov/ and www.ijet.com
World Health Organization: http://www.who.int/en/ Â  Medical assistance: www.iamat.org
I booked my own flights on Delta http://www.delta.com and Singapore air http://www.singaporeair.com/saa/. Everyone else seemed to use Emirates http://www.emirates.com/. There is also Sri Lankan air http://wwi.srilankan.aero/travelplanner/routemap.asp
Travel Insurance - See www.ustravelinsurance.org. To compare policies see www.insuremytrip.com and www.quotewright.com and www.quotetravelinsurance.com. Med evacuation www.medjetassistance.com and www.internationalsos.com and www.medexassist.com.
Other Sri Lanka tours: http://www.worldheritagetours.com/, http://www.adventures-abroad.com/ tour LK1, http://www.sitatours.com/ Â  http://www.sitatours.com/india/srilanka.html, http://www.intrepidtravel.com/ tour SPA, Â  SAA, http://www.budgettravel.com/, http://www.aseatica-tours.com/, http://www.thegreatoutdoors.com.au/
Singapore Tours from the airport: www.visitsingapore.com Transit passengers with 5 hours can register for free sightseeing tours. operated by WTS Travel & Tours Pte Ltd. Colonial Tour, Cultural Tour, Lifestyle tour
Money
Local Currency is the Sri Lankan Rupee (Rs). Exchange Rate was United States Dollars USD 1$ = Rs 101.930 Rs. That made it very easy for me. Rs 500 was USD $5. Rs 10,000 was USD $100.
Trip cost - In USD cost of the Explore Worldwide / Buddha's Is + Maldive Dhoni Cruise 18-Dec-05 to 08-Jan-06 Tour was 2,220, Airfare 38.45 = $2,258. I think I exchanged about $300. So that is $94 a day for 27 days. I was cheaper than 10 days in Scotland last June!
Trip insurance cost --- $294. Adventure Center uses USI Travel Insurance Services. Tel: 800-937-1387.
Cost to get 461 pictures 4x6 inch printed was USD $133.69.
Food
Very cheap food in this country (compared to the cost of food in the U.S.). "Hoppers" are thin pancakes, like crepes. Put food (usually curry) in it and roll it up to eat it.
Beer USD $.80to $2. Cola $1. Alcohol drinks $2-$3, Dinner USD $4 - $9 for buffets.
I was so worried about eating the food in Sri Lanka because I don't like curry. Well, I loved the food and the curry! What I discovered is that they don't know how to cook curry dishes in America and that's why I didn't like it. They really knew how to cook curry in Sri Lanka. However, they did NOT know how to cook western food. The food on the Christmas and New Years buffets was extraordinarily beautiful, but really not that tasty. Even the desserts were lacking the TONS of sugar that I am accustomed to eating. I really did eat healthier during the trip. Â  Since I've been back, I feel like I'm eating so much junk food and crap. I need to try the "detox" regimen that we learned at the spice garden.
Weather
http://www.wunderground.com/cgi-bin/findweather/getForecast?query=sri+lanka
Year round high temperatures in coastal regions: Colombo averages 80 F (27 C). It is much cooler in the hills with Kandy averaging 68 F F(20 C) and Nuwara Eliya down to 16 C.60 F Springlike temperatures in the hill country, but chilly evenings. Two monsoon periods: Apr-Sep when rain is confined to the southwest; and Oct-Mar when it falls in the northeast.
Time difference is 11 hours . So, Sri Lanka = Florida (11 hours behind). Mobile Telephones use the GSM 900/1800 network. Sri Lanka Telecommunication Authority http://www.explorelanka.com/number.pdf
To Call From Sri Lanka To Florida dial the following number: 00 + 1 + Area Code + the number
The international dialing code for Sri Lanka is 94. Local Codes - Anuradhapura 025 , Colombo 01 , Kandy 08 , Negombo 031 , Polonnaruwa 02. To Call From United States To Negombo, Sri Lanka to dial 011 + 94 +31 + the number. To call Sunset Beach hotel 011 + 94 +31 + 222-2350
---
A pear-shaped island at the tip of India.
25,332 square miles. About the size of West Virginia
267 miles from North to South and 140 miles East to West.
826 miles of coastline (700 miles of this coast line was affected by the Tsunami).
Sri Lanka is separated from India by the narrow Palk Straits.
Around 200 BC, Sinhalese arrived. Kingdoms developed through 1200.
Recorded history begins in the 6th century BC, and the royal line of Sinhalese kings was maintained for over 2,000 years.
Relics of this great dynasty abound and can be found in such historic sites as Anuradhapura, Polonnaruwa and Sigiriya.
Around the 3 rd century BC, the Indian king Ashoka was converted to Buddhism and his son, Mahinda, came south to the island to spread the message of the Sage. A sapling of the Sacred Bo-Tree under which Buddha had received enlightenment was planted and still flourishes to this day. Roughly 70% of the islanders are Buddhist, and many Buddhist countries in Asia look to Sri Lanka for spiritual leadership.
1500's Portuguese
1600's Dutch
1805 put under British rule
1948 became independent Ceylon
1972 name changed to Sri Lanka means "Island of Philosophy".
1983 Tamil Tigers began fighting for a homeland in North and East. Tamil minority against the Sinhalese majority.
2002 cease fire brokered by Norway. Tigers are on terrorists lists in 5 countries.
2004 tsunami killed 30,000 and displaced 1 million people.
2006-7 major fighting again in 25-year conflict. 70,000 killed. Govt finally recaptured area from the Tamil terrorists.
Highest mountain is 8281. Adams peak (4th highest) is 7300. You start climbing at 4000 and you climb 3300 feet up. 4.5 miles long.
Election for President every 6 years. There are 222 in house of representatives.
Population 19 million It is increasing 1.3 %. Muslim and Catholics do not follow family planning program.
74% Sinhalese, 18% Tamil. 7% Moor
35% under 14 years old
25% 14-25 year old
Religion 69% Buddhism 15% Hinduism 7% Muslim 7% Roman Catholic 0.7% Protestant
There re 13 universities with a total of 48,000 students. Univ education is free. At the university students live in accommodations
A lake is a called a "tank". There are no natural lakes in SR. They are all man made lakes. There are 16,000 man-made tanks in SR.
If you have $40,000 USD and you can get citizenship here. You can get 12% interest (that is high!) on your bank account savings. If you need a loan, you pay 11% interest (that is also high!) on a 1 year loan.
Land cost 10 x 10 foot 3 million Rs in Colombo.
Outside Colombo, you can get a 3 bedroom house close to the road for Rs 2 million (USD $20,000)
A "dagoba" is a Buddhist stupa
The island was 60% jungle. Now it is only 18% jungle. Absolutely no logging is allowed. You need a state permit to transport logs. Â  In the bare areas , they now cultivate rice. And they know that they need to plant more trees when they cut some down.
Electricity is hydropower.
Labor Force
38% Agriculture, 17% industry, 45% services (1998 estimate)
To get good merits they give good food to the monks. Locals must give once a month to feed the local monks. Lucian is expected to feed 10 monks lunch once a month.
Monks can vote and run for office. There are 225 in parliament. 6 of them are monks. Monks cannot drive. In SR try to keep religion out of politics so people request monks not wear robes in parliament.
Lucien said Buddhist nuns wear long sleeve shirt. Monks do not wear a shirt here. There are 40,000 Buddhist monks on the island. There are three orders of monks in Sri Lanka. It is every difficult to enter the order, and easy to leave. But they made a vow that if you leave the monkhood, your certificate is not recognized. When a monks dies, they are cremated and their remains put in a small stupa.
Lucian was very nice to share his political views with me. I sure am very open about mine, I think everyone knows how much I don't care for our current leadership in USA and the mess in Iraq. Anyway, I hope Lucien doesn't mind what I write here. In his opinion, monks should not be in parliament. I think he said 6 minks are in elected positions. Now that brings the interest of the church to the state He felt they should have monk hood (is that a word?) If they run for office. Monks have a recognized role for thousands of year, so monks being in a position to affect their own interested is a new concept.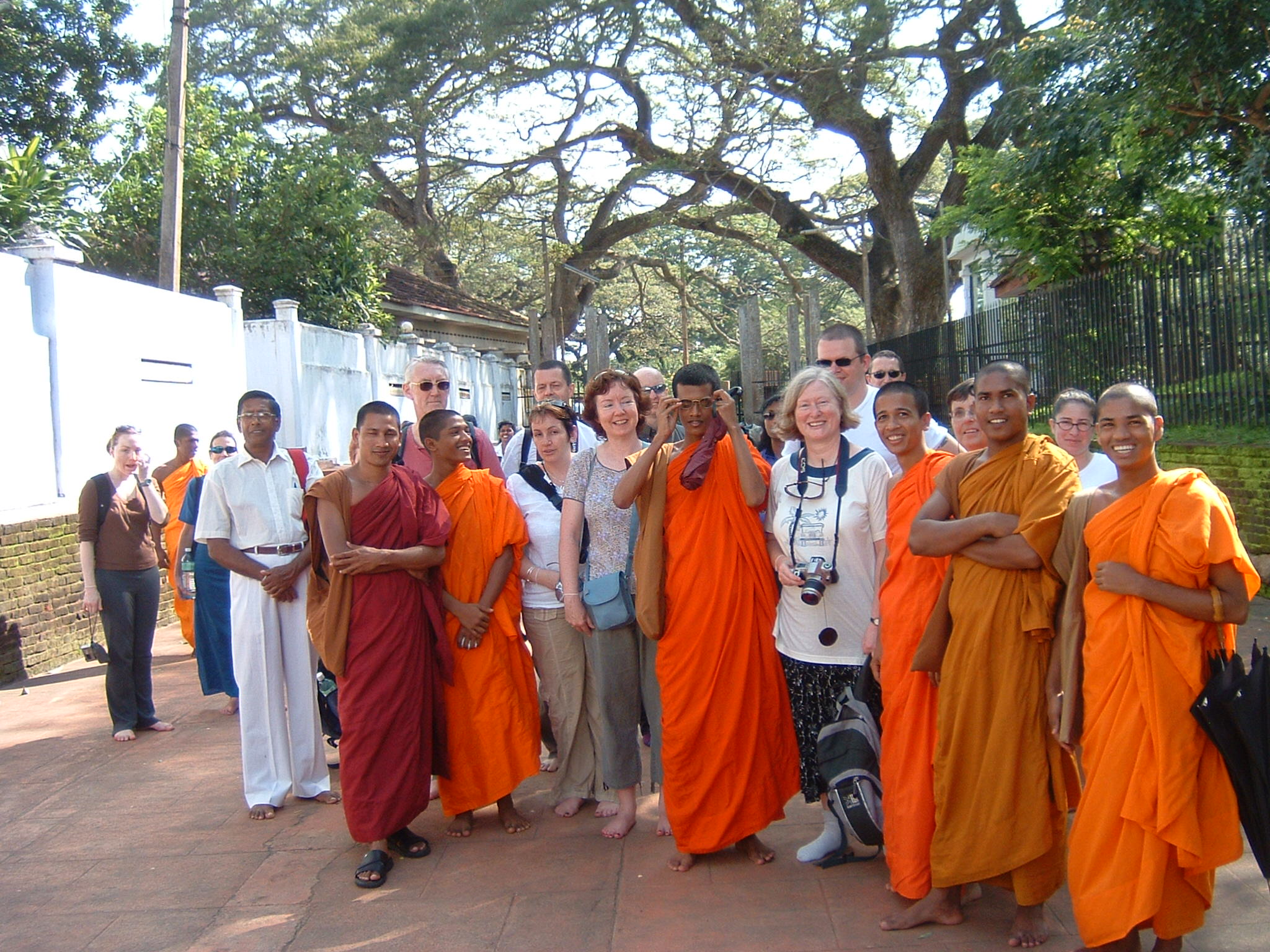 (United Nations Educational, Scientific and Cultural Organization) World Heritage Sites in Sri Lanka (we visit all of these).
Ancient City of Polonnaruwa   10 AD (1982)
Ancient City of Sigiriya and Rock Fortress 5 AD (1982)
Sacred City of Anuradhapura 5 BC Â  (1982)
Old Town of Galle and its Dutch Fortifications 17 AD Â  (1988)
Sacred City of Kandy 15 AD (1988)
Sinharaja Forest Reserve (1988)
Golden Cave Temples of Dambulla 1 BC (1991)
UNESCO seeks to encourage the identification, protection and preservation of cultural and natural heritage around the world considered to be of outstanding value to humanity. As World Heritage sites, they can
(i) Obtain further protection from the threats of destruction due to development proposal
(iii) To obtain international assistance for conservation of them
(iv) To obtain international attraction as sites of cultural tourism
For more information about World Heritage sites: http://whc.unesco.org/en/home/ Â  Note: There are no World Heritage Sites in Figi or Tahiti.
---
It hit on December 26, 2004.
230,000 estimated death toll

15 nations recorded deaths from the waves

9.1 magnitude of the eathquake that caused the waves. One of the most powerful on record. Tore open the seabed off Indonesia

1,500 - number of Hiroshima atomic bombs that wuold have to be detonated simulaneously to equal the earthquake's release of energy

33 feet hiehgt of the largest wave coming inland
Per Lucian: Water flooded for about 20 minutes. It started at the at the NE tip of SR. There was a communications to Kandy about the danger. However, the people in that office were not there to pass on the warning. They should have been there doing their job. It would have saved many lives. At it hit the Southern shore.
From the Sri Lanka Sunday Observer, December 25,2005:
As of Feb 7, 2005:
Of the 248 hotels in Sri Lanka, 137 were affected by the tsunami.
Sri

Lanka has 1449 km or railway track. 11% was affected by the tsunami.

On February 14, 2006 rail service from Galle to Colombo was running.
Sri

Lanka has 96,695 km of roads. 500 km (0.5%) was affected by the tsunami.
Tourism is the 4th largest contributor to Sri Lanka

GDP

,

contributing US$430 million in 2004.

there

were 17,000 tourists on the island when the tsunami struck.
Sri Lanka's wildlife survived unscathed due in part to a sixth sense -

or more likely to ultra sensitive hearing
The highest density of leopards anywhere in the world is found in Sri Lanka.

1.1 leopards per square km.
The only World Heritage site affected was Galle Fort which was left undamaged because it was protected by the ramparts.
Reports of dangers of landmines unearthed by the tsunami are greatly exaggerated.
There have been no reported incidents of disease or sign of any epidemic.
US$2767 million in financial aid has been pledged so far.
Article by Jayantha Sri Nissanka
In Sri Lanka It took over 35,000 lives, injured 21,000, and displaced one million people.
150,000 persons lost their main source of income.
Value of lost assets is US $900 million.
75% of fishing fleet destroyed.
23,000 acres of salinated agricultural land.
98,000 houses damaged.
5,000 people have got permanent housing during the year.
93,000 families are still in temporary shelters. (they may be there another 2 years)
Each family will be granted Rs 100,000 ($1000 USD) to repair a partially damaged house and Rs. 250,000 ($2500 USD) to rebuild a fully damaged house. There is a strict verification process. Money is distributed in four installments. 55,525 families have drawn the first installment and only 491 have got the last (fourth) one.
250,000 households receive two installment (out of four) of Rs.5000 ($500 USD) and food worth Rs.375 per week. About 165,000 received the third installment.
They stopped all breakouts of water bourne diseases which "prevented recording of any post-tsunami deaths."
From www.bouncebacksrilanka.org Sri Lanka Rebuilds:
In the aftermath of the Tsunami on 26th December, the Ministry of Tourism and the Sri Lanka Tourist Board have developed short to long term recovery plans for 15 coastal resort towns for restoration. These resort-towns will be master-planned, taking into consideration zoning regulations and the needs of the community. Commerce and livelihoods will be recapitalised even as property, plant and equipment are restored.
In a cruel twist of fate, nature has presented Sri Lanka with an unique opportunity, and out of this great tragedy will come a world class tourism destination.
---
Sri Lankan Daily News and Reports, Sept 17, 2005 and BBC News Sept 16, 05 - The Sri Lankan Daily News reported in September that the government's cabinet has decided to lower the age of consent for sex from 16 to 13 because, according to Minister Nimal Siripala de Silva, too many men were being arrested under the old law. Also in September, Nepal's Supreme Court ordered the government to ban the traditional practice of confining women to cow sheds during their menstrual periods.
Atlanta newspaper November 18; 2005 Presidential election in Sri Lanka marred by grenade attacks and intimidation that kept many Tamils from the polls. Â  Violence erupted in Akkaraiapattu, 140 east of Colombo. Rebels tossed grenades into a mosque during morning prayers, killing at least four Muslim worshippers.
International Herald Tribune January 9, 2006. A suicide bomber destroyed a Sri Lankan gunboat and 13 of the 15 sailors aboard were killed. It is the most lethal attack since a 2002 cease-fire between the government and the Liberation Tigers of Tamil Eelam (LTTE). This could lead to full-scale war again.
January 29, 2006 Atlanta newspaper: Sri Lankans fee to India amid mounting violence. Hindu Tamil's have been fleeing since the civil war in 1983. In southern India 100 camps house 65,000 refugees. "We can't go to some areas because my young son would be forcibly recruited."
January 26, 2006 Atlanta paper: Sri Lanka leader pack at the peace table. A 2002 cease fire halted a civil war that killed 65,000 people, but violence has worsened since November's election. No date is set for the negotiations to be held in Switzerland.
Miami Herald by Marjie Lambert "Officials plead for tourists in tsunami-ravaged areas". Hundreds of tourists were among the more than 160,000 who were killed [on December 26,2004]. Information: www.pata.org, www.sawadee.com, www.world-tourism.org, www.tourismpartners.org.
---
Day 1, Book 1, Page 1, Hour 1. I left the house at . My car was covered in ice. I drove it into the garage and Dad drove me to the airport in his car. Then he continued driving on to sunny Florida for the winter.
in the airport and my plane leaves at . Everything is in order. I am excited so my heart was beating fast in the first line at the check in. The sign for that line said "International" I got to the counter and she says I'm in the wrong line. She processes me anyway. I don't have any checked luggage. I have everything I need for 27 days in a carry on bag. I really can't think of anything else that I need. I'm sure I have some things that I won't need, use or wear.
I used 140,000 frequent flier miles to fly first class on this trip. After all, it's literally on the other side of the globe! Â  I booked the trip 10 months in advance in order to get very good flights on Delta and Singapore Air. It takes FOUR DAYS to get there!!!!
Arrive Atlanta airport 3 hours before flight.
Depart Atlanta first class on Delta at 15 Dec 2005. Flight time is 4 hours, 36 minutes.
Arrive Los Angeles, CA at 15 Dec 2005. Layover is 2 hours, 20 minutes.
Depart Los Angeles, CA first class on Singapore Air at 15 Dec 2005. Flight time is 10 hours 50 min to Tokyo, layover 2 hours, Flight time is 7 hours to Singapore.
Arrive Singapore at 17 Dec 2005. Layover is 21 hours.
Depart Singapore first class on Singapore Air at 17 Dec 2005 Flight time is 3 hours 10 minutes.
Arrive Colombo, Sri Lanka at 18 Dec 2005.
Total travel time: 60 hours
This is running commentary of my travel experience. I kept all this travel detail so I can read it and remember this part of my trip. If you want to read about the tour. Skip down to the Day 1 topic
I'm thinking now that I will NOT do the Adams Peak hike. I need higher socks. My legs are cold. I guess I could wear 2 pairs of pants if I do the hike.
Atlanta - Los Angeles 4 hr, 36 minutes flight time. It took 40 minutes to reach cruising altitude of 36,000 feet. Real cloth hot towels.
Tyvek cover for my tray and a hot breakfast. Really good scrambled eggs, potatoes, sausage , roll, fresh fruit. About an hour before landing they offered snacks - chips, granola bar, and another drink. I got coffee. My body time is . It's 3 hours earlier in LA. I'm wanting some chocolate ice cream now. I'm sure I'll find some in the airport.
start standing in line to go through security in the LAX International terminal. Board at . This line is incredibility long. I'm glad I didn't stop for ice cream. It looks like the long line in Atlanta, but this line it is stretched out straight from on end of the terminal to the other end. There's an entrance to the gates at both ends of the terminal and both lines stretch the entire length of the terminal. Lots of very anxious looking people.
I think I stood on that line about 30 minutes or less. I wore my shoes through security and it was fine. In the US, they usually make you remove shoes. I located the gate, then headed up to the fifth floor to the Kris Lounge.
The restrooms were at the end of the long hall of lounges for each airline. If you're in the LAX International Terminal, bathrooms on the fifth floor are cleaner. You don't need an authorization to enter an airport lounge if you just want to use the bathroom.
The Kris Lounge was empty when I got there at . Everything that you could imagine to eat or drink was free. Sandwiches with no crust, hot soup, hot food bar, drinks, alcohol. Soda, juice. coffee bar. The lounge was full within 15 minutes. They ate all the Ramen noodles. I ate my lunch, some cheeses, coke, brushed my teeth, relaxed then ready to go again at ( body time). I didn't sleep at all last night. Woke up every 20 minutes. I know I had packed everything that I needed, I probably packed too much. So I was not worried about forgetting something. I think I just wanted to get going. Get on the plane and get there and get the show on the road.
I left the lounge around and they were boarding when I got to the gate.
In 2001 used frequent flier miles to go first class round trip on Malaysian Air to Vietnam. It's been four years of accruing and saving miles so I'm about to see what 140,000 miles for a "free" (38.00 USD) on Singapore Air bought me. On the Atlanta to LAX flight, the seats on the Delta flight were 6 across (three sets of two). Lots of room in the seat and in front of the seat. Foot rests. This flight on Singapore Air is totally different. Enter the plane, turn left to the front. There is one seat in the first row in the nose of the plane. Three seats in the second row where I am next to the window. Twelve seats total in this part of the place. Every person has their own pod. The wings on the side of the seats give you a private little living/bedroom area. I was so impressed when I saw the seat I have the flight attendant, "Irene" take of picture of me in my pod.
This makes into a twin size bed!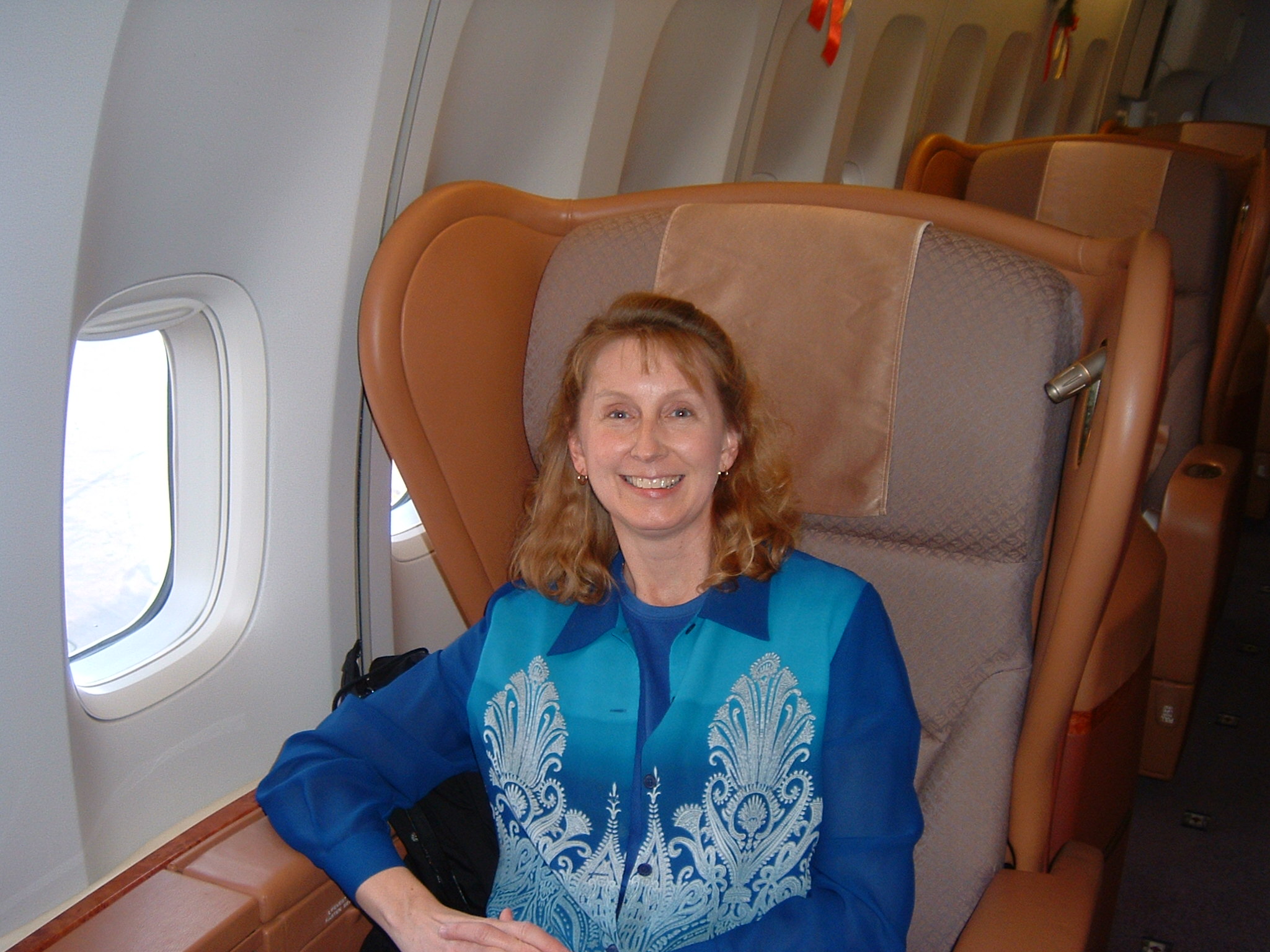 LAX to Tokyo is 10 hours 50 minutes. So arrive in Tokyo. I guess we refuel , then go on to Singapore. Supposed to arrive there at .
Check out the first class cabin: http://www.singaporeair.com/saa/en_UK/content/exp/cabin/firstclass/index.jsp and http://www.singaporeair.com/saa/en_UK/content/exp/cabin/firstclass_seat.jsp They offer "the most comfortable, well-appointed lounge seat in the air today, the Singapore Airlines SkySuite": Indulge in sumptuous amenities, proper turn-down service, fine wines and personalized cuisine. You'll arrive at your destination pampered, rested, and relaxed.
Amenities and superior comfort: Slippers, sumptuously soft terry-cloth socks, and soft eyeshades. Givenchy-designed sleeper suits and Bvlgari toiletry kits. The ladies' bag includes lip balm, body lotion, eye mask, and perfume. Turn-down service where they turn your seat into a bed, complete with down-filled mattress, duvet, and a large pillow. First Class lavatories has cologne and aftershave lotion, moisturizing lotion, toothbrush sets, combs, disposable razors, and shaving foam. You have a writing kit with postcards, envelopes and a writing pad along with an elegantly designed pen in the personal stationery drawer at your seat. They have a extensive collection of newspapers and magazines.
I took the pajamas, but I don't think I'll change into them on the plane. These really did come in handy later in the trip. I wore the top as one of my layers on cold nights at the Tea Plantation and on the Adams Peak hike. I gave them to a girl on the Maldives boat because she was sleeping on the top desk every night.
Wow, lunch looks incredible. 8 courses + 3 more. 1. Canapes - satay and peanut sauce 2. Appetizer - caviar or duck liver 3. Soup - Pork broth or crab bisque 4. Salad 5. Main course Halibut, beef stead, vegetables, polenta cake 6. cheeses, 7. fresh fruit, 8. dessert Chocolate Tangerine gateau 9. Bakery rolls, 10. Hot beverage, then finally Pralines.
Then we get a light meat after our evening sleep 1.Appetizer 2. Main course - Beef ribs or Dim Sum 3. Dessert (Verbena orange jelly) 4. Bakery rolls 5. Hot beverage.
From Tokyo to Singapore we get dinner. 8 courses + 3 like lunch. Main course is Cod Fillet, Pork chop or baked vegetables in a tart crust.
The view from my airplane window is incredibly awesome! WOW! We are following the coast north for a long way. We must have passed Washington state by now, maybe in Canada/Alaska. There are lots of mountains. Miles and miles and miles of coastline. Beautiful country. TIP for an LAX to Singapore (via TOKYO) flight: Sit on the right side of the plane.
They gave us socks, which covered my cold ankles. We also got an eye cover and slippers. Personal service spreading out the blanket. I feel so pampered. They call each person by name every time they address you. I think I heard "Mrs. Morris" a hundred times. They just took my lunch order.
Little islands are appearing off the coastline now. 2:15. We've been flying about an hour now. We are getting further away from the coast and higher. Popcorn clouds are appearing. I'm in heaven! What a vacation. I mean VACATION! This will be one to remember.
But what was I saying that I have a different feeling about this trip. OK I am older , not as energetic. I feel like I'm standing out already. It's easy to spot Americans. I don't want to be a loud pushy demanding expectant American. But in airplane seat, they do cater to exactly that. So much attention. Oh year, we have silk pillows. Anyway, what was I saying.
My hand is going to really hurt from writing so much. I am not used to this. Typing 10 hours a day I can do, but writing I am not accustomed to so much.
OK here comes the linen table clothes. Each pod must be 10 feet long so they slide the table 4 feet so it sits in front of you. There is a 110 electric outlet beside me. Also full coverage / sound canceling ear muffs so you can't hear the plane.
and I only see clouds now. A thick layer of fluff below us. Table is set. Napkin, silverware, salt, pepper, butter, bread plate, water glass. Amazing service with a happy smile. They came by with wines. I usually have red so I got a French Cabernet. The plane is really shaking a lot. I had to hold the glass so the wine didn't splash out. Drinking some of the wine so glass isn't as full helped the problem also. Just like at home. Have my glass of red wine before I go to bed. Caviar was wonderful. Not sure what is was served with. Chopped onions, scallions, boiled egg in smaller pieces than the caviar. Salty and good.
Whew, what a meal. Halibut was really good. Skipped the cheese, went for the chocolate.
Time for turn down service and sleep.
I wish we didn't stop in Tokyo. Just get this long haul over with. Then 11 (or 20?) hours in Singapore at their premiere Kris Lounge. I hope I can get a sleeper room. After I locate Shawn's gate. The plane is really bouncing and shaking.
Really hot towels feel great on my face. There are two bathrooms. They have real towels also. Individual little one for personal use. Fresh flowers and mouthwash also. It's really a nice experience. So after the huge 8 course lunch, they kept the light on a couple hours after to watch movies. We each have our own little theater. I think I saw over 60 On Demand movies in the Kris magazine. I flipped the channel and ended up on 40 year old virgin. Very funny flick. About decided I better get some sleep. I took a pill (Sonata) then adjusted by seat to lay totally flat. You still have the big high back with privacy wings on the side. I think I got about four good hours of deep sleep.
They woke us up to get our next menu choices. Yellowtail (or yellow fin?) tuna or Braised beef. I think cow. After this yummy Dungeness crab and remulade sauce. So we must stop in Tokyo. I'm not getting off. This seat is way to comfortable and private. I've been to that Tokyo airport International concourse before, more than once. I hope they have added onto it. I met May there in 1993. Geez. 12 years ago! I'm away that time flies by so fast. May has been such an understanding tolerant friend. For so many years. The trouble and turmoil she goes through is beyond me. Where does she get that inner strength. I digress.
So after a 4 hours sleep. Crab appetizer, beef very tasty flavor all the way to the bone. It was like a pot roast short ribs. and I'm finished. Some odd but good dessert. Jelly to top it off. And Earl Grey tea to finish all that. What a production. And we do it all over one more time during the 6 hour leg from Tokyo to Singapore.
The toothpicks are individually carved looks like it is turned on a lathe. It's a beautiful little chair leg.
So if it's on my watch, that is body time am or pm? No idea. Anyway, it's Friday. I wonder how the company Christmas party went yesterday.
15 degrees Fahrenheit in Narita. Land time is (1 hour earlier than expected because of favorable winds in Alaska.) We are on the ground for 2 hours at Narita so we must deplane (exit). We are not at a gate because we arrived early so ground transport will take us to the terminal. We come back to the same seats so we can leave stuff on the plane. Just take valuables.
My watch says so it looks like I have to move it forward. It's Friday December 16.
The marking on the tail of the plane says "9VSPB". Check that when I return to make sure I'm getting back on the same plane.
Exit plane get on bus. Arrive terminal, go through security. X-ray carry on. Such a pain for 2 hours. We meet back at Gate 11A and .
I found the Kris Lounge. It was very crowded. Lots of food. They have chocolate ice cream with caramel. I was too rushed in LAX to find it. This place really does bring back memories. They have built a lot so this terminal is very big and comfortable now. I walked by the place where I sat with a couple American guys. I was on my way home and I had a beer with them. Yup, lots of memories in this place. I remember I bought something to get their currency.
Just saw on TV a chemical company filed a law suit against Pfizer. They are our customer. Why am I thinking about work? Stop it.
Life really does not get any better than this. Gold is $499 an ounce. Wow. It does get better. Except for that looming 6-7 hour flight still to go. 20 hour layover, then a final 3 hour flight.
TIP: If I'm going through Narita again to take elevator to 4th floor and use the bathrooms up there. You only need a pass to get into the lounges, not the bathroom.
Kids these days need so much technology. 10? year old girl managing a laptop. She hooked it to the network port, found the electric outlet, played about 5 minutes of games before they had to pack up and go.
Flight time is 7 hours 5 minutes. So if we are leaving that means we arrive after . Holy geez. No, correction, we arrive around . I am really starting to feel the effects of traveling now. I think I've been going for 2 days now with that one bout (stretch) of 4 hour sleep. I'm very tired now.
Dinner is served. Lobster appetizer was really was not that good. Caesar salad was ok. Then the pork chop arrived. It would have been good if I was hungry. It was very thick and tender, but one bite took 40 chews and lots of water. I ate the asparagus and rice. Canceled dessert when they picked up my plate.
The man in first seat go the "turn down" service. He went to the bathroom and they added a mattress and sheets to his bed. Nice. They put it back to a seat after you woke up. I just stretched my chair out horizontal. I got a good sleep for a couple hours.
Singapore is 1 hour behind Narita. My watch says so set it to . We arrived in Singapore Changi Airport Sat Dec 17 at . I'm here from to so that's 21 hours total. Yeow.
The airport was empty void of people, Everything on the first floor was closed. 24 food service on second floor was open. Â  I had to walk the entire length of the terminal to get to the Kris Lounge. I went straight to a sleeper room. I got the last one. It was very quiet. The doors don't lock so I put plastic bag and the table against the door, I changed in the airplane pajamas and tried to get some sleep (shut-eye).
and I got up and out. This lounge is "one of the largest and most luxurious lounges in the world. Major facilities: Internet Access, Telephone, Luggage Area, 18 individual shower rooms, 14 Italian-leather slumberettes in the sleeping area, 42-inch plasma TV screens showing around-the-clock news and sports updates from CNN, BBC, ABN, and ESPN. "
I'm was little recovered from travel since I got a little more sleep. I had a small omelet, one small piece of ham, half a tomato. That did my stomach in. Digestive cramps getting all that rich airplane food out my system. I ate some pink Pepto Bismol.
My cell (mobile) phone works. All five bars for a full strength signal. It says "SingAir".
After sitting a bit after breakfast (until my stomach settled), I decided to take a shower. I also washed my hair. I had to take a picture of that bathroom. They provided soap, towels, toothbrush, comb. Anything that you needed. After my shower I went back to my sleeper room to let my hair dry. I passed out asleep again. I'm was still so tired.
At I got myself up and out again. At 4 I was still not feeling hungry. I wasn't drinking enough water. I did not feel inclined to do a tour. If you have at least 5 hours you can select from a couple different free tours from the airport. I'm just not up for it. I would have done a tour if I had know about it and psyched myself up for it. Â  I also could have gone to hotel, but I wanted to try to meet Gwen's daughter at here in the airport. I decided instead to just relax and chill out. I love airports so I just walked around the terminal. I found the "Sky Plex Entertainment Lounge". Â  8 foot TV screen showing tennis game. 10 other TVs showing news and sports. I saw a trailer about Tamil Tigers attach a helicopter in Sri Lanka. Yeow.
At 6 they could finally knewl me the gate where Gwen's daughter , Shawn, was arriving into the Singapore airport. Her Korean Air flight from Tokyo to Seoul to Singapore arrival at (). Â  I took the train to the other terminal and waited. I have never met Shawn, but I've seen pictures so I recognized her immediately. She has been in Japan a couple years. She has done a lot of traveling. This trip she was headed to Indonesia. That was such a coincidence to be able to say hi. It is indeed a small world.
I hung out in the airport terminal, ride the train back to the terminal where my gate was located. I had a great beef goulash with mashed potatoes and gravy for dinner. My comfort food.
, back on the lounge, I stared talking to a man who was also going on to Colombo. He recognized me from the flight from LAX. He went to a hotel in Singapore for our 20 hour layover. Since it was so late he knew that I was going to Colombo because there are no other flights going out that late. Ivan told me about his companies. Polaris Groups of Companies and Polaris Tours. Â  He does some work with Australian Medical Mission, upgrading the hospital equipment. He also gives tours of Sri Lanka so if you are going to visit, give him a call or email:
Ivan De Almeida
Polaris
Tel +94 11 5361400
Mobil +94 773 237555
He shared a lot of information - Â  Elephant orphanage feeing baby till . Bathing after. Â  At the Temple of tooth - get there by or . He knows the right people so he can get us in the Dalada Maligawa inner chamber in Kandy. I should call him to arrange it with our tour. On the way to Kandy, stop at the Ramboda waterfall. He recommended Labukale Tea Plantation to see how tea is made.
He even had a CD that he gave me. He plugged in his computer and showed me the promo on the Eco Lodge in the Sinharaja Rainforest. It is very well done with music.
Ivan has been to over 130? Countries. What an amazing passport. 5 thick passports stapled together. He has 3 brothers (2 are doctors), 2? Sisters. Â  Married, 13 years old daughter Malisha?. He got her a present from Victoria Secret!
I asked Ivan about changing money and getting a taxi. He was very nice to offer to take me to my hotel. Now I hope the taxi driver does not show up. Talk about standing out - that's me. Obviously from USA. The only blonde hair in the crowd.
OK, I need to go to the gate E3. Christmas carols are playing in the airport. No words, just the music. Geez, still not sure if I'm ready for this whole trip .
Time in Singapore is . Time in Sri Lanka is . Flight time is . ETA 00:12
The Embarkation / Disembarkation card said Democratic Socialist Republic of Sri Lanka.
The pilot said it was 79 degree F temp in Colombo. It felt HOT to me. At the airport you walk through a long hallway of retail electronic stores, immigration passport stamp, get luggage, enter big air conditioned room. At least 8 banks were all open at . I learned later that all banks in airport open 24 hours. No locals allowed in at this point. Change money. 101Rs = 1 USD.
"This receipt should be preserved by the guest to facilitate reconversion of the rupee balance, if any foreign currency at the time of departure from Sri Lanka.
Ivan met me inside the airport. We exited to mass pandemonium outside. Hot and people everywhere. I walked out with Ivan then I saw the sign with my name. I declined his kind offer to take me to the hotel, we said goodbye and I followed the taxi person through the mass of humanity.
I found in on the Internet that " A taxi from the international airport to Negombo should cost Rs.500-600 ($5-6). At the airport Bargain hard because drivers are used to taking advantage of newly arrived tourists." Explore said the approximate cost for a taxi from the airport is $25.00 - $30.00. The hotel is 16km from the international airport and should take 15-20 minutes taxi ride. Â  Â  Â  Â 
I had arranged for the taxi by calling the hotel the week before my trip. I called the hotel and they confirmed my room reservation and took my arrival flight information. I was relieved to see the taxi because it would have been a long drive for Ivan. The taxi dropped me off at the Sunset Beach hotel.
Hotel Sunset Beach
5 Carron Place (off Lewis Place )
Negombo SRI LANKA
031-2222350, 031-2238758
email: sunset@eureka.lk
They showed me to my room. It was nice, very basic. Two twin beds, pushed up against each other. Definitely not 4-star, but fine for my needs.
I got comfortable - it was so nice to take off that bra after wearing it 60 hours! I unpacked what I needed for the night.
I turned on my cell phone and my mobile works! It registered and displayed "Mobiltel". I called direct to Dad and left a voice mail. Then I called T to let family know that I arrived fine. It's here so it's Sunday, no Saturday 2 or in Florida. Whatever. Â  (Note: I got the bill in January. The charge for this call was $27 USD. You certainly pay for the convenience. I was just amazed that the direct dial worked!)
Note to self (travel tip) Fig newtons do not travel well.
In the room there was a bible in three languages: Das Neve Testament, Le Nouveau Testament from the Gideons.
I finally got to sleep around .
---
Day 1.
Sunday Dec 18. Join tour
Colombo
/ Negombo
Woke up at 10. I had a really good sleep. I really feel like I'm into this trip, finally. I have a nice balcony room over looking the beach. I arrived this morning when it was dark, but I heard the ocean. It was like sleeping in the master bedroom in the D-222 condo in St. Augustine. Woke this morning and saw the ocean. Very rough sea. Lots of wind.
It's HOT here. I would guess 83 degrees. We had a "summer shower". Already. Very short span of heavy rain. Made things more humid. Is that possible? Feels like 100 percent already.
It's and I need to take care of my room bill. I packed up my stuff and went down to the lobby. The room cost was Rs 4574 (USD $45.76) and I gave her money for the taxi.
The itinerary said we were supposed to check-in at 1200 () at the joining point Sunset Hotel. I met Jessica in the lobby. No one else was there yet. She did the free cultural tour from the Singapore airport. She said the guide was not very good. It would have been nice, but I was too tired to appreciate anything. I'm still tired now, but I guess the 5 hours of sleep this morning will keep me going.
12:25. A tour bus just arrived at hotel and now our meeting is set for . Everyone is wearing a beautiful flower necklace. I met the tour leader. He impressed me right away by giving me an orchid lei. Now that's a first. Looks like a nice group. Bonafide travelers. Big duffel bags "ruck sak" Â  Most people seemed English. Just arriving from the airport I know how tired they are.
I found the restaurant and ordered coffee and cheese sandwich. Caffeine fix will help.
Restaurant Sunset Beach is outside. It reminds me of the Caribbean but the ocean is just like St. Augustine. Dark water. White caps on the waves. Sand is dark tan color here.
The people that work here seem really glad to see us (tourists). People are very friendly here. And my first reaction is something I have already changed. I would think "What do they want from me?" , but they really just want to talk. Twice now someone has asked if was German. I'm the only one in this restaurant. Each worker has come up to talk to me. They want nothing more than to say hello and maybe practice English.
Even though I live in Atlanta, it seems easier to tell people that I am from Florida. Since they have probably heard of Florida and I did go to college there and Mom and Dad spend the winter there. I need to say "Winds" instead of hurricane.
Guy in restaurant:
Suneth Lalntha Fernando
No: 1/A Aluthkuruwa, Negombo, Sri Lanka. T. P 031-2234488
I met Sunita and Dave by the pool. And Ed. I also met a nice lady from Sweden. She has been here 7 times. She said to bargain on purchases. If it says 400, offer 200, then pay 300. She said the weather is very bad (today). She has never seen it like this here before. It is very windy, maybe 78.
Guy in restaurant said Christmas is not such a good time since it is bringing back memories of tsunami. It did not hit here.
I would not want to be at the Hilton right now. Held captive in a plush high rise where you can't experience the surroundings (OK, maybe that would be nice at the end of the trip) So what if there was dead bug on the floor. At least it was dead. So the towels are not fluffy. At least there is a towel and soap and hot water. Sitting here on the beach, feel the wind see the waves, person is windsurfing. People from Sweden swimming. Sunita and Dave went to get something to eat. This is a vacation. I'm there now. Which means I am totally here. My mind, my person, my desire to know, see, feel, and taste and experience this country.
meeting
Lucien De Silva is our tour leader. Â  Clare, Richard.
Bring socks to Mihintale. You climb on rocks and steps in bare feet. Cover your knees.
No photo restrictions. No side or back photos of Buddha. Only front face.
There are lots of animals near all the temples. Don't touch them. Rabies is prevalent
26 seats on the bus. Change seats everyday. 16 on the tour + leader.
10 Rs is the biggest coin.
They used to have copper coins. But they make nails from them and sell the nails for more than the coin was worth.
There is a monsoon in Bay of Bengal now so we are having bad weather now. Rs 1500 departure tax. Banks are open 24 hours a day at the airport. Sometimes they ask to see a receipt that you changed money before you change it back to foreign currency.
ATM is money from the wall. Most all places accept your local (foreign) currency.
Our WAD (Words of the day) We'll get a new one every day.
Areyoubowan - greeting
Shtutee - thank you
Meet at to go to fishing village and tour of Negombo. It was originally a small fishing village, but it is now a popular beach resort with miles of golden sands.
In 1505 the Portuguese arrive. There are a lot of Catholics here in Negombo.
Population 18.7 million. 14% Hindi, 69 Buddhist, 7 % catholic, 7% Muslim
Fishing village
Go 3-4 miles out to sea to fish. Salt water 1 day, dry in sun 2-3 days, sell dried fish in town.
We walked over to the Negombo Lagoon. Many old wooden boats are being replaced by new fiberglass boats. Cost 150, 000 Rs for a fiberglass boat. You can get a loan from bank, or give a portion of fish.
Do not stand in front of a shrine so your back is to the shrine to get your picture taken. Only take a picture of the shrine or someone looking at it.
Across from the fishing village he took us to an old English fort. The fort is now used at a prison. 24,000 prisoners. 67 are on death row. They just started the death penalty. The new president is giving more power to the courts so they can control criminals better.
They can't export fresh fruit from Sri Lanka because Europe is too far.
Dutch built canal is 80 miles long. They are cleaning it now to more use out of it.
We drove through Negombo town. Sunday and most shops are open for Christmas shopping.
Dinner is at .
I should try a Sri Lankan Arrack Cocktail some time on this trip. Not yet.
I ended up staying in the same room at Sunset Beach. Pauline was my roommate.
---
Day 2.
Monday Dec 19 Tile Factory, Coconut Shell Processing, Toddy Tapping,
Hindu
Temple
wake up knock on the door, breakfast and luggage out. departure to see busy fishing village.
Schedule (Lucien was very good about giving a schedule at the end of day so we knew what we were doing the next day, and at the beginning of the day): Fish market, Tile factory, toddy tappers, Hindu temple, driving today.
and we're back at the fishing village again. Â  They are uncovering the fish to dry 2-3 days.
Water came up over 2 feet here on this beach.
Fiberglass boats are now replacing the traditional wooden boats.
We are in the FRESH fish market. The dried fish is taken inland. Took a picture of a man cutting tuna.
Cost for a big Barracuda is 1200 Rs. You buy the whole fish, cut it up and sell it in pieces so get 1500 Rs.
Picture of colorful parrot fish with older woman.
Shark carving
Big green, with bumpy skin - Jac Fruit. Tastes like meat in a curry. Fry the seeds and they taste like peanuts. A ripe one is a very sweet dessert. We saw her opening a Jac fruit with a big knife. Seeds inside with slimy white mush and white meat of the fruit inside.
Lucian really knows a lot about fish and fruit!
Wing bean = about 10 inches long, 4 "wings". The government encourages more people to eat beans.
Government stopped the boats from going yesterday because it was too dangerous.
10Rs for a lottery ticket. The winner is 10 million, but "nobody ever wins".
Inland people are cultivators, on shore, people are fisherman.
A little banana is a sour plantain.
Walking through fresh fish market, crowded, and there we were trying not to kick sand onto the fish spread on the covers on the ground. Obvious tour group, but they really didn't seem to mind us. Lucien would stop at many stalls to ask type of fish. At vegetable stand he explained in great detail many of the items for sale. He stops at ever plant, tree, or flower to tell us about it. The name and the scientific name.
They must import milk, cheese and butter from Australia. They do not eat much meat "That's why the people are very small"
Saw this sign: WWOOF - Worldwide Organization of Organized Farmers. Overseas Living.
We are going to visit the Kotaluwana Tile Factory where they make roof tiles.
Add water to clay.
Put in presses, shape the shingle, wet it with water (or kerosene?),put it on the mold, press the design. Dry for 6 days, then load 14,000 tiles to kiln and seal it. Burn tiles for 7 days. Cost is Rs 12 per tile. A 3 BR house needs about 3000 -4000 tiles. That's Rs 42,000 (USD $420) for a roof. They burn cashew nut tree roots.
New labor law. They only work 8 hours a day. They are paid 600Rs a day for 8 hours work. One family owns this factory. They supply a small house for free to the workers so the workers stay close.
Only government workers get a pension. Private company sends 15 % of the employee wages to an account a bank. The employee must save 10% of their wages. At 55 they get all the money at once. The get 3-4 % interest. Loans are about 12%.
We're in Hiennapuwa - a crowded busy town. Paved streets. You see an occasional cow in front of a business. Only an occasional honk.
It takes 1.5 yrs to get bananas from a tree. It yields 150 fruits a year. Ripe leaves are used for packing.
Were going to visit a coconut (shell) processing factory. Not sure if factory of the correct word. That's what Lucien called it.
Coconut trees grow to be 2000 feet tall?!? Geez, that is tall!. Â  Maybe I meant to write 200 foot tall. It's too cold to grow any higher. Every part of the tree is used. A typical family eats at least one coconut a day. Use the shell to make bowls, spoon, fork, drinking glasses. The fiber from the husk to make ropes, carpet and brooms. Use bark of trunk to make roof rafters. Inside and outside roots are used for firewood. A 5 year old tree bears fruit. Toddy tapping to get juice for vinegar. They send the juice to the government to make liquor.
Picture of the sharp nails that removes the husk. A rope pulley turns the wheels.
There are labor laws but they are not very strict. They learned that the government can't run business. In 1971 the government nationalized all the factories. For 20 years they ran at a loss, so now the are privatizing the companies that are doing foreign exchange. This family exports to Japan. The government gives incentives to import and export.
We saw them making rope. Thickness is controlled by the pressure that he squeezes. An electric machine turned what he was holding. It took about one minute to do 20 feet of rope.
Sri Lanka is the largest supplier to the world market for tea.
Sri Lanka is about 80% middle class, 10% poor class. So that leaves 10% upper class, but I don't Lucien mentioned that number.
76% of the employed people are male. The president is a woman.
Before coconut tapping stop for tea. We had to use a hole-in-the-floor toilet.
Here was the toilet for the workers!
Next visit is to a see Toddy Tapping.
They climb tall coconut trees and collect the sap from the flowers to make Arrack, a local whisky type spirit.
There are 35 acres of palm trees. One person can own a maximum of 50 acres. There are 18 tappers in this garden. They tap twice a day.
They are paid by the gram they collect. They pick coconut "1 in 3 months" (?). The get about 20 coconuts per tree. You need a permit from the state to tap.
They have a 3 gallon jug that fill with juice which is about 3% alcohol. They have to send the juice to a government distillery to make 34% alcohol. They go from tree to tree on the top on a small rope. The ropes last about a year before they need to be replaced. They step up the tree on coconut shells tied to the side of the trunk.
The juice smelled like dirty socks. Everyone was offered a taste. He opened a fresh coconut then let us taste that also.
There are 1500 different types of palm trees. 800 types are here in Sri Lanka.
You must be 18 to work here. One tapper is 64 years old.
We stopped at a roadside to buy king coconuts. 15 cents each.
We stopped at a very ornate Hindu Temple "Kovil".
Peacocks, colorful rooftop of Gods and deities.
Sign: Computer Training. Kids 4 to 16 years old. Highest British Standards.
There is absolutely no way I would do a tour of this country on my own. You really need a guide to get around to see unique stuff. Lucien is really showing us as much as possible to introduce us to his country. He is very good at his job and I can tell he likes it. After each demonstration he gives someone in the group 200 Rs to give to the person that did the demonstration.
. Picnic on the bus. All of the places where they normally stop for a picnic are under water. Â  2 Rotties (stuffed flour tortilla-like triangle shaped), mango, pineapple, banana, and biscuits (cookies).
and 77 km to Anuradhapura. We were following the coast then we turned right and now the roads are awful bumpy. At Puttalam or Putlam (Muslim town) town we turned right.
Sign on road said 68 km to Anuradhapura Yeow. I honestly can't recall a paved road bumpier than this.
Stopped at a house on the way. 10th grade 1 year old girl. School is 5 km away. They take a school bus. The Senior school is farther away. The boy's name is Nalin. The girl is Uditha Niroshani. She is a volleyball champion. Their address
KK Uditha Niroshani
13 Mill Post
Buddhi daungama
Anuradhapura Road
Sri Lanka
They showed us the tool they use to scrape a coconut out of it's shell.
A cow-drawn carriage went by.
About building houses:
It usually takes 10-12 years to collect all the material that it takes to build a house. Finally you can get the cement and build it. They have 2 acres here.
Pay Rs 6000 for about 10x10feet of sand. It is illegal to take any sand from the land. We saw a truck backed into a lot to load (or unload?) sand.
We're at km 32 on A12. We need to go 77 so about 20 more miles.
and we are close. The A12 is so bumpy. We stopped for a toilet break in the bush. Talk about getting friendly with your fellow travelers. You can't be shy on tours like this.
Sign: Institute of Post Harvest Technology.
75 km. 2 to go.
arrive at hotel.
Nuwarawewa Rest House
New Town, Anuradhapura
Tele: 025-2222565
Managed by Quickshaws Ltd, 3, Kalinga Place, Colombo 5, Tele: 583133-5.
http://www.hoteltravel.com/sri_lanka/anuradhapura/nuwarawewa.htm
http://www.srilanka.com/booking/traveldetail/TL00061
Dinner was Rs 600 (USD $6) buffet. I got a little of every thing. I even liked the spiciest dish. Pork I think. Large bottle of beer was Rs 175 Rs (USD $1.75). Takes the edge off a long hot day.
We have 5 single ladies, so someone gets a single room each night. Lucien offered me the single room tonight (we're in the same room for 2 nights.) I declined, and offered it to Pauline (since she didn't seem to sleep much last night). I came up with a better plan to ask for the single room and the end of the trip at the beach (where we stay 3 nights).
So Monday night, first of two nights in this room. Aileen is my roommate. Very warm room, fan helps a little.
Laying here under a drape of "mosi" netting. It's like I'm under a big wedding dress that flows all around me. It billows from air pushed around from the fan with one speed: fast and off.
Lucien said that we really do not have to worry about malaria mosi's anywhere that we are going. That's a comfort since I did not get around to getting malaria medication. In hindsight, I wish I had taken the Malaria pills. I still don't like bites though.
---
Day 3.
Tuesday Dec 20 In
Anuradhapura
; Mihintale
wake up knock on the door (our morning "knock-up") , breakfast and luggage out. , no departure.
Strong coffee this morning. It's very hot and humid already.
Schedule: Anuradhapura Bodi tree first. After tree, see important symbols and stupas.
The beer last night took the edge off a long hot day. It's going to be longer and hotter today I think.
The "Cultural Triangle" covers three ancient cities. Today we go to the first one. We're headed to see the World Heritage Site of the Sacred City of Anuradhapura. This was the first capital of Sri Lanka. Â  Â  http://www.worldheritagesite.org/sites/anuradhapura.html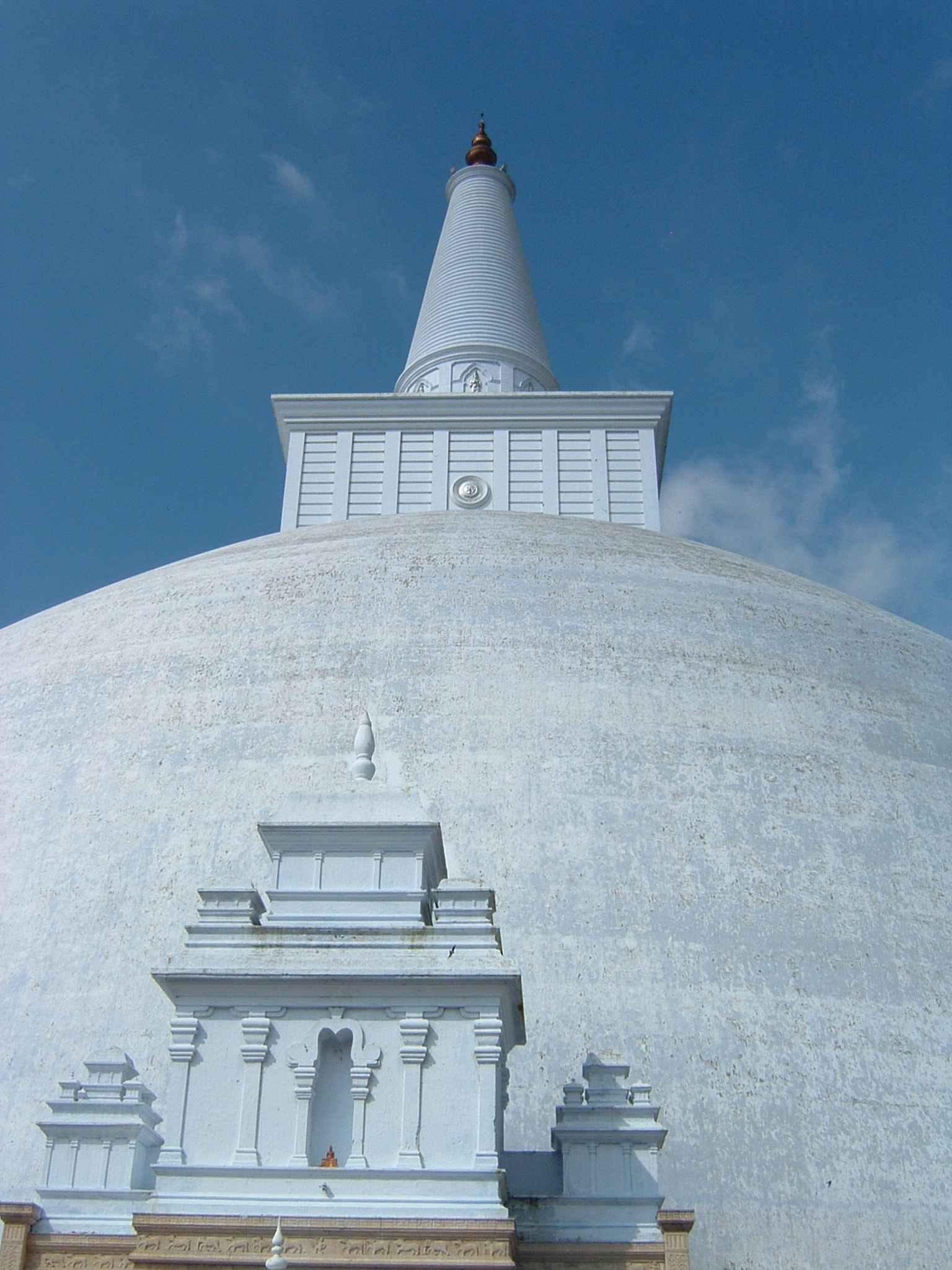 500 BC Anuradhapura established as the country's first capital.
380 BC Anuradhapura was the royal capital of the Singhalese kings to 993 AD.
260-210 BC It was the center of the conversion of the Ruler and his people to Buddhism.
The center from which the influence of Theravada Buddihism spread far and wide.
The site was vast and the ancient city spread over many miles. There were hospitals for the sick, hostels for travelers, and artificial reservoirs ensured a good water supply.
This capital of Ceylon flourished for 1,300 years. It remained residence and royal capital for 119 successive Singhalese kings.
993 AD There was an invasion and the city was abandoned in 1000 AD and the capital moved to Polonnaruwa, said to be a safer place.
The impressive remains of this site were discovered in the early 19th century. The entire area was hidden away in thick jungle for a long time. The palaces, monasteries and monuments are since then in restoration and accessible once again.
Lucien said that in 1956 Anuradhapura this area was flooded 20 feet under water. Population is 99,000.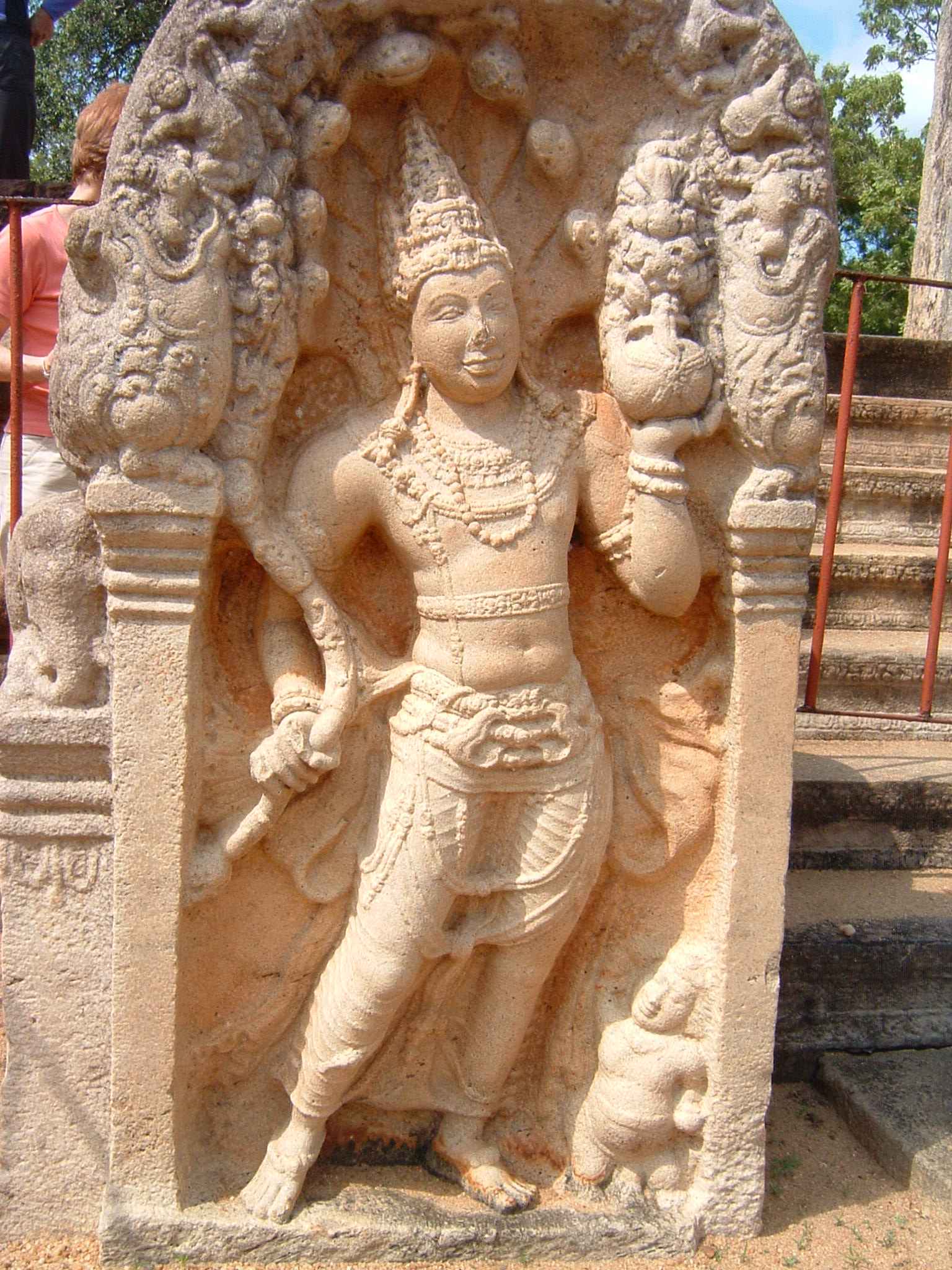 First stop was Mahavihara monastery. It is founded around The Sacred Bo Tree (Sri Maha Bodhi) - more than 2,200 years old.
This tree was planted from a cutton of the Buddha's "tree of enlightenment".
Pay to enter the monastery. The sign said the wall around the site was built for 25 million Rs.
The "bricks are half the height that it should be" You can buy a "face stone" for 2500 Rs to protect this World Heritage Site. Â 
Shoes off (ugh) and they searched our bags because in 1998 there was bomb at a temple in Kandy. They rebuilt that temple.
I saw a 1400 year old Bayobab Tree in Zimbabwe, so this tree is older than that one. In fact, my Rough Guide says it is "now officially the world's oldest tree", but that is not true. Earth's oldest living tree 4,767 years old. It is a Bristlecone Pine located central California, USA.
Anyway, this Bo tree was grown from a sapling of the very (fig?) tree in India under which more than 2500 years ago the Buddha found enlightenment.
It was brought here in the 3rd century BC by Sanghamitta, the founder of an order of Buddhist nuns.
The tree is in an elaborate enclosure that is three levels high. We can go up to the 2nd platform of the tree. Not the 3rd though. The third level in my picture is where the yellow umbrella is opened.
There is another tree growing near it. The oldest tree is the one with where we saw the trailing branch propped up by green iron supports.
The Smithsonian institute came and could not figure out why this tree grows to slowly.
Walk around the tree to approach it from the other side I just saw a girl give a monk something and she knelt at his feet. When I gave that girl a pen yesterday she knelt at my feet. Such a kind gesture in thanks.
Geez my feet hurt. Lucian is going over a lot of Buddhist beliefs and how to get enlightenment. Lord Buddha philosophy.
I can't help thinking about wanting to do those Mihintale 1800 steps now, when it's (relatively) cool. But were doing the steps after lunch (which is at a rest house).
Lucien: "6 months, no food under the tree" Etc etc "When Lord Buddha gained enlightenment etc etc. " After 3500 another Buddha will come along."
On and on   "Buddha is the master, he shows the path. It is your choice to follow it. You decide." Ok, that goes along with Christian beliefs.
God may have a pre-determined path, but ultimately you decide and bear the consequences (and ask for forgiveness) if it is wrong path.
Lots of people were around contemplating the tree and praying.
About monks: Lucien said Buddhist nuns wear long sleeve shirt. Monks do not wear a shirt here.
There are 40,000 Buddhist monks on the island. There are three orders of monks in Sri Lanka.
It is every difficult to enter the order, and easy to leave. But they made a vow that if you leave the monkhood, your certificate is not recognized.
When a monks dies, they are cremated and their remains put in a small stupa.
Saw sapling cutting from the sacred Bodi tree. Sapling was presented April 20, 1997 planted by the president of SR
Up the stairs on the other side of the tree. Locals are giving offerings of flowers and food.
I stood to the side while other (pretended to) pray and the monk wrap holy thread around the right wrist.
I was writing and continued to write (this) and a monk kept calling me over motioning with his white thread. I finally closed my writing pad and approached him.
He pulled on my right arm and started wrapping the thread around my wrist. Once, twice, three, four, five, six, seven double threads.
OK, that's enough. Knot it and step outa there. Lucien said to keep it on for three day or until it breaks. Â 
I kept that thread on my wrist two weeks after I got home until Jan 23. It reminded me to pray for the people who had not heard the Good News to come to know Jesus.
My feet are doing a little better on these swept rocks and "clean" dirt. The little pebbles pressing into my soft feet hurt, so I really do appreciate the people that sweep the dirt for us.
Very crude records kept in "Materials for Sri Maha Bohdi" book laying on this table.
Exit tree enclosure, shoes on (yeah) and we walked to the Brazen Palace ("Loha Pasada"). There is a "forest of plain, closely spaced columns - some 1600 in total each about 4m high." These columns would have supported the first floor. It was a nine-story structure with a thousand rooms for monks. It was made of wood and it burned down 15 years after it's construction. It was repeatedly rebuilt, the last time in 1153-1186. Now there is an "ugly modern wooden building" in the center.
Next to see a shrine with five Buddha statues. My picture angle is from left side - metal Buddha first, big Buddha behind the glass and the marble one is on the end.
Behind the glass is a marble Buddha from Burma. He has circles on his soul ` His footprint is circles. We have lines. Also a Buddha made of metal from Thailand. Another plaster and concrete Buddha wearing a tiara and holding a lotus. This Smadhi (means "meditation") Buddha (a 4th century AD masterpiece) is the future Buddha "Maitreya". The other Buddha's represent previous Buddha's ("No one knows what Buddha looks like.") Â  Â  All of them have their eyes open but they are looking down. All right hands are touching ground blessing the world with unbounded compassion.
Around the entrance/exit they are constructing scaffolding. There is a lot of building going on here for us tourists. Wow. Put shoes / sandals back on our feet and it feels like my feet had a massage. Soft cushion Feels great.
Short walk to North of the Palace to see the huge white Ruvanvalisaya Dagoba ("The Maha Thupa" or "The Great Stupa"). Massive dome shaped shrine. The third largest in the city. Another source said tallest dagoba in Sri Lanka, and I think Lucien said 3rd biggest in the world. This stupa is fully restored, painted and gleaming white. "White washed with lye." It enshrines various remains of Dutugemunu. It is 300 feet (90m) high. This stupa is done in the shape of half a Bodi leaf (Lucien held a up a folded leaf to show us). There are 8 different stupa shapes.
Sign at the entrance Ruvanveli Mahaseya , Another sign: Ruwanweli Maha Seya. Another sign at the entrance said "footwear here". Bummer, loose the shoes again. Cost is 100 Rs for foreigners. Free for locals.
There were many monks here visiting from Bangladesh. We took group photos with them. Pilgrims worship stupa first, then Bo tree, then worship the statues.
This stupa is 2100 years old. Built 161 BC.Stupas are sealed but a relic stone from another stupa is on display here.
All stupas are on a platform. This platform is 475x477 feet. There are 344 nine-foot tall elephants surrounding the platform, holding it up. There are four smaller stupas on the platform. 940 feet circumference.
now. Walking around the stupa relic stone, around the entire platform. So far my bare feet are doing fine here. The stones are cool November to January. After that the stone is impossibly hot to walk on. They have to set up planks for the foreigners tender feet.
Just a thought but it seems like we would have a much nicer experience and memory of this place if we could were shoes. Oh well, when in Rome (do as the Romans )
Bus north a bit up to Mahasen's Palace (the Queen's Pavilion). Famous for the carved granite Moonstone. The "finest one in Sri Lanka". And carved. The half rings depict flames, animals, creeper, goose, scroll and the center of a lotus. Up the finely carved steps which are supported by the "inevitable dwarfs, squatting like tiny Sumo wrestlers."
The Ratna Prasada, the "Gem Palace", built in the 8th century. It has a guard stone showing "the usual nagaraja standing on a dwarf and shaded by a seven-headed cobra". The nagaraja is carrying symbols of prosperity: lotus flowers, urn. Â  This guard stone reminds me of the hundreds of similar goddess carvings in Angor Wat. I think those were dancing ladies.
The site around the moonstone is sparse. Â  Only one other group of tourists. Â  Some insistent vendors here are starting to bother me.
Lucien has a 25 year old daughter. Before Lucien was married? he bought a sovereign that he bought for his wife for Rs 120? Value has increased 13,000 Rs
Next, we went to see the unrestored Abhayagiri dagoba, built 114-136 BC (first century).
It once stood at 370 feet (115m), but now the pinnacle is lost so it is 230 feet (70m).
Built over a footprint of Buddha who stood with one foot here and the other on Adam's Peak.
It was the centerpiece of a monastery complex that had 5000 monks.
It was lost to the jungle. It is mostly covered in galvanized pipe scaffolding and green growth - the earth and vegetation - a great fuzzy mound.
At the entrance are two guardian statues of Pasmanidhi and Samkanidhi, two "fat and dwarfish attendants of Kubera, the god of wealth; enclosed in concrete sheds where pilgrims tie prayer ribbons.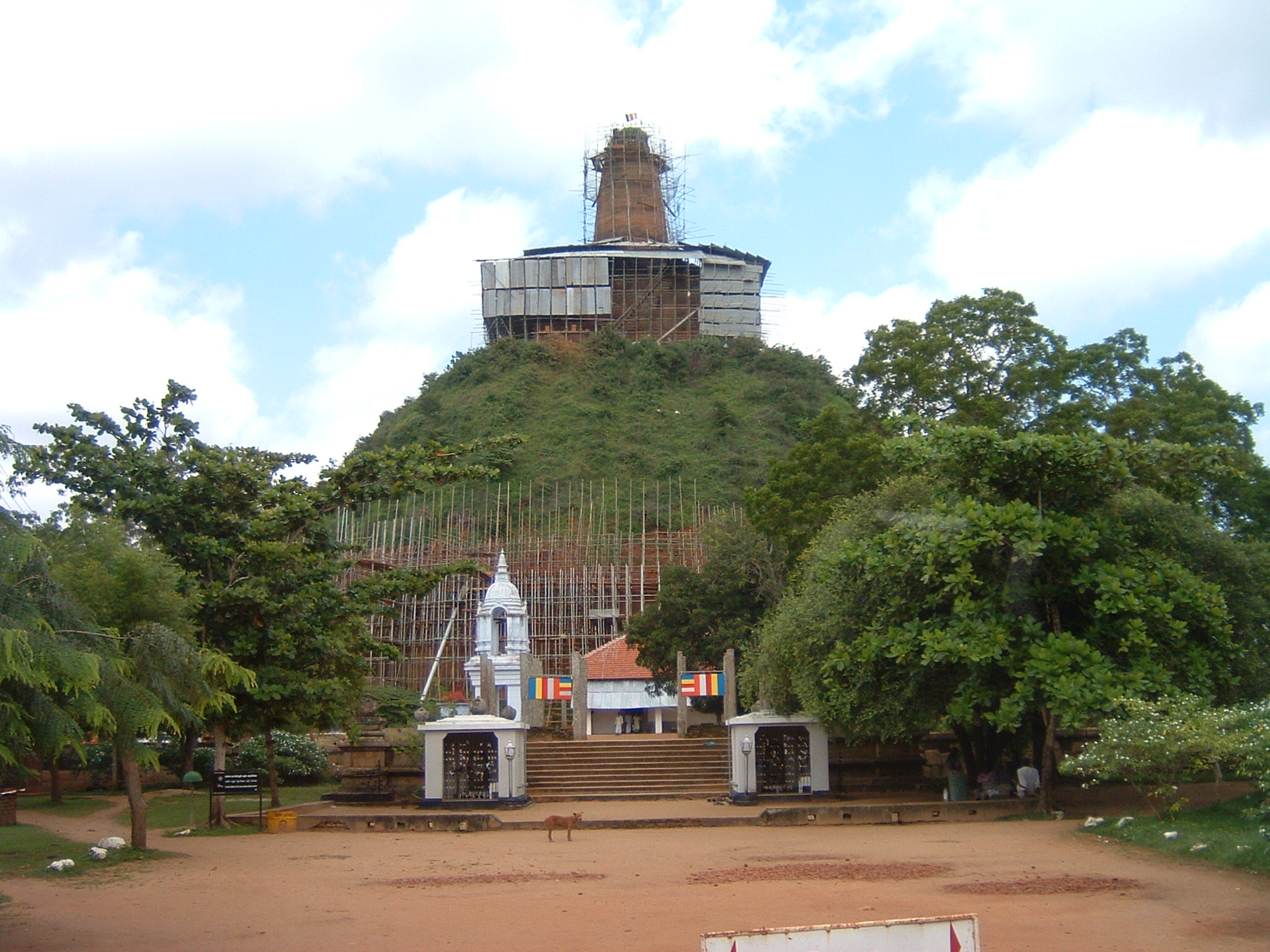 800 feet (250m) east of that dagoba is the Samadhi Buddha in meditation posture. Carved from limestone in 4th century AD, the oldest on the island. This was once a group of four statues. There is a concrete cover to protect this statue. Â  If you stand on the right side, the Buddha profile looks sad, stand on the other side and the profile of Buddha looks like he is happy smiling. All in the same face. Â  He is sad because he is still in this world and he is sorry for others. There is a big cannonball tree here. Buddha was born and died under a cannonball tree. Fruit from this tree is not good. Monkeys won't even eat them.
  Sign: No photograph with back toward the statue"
Next we walked to the Kuttam Pokuna (the Twin Ponds). Built in 8th century for monks ritual abolutions. There have stepped sides leading down into the baths. There is an ancient filtration system so water with no sediment, only pure water went into the pools. The channel is about 12 inches high where sediment falls, pure water flows over the top edge into the pool. The water in these pools is 3-4 feet deep now, and it's fetid green. Unpaid compulsory labor built these ponds. The laborers only got rice for lunch. They like to it to get good merits. They built this in addition to doing their own work.
Back to our minibus. It's slow going now on the narrow bumpy roads to get around this area.
Drive to Jetavana dagoba. Biggest stupa in the world.
My book says "this massive edifice tend to attract a string of statistical superlatives"
Original form stood at 394 feet (120 m) It was the 3rd highest building in the world at that time (surpassed only by two of Egypts pyramid's)
Now it is 250 feet (70m) high.
All red brick. It is the worlds biggest stupa and is still the tallest and largest structure made entirely of brick anywhere on earth.
It contains over 90 million bricks and holds 20 million square feet of dirt. FYI, pyramids in Eqypt are 480 feet (146m) tall.
UNESCO restoration started in 1981 and it will take about 10 years to finish. There is lots of rubble laying around. They need more bricks to finish the shape, then plaster, then paint. All stupas are white. Â  Extensive remains around here of the Jetavana Monastery. It once housed 3000 monks.
now. Driving South toward Thumparama. Baswallulama Man made tank/lake is on our right. We're going to "see a ceremonial temple" then we'll have lunch. Â  There are public toilets in the area. There was one western style stall. Â  We passed Sri Satan ?Po? Singunia Temple. 3rd Century BC.
Beside the Pond of Isurumuniya is the Isurumuniya Vihara, old rock temple. The "Sacred Isurumuni Raja Maha Viharaya". It's not on the Cultural Triangle ticket. It Rs 100. Printed on the ticket "This money will be utilized for the development work for the temple" Â 
I'm glad we went a little out of our way (a quarter of a mile) to see this.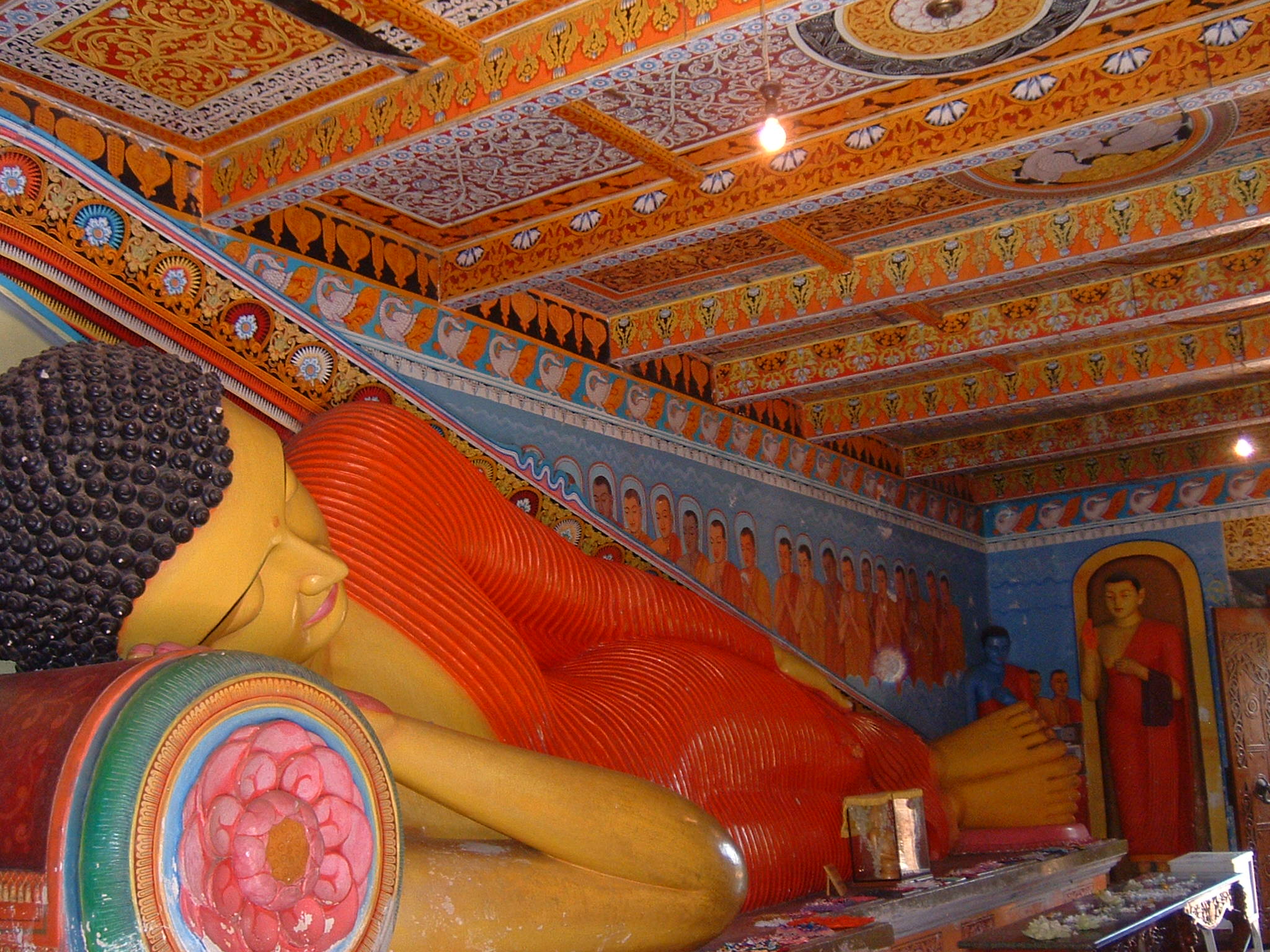 The entrance has eroded guard stones and moonstone. Right of entrance is a pool with elephant carving so it looks like they are bathing in the water. Steps up to main shrine. Right of shrine door is a carving showing a man (sitting, legs crossed in front of him) with a horse looking over his shoulder. This carving is the design on all the plates in the hotel where we are staying! Inside, there is cave/room carved directly into the rock. Wooden beams on top of stone pillars. There is a gold meditating Buddha sitting there.
Left of that is a another "modern shrine with an ugly reclining Buddha" from Rough Guide. It was a dying Buddha because the toes were not even. Bright colors lots of intricate designs all over the little room. It was not behind glass and Lucien had a permit so we could take picture. From looking at my picture of the five other sitting Buddha's in the room, they do have a unique look about them. I think it's the eyebrows - makes them looks a little Chinese. Â 
Next we visited the temple's museum.
Saw the famous 5th century Isurumuni Lovers sculpture known as The Lovers. It's a stone carving about 4 feet high by 3 wide. They represent a bodhisattva and his consort, or a pair of Hindu deities, or Price Saliya and the low-caste he fell in love with and married, thereby giving up the right to the throne. Â  Also saw "Kings Family" "Dwarfs" "Deities" , "Man and Horse" 6th century Iserumuni Temple.
on the bus to the Tissawewa Guest House for lunch. Nice bathrooms here. Rearrange furniture on the porch, order ginger beer (non-alcoholic) and soda with lime, order lunch and wait. Lucien took a bus load into town to go to the bank and post office.
A map at guest house had these sites on it: Northern Dagaba, Twin Ponds, Samadhi Statue, Silasobhakandaka Dagaba, Citadel (book called this "one of city's least interesting areas"), Thuparama Dagaba, Jetavaharamaya, Ruvanvaliseya, Brazen Palace, Boddi Tree, Mirisavati Dagaba, Dakkhina Meghagiri, Isuruyuniya. Bold indicates we visited there. Some places must have changed names because I can't any mention of the one in italics in my book.
It's and we are finally getting our food. For lunch there was a whole table of "rice and curry" people who got their food first. I'm not quite ready to eat that all the time. I wanted something more traditional so I had vegetable pie and greek salad (no olives, no feta cheese). Gloria was last to get her meal. Deviled beef- she won the HOT prize. Half the plate was chilies. I had a taste and it was indeed hot.
drop off Gloria's Steve off at the hotel so he can rest his swollen feet (that was a very good decision. Travel tip: It doesn't matter if you miss something (significant) on a tour/trip. If you don't feel well, you will have bad memories so it's better to relax and rest and recover instead of pushing to see and do everything.)
Now we are our way to Mihintale 12 km east. We passed Rajarata University of Sri Lanka. We also passed the stupa where Buddha's hair is kept. He had a single hair between his eyes on his forehead. Stupa is 3-4 feet high.
Mihintale is place where Buddhism was introduced in Sri Lanka in 247 BC. Â  Mihintale which means "Mind is a mountain" or "Mindless Mountain".
The monk Arahath (or Thero?) Mahinda (son of Ashoka the great Buddhist emperor of India) stayed in these mountain caves and converted the local people to Buddhism. It is Mahinda's sister, Theri Sangamitta, who carried an off shoot of the holy Bo tree that gave shelter to Buddha to attain Nibbana. Sri Maha Bodhi "The Bo tree" was planted at Anuradhapura, where it still grows as the oldest tree with a recorded history in the world.
The story is that the Sinhalese king Tissa (or Thissa?) was hunting and found himself confronted by Mahinda who proposed this "Riddle of the Mangoes" to test the king's intelligence:
"What name does this tree bear, O king?"
"This tree is called a mango."
"Is there yet another mango besides this?"
"There are many mango-trees."
"And are there yet other trees besides this mango and the other mangoes?"
"There are many trees, sir; but those are trees that are not mangoes."
"And are there besides the other mangoes and those tree which are not mangoes, yet other trees?"
"There is this mango-tree, sir. "
So the king passed the riddle test and Mahinda "proceeded to expound the Buddha's teaching." Lucien told us about this riddle on the bus when we were going to the site. He actually recited the entire riddle of the mangoes to us over the microphone. Impressive.
To see all the sights here on Missaka mountain, you have to climb 1,840 shallow stone steps. Shoes are OK for the first set of steps up to the Upper Terrace, then you do the rest BAREFOOT! Or in my case, in socks, appropriately named "my temple socks". There are many sets of steps: 220+184+200+300+ + 180. 1840 steps in all and I think we did them ALL of them!
Seems like it was 1000 steps up to the Upper Terrace. Now we have to remove hats and shoes before entering the "Maluwa". Head up to the big Mahaseya dagoba. There a nice boy "Jagath" who got me to start talking to him on the way up the first set of steps. I was actually glad he was there a couple times on this higher set of steps. The steps are not as defined, tricky to find a good footing for every step. And I'm in socks. Finally get to the top where the stupa is located. Jagath pulled me over to the right to point out a good place to take a picture of the excellent view. It was a very clear day so you could see very far, all the way to Anuradhapura. There is a clear view to the BIG bright white seated Buddha.
This dagoba is supposed to enshrine some ashes and a single hair of the Buddha. You can walk all the way around the platform for a 360 degree view. We entered a building on the platform. The entrance has a "devilish face" at the top center. Elephant on left, and a chicken (no, I'm told it's an eagle) on the right. He recited something he thinks we should all know: dragon, lion et c etc. Inside there was four praying Buddha's to the left and four to the right leading to another 30? Foot long reclining Buddha. This reclining Buddha is dying because his toes are angled (not straight) He has a big toe and small little toe. He knees are out, and his chest is in. (Sleeping Buddha toes are even and chest is out.)
My picture shows the whole length of the reclining Buddha. A cannon ball tree is at his feet and a sad monk is holding onto a branch of the tree. After walking around the stupa, we walked back down the same steps back to the Upper Terrace.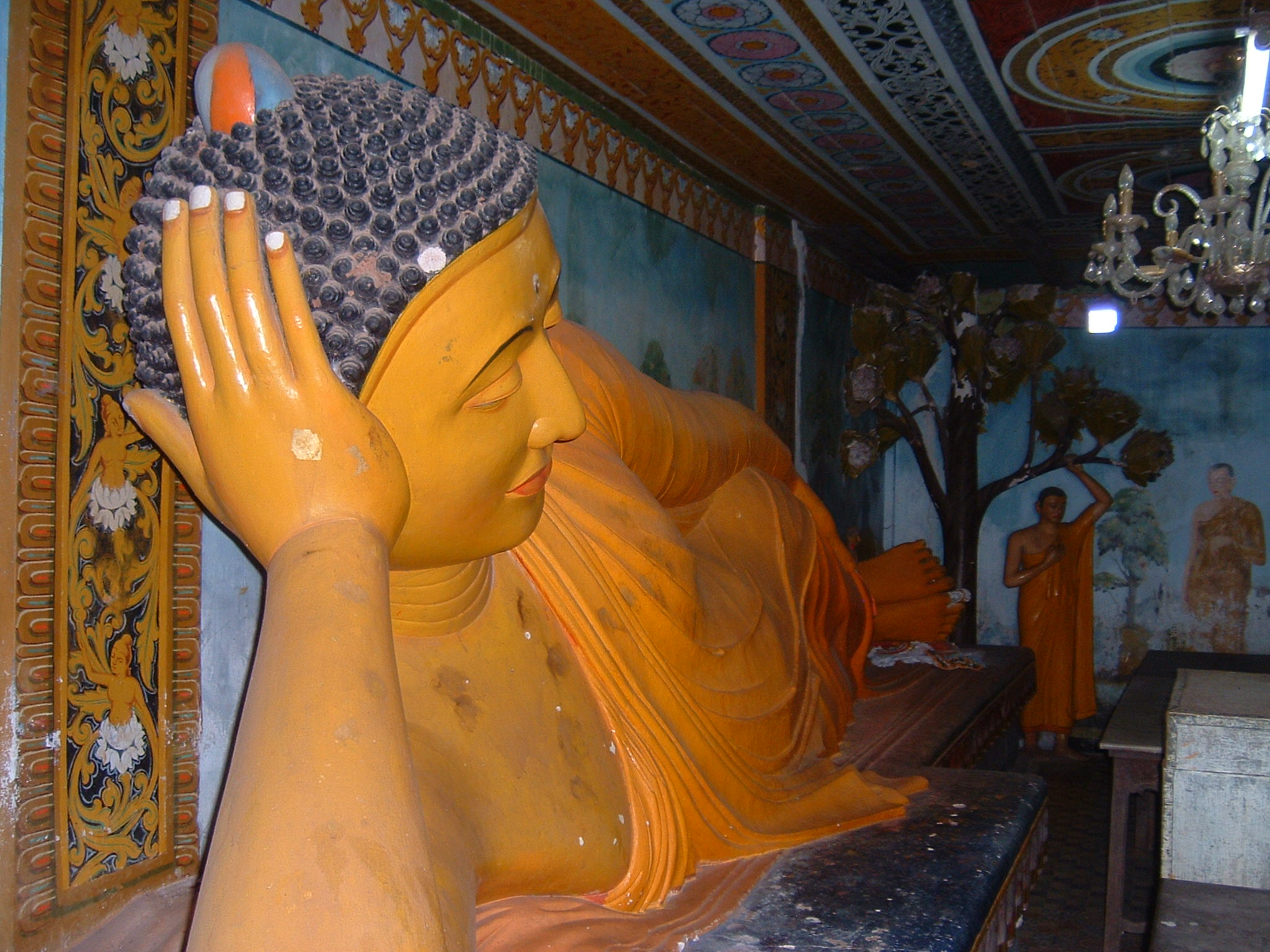 Then a very small group of us started up to Aradhana Gala (or Meditation Rock). It's an absolutely insane, very scary walk up difficult stone steps IN YOUR BARE FEET! You have to go up very irregular steps cut into the rock. They are very steep and very precarious on the edge of the rock with a big drop-off straight down in some places. They lead up to the outcropping of rocks where you stand on top of a huge rock to see a great view. This is where Mahinda preached his first sermon. Ok, so there is a good view. It's not worth risking injury. It was scarier going down. I was sure glad Jagath was there to help me with that scary little adventure.
Next steps were easier, but you're still in BARE FEET! A short flight of steps up to a large bright white seated Buddha. Made of concrete and brick in the 1980's (1985?) so it's 25 (20?) years old. Lucien mentioned that there is supposed to be a ceremony some time (soon?) to paint the eyes of this Buddha. We did not do the "rough woodland path" down to the cave of Elder Mahinda. That was fine with me.
Going up to these shrines in barefoot is very uncomfortable on tender feet. My padded footy socks (from the airplane) were perfect. There is no way I could have made it through the escapades this afternoon without them.
We got our shoes (yeah! Comfort!) Â  I took a picture of Jagath. The Ambasthala dagoba , the "Mango Tree Dagoba" is behind him. He really was considerate in his quest to help me in return for a tip. When Lucien was talking, he would immediately stop conversation with me and point to Lucien. He also did not stick to my side and he was there when I really needed help up those stone steps. When we were on top he pointed to the place where he lives. I gave him 100 Rs and told him that he didn't need to go back down the steps with me. I wanted a little solitude to reflect on the accomplishment that we just completed. I need to mail the picture to him.
Jagath Kulathilaka
No 20/4, Missaka Mawatha
Mihinthale, Sri Lanka
We took the same steps back down from the Upper Terrace to the Medamaluwa monastery ruins about half way back down. We saw the Bhojana Salawa (the Alms House). There were two huge rock troughs, like "boats" where boiled rice for over 2000 monks was kept for feeding time every day. Rice "boat" was about 20 feet long. They put banana leaves down first, then the rice. There are two large stone tablets in Sinhala to define the rules for the monks and staff. These stelae were erected by Mahinda in 10th century.
now. Yuk, I just got my first mosi bite. I hope he's not carrying malaria. Â  Lucien told us that every place where we are going there are no malaria mosquitoes. There are mosquitoes , but no malaria. Comforting, but I still wish I had taken the pills. In hindsight, I would take the pills and join the morning pill-taking ritual with every one else on this trip who was smart enough to get the malaria pills. Anyway
A little further down is Sinha Pokuna (the Lion Pool). Water comes from the hill above to a holding basin above the lion sculpted out of the rock, the water comes out of the lions mouth and over the monk's body for washing. Lucian stood there for awhile so we could take pictures. He demonstrated how the monks would face the rock and put their hands on the lion's paws.
The bus was waiting for us at the bottom. Tired. Very tired from a long day.
Oh yeah some excitement. Clare warned us that she was scared of heights. Well, she did great on the steps at the beginning. Then we got to the Upper Terrace where you have to take off your shoes. On the poorly laid out rough cut steps to the dagoba, she made it about 20 steps up and she just froze. Â  She was very courageous to make it that far! She made it back down and waited for us on the Upper Terrace. This is definitely not a place for people who are afraid of heights. Good for her for getting so far, and a very smart move not to continue. Â  Also a VERY SMART decision for Steve not to do Mihintale. I hope his feet are better tomorrow.
Travel Tip TT: At Mihintale you have to cover your knees, but maybe a skirt is not such a good idea for ladies because of the rock climbing.
They don't build any new stupas any more.
There are 45 monks here (in this area? Or in Mihintale?).
It's and we're on the road to some where else, back to the hotel.
Dinner is a . 600 Rs for the buffet. I ate the curry pineapple and deviled chicken. Yum. Banana fritters for dessert. Very delightful conversation with Robin, Ed, Clive, Maggie, Richard.
I took an ibuprofen so I don't feel those 1840 steps at all.
They have to pay a tax on TV's in England to fund public television. That's why the shows are so good.
Tuesday night in same room as last night with roommate is Aileen. Last night we didn't even see the air conditioning unit in the window. We tried to turn is on tonight, but it didn't work so end ended up not using it after all.
I should be reading about tomorrow but the light is so bad in here.
---
Day 4.
Wednesday Dec 21 Aukana, Dambulla, Batik Factory, Elephant Ride
7 wake up knock on the door, breakfast and luggage out, (our auspicious) departure time.
Schedule: 30 miles to Aukana and Dambulla (cover knees), picnic lunch then batik factory, elephant ride 1500Rs for 1 hour, hotel Mihintale
My Rough Guide book was right , there is not easy way to Aukana. We travel towards Giritale, then we turned off the main road to a side road that is awful. And I'm sitting the back of the bus. Barf.
Arrive to see the magnificent Standing Buddha of Aukana. Sculptured in the 5th century AD under the reign of King Dathusena. For more information, go to http://www.lankalibrary.com/heritage/temples/aukana.htm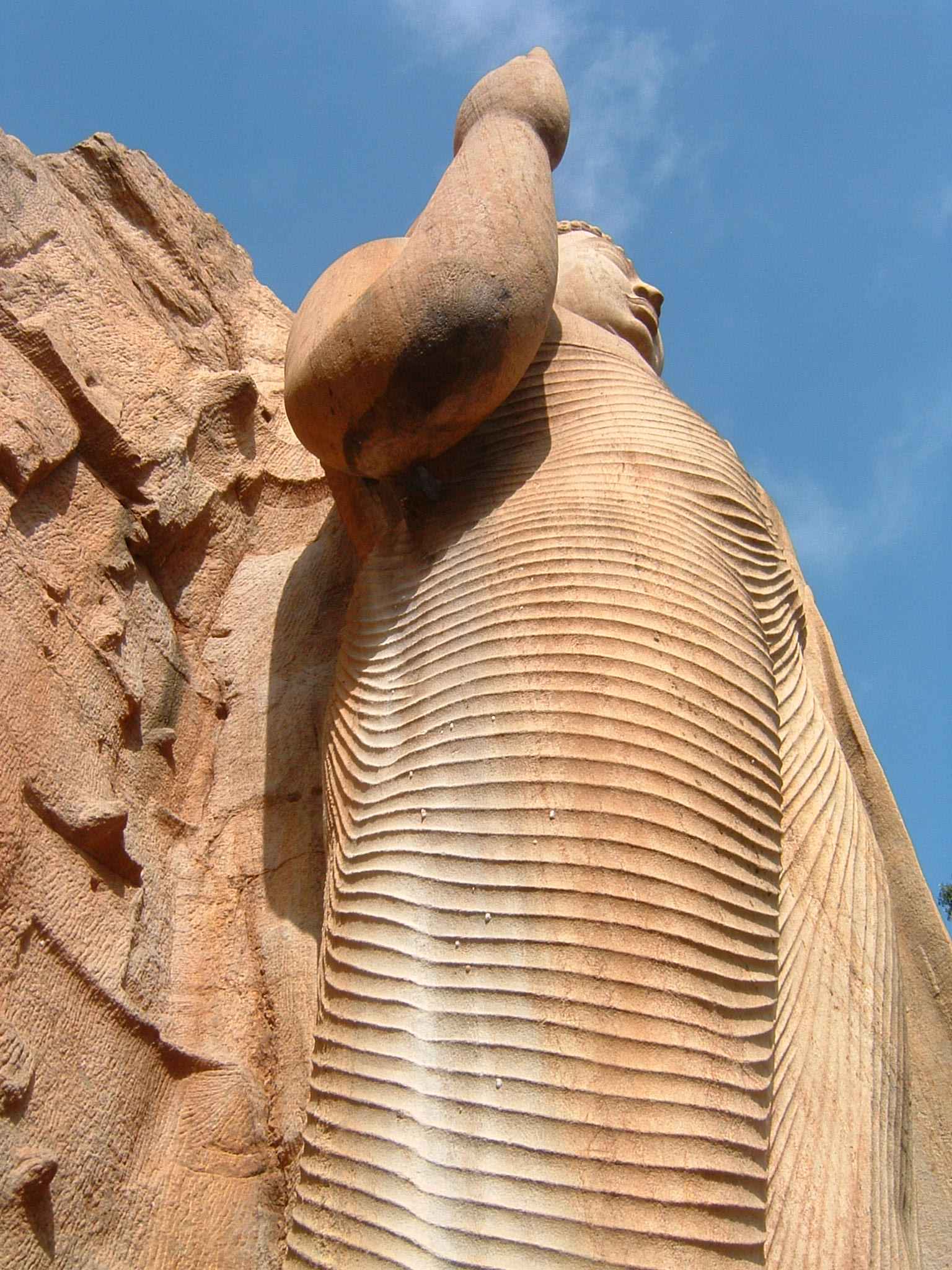 Permit to Entrance and Take Photographs of "Aukana Raja Maha Viharaya" is 250 Rs.
This place is still relatively isolated in its jungle setting. Everybody had to do the now too familiar SHOES OFF dance. Pile them up together. I'm glad I kept my temple sox in my bag. On October 23, 1981 the Queen and religious leaders visited this statue. They got to wear shoes!
We are the only people visiting here now! No other tourists. Â  Walk a very short distance and you see it. Buddha is 43 feet (13m) high statue carved out of solid granite. Aukana has his hand up blessing the tank he is facing.
In 1971 the stomach cracked. There is a spot exactly between the feet is where water falls from the tip of his nose - a testament to the architectural accuracy of the sculptor. The statue is never touched, it is not cleaned. Large statues like this were destroyed in Afganistan. A halo was added 150 years ago. It is cemented on top of his head. The bottom the robe is damaged when a mold was made of the statue.
There was a brick canopy/enclosure around and above to protect the statue from weather, but they removed it nine years ago because bricks were starting to fall onto the statue. They are now planning to add four pillars and a cover to protect it from the weather. This is an old picture when there was a cover:
I saw an ISO 900 2000 sign on a company. It is indeed a worldwide certification.
Leaving Aukana and now
Lorries (cars) come from Colombo to the vegetable market here in Dambulla. Sign in front of the market said "Economic Center". There is a guaranteed price for rice and fertilizer to encourage more rice farmers.
arrive at the World Heritage Site of the Golden Cave Temples of Dambulla. http://www.worldheritagesite.org/sites/goldentempledambulla.html
http://www.explorelanka.com/places/nc/dambulla.htm
Dambulla is a part of the Cultural Triangle declared by UNESCO. There are over 80 caves in the surrounding area and some of them have been used by the monks as meditation locations.
The gold Buddha on top of building is the largest seated Buddha image in the World. Depicting the "Dharma Chakra" gesture. Completed in 2001. Dambulla is called the Golden Temple because of its gilded interior of the caves.
These old cave temples date from the 1st century BC. Â  Hindu statues are believed to be of the 12 century AD and the latest paintings are of the late 18-century. The caves were originally used as hiding places. Later on in history they were embellished more and more by several kings. Â  A sacred pilgrimage site for 22 centuries, this cave monastery, with its five sanctuaries, is the largest, best-preserved cave-temple complex in Sri Lanka.
There are five separate caves carved (hewn) from one big rock. On the inside, every cave contains Buddha images and a few sculptures of Hindu Gods. They are decorated with religious and secular paintings from the 15th and 16th century. There are Buddhist mural paintings covering an area of 2,100 sq. meters.
The temple is a perfect location to view evolution of the ancient Sri Lankan arts. Dambulla is a unique and important historical site because of the amalgamation of the material from many eras.
We drove up to the gate, where we got out of the bus. Not too many salesmen here, maybe 7 people selling t shirt and postcards at Dambulla. Walk up 122 six-inch high steps, take shoes off, go see caves, very hot in the caves.
2000 feet on long rock where the caves are carved.
Cave 1 dying Buddha.
In between caves 1 and 2 there is a shrine room for God Vishnu.
Cave 2 is 122 x 75 feet. 22 foot high entrance. Â  50 foot (15m) long reclining Buddha going to sleep. Toes are even. Same Buddha , different poses. Teaching pose - thumb and 1st finger touch. Sad Buddha "I have escaped from this world but the other are still 'suffering'. Cave 2 has statue of king that lived here 14 years. He finally got his kingdom back, then he donated the caves. 157 wonderful Buddhist (and also Hindu) statues inside.
Cave 3. Very hot, but not as hot as cave 2.
Between 3 and 4 there is a window frame carved from coconut wood.
Cave 5 another reclining Buddha. Going to sleep Buddha. There are 5 Buddhas on the right , four on the left. This was a store room.
It poured down rain while we were in cave 2. Rain stopped after cave 4
Go to get our shoes back on. Where are Clive's shoes? Oh no! He had to put on somebody' else's shoes. And so another travel trip is born: Swap a shoe with someone else because no one is going to take a mis-matched pair of shoes.
Lunch is at 1. Picnic lunch was great today (Wed). 1 vegetable rotty, 1 fish rotty (although I didn't find any fish in mine). Fruit and biscuits (cookies).
Batik factory
Start with white, cotton material.
Apply wax (75 % paraffin and 25% bees wax) on the white so it stays white.
Dip in a chemical first, then dip into the color bath.
Boil to remove the wax. Temp must hotter than 99 degree F to melt the wax.
Apply wax again on places to protect.
Dip in chemical first, then the color bath.
Boil to remove the wax.
Apply wax on places to protect. Dip , boil, apply wax, dip, boil.
10 colors - wax on 10 times
40 colors, wax on 40 times
100 colors wax on 100 times
For five colors, blue is the last color. In the end black color or darkest color
After the final boil, wash then iron.
Good batik has both sides the same. Print is only on one side.
Sari styles
Indian - 8 pleats or more is person is thin, excess around back and over top
Kandy - ready-made long skirt with ruffle around waist to hips.
We went to Greenwood Elephant Safari (PUT) LTD. 1 hour ride is 1500 Rs (USD $15).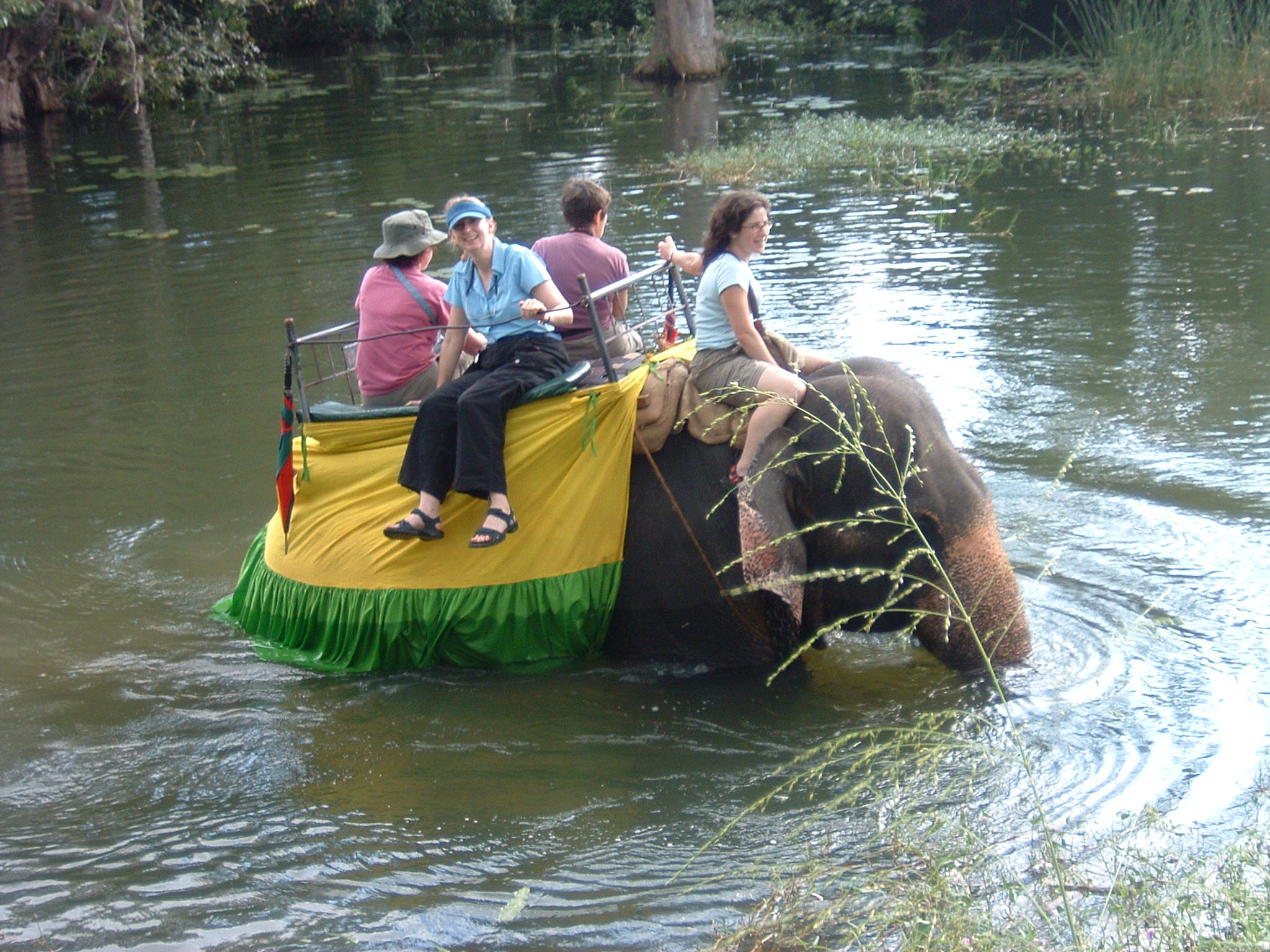 Habarana

Tel 066-70079 and 027-661628

A "Paradise of Nature Lovers"

I am riding on an elephant right now. Very bumpy, but easier to write on an elephant than on the bus. Too funny. I'm with Gloria, Hanna, Maggie (who is getting a massage from the elephants spine).

Elephants can remember 30 works. They have pour eyesight.

We carried umbrella and we needed them. There was a quick down pour on our hour ride. The boy walking with us took our cameras when the elephant went in the water. We were on the only male. His name was Raja. We went over to the top of a waterfall and he took our pictures. Hanna wanted to take a picture of Clive on the other elephant so they stopped the elephant and turned ours sideways to a position where she could get a good picture. Raja was young 20 years old.

There are 135,000 soldiers in the army. There are 3 training camps in SR. One is here in Mihintale.

Arrive at hotel in the small town of Giritale. Dinner is at so there is time for a drink before dinner

Giritale Hotel. Tel 027-2246311

Roommate is Pauline.

Beautiful view overlooking the lake/tank. Itinerary said it was "possible to take a pleasant evening stroll around the tank, a lake created for irrigation. " But not possible in the dark, so we drank. Â  Â  We sat on the back porch, swimming pool to the left. Sitting in rocking chairs. Looking out over a beautiful tank (lake). There was a very interesting menu of drinks. Some people tried the "Nelli juice cocktail"

The only vodka drink was called "Old Ceylon". Cost was Rs 350 (USD $3.50). Recipe is 50% Vodka, 25% Baileys (Irish Cre ¨me liquor), Orange Juice, Pineapple Juice, and a Dash of grenadine. It was VERY GOOD. Mmmmm. I think I'll go make one right now!
---
Day 5.
Thursday Dec 22 Polonnaruwa, Jeep Safari
7 wake up knock on the door, breakfast and luggage out, (our auspicious) departure time.
Schedule today: Polonnaruwa then optional jeep safari is 2000 Rs (not 2500). 3 hour ride today.
At breakfast I got up to get something and they took my plate away. I wasn't finished! At every meal every place that we eat, they seem so attentive to removing things that aren't used on the table.
The green juice is Nelli juice. It is small fruit like an olive. You boil it and drink the Nelli juice for good health. People who ordered the cocktail last night did not like it. I had Nelli juice this morning at breakfast. It tasted a little bland and a little sweet.
Waiting on the minibus, we looked at gems displayed in the jewelry store in the lobby of the hotel.
Stars of eye (?), White sapphire, Blue and red sapphires
Alexandrite - greenish and white, changes color when light. 1 carat is 1370 USD
Peridot, garnet, pink garnet, tourmaline, pearls, pink tourmaline.
Blue sapphire "cornflower" one is the most expensive. 1 carat 550USD.
We'll go to a gem museum in Kandy. You can bargain and get discount.
Lots of talking this morning. I thinks it's Thursday.
Girls school uniform is a white pleated dress and black tie.
Stone book is 29 feet long.
When you marry a local, you must deposit 5000 Rs in an account in her name. While dating the family checks out what they say if they drink, if they went to university. You go to the university and verify the graduation date. Go to the place of work to verify employment for guy and for the girl.
The "Cultural Triangle" covers three ancient cities. Today we go to the second one. We're headed to see the World Heritage Site of the Sacred City of Polonnaruwa. http://www.worldheritagesite.org/sites/polonnaruva.html and http://www.explorelanka.com/places/ne/polonnaruwa.htm
Polonnaruwa
Polonnaruwa is the 2nd capital of Sri Lanka after the destruction of Anuradhapura in 993 (the end of the 10th century).
The Indian Chola Dynasty ruled the island at that moment, but after they were driven out Polonnaruva remained the capital. The city had its cultural heyday (reached its height of glory) under the leadership of King Parakramabahu I in the 12th century: the buildings, parks and the large tank date from this period. There were 3 kings here.
Polonnaruva fell to the Hindu Tamils in the 13th century, and became deserted. The capital then shifted east to Kandy. There are many interesting and spectacular buildings and monuments.
Sri Lanka's medieval capital (11th - 12th Century AD) is a well-preserved city of ancient dagobas, moonstones, beautiful parks, massive buildings and stunningly beautiful statues.
The majestic King's Council Chamber, the Lotus Bath, the Lanka Thilaka Viharaya,
Statue of one of Polonnaruwa's great kings, Parakramabahu.
The Sea of Parakrama - a vast 12th century man-made reservoir dominates the city. Although it is nearly 1000 years old, it is much younger than Anuradhapura, and in much better repair. Moreover, the monuments here are located in a more compact area, and their development is easier to follow.
Polonnaruwa tour
First stop is a the Royal Palace Group to see the Palace Quadrant. Then were going to the village.
The Royal Palace Building was 1000 rooms over 100 feet. 7 stories high, each story was 10-15 feet high. It had 9-foot thick walls made of lime and sand and white washed. The holes in the walls that you can still see are for the wood beams sockets for tree trunks to support the main building. The remains of 3 brick stories is still standing. Levels above were build of wood. Â  400 servants lived in the building. There are 13 original granite steps. They carried the king and queen around. Up steps using a chair in the step shaped carrier.
I took a picture of what is remaining of the 3 story main building, another of the small servants room, and the original steps. The Palace was connected to the Council Chamber. In 1186 when the king died, the palace was looted and burned.
Walk over to the Audience Chamber. It had a wooden roof. Three level base survives. Around the platform of the hall first layer is elephant running ("glaumphing") chasing each other, second is lions, and third is dogs carrying the building. Oh, I mean "dwarfs", I though he said dogs (as in "dawgs"). It had 48 pillars in four rows. Some carved with titles of dignitaries. Â  They had to use iron tools to carve the stone. There were pillar head beams, pillar open room. Tall audience hall. Now there is now roof. Nice grass all around the audience hall.
The Kumara Pokuna (Royal Baths or Bathing Pool). Unusual geometric shape - a square superimposed on a cross. They bring water from the main canal which is still in use. There is another sophisticated filtration system to catch sediment. Granite stones line the pool, bricks on the outside and water levee goes up to the level of the decoration in the pool of crocodile gargoyle's mouth (or a "makara"). There is also a two level base of a changing room / bathhouse next to the pool.
They encourage locals to excavate by giving rewards if they find something.
To make compost in the pit: Lime, Sand, charcoal, tile and brick.
Steps into the main canal were only build five years ago so people can use it for washing.
Shiva Devale No. 1 (between Royal Palace Group and Quadrangle) Temple dedicated to either Vishnu or Shiva. Dates back to early 13 century. This Hindu temple. Built so close to the city's most sacred Buddhist precinct "says much about their religious sympathies" It was rebuilt so each stone is marked with code numbers. The structure "has the curious appearance of an enormous building set". Enter into a stone room with stone roof. Doorway is smaller to rear room so they bow to the phallic symbol in the room. Ladies wash the stone and sit on it and pray to Shiva to get pregnant. (the other 2 gods are Brahma and Vishnu - all incarnations of the same form). Rams (not "lambs" or dwarfs) hold up this building. Bronze images were found here which are now in the National Museum in Colombo. My book called images "cute and tiny statuettes of a venerable and heavily bearded figures".
Now on to the Dala Maluwa (the Quadrangle) - the "terrace of the tooth relic". It is a very compact collection of ruins. The famous tooth relic was actually housed in more than one shrine here is the city.
A very insistent seller is bothering me right now. I'm trying not to acknowledge him.
Started in the SW corner of the Quadrangle with Thuparama, a stone image house called a "Gedige" where "ge" is house. Solid box-like structure built entirely of stone. Strong granite foundation. Exterior wall decorated with pillars and "niche windows, offer a characteristically Polonnaruwa example of a quintessentially Indian architectural style used in a purely Buddhist temple. "
Shoes off to go in here. Inside it looks like a cave: wide at bottom then it curves in on top. There are crocodile gargoyles to remove the water from the roof. The only surviving vaulted brick roof. 10 or 12 century statues. There are 8 standing and seated crystalline limestone Buddha's. limestone rock with quartz so it sparkles when you hold a candle to it. Buddha's face is damaged because the gemstone eyes were removed.
Building with Bodi tree in middle is a "Bodigara". Bring water to tree to give blessings.
The Lotus Mandapa aka "Latha Mandapaya. Unusual lattice stone fence. Fit stone to stone like wooden railing Inside the fence a small pavilion surrounded by stone pillars and a dagoba used to either hold relics or a seat for the king, but not both (interpretations of these places is very sketchy). Sign " NicSamka - name of king 1187-1196 AD Â  Lata Mandapa pavilion where he listened to changing of protective religious text (pirit)."
Atadage built to house the Tooth Relic. Sign "Founded by Vijayabahu-I (1055-1110AD) tooth relic now belongs to Kandy monks."
Hatadage also built to house the Tooth Relic. Sign "Building founded by King Nissan Kamally 12 AD (1187-1196AD)" It now has three Buddha statues. The center Buddha lines up with the doorway. The Buddha on the right is missing his head!
The middle of the quad is the Vatadage, the Circular Relic House. It had two roofs. One in the center, one on the bottom. There are four Buddha's all facing four different directions. Dancing girls are "guard stoned". On each side of the moonstone. Â  The outer structure is a "fantastic riot of artistry. Every surface is carved in a melee of decoration without parallel in the rest of Polonnaruwa. Four sets of steps lead to the upper terrace. Each set a little masterpiece, decorated with dwarfs, lions and makaras, carved nagaraja guard stones and the finest moonstones in Sri Lanka. "
Gal Pota (Book of stone) where "gal" means stone and "pota" means book. Sign says "Gal-pota: An inscription of Nissamka Malla 1187-1196AD. Top to bottom, recorded kings travels and when he invaded India." They dragged the stone on logs for 100 miles / 90km from Mihintale. Weighs 25 tons It's a slab of granite 9 m long, covered in a densely inscribed "panegyric praising the works of Nissankamalla."
Beside stone book is a Cambodian style stupa to commemorate the king's visit to Cambodia. Satmahal Prasada it means "seven story temple". Very unique design "perhaps the work of Khmer (Cambodian) craftsman. [So that may explain the resemblance of the dancing girls carved on the guard stones (and the "deities in high relief decorating the walls") to the carvings I saw in Angor Wat. For every carving in the Sri Lanka, there must be 100 more in Siam Reap Cambodia.]
Kiri Vehera stupa. The plaster of the done is mostly original and this is the best preserved dagoba in Polonnaruwa. Built by King Parakrama Babu the Great. (1153-118 ad) Next to it Lankatilaka Image House whose walls still stand 17m high.
We did not make it down to the Southern Group where Potgul Vihara is located. A 3.5m statue of a bearded man. They are not sure who it is or what he is holding, a palm-leaf manuscript or a papaya slice.
We went North to Gal-Vihara (rock temple) or "Stone Shrine".
Gal Vihara, a group of very large Buddha-statues. It comprises, besides the Brahmanic monuments built by the Cholas, the monumental ruins of the fabulous garden-city created by Parakramabahu I in the 12th century.
It is a group of carved images of the Buddha. Here there are four colossal figures, all of which are hewn out of solid granite. 2 sitting Buddha's , one standing, 1 reclining with covers. The Reclining Buddha is 46 feet (14m) long.
These statues were inside a brick? Temple. Left sitting is Samadhi Statue. Middle Ordinance inscription. Standing and Recumbent (lying or is that "dying").
Next see the lotus pool. Royal bath is Kumara Pokuna. When monks sit on the petals and bathe water come to the top. There is a buried monastery here. Doesn't look like they have started excavating it yet.
It's now. We had ginger biscuits at elevenses.
and we are on our way to the Polonnaruwa Rest House for lunch. Order meal, go to bank and post office.
Water is 50Rs for a big 1000 Ml bottle on the bus. Non-stop supply.
Philosopher King Parakramabau The Great:
"Not even a little water that comes from rain must flow into the ocean without being made useful to man"
So our group was getting a little rowdy. We took a vote and decided to replace the water in the cooler with beer so we could have "a cold one" after the safari. They first place we stopped didn't have any? or enough? beer. On our way to the jeep safari and we stopped at another place. It didn't really look like a liquor store to me. Lucien had to collect another Rs 100 (1 dollar) from everyone. We got our beer.
The Jeep Safari in Minneriya National Park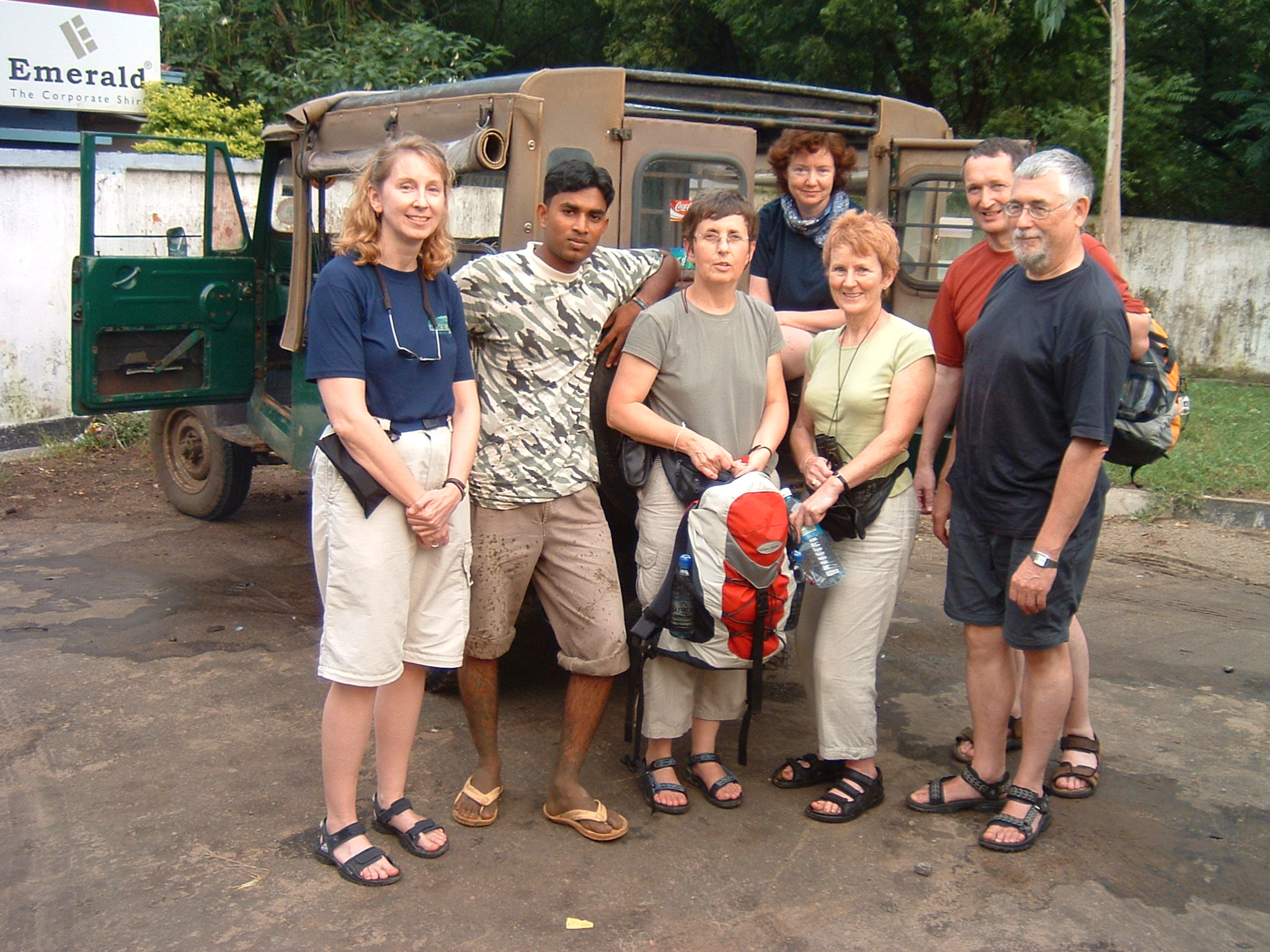 The Jeep Safari in Minneriya National Park £15.00., was optional, but everybody did it.   TT: Even if you've done something five times before, every time you do it something else unique happens.
Itinerary said optional Jeep Safari in Minneriya National Park £15.00. Look for the Sri Lanka Jungle Fowl, Hanging Parrot, Brown-capped Babbler, Crimson-fronted Barbet, Black-crested Bulbul. Other animals include: sambur, spotted deer, sloth bears. 160 species of birds.
They took us to the Kaudulla National Park for the safari where the entrance is US$6.90 (half the price of most other parks per my Rough Guide tour book). My book says a lake is the centerpiece at Minneriya. At Kaudulla it is the elephants. The park is a corridor for migratory elephants.
In the bus getting here we had pouring rain. We stopped at place to get into the covered jeeps. We rode 30 minutes on the road in trucks. The rain stopped so we took the tops off of the jeeps.
The "museum" on site had embryo of Ceylon Elephant at 15 months, embryo of spotter deer 7 months, snakes, monkey skulls, and other animal bones.
There are 300-400 elephants in this park.
A herd of water buffalo is running so a group of 6 male elephants charged across our path raring loudly. Deep bellows and rough gargles from their throat.
We saw painted storks standing properly. Showing off their pink bums.
Only police and ? can own guns. It is illegal for others.
Bumpy muddy ride to a plain near the tank. There are fisherman. Beautiful light blue sky. Big clouds, warm temp. Our three jeeps stopped while we watched these water buffalo walk around us. Spotted dove, peacock, jackle, white neck stork, brahni kite, bees nest.
Driving back we stopped because there was jeep stuck in mud (1 ahead of us) They were stuck for 1.5 hours waiting until we came along to help. All drivers help each other push out.
We're in a Mitsubishi. Our driver is
Shanaka
Chanaka Elephant and Jeep Safari
Lake Side
Habarana
Sri Lanka
They got the stuck jeep unstucked. Then the jeep ahead of us ( one of our three) got stuck. Passengers got a little splattered with mud. Other drivers ahead that made it through waited to make sure everybody got through. Next is was our turn. Our driver seemed very confident. And he should be. He go us through with very little effort. Some spinning and slipping but he never seemed nervous about it. No problem for Chanaka. We slid right through. Well, maybe one small moment of hesitation when rear of jeep slid left and front went right. It was great fun for us as passengers. TIP: Hold on tight, one girl got a very bruised backside from her rough encounter with the hard sides of the jeep.
It was great fun. Our third jeep came through fine also. Sprinkle of rain on the ride back, but we kept the top open.
Hotel Mihintale tonight.
---
Day 6.
Friday Dec 23 Sigiriya, Wood Carving,
Spice
Garden
;
Kandy
Tooth
Temple
Early departure today.
Schedule: Sigiriya for 2-3 hours, then woodcarving, then spice garden.
We got an early start this morning. It's a school holiday so there will be big crowds here today.
7:10 and we are the first to arrive here at the World Heritage Site of the Ancient City of Sigiriya (Sky Fortress or Lion's Rock)   http://www.worldheritagesite.org/sites/sigiriya.html     also http://sigiriya.org/gallery.htm and http://www.explorelanka.com/places/nc/sigiriya.htm and http://www.saadhu.com/sigiriya/
Only one other tourist is here so far. We saw a dog who was wagging her tail! That is a first. Most of the dogs in this country are skinny and appear to be hungry and moping. Sad. Anyway. It's nice to see happy doggies.
We are going in the West kings entrance but we see the two other entrances also. Every person must sign in at the entrance before we could get in. Â  I wonder if its some kind of release in case of injury. I have to sign one when I do any hike with a social organization so you won't sue the organization if you get hurt. (As we saw, there were definitely plenty of places where you can fall and kill yourself on this climb. )
Sigiriya is a flat rock that is 650 feet (200 m) high. From a distance it is like Ayers Rock in Australia. It also looks like Stone Mountain in Atlanta Georgia, which is 825 feet high. Sigiriya rises "sheer and inpregnableout of the denuded plains of the dry zone."
Caves at the base of the rock were used by Buddhist monks in the 3rd century. In the 5th century this enormous complex was constructed by (the "parricidal") Prince Kasyapa (or King Kassapa?). The residence on top of the rock only took 7 years to build from 477 to 484. It was a combination of pleasure palace and fortress. Being in fear of an invasion, he tried to make it as impenetrable as possible. From the looks of this place, he succeeded well in that objective. Â  This place was the capital for 12 years.
The invasion (by the kings brother) finally occurred in 491. Kasyapa came down from the mountain to face his attackers. The elephant he was riding "took fright" and bolted. His troops though he was retreating and he ended up killing himself instead of being captured. Monks used the site till 1155 when it was abandoned and lost to the jungle. Rediscovered in 1828.
From the entrance walk toward the rock. There are 3 ramparts and 3 moats around the rock palace. Cross the moat to the Water Gardens. There is also a "Special Garden" for pleasure (and pleasure means pleasure). Then there is a Fountain Garden where the sprinklers work on a pressure and gravity principle. Water is collected in a basin at the top of the garden, then it flows down and shoots up in little geysers fountains for 100? yards. Â  After 1500 years of no use, the water channels were cleared and after heavy rains, the fountains still work! It is a magnificent complex of geometrically laid gardens, pools, fountains.
Next was the Boulder Garden. (we spent more time here on the way down). Saw an odd sign here: Noise may provoke hornet attacks. We see lots of wasp nests on the side of the rocks here. OK, up some more steps to the Terrace Gardens - brick terraces that stretch to the base of the rock. At the base of the rock is a spiral staircase. 50 steps up a to a "fresco pocket" that is tucked beneath the sheltering rock overhang.
This cave is where Sri Lanka's most famous mural frescos are located. Known as the Sigiriya Damsels. These paintings are the oldest surviving murals of maidens. They are non-religious representations of very "busty beauties" and "bare breast maidens" with still glowing colors.
At one time, it is said that the entire western side of the rock was painted 460 feet (140 m) long by 131 feet (40m) high. This was the largest picture gallery in the world. Only 21 damsels now survive out of an estimated 500 women. They are shown from the waist up and believe to be portraits of apsaras (celestial nymphs).
Follow the pathway along the face of the rock. Path is bounded by the Mirror Wall. Some of the polished plaster still shines after 800 years. People have carved graffiti into the Mirror Wall. Now there is a fine of Rs 50,000 or prison 2-5 years or both if you touch the wall.
Next is an iron walkway bolted onto the sheer rock face. We paused on this walkway (argh!) to marvel at the rock catapult and lotus ponds. They dug under the huge rock and lodged rocks under the big rock. If the enemy makes it past the moats and attacks, they remove the rocks under the huge rock and the huge rock slides down the mountain to kill the enemy.
They cut a drip ledge in to the rock to protect rain water from getting in the stair cases. Up, up to the Lion Platform. The lion is carved so it looks like he is holding the mountain on its back.
From this platform, it is indeed a "stupendous sight to behold and a feat of consummate engineering skill." A switchback series of steps and steel stairways, very steep and somewhat precarious ascends to the top. Â  Steps go up between the enormous paws, then there is a narrow iron staircase is attached to the bare rock face. Only the huge paws remain today, but this final path to the summit once lead up directly into the lion's mouth. We are just clinging to the handrail and hoping those bolts hold tight. Yeow. DO NOT LOOK DOWN! The rock drops off under the steps.
Some one said this iron staircase was made just last year. Before that you had to navigate the foot cubbies carved into the rock. No children were allow up. It's unbelievable that no accidents have happened here.
Here are the steps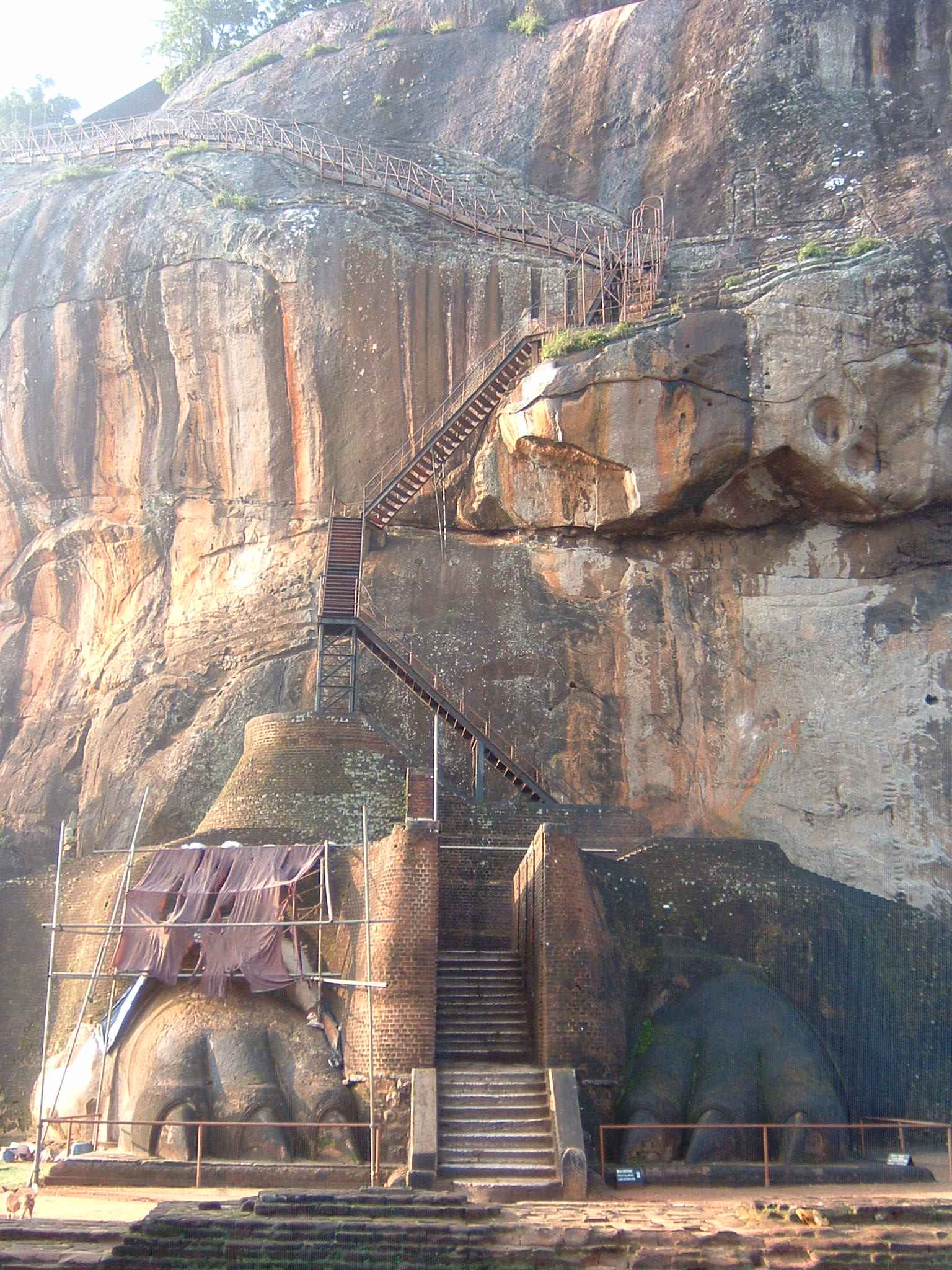 Stone steps used before the stairs were built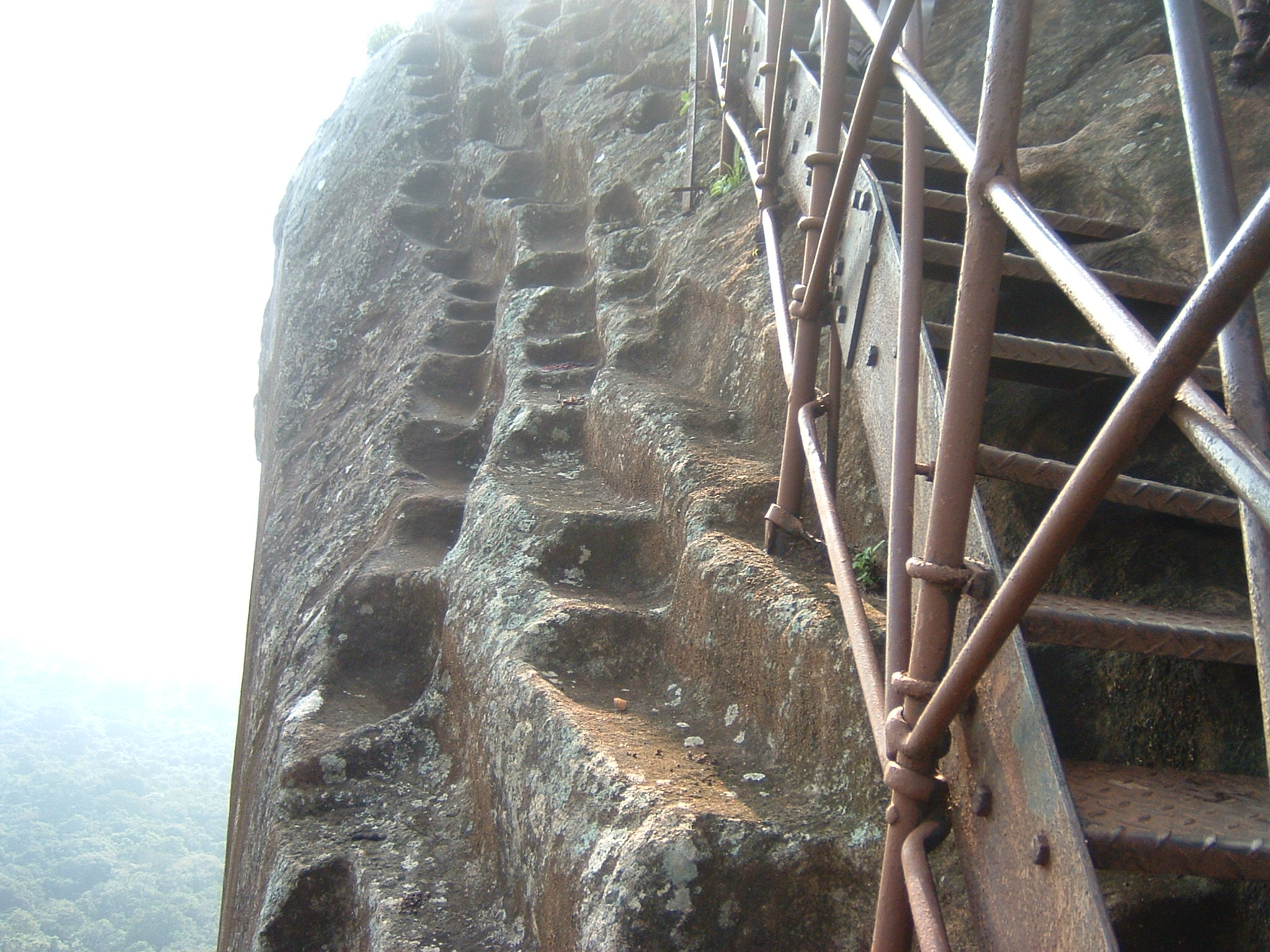 Those metal steps were really scary. It was a slow climb but we finally made it to the summit 650 feet high.
The ruins of the capital lie on the steep slopes on top. The summit is actually quite large. This is where Kassapa's Royal Palace covered the entire area. King lived here. Food was brought up. He had parties and dancing girls. Â  Many servant lived up here. The King thought his brother was going to hire someone to kill him so he only kept faithful servants around him.
Only the foundation remains now. Â  The walls were 15 feet high. They made the bricks at the bottom and carried them up10 bricks at a time to get them up here. Do the same thing today. In fact we saw workers moving a pile of bricks up one of the slopes - tossing the bricks from one person to another. This modern brick moving line of workers did it the same as the 5th century workers.
They used a special mortar to build up here. Lime sand gum from jungle. They needed very little mortar. You cannot fit a knife blade between the stones.
There is swimming pool. 90 feet x 75 feet. 2-4 feet deep. The pool is filling with spring water dripping on the side.
The drinking water pond is about 6 feet deep. They cut a drain inside the rock above so unclean water doesn't fall into the drinking water. Clean water comes from springs.
On the vertical rock face, they cut small shallow caves. These are for lookouts to see if the enemy is coming. The caves are so shallow that the lookout person had to stand up and watch. If they fall asleep, then will fall over the side.
There is a throne where the king sat to watch dancing girls. Shiny stones limestone with quartz (same as the Buddha statue at we saw.
I took a picture of our group standing at the highest point on top. The views were really magnificent. Jungle all around. You can see the full approach of all the garden below.
Cable car and helicopters will never be allowed here. The vibration will disturb the stone. Everyone must go up like the ancient people. Â  Except, the king who was carried up here.
Before 2003, Lucien came up here 22 times a year. Now he's here only 10 times a year. Â  I would be just as scary every time if came up here that often.
and we are going down. I have to say that going down was much easier than going up. It was not as scary some how. Â  There are a lot of people going up. I'm glad we did it when it was less crowded. I paused on the steps to take a picture of the carved steps in the rock. I call them "foot cubbies". I can't believe people used those steps to climb to the top last year.
Back to the Boulder Garden. There are about 20 rock shelters (caves) used in the 3rd century BC to the 1st century AD. Monks lived in these caves. The caves were plastered and painted. Traces can still be seen in a few places. You can see frescos in some caves. Untouched and painted on plaster on the rock. Â  Dripstone ledges were carved around the entrance to prevent water from running in.
The Audience Hall was wood building on top of a huge rock with a smooth top because it formed by chiseling the side off a single enormous boulder to the left (if you look at the hall from above). The rock slab fell off and over and was propped up where it now rests. Seats are cut in the top (where the group is standing in my picture).
still going down. Oh no. Souvenir sellers have shown up. And he is staring at me. I'm writing and trying not to acknowledge his presence. Make no eye contact. Oh no, I stopped writing so he approached. I knew that would happen.
Wow. Where did all these people come from. Lucien was NOT kidding when he said it would get crowded. Busloads of children. Geez.
and we are back on our bus. After a toilet stop. Rs 5 for a western style toilet with toilet paper.
and we stopping at Pathangi Wood Carving Factory at Naula. They carve and paint wood here. Some of these mask are really scary, like the creepy bug-eyed one with the big smile used to perform the Serpent - Devil dance.
Types of wood: Rose, teak, ebony, mahogany, sooriya, jak, satin, maara, coconut, kaduru.
Why did I write this: Cassalpinia Sappan, Leguminosae
They make medicine masks here. There 18 diseases are attributed to 18 demons. They do ritual dancing wearing the masks in a continuous sequence before the afflicted patient.
Disease 6 is Death! Disease 16 is fits. Others are paralysis, shivering, fever, blindness, hallucinations, phlegm.
and we are stopping at the Luckgrove Spice Garden
Email luckgrov@panlanka.net Their information had http://www.luckgrove.com/ but that doesn't go anywhere.
Ayurveda is Sri Lankas ancient sysetm of holistic health care that uses herbal medicines and traditional techniques from gentle massages and steam baths, to blood letting treatments.
To clean your body, to "detox" it: Eat Lime, pineapple, bees honey before breakfast for three months and your shit won't stink?!? Actually, he said. "when you go to the toilet, no smell. Body sweat won't smell. "
Spice tea is black tea and vanilla. I think they add cardamom to the rice to give it that smell that I don't care for.
They gave us a Hot chocolate Drink. Banana, chocolate, milk and hot water. It tastes a little bit like chewing gum! Cost is Rs 2 (expensive for them).
Aspirin is a chemical now so it burns your stomach. Natural aspirin does not burn your stomach. You get it in Green Oil, External application over night to get rid of headache and migraines.
Cinnamon lowers your cholesterol.
There are many kinds of peppers: Green, black, red, white pepper. The pepper plant is a creeper. I took a picture of a pepper plant going up a very tall tree.
Chanel No5 is 5 flowers mixed together. No 1 is one flower.
They gave us some Masala Tea to in little cups.
Use Citronella for mosi- guard.
OK, this is a first. Group massages. It looks a bit like an orgy with all these upper body massaging and topless men. Richard actually had to pay the guy who was "undressing" his wife!
In the shop I bought some Citronella Rs 780, and vanilla Rs 450. The citronella feels so much better than the deet poison. I loved the smell. I used it every day and never got another bite.
We bought so much in the store that they gave all of us a collection of "Spices Herbs & Indigenous Ayurvedic Medicine in Sri Lanka" It included: Spice Tea, Cocoa Powder, Chili Powder, Curry Powder, Saffron Powder, Black Pepper, Cinnamon, Ginger, and Nutmeg.
Next stop is at the Aluvihara Temple to see the Thripitaka writings in traditional Ola (leaf) books. Sign on the temple:
Placed by H.R. H Norodom Shanouk Crown Prince of Cambodia 17-2-1957
International Buddhist library and museum
On display is the books for Buddhist monks. The books we saw are over 1000 years old!
There was also a three sets of books: 1 behavior rules 2 philosophy, 3 deep philosophy. Â  Â  Â  Â  It took ten monks ten years to copy this. This set was done in 1971.They wrote on Talipot Palm Tree Frond leaf strips. Boiled, dried, polished on a tree trunk. Punch a hole at the end of the strip and tie a string through the hole to hold the strips together.
First you etch the leaf, then you rub it with ink, and finally polish it with Kurakkan (rice?) powder.
We just went to the museum and not the temple. Shoes off for museum. He gave us a 500 year old writing (on palm fronds) to pass around. Seems like that should be under a glass display somewhere. They need picture hooks here to hang the photos now resting on the floor.
We are our way to Kandy. 18 miles to go. Passing through Akurana - a Muslim village. Finally we reach the Sacred City of Kandy. It is a World Heritage Site. http://www.worldheritagesite.org/sites/kandy.html
It is situated on a plain, in the middle of the Hill Country at an altitude of 1600 feet (500m) above sea level.
Kandy became the capital of the kingdom in 1592 during a troubled time when many of the islanders were fleeing to the interior. It was the capital of the country, then called Ceylon, for more than 2,500 years. 12 different Sinhala kings ruled until 1815 when the town was captured and occupied by the British.
There are 1.9 million registered vehicles in Kandy. It is a big city.
and we and pull up to the Suisse Hotel. Very nice. Aileen is my roommate again. We are here for 2 nights so we can send things to the laundry. I packaged up: 1 pants, 1 shorts ( I removed the bottom because I sewed hidden money in the hem of those pants), 6 tops, 6 underwear (knickers), 3 pair socks. I could wash them myself, but there is so much humidity here, they would never be dry. I picked it up the next day. Cost was Rs 1190 (USD $11.90). That is worth every penny so I don't have to wash in the sink.
This the cost to launder some items at this hotel and the hotel where we stayed in the beach (later this trip). Numbers are in Rs so, 80 is same as USD .80 cents.
| | | |
| --- | --- | --- |
| | Hotel Suisse | Unawatuna Beach Resort |
| T Shirt | 80 | 60 |
| Trouser - longs | 115 | 115 |
| Trouser - shorts | 90 | 60 |
| Socks | 55 | 40 |
| Bra | 55 | 60 |
| Panties | 55 | 35 |
| | | |
Suisse also listed some things that Unawatuna did not list: Cocktail Dress 125, Saree 150, Suit 120.
I relaxed in the room and Aileen went outside to write postcards and / or read.
we met in the lobby to go to the Kandy temple. Clothes must cover knees and shoulders. This is Sri Lanka's most important Buddhist shrine, the Temple of the Tooth, the Dalada Maligawa. According to tradition, a tooth of Buddha is kept here. We are going to the Puja ceremony tonight. Â  At the end of the puja they open the upstairs room so the public can view the Tooth Relic. Visitors file past the past the entrance and look inside for a cursory glance at the big gold casket which holds the relic. The puja is actually held three times a day at and and . The temple has it's own time zone which a half hour ahead of Sri Lanka time, so it's a start by our watches.
Legend is that Buddha was cremated in 543 BC (6th Century) in India. Various parts of his remains were rescued from the funeral pyre fire, including one of his teeth. 4th Century it was smuggled to Sri Lanka, 1284 back to India, then in each capital in Sri Lanka. My book says the tooth had "various peregrinations around India and Sri Lanka". In the 16th Century, the Portuguese said they captured it, pounded it to dust, burned it and cast remains into the sea. Buddhists claim it was only a replica or that the ashes reassembled themselves.
In 1592 the Tooth arrived in Kandy. It is now the focus of the huge Esala Perahera festival at the time of the August full moon. This is a ten night festival where "the tooth (or a simulacrum) is borne along on a richly caparisoned elephant, surrounded by saffron-robed monks and Kandyan dancers." Â  For security, the Tooth remains in the Temple.
The relic is said to be 3.5cm long by 1cm thick and Buddha's left canine. A 1914 writing says it is "at least three inches long, unlike any human tooth ever known."
The original temple is gone, the main shrine here was built around 1600. It has been rebuilt and embellished over each reign. A moat was added, a huge gateway, a golden roof donated by the President in 1987. In 1998 the temple was damaged when LTTE set of a truck bomb. Killed over 20 people. There a big crash barriers now and everyone goes thru a security check.
and we are driving through lots of traffic and people in the city. I saw a KFC! The bus let us out and we walked through an area where there is a Catholic church, Hindu, and Buddhist buildings all here in this one block area.
Enter the outer "Cloud-Drift Wall", see the Pittirippuva - an octagonal tower built over the moat. Officials give speeches to the nation from this tower. Over the moat which is bounded by the inner "Wave-Swept Wall". Â  Entrance in through the Maha Vahalkada, the "Great Gate".
Pass ticket office, take shoes off and we and enter the shrine. The very ornate interior is an "architectural hotchpotch". It is a building built around the two-story building where the tooth is kept. So we are in a building around the original building. In the original building there are two rooms on each floor and the tooth relic is on the upper floor.
We enter on the first floor of the outer building into the Drummers' Courtyard. (Hewisi Mandapaya). You can see the lavishly embellished silver front door of the tooth building. Four elephant tusks in front of the doors.
132 gold sheep? (I think that's what I heard) around the building. Scaffolding was erected on the left side of the building so they are still working on it. My book says the "whole effect is of a job only half done". It did look a little un-thought out wok in progress.
on my watch and the drums are starting the Puja ceremony. The drummer has a very muscular back. Drums are getting louder. Lucien knew to tell us everything before this racket started. He said the Buddhist monks wash their feet, make an offering, chant, then go inside. Pray about 10 minutes. Layman take offerings inside. Pray to pay homage to the golden casket.
Geez, you really do need ear plugs to enjoy this. I'm standing right up front near the drums. There are three drummers over a horn. Looks to me like there are more locals here than tourists. And they do this three times a day?!? Because of the tourists seems like their praying ritual really has become a for-profit show.
now and the drumming (temporarily) stopped. They opened the locked door. 3? monks and the drummer went inside and shut the door. A bell rang. We waited. A cell phone rang ..
Now seven drums are starting again. People went in and out of the door. Food was carried in.
now and we are going upstairs. At the top of the steps is the Pirit Mandapa (Recitation Hall). We queued up and waited.
and they are still drumming and blowing the horn. We are starting to move in line. They bang these drums up to to 2 hours while people are viewing the relic. Walk past the open window to see the jeweled shrine of the holy tooth. I saw a big dagoba-shaped gold casket in the temple. There are supposedly six caskets inside and each has three locks.
You cannot take any photos when you file past. After you walk past, we came back to the Hall to take a photo. I managed to get a good (in focus) photo in between people. If I had gotten in touch with Ivan (the man I met in the lounge), we could have gone inside the relic chamber. He said that he knew people that could get us into the inner chamber. Yes, that would have been nice. I mentioned it to Lucien, but I got the impression that he wasn't keen on the idea of someone else leading the group. Â  Â  It would have been quite a drive for Ivan anyway. He was so nice to offer.
To get into the chamber there was a "fantastically ornate brass doorway framed in silver and decorated in a riot of embossed ornament, with auspicious dwarfs, urns of plenty, entwined geese, peacocks". There are three chambers and the tooth is kept in furthest section , the Vedahitina Maligawa (Shrine of the Abode).
now and we're going back down the steps. Next we went in two rooms by the entrance. About 10 steps up to see Pattemale Viharaya. We filed past a glass enclosure of a gold Buddha. I still hear the loud drumming. Pattirippuwa is the white Buddha. The other room we walked around. On the far side was a glass case that held "550 life stories of the Buddha's former births. Composed and written on 1600 old leaves 960 years ago."
My watch says . Theirs says .
We walked past the original building to the rear of the Drummers' Courtyard to see the Alut Maligawa (New Shrine Room). Interior is filled with a "glut of Buddha statues, many donated by foreign countries. You can compare "Asian variations of traditional Buddhist iconography." Â  There is also an very interesting sequence of 21 painting are hung around the upper walls. They tell the story of the Tooth Relic from Buddha's death to present day. These are my notes from the writings on the paintings:
Arahath Kema obtained the left tooth from Sandlewood pyre where Buddha was cremated. Tooth is presented for veneration. Build temple. It was in the custody of British , handed back in 1853 AD.
Someone ? tried to crush the tooth, but they could not. It rose to heaven as a star and showers blessings all over.
Lucien took us to a window in this room to look out to see the gold roof of the original building. I has 132 flowers of embossed gold sheet.
and they are still drumming. Â  Only 2 to 3 monks do the service here. No monks live here. There are two orders of monks that take turn taking care of the tooth temple for a year.
and we're on the bus. Â  We are stopping at an ATM so people can get money. I would do that in an emergency because I'd rather not pay the fees. The exchange rate at the Hotel Suisse is 98. Bank is 100. I don't mind paying 2 cents on the dollar for the convenience.
We had a great buffet dinner buffet at the Suisse Hotel. A choir of about 20 girls singing Christmas carols.
---
Day 7.
Saturday Dec 24
Kandy
Botanical Gardens
, Gem Shop, Elephant Orphanage, Cultural Show
7 / / routine (7 wake up knock on the door, breakfast and luggage out, departure).
Schedule today: Botanical garden (4 miles from here), Gem museum, Elephant orphanage to see the feeding., Hotel for a break, tonight: 1-hour cultural show to see dancing and fire walking.
Journal Book 2, Page 1, Pen 3. I brought a bunch of pens to give away and I'm using up the ink in them! I put the other journal away so I don't risk losing it. I would rather lose my camera and all my pictures than this journal.
Breakfasts at the Suisse Hotel are great. There is a bigger selection of food - doughnuts, apples, orange slices.
Waiting in the lobby for our bus. There is one bus after another loading up tourists here. I see now why Lucian says . Everyone else schedules to leave at 8. and we are off.
We stopped the bus to watch an elephant walk by on the busy road. He was carrying a bunch of leaves.
This morning's sight-seeing is a relaxing visit to the Peradeniya Botanical garden.
Rs 300 entrance fee. In 1832 the garden moved to this 150 acre location. There are around 10,000 trees here and 4000 species of plants. The garden center is the Great Circle.
I am not going to write much here. Just look. Lucian is amazing here. He knows so much about every plant. Scientific Names , history.
One Jac fruit can weigh up to 44 pounds (20 kilos). I took a picture of fruits growing from branches coming out of the trunk. This tree is 60 years old. One tree can feed the whole village. Jac fruit tree is a protected tree. It is illegal to kill it.
Very nice orchid house. There is a chocolate smelling orchid here. The Spanish moss is strategically placed hanging from the ceiling. That grows in Florida naturally. So thick it can kill a tree.
Queen came here April 21, 1954. Royal Palm Avenue was planted in the 1950's? Cuban Palms. We also walked down Cooks Pine Avenue. Planted in the 1955. From New Caledonia (a pacific island?) Saw Giant Bamboo, yellow bamboo is used for scaffolding. My book also mentioned a Cabbage Palm Avenue and a Palmyra Palm Avenue, and a Cannon Ball Avenue.
This is really a very nice change from barefoot temple tours. Very relaxing. I think that our pace will finally slow down. I has really been a bit frantic up to now but we wanted it that way to see everything.
There is an enormous population of fruit bats here. They were very noisy hanging from the trees.
People in SR are not allowed to hold hands ?!? especially here because children are here. No "knoodling" in public.
We saw a huge tree and branches of this one tree covers 2420 meter square. It was brought here and planted in 1861. There are aerial roots but it's "unusual in this species" Branches are propped up. Sign said "Giant Java Willow". Postcard said " Giant Jawa Willow Tree Ficus Benjamina Fig. Moraceae shading an area of over 1900 sq. m." 1900 square meters is equal to 20,451 square feet.
arrive at the Gem Shop. Lapidiary.
Permadasas Gems and Jewellery
No. 800. Peradeniya Road, Kandy Tel: 08-385432/ 08-359344 email. Prema@Kandyan.net
Head office: 75/7 Ward Place Colombo 07, Srilanka Tel, 0094+1+672091 email: premadasa2@wow.lk
We were escorted straight into a little theater to watch a movie on how gems are found. First step in gem mining is an offering to the gods. They dig deep caves and lateral excavation. Also do gemming by the river bed extraction. Now they use suction dredging with motors. Another offering with incents is made to bring good luck. They wash gem-bearing gravel in baskets, stack washed gems in baskets then sorting. Next is grinding and cutting. Finally polishing.
They have different gems for the months of the year then we do. Emerald is the stone for the month of May, but it is Blue topaz here.
Now they are sending us to the show room. Nope , a demonstration first. Quite a sales pitch he's giving to convince us to buy here. I would like to see Alexandrite again.
White sapphire hardness is 9, diamond hardness is 10. cases of precious , semi-precious topaz.
Precious (hardness 6 to 8): Sapphire, ruby, orange sapphire., purple sap, pink sap, yellow sap, white sap (poor man diamond) , star sap.
Semi-precious (hardness is 3 to 4): Tourmaline, zircon, topaz, garnet, aquamarine.
1.38 carat star sapphire USD $400. They don't have any white alexandrite.
A half carat white sapphire is about 35 pounds or 60 USD here in this store. I should have bought them in Sri Lanka. I checked in Atlanta at a jewelry store and the cost for a .58 carat round cut white sapphire was USD $180. He lowered the price to $100 and I ended up buying two and had them make some drop earrings.
Anyway, back to Sri Lanka. Some member of our group were doing some serious buying.
A 2.86 carat white sapphire cost was 1000 pounds, no 920, no 850? Because they bought a setting also? You can bargain on the price. They got an official Certificate of Identification that comes with Premadasas Gems and Jewellery (Since 1956). Information includes:
Weight - 2.86 carats
Shape / Cut - Rectangular Modified Cushion
Dimensions - Length 10.14 mm, Breadth 4.43 mm, Depth 4.79 mm
Colour - Colourless, Hue - Colourless, Tone / Modifier - Very light
Phenomena - None
Magnification - Crystalline inclusions
Refractive Index - 1.763 - 1.770 (-)
Pleochroism - blank
Additional Tests - Spectra marked on a color scale, Ultra Violet Fluorescence "LW" is checked, "SW is the other option "orangy yellow" is written.
Misc blank
Mineral Species - Natural Corundum
The Stone Tested is certified to be White Sapphire.
Date 09-09-2005
Signed by Timothy P. Rambukkange, F.G.A (Gt. Britain), G.G. (GIA U.S.A.)
When queen was in Sri Lanka , gemologists gave her gems to get their photo taken with her. Look the photo taken with her. Look for the photo in the gem shops here.
Pinnawela Elephant orphanage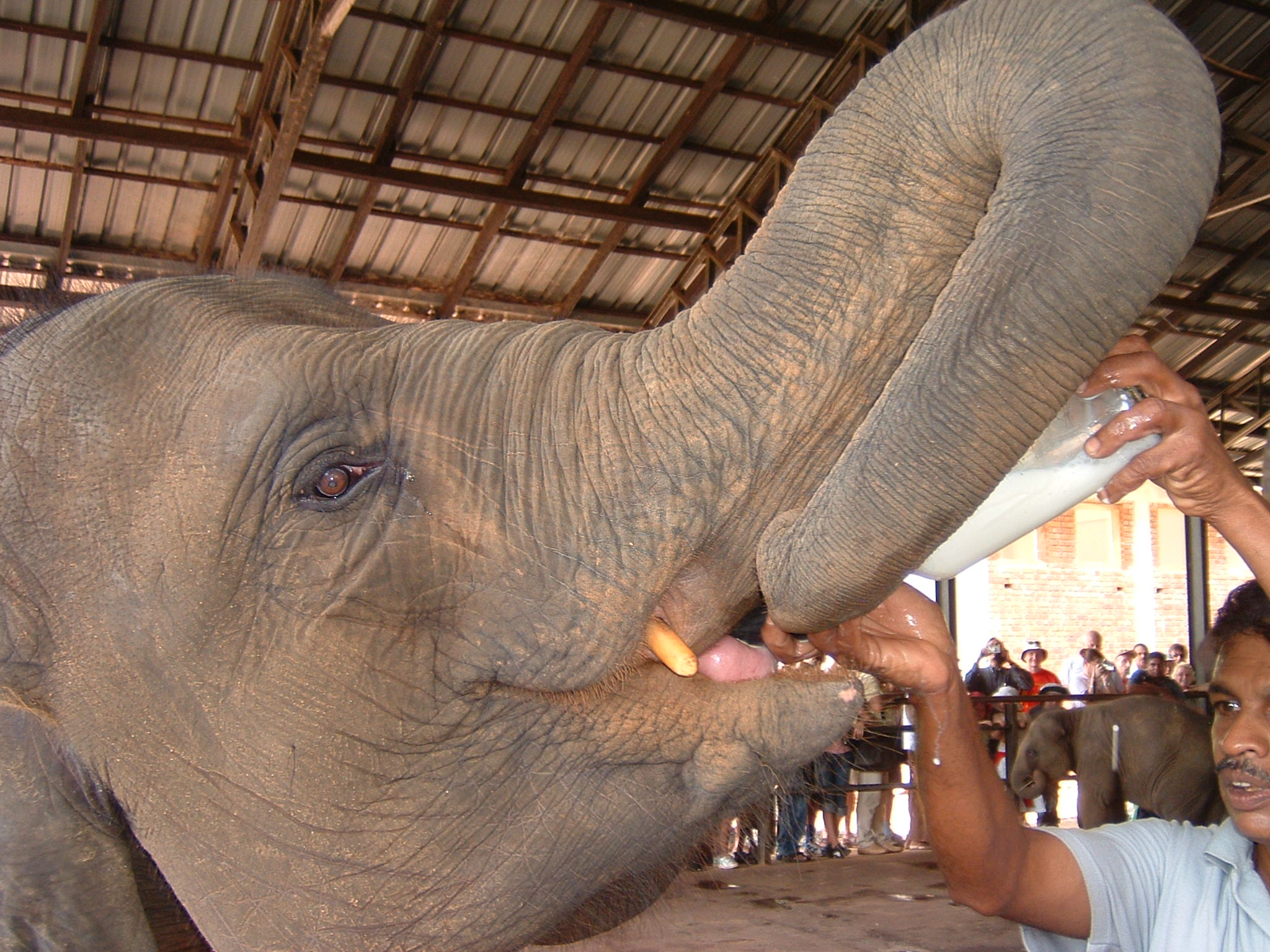 We stayed at the gem shop so long. Many people were buying and Lucien was loving that. Â  We finally got in the bus and rushed to the Pinnawela Elephant orphanage. 25 miles from Kandy. It was set up in 1975. Population of elephants is over 60. It is the largest captive herd of elephants in the world. We rushed in the park and walked quickly to the feeding area. We got there just before they started feeding them at .
In 10 seconds they can drink a 750 ml bottle of milk. Five times a day. Milk is full cream imported from Australia.
In the jungle the mother feeds for 2 years. They feed milk for four years here.
I took a picture of a 2 month old baby.
Lunch was at a restaurant on the river. Walk down a souvenir lines street. I got a chocolate milk shake for Rs 310 (USD $3.10) and a chicken and tomato sandwich (2.80 USD). Milk shake was more expensive than the sandwich! There was no mayo on the sandwich. Both very very good. Especially the milk shake. I could really taste the chocolate. Yum Others got the curry buffet. I'm not ready to eat for curry all the time.
There were a lot of shops on the walk back to the bus. A 512MG chip for digital camera was USD $50. (It's the same price here in Atlanta) I have about 200 photos left on my chip.
Did I see that right? A building with a huge sign: "Genital Health Clinic". I guess it is for family health.
There is lots of traffic on the road for the ride from the orphanage to the hotel.
The exchange rate at the gem store Rs 101 = USD $1. The hotel rate was 98. ATM (automatic teller machines) probably had at least a 1 USD charge also so I think the hotel rate was OK.
arrive at Suisse hotel.
meet in lobby for optional trip to a cultural show. Cost for the show is Rs 300. to see traditional Kandyan & Low Country Dances of Sri Lanka At
Kndyan (sic) Arts Association Hall
Office. C.B. Seneviratna
No. 321 Ampittya Road, Kandy, Sri Lanka. Tel 94-081-2239118 Mobile 94-0777-605106
Some of the dances that we saw:
Blowing of the conch shell and the drum orchestra. The traditional welcome. Five Pancha Thurya instruments (these are played 3 times a day at the tooth relic ceremony.
Pooja Dance
Panteru Netum
Cbora Dance
Mask Dance
Mayura Vannama - Dance shows peacock movements. Very nice. Lots of constant drumming so far.
Raban Dance
Ves Dance
SRI LANKA National Anthem (everyone stand)
Low Country
Fire Walking
Dinner Christmas Eve at the Suisse Hotel again tonight. Huge buffet was supposed to be Rs 1350 but we got it for 1200. It was the biggest buffet ever! Â  Ten heated main dishes to choose from. There was also at least four cooking stations around the room. And a huge desert buffet with many choices. They had a big cake with "Merry X'mas " decorated on top.
I had a little of almost everything. (Tom) turkey and dressing is my traditional holiday dinner. I also had some string hoppers and curry. Yum And 2 glasses of wine  
Nice caroling singing again at dinner.
---
Day 8.
Sunday Dec 25
T-shirt Shop, Univ, Tea Factory, Christmas Drive to the Tea
Plantation
7 / / routine (7 wake up knock on the door, breakfast and luggage out, departure).
Another very nice morning. I slept great again last night. In fact every night so far. Go figure. I love vacations.
It's Christmas Day!
Saturday Christmas program schedule: Go to a high point of Kandy to get a picture , Warehouse t-shirt shop , gem shop to pick up purchases (Hanna's will be delivered to hotel in Colombo), Morelia (or did he say Nuwara Eliya?), climb 5000 feet? Tea plantation, water falls.
This was in our trip in the itinerary, but we did not go here: Shopping is good at the Kandyan Art Association's workshops, which has plenty of brassware, batik, lacquer work and other craft items.
Also from the Itinerary" A scenic drive through magnificent mountains brings us to a tea plantation, where we will be staying for two nights. We are privileged, to be accommodated in the manager's residence, wonderfully located on the plantation itself. Space is limited and it will be necessary to share the few available rooms. "
Many buses were pulling through the front of the hotel to pick up their respective tour groups of people. I think I figured out why we have our auspicious time. Â  Other tour groups are told and there's no way everyone can leave at , so if we leave at , then we can leave on time. Sure enough, right at our mini bus pulled in front of the hotel. They decorated the bus for the Christmas holiday! Writing on the windows and colorful streamers in the bus. That was so nice. What a nice surprise. Â  And we are off for another day of adventure.
Days will not be as hectic now that we are finished with the "Cultural Triangle" It has been very hectic so far, non-stop go go go.
We stopped at a high point to get a good picture of the city of Kandy. I got a good picture of the tooth temple complex.
The really big Buddha on the high hill that we can see in the distance was built 9? years ago. It reminds me of the Jesus in Rio.
We had an idea for a Christmas party tonight so we stopped in Kandy to try to buy gin, but there was none to buy. But we did get a cake for Steve's birthday today.
T-Shirt shop
stopping at T-shirt shop. I did some serious buying. One (peacock) navy blue wrap around skirt, Paisley top with sequins, 2 t-shirts, 6 meters of dark emerald green silk fabric (peacock border design)
3500 top + 1800 skirt = 53 - 208 discount = 4250 + 4500 fabric = 8740 + 200 t-shirt = 8940 Rs or 90 USD.
Trip comment: and we are still at the t-shirt shop. I appreciate the time when I'm making a decision but this is far too long. One hour and still waiting in the hot (decorated) bus on Christmas day. They did have posted prices and they did the 20% discount.
Shopping comment: I am so glad I got that silk fabric. I looked at several other stores when we had shopping opportunities in other towns later in this trip. I could not find anything that matched the color or design of the fabric that I bought in this store. Moral of the comment: If you see something you like, buy it. You will (probably ) not see it anywhere else. If you don't buy it, you will regret it. (I sure wish I had gotten those white sapphiresJ.
While we were waiting on everyone to come out of the t-shirt shop, I went across the street with Jessica. It was a very busy road to cross. I bough a post card of the last supper. She got a very good price on the shirt for her dad.
We are finally moving again. We went down the road 2 blocks to the gem shop so Gloria can pick up her guarantee.
I got out of the bus and took a picture of St. Johns Christian Church (and school) is across the street from the gem shop.
Drive through Paradeniya University.
There are 13 universities in Sri Lanka. In 1945 this place started as a College. In 1954 it reopened as Paradeniya University. There are 8350 students in the university. They study medical, engineering, science, or art. All students get free accommodation.
All courses are taught in the three main languages. Medical is 5 years of study, then get to hospital for more study. Science is 4 years of study., Arts is 4 years of study.
We drove by a map of the campus. It is big! We are just driving by the buildings and residential halls. This is a big campus. We got to the end of the street and turned around came back the same way.
We passes a gymnasium, library, lots of dorms, window AC un some of the first floor windows. Passed Agriculture Library. Saw big groups of 3 story pink dorms.
Exit campus . Free residential living for the Univ lecturers also.
68 km Nuwara Eliya.
They sell "full cream milk powder". Cost is Rs 30 for one kilo of wheat flour.
The Japanese accidentally bombed a mental hospital in Colombo in WWII. So the Japanese now help Sri Lanka. They gave them a free television station so now Sri Lankans must buy television sets. All cars come from Japan also.
There is lots of construction on this road.
In 1867 James Taylor, a Scotsman, introduce tea. Before the coffee - got I can't read my writing here ..
From itinerary: The Tea Country - Sri Lanka is one of the world's largest exporters of tea. Since the introduction of tea to Sri Lanka in mid 19th century Nuwara Eliya has been the capital of the tea industry. For many miles prior to reaching Nuwara Eliya from either direction you will find acres and acres of tea plantations, in fact nothing but tea estates. There are many factories open for visitor's which also have tea sales outlets.
Tea Processing at Glenloch Tea Factory.
Picker work from to with a lunch break. They must pick 14 kilos a day minimum to get paid. But they are capable of picking up to 50 kilos a day. Women get paid more than men. Workers get free housing.
From bush to box in less then 24 hours. Tea processing process is five steps: 1 - drying. Saw 4700 square foot drying bins. 2 - rolling. Rotorvane to cut to small particle. 3 - fermenting 4 - drying 150 degree F, 5 - grading.
4 kilos of green leaves equals 1 kilo of black tea.
They still use an old sifter system. They paid Rs 8 million for an electronic color sorter from Japan. Output is 125 kg.
Yeow. People are putting their dirty hands in all these bins of tea!
Grading tea: Is it BOPF or just BOP grade? What does that mean?
B - Broken
O - orange
P - Pekot
F - Fine
BOPF is the best, BOP is good, BP is ok.
Fanning - the lighter pieces
Dust-01
Dust -02 the smallest pieces.
BMF least quality.
Mixed Fannings
The tea is blended last by the buyer.
It is unreal driving on this road. Ranjith Fernanado (our driver) is doing an excellant job. The entire road is ALL under construction. There is one way traffic in many places so Ranjith has to squeeze the minibus by other vehicles. There is a drop off the mountain on the one side. It will be great to travel this way next year (when this road is finished.). Construction contract was given to a Korean company. But the workers are from here.
Sign: Ramboda Pass Tunnel Site. Â  Ramboda waterfall on the left side of the road.
Many tight hair pin turns on this road. We saw the same boy selling flowers 4 times! He just runs up the next level when we round the turn.
I can't recall ever being on a road like this. Â  There are huge tall towering rocks. On one side, drop off to beautiful tea bushes and water falls on the other side. It is like New Zealand comes to mind but this is so tropical.
The shacks that these workers live in are not any better than what plantations owners provided for the slaves in the confederate South before the civil war.
Drive to Nuwara Eliya hill station, also referred to by the locals as the "Little England" and famous for its lake, golf, and race courses and well manicured gardens.
Situated at around 2000m above sea level and surrounded by lush tea plantations Nuwara Eliya is the main hill resort of Sri Lanka and the heart of the tea industry. Once a pleasure retreat of the European planters the town is still very much an English town with many English style bungalows and buildings. Nuwara Eliya is a good escape for those who miss cool breeze in tropical Sri Lanka at any time of the year.
Nearby is the river where the movie, " The Bridge on the River Kwai" was filmed. The bridge for the film set was built over the tributary of the Kelani River, it is still attracting fans to the town. Â  This quite town probably had not changed since the days of the filming on 1950s. Kithulgala is about 100Km from Colombo on the main route to Nuwara Eliya via Hatton. The Rest House managed by the Hotel Corporation has been in existence since the filming days and for those want to spend a couple of nights there are new guest houses built recently for the growing number of visitors houses to the town.
We did not to this: We hope to stay at the Hill Club, a former colonial planters club which now takes in paying guests. A dress code of slacks, shirt and tie for gents, and suitable attire for ladies is required if you dine here.
Nuwara Eliya - there are many (second vacation) homes here are owned by rich people in Colombo. There is a golf course here. 15 holes can be reached by vehicle.
We have stopped at two liquor stores so far. Still no gin.
park the bus in Nuwara Eliya (NE). Meet back at the bus at to leave. We Had one hour in NE to walk around.
We stopped at bakery. I got a rotty. Very spicy but good.
Jeweler had a White sapphire, size "80 points", USD $110, 1.5 carat USD $230. 18K white sapphire pendant .76 carat is $130.
Big bottle of gin Rs 620. Rs 340 for a small bottle. "Arrack" made here in Sri Lanka. It's like whiskey.
Cost for 100g of chili powder is 20Rs. Cost 65 Rs for a hairclip. 200 g butter is 100 Rs. And 1 liter of milk is Rs 95. Shell gas (propane) (L) large? Is 989 Rs (S) small? Is 170.
Lottery has 6 numbers and power number.
President home is here. Governor Barnes residence is called Barnes Hall. 1822 to 1832. Now it is the Grand Hotel.
We drove by the NE Race course. Races are in April. Also car and motorcycle races are here. The track is all tall grass now.
The highest cricket ground in the world is here. 5400 feet
and we're taking Hutton Road out of town. 65 km to tea plantation. Will take about 3 hours. We passed the left turn to go to World's End. It's too far off our path to see it.
Tomorrow is a 4 hour train ride depart from here NE so we will come back to this road?!? Maybe we should stay in a place closer to NE.
We're on A7 marker 87. At about the 85 mark on the A7, we stopped to see St. Clair waterfall. 240 feet high.
These are the longest kilometers ever!
We stopped to see Devon Falls is 281 feet.
So we're not coming back this way to get on the train. We get on the train somewhere else and were on the train when it come through NE.
- Marker 79 on A7. A tunnel !
- Marker 72 on A7
- Now were on B149. We get on the train here.
5:16 - Marker 5 on B149,
5:33 - Marker 15 on B149 ,
5:44 - Marker 18 on B149 28 minutes to go 13 km (8.08 miles) so we are going at slow speed of 17 mph (miles per hour)
There was a left turn to Adams peak, but we went right on B328. At marker 17 on B328 we stopped to take a picture of Adams peak There is no other traffic on this road at all. Just occasional person. He's going faster now. Barf. My stomach is wishing we were there.
arrive at Luccombe Tea Plantation. Juice and appetizer in lounge room. It was a mess trying to figure out where everyone was going to sleep. It was important that the people doing Adam's Peak all be in one room.
So I had decided that I was going to try to do this crazy hike. I had been thinking about it for a month and I told co-workers and family about it, so I kinda felt like I had to at least try it. If I didn't make it, I wouldn't go to the top. No big deal. What really made me decide to attack this challenge is the people on this tour. It's such a wonderful mix of personalities. I was enjoying the tour so much that I decided that I really wanted to get as much out of this opportunity as possible. I would NEVER have another chance to do this. This is an overnight ascent. This trek is only possible during the pilgrimage season from the full moon day in December to the full moon day in May. The number of pilgrims making the ascent often makes progress slow. Â  Â  It's a 4.35 mile hike that goes up 4800 steps. People have been climbing Adam's peak for more than 1000 years. This was my year to do it. Lucien said "If you don't do Adams Peak, you're a fool. If you do it twice a year you are bigger fool"
So since I was trekking it, I was in a room with Aileen, Jessica who were also doing the trek. Gloria and Sunita shared a joining room.
Somebody suggested, then the group agreed, that since it was Christmas that we would "dress for dinner" Men were required to wear a tie. Short pants OK, but a tie was required. Well, dressing for dinner was very hurried and harried. We had very little time. I threw on my shirt and top and then I helped Sunita with her wedding dress. Yes, she wore her wedding dress! David wore his formal suit. She and David looked beautiful. Very nice.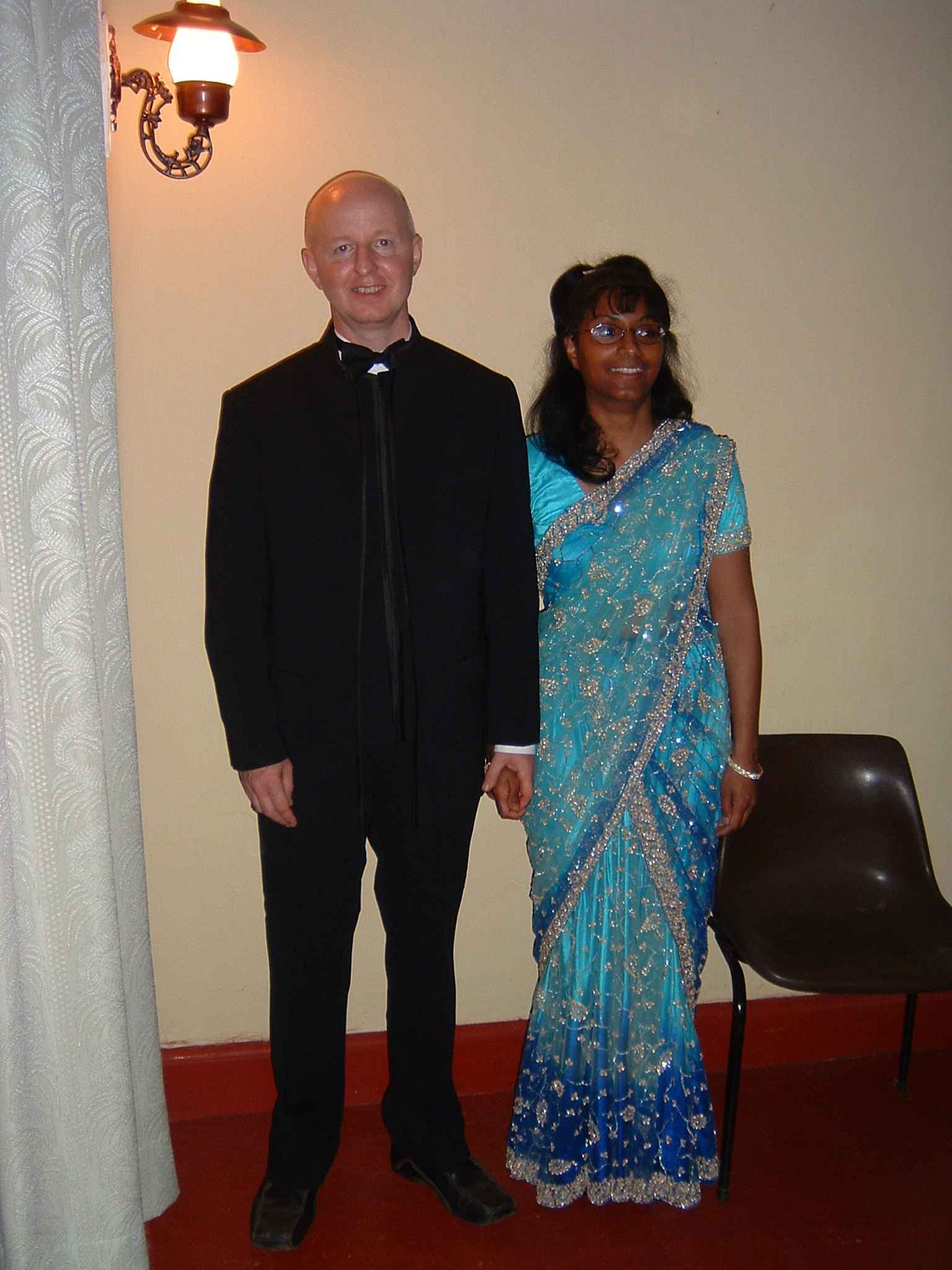 Christmas dinner was the BEST CURRY ever (for me). It was just a little spicy. Very good flavor. You could taste the food with the curry. The 8 trekkers were all at the same table and the 8 non-trekkers all ended up at the other table. Â 
Quite a Holiday Buffet!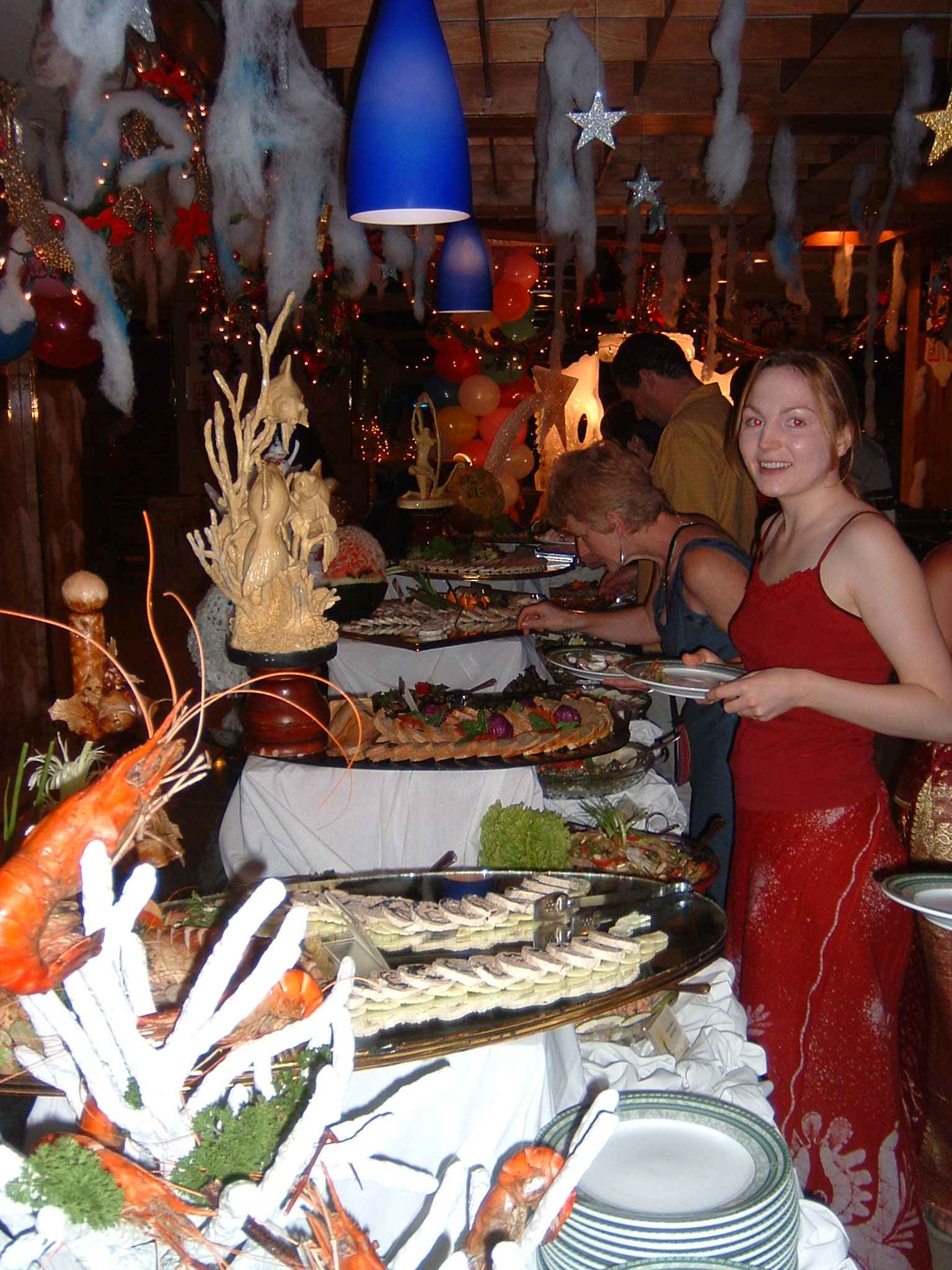 Dessert was Steve's birthday cake. Good, but not like cake that I'm used to. They don't use as much sugar in the sweets in this country. That is a good thing.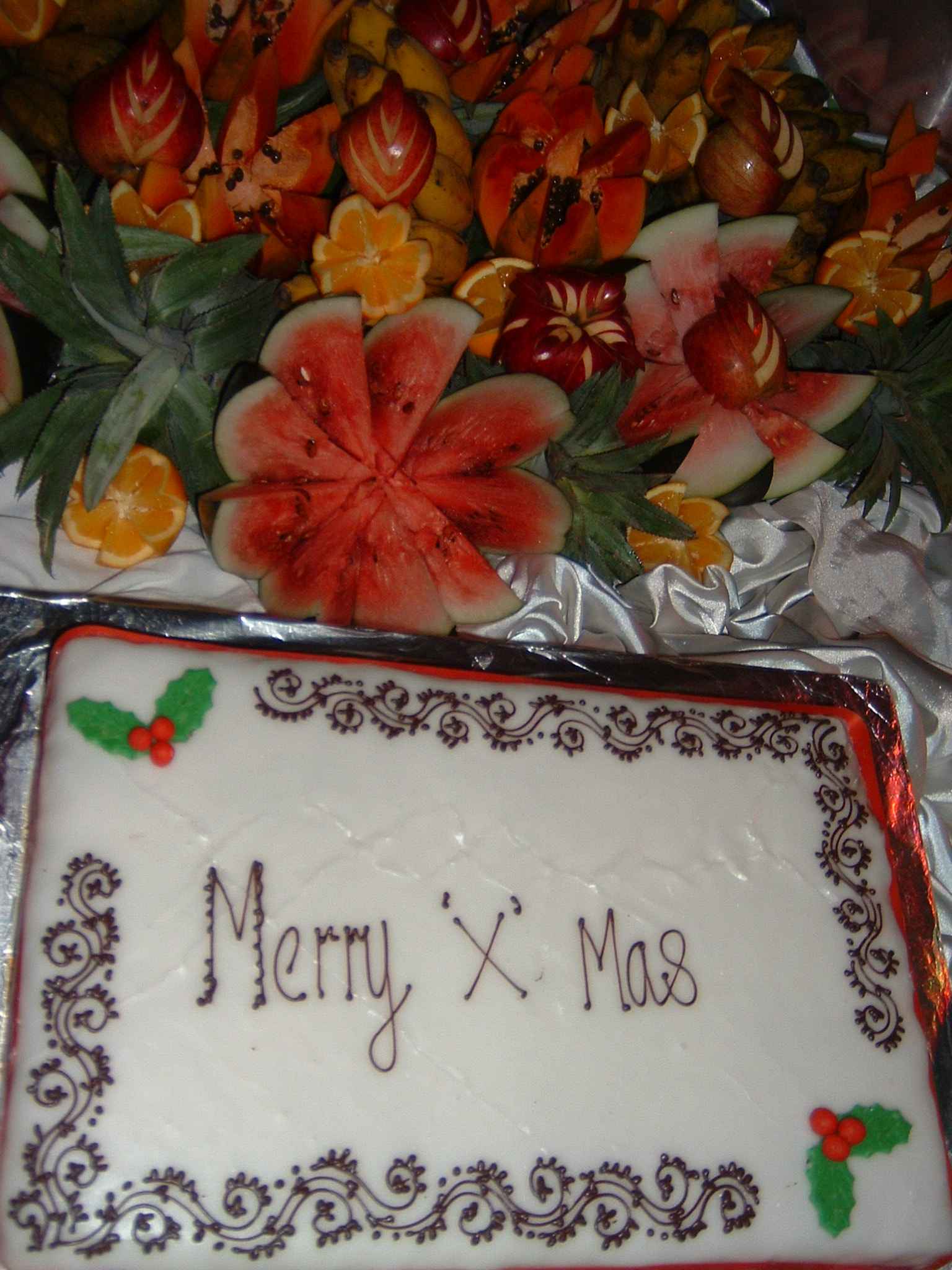 I had printed copies of the words to some Christmas Carols and they (the English) knew a couple of them, so we sang songs. That was a very nice Christmas.
We were in bed by 10. I was so nervous about the hike that next day.
---
Day 9.
Monday Dec 26
Our room got up at . We got 3 hours of "sleep" I tossed and turned the whole time. I had a vivid dream that I missed our group going up the mountain.
I was also very COLD! There are no sheets. We only have a little blanket so either your feet are covered or your shoulders, but not both unless your go corner to corner. At least I had the long sleeve and pants pajamas that I got on the airplane to wear. And we are here for 2 nights. Yeow.
OK , get up, get dressed. and we are off. Gawd. This is NUTS!
It is about a 45 minutes drive. Arrive at . Cost is Rs 2800 per bus to get into the parking at Adams peak and 8 people are going ( 8 remained back at the plantation) so Rs 315 (USD $3.15) each. Lucien and the driver have to wait in the bus until we come back. If they leave, they have to pay the parking fee again.
Lucien told us that pilgrims say "karunawai, karunawai " as they pass on the mountain. It means Compassion, bless each other as you climb. He said there are lights about 99% of the way on this side. The steps are 6 to 18 inches high. 13 to 14 inch high steps near the top.
Here is Adam's Peak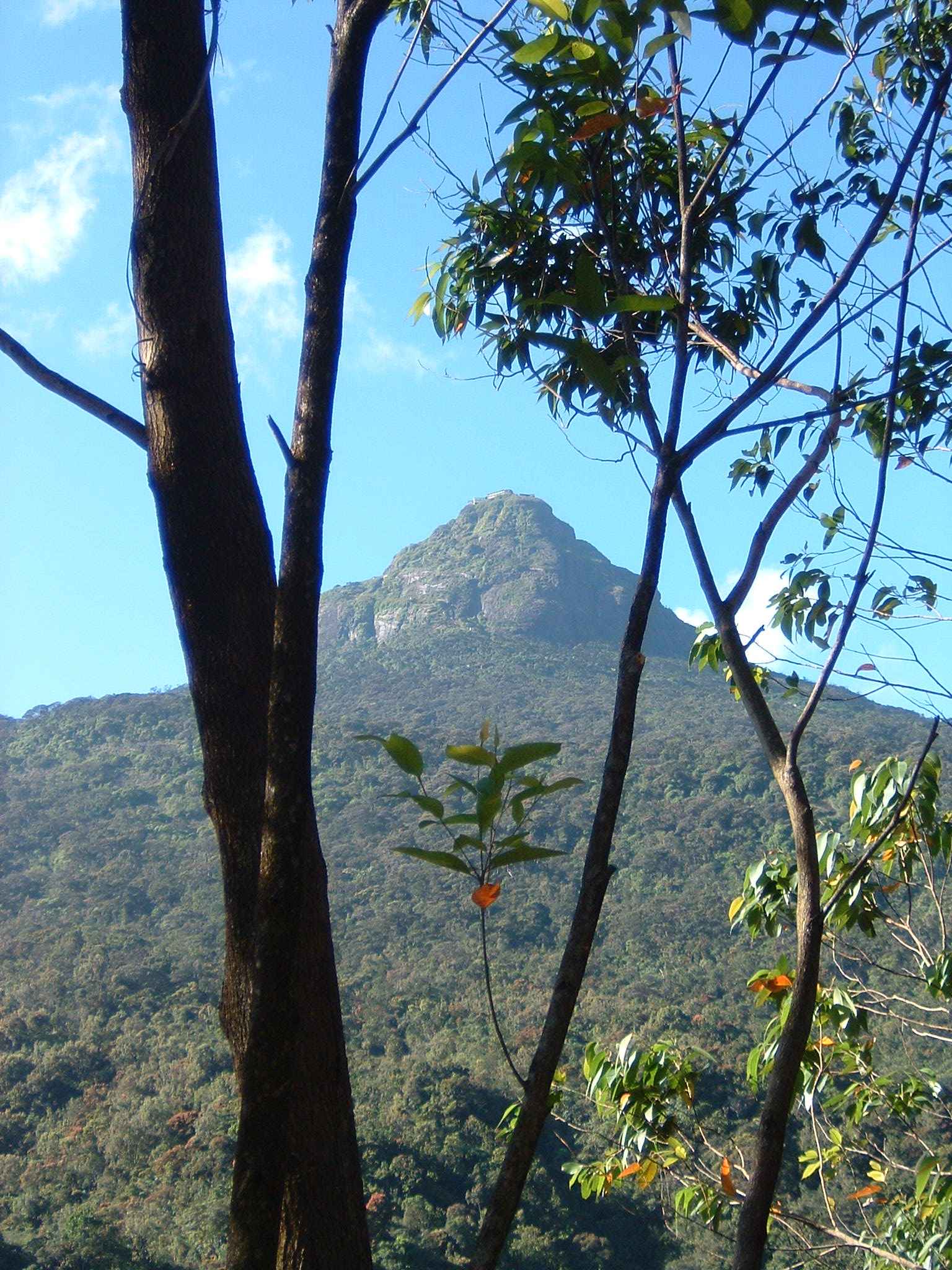 Here are the a few of the 4800 steps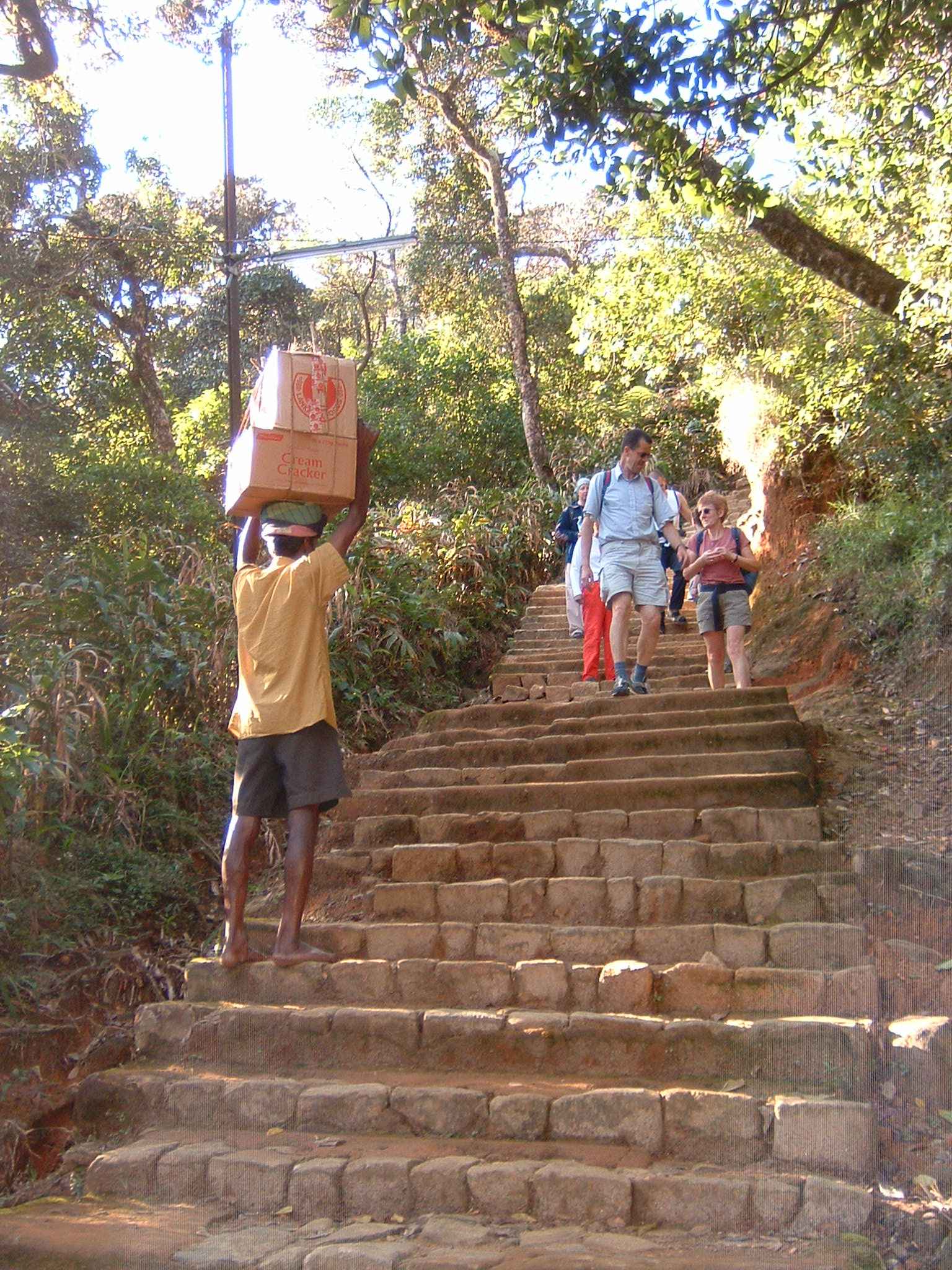 Here is why you climb the steps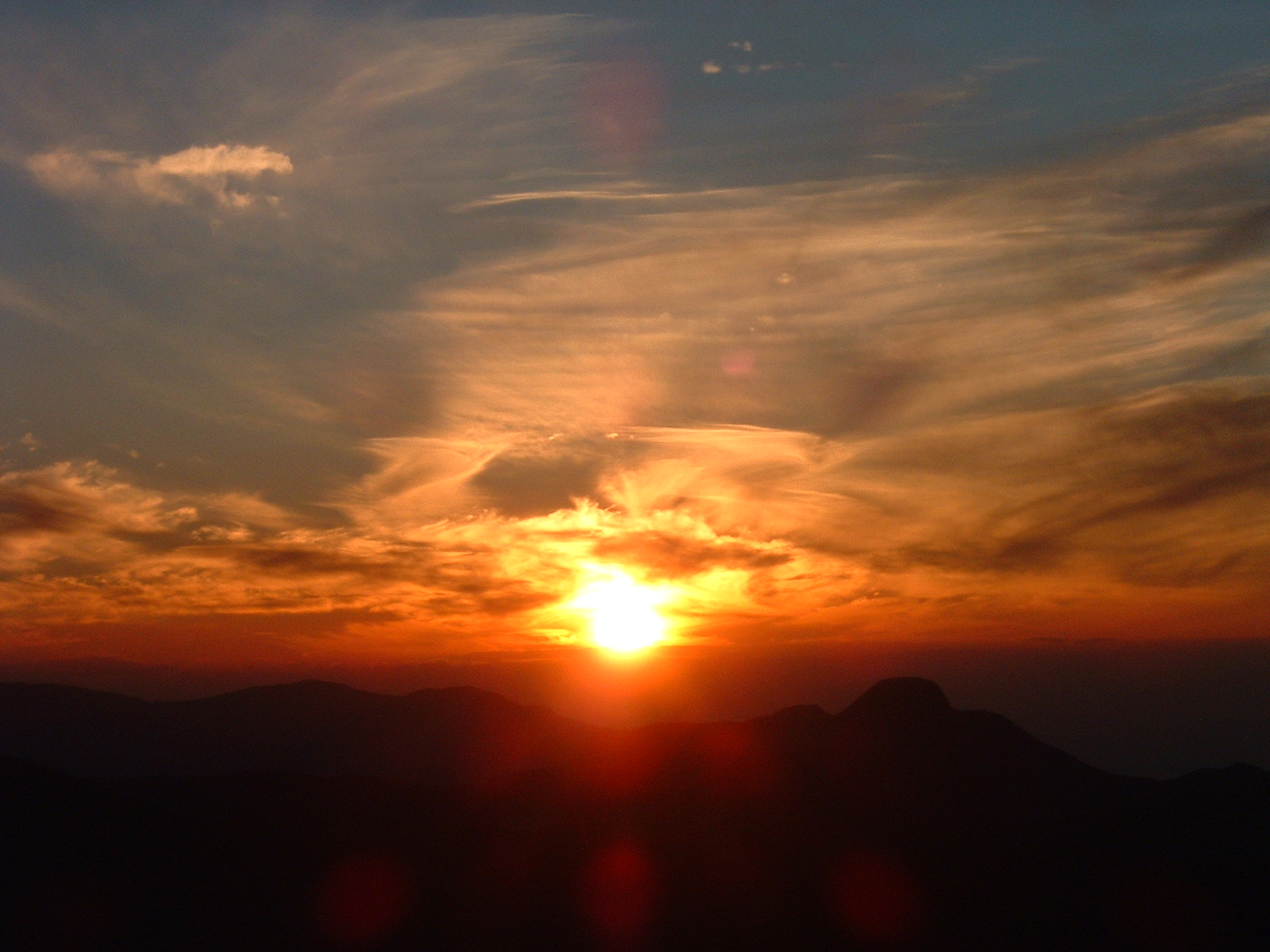 Adam's Peak is such a unique place in the world, I included a lot of information about Adam's Peak at the end of this journal This is my account of our climb
Gather my layers of clothes, 2 liters of water and the pilgrims have begun the 3300 foot ascent. The first mile is a rough road. After about 1000 steps, you cross a bridge. There are short flat parts between a couple steps.
Climb steps, more steps, and more steps.
The middle section was difficult, very difficult for me. I was breathing heavy, every 10 steps. I had to stop and catch my breath.
I wanted to stop only at one point. I was really thinking that I could NOT make it. Everyone in the group was so supportive. Dave was the rear support, which I used a lot. Aileen was a perfect pacer. Sunita was behind her, then me, then Dave. We did that through then entire difficult middle section, most of the way up.
Ed is very fit so he would do fast spurts. Jessica was a steady fast also. As were Gloria and Steve.
Climb steps, more steps, and more steps. No zig zagging. Just straight up.
People in stalls along the way up live here on the trail for 6 months.
Someone mentioned that you should not bring any "recorded music". However, they had music playing in some of the booths and I was dying. My body was really starting to give out and I needed something to give me the strength. I needed some loud rock-n-roll blasting in my ears. I had my iPod shuffle with me and I loaded it with 120 songs. I put one ear plug in my iPod. Perfect. "Come on Ozzie Ozbourne, get me up this mountain."
There were huge steps at the end, but it was really getting COLD so the chill gave me the renewed energy. There was also (very COLD) handrail near the top. Thank goodness I had gloves. (FYI , socks on the hands don't work because you have to grip the rail). I had to pull myself up each step one at a time. The cold rail froze my hands. I was gripping the rail so tight because I didn't want to fall backward. At more than one point, I swear I felt a surge of electricity go through my body from one hand, all the way through my body over to the other hand. I ignored it the first time, but then it happened again and again. I wonder if it was my body trying to tell me to stop, or whether it really was electricity. I just kept going.
I could really relate to this well-written article from Serendib magazine Vol. 16 No. 3 May-June 1997 By Goetz Nitzshe
As I climbed and grew increasingly tired, Saman continued his tricks. Three or four times I thought I was nearing the top, only to emerge disappointed on a dark plateau, the god mocking me from his abode high above. When it started to rain, I reached my deepest low. I sat down on a stone and pondered. I calculated that I had covered only about half of the distance, with the worst to come, but already my strength was gone. What was I doing here on this mountain in the middle of the night, when anyone with a modicum of common sense would be in bed?
Most Westerners reach this point of despair when climbing Sri Pada. Some turn tail. Others make it to the top out of shame, surrounded as they are by 70-year-old pilgrims calling "karunawai, karunawai("compassion") or " Saman Devindu, api enava" ("God Saman, we are coming").
Then I remembered for whom I was doing this: for myself and none other. If I could make it, I would. If not, let it be. I arose with renewed strength and slowly continued on my way. Out of the blue came the certainty that I would reach the peak, no matter how long it took.
I'm convinced this new energy was connected with Saman. I later spoke with the chief lay custodian of the Ratnapura temple, a man named Tennekoon, who told me that Saman granted pilgrims what they had in mind. Sometimes he fooled them, as when his gifts became unexpected burdens, but Saman never did any harm.
The air was very cold near the top. I imagined I was on a ski trip climbing up the mountain. The music also helped a lot. I felt very good at one point and I was positive that I would make it up. I felt great doing the top set of steps.
Climb until to . About 30 steps before the top is a stopping off place. We were all carrying extra clothes so we put on every stitch of clothing that we brought.
We paced the climb perfectly to arrive at the top at . So it took us 3 hours to climb up.
Sunrise is . Lucian was not kidding, on Dec 26 and it was freezing at the top. When we got up, there were not many people yet so we got a good spot to stand and take picture. It really did get crowded though. There are maybe about 200 or so people at the top. Â  People were pushing for a good position to see the sun rise.
We stood until about to see the full sunrise. It was quite spectacular! No, it was VERY spectacular. And I'm NOT a sunrise type of gal. Actually I have seen very few in my lifetime.
After the sunrise in the east, Lucien told us to move to the other side to see how the shadow looks. You can see two mountains. Ok. We moved to the other (west) side of the temple and started looking for the pyramid shadow of the mountain.
We didn't see anything spectacular. Then we thought we saw it, I took a picture. Then it appeared. It (the pyramid) got bigger and bigger. That was amazing. WOW!
If you want to go into the mosque at the top, you have to remove your shoes. No way was I doing that.
A couple people used the rest rooms at the top. I must have sweated the water I was drink because I sure didn't need to go.
We tried to do a group picture. I had to squat and I honestly did not think that I could get back up. It was a truly monumental effort to stand up, the we had to go back up the 10 steps to get up to the platform where the down path was. After we (at least I was) starting to get anxious about if we could make it down.
I had to hold tight onto the rails and lower my self down each step. Those steps are really high at the top!
This is good (but cold) time to go. In March there may be big clouds so you may no see the sunrise. Crowds are not as big in Dec, Jan and Feb because it is too cold for locals. It was very cold on top, but 100 steps down from the top it is warm again.
On the decent, we tried stopping a couple times. I was OK when I was moving, but if I stopped, both of my legs started shaking almost uncontrollably. It wasn't a shiver like when you are cold, my thighs and knees were visibly shaking back and forth. So keep moving. When we paused for a moment I still had to pace slowly back and forth.
I got a huge surge of energy at one point. I picked up my pace and passed everyone until I finally caught up with Jessica (who was always ahead of everyone). She counted every single steps going up! Incredible.
We left the top at and we were down by .
It took us 3 hours to get up those 4800 steps on that blessed mountain and 2 hours to go down the same 4800 steps.
At we arrived at the bridge over the river. It was here where heard the loud speakers announcing to pause for a moment of silence. It was at this exact time when the tsunami hit one year ago today.
Their newspaper said: On December 26,2005 at dressed in mourning colours hold a lit candle and observe two minutes of silence. Invite everybody to join in the commemoration. Hoist a white flag in the business premises. Request places of worship and ring the bells at
I was sure glad to see the bus. Lucien said that he has been up Adams Peak over 300 times!!! Now he only goes up 1 to 2 times a year.
He said there is a monk who climbed it every day until he was 90 years old. He died at 101.
You can't see the footprint. They say it's under the building.
When the offering box at the top is full, they divide it into 10 kilo bags of coins and they run down the mountain with the police with the bags to the bank.
we were back at the tea plantation. I was sooooo tired and hungry! We all went straight to breakfast. Egg hoppers. Yum.
The itinerary said that we could explore the surrounding countryside and mountains. There are many relaxing walks along the tea covered slopes. I found some kids and gave them stickers (so they didn't demand money for the photo!)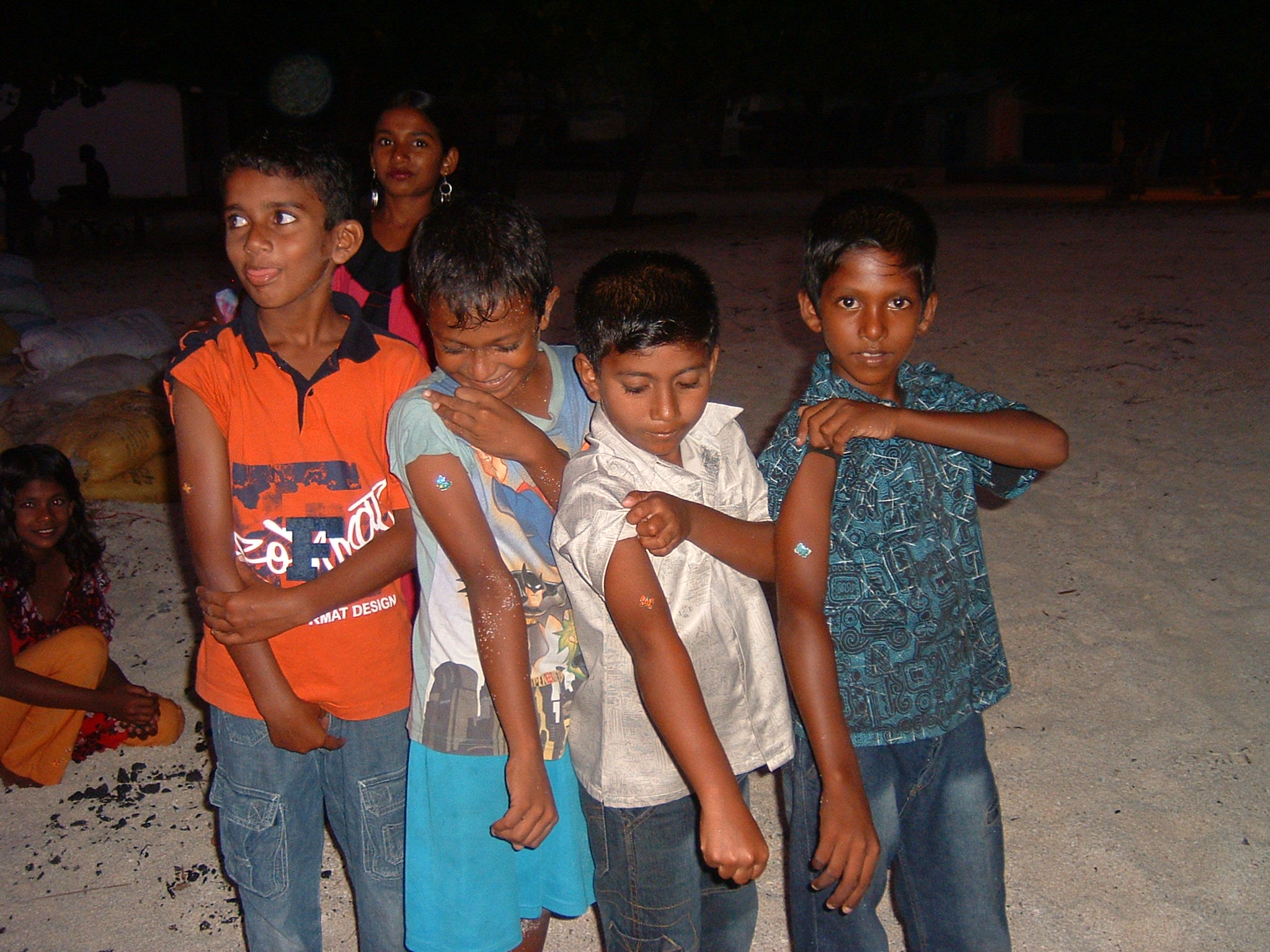 Then I had to rest. Pauline went for a walk on the plantation and found the kids. She went back after tea with my self-inking happy face stamp and some more butterfly stickers.
. Lay down sooo tired. I got out my silk sheets from Vietnam. I pack them on every trip and I end up using them on every trip. They saved me AGAIN. I seem to have an opportunity to use them every trip. It was very chilly both nights at the tea plantation.
Dec 26 today so everything is closed, and no school for the kids to honor the tsunami victims. So we have today free at the tea plantation. It's afternoon. We should have tea soon. This tea estate was built in 1931. Â  Some tea estates have their own schools, medical hospital to keep worker happy.
On this Explore trip the luggage is picked up outside our door in the morning and it magically appears at the end of the day at our hotel. They transport it in a separate vehicle. They used to cram it in the back of the same bus that we rode in.
Interesting from Sunita: in Hindu, there are 4 or 5 casts - business, warrior, trader, untouchables at the bottom. There is a new confidence in the untouchables cast and many are becoming Buddhist. Untouchables can't go to school. Look up "Patel" owned hotels in US for good Indian food.
I learned some new words on this trip. The English call bangs (hair on your face) "fringe". "Tiddly" is drunk. Words for good food adjectives: "gorgeous", "splendid", and I love this one "scrummy".
Tomorrow night's hotel in Bandarawela is supposedly the nicest one in the whole trip.
Bathroom stops have worked out well so far this trip. I have learned that when you have the hole in the floor it is best to just pee. Save the other the hotel.
Second night at tea plantation.
---
Day 10.
Tuesday Dec 27
Train to Bandarawela, Nuwara Eliya
Relaxing morning breakfast.
I could barely walk this morning. I shuffled to the bathroom. OMG, OMG What a hike. What a hike we did yesterday. There is not way I would have attempted that if it weren't for the people in this group. I think Ed and David had decided that no one was going to turn around. We would just go slower. Ok, so we did. Go slower. Those 4800 steps were wicked.
We're off at this am. We left tip at tea plantation of 2000 Rs (20 USD) for 16 people 2 nights breakfast and dinner.
Schedule: See tea pickers, Christian church, get on train to which will take us to the bustling market town of Bandarawela.
Itinerary had this but we did not do it (I'm glad we didn't do it .): Leaving early morning, we drive to the reserve at Horton Plains from where we trek (a very scenic and mostly flat walk) to a phenomena known as the "World's End". The upland plateau drops away abruptly (700 feet) and on a clear day one can see all the way to the coast.
Lucien asked us if we wanted to stop to see the tea pickers (worker's) house. We had driven by many houses already. Some are really shabby shacks. They are just as bad as the places that plantation owners provided for the slaves in the confederate South before the civil war. We all agreed that we did not want to stop. It just seemed awkward.
Canyon Power station on this road. Huge pipe up through the tea bushes for the water.
We stopped to take photos of people picking tea. We found one woman who loved to be photographed. Tea bushes can grow to 10 meters tall. They are pruned back so more tender new leaves appear and keep the height manageable for the picker.
Stopped to see Christ Church Warleigh. Built 1878. English Service first and third Sunday at . Vicar T. Phone 05122714. No pictures allowed inside. He showed us a bible from 1879. He also had a Good News bible. I have the same one! We got a receipt for the donation. Tourists are a novelty here. I gave crosses to the two ladies by the church. They said they were Christians. You do not need to take your shoes off for a Christian church, but some in our group still did. It's a habit now.
45 minutes to Hatton where we board the train. There always seems to be bags of sweets passes around the bus at exactly the right time when I want a candy.
Arrive Hatton. (Diesel) train departs at , but it is never on time. Walk around town and buy your lunch for the train. We asked Dave and Sunita to do that for us. But that did not work out at all.
On the train there no reserved seats, In 2nd class there are cushion seats. Get in quick and sit. There are no doors and no glass in the windows.
It is a 4 hour ride to go from Hatton to Nuwara Eliya, to Bandarawela. "This beautiful train journey snakes and twists its way through the mountains and round green rolling hills covered in tea plantations. " It may be a beautiful journey, but we didn't see much. This is my account of the train ride:
Ok this is a trip (I don't mean that in such a good way). We are packed in like sardines, crowded onto the train at Hatton. If was a frantic situation getting on the train. Shove people into every available space. An very "aromatic" gentleman is hanging over me right now. Every car on the train is packed full of people. They are standing packed in as close as possible. I hope we get a seat eventually. I'm not sure I can do this for four hours. My legs still hurt from the Adam's Peak climb yesterday.
The train went through a long tunnel. People scream and yell to hear the echo's in the tunnel.
I'm glad I ate that shredded wheat on the platform waiting for the train. I'm really hungry now. I have no idea were Sunita is with our food which she was so nice to buy for us.
Wall to wall, hot sweaty people. Some one tries to push through the crowd to get from one end of the car to the other. It really disrupts our standing position. What in the world is that person selling and yelling? He finally gets near me and see a basket of nuts. He saying "peanuts". With his accent it sounded like "penis". Ughhh. SQUISH. 20? minutes to the first stop.
Each stop at the train stations is frantic. People push through the (smelly) sardines trying to get off. More people get on. What in the world am I doing here? We had an option to ride in the bus. That's where my chocolate milk is waiting for me in the cooler. Oh well. It has been almost 45 minutes so far. I'm still standing. Ok, so this is a good experience to say we did this. We are so spoiled in our western world. Maybe other trains also get this crowded, but I can guarantee they don't have this much character. I like to hear the train whistle. It means we are approaching a stop.
On the Maldive's trip, Mark and Angie told their story about riding a full train. An official made a local get up and give Angie his seat. The official made the local person feel guilty by telling him " A foreigner is visiting your country and you make them uncomfortable"
Air blowing through the car helps. I am standing right beside the lavatory. When someone opens the door, the smell is unbelievable. I gagged. People actually go inside and shut the door. I have to keep writing to get my mind off the present situation. Try to absorb the essence of the experience.
The wind on my face passes by 6 guys in the doorway before I feel it. It is "scented'. I close my eyes and feel a gentle rocking. Imagine I'm on the Dhoni. No I really need to appreciate the experience of where I am right now. It's is not that hot. I'm wearing long pants and I'm comfortable. The breeze is cool.
and we are still standing on the train. It is a little less crowded but still no seats are available. Geez. Climbing Adams peak doesn't help. My legs are so stiff.
I ended up standing beside a very nice (also very attractive) man. It really helped pass the time to talk. It also took my mind off the uncomfortable situation and the pains in my legs. Â  We must have talked for over an hour. It was a great conversation and one of the highlights of this trip (for me).
Oh my goodness. The conversation we had. Â  It started out with religion, then it least to more personal subjects. More on that later.
Last year, I had taken a 13-week class on Perspectives on the World of Islam http://www.encounteringislam.org/ and http://www.answering-islam.org/ to learn about "embracing Muslims with the Love of Christ". And another 13-week class on Perspectives on the World Christian Movement http://www.perspectives.org/. We visited a mosque and Hindu temple. Â  I had my writing pad with all my notes when I visited the mosque in Atlanta. We read through all the notes and he confirmed each thing that I had written about Islam.
Jesus is a prophet (not god), born from the virgin Mary. This cannot be explained and it is not revered in the Quran because there many other miracles also.
Muslims pray in the direction of Mecca (but they started out praying to Jerusalem!) Required to pray 5 times a day (Salat).
We are born sinless. We choose if we commit a sin. Man can choose the right or the wrong way, but everything that happens is the will of God (known as Allah). Mohammed is god's servant and messenger who was chosen to preach the message. Muslims do not have a relationship with god. God is a factor in the choice of right and wrong.
Islam - belief of one god. We are all accountable to him. God will judge you based on your life in this world. There is accountability.
Belief in Adam and creationism, not evolution.
The Quran is the actual word of God in it's original language.
There is an obligatory form of giving call Zakat. It is 2.5 percent of saving (not income). If you earn $20,000 and you have $100,000 in the bank, you must give a minimum of $5000 to the needy, poor. You cannot give it to the mosque, you must give it to the person. Zakat is a genuine transfer of wealth. It is a remedy/antidote to your love of wealth. Â  You can also contribute an additional amount to the mosque.
Ramadhan - break the fast at sun down.
Hajj - pilgrimage to Mecca.
Muslims are expected to tolerate and respect other religions. They are also obligated to tell others about Islam.
Jihad - many misconceptions. It means "to strive for", "to struggle", "fight to protect your region". We all have our own jihad to fight our own desires.
Quran "fight in the way of Allah those who fight you, but begin not aggressors" Allah does not like aggressors?
There is no guarantee that you will get into heaven. God has a way of justice by exchanging deeds. You get into heaven if god chooses to accept our good deeds.
Some Muslims fear they have not done enough good deeds. You should NEVER feel like you have done enough good deeds. God is merciful, so he can forgive your sins (if he chooses to). God is fair. He will not judge you based on things that are not available to be known to you.
Heaven and hell are very real concepts. They are physical places. There is an angel that sits on your left shoulder and one that sits on the right shoulder. They record good and bad deeds. These deeds are revealed on the day of judgment. It will be a fair process.
There are about 124,000 prophets. They are all sinless. Jesus was not killed. A man of his likeness was put on the cross. Jesus was raised to heaven.
30% of the Arabs in the U.S. are Christians!
I asked him "Are you going to Heaven" He said "I hope so, I try to do good". He agreed about the angels on the shoulders. Good and bad. Try to do good.
We recognized that we had very different beliefs about religion and Jesus. We spent so much time talking about Islam, so I took and opportunity to explain that I believed Jesus died on the cross. He suffered and felt the pain of all our sins. Jesus asked "God, why do you forsake me?" It was because Jesus was bearing the weight of our Satanic sins. When he died, Jesus was raised to heaven. If you truly believe that Jesus died for your sins and you humbly ask Jesus (God) to forgive you, you will also go to heaven.
I still remember the expression on Ahamed's face when I told him that I knew I was going to heaven. Yes, that is something that we didn't agree on. We also agreed that we didn't agree about Jesus. Â 
I also had some notes in my journal when I visited the Hindu Temple of Atlanta http://www.hindutempleofatlanta.org
There is no (human?) author of their writings. God is the author.
All idols are perceived similar to our life. Your emotions and how and what you want to pray depend on what idol you pray to. Â  Your emotions dictate the idol / god you pray to. In the end, it is all one god. (like there are different kinds of food, but it is all food). Revelations are revealed in personal meditation.
God is everywhere - Air is god. The body is a covering for god.
The soul never dies. It is only passed on. If something is new, something else had to die (be destroyed).
We can't / won't / don't reap rewards of our life in our lifetime. It is passed on. We live the life of someone who came before us.
Bramha god is the creator. Vishnu is the sustainer , Larshiva? The destroyer. All three make up the supreme god Brahmin. All of these gods and idols are different forms of Brahmin.
Jesus and Allah are sons of the same supreme god.
The dot in their forehead is the third eye. Priests do not necessarily preach, they help with ritualistic aspects.
That was such an enlightening discussion about religions. I love talking to people who don't believe the same thing that I believe. Like at my work place, where the CEO of our company is renting the other building to the George W. Bush campaign headquarters. I love to talk to Republicans who re-elected baby Bush (vs. the previous president "daddy" Bush). They agreed with W (dubya) to go to war with Iraq. They are finally realizing (and almost agreeing with me) that it was HUGE mistake, there were NO WMD (weapons of mass destruction), and our taxes are going way up to pay this disgusting quagmire of a mess that we are in right now. Â  Anyway, I digress.
So enough about religion. Our conversation on the train took a different turn when he made a comment about women who show so much skin. He didn't think is was proper. In his culture, women cover to honor god. Then he added that they should also cover "because men get thoughts". Women can wear anything for their husband, but in public they should have more conservative dress.
So he finally go around to asking me "Are you married? " "How old are you?"
It's not very often you get the opportunity to talk to someone from such a different place/country, so we were both taking advantage of the situation. Knowing that we had at least another couple of hours on this train and there were no seats. So here we were, standing in the hallway of this train. Â  I was totally comfortable talking to him.
He apologized for asking. He said "pardon my questions". He was acting very shy but he wanted to know what do I do about sensuality (sexuality?) as in "good sex". You mean "safe sex?" I asked? Yes, you should be careful not to make a baby. I asked him about abortions. He said there are abortions here in Sri Lanka. I wonder if it is are legal like it is here in the U.S.
Divorce (for him) was not OK. The last guy I dated said the same thing AND HE WAS DIVORCED! But then that guy would also never see an "R" rated movie and his favorite movie (Godfather) IS R-RATED! Anyway. I digress (again).
Ahamed was genuinely concerned for me. "What about when you are older?" Who will take care of you?
He is another person that finds it difficult to believe that someone can be OK (fine) with being single. I believe that (as he does) that God will provide us with everything that we need. That may mean a wife for him some day, and it may (or may not) mean a husband for me. We agreed that we have to trust God.
That was such a unique opportunity to have a conversation like that. I thoroughly enjoyed meeting him. I thought he said his name was Mohammed, but he wrote in his address in my book: Ahamed Siddee, No 41, Gampola Watty, Gampola, Sri Lanka. Â  I hope he doesn't mind that I shared (most of) our conversation in this journal.
So I finally got an opportunity to sit on the train and I took it. Ahamed would be standing for his entire 6 hour journey. He is a more hearty soul that I.
We arrived in Bandarawela about 4. It was a very short drive to the hotel half a kilometer from the train station.
Bandarawela Hotel (Since 1893) Â  http://www.aitkenspenceholidays.com/bandarawela/index.htm
14 Welimada Rd. Â  Â  Tel 057-2222501, 057-2230958 , 057- 2231190, 057-2222834
From my Rough Guide book: This gorgeous old hotel is set in a planters' clubhouse of 1893. Personable, rambling wooden structure is brimful of charm, while the stylish rooms combine colonial atmosphere with modern comfort. With polished wooden floorboards, colonial fittings, quaint old metal bedsteads.
I am sharing a room with Aileen again. Jessica roomed with Pauline.
The people going to get massages had about 10 minutes to get ready before the bus was leaving to go to the Suwasetha Health Resort. Â  It was Rs 2000 Rs for an Ayurvedic Massage.
No thank you for me. I do not like massages from a person that I do not know (especially in other countries). Â  I know (now more than ever) to avoid that embarrassing situation. My wonderful alternative was a long, HOT, private bath in my own bathroom. We had a big colonial-style bath tub with feet. That was truly fabulous and relaxing.
After my bath, I went out to the lobby where I finally got around to writing some post cards.
When the massage people got back I was so glad that I did not go. I walked with Jessica to town so she could call home. There are very convenient phone stations in every town in Sri Lanka. Look for a yellow square signs say IDD, NWD and Local Call. Jessica said it was very easy to use, but so was my cell phone. I dialed direct twice now: once when I arrived and another time on Christmas eve. I talked to T because dad wasn't there. I have seen very few Internet cafes.
Shops are open till 7 in town. After Jessica's phone call, we had nice talk and a slow walk for the two blocks back to the hotel and straight to the bar. She was pleased to see Malibu (coconut rum). Â  Malibu and coke is her drink. 3 of them. She was just trying to deal with the massage experience. I had 2 corona beers at Rs 600 each.
So the lesson learned from the massage experience:
If they are doing, or if they ask you to do anything that you are uncomfortable with, then be very insistent and do not let them do it to you, or just do not do it.
If they (the male manager) asks you to remove your towel before going in the sauna, don't do it if you are not comfortable being naked.
If you are a single (unmarried) lady and they pair you with a man that is just not right. They would never to that to a Sri Lanka woman. Laying on the table getting a massage with a very small inadequate curtain that does not block the view of the other (naked ) person is not OK if you are not comfortable with the other person in the room.
Dinner that night was a buffet for Rs 900 in the hotel. It was very good. I started with rice and curry. I had a little of everything and I loved it. It is beautifully displayed and kept warm in clay pots. Then I had to try things on the other buffet. Mutton mousakka. Thin slices of tasty eggplant with (potato) "Chips" on top. They had a grill in the courtyard of the hotel where they were cooking BBQ chicken. Yum.
Jessica started to sit down across from me at dinner. Pauline motioned for her to meet her in the room and I never saw either of them until I went to their room after dinner. Traveling takes it's toll on everyone. It's good to have people that understand to help each other get through "situations". We were all looking forward to arriving at the beach the next day.
---
Day 11.
Wednesday Dec 28
Waterfalls, Buduruwagala, Drive to Unawatuna
7 / / routine (7 wake up knock on the door, breakfast and luggage out, departure).
Waffles at breakfast! Yum!
Aileen said I looked like a cowboy trying to walk this morning. My legs are very tight. A lot of people are still very sore from Adams Peak (and standing on the train). It's a good type of sore.
Wednesday schedule: Landscape stop, waterfall (can't understand the name), Buddhist temple, stilt fishermen maybe.
But first we stopped back at the Suwasetha Health Resort to explain to the manager about the situation with the massage yesterday. The manager started to try to blame it on the masseuse girl. After it was clear that it was not the masseuse, that he was the problem when he paired a single lady with a guy, he apologized and she got her money back. Hopefully he will learn from the experience.
- Stop at the Grand Ella Motel. Â  There was a beautiful, change that, odd flower growing on the fence named "Aristo Lotia" We walked through the hotel to take a picture of the (foggy) valley where we are driving today. We are going South to the beach. A picture won't do this wondrous view justice.
We also used the toilet at this hotel. I was one of the last people leaving and the manager told me that would appreciate it if we bought something. Actually, it would be nice to stay there over night. Then we could leave 30 minutes later in the morning. We could also get better picture then.
Back on the bus. We will be driving 173 miles (280 km) on the roads through the valley today.
From Bandarawela we drive around? through? near? the World Heritage Site of Sinharaja Forest Reserve
Sinharaja Forest Reserve in Sabaragamuwa and Southern Provinces - Located in south-west Sri Lanka, Sinharaja is the country's last viable area of primary tropical rainforest. More than 60% of the trees are endemic and many of them are considered rare. There is much endemic wildlife, especially birds, but the reserve is also home to over 50% of Sri Lanka's endemic species of mammals and butterflies, as well as many kinds of insects, reptiles and rare amphibians.
We stopped to Rawana Ella waterfall. They fall 300 feet (90 m) over the valley wall. Very pretty, many layers of falls.
Rough Guide says "hawkers here will try to flog you little coloured stones (pretty but worthless, taken front the falls." Yes, we saw them. I wrote:
"A person is walking with me. He is trying to get me to notice his rocks so I need to keep writing. No I will not buy mica. I have a huge mica rock already on display in my bookcase. Keep writing so they don't talk to me."
Roads are really winding around these mountains. At least there is no construction on this road. My iPod really helps keep my mind off other things.
This has really been a great trip so far. With ear plugs I get a good night sleep every night. People are nice and Lucien is very knowledgeable (almost too much) about everything it seems.
Buduruwagala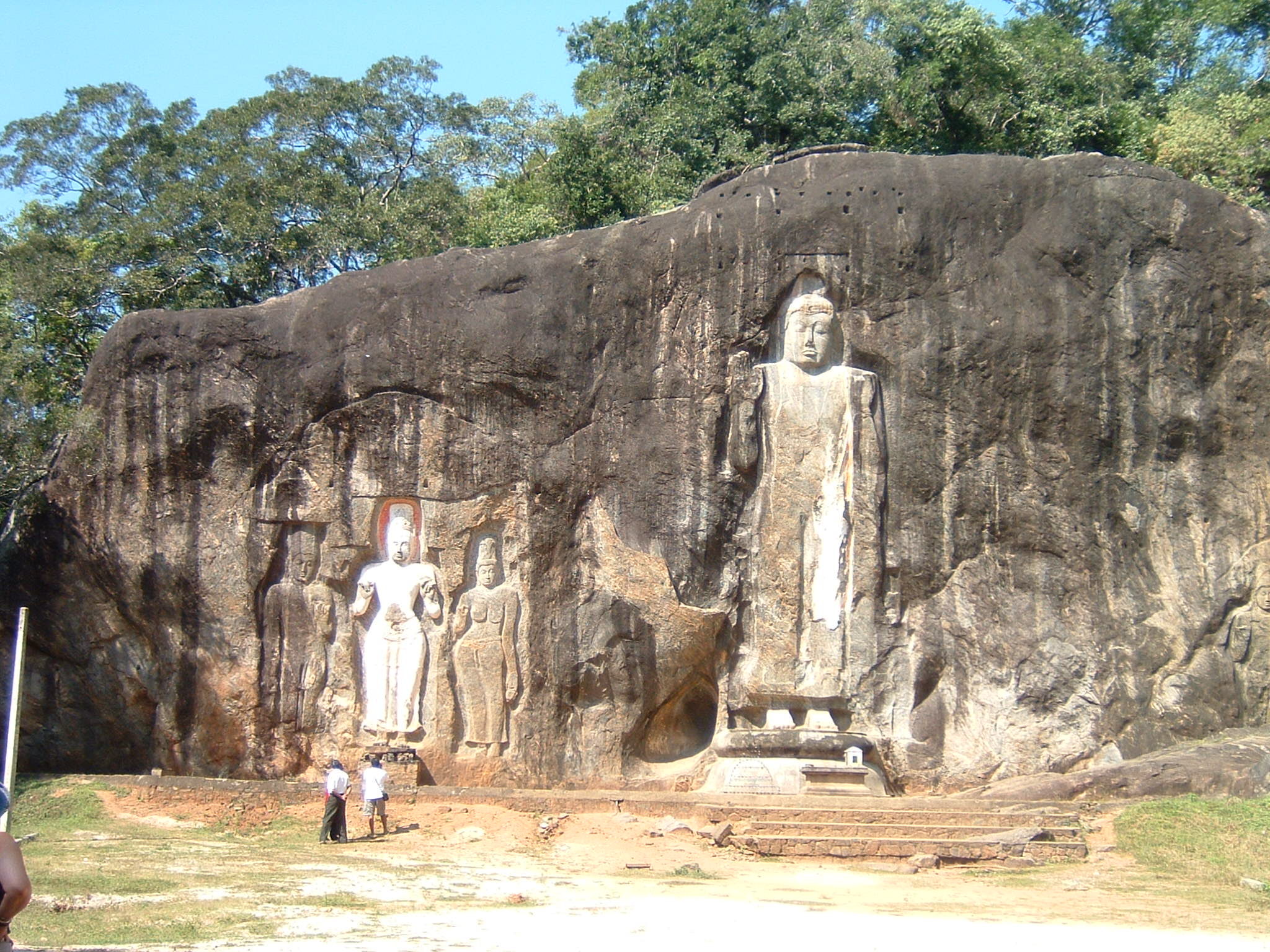 At Buduruwagala in Wellawaya, we are going to see rock face carvings.
We were on a very narrow dirt road for more than 5 km to the shrine.
Park the bus and we are only people here, besides some workers. They were paving steps. They will probably be charging to view it soon.
We stopped at the only vendor so Lucien could show us the fruit. It was a Sri Lankan "Wood Apple". He cracked it open. It was yucky mush inside with seeds. Never seen anything like that before. Many people tasted it. It was tart. A big glob the goo landed on my sunglasses hanging around my neck.
Buduruwagala means "Lord Buddha figure on stone" Â  There are 7 figures carved in low relief into the fact of a large rock outcrop. Â  Â  They date from the 10th century AD.
The central figure of the group is a gigantic standing Buddha statue 51 feet (16m) from head to toe - it is the largest standing Buddha of the island. He is standing on a lotus flower. He is in the "abhaya" have-no-fear pose (right hand raised, palm is facing the viewer). It still bears traces of the stucco which would originally have covered his robes, and faint splashes of his original paint. Â  He is looking toward tank. Mustard oil comes from the hole to his right (on the left side as you look at him) of the tall statue's feet. Put the oil on your forehead for healing.
The central of three figures to the Buddha's right is thought to be the Buddhist mythological figures, the Bodhisattva Avalokitesvara. Female figure to his right is a Tara, a goddess in the "thrice-vent" pose.
This was lost to the jungle. 1875 rediscovered.
and we have had our ginger cookies and were back on the road.
we stopped by the side of the road and bought sweet corn for everyone. It was boiling in the pot. Deelish. Of course, it's not as good as Florida sweet corn, but still good for grown in Sri Lanka sweet corn.
When this area was opened, the Government got people from Galle to move here to farm. They got half an acre free (for their house) and two acres free to farm. Â  We are on the A2.
picnic stop by a lake. We sat on mats. Two rotty's. Banana, yoghurt, yum yum.
Our Rotty's are mild curry. He also gets some egg rotty's. Driver Ranjith got a "to go" clear sack of rice and curry. Maybe three cups of rice with various piles of colors of stuff on top. It was Rs 80 (80 cents). Lots of bird watching around here. Newly paved road here, but they are still bumpy, but not as bad as earlier today. Bathroom stop in the jungle and we were off.
and we're along the coast now. Seeing some tsunami damage. Houses, tents places where the water flooded over the dam. Many 10x10 foot temporary shelters I think it said "from Kuwait".
Sri Lanka's biggest Muslim population is here in Hamvantota. I saw a Foreigner Liquor Shop. I guess Muslims can sell it but they can't by it because they don't drink.
This place sure looks a lot better a year later then New Orleans will look in a year.
I saw a tower with big sirens at the top. Road is very awful bumpy here.
Were at Ambalantora. A Lexus just passed us.
at Tngalle. 89 km to go. About 2 hours.
We in Madagota now. Big town . We have about 40 km / 45 minutes to hotel Lucien asked if we wanted to stop for tea. We said no, we would rather just get to the hotel.
Lucien passed around his detailed records of the "Kitty Account". Very impressive down to the penny on all expenditures. 12/19 to 12/25 is Rs 10628 (106 USD) for biscuits, donations, tips. Tip to tea plantation was the biggest 2000. Mostly Rs 100 and 200 tips.
We stopped to see some stilt fishermen. They stay up on their poles 4 to 5 hours. There is a season o a couple months that they do that. Catch fish with no bait , just a hook.
This is from Intrepid newsletter http://www.intrepidtravel.com/
The ultimate test of patience is being a pole fisherman in Sri Lanka, perching on your stilt that's firmly embedded in the sea bottom for hours at a time in the reef protected shallows. They sit there when the tides are right and the fish should be swimming in the right direction, casting their lines to haul in their catch.
The pole fishermen can be found along the south west coast, from Unawatuna to Weligama. Each stick position is owned by a family and proudly passed down through the generations, like a taxi badge. In some areas it's become more of a show for the tourists than a means to catch their family's lunch, with the men mounting their poles when a tourist bus approaches and smiling for the cameras in return for payment.
happy hour. All drinks cheaper. Leave key at reception, free safety locker ( I never used them - just locked my p port in my suitcase). No alone walks after .
Sea is safe for swimming but not if the red flag is out. Hotel has life guards. Police on beach also but keep everything locked up. Safe in hotel
We are driving west across the lower part of the hill country.
They get Rs 5000 a month they get if they don't go to the temporary housing. So they stay in tents. To get the money. That's why I saw empty temp housing I wonder how long they will keep getting that. When hurricane Katrina hit New Orleans and the levees gave away and the city flooded, people evacuated and ended up in cities all over the US. FEMA was paying for hotel room but all the sudden FEMA said they would only pay thru Dec 12. then you have to get out. People revolted so they extended it to Jan. These people in New Orleans lost absolutely everything and they cannot go back. There is a muddy coating over everything. It dries so when you clean up you breath in the sewage and chemicals. Levees aren't fixed no electricity jobs no insurance now. Etc. etc.
I have seen Insurance business here.
So we get to our beach hotel (2 minutes early). We are greeted with wine glasses half full of SWEET ICE TEA! (with no ice of course). Can you believe it! Sweet tea! We drink big glasses of sweet iced tea at lunch in Atlanta at the Rib Ranch. Since drinking water and sugar are such precious commodities here, tea in a stem glass is savored like wine. Some of the English people took one sip and wouldn't finish it. Oh no, it was a tea abomination! Hot tea is the only way to drink it. People do have very different tastes for things around the world.
Hotel looks AbFab (absolutely fabulous). It is on the beach. Good swimming pool. Write up in Lonely planet is very good. It's not listed in Rough Guide.
Unawatuna Beach Resorts Ltd.
Parangiyawatta, Unawatuna, Galle
Tel 091-4380549.
I can hear the waves when I'm in my room. I finally got the single room for THREE NIGHTS! Yeah! There are 5 single women on this trip and 1 single man. Others are couples. Girls' single room has rotated through all women (some twice). I wanted to get it in Galle because I'm going to be sharing an intimate cabin with another woman for 7, no make that 6 nights. Our flight to Male I heard is delayed a day so we stay in Colombo for another half night. Flight is at ? Whatever happens is fine with me. I'm on vacation. Lucian is taking care of it and the rooms.
Now that's a good tour leader. He is confirming everyone's flights home also. He really has been a great. I've done so many tours with other companies so I can compare and say that he is doing an excellent job. I will definitely consider another Explore Tour. There are various complaints and requests to do some things different, they are all things to consider, However, he is still catering to a diverse group and trying to show off his country the best way he knows how.
Some others have had some trouble with their room also. My sink stopper would not come up. I was waiting on them to come fix it and getting anxious because happy hour ends at 7. Pauline was so nice to order a drink for me. Happy hour beer is Rs 100, Ginger Fizz was Rs 180 + 18 (Service charge), other wise it Rs 290 + 29. Wow, so you save a dollar. Cost for Cola was 50 + 5.
So they fixed the sink stopper before dinner, but then after dinner I discovered the sink drains to the floor. They installed a new plumbing pipe. Hanna said they are changing rooms the next day after more people leave this now full hotel. Ed's room they (tried to) fix a hole in the wall. The tsunami flooded the first floor of this hotel. All in all, it looks like a phenomenal effort to restore things to get the tourists back. I can almost guarantee that will not happen in New Orleans. A year form the hurricane entire neighborhoods will still be empty and not restored.
Dinner buffet tonight. I had steak on the grill. He had it on the grill a while, but it was still too rare. (It was not a thin piece like the others). I ate the edges then had him cook the rest a little more. It was delicious. Clare had the beef also. Yum. Hanna got the fish. The bones in her fish were bright blue - green. I have never seen that before.
---
Day 12.
Thursday Dec 29
Galle
Tour
No morning wake up knock. Schedule today: tour of Galle (3 miles West of here). Cost about Rs 150 is you want to take a 3-wheeler to Galle.
I had a very nice first night alone. I could get up to go to the bathroom as many time as I wanted.
. I'm already up, put on sunscreen and I'm sitting on the farthest to the left beach chair with my book that Aileen let me borrow. Stupid White Men by Michael Moore. I really like it. The sand here is courser, bigger grain than the beach I go to in St. Augustine. Same palm trees. It's very nice here.
Breakfast at . I dd some laps in the pool, then Lounge / read on the beach till 1. We had a group of chairs under a big shade tee. Everyone was getting drinks and sharing books.
There are cages on the beach to protect turtle eggs. Sign says:
Laid on 21.11.05 at 21.00 hours. 138 eggs laid. Will be hatched on 09.01.06.
I've got another week to go, so I sent some things to the laundry. On the laundry form it says "In the even of bad weather, the Hotel will not be responsible for normal delivery".
and were back on the bus heading to Galle.
Galle is 16.8 km square. 11200? Pop. Mostly Muslim.
12,000 bags a day are produced at the Cement factory here.
For about 15 to 20 minutes there was 6 to 30 foot water in this area. More than 500 died in this area. Mostly Muslims. Many people are still living in blue tents.
There are many decimated buildings but there is a lot of greenery trees, plants. (nothing is green in New Orleans. All dead because of the lingering week long flood water). Boats are left by the wave to rest on the wrong side of the road. I remember seeing that in Gulf shores , LA.
The Old Town of Galle and its Fortifications is a World Heritage Site http://www.worldheritagesite.org/sites/galle.html
The main reason for inscription was that: ".. it is the best example of a fortified city built by Europeans in South and South-East Asia, illustrating the interaction of European architecture and South Asian traditions."
European building materials were replaced by those more convenient in Asia, but the town still looks very much European from the outside.
Galle was first colonized by the Portuguese in 1505. In the early 17th century, the Dutch took over. They established the still existing fortress and ramparts. Also, the Dutch designed the look of the town. It reached the height of its development in the 18th century, before the arrival of the British. It is the best example of a fortified city built by Europeans in South and South-East Asia, showing the interaction between European architectural styles and South Asian traditions.
The Harbor in Galle was a main port of call in the East for trading purposes since the 11th century. The fortified city of Galle, complete with fourteen bastions, is still the best-preserved, fortified city in South and South East Asia. The original Portuguese bastions on the landside were enlarged and improved upon by the Dutch and the British. The total area within the fortifications is around 90 acres (40 hectares).
Dutch Fort - Portuguese built the first fort to withstand attack from the Sri Lankan kingdoms to the north. Dutch who captured the coastal cities from the Portuguese improved the defense system of the fort, widening the moat on the landside, improving the ramparts and the bastions. British who captured the city did not make many changes as they shifted the part to the northern town of Colombo and therefore the atmosphere of Dutch days are preserved to date.
The Dutch entrance to the fort with it VOC with 1669 carved in the inner archway is still in use. We went through the gate where the British coat of arms was on top outside the gate and the Dutch coat of arm in side the gate. The walls of the fort are 1.3 meters thick.
National Maritime museum is here, school, government offices, restaurants, an Anglican church here in this fort and many old Dutch buildings intact. We walk to the right of the entrance to see the Dutch Reformed Church.
Built by a Dutch Army officer at the site of a previous Portuguese church and completed in 1754. The church contains record of marriages since 1748 and baptism from 1678. The other significant of the building id there are no pillars inside the building and the weight of the roof is supported by the walls.
Sign said "De Nederlands Hervormde Kerk, Gall August 1755"
All benches were replaced last year. Holland financed the repairs. The Organ is 125 years old. Tsunami wave water did not make it into this fort. Many (20 to 30) gravestones in the church - in the entrance and all over the floor. Oldest grave is 1662, newest is 1980.
60 to 70 people attend services each week here. This is a protestant church. Huge thick hard Jac wood doors.
Pulpit is mahogany from Malasia.
There are tunnels around the fort to get form bastion to bastion. Picture: Click to commemorate Dr. Peter Daniel Antony (?).
We went to Moon Bastion - 5 cannons here run by 263 military personnel. Rampart built with coral. Many shooting point and lookout points.
There were slaves here during British period. Till 1835 ? when they abolished slavery.
12 miles south of here, people had damaged the reef to the tsunami caused a lot more damage. Over 30 feet of water flooded the lookout area. Many people died here. There is a tower with speaker in background.
We walked by a Muslim worship building (mosque). Clive translated the writing on the building "By the grace of God, the compassionate, the merciful"
Galle Lighthouse 1938.
Garbage cans around here are from US AID.
Akersloot Bastion 1659 - 7 cannons controlled the Bay of Galle.
He took us down a dirt alley to the back of a building to see the first tree that the Dutch had planted.
Exit the same gate that we entered. They are putting up scaffolding to clean the gate. Lots of green growth on the rocks.
Back at the hotel to relax before dinner. 2 weeks of being with people 24 hours a day. Wonderfully nice people, but I finally have an opportunity to enjoy a small refuge in my room alone. Nice. But now all I can think about is getting down to the bar before happy hour ends at . I've discovered / learned more than one interesting thing about every person in this group.
and I was the last one to arrive at happy hour. I didn't get my Ginger Fizz until we were seated for dinner at . Â  Very good buffet again. I sure wanted that vodka to take effect during this dinner. Wonderful comfort food, beef and mashed potatoes that I was really enjoying. I was really enjoying the peace in my room also.
---
No morning wake up knock Nice to relax. Seems odd not to have anything planned.
I have almost finished Aileen's Stupid White Men book. I seem to want to write more than I want to read. I read from to when I made it down to breakfast. Juice fruit, string hoppers, tomato slices with salt. We are sweating so much here.
Oh no, one person is "down" in our group. So unfortunate to happen. We have one more night to go. I hope she pulls through today and feels better tomorrow. Tomorrow we're up at 7 again / breakfast and departure. Optional 100 Rs trip in glass bottom boat to see coral, optional boat trip.
I'll be on a hot boat for 9 (or 7) days so I'm hanging out inside today. Enjoy this while I have it. Today I need to: Relax, read the newspaper that Lucian brought me, put in contacts, change camera memory chip (78 picture left on 256 MB chip, the 32 MB chip hold 53 three meg pictures shave, get laundry.
In the newspaper: www.ndbbank.com Programmer needed at www.cccorps.com
It's a wonderful lazy, lazy day. Rest all day. Relax. Tomorrow night is new years. We were supposed to fly out at Sunday, but now I think it's Monday. The Dhoni was supposed to take of Sunday and dock somewhere, but now they have to wait for Gloria, Steve and I to arrive. The rest of the group will be settled in their bunks when we get to the boat. So be it. Go with flow. Lucian is arranging it all.
I hid all day in my nice single room. I put the "Do not disturb" sign on the door. I came out to do a little shopping - bought flip flops and post cards, sat by the pool enjoying my quiet time when Ed found me. He put his towel on the chair beside me, then he went to the pool.
I had to go check on my laundry. They said they tried to deliver it to my room, but didn't knock because of the sign. I went back to the room to lay down in the room until Happy hour. So at I was first one at happy hour tonight.
The sign on the beach says: Daily Happy Hours from to . 50% discount on cocktails. Special prices on beers and alcohol"
This Ginger Fizz (vodka, ginger beer and ?) is $2.80.
I guess we are doing the buffet again tonight. This the 3rd night here. Wonderful. Fish tonight. I didn't find any bright blue - green bones though. They had some Lobsters last night. Looked good but no one seemed sure what to do with it. Stick with the safe stuff.
Tipping is a recognized part of life here. Explore pays most gratuities for the smooth operation of the tour which I really appreciate. We need to tip Lucien, and others that help us on this trip. For the Tour Leader, Explore says it is at your discretion. As a broad rule of thumb we recommend around £2 per day.   Suggested amounts for tips were: Ranjith driver 500, Sanath water guy 200, two baggage guys 100 each. I'm definitely giving more than that.  
What a great vacation.
---
Colombo
Tour, River Boat Ride, New Years Eve
I was up early today. I washed my hair this morning. When Lucien knocked at , I startled him when I opened the door. Usually we just yell at him that we're up. I felt so rested with lots of energy.
I paid my laundry bill. 15 pieces (5 tops, 5 panties, 5 pair socks) was Rs 764.50 (USD $7.64) and worth every penny. They gave us a copy of all our expenditures for our 3 night stay. Beer 110, Cola 55, Ginger Fizz 319 and 198. I don't think I'm reading the bill for the room correctly (which Lucien paid). It had
55 -
764.50 (laundry that I paid)
319 -
198 -
Total 1336.50. Â  Hmmm, so Explore only paid USD $13.36 for three nights? That's can't be right. Maybe the numbers are in English pounds. That would make more sense.
Lucien gave me all the entrance tickets to everything that we went to that was included on the tour. He has to keep excruciatingly detailed records of every penny that he spends. He also send all the tickets to Explore to prove he purchased them. I had to sign a form acknowledging that he gave me the tickets so they would not question why his records say he bought 16, but he only had 15 tickets. Its all part of the tour business to track finances.
and we are on the road again. Yeah, the one person that was down yesterday is doing OK today. Only 4 Imodium and a day of rest required for her to recover.
Schedule: Drive to Colombo, glass bottom boat, boat ride to cinnamon island, city tour in Colombo, nice hotel tonight in Colombo.
It's 12 miles to the glass bottom boat tour. The 30 to 45 minute trip is Rs 100 and we will see coral, turtles.
Well, skip that. No glass bottom boat ride because there is a swimming competition today. All the boats are hired out.
Just looking at this area were driving through you can imagine the wall of water inundating their lives.
50 more miles to the 1 to 1.5 hours boat ride to islands on a wide river and see a demonstration of cinnamon.
We stopped at the location where the wrecked train happened over 1500 people died here. Every house here was reduced to rubble in the 30 to 40 foot wave. Sign where the wrecked train was located:
"Our superior felicitation to all Sri Lanka and foreigners who participated to donate to the tsunami tradgedy"
Only temporary housing (wood) building are here. Built on the same foundation where the brick and stone homes were built.
It's now. Towns and traffic most all the way so far. Â  Palm trees (like Florida!) everywhere. The trees seem to have all survived the brief flooding.
Madu Boat Safari on a river to cinnamon island 1.5 hours Rs 500 option. See how cinnamon is made.
Business card:
G. Pradeep Chandana De Silva
Gangabada Asiriya
Bridge View, Custom Road
Balapitiya, Sri Lanka
Tel 091-54511317, 5452317
0777-641659 , 091-2257949
Maduwa River Boat Safari Beautiful Maduwa River Islands You Can Enjoy & Attractive Nice Sceneries. Come & Join With Us.
Two boats, so 8 people per boat. So far we have seen water moniters. Mangrove Lagoon. Bird - cormorant , Bamboo tree, grapefruit? tree, Jac fruit tree, monkey, kingfisher bird. Picture of a bee eater posing in a tree top. Eagle, prawn nets, SR apple trees, children in the water. Balsa wood - used to make masks.
We went through mangrove swamps to get to the island.
There is one house on this island. This house is 20 years old. They have to redo roof every 2 years because termites eat it.
Husband, wife live here. Children must leave to go to school. Water level rose here during the tsunami, not much damage. We had a demonstration:
To get cinnamon - Scrape off the bark with a metal tool, rub branch and liquid comes from the wood. Excess bark is used for compost. Slice the shaved branch and take off in think layers. Roll the layers together, dry it in the shade for 3 days. She showed us how to weave a roof piece and how to make a hand- made rope. These are much stronger and better than the machine made rope.
You can boil the leaves with water to get cinnamon oil. You can put the oil on a baby's feet to keep them warm. For a toothache Put some on cotton in your mouth.
She was selling Rs 200 for cinnamon stick or powder or oil.
They only have Income twice a year when they prepare the cinnamon.
Mongoose, rabbit, smaller deer problems in the island.
We were invited into her house. I took a picture of her kitchen inside the house. It's amazing how little we really need to get by in life. The bathroom was a about 30 feet behind the house. A shack with blue toilet!
Picture of Garcinia Fruit. Lake is Madu Gandee in the town of Balapitiya.
How far to Colombo? 13+ 16+ 27 km ? Hanna brought a great map. Â  Â  I think Lucien just said 48 km to Colombo
stopped for a quick lunch.
That was an adventure in the dining. It was a bakery where you pointed at things in the window. I was the first out of the bus and the first in line to order. I pointed to three different things. I had no idea what they were. One curry, vegetable, one fish pastry and one egg inside deep fried thing. Yum , yum, and yum yum. And top if off with chocolate milk. Others were getting ginger beer (not alcoholic). We sat to eat, used the toilet (nice compared to others) then on the road again in 20 minutes.
Petrol is 80 Rs a liter. 50 Rs for diesel. England it is about Rs 160 a liter! But salaries are higher, it's all relative.
. In Mount Lavinia. (10 km south of Colombo)
KFC was advertising "Chicken Buriyan". And we passed a Dominos Pizza and Pizza Hut.!
City of Colombo (the capital of Sri Lanka)
Colombo is 38.8 square km. Pop 640,000 in the city limits, more than one million in the Colombo district. Population is increasing at the rate of 13%.
24 to 32 degree C. Humidity is ;74 and up to 94 % at night.
They have the "World Trade Center" here. Twin towers like we had in New York. "These prestigious commercial symbols were repeatedly targeted by LTTE bombers during the civil war. Most of the damage is now patched up."
We stopped to see the Bandaranaike Memorial International Conference Hall, Independence Memorial Hall. 4 Feb 1948 SR got independence. This hall commemorates the independence. http://www.tradenetsl.lk/bakmaha2000/Venue.htm   It is an lnternational Conference Hall and convention facility on the main road in the residential part of Colombo. It covers an area of about 37 acres. "The Hall indeed promises to be one of the premier tourist attractions in the country for its striking appearance and as it is, one of the few conference halls of this kind in Asia."
Colombo's Town Council Provincial Building (Town Hall) done in 1927 has a dome like the US capital building. Across from it is a huge gilded Buddha behind gate - commemorates 50 year anniversary of the council building.
Took a picture of the temple on Beira Lake. Slave Island is in the lake. In Dutch period, they kept slaves on the island and crocodiles in the lake.
Two tall buildings he called the World Trade Center.
We got Lucien to take us to a store that was written up in a tour book. The House of Fashions in Colombo at 28 Duplication Road, Colombo 4. There were definitely some very good deals. It was very very crowded. Five stories of people frantically shopping. I got a hat for Rs 195 (USD $1.95) It was perfect on Maldives boat.
To the hotel. Very nice. Were at the Grand Oriental Hotel.
Grand Oriental Hotel
Hotels Colombo Ltd. (1963)
Tel: 2320391-3, 2448734-5
From my Rough Guide book: Opposite the main entrance to the port stands the famous old Grand Oriental Hotel - passengers arriving in Colombo would stagger straight off their liner into the palatial hotel foyer, to collapse over a revifying cocktail. Little of the establishment's former colonial splendor remains, though its Harbour Room restaurant - bar (photography prohibited) affords marvelous port views.
I'm sharing room 322 with Aileen. It was nice on my own for 3 nights before that. I started off rooming with Pauline for first two nights. I never roomed with Jessica or Clare.
Meet at in reception (lobby) for dinner. Â  We picked out a place that was rated very good on the Lonely Planet book.
Alhambra Restaurant. Â  30 Sir Mohamed Macan Markar Wawatha, Colombo
They probably would have served good Sri Lankan curry, however, it was New Years Eve so they had to do something different. They had a beautiful HUGE buffet and chefs standing at their tables ready to cook. It was an incredible spread. Definitely the most beautiful desserts. Decorated with sugar sculptures.
We sat at a big long table, then they told us to move to some other tables. We split into three groups. I was sitting with Clare ,Jessica, Ed, Bridget, Driver Ranjith, Sanath, and Robin. I think I went back to the buffet four times. It was beautiful but really not that good. They just can't cook western food. I wish there was more curry because that is something that they can cook. Â  I'm sure Ranjith and Sanath would have preferred more curry dishes also.
Dinner was very quiet. We tried singing songs, to no avail. No energy. There was a band in the lobby so we went out there and danced (not). Â  Back to the grand Oriental where we ended up in uncomfortable seats in the restaurant in the lobby. I did not make it to . I missed the milk-boiling ritual in the lobby. How odd. Every country is different.
---
Colombo
,
National
Museum
Breakfast is from till 10.
This morning we had time to do a little more touring in Colombo before people had to be shuttled to the airport.
We went to the National Museum Colombo. This was definitely one of the highlights of the trip for me.
Address; Ananda Coomaraswamy Mawatha, Colombo 7, Tel.694366
500 Rs for foreign visitors 25 Rs for locals.
It is set in an elegant Neoclassical building. Opened in 1877, this is the oldest museum in Sri Lanka. It includes a collection of antiques, items displaying the cultural heritage of Sri Lanka and more than 4,000 ancient palm leaf manuscripts. The most important items include the throne of the last royal court. Visitors could gain a good understanding of 2500 year history of Sri Lanka.
There are 24 rooms in the museum by dates:
Room 1 - Pre post historic period. The changing representation of Buddha through the centuries. And a figure of Durga, a voluptuous, black, wasp-waisted tara (a Mahayana Buddhist goddess).
Rooms 2-3 - 5 to 4 century BC - 1055 AC. Architectural heritage of the island. Moonstone and steps flanked by nagarajas. I took a picture of the display showing the stupa forms: bell, pot, bubble, heap of paddy, lotus, myrobalan. Also many Buddha postures. They had Very sophisticated agriculture and irrigation and water flow system. They had a working model showed the technology. Produced by ancient Sinhalese engineer.
Prakramabahu The Great, Mahavamsa "Let not a single drop enter the sea without being used by man"
Agriculture and irrigation Polonnaruua period - Parakramabahu constructed 165 dams, 3910 canals, 163 major tanks and 2376 minor tanks all over the island.
Lotus Pond is "the most exuberantly decorated ge dige shrine at Polonnaruva."
They had a "War, order and honor" room.
Room 4 - 1055 - 1235 AC. Includes 12th century bronzes. This room contained the bronze that is displayed on the front of brochure for the museum. It is Avalokitesvara - 9th Century. It is 49.8 cm high. "A masterpiece among world sculptures"
Rooms 5-6 - 1232-1340 AC. Coins from 3 century BC
Room 7 - 1469-1815 AC. Chinese porcelain
Rooms 8 to 10 - Stone Galeries. Jewelry. A huge "mescellany of eroded statuary and masonry, including dwarfs, lions, and nagarajas. I took a picture of a Buddha from 800 ad. Limestone in Samadhi pose. I took a picture of guard stones (dwarfs carved in rock), and well-endowed ladies carved in stones "goddess" or "deva"
Room 13 - Kolam Masks. Masks show how people are depicted in the dances. Soldiers, police men, citizens, kings, royalty, council of ministers , officials, government officials, ministers, Muslims, Tamils, Kaffirs, moneylenders, mythical demons and diseases (deformed with leering expressions, bizarre teeth ). Today masks are manufactured for commercial as well as cultural uses. Masks depicting royal officials, racial groups, ethnic groups. They use a measuring system using their hands, fingers and arms.
Room 17 - Life size copies of frescoes. Beautiful copies of fresco paintings.
Room 18 - Watercolors by the Irish artist Nichol (1804-1886) who lived in Sri Lanka. Puppetry on display.
Room 19 - Dutch furniture. Antique furniture filled the huge room. Royal chair in room devoted to the memory of independent Sri Lanka 1st prime minister, D.S. Sananayake. Also a very unique Blue Whale skeleton. Washed ashore in 1894.
24 rooms in all. Room 1 was being restored. About half of the seemed to be refurbished. There were big signs "Gallery refurbished by HSBC in April 2005." "Gallery refurbished by HSBC in Jan 2005".
As we were leaving, you could see the security office to the left the entrance. There are about 42 security cameras throughout the museum. Seems like they should keep that room private (not open so the public can see).
Did not see National Museum of Natural History, or The Dutch Period Museum
The old `Dutch House' on Prince Street, Pettah (Colombo 11) which houses this museum was built in the latter part of the 17th century and was initially the residence of Count August Carl Van Ranzow along with five other houses of the elite. Today, the sides of the street are choc-a-block with boutiques and stores of traders. Opened to the public since 1982 this building embodies the unique architectural features of a colonial Dutch town house. The museum while displaying the Dutch legacy with the artifacts viz. furniture, ceramics, coins, arms etc. portrays facets of contemporary life and culture.
At we were back at the hotel. About half the group was scheduled to leave for the airport at . So sad to see them go. Robin, Bridgette, Hanna, Clive, Aileen, Sunita and Dave.
I didn't have to go till tonight. I went back to the room and repacked everything. I put everything important - clothes, etc in plastic bags. (good idea if you are near water with your luggage). I learned on a previous trip that if your suitcase is going to be transported in a boat to pack in plastic bags in case it gets splashed with water or, dropped in the water. Yeow.
I finished watching an HBO movie and slept for 2 hours. At I met Pauline for dinner in the Harbour Room restaurant. We had such a wonderful time on this trip. I enjoyed all the women on this trip. Anyway, I was really craving western food. Earlier today, we had ordered a burger and fries to be ready at . We passed on the buffet dinner for Rs 900. Well, our dinner was ready, and they finally discovered that they had delivered it to our rooms. So it was cold when we got it. It was good anyway. I also got a "Cheff" Salad for Rs 175. The burger (with fries) was Rs 275.
bags out. leave for our 1 hour drive to the airport. Jessica leaves at tomorrow. So she has to find her own way to the airport.
Lucian got my ticket on Emerites for a flight to Male. I have bread and peanut butter. Flight is 1.5 hours. Ed Pauline and Clare are also on same flight to Male, the go on to Dubai.
On the way to the airport I saw
McDonalds
"Sporting Times Turf Accountants." Business - betting? Gambling?
CALTEX petrol stations. Saw a Toyota dealership.
Bill boards here seem to use white women with fair hair for models
At the airport US $20 for 12 hours single room. 25 for a double. Shower is $3.
We were still expecting a Rs 1500 departure tax at the airport. It is really included in the price of the ticket. Once you get passed a security point in the airport, you cannot go back, so we could not go back to change money. Really stupid (in my opinion) also the fact that you cannot change Sri Lankan money anywhere else but Sri Lanka. They would not take it at the bank in the Maldives airport. The cook on our boat was Sri Lankan , so I gave some of my rupees to him. I came home with monetary Rupee souvenirs.
My vacation does not end here. I flew to Male and spent seven days on a Dhoni boat.
See Maldives Journal for details about this part of my trip.
Day 16.

Fly to Male, Hotel,

Speed

Boat Transfer to Dhoni moored at a nearby island.
Day 17.

Sail to Fenboa Finolhu on Meemu Atoll.
Day 18.

Sail to Dhiggaru.
Day 19.
Sail to Felidhoo; village visit.
Day 20.

Sail to Emboodhoo Finolhu.
Day 21.
Cruise back to Male; sightseeing tour.
Day 22.

Sunday.

Jan 8 Tour ends Male.
Flight Itinerary
Depart Male, Maldives on Singapore Air at 8 Jan 2006. Flight time 4 hours 30 minutes.
Arrive Singapore at 9 Jan 2006
Depart Singapore, first class on Singapore Air at 9 Jan 2006
Arrive Los Angeles, CA at 9 Jan 2006
Depart Los Angeles, CA first class on Delta at 9 Jan 2006
Arrive Atlanta at 9 Jan 2006
---
Adam's Peak

- Sri Pada
Information from Various Web Sites
Information from various web sites and http://sripada.org/, and Living Heritage Trust of Sri Lanka livingheritage.org.
The most famous physical feature of Ceylon is Sri Pada, popularly known in English as Adam's Peak. This is the second highest mountain in the island, 7295 (other sources say 7341, 7360, or 7500) feet high, while Pidurutalagala, the highest mountain rises 8,282 feet.
It is a conical mountain that soars clear above the surrounding mountain ranges. Â  It is so extensive in comparison to the other mountain groups that it appears to form a nucleus of its own. Its position in relation to the topography is so dominant that it stands out above all others.
From Sri Lankan monarchs who climbed Holy Sri Pada by Godwin Witane
It is believed that the first person to discover the Sacred Foot Print was King Valagambahu about the year 100 B.C., while he was in exile in the mountain wilderness. He had been led to the summit of the mountain by a deity in the guise of a stag.
From Sri Pada: Sanctuary for all Faiths by S.S.M. Nanayakkara.
A tradition attributes the location of the sacred foot print on the summit of the mount to king Valagambahu, who ascended the throne in 104 BC. After a brief 5-month reign he was ousted from power and for 14 years he languished as a fugitive hiding and biding his time among the mountain fastnesses in the central regions. One day a deer wandered to this mountain grotto. The king gave chase to the deer fleeing the quarry up to the top of the peak where the latter vanished in an ephemeral halo of luminescence. On reaching the spot where the deer mysteriously vanished, the king discovered the foot print. After his restoration to the throne, Valagambahu caused the foot print to be enclosed by large iron spikes. The enclosure formed the first foundation for the terraced platform providing access to the sacred foot print.
A passage in the Mahawamsa (chapter 32) indicates that the peak was held sacred prior to 140 BC.
Sri Pada is mentioned in The Ramayana - immortal epic of the Sanskrit poet and sage Valmiki (C. 300 BC). When Alexander the Great (356-323 BC) visited it in 330 BC, the peak was already held in veneration. Vijaya I (1059-1114 A.D. ) and most all kings since then have visited the Footprint on top to pay homage.
Sri Pada mountain was visited by several foreigners including Fa Hein, the Chinese traveller ascended the mountain in 412 A.D. , the Muslim traveller Ibn Batuta who in his writings records that he visited the Peak in 1344. The first European to ascend the mountain was Lieut. Malcolm in 1816. H.C.P. Bell the British Archaeological Commissioner of Ceylon climbed the Peak in 1907.
The fact remains that it is has been a place of pilgrimage for over one thousand years.
Pilgrims converge to climb Adam's Peak begins on the (December) full moon day and ends on the full moon day (May). According to local estimates, up to 20,000 people scale Adam's Peak on weekends during the pilgrimage season. As many as 250,000 pilgrims per month leave their own, more transitory, footprints on the Earthly approaches to the Buddhist monastery atop. In one week alone, when The Sunday Times visited in late February, a reported 300,000 swooped down on the place, once described by English writer John Still as "one of the vastest and most reverenced cathedrals of the human race."
There are two historic approaches to the summit of Sri Pada, on the eastern slopes above Hatton, or from the southwest of peak in Ratnapura. The oldest is the Ratnapura 'difficult path'. The path runs through ascending and descending hills, deep valleys, along edge of precipices, with a river foaming beneath and, sometimes, under over-hanging rocks and along the beaten track, highly infested with leeches (blood-sucking worms). On this path, pilgrims have to walk long distances until a camp is reached.
Half way up the mountain, there is a small torrent that flows over an immense tabular mass of rock, which forms the 'Seetagangula' (stream of icy water), the parent stream of the Kalu Ganga. At this point, the scene is very impressive and the atmosphere calm. The pilgrims stop here for a break to perform their ablutions, while some bathe, some make a frugal repast of rice or bread, some rest themselves before making the steep climb. From Barberyn (Beruwala), they follow the Kalu Ganga to the summit.
From Sri Pada: Shrouded in legend and history by Aryadasa Ratnasinghe
In the old days, pilgrims ascended the mountain by stepping upon bare rock surface and clinging on to chains fitted to iron posts drilled into the rocky floor. The most dangerous part of the climb was the point known as 'Mahagiridambe' where the pilgrims exposed to heavy wind were at risk of being carried away. John Still, in his book Jungle Tide, says how once a batch of pilgrims, fell into the precipice below when the railing they were holding on to broke loose, probably due to weight.
Before the concrete steps were built, iron railings fixed on to iron posts driven into the rocky surface, supported the pilgrims along this stretch, to make the ascent safely. It is said that these railings were fixed on the orders of Alexander the Great (BC 356-323),for pilgrims to ascend the mountain without risk to their lives.
Links of mighty chains that hung from the precipices were once the only way to climb like a swaying rope ladder. John Still who wrote the famous book Jungle Tide and one who took delight in associating with a race whose culture and history made this island prominently famous in the ages past, a country with a serene and happy environment, steeped in tradition and religious diversity.
Among the artefacts devised to ascend the almost inaccessible peak were massive iron chains affixed to stanchions of the same metal secured to the bare rock face. The chains were secured to the stanchions with rivets of iron and bronze. Remains of these artefacts still exist. Early pilgrims to the peak sought the assistance of these chains to hoist themselves up to the summit.
Arab pilgrim Ibn Batuta alias Abu Abdallah Mohammed (1304-1377),Notes from Ibn Batuta memoirs:
"The ancients have cut steps of a sort on the vertical rock face, to these steps are fixed iron stanchions with suspended chains to enable pilgrims clamber up to the top with ease and minimum risk. The impression of the Almighty's foot is observed upon a black and lofty rock in an open space on the summit.
Commenting on the ancient artefacts on Sri Pada, the Englishman Robert Percival, who served in Colombo in the early 19th century, notes:
"The iron chains on the rock face of Adam's Peak have the appearance of being planted there at a very early date, who placed them there or for what purpose they were set up there it is difficult for anyone to know. The beliefs and superstitions of the natives present difficulties. Whatever it is, all evidence indicates that the Peak was in the limelight long before the recorded history of the island.
The God of Adam's Peak (1957), Professor Senerath Paranavithana, the renowned archaeologist, historian, writer and erudite scholar par excellence, writes the following.
The steep sides from the mountain are difficult to climb, but when one arrives at the summit, with the help of chains and steps cut on the rocks, one is confronted with a scene of undescribable grandeur, particularly if the climb is accomplished so as to be at the summit at sunrise.
Sunrise
on Top
Pilgrims try to make an effort to reach the summit before dawn to witness the grand unique phenomenon known as the 'ira-sevaya' (the effulgence of the rising sun) puncturing the eastern horizon, extremely bright and splendid, like a ball of fire, casting a shadow of the mountain to fall on to the valley in the opposite direction, like a cone. The 'ira sevaya' is considered to mean the worship of the foot by the sun-god.
From Buddhism: Belief and Practices in Sri Lanka by L.A. de Silva (1974) pp. 176-179.
The great desire of every pilgrim is to reach the peak before dawn so that they could witness the glorious spectacle of the sunrise and thereafter perform their religious rites. Young and old married women carrying children and many old men, who really appear physically incapable of the strenuous effort, make the ascent strengthened by the belief that they are doing an extraordinary meritorious act. For some it is a pleasure trip.
The climb is by no means easy. It takes several hours to get to the top. There are several resting places (madam) at various points on the path, where pilgrims are able to rest, cook and eat their meals or even spend a night. There is a river that separates the peak from the surrounding mountain range in which pilgrims take a ceremonial bath of cleansing and change into clean clothes before crossing over a fort bridge to the sacred mountain itself. From this point the path is an ascent of steps, very steep at some points. Especially at these and other points iron rails are fixed to support the climbers. Since many pilgrims make the ascent during the night in order to reach the peak before dawn, the pathway is today lit with electricity. Formerly there were only lanterns at various points. Groups of pilgrims sing devotional songs as they climb.
When you reach the peak and the pilgrims crowd inside the enclosure and upon the steps outside, facing the east with their hands held together in an attitude of adoration awaiting the emergence of the sun. They watch intently the changing colours or the sky prior to sunrise and just as the tip of the sun appears, the pilgrims cry out uproariously, "Sadhu, sadhu, sa!" bending their heads in worship, while a heavy bell is loudly rung.
A pilgrimage to a sacred place is considered to be a meritorious deed, and the more the pilgrimages are, the greater is the merit. On Adam's Peak there is a large bell that every pilgrim rings, one toll for every pilgrimage he or she has made to that sacred mountain hallowed by the Buddha.
The summit of the mountain is a small plateau, and according to measurements made by Lieut. Malcolm (the first European to ascend the mountain in 1816), "it is 74 ft. in length and 24 ft. in breadth," the total area being 1,776 sq. ft.
The view from the peak at dawn is enough to shock the most cynical agnostic into a state of reverie.
Watch the sun rise in the east, then pilgrims cross the plateau because simultaneously, on the western side of the mountain slope is the conical shadow of the mountain peak as it falls upon the valley below. As the sun rises the shadow seems to be projected in from the air without lying upon the forest below as one's eyes expect. This is a curious optical phenomenon. Buddhists call this natural phenomena as the worship by sun-god.
The sacred footmark as seen by Dr. John Davy in 1817, was ornamented with a single margin of brass and studded with a few gems. These are now not to be seen. He says, "The cavity of the footmark certainly bears a coarse resemblance to the figure of a human foot but much oversized. Whether it is really an impression is not very flattering, if not for its huge size. There are little raised partitions to represent the interstices between the toes, to make it appear a human foot."
On the summit there is a huge boulder, about 8 ft. high., atop which is found the sacred footmark. According to mythical conception woven into the fabric of native folklore, the real impression of the Foot lies under the boulder, on a blue sapphire. To prevent it from sacrilegious profanation, god Sakra had covered it with the boulder.
On the top of the Peak broad steps lead up to a walled enclosure containing the rock over which is a tower-like structure. The portion marked off is the location of the foot imprint. The footprint is about five feet seven inches long and two feet seven inches broad. Another account: Dr. John Davy who had ascended the mountain in 1817: "The footmark is a superficial flow 68 in. long, and 31 in. and 29 in. wide at the toes and the heel respectively. It is ornamented with a margin of brass and studded with few gems. The cavity bears some coarse resemblance to a human foot, but the size is gigantic, and seems partly natural and partly artificial. There are little raised partitions to represent the interstices between toes." Â  Another account: The sacred foot mark atop the mountain (as most of us have seen) is a superficial hollow of gigantic size, measuring 156 cm. in length, and 76 cm. towards the toes and 71 cm. towards the heel in width.
There is the belief that the actual footmark lies on a blue sapphire beneath the huge boulder upon the summit, and what we see is only an enlarged symbolic presentation. The placement of such a huge boulder is attributed to god Visvakarma, who had done so for purpose of protection.
The sanctification of Sri Pada as a tryst of homage by the four dominant faiths in Sri Lanka - Buddhist, Hindu, Islam and Christian It is steeped in mystery, myth, legend, and also oral and chronicled history. Â  Unlike the Jerusalem's hallowed temple mount one of the world's most fiercely contested pieces of real estate where Christians, Moslems and Jews have slaughtered one another for centuries, Sri Pada provides a refuge for the followers of all faiths. It holds a unique place in the country's cultural heritage.
Buddhists believe it to be the mark of Buddha
Buddha is believed to have left the print of his left foot on Adam's Peak in Ceylon, and then, in one stride, strode across to Siam, (now Thailand) where he left the impression of his right foot on what is called Phra Sat. It's appearance is supposed to be like that of the foot print on Adam's Peak and of similar size. Another story said "he planted the other foot on Sumana-kuta (Adam's Peak) fifteen yojanas, or about a hundred miles distant.".
The hole in the rock in Thailand, which is believed to have the imprint of the Buddha's right foot, is about five feet long and two feet broad. Buddhists attribute this universal size to the fact (such is the belief) that the Buddha was about thirty-five feet tall. The real footprint on Adam's Peak is believed to be set in jewels beneath the visible rock.
The soles of the Buddha's feet are said to be flat with all the toes of equal length. On each sole there are one hundred and eight auspicious marks (mangala ­ lakkhana), with the wheel (chakra) the principal mark at the centre while around it are grouped figures of animals, inhabitants of various worlds and other kinds of symbols. The idea is that all things are subject to the Buddha who is lord or all, and under whose feet are all things.
Christians - It is the footprint of St. Thomas, the disciple Jesus; Christians claim it is the footprint of St. Thomas); The Christians believe that Adam, after being expelled from the Garden of Eden (Paradise), for eating the forbidden fruit, fell upon earth, and according to legend, had fallen on top of the mountain, where he is believed to have stood on one foot for one thousand years, to expiate his sin committed against the Creator, by eating the seductive fruit, despite warning given. This long ordeal had left the print of his foot on the mountain. They believed that atop this mountain lay the sepulchre of Adam (the first parent of the human race).
Muslims - The belief of the Moslems is similar to that of the Christians based on the Old Testament. They call the mountain 'Adam-malai' (Mount of Adam) in view of their belief that atop the mountain lies the sepulchre of Adam. It is the footprint of Adam (the first parent of the human race), who stood there in expiation of his sin in the Garden of Eden. Hence the name Adam's Peak.
Hindus - It is the god Siva (Lord Shiva), the third godhead of the Hindu 'Trimoorti' (the Holy Triad), the other two being Brahma and Vishnu. Â  Â 
Hindus worship Buddha as an incarnation of Vishnu, and both Christians and Muslims revering Adam, it is not always clear exactly who the protagonist is in the many legends that swirl around this holy peak. Perhaps it doesn't matter. Whoever stepped down from Heaven left this footprint in stone.
Sri Pada is the only mountain in the world receiving benefactions and veneration of devotees belonging to different faiths.
It's a pilgrimage, not a joyride According to Ven. Dharmapala Seelananda, trustee of Sri Pada,
"The people who climb Sri Pada need to be responsible for their actions and remember that first and foremost it is a pilgrimage and not a joyride. "
Jagath de Silva is the postman for the area and has been climbing Adam's Peak almost every day for the last six years. "I was working in a completely different field in Kuda Maskeliya, but was assigned this job back in 1999 and have stuck with it ever since. The climb up takes me one hour and fifteen minutes and though I could climb down much faster, I take about two and half hours, in order to save energy for the next day."
The steps are quite wide, and there is absolutely no way you can 'fall off the cliff'. However, f even a slight drizzle occurs, the climb can be extremely slippery. But it must be mentioned that the first aid facilities available aren't adequate. Climbers are left in quite a helpless situation if an emergency were to occur.
From The Sunday Times (Colombo) of 15 March, 1998. by Imran Vittachi
Despite all the reverence attributed to Sri Pada and the pilgrimage, climbing the peak does have a dangerous side to it. Going up and down God's staircase can be hell. The path to the top of Adam's Peak is paved with hazards to the body and spirit.
On average, at least five people reportedly die on the peak per pilgrimage season. In the 1993-94 season alone, according to the Grama Niladhari at nearby Maskeliya, up to 20 people died from physical stress and exhaustion, catching cold at the summit after sweating it out during the climb, or merely falling to their deaths.
For those not familiar with Sri Lankan languages, there is the added danger of getting lost on Adam's Peak. After all, directions are signposted only in Sinhala or Tamil.
Note that I (Suzanna) did NOT see any of the things mentioned in this paragraph. There weren't many people on our trek. Also the article was written in 1998 so maybe they have cleaned up since then. Â  Â  Apart from the physical dangers, those who venture to Adam's Peak for the first time, in search of some inner peace, can banish that illusion. They are in for a shock unless their spirits are so resilient that they can rise above the filth, smells, eyesores, and noises from which there seems to be no escape, and which threaten to turn Mr. Still's mountain-cathedral into a dump. Â  During the trek from Dalhousie, human pollution and excrement virtually lined the path to the summit. It only got worse at the top, where a pile of garbage located square in the middle of the cramped temple-observation area gave off a stench. Not one garbage bin could be seen. Â  Governmental and local authorities, however, say that action is being taken to clean-up this man-made mess.
Eat a hearty, but not heavy, meal and sleep a while before starting the climb.

A method to make the climb easier is to go up (or down) the steps side ways, walking across the steps following an alternative diagonal pattern.

Don't climb up too fast, or you just might run out on all the energy that you need to come down.

Get ample rest while you are at the top before you start climbing down.

Finally, be extra careful that you don't fall backwards during the climb down, due to the unsteadiness in your knee joints.
WHAT AN AWESOME TRIP!
---
The Languages in Sri Lanka - Sinhala and Tamil
This is SAME TEXT in two different languages: The left side is Sinhala. The right side is Tamil.