Scotland in 10 Days in Summer 2005
Over 1000 miles of beautiful country in 8 days
Our driving route beginning and ending in Edinburgh: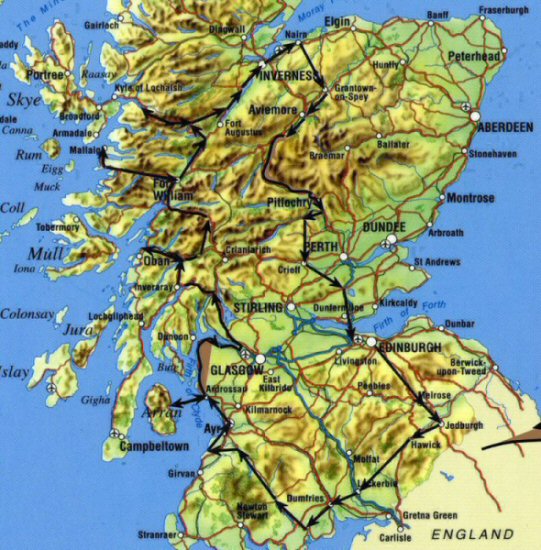 Day 1 Monday July 18 Travel Day
Day 2 Tuesday July 19 Arrive Edinburgh 7:20 am
Day 3 Wednesday, July 20 Drive 88 miles to New Galloway
Day 4 Thursday, July 21 Drive to Arran Ferry to Island
Day 5 Friday July 22 - Around Glasgow to Oban
Day 6 Saturday July 23 to Forest Glen
Day 8 Monday July 25 to Pitlochry
Day 9 Tuesday July 26 Drive to Edinburgh
Day 10 Wednesday July 27 Flight Home leaves Edinburgh at 9 am
About the time of year
It can get very cold in Scotland in the winter months, so you definitely want to go during the summer. During our July trip, the coldest temperature on the trip was 8 C and hottest was 22 C.

Months before our trip, Martha reserved the rental car and made reservations at B&B's (Bed and Breakfast) for every night. Some cities were expensive, or every room was booked, so we stayed in a town near the city. I'm glad we had the reservations because it was less stress. If you like living vicariously, seems like you could travel without the reservations and still find some place to stay the night. It was supposed to be peak tourist season, but we really did not see many other tourists. We only saw tour buses on the main roads, which we didn't take very often.
Gas and miles driven
We stopped for gas 6 times in Scotland:

| | | |
| --- | --- | --- |
| | Pound Sterling | US dollars |
| Edinburgh | 30.08 | 52.32 |
| Tex | 20.59 | 35.76 |
| Ardrossan | 14.76 | 25.68 |
| Taynuilt | 29.01 | 50.46 |
| Ft William | 21.72 | 37.90 |
| Nairn | 24.84 | 43.22 |
| TOTAL | 141 | 245.34 |
| | | |
| | | |

We paid around 90p a litre. We bought 164.61 litres and there are 3.79 litres per gallon, so 43.43 gallons. And we paid 245.34/43.43 = US $5.70 a gallon!

We got around 33 mpg so I figure we drove over 1400 miles!!! Geez seems like a lot. But then we did go 6-8 hours some days just riding along the seeing the country-side.
About the Roads
This is from http://www.rlcnet.com/Scotland/Index.htm

The road numbering system in the UK describes the general type of road. I tell you all of this to explain why it took us nearly three hours to go the last 30 miles of our trip to Culzean Castle.
M roads (M6 or M60) are motorways similar to our interstate system.

The A roads (A6) are generally good roads with single digit roads being best down to 3 digit (A713) being barely tolerable roads.<![if !supportLists]><![endif]>

<![if !supportLists]> <![endif]>The B roads are a whole other story! B roads with 3 digits (B741) are very narrow sometimes single-track roads and B with 4 digits (B7045) are miserable single track roads with an occasional pass by.
Sign "Use laybys to allow cars to pass"

All mileage was in miles (not kilometers), however, gas was measured in liters.

They drive on the LEFT in Scotland! We ventured on many scenic narrow roads.
This is the B8074 around Oban and Glencoe:
About Guide Books
Martha had Frommers and I had Rough Guide. They were VERY different. By that I mean that they were written for totally different audiences. That's the first thing I learn in my writing is to know your audience. The audience for the Rough Guide reader is people that use public transportation, or they are hiking and they need cheaper accommodations (student hotel, hostels). It had tons of details about every little thing of interest on every road. That's how we found Saint Conans Kirk Church. It did not have as many maps as the Frommers book.

Frommers seemed to present their information for travelers that are only interested in seeing important highlights. That's usually the way that I travel. Frommers did not seem to include the minute details of explanation in the other book. We had a good laugh at some Rough Guide writing. For example, about Mallaig: "flocks of raucous gulls choke the harbour and the pubs, among the liveliest on the west coast, host bouts of serious drinking."

Also, expect to pay more (for entrance fees) than the price printed in the tour book. Information from the Internet is usually more up-to-date.
About an awesome DESSERT: Sticky Toffee Pudding
From http://www.stickytoffeepudding.com/: "It's not just a dessert, It's a phenomenon! Sticky Toffee Pudding is a traditional British dessert hailing from the Lake District in the northwest of England. It is a wickedly delicious warm dessert, consisting of a light, moist cake flavoured with dates, which is then topped with a decadent sticky toffee sauce." YUM, YUM, and YUMMMMM!

We got this dessert three times on this trip. The first time I ordered this dessert (at Blackwaterfoot Lodge on Isle of Arran) was THE BEST! It was a rich, dark cake smothered with a toffee caramel sauce. They give you the choice of cream or ice cream. If you choose cream, they some pour heavy cream on the plate, then put the dessert in the middle. If you choose ice cream (recommended) you get two (albeit) small scoops of ice cream.

Oh yeah, skip the "Black Pudding," but definitely go with the Sticky Toffee Pudding.
Other fun fax and things
Population of Scotland ~5m.

Also good information at http://www.aboutscotland.com/ and http://www.nts.org.uk/ and http://www.scotland-info.co.uk/

Another good site for maps: http://www.streetmap.co.uk/ , http://www.visitsouthernscotland.com/ , and visitsouthwestscotland.com

Any time I give a price with that means "Pounds" (British) or "Pounds Sterling" (Scottish). The U.S. dollar equivalent is double that value. So 10 about equals $20.

When I converted US dollars to pounds on May 27, 2005, the exchange rate was 1.939924667 at American Express at 3384 Peachtree Rd. Commission was $5.00.

July 27, 8:22 am In Edinburgh airport, converted pounds back to US dollars. 128 at 1.66 rate is 77.02. plus 3.00 commission so I got $80 back. On August 20, 2005, www.xe.com is reporting an exchange rate of 1.79480

Various signs:

Sign for speed limit: Twenty is plenty.

Sign on highway on-ramp: No horse-drawn vehicles.

Sign on church: "Trespassers will be forgiven" If you read it fast you see ?

Some beers are supposed to taste better if they are not very cold. At the Blackwaterfoot Lodge on Isle of Arran, Ian kept a cooler of ice that we would add to draft if you like a colder beer.

All of the gardens that we saw were so perfectly manicured and they were tranquil. I finally realized that they do not use power tools. No gas trimmer, no electric edger. It is all done by hand. I saw a person using a push mower once and I also saw a (quiet) gas lawn mower.

"Ensuite" means there is a bathroom connected to the room.

Sites to help you pick a good seat on the plane: http://www.seatguru.com/ and http://www.seatexpert.com/. Before they print the boarding pass, make sure you request the type of seat that you want.

Scotland has an amazing network of public transportation and long walks and they encourage people to use them. The sign at the Osprey place that we visited said it was located off the main road on purpose so visitors would bike or trek to Loch Garten. For more information, go to http://www.outdooraccess-scotland.com/

There is network of over 130 "hill phones" all over the country. The phones are provided to enable hillwalkers and climbers to find out where stag stalking is taking place and to plan routes avoiding stalking operations. Recorded messages are updated each day. The service is organised by the Mountaineering Council of Scotland, Scottish Natural Heritage and the participating estates. The service aims to improve communication between stag stalkers and hillwalkers. For more information, go to http://www.snh.org.uk/hillphones/

New sport: Grass sledging http://www.scoutbase.org.uk/ps/activities/factfile.php?ID=24 It is the summer equivalent to the winter sport of tobogganing. "The sledger will experience the thrill of appearing to hurtle down hill at high velocity, whilst they balance themselves and try to maintain direction."

The National Trust for Scotland http://www.nts.org.uk/web/site/home/home.asp owns more than 100 attractions. Members get a reduced cost entrance fees so it might be worth the 26.75 annual cost to join.

The Castle Trail http://www.aberdeen-grampian.com/ and The Malt Whiskey Trail http://www.maltwhiskytrail.com/ are driving tours. I didn't see a "Golf Trail".
Day 1 Monday July 18 Travel Day
Depart Atlanta 4:. Supposed to arrive Paris-De Gaulle 6:30 am. Supposed to depart Paris , arrive Edinburgh, Scotland .
However, we arrived in Paris at and missed our connection. Passed up option to take a direct to Edinburgh; instead flew through Amsterdam to arrive in Edinburgh, then deal with lost luggage.
Roundtrip air cost was $1085 (US) and that was a deal. We bought our tickets in January and I never saw a lower price. It was even $1000 to fly to London! The high cost of gas is really affecting the airline prices. I did get 11,378 sky miles for this trip, so at .0275 cents a miles, that's worth $311. Yee hah, and I'm using those sky miles to fly first class to Sri Lanka and Maldives for the next trip.
Day 2 Tuesday July 19 Arrive

Edinburgh
Arrive in Edinburgh airport. Get Enterprise rental car and agreed to pay extra $20 a day for $1000 deductible insurance.
We drove directly into the City Center in Edinburgh. It was good timing because everyone else was leaving the city. We found our way to the public parking area and walked up to Edinburgh Castle.

It was just before and they were closing so we couldn't go inside, but we could walk around and take pictures. My tour book said it closed at 6 pm. What's up with that.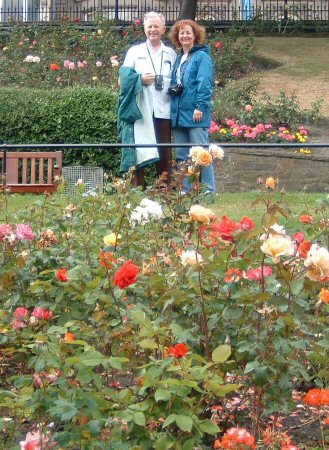 We walked down the first block of the "Royal mile", then turned left to walked down to the West Princes Street Gardens below and the Scott Monument.

We did NOT do the 267 steps to the top to see the view. That is something that I need to see next time I visit this beautiful city: Palace of the Holyroodhouse Official residence of Her Majesty the Queen

,

Hopetown House, National Gallery of Scotland, and Writers Museum.

Drove to Royal Botanic Gardens (north of city center). It was just before and the gardens were closing so we did not go inside. We planned to come back to Edinburgh the last day of the trip, so Martha was resolved to see them later.

B&B Day 2 in Edinburgh
Hawthorne House

15 West Terrace

South Queensferry, Edinburgh, Central Scotland, EH30 9LL Scottish TC.

"www.hawthorne-house.com" was painted on the front of the B&B, but that URL takes you to a place in Massachusetts.

One night cost for Superior ensuite room is 75.00 per room per night. It was a smallish room, up two flights of winding stairs. I dragged my suitcase up about 20 steps. I think the steps were stone under the carpet.
For dinner Martha was craving fish & chips. We walked down the road a ways, but did not find the restaurant, so we walked back and ended up at a great little Italian place named Ciao Venezia. 4 High Street, South Queensferry. Open 7 days, to . The seafood risotto marinara was VERY good. It had sweet mussels, oysters, shrimp, crab and other items mixed in the risotto. It was 7.95.
Great news, the lost luggage was found and they delivered it late tonight. Yeah!
Day 3 Wednesday, July 20
Drive 88 miles to New

Galloway

5:58 am and everyone is up and awake. We arranged for an early 7 am breakfast. Arghhh. We were anxious to head out of town and get going. Travel plans today: Drive South to Melrose, Jedburgh, then South West to Castle Douglas, North to New Galloway. Roads today:

A720 bypass

A68

A6091 West

A6091 East

A68 Jedburgh

B6358 to A698 Hawick

A7 Langholm

B7068 Lockerbie

A709 Dumfries

A75 Castle Douglas

B726 Threave Garden

A713

A712 New Galloway

Many beautiful hikes and vistas in this country.
Took the south bypass around Edinburgh the city to A68 south to Newtown St. Boswells. West on A6091 to Melrose to see Abbotsford house, the house built and lived in by Sir Walter Scott. www.scottsabbotsford.co.uk
Price: 4 . This was the only place where you could take photos INSIDE. We spent about 45 minutes here. This is supposed to be peak tourist season and we were the only people here!
LOOK AT THESE FLOWERS IN MY PICTURE!!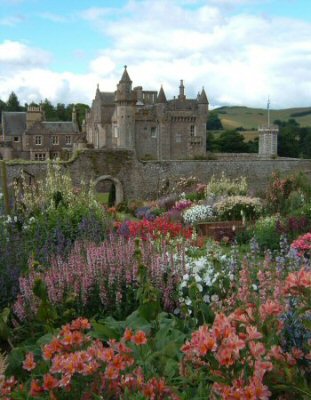 It's a little cool now, but otherwise nice weather (no rain).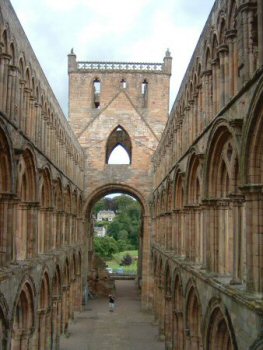 East on A6091 back to Newtown St. Boswells, the South to Jedburgh Abbey. Arrived at 11 am. Cost was 4.00 and very much worth it. You get a glimpse inside the abbey without paying the entrance fee. When you go into the abbey, you can climb up stone circular stairs to see a spectacular view inside the abbey.

Founded by King David I in 1138 partly to demonstrate to the English that the Scots could build on a grand scale so close to the oft disputed border between the two countries. In doing so he was tempting fate and the English: and both failed to resist the temptation many times over the following four centuries.

The town and abbey were attacked again in 1409, 1410, 1416 and 1464. More rebuilding followed, but in 1523 it was badly damaged again. This time the rebuilding was on a more limited scale. In 1544 yet another English army attacked the town, returning in 1545 and again in 1547. By the mid 1600s fears were being expressed about the structure of the tower, and from 1671 a new Parish Church was built into the west part of the nave of the original Abbey Church. A replacement Parish Church was built beyond the Jed Water in 1875 and restoration of the abbey was undertaken by the Marquis of Lothian. It was placed in State care in 1913 and is now looked after by Historic Scotland.

For more information see: http://www.rampantscotland.com/visit/blvisitjedburgh.htm

and

http://www.undiscoveredscotland.co.uk/jedburgh/jedburghabbey/

Did a little souvenir shopping here. Cost for four postcard stamps was 1.86 (that's almost one dollar to mail on e postcard.) The cost for a postcard was .35. Some postcards cost up to .60.

We Did not make it to the Jedforest Deer & Farm Park (4GB), in Camptown, 5 mi. s. of Jedburgh.

Drove a couple hours Jedburgh on our way to

Dumfries.

I'm not sure how, but we got off the B7068. We saw a sign to Lothian and turned and we were on a paved path through a pasture. Sheep laying next to the road and cows in the road. We disturbed a big cow getting milk. This is a Scottish Highland Cow.

Their long bangs protect the eyes.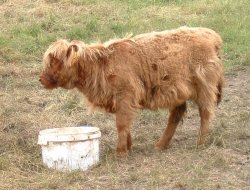 Onward to

Castle Douglas, t

hen south a bit on B736 to

Threave Garden. Price for Garden only: Adult 5, House and Garden: Adult 9 The garden is 1500 acres. They have a Visitor Centre, Countryside Centre and exhibition, and Threave House. The house has guided tours only, maximum 10 people, two per hour, admission by timed ticket.

There is also Threave Castle but we did not go there since you have to take a ferry across the River Dee. Castle admission is 3.00 includes return ferry trip. For more information: http://www.treasuresofbritain.org/ThreaveGarden.htm and http://www.undiscoveredscotland.co.uk/castledouglas/threavegardens/index.html

B&B Day 3 in New Galloway
Rooms in Castle Douglas http://www.castledouglas.net/ were quite expensive, so we spent the night in New Galloway, a village northeast of Castle Douglas. New Galloway is largely built around a single north-south High Street that climbs up through the village and has a location on the edge of the Galloway Forest Park that gives it a wonderful air of seclusion. For more information see http://www.undiscoveredscotland.co.uk/newgalloway/newgalloway/
The Leamington House

High Street, New Galloway

Phone (44) 1644 420327 0778

Web site: http://www.golfinside.no/leamington/english.html

The Leamington House dates back to the 18th century and lies on the main street of New Galloway. The house consists of two buildings. The hotel has 7 attractive rooms, all with en-suite bath or shower facilities. They had a cancellation, so our room was upgraded to a suite. One room in the suite was up another set of steps.

I used my silk sheets ($9 US from Vietnam) on the twin bed in the room. I always travel with those silk sheets and they always come in handy. I've washed them so many times they are starting to wear out. I'm going to have to back to Hanoi to get some more.
For dinner, we walked down the street to a pub. There was a room in the back where no one was smoking. I ordered a wonderful special Tuna Bake with potatoes and peas. I think it was 7.95. Mr. Hale got a lamb shank, and Martha got her fish & chips.
Everyone in the town was going to be in the pub that night for a birthday celebration. There was quite a crowd already when we left.
Weather was absolutely wonderful today.
Day 4 Thursday, July 21 Drive to

Arran
Ferry to
Island
Up early at 6 am because we have another castle that we want to see and a
ferry to catch.
Travel plans today: North-west to Culzean Castle, North to Arran ferry. Roads today:
A762 South North
A713 Dalmellington
B741
B7023
A719 Culzean
A77 Ayr
A78 Ardrossan
ferry to Arran
Drive around Arran A840, A841, B880
We headed out of town at 7:40 thinking we were going the North. After about 20 minutes we were in the town of Mossdale, we figured out we were really going South. Oops. Turn around and drive north, then west to
see
Castle Culzean & Park

Location: Maybole on A719 4 miles west

Price: Tour book said 7

. We paid

8.00
We arrived at 9:30 and the castle doesn't open till 10:30. We didn't have enough time to wait for it open because we still had a little drive to catch the ferry. We walked around the grounds for 30 minutes and got some good pictures of the back to the castle. The castle overlooks the Firth of Clyde (the ocean) so you can't get a picture of the front.
From the parking area to the castle is a 10 minute walk to the castle. Go to http://www.culzeancastle.net/ for more information and impressive picture looking down on this castle. IWe did a fast walk back to the car. We left the castle at 10 and made it to Androssan at 10:40.
We had to be at the Caledonian MacBrayne http://www.calmac.co.uk/ pier between 11:30 - 12 noon, no later, for ferry to Brodick. It was a 55-minute ride. This ferry links Ardrossan on the Ayrshire coast, and Brodick on Arran on one of Caledonian MacBrayne's largest vessels, the Caledonian Isles. The ferry can carry up to 120 cars and 1000 passengers. The cars drive straight through and using the stern door at Brodick and the bow door at Ardrossan.
Reservation

21-Jul-05 ARDROSSAN to BRODICK

and

22-Jul-05 BRODICK to ARDROSSAN 07:50

Round-trip cost for 1 car was 51.00. Each adult was 25.20
I had a "Blonde Premium Arran Beer" made on the island. Cost for the beer on the ferry was 2.75.

Drove off the ferry, then started drive North along the east side of the Isle of Arran

. It's about 54 miles (1.5 hours) around the island.

Two miles north we stopped at

Brodick Castle & Gardens. Arrived ~2:20. Castle and garden admission in my tour book said adult 7

, but it was really

10.00.

Gardens only costs less

. I would recommend seeing the castle, it was very was well worth it to see the "

completeness of the furnishings and spendour of the decoration and artifacts.... 87 stags' heads in the entrance hall, a monumental kitchen with two fires and three ovens... Brodick Castle can best be described as a strategically important defensive fortification from the 1200s to 1600s with an 1800s stately home wrapped around it." In every room, there is a guide and information pages in eight languages. Around the castle there is also a woodland walk, a walled garden, sundial, Bavarian Summer House. "Visitors can follow waymarked routes that extend for a half mile or a mile." For more information on the castle, go to: http://www.castles.org/Chatelaine/BRODICK.HTM and http://www.undiscoveredscotland.co.uk/arran/brodickcastle/.

If you enjoy bagpipes (a "piper") you get a lot of free entertainment here. A piper was playing at the visitor center when we arrived and was still playing when we left at 3:40.

After the castle we continued to drive north. If you're short on time I would say to skip this part of the island unless you're going to the Arran Brewery http://www.arranbrewery.com/ (to get some more of the Blonde Arran Beer). We also passed a factory where they make cheese. We drove around the top part of the island, then south on west side of the island.

We stopped at the car park for the King's Cave. They strive for things that attract tourists and this is one of those places. According to some, this is the place where Robert the Bruce encountered the spider whose efforts convinced him to try again: and thereby changed the course of Scottish history. According to others the very story itself was invented by Sir Walter Scott in the early 1800s. Anyway, it's a 45 walk to the cave. Mr. Hale and I opted out of the hike. Martha said the caves were right on the beach, but they were blocked so you couldn't go inside them.

After the caves, continue driving south. The windy west coast of Arran is definitely less developed than the east. We easily found the largest settlement, which is the small village of Blackwaterfoot. The village overlooks Drumnadoon Bay.

They dropped me off at the Blackwaterfoot B&B in so I could relax and wash my hair. Martha and Mr. Hale finished zipping around the middle and south part of the island.

B&B Day 4 on Isle of Arran
Blackwaterfoot Lodge

Isle of Arran, Scotland

Managed by Ian and Ann Relf

Web site: www.blackwaterfoot-lodge.co.uk

Tarriff for one "family" room was 60.
Our hotel is named after the village in which it is located, no more than 50 yards from the picturesque Blackwaterfoot harbour and a five minute stroll from the long and wide sandy beach bordering the unique 12 hole links of Shiskine golf course. The building is late Victorian; the hotel is warm and welcoming, comprising. All bedrooms are on the first floor - up a flight of 19 stairs (12 to landing). Access on the ground floor (bar and dining room) is level. This is a sample dinner menu from Blackwaterfoot.
Home made Soup of the day: Broccoli & Howgate Blue cheese.
Crispy prawn parcels with plum sauce.
Moules Marinieries fresh mussels cooked in wine sauce, served with crusty bread.
Wild deer terrine.
Arbroath smokie pat and oatcakes.
Garlic Ciabatta Bread
Braised Arran Lamb shanks with butter beans, served with roasted potatoes & green beans.
Arran beef braised in Guinness, served with caramelised shallots, mashed potatoes and green beans.
Fresh Salmon & prawns en Croute; prime Scotch salmon wrapped in puff pastry, served with baby boiled potatoes & fresh sugar snap peas.
Spinach & Artichoke Pie in puff pastry; Served with baby roast potatoes and bulgar wheat salad. Delicious, and not just for vegetarians.
Clapshot, thick pork sausages & onion gravy 8 oz. Sirloin steak au poivre, with chips and garlic mushrooms.
Arran strawberry or chocolate ice cream.
Hot fudge cake with cream or ice cream.
Sticky toffee pudding with ice cream
Strawberry cheesecake.
Selection of Scottish cheeses with Arran Oatcakes
We had dinner at Blackwaterfoot Lodge. You order your food in the bar and when the food is ready they escort you into the dining room and serve the meal. All three of us ordered the fish & chips. They don't have a no smoking policy here so I was glad when the meal was ready.
For dessert Martha and Mr. Hale got the Chocolate Truffle. I got "Sticky Toffee Pudding" and it was absolutely scrumptiously deeliciouso! They ask if you want it with cream or ice cream. If you say cream, they pour cream on the plate and put the dessert on top. If you ask for ice cream, you get two small scoops.
Day 5 Friday July 22 Around

Glasgow to

Oban
We had an 8 am ferry to catch on the other side of the island so we got up very early before breakfast ws served. We grabbed some dried fruit and I got a couple "Wheatabix" bars. Yum. Good fiber too.

We were the first car in line for the Caledonian MacBrayne ferry. The next car didn't arrive to 20 minutes. I was so so very tired this morning. I'm definitely not a morning person. I tried to take a nap on the ferry, but there was too much going on. Got up knew I had an 8oz latte (1.60).

Travel plans today: Ferry from Arran to Ardrossan. Drive north, then west. Roads today:

A78 North to Greenock

A8

M8

M898 around Glasgow. Toll was 60p.

A82 north 9 miles

A811 to Ballock (southern tip of Loch Lomond)

A83

A815 south 25 miles, along Lock Eck. to Benmore Gardens.

A815 north on same road.

A83

A819 north 15 miles

A85 west to B&B at Connel

Our first stop today was around 11 am on the southern tip of Lock Lomond (AAA Dont Miss place). We stopped at the Visitors Center around Balloch at Balmaha to get maps. Then, then we did the "Hidden Gem" documented in my AAA tour book: From the Parking lot at Balmaha, take one of the short woodland walks with wonderful views over the islands and Loch Lomond.

Loch Lomond was formed during the Ice Age by the action of glaciers. It is "the largest area of fresh water in Great Britain." It is 22.5 miles long. 620 feet deep (in the North end). It has frozen over many times.

Web site said "It is a haven for tourists, being only 20 miles north-west of Glasgow and on one of the main routes north.

" but it was NOT crowded at all when we were there. A huge white building, a "state-of-the-art visitors center" called

Drumkinnin Tower

looms over the lock. I paid one pound to go up to the top seventh floor viewing and I was the only person up there. I saw the Maid of the Loch steamship parked on the shore of Loch Lomond.

You could rent canoes and paddle boats here also.

11:45 am and we're still on the go and I was hungry (I'm always hungry) so I bought a cheese sandwich for 2.99 and juice for .60. I ate the sandwich while we walked past the strip of retail shops. We passed an Internet cafe then we found the famous Jenners shop. I was looking for a long sleeve navy blue cardigan ("jumper") made of wool or cashmere. To no avail. We walked a different route around the back side of the shops in the parking lot and up the road a bit to get back to the woodland walk back to the car.

Drove to Balloch Castle. SKIP THIS place if you're interested in castles! Don't waste your time. It is a souvenir shop and two rooms. One room had computers set up for children to use. The other room had a big mural painted on the wall. However, there were some paths through 200 acres of "gardens, woods, and meadows" around in the Castle Country Park. For more information: http://www.lochlomond-trossachs.org/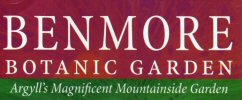 The next place we drove south down the "Cowal Peninsula" http://www.cowal-dunoon.com/ to the Benmore Botanic Gardens. http://www.rbge.org.uk/rbge/web/visiting/bbg.jsp Got there about 1:45 pm. Cost was 3.50. It is famous the magnificent collection of trees and shrubs, including some of tallest trees in Britain. They have over 250 species of rhododendrons.
This is the Avenue of Giant Sequoia Redwoods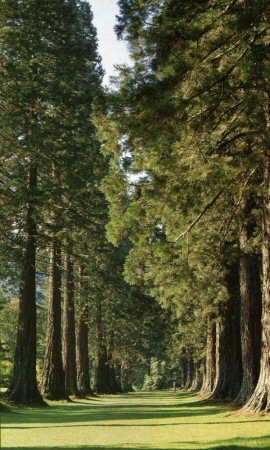 I opted for leisurely relaxation in the cafe instead. I had "Cakes" (shortcake with strawberries) 1.25 and hot raspberry tea 1.50. Two pots of hot water and a small cup, so I had a lot of tea. I relaxed and wrote till 3:30 when they got back the from gardens.
We drove back up the Cowal Peninsula, then west to Inveraray. Martha dropped me off in the town, then they drove up to go tour the Inveraray Castle, the family home of the Duke of Argyll. I walked down Front Street and enjoyed the "absolute set piece of Scottish Georgian architecture, with a truly memorable setting of the brilliant white arches that reflect the still waters of Loch Fyne" (to quote the Rough Guide book).
Down Main Street, turn left at the church to the Inveraray Jail at 4:45 pm. Cost was 5.95 and well worth it. They did a very good job of showing how the prison functioned. They had a County Courthouse set up and you could watch the trial in progress. There was an Old Prison (completed in 1820) and a New Prison (built in 1848). Both prisons had a very interesting information on life in prison. Next I walked a couple blocks over to the All Saints Church where you can go up Bell Tower to see a great view of the town.
I met Martha at 6:30 pm on Front Street. We were supposed to arrive at the B&B later (8 pm ish) so we decided to eat dinner in Inveraray. This was earliest that we ate the whole trip! We ate at Thee Royal Burgh Cafe. 3 Main Street West, Inveraray, Argyll. I got a "Mimoza" pizza. It was made with cream, ham, and corn. Very good! Cost was 7.80
From Inveraray, drive north up to Loch Awe. This lake is 25 miles long, but we only drove around the northern tip of it. The Rough Guide book is written so well for this kind of drive. It's organized by area so I could read about things along the road where we were driving. On the A85, it mentioned "an unusual building fashioned in a sort of home-made Norman-Gothic style. It's worthy of pausing at Saint Conan's Kirk." Originally built in 1880's, rebuilt beginning in 1907. Inside there is a beautiful Chancel and a Nave with a large rose stained glass window (a la Notre Dame de Paris).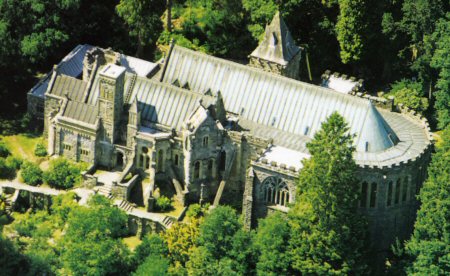 From the Guide Book about Sait Conon's Kirk:
Three stained glass windows, originally installed on the opposite side of the church, but the (darkness of the) trees behind them didn't do justice to the colors so they were moved to overlook the loch.

The first window shows the Sword of the Spirit piercing evil creatures. It reads "I have fought a good fight."

Centre light (window) "I have finished my course" depicts angels taking the Helmet of Salvation from the warriors head, the weeds and smoke at his feet turn to roses.

The last window shows the Warrior with his whole Armour of God. His faith is so strong that he does not even look at the fiery darts coming up through brambles and smoke. It reads "I have kept the faith"

The effigy to King Robert in the Bruce Chapel is more than life -size wood, with face and hands being alabaster. "A small ossuary beneath the figure, let into the base, contains a bone of the King himself."
B&B Day 5 Connel (near Oban)
Strumhor

Managed by Tony & Olga McCracken <olgabt@btinternet.com>

Web site: www.strumhor.co.uk
Cost is 20 per person. We had two rooms. Shower-room was down the hall between the rooms. Switch to turn on the hot water was outside the bathroom, in the hall.

This is by far, the most memorable B&B. They were very professional and organized. On each bed was a pre-printed order form that we used to select what we wanted to eat for breakfast.

There was an incredible sunset tonight.

This is the detailed email that Olga sent about how to get to Strumhor and things to see:

Route choice. If you are coming from Arran you can avoid Glasgow altogether. There are two main choices.

Option 1: Take the short ferry crossing from Lochranza on Arran to Claonaig on Kintyre. You can then drive north on the A83 through Tarbert, Lochgilpead and Invarary. Take the A819 from Inverary towards Dalmally and see Loch Awe and the castle at Kilchurn. On reaching the A85 at the head of Loch Awe, turn left to drive to Connel and Oban through the pass of Brander. It's only about 70 miles this way, about 3 hours driving.

From Lochgilphead, if you have time, you might want to detour up the A816 and visit Crinnan and the pre-historic sites at Kilmartin. (Stone circles, chambered cairn tombs etc) This would involve an extra 16 miles/30 mins driving. There is a great coffee and cake shop at Crinnan!

Option 2: Take the longer crossing from Brodick on Arran to Ardrossan. Take the A78 north round the coast to Greenock, the A8 towards Glasgow which turns into the M8 motorway but soon after joining the motorway take the exit for the M898 Erskine bridge. Cross the (Toll) bridge and take the A82 towards Dumbarton. Follow the A82 all the way to Tarbet on Loch Lomond. The best coffee/lunch shop is at Luss though it's a bit expensive. At Tarbet you again have a choice. I recommend that you drive straight on at Tarbet, the road number changes to A83, and drive to Inverary. Well worth a stop to walk round or have coffee or lunch. Then take the A819 towards Dalmally turning left onto the A85 at the head of Loch Awe just after Kilchurn castle. This route takes about 3 to 4 hours. 116 Miles

You can save about 20mins on route 2 by taking the inland route from Ardrossan (A78 east then A737 Johnstone turn left onto the M8 then M898 Erskine bridge.

Directions to Strumhor

From Glasgow and Lomond: Follow the A82 to Tyndrum, then the A85 toward Oban. Strumhor is on the left just after the road passes under Connel bridge.

From Oban: Take the A85 towards Glasgow. After about 5 miles you will see the Oyster Inn on your right. Just 50 Meters further on as the road bends to the right, take the small slip road on the right. Our driveway is signposted from the slip road.
Day 6 Saturday July 23 to

Forest
Glen
They started serving breakfast at 8. I had my yummy "porridge" again, an egg, tomato and Black Pudding (aka Blood Pudding) this morning. It was interesting, as in, not that bad. Not sure that I would order it again though. Ingredients are pig's blood, bread crumbs, suet (the hard fat around the kidneys and loins in beef and mutton), barley, rolled oats, milk, salt and pepper, mint.
We never did have the opportunity to try Haggis, the national dish of Scotland.Well, maybe we had the opportunity, but we "forgot" to order it. Ingredients are: stomach bag and pluck (heart, liver and lights of a sheep -- or a selection of organ meats), suet, onions, pinbead oatmeal (not porridge or rolled oats), salt & pepper held together using a trussing needle and fine string. I don't think we talked to a single person that like their national dish!
Travel plans today: North to Glencoe, Road to the Isles Roads today:
A85 Back track east 18 miles
B8074 Glen Orchy (beautiful one-lane road.)
A82 27 miles to Glencoe
A830
A82 Fort William
A830 Mallaig
A830 Fort William
A82 Laggan/Invergarry
Lots of driving today and another day of perfect weather. It looked like we should take A828 north for 27 miles to A82, but Olga and Tony said there wasn't much to see. They suggested a round-about route to Glencoe so we took off back on the A85. This time we stopped at the Scottish Power Station named Cruachan http://www.visitcruachan.co.uk/. It was closed yesterday when we drove by it. They have hollowed out the mountain where the power station converts water into electricity. The generator can go from standstill to full power out of 100,000 kilowatts in only 2 minutes. A 30 minute tour costs 4.00, so we stayed in the Visitor Center. There was a good video of the massive tunnel cut through solid rock and the transport that takes you down to a place where there were many tropical plants. It looked like a botanical garden.
We turned off north through Glen Orchy on the B8074. This is about as small of road as you can find. There's a picture of our car on this road on my Scotland picture page scotland.htm It was one-lane road and it had beautiful scenery. It was only 10 miles long but it took awhile to drive. We were going slow and we stopped a couple of time to take pictures. My notes say we stopped at "Latnish" on B8074. There were many campers along the road near the water.
After we turned west back on the A82, I think we were driving slower than when we were on the B8074. There was some bridge construction so traffic was backed up. They had one lane open. After a 10 minute delay, we made it through to Glencoe (Dont Miss place!) http://www.glencoe-scotland.net/. E-mail: glencoe@nts.org.uk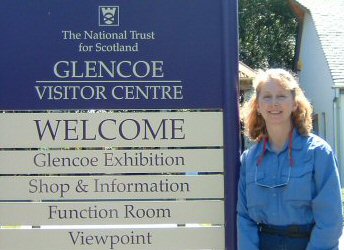 This was the Site of the famous Glencoe Massacre in 1692. We stopped for about 20 minutes at the Glencoe Visitor Centre - an NTS (National Trust for Scotland) Information Center.
From their pamphlet:
National Trust for Scotland Visitor Centre, on the north side of the road was built in the 1970s in a fairly intrusive location in the centre of this spectacular and brooding glen, and by the 1990s it was simply too small to cope with the numbers of visitors.
In 2002 the old visitor centre was removed, and a start was made on returning its site and car park to nature. May 2002 saw the opening of the NTS's new 3m larger and more environmentally sensitive visitor centre on the south side of the main road and lower down the glen, nearer to the village of Glencoe.
The buildings are laid out as a clachan, a settlement or village and they are built on stilts above the tree roots and groundwater. The green design of the Visitor Centre carries through to the use of filtered water from a nearby burn, and the on-site treatment of sewage.
The buildings are mostly made from timber, and all of the timber used comes from sustainable sources in Scotland. Energy efficiency is very high, with recycled paper insulation in the walls, and sheep's wool instead of foam around the windows. Heating comes from a boiler (which also provides hot water to the showers in the campsite) burning locally sourced woodchips, making the Visitor Centre CO2 neutral in operation.
Admission was free to most of the centre and the shop. Adult admission charges to "Living on the Edge" exhibition is 3.50. We went out to the walkway leading to a 3D model of the surrounding landscape. The model showed the ring fault in this area where the Glencoe volcano subsided to form a large crater. These mountains are part of this ancient volcano. We paused at the nice lookout point to admire the panoramic views of Glen Coe, then got back on the road.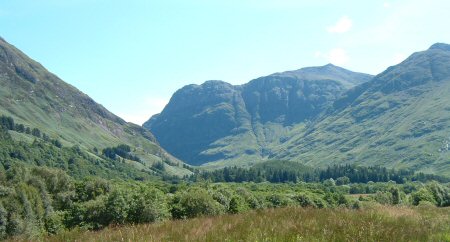 Driving by the town of Glencoe, I noticed there was a beach which make the Lock a lot more accessible. The only other place that had a beach was Loch Lomond. The entire area of Glencoe was very picturesque. There was big stone church overlooking the water.
From Glencoe, north on A82 along Loch Linnhe to Fort William. 16 miles took us half an hour. We drove through Fort William to get to the A830. Looked like a very nice town. It is the end "West Highland Way", Scotland's oldest and most popular long distance walk: 95 miles from Milngavie, near Glasgow, and the start of the Great Glen Way, the Scotland's newest long distance walk: 73 mile trek to Inverness.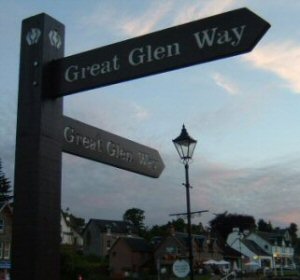 At Fort William go West on A830 which is The Road to the Isles.
Drove about 18 miles to Glennfinnan. We stopped to see the monument on Loch Sheil and the Glennfinnan Viaduct. It is one of the largest structures on the West Highland Extension Railway from Fort William west to Mallaig. The viaduct is curved; it is 416 yards long and made up of 21 arches, the tallest of which is 100ft high.
Impressive viaduct where steam trains cross in Glennfinnan

National Trust site at Glenfinnan where Bonnie Prince Charlie raised his standard to start the, 45 rebellion.
Back on the road we stopped at the Glen Finna Catholic Church, St. Marry and St. Finnan to take pictures.
30 more miles to the end of the road at a town called Mallaig. There was a stretch of the road that had many turns and one lane places and we started wonder if it was worth driving this distance. We let many cars with trailers squeeze past our little car. We finally arrived in Mallaig at 3:45. Nice little town. Several seafood restaurants around the town. Inside a shop there was one Internet terminal, but it was busy and the shop was closing at 4. The town was not crowded at all, but there were some tourists.
We walked around about 20 minutes, then we started the 45 mile drive back. We went East back on A830 to Fort William, then South on A82 for 24 miles to the Lodge. After we got off that stretch of narrow road on the A830, we saw a HUGE tour bus heading toward the narrow road. I pity the cars meeting that bus in the other direction. I sure am glad we didn't encounter that monster when we were on the road. The cars with trailers were scary enough.
We stopped at Neptune's Staircase near Fort William. The Caledonian Canal climbs 64 feet in less than half a mile in series of eight locks (not lochs). We watched three boats go through the through the locks of the canal. Very cool process to lower or raise the boats to the level for the adjoining loch (or lock?). From here, you could also see Ben Nevis, Scotland's highest mountain and where some of Braveheart was filmed.
On up the A82 road a piece, we noticed another official-looking monument with a big parking lot. It was the Commando Memorial to honor the WWII fighters. http://www.activitypoint.co.uk/cgi-bin/list.cgi?r=scotland.N24&e=1636(CommandoMemorial)
B&B Day 6 between Fort William and Invergarry at Laggan
Forest Lodge

It is "rurally situated" on the A 82 road 24 miles North of Fort William,

in the town of

South Laggan. Managed by Ian and Janet Shearer since 1988. Cost was 24 person and we were all supposed to be in the same room. But they had a vacancy so I could pay an extra 7.50 and get a single room. Seemed reasonable at the time.
For dinner, we drove North about 15 miles to Fort Augustus at the south-west tip of Loch Ness. It's a very nice town. It seemed bigger in size compared to other towns and appeared busier.
Had a nice dinner, then walked around the town.
There was another "Neptune's Staircase" here also with five locks on the Caledonian Canal to raise and lower boats by 40 feet as they pass through. There is a large Benedictine Abbey here that is no longer in use. You can take boat trips and cruises on Loch Ness from Fort Augustus.
And the "Great Glen Way" goes through here. It is a long distance path that runs for 73 miles from Fort William to Inverness. Scotland is indeed one of the best places for hiking!
I think were on the road about 8 hours today. Temperature got up to 21 C today!
Noticed that fields of white dots in the distance are not necessarily sheep. They are white stumps of dead cut trees. There sure did seem to be very few trees on the Monros. A "Monro" is a hill over 3000 feet. Depending on where you are and what it is shaped like and how high it is, a hill might be a ben, a mount, a law, a pen, a brae, or even a pap. Anyway, there weren't many trees. We saw a lot of logging though. I ventured over to the Scottish Environment Protection Agency site http://www.sepa.org.uk/. Their aim:
The Scottish Environment Protection Agency (SEPA) has as its principal aim the provision of an efficient and integrated environmental protection system for Scotland which will both improve and contribute to the Governments goal of sustainable development.

SEPA recognises that it occupies a unique position in respect of care for the environment and is committed to integrating high standards of environmental responsibility into all of its operations....

SEPA will incorporate the principles set out in its environmental policy into its everyday management, developing appropriate action plans and targets.

SEPA will seek to operate in a manner based on best environmental practice and will, through time, seek to influence the development of accepted environmental best practice towards achieving the goal of sustainable development.
Environmental Policy Number 54 Issued: 27 August 2003 SEPAs Land Protection Policy OBJECTIVES FOR LAND:
1.1 SEPA will seek to ensure an integrated and balanced approach to the protection and improvement of the environment, considering land alongside air and water, in its overall contribution to the Scottish Ministers goal of
sustainable development.

1.2 More specifically, and where appropriate, SEPA will seek to:

Protect land from a deterioration in quality;

Maintain the current condition of land; and

Promote restoration of land where there is clear environmental benefit in doing so.
Day 7 Sunday July 24
Nairn

Start serving breakfast at 8 am. It was good this morning except the porridge was a little salty. They (Janet Shearer?) served everything. She made a special effort stop by each table and find out what types of things we were interested in seeing, then she made excellent suggestions.

Our travel plans today: West on the Road to Isle of Skye, Loch Ness, north - east to Nairn. Roads today:

A82 North

A87 West

A87 East

A887

A82 North. Loch Ness museum, to Inverness

A96

B9090 to Cawdor Castle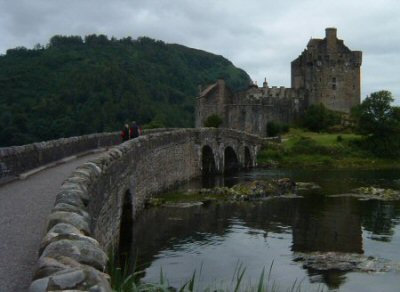 We were on the road by 9 am. We planned to drive for 2.5 hours toward the Isle of Skye on A87, then turn around and come back. We made it 45 miles to the Eilean Donan Castle. A picture of this castle is on the front of the Frommers tour book. They had nice models of the torn down castle and the rebuilt castle. You can get married in this castle. Cost for a wedding with 50-70 guests starts at 1000.
Back East on A87 to the A887 to arrive at Invermoriston at 12:40 where we stopped to do a hike to see some waterfalls. See the last picture on the Scotland picture page.
Drive north 13 miles to Drumnadrochit to see Urquhart Castle (pronounced urkut) (built in the early 1200's, abandoned at the end of the 1600's) is built on the shores of the Loch Ness. It has a bloody history of repeatedly changing hands over the centuries. It is one of Scotland's best known castles, but we did not pay the 6.00 to walk through it. There was a bus load of tourists and the castle looked in quite a "ruinous state" to quote their pamphlet. I got some good pictures of the castle and Loch Ness from the parking lot.
This place is definitely set up for Tourist. This is only place where we saw tourists!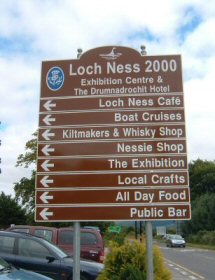 Loch Ness is the famous home to Nessie, a monstrous creature first sighted in the 6th Century. Photographs taken in the 1930s have made Nessie famous world-wide. Next stop was up the road to The official Loch Ness Exhibition http://www.loch-ness-scotland.com/.
There is no Loch Ness monster!
They determined there is not enough food to sustain a monster in the Loch.
Skip the "Original Exhibition," there was a good presentation here: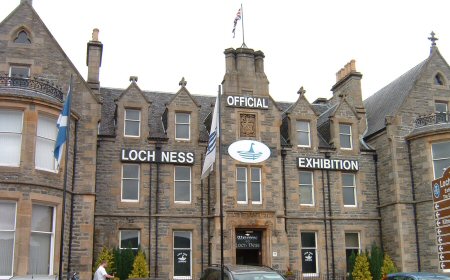 Skip The Original Loch Ness Monster Exhibition. For better information go to The Official Loch Ness Monster Exhibition.

It is located in the "imposing baronial stone building" that used to form the main part of the Drumnadrochit Hotel. Cost for one adult was 5.95.

It was a very informative presentation and I learned about the hoaxes an illusions in the pictures so there really was no monster. They determined there is not enough food to sustain a monster in the Loch. We were the only people in the whole presentation.

As we were leaving the building, threre was FOUR huge tour buses in the parking lot. That place is packed full of people now. Good timing to miss them. For more info: http://www.undiscoveredscotland.co.uk/drumnadrochit/drumnadrochit/index.html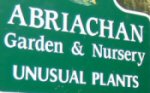 From Dromnadrochit, drove north on A82. Stopped at Abriachan Gardens with "unusual plants". Opted not to pay the 2.00 to go in because we still a ways to drive and more things to see. Inverness was about 16 miles, then take A96 to Nairn about 16 more miles.
Just after Inverness is Cawdor Castle www.cawdorcastle.com.
We arrived 4:15 pm and the castle was closing at 5:30. I debated about paying the 6.80 entrance fee. The man in the ticket kiosk (cashier ID: sm) said he would refund the cost if I didn't think this was one of the best castles in Scotland. I told him that we had seem MANY castles already. I paid the money and I'm very glad that I did. People live in this castle from October to April! They move out for the months when it is open for tourists.
If you open your home at least 90 days per year, you get a tax break (about 25% reduction). And 1,000 tourists a day paying 14 dollars each is income that helps pay for exterior maintenance.
Inside the put plaster over stone so the castle really is nice inside. The short doorways are more for defense and not for stature.
They put down rugs all over the rooms where people walk and cover the tapestries with protective plastic. I absolutely fell in love with the tartan carpet and tartan runners down the hallways and on the stairs. I have always like Blackwatch plaid.
I met the nicest guide in this castle. Clem Watson was so friendly and a pleasure to talk with. I could tell that he really enjoyed his job showing off this place to people. I was trying to write down things that he told us. After touring the castle, there are some nice gardens to see also. The grounds were closing so I went back to the car to do some more writing. I saw Clem walking to his car so I gave him the URL to my site. What a great way to communicate with people all over the world.
B&B Day 7 in Nairn
Glebe End B&B Accommodation

Managed by: Angela and George Mackay

1 Glebe Road

Nairn IV12 4ED - Scotland

Email: glebeend@aol.com

Web site: http://www.glebe-end.co.uk/

It is a beautiful Victorian villa built in 1897. It is centrally located in Nairn, and it has views over the links to the Moray Firth (the sea).

We stayed in the family/twin, en suite.

TARIFF

from 23 - 28 per person per night. No credit cards. When available, a double room may be taken as a single for a supplement of 7.50 per night.
For dinner we walked to a hotel not far away. They wanted to seat us in the bar area where there were smoking people (people that were smoking). So they put us in the dining room instead. We were the only people in the room for the entire meal. And this is the "high tourist season"? We took the long way home to walk along the paved sidewalk on the beach.
Day 8 Monday July 25 to Pitlochry
For breakfast, they seated us in the elegant dining room at Glebe End. They were very careful to make sure everything was done correctly, and it sure was done correctly. Even the grapefruit sections were divided so it was easy to eat.
I borrowed their phone to call and check on a sheep herding demonstration. They doing it at 4 pm today so we need to adjust our schedule around that.
Travel plans today: Go South. Roads today:
A939 Grantown on Spey
B970 (not A95) Loch Gardens
B970 pass Aviemore to Cairngorm mtn
B9152 Wildlife park, working sheepdogs
A9 South past Blair to Pitlochry
Hit the road at 9 am. South on A939 for 24 miles to Grantown on Spey, then on smaller B970 to Loch Gartens Osprey Center. 2.5 entrance and may (or may not) see one. For more information:
http://www.rspb.org.uk/reserves/guide/a/abernethyforest/index.asp and http://www.rspb.org.uk/birds/guide/o/osprey/index.asp.

We stayed on the narrow B970 to get to the Cairngorm Mountains www.cairngormmountain.com. (9 miles from Aviemore.) Until 2001, a chairlift in two stages carried you up to the top. The mountain suffered from being by far the easiest of Scotland's really high (ie 4000ft+) mountains to ascend, so a funicular railway replaced the chairlifts and, to prevent damage to the mountain, you cannot exit top station building. So if ya wanna trek (or go on a "waymarked walk") on this mountain, ya gotta do it from car park at the base station.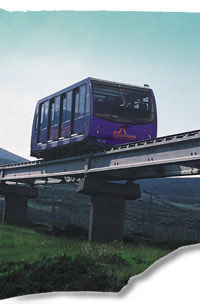 The funicular was complete December 2001 at a cost of 14m. It runs for two kilometers through the Cairngorm ski area and climbs 460m to the Ptarmigan top station. The funicular holds 120 standing skiers and takes 5 minutes in winds up to 85mph in the winter, or 60 seated passengers in the summer.
I rode the funicular to the top of the CairnGorm Mountains. I took the noon train and cost was 8.50 roundtrip. I had a drink at Scotland's Highest Restaurant, The Ptarmigan, and I saw UK's highest Post Box. I only stayed at the top about 20 minutes because it seemed like we needed to get on the road again. Besides, it was foggy at the top and you couldn't see much. Just as the 12:30 train was leaving to go back down the mountain, all the fog cleared. It really was a spectacular view but I couldn't get a picture because I was last one on the train and I had to sit in the back.
Next stop was the Highland Wildlife Park, Kincrais, Kinggussie, PH21. http://www.highlandwildlifepark.org/ Cost was 8.50 per person. They gave us an Audio Guide CD. We listened to the explanations and stories about the animals as we drove through the park. It was very well done. At the end of the drive through the safari, you park and walk around to look at caged animals. I watched them throw dead rabbit halves into the Lynx cage so we could see the animal up close. The wolves were really impressive also.
Across the street from the wildlife park was Leault Farm where they had a working sheep dogs demonstration. Cost was 4.00 per person. Well worth it.
A tour bus followed us through the gate. Not a good sign. OK, I know if I was on a tour that this is definitely something that I would like to see. We sat on a hill overlooking the field. There really was no bad place for viewing. The dogs rounded up the sheep in the huge field and the dogs ran very fast through the crowd. That was a thrill. He demonstrated a unique whistle for each dog for left, right, lay down, stop. It was very impressive.
There are only two shepherd's left in Scotland. These dogs were amazing.
He also sheared a sheep. He said it costs .80 to sheer a sheep and you only get .30 (60 cents) for the wool. 30 years ago it you could get 3 to 4!

The wool from this one sheep is only worth 60 cents.

.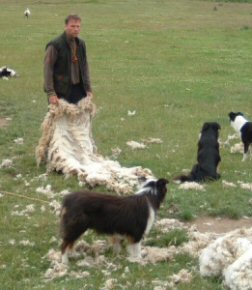 Wool does not burn and they are discovering that you can use wool for insulation in homes so the price is starting to go up.
They also showed how they trained puppies. There were several small puppies and some older puppies. I watch a great show that took place behind the crowd. A couple of the older puppies tried to herd two big, fat wooly sheep. The puppies were obviously still learning and they could not control the ornery sheep. Both puppies bit down into the wool on the shoulder of the sheep. Well, the sheep continued to just ignore the puppies and just kept on walking. The puppies didn't let go and the sheep dragged them along for as long as the puppy could hold on. That was hilarious to see four puppy legs dangling from this big sheep.
There are only two shepherd's left in Scotland. These dogs were amazing.
We drove past Blair Castle on our way to the B&B. It is only open till 5 pm so we'll have to see it tomorrow.
A little excitement today: They drive on the other side (the left side) of the road here. Martha has been doing a great job of driving this whole trip, but todayF we had a teeny little mishap. Turning right and there was two lanes so we turned into the right lane. All the sudden we were staring into the grill of a huge tour bus. Oops. We were supposed to turn into the far side of the island into a lane farther to the right. Well, the bus started to back up until a car came up behind it. So we backed up so we could go around the island and get on our way.
B&B Day 8 in Pitlochry
Carra Beag Guesthouse

16 Toberargan Road, Pitlochry,

Perthshire, Scotland PH16 5HG

Managed by Andy & Fiona Mill

web site: www.carrabeag.co.uk

I used http://www.streetmap.co.uk/ to print a map of Pitlochry so we drove directly to this B&B. We had two rooms. A single ensuite room and a twin ensuite room. One room was up one flight of stairs, the other up two flights of stairs.

Tariff was 27 per person per night which includes a full Scottish breakfast and all taxes.
For dinner we walked 1 block to town. There a beautiful flowers everywhere!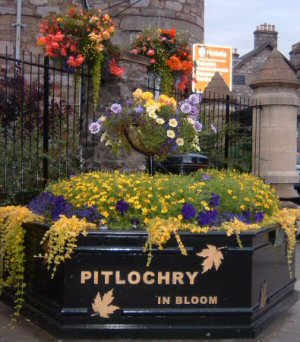 In town walk down the street a couple blocks to Victoria's. I had a WONDERFUL roasted lamb dinner. Also go Sticky Toffee Pudding, which was just OK at this restaurant (compared to Blackwaterfoot)
As we were finishing dinner we saw a parade of pipers in the street. It was The Vale of Atholl Pipe Band. They were marching down to "A Highland Night" Festival that they have every Monday in this town. We walked down to the festival. They had bleachers where people could sit, or you could sit in your car that you could park around the performing area on the lawn. Cars would honk and flash their lights to applaud the performance. I stayed as long as I could stand it. The hiss of the bagpipes was making my back teeth numb. It's like fingernails on a blackboard to my ears. I enjoyed a leisurely walk back to the B&B.
I noted some interesting real estate information in this area:
6 bedroom (2 with ensuite) Family home. Main and rear hall, lounge, dining , W.C. bathroom, shower & W.c. was 350,000

Thatched cottage 329,000

Modern detached house 3 bedroom, 1 car garage 190,000

Traditional detached house. stone with bay windows. 4 bedroom 210,000.
Day 9 Tuesday July 26 Drive to

Edinburgh
We were the first seated at breakfast at 8 am.
Travel plans today: Go South. Roads today:
A9 N 5m to Blair Castle
A9 South 17m past Pitlochry to Dunkeld
A822 25m to Creif to see Drummond Gardens
A822/ A833 ~13 m to A9
A91 ~16m
M90
A90
Headed out at 9 am. I did a quick (10 minute) city walk this morning. I really wanted to buy some of the Clotted Cream Fudge at a shop that I seen the night before. It's a British specialty made with caster sugar, golden syrup, clotted cream, and vanilla essence. Yumm...Anyway, the shop wasn't open and I never saw another opportunity to buy some. I'm sure I can find it in Atlanta somewhere.
We had a short day and a lot of things to see today. We backtracked a couple miles to go to Blair Castle http://www.blair-castle.co.uk/.

Cost was 6.90 to see the house and grounds. Don't do the grounds for 2.20 because you have to see inside this castle!
The castle dates back to 1269. It has been a family home for over 700 years. There are 30 rooms on display. You enter into a hall full of guns, swords and other weapons. The rest of the rooms are very comfortable if you like antique furniture, tapestries, and four poster beds. It was like a trumped up version of my mother's house. Mom also has the antiques, tapestries, and her Lincoln bed. This castle was huge! Lots of room for many ostentatious things.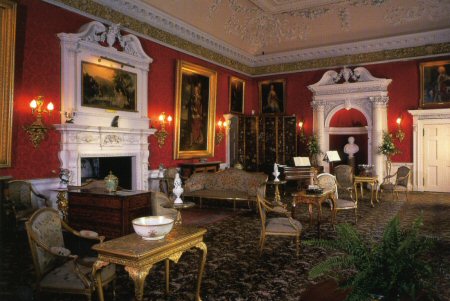 I was most impressed with the beautiful intricate plaster work throughout the rooms. It was on the ceiling, and on most all of the walls, the fireplaces in the drawing room and dining room were more impressive.
At the top of 32 steps (plaster winding staircase), the sign at the top says "Please use these seats if you feel like a rest". That is very unusual for tourists to use the furniture in a castle.
The China room had in incredible display of embroideries. I saw the what is considered to be the ultimate achievement in whitework embroidery: The British Arms by Lady Evelyn Stewart-Murray. Wow.
After touring inside castle, we walked out to the "neglected, walled Hercules water garden" (Rough Guide quote). They were correct, the garden wasn't much to see, however, the statue of Hercules was sure something to marvel at!
After the castle, drove back to Pitlochry to a free 40-minute tour of the smallest distillery in Scotland - Edradour Distillery http://www.edradour.co.uk/index1.html.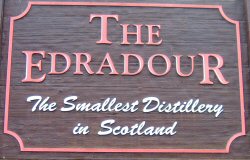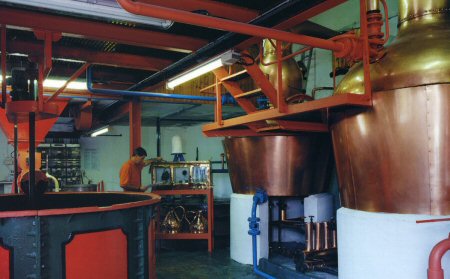 This is the smallest LEGAL still in Scotland. Men used "Illicit stills" to make whiskey in the woods. This primitive method evolved into the system used today.
Edradour has been here since 1825. Two men and one manager make all the whiskey. Paul Patterson, Sean Sampbell and John Reid. They paid 5.5m two years ago to buy the company.
Three ingredients are used to make whiskey: water, barley and yeast. Two men, two shovels and 10 days - barley sprouts turn starch to sugar. Peat (fossilized vegetation) is used for fuel. 25% of the cask evaporates over the 10 years in the cask. They fill 15 casks a week. There is no machinery here. Everything is gravity fed. Edradour produces in one year what other distilleries produce in one week. There is three criteria for a single malt:
1. Made using malted barley.

2. Product of only one distillery

3. Must be made and matured in Scotland.
There are about 100 malt distilleries in Scotland. There is a small number of distilleries producing grain whiskey. Malt whiskey must mature at least three years in an oak cask.
Edradour is a "lovely drop of stuff". A 22-year old limited edition bottle of whiskey is 90.00. There are only six left.
They gave us a wee taste of their whiskey on the tour. I really liked it. Just the taste brings back some wonderful vivid memories. I was teenager in Kentucky sampling various liquids from dad's liquor cabinet. I got the Scotch Whiskey one night and it was so awful....Now I'm a big girl in Atlanta. I didn't want to drink at a happy hour where we got a free drink so I ordered Scotch Whiskey and I liked it. Yeah, maybe we do grow up eventually.
I found Edradour whiskey in Atlanta. It did not cost as much as some other single malt whiskeys. A 750 ml bottle was only $45.00.
There were two more things on the TO DO list today, and we couldn't do both, so we just did option 2:
Go to Aberfeldy (13 miles from Pitlochry) where I could do a city walk. Martha and Mr. Hale would do a 4km (~90 minute) walk south of town to see the Falls of Moness http://www.walkingworld.com/results/walksummary.asp?method=thirdpartyid&wlkno=1474
Drive 40 miles down to Creiff to see Drummond Castle Gardens. Arrived at 2 pm. Cost was 4.00 to see the gardens only.
So this is something that NO ONE in a tour bus will ever see. We were driving a car so we turned into the entrance and drove up a very very long, very impressive, narrow road lined with huge, beautiful and impressive beech trees. Tour buses must navigate to the car park through the rear exit, they never get to see this truly grand entrance. I would say that it was even more grand than Benmore Gardens.

After you pay the entrance fee, the information that I printed from the web site said the "full extent and majesty of the garden is revealed.

The dominant feature is a St Andrews Cross". They weren't kidding. It was magnificent. All the way back to the perfectly manicured vegetable gardens in the back. Such a serene place. No noise. I saw a girl using scissors on a long stick to do the edging. No electric or gas-powered trimmers here. Only the garden was open to tourists. The dauntingly impressive looking castle was closed. I'm guessing the income from the garden tourists helps pay for the castle upkeep (and the gardeners who perform the tedious tasks so we will go out of our way to see and appreciate their efforts.) For more Drummond info: http://www.drummondcastlegardens.co.uk/
From the A823 south of Crieff, we crossed over the A9 and took A91 for 15 miles then couldn't find a way to get onto the M90 going south. Got turned around a couple times, asked directions, and finally found the on ramp to the highway. In retrospect, it looks like we should have taken A9 to the M9 into Edinburgh. It was a valiant effort indeed, but we did not make it in time to see the Edinburgh Castle. Needless to say, but I'm saying it anyway - I was VERY disappointed. I like to see buildings and churches, but that was not happening on this trip.

The Royal Botanical Gardens closed at 7, so we drove straight to the gardens. After all, this was Martha's trip. The second day of this trip we tried to visit these gardens, but we got there too close to closing time, so they didn't let us in.
There is no way that I was going to see some more plant life so I did not go to the garden.
There was Fun Fair with crowds of people across the street from the gardens so parking was limited. We parked at the back entrance of the gardens by the East Gate and agreed to meet 1.5 hours later. I grabbed my jacket, writing pad, and water bottle and ventured across the street. I love fairs and watching people. I was writing in my journal when some children walked up to me and asked where I was from. They guessed Canada. I ended up talking to a very nice boy named Jordan Wilmot. He wrote his name in my book. His father ran one of rides at the fair. Jordan said they were headed to Nairn in two weeks with the fair. Jordan had heard about Florida, Disney, and Yellowstone where a big volcano is going to blow up the United States. Hmm.. I hadn't heard about that one...
B&B Day 9 in Edinburgh
We stayed at the same place where we stayed the first night in Scotland

Hawthorne House

15 West Terrace

South Queensferry, Edinburgh, Lothian, EH30 9LLScottish TC
For dinner we went back to the same great Italian restaurant where we started our Scottish adventure. A bottle of Pinot Bianco topped off the meal and the trip wonderfully.
Day 10 Wednesday July 27 Flight Home leaves

Edinburgh
at

We got directions to the airport, but ended up following highway signs. We found the Enterprise car rental return lot, then took the shuttle to the airport. Turns out we were supposed to return the car to a different Enterprise car rental return lot so they could not do the final check. I do not recall hearing that when we picked it up. Hopefully they won't notice the little scrape on the back fender and cracked mirror (how in the world did that happen?) Anyway. We'll just wait to see the charges on the credit card later.

Depart Edinburgh July 27, 2005 (Delta operated by City Jet)

.

Arrive Paris

.

Depart Paris , Arrive Atlanta

The flight left Edinburgh 20 minutes late, but we still made Paris connection for the 8 hour 41 minute flight home.

I met another Journey Woman http://www.journeywoman.com/ in the airport in Paris. She was on her way home from visiting Peace Corps friends in Czech. Cool.

I had a wonderful time on the flight home. We had individual screens on the back of the seats in front of us. All three of us on the same row were watching the Fever Pitch movie and laughing out loud. I can't say that I have ever experienced that before. The lady on the end was nice checking with me (window seat) to see if I needed to go to the bathroom. I waited till the line was long before I asked them to get up. The longer the bathroom line, the more time you get to stretch your legs on International flights.

I was back at work the next day. I sure did miss the lunch bunch so I was glad to get back.

This page and all other pages in the http://www.mytrips.com web site, along with the journals, images, and photos are Copyright © 1997-2018 by Suzanna Travels. All publication rights are reserved. Email: web@ mytrips.com Remove the space after the @