Peru -Machu Picchu, Lake Titicaca
April 30 to May 9, 2010
This tour was with Gate 1 Travel http://www.gate1travel.com/ 10 Day Peru http://www.gate1travel.com/peru-ecuador-travel/default.aspx.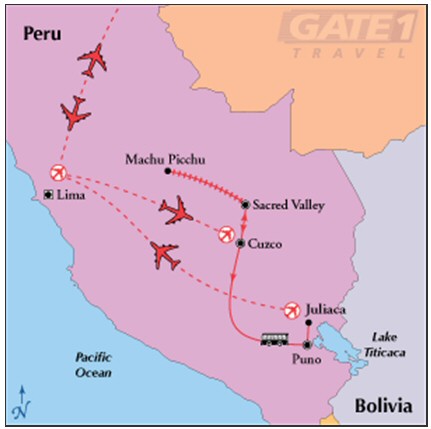 To my fellow travelers on this adventure: Please send me an email if you see something that is wrong . If you have a good story to add, if I spelled your name wrong, if you want me to remove your name.
Contents
DAY 1, Friday April 30 - Depart the USA, Arrive in Lima
DAY 2, Saturday May 1 - Lima City Tour
DAY 3, Sunday May 2 - Fly to Cuzco, Visit Ollantaytambo & Chinchero Market
DAY 4, Monday May 3 - Full Day in the Sacred Valley
DAY 5, Tuesday May 4 - Full Day Machu Picchu
DAY 6, Wednesday May 5 - Full Day in Cuzco
DAY 7, Thursday May 6 - Transfer to Puno, Andahuaylillas, Raqchi, and Pucara
DAY 8, Friday May 7 - Excursion to Uros Islands
DAY 9, Saturday May 8- Fly to Lima
DAY 10, Sunday May 9- Depart for the USA
---
Introduction
First I need to tell about my goal for my 2010 vacation and the reason for the trip: to be out of the country on my 50th birthday on May 1.
My 40th birthday was the same situation. My boyfriend couldnt take a single day off work and he wanted to go to the North Georgia mountain to celebrate. No thank you. I had an awesome deal to an all-inclusive in Jamaica using frequent flier miles to get there. He wouldnt go, so I asked Martha to go with me. He called me at the resort on my birthday. At the resort phone rates of 9.00 per minute, he ended up paying about as much for the 20 minute phone call as I did for the entire trip. Anyway. I digress. Its a decade later. I'm turning 50. So I'm in my element researching where to and who to go with. Definitely wanted an organized tour (less stress). I mentioned it to many people and girlfriends. I knew when, but I didn't know where yet - I really wanted to go someplace where I have not been before. So Turkey or Peru (Machu Picchu) looked like possible destinations. I found:
Leisurely Tour of Turkey with Cosmos

10 Day Affordable Peru or Turkish Treasures with Gate 1

Treasures of Turkey with Smart Tours

Turkey Active with Intrepid - Highlights include: Snorkel in Anzac Cove, Tread the sorrowful soil at Gallipoli, Cycle through lush scenery around Kas, Hike along the ancient Lycian Way, Kayak over a sunken city, Walk among frozen waterfalls, Bathe in ancient thermal springs.
Priscilla was definitely interested. We considered the tour company, flights, cost (tour cost + air+ optionals), length of trip, safety, medical, weather, and sights. Decided on the Peru trip with Gate 1. We booked it in October 2009.
When our family lived in South America, we traveled around to almost all the countries via ship, airplane, and mini-van. But in 1966, Mom and Dad left us kids a home in Santiago, Chile and they went on a vacation to see Machu Picchu. Ever since then, I have been trying to get to that place. It's one of the new 7 Wonders of the World. So now I'm finally going.
Machu Picchu (Quechua: Old Peak; sometimes called the "Lost City of the Incas") is a well-preserved pre-Columbian Inca ruin located on a high mountain ridge above the Urubamba Valley, about 70 km (44 mi) northwest of Cuzco. Elevation as 2,350 m (7,711 ft). Yale archaeologist Hiram Bingham III rediscovered it in 1911
Dad also want to join us on the tour because he wanted to see Machu Picchu again! I signed him up, then I mentioned it to my sister. She did some research and found out that at high altitudes, he might suffer irreparable damage because of his CMT condition. So much for that. I had to cancel is reservation. In March, I was excited that Martha had finally decided that she wanted to join us on the tour. She called me at 2 pm one Monday afternoon. She didnt get around to signing on till 10 pm that night and the trip had filled. Geez. What a break.
There are many tour companies that go to Machu Picchu. But I also wanted to go to Puno and Lake Titicaca on the Bolivia border. I was glad to find the Gate 1 tour. The cost was VERY affordable. It looks cheap because they offer a lot of optionals. Optional tours to Inca ruins and dinners. I enjoy the planned aspect of tours. We signed up for all the optionals when we signed up for the trip. I have been on many tours, and I found out that you pay less if you pre-pay.
Tour cost was $1249 (1499 250 Travelzoo discount), plus $629 for air, taxes, insurance, plus $360 for all the optional tours. Total cost $2288, breakdown detail:
1499 Base cost of tour

- 250 Travelzoo discount

149 insurance

370 extra cost for direct Air fare

102 airport taxes, fees, 9/11 security fee

44 half day Larco Herrera Museum & Pueblo libre

50 dinner at La Dama Juana

22 dinner at Sonesta Posada del Inca Yucay

58 taxes and fees

87 full day Maras & Moray Tour

60 half day inca ruins

30 dinner at La Retama

32 half day Sillustani Tombs

35 half day Indian Market

$2288.
Tips
54 (6x9) Tour guide $5-7 a day

27 (3x9) Driver

Local guides $2 per person for half day

Hotel porter $1 per bag

Wait staff
Ask about "Travel again and save" discount for the next Gate 1 tour. The cost includes:
All transfers, and Intra-flights
10 meals: 9 breakfasts, 1 lunch
Sightseeing per itinerary in a modern air-conditioned motor coach
Services of English-speaking tour manager and local guides throughout
Entrance fees per itinerary. Tours include: City Tour of Lima, Trip to Ollantaytambo & Chinchero Market, Train and Full Day Tour to Machu Picchu, Andahuaylillas Church, Raqchi Ruins, and Pucara Ruins, Excursion to the Uros Islands
9 nights accommodations in your choice of hotels :3 nights Lima , 2 nights Urubamba Sacred Valley , 2 nights Cuzco , 2 nights Puno
There are no visas required for Peru. You dont need a Yellow Fever shot. In 1997 when I did a Cosmos South America tour, we had a layover in Lima. I was not allowed to leave the airport because I did not have proof of the required Yellow Fever vaccination. Well, the shot was required back then because of an epidemic. So before you travel anywhere, make sure and check to verify if you need to have proof of shots, or else youll be stuck in airport also.
The things to worry about for this trip are altitude sickness and getting ill from the water/food are. Oh yeah, and being tried from lack of sleep and being on the go and very active for 10 days. From Gate 1 info:
Cuzco, situated at an altitude of 11,000 feet above sea level, may cause in some travelers temporary altitude discomfort. Those affected should avoid over-exertion, drink extra water, and eat lightly. Gate 1 suggests you consult with your health care provider, who may recommend prophylaxis with acetazolamide. Other areas of Peru are also situated at high altitudes including Machu Picchu (7,800 feet), Sacred Urubamba Valley (9,300 feet) and Puno (12,600 feet).
We packed Cipro and Imodium. I wasn't worried about the altitude because I was fine for a week above 12,000 feet driving from Kathmandu to Lhasa, Tibet last year. I was OK at 17,300 feet. But I warned Priscilla to bring altitude pills - Diamox really worked for the people that took that drug on the Tibet trip. In Peru they advertised Sorojchi Pills http://www.sorojchipills.com/ to prevent altitude sickness.
What a coincidence. My sister lives in another state. She mentioned to a co-worker, Keith, that I was going on trip to Peru. It turns out that he was going on the same trip! It really is a small world. I remember my 1993 trip to China, there was guy on that trip that I went to Henry Clay high school with in 1976. A couple weeks before Peru trip, I talked to Keith on the phone. He is a very experienced traveler. He knew lots of tips and tricks. He was planning on bringing children's clothes to barter for souvenirs. That's a unique approach to shopping.
So I packed a brand new trip journal - a new paper pad to fill up. It has small sheets of paper so many lines in this journal are short. I knew I need to keep a journal and write notes so I can remember better when I type the journal later. So read on....
DAY 1, Friday April 30 - Depart the USA, Arrive in Lima
Itinerary said:
Depart the USA for Peru. Your flight includes meals, drinks, and in-flight entertainment for your journey. Upon arrival in Lima, transfer to your hotel. Balance of the day at leisure
Overnight: Lima
When we booked this trip, we were planning on driving to Miami so Gate 1 booked our flights from Miami to Lima Peru and we had to figure out how to get to Miami. We ended up booking our own flights - Priscilla from Jacksonville, and I flew from Atlanta to Miami. My American Airlines flight was leaving ATL at 6:10 am on Friday 30 APR 10. It was changed to 7:10 am.
I had a great start to the trip. I was up at 4 am. Out the door by 5. In the Atlanta airport by 6. ATL to MIA flight left on time at 7:10 am. 1HR 50MIN on-stop flight to MIAMI INTERNATIONAL. Arrive in MIA 9:00 AM.
I did not arrange how or where to meet Priscilla in the Miami airport. I walked over to the other gates. I didnt see her. I was walking back to the D concourse and there she was on the walkway! We just happened to find each other. I cant believe that luck. Like I said, trip got off to great start.
She had already found a place to exchange money there in the Miami airport. Only a $5 fee. So she walked me over the Cambio booth.
Sat and talked and got caught up on all the latest. We have such different lives, but we still have that connection. Then I was hungry. I didnt want a snack, I needed food. Not sushi. I almost ate it yesterday, but decided it wasnt worth the risk before the trip. We found an Italian/Chinese place in the airport. I had a huge piece of meat lasagna. Yum.
So our next flight departs at 4:05 pm. 30 Apr10 American Airlines, AA 917, From: Miami, FL (MIA) To : Lima, Peru (LIM), Flight Duration 5 hr 40 min. Arrives 8:45PM.
OK, Im on the plane to Lima Peru now. I have been traveling 13 hours so far. The plane is just leaving MIA. It is 4:45. Three people did not show up for the flight so they had to search for their luggage in the huge cargo hold of this plane and remove t their bags from the aircraft. So that a short delay.
OK, Im tired and Im ready to be there. AA airplane seats are not comfortable. There is no room for my legs. My watch says 7:10 pm so I have two more f-ing hours. Yeow. Im going to die. Cant do this. I sure am glad that I opted for the direct flight to Lima instead of the stop in Bogota option.
I guess I survived the flight ok. I was sure getting fidgety. Get to Lima. Go through customs to get passport stamped I noticed a couple other passengers and I told Priscilla that I would bet her that they were on our tour.
Get my luggage. Priscilla brought one carry-on bag and one other personal item. Wow. I was impressed. I had a backpack, but I put it inside a suitcase and checked the luggage. No cost to check a bag with AA if you are flying international that day. In Jacksonville, they were going to charge Priscilla $25 to check her bag, but they didnt know she had a flight later in the day to Peru. I was planning on either giving my suitcase to Priscilla for souvenirs, or leaving it in Lima and coming home with the backpack.
So I find my suitcase at baggage claim. Our packet said Upon arrival, please look for a representative holding a Gate 1 sign. Yup. There were 2 Gate 1 signs.
Wait for some more tourists. Yup. It was the ladies that I saw in the customs line. I just knew they would be on our tour. So our Lima Transfer - Airport to Hotel was already paid for "Pick Up: MIA-LIM - AA 917 at 8:45P".
FYI - You can US$ to buy things (bottle of water) in the Lima airport.
Its 9:50 pm now and we are on the bus enroute to the hotel. Our guide is Juan Carlos 9975-75674 We also have another guide named Carlos who is with our group. It's about a 50 minute ride to the hotel. It is not that far, but it takes so long because of Friday night traffic.
There are 21 people on the tour in our hotel (Plan A), and 31 people in the other hotel (Plan B). When we booked this trip (7 months before departure) the cheaper Plan B option was full, so we had to pay the extra $150 for better hotels in Plan A. If you are considering this tour, I would highly recommend paying for the upgrade. It was worth the cost. Seems like a 4-star hotel in Peru could be like a 2 or 3 star here is in the United States. You get the idea. So there are a total of 52 people on the tour. Sounds like a lot of people, but they kept the groups mostly separated since we stayed in different hotels.
It is 73 degree now (23 C) now.
Population, estimated at 0.6 million in 1940, reached 1.9M by 1960 and 4.8M by 1980. Now population of Lima is 8 million. There are 28 million in Peru.
There is no metro transportation. There are lots of buses and privately owned taxis. You must negotiate the fare. Look for Setame sticker on taxi.
A Chifa is a Chinese restaurant. There are many many Chifas around here. I think he pointed out 4 of them in a 2-block area.
Peru time is the same as US Central time.
Exchange rate is 2.8 Soles = $1 US.
We passed by a Gold's Gym. The cost for a membership is 1500 Soles for 1 year, or 115 ($40 a month).
We finally get to the hotel.
El Condado http://www.condado.com.pe/pages/index.php?p_idioma=eng
Alcanfores 425-465
Miraflores, Lima - Per
Phone: 01-444-0306
It's a 4-star hotel in MiraFlores. Check in was smooth. We had room 830. It had one king size bed. The super nice married couple exchanged rooms with us because they had two beds. Yup, good vibes that this is going to be a good trip.
There is a very convenient 24-hour grocery store across the street. We walked over to buy some water.
In the store, we saw these big vats of sugar and rice. Priscilla wanted to take my photo, but we soon learned that you cant take a picture in the store. Extra virgin olive oil was selling for 31.99 and the small bottle had a security lock on it.
DAY 2, Saturday May 1 - Lima City Tour
Itinerary said:
This morning meet with your guide for an orientation, afterwards, depart for a tour of Lima. Enjoy the sights of Peru's capital city with 2000 years of indigenous and colonial heritage before stopping at the San Francisco Monastery, famous for its 17th century architecture and world-renowned library. Spend the remainder of the day at leisure in the "Gastronomical Capital of the Americas" by exploring Lima's nightlife or sampling some of its many restaurants.
OPTIONAL Half Day Larco Herrera Museum & Pueblo Libre Day #2 $44 - This morning join an optional tour to what by many is considered the best museum in Lima, the Larco Herrera Museum. Founded in 1926 by the Peruvian archaeologist, Rafael Larco Herrera, the museum is located in an 18th century mansion, built over a 7th century pyramid, and holds one of the world's largest collections of pre-Columbian art. Wander around the museum's amazing collection portraying 5000 years of Andean civilization and be astounded by the museum's prestigious gold and jewelry collection. After, viewing the museum, enjoy a brief tour to Pueblo Libre, a small residential district not far from the historical center of Lima. Here you will visit the "Antigua Taberna Queirolo", one of Lima's oldest bars, modeled after a 16th-century European tavern. (We did not visit this bar on our tour....)
OPTIONAL Dinner at La Dama Juana Day #2 $50 - This evening, enjoy an optional dinner and a show at the unique and comfortable La Dama Juana. The restaurant's specialty Creole cooking, paired with dance and music creates a one-of-a-kind ambience. Observe in awe as dances of the region are performed to live music.
Overnight: Lima
Meals: Breakfast
Summary of the day:
10 - 1:30 City Tour

2 - 5 Museum

6:45 Group meeting

7:30 Dinner
Breakfast at the hotel is served from 6-10 am.
We were up at 7 am. Breakfast was good. Hot bar with scrambled eggs. After breakfast, Priscilla and I went out for a walk around the block and took some photos. Then at 10 am, meet in the lobby for the city tour.
Lima City tour guide is Erica. Driver is Jorje or "George". I wrote Horhay
We are staying Mira Flores area of Lima. From Wiki: Miraflores is a district of the Lima Province in Peru. Known for its shopping areas, gardens, flower-filled parks and beaches, it is one of the upscale districts that make up the city of Lima.
We drove by an Archeological site in Lima. I found "Huaca Pucllana" on the Internet, but I copied a sign and wrote "Huaca Pokiana - Palace of Gains" in my journal. Erika said something about 33 sacrificed woman and fertility rituals. All of the bricks were made by hand. You can see hand prints on the bricks. They used a book shelf technique. The area covered 80 acres, but now it is only 6 acres.
Wiki http://en.wikipedia.org/wiki/Huaca_Pucllana had this: a society which developed in the Peruvian Central Coast between the years of 200A.D. and 700A.D. With the intended purpose of having the elite clergymen (whom politically governed several valleys in the area) express their complete religious power and ability to control the use of all the natural water resources (saltwater and freshwater) of the zone, a Great Pyramid was constructed in the Huaca.
History time line summary:
Circa 6000 PC (what is "PC"?): Some of the oldest civilizations appeared in the highland province of Callejn de Huaylas.

500AD to 900AD - Wari culture. 13th century Inca conquer Wari's first when they start their expansion.

14381532: Inca Empire. It's administrative, political, and military center was located in Cuzco. Quechua was the official language.

15321572: Spanish conquest of the Inca Empire. Lima was founded in 1535 by Spanish conquistador Francisco Pizarro

15421824: Viceroyalty of Peru

Republic of Peru
18101824: Wars of independence

18241884: Territorial disputes

18841948: Reconstruction

19481979: Dictatorial military governments

1979present day - Democratic restoration and elections
Earthquakes destroyed most of Lima city in 1687 and 1746, and 1940.
The Guinea Pig is also known as (aka) Cuy pronounced Cooee.
I took a photo of yellow wall with chain link fence about 20 feet high, and a guard in front of the American Ambassadors residence. A beautifully painted red building is the Venezuela embassy. White bldg - Mali Art Museum no pix
Now we are in the Lima neighborhood in the city of Lima on Arequipa Ave.
From Wiki: The district of Lima, was declared a World Heritage Site by UNESCO in 1988 due to its importance during the colonial era leaving a testimony to architectural achievement. Some examples of this historical colonial architecture include the Monastery of San Francisco, the Plaza Mayor, the Cathedral, Covenant of Santo Domingo, the Palace of Torre Tagle, and much more.
The bus drove around the Plaza San Martin very slow twice. In the middle of the square is huge monument to Peru's liberator Jose de San Martin on a horse. Priscilla took an incredible close-up photo of the statue "La Nacion Al General D.Jose De San Martin". There beautiful baroque buildings all around: The Colon Theater, the Hotel Bolivar. Also saw Pizza Hut.
Here is Dad's photo in 1966 and my same shot in 2010:

We stopped at a square with a fountain in the middle. Around the square is the Lima Cathedral, and yellow buildings with the famous balconies.
From Wiki http://en.wikipedia.org/wiki/Balconies_of_Lima : The Balconies of Lima are cultural heritage built during the Spanish colonial regime as well as in the republic era in Peru. Most of them were built in the late 17th and 18th centuries, hence structures are located in the historical center of Lima. They were adapted for ceremonial purposes and have influenced in the life of many Peruvian scholars such as the 19th century writer Ricardo Palma. Nowadays the number of them counts up to 1,600
Here we are in the square: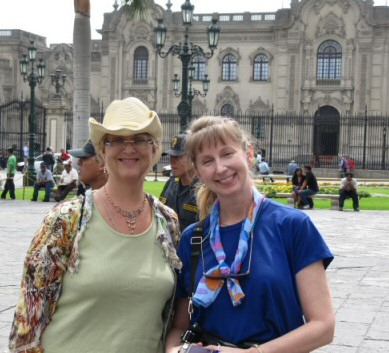 Next we go to the Saint Francis Monastery. The Spanish name is Convento de San Francisco.
From Wiki: The church was completed in 1774 and is noted for its architecture, a high example of Spanish Neoclassicism. The convent's library is world-renowned.
Catacombs below the monastery contain an ossuary and are said to connect to other catacombs beneath the cathedral and other area churches.
The church is a the UNESCO World Heritage site.
There was a festival going on when we were there. There were many groups of colorful dancers and lots of music in the square.

We walked into the church and there is a mass going on. The Mass was in Spanish. I took lots of pictures inside the church. Very pretty inside. We could walk around the back and side of the church to see and photograph the naves.

Erica said
Catholic 70%
Christian 20%
Other 10%
In the 14 century there were 300-400 monks. Now there are only about 30-35 monks.
To the left of the church is the entrance to the Museo y Catacumbas.
We will see only 10 % of the catacombs in the tour. If you are claustrophobic, don't go on this tour.

They had burials here from 1610- 1821.

There are over 20,000 buried here under church and 2 blocks on each side.

There are collections of skulls and bones. Some neatly organized in groups.

This is public cemetery. Rich, poor, men, women buried here and Franciscan monks also buried here.

They are nearer to God here under the church.
We drove by the Congress building. There were cops standing all along the front of the building. The statue in front of the building is Simon Bolivar on a horse. I couldnt get a good pix though, there was a tree in the way.
Around noon we finished our tour and we started the drive back to the hotel. There is lots of traffic, but we are sitting comfortably in out big tall air conditioned bus.
I took a photo of church St. Paul - Yellow church with white trim.
Palacio de Jvstica (Justice Building)
Erica told us a lot of interesting things
In Cuzco, we will need sunscreen and mosquito repellant.

Erica mentioned the 1987 National Geographic article. I actually have that issue! Pages 422-474 are about Kayaking the Amazon and The High Andes - In words and photographs, Loren McIntyre explores traditional Indian communities and bustling cities - all surviving in thin air amid South America's loftiest mountain.

Lord of Sipan was the ruler of Mochica people.

US gallons are used as the measurement at gas (petrol) stations. Gas is $3-5 USD a gallon 9-10 soles. The price of the gas depends on neighborhood. There are different taxes.

Drinks here in Peru:

Cheecha Morada purple. No alcohol. made from black corn.

Inca Cola It is bright yellow carbonated. Some say it tastes like bubble gum. Coca Tea. Drink lots of water when you are in higher altitudes. http://en.wikipedia.org/wiki/Inca_Kola: is a lemon verbena-flavored soft drink with a sweet fruity flavor sometimes compared to bubblegum. The maker is 50% owned by The Coca-Cola Company.

Pisco Sour - Pisco is like a grape brandy.

About Pisco. All of this information is from the cardboard box that Dad purchased. He bought 2 bottle of Pisco in the airport because "Lufthansa" is written on the box.

Pisco Caramba! De las parra a su copa. Productores Casa Ranuzzi. (From the grapevine to the glass...)

La mara que es sininimo de calidad (The trademark that stands for quality)

Cayentano Heredia 173. Tel 33986 Casilla 1323 Lima Peru.

The Romance of Pisco

The name Pisco comes from a tribe of Indians living in the region of Ica, Peru. Their village, which was by the sea, was the center of Pisco distilling around 1640. It became the pot of Pisco, from which Pisco was shipped around the world. The name Pisco was also given to the pottery containers lined with beeswax in which Pisco was carried.

A grape product. Pisco dos not lend itself to modern production methods. It is distilled in "falcas" devised by the Incas long before the Spanish conquest. Because of this centuries-old process, the type of native grape used, and the influence of climate and geography, the old way of making Pisco continues to be the best way. For this reason, superior grade Pisco is always in demand, always expensive, and limited in quantity.

How to make the Famous Pisco Sour Exactly as made in Peru

The fame of the Pisco Sour has been carried to the four corner of the earth. The authentic recipe is easy to make, but directions must be followed exactly.

2 large jiggers of INCA PISCO

3/4 jigger fresh lemon juice

moderate quantity of egg white (1/8 to 1/4 of one egg white)

1 heaping teaspoon sugar

Combine all ingredients and shake vigorously with ice. Strain into cocktail glass. Shake a few drops of bitters on top. If electric blender of mixer is used, cut down on egg white. Use low speed for short time only. There should be about 1/4 inch of froth on top when poured. The perfect Pisco Sour is dominated by the unique flavor of INCA PISCO.

"No doubt you too will succumb to the lure of Pisco and experiment on your own with many flavorful and exciting drinks. Make them with INCA PISCO - from the Land of the Incas."
We drove by the ocean. There is a huge beautiful park call Love Park here by the sea. Priscilla took some great photos. Every valentines day Feb 14 there is a contest for the longest kiss. This year our guide, Juan Carlos was the winner. He and his wife kissed for 50 minutes!
We're driving down Avenue Jose Larco Road to Love Park. Then Earnesto Diez Canseco rd to Ca Alcanfores.
1:35 we finally got back to the hotel. The next tour is at 2 pm.
We went across the street to grocery to get some lunch. I got an empanada pollo (deep fried bread sandwich with chicken), a banana and Gatorade. So I told her not to buy the apple. She asked if it was OK if she washed it with bottled water. Hmmm She bought the apple
We went up to the room to go to bathroom, then right back down to catch the bus to the next tour at 2 pm.
Now we are headed to NW area of the city to the Larco Museum - Museo Arqueologico Rafael Larco Herrera
Erica is our guide again. Driver is Jose.
It is located at Avenida Bolivar 1515 (Pueblo Libre).

Admission is "$30 Adultos, $25 Adulos Mayor" (senior adults). Dad's 1966 pamphlet said "Precio de entrada: 10 soles"

It's a private collection of over 45,000 pieces. Ceramic, textiles, metals gold, silver, also there is an erotic gallery.

When we entered the gate there was a beautiful walkway of flowers. Took some photos. We saw a "Peruvian hairless dog" Erica was careful to tell us that that is was not a Chinese hairless. The Peruvian hairless dog is protected by the government.

The first room was portraits vessels. The faces are offerings found in tombs. No liquids were ever carried in these. There must have been thousands of vessels.

Some signs on the displays:

Mochica culture 2000 b.c.

Complejo Mochica 1,250 AC 1 DC (during Christ)

Mochica Complex 1250 BC 1 AD

Prisoneros hands back

Religion

Frutos, Idealizados, Zoomorfos

Los Demonios the devil

Serpientes snakes painted on it

Patos silvestres ducks

Sapos y ranas frog

Peces fish

Falconidas flacon bird

Next we saw another part of the museum. In the outside foyer was a cactus: Cactaceae Monstrito.

I took a photo of "Rafael Larco Hoyle". Priscilla photo of La Estratigrafia. And a Sacrificial cup and knife (eeek). We had some fun taking photos. It was a very interesting museum also.

Photo of Sacrificial cup and knife (Moche Apogee Epoch 1 AD - 800 AD)

The warriors' throats were cut and their blood collected in ceremonial cups to be offered to the priests, the representative of the gods. In the tombs of individuals who in life must have taken part in this ceremony, similar knives and cups have been found.

Deformed and Trepanated Skulls

In ancient Peru, several societies practiced skull trepanation. This procedure employed to eliminate hematomas or remove pieces of skull which were probably fractured during ritual combat or fighting warriors. Different instruments were used for trepanation, including natural glass and metal knives (copper or copper alloy).

Skull deformation was also practiced, and the aim of this process to give a particular shape to the heads of individuals who become a given social group, as a mark of identity.

Copper knives (1) cranium of an adult female with skull deformation trepanning of the left parietal bone, with no subsequent regeneration; (2) cranium of a mature adult make with severe fractures in the face and head; common injuries caused by armies with blunt instruments as weapons. There is evidence of trepanation of the right parietal bone with....
Driving back to the hotel. Signs on the light posts say "Lima 42 K Domingo de 2 Mayo". So there is (26 mile) marathon here tomorrow!
There are people walking around with surf boards. You also see surf board on top of cars. They surf year round here. The water is always the same temp.
We got back to the hotel around 5.
I called dad around 6 pm. He is actually on the same time zone. That doesn't ever happen when I travel. Asked him to call Brad to say Priscilla got here OK.
It's my birthday today! I am really having a good birthday!
At 6:45 pm we had a "Briefing meeting / Intro meeting
We sit down around the U-shaped table and we are served a Pisco Sour. Yum.
Our guide is Juan Carlos. He has been with Gate 1 for 10 years. He is from Cuzco, but lives in Lima now.
The airport tax $6.87 or 20 Soles. There is a $31 departure tax but it is already paid if youre flying American airlines.
We have a 1 hour flight (with a snack) to Cuzco.
1 hour bus ride to Chinchero. Market is only open on Sunday.
Types of wool: Synthetic wool almost alpaca has the brightest colors, Sheep wool, Alpaca wool, Baby alpaca is the best.
Machu Picchu tour day bring and umbrella. It's a 15 hours day because of logistics.
Vistadome group leaves at 6 am and gets back around 9 pm.
Backpacker train group goes from 9 am until after midnight.
We drive to Ollayantanbo (9,000 feet elevation). There are about 200 steps to ? the train. Train ride is 1 hour 15 min, then a 15 min walk to bus. on spaghetti roads up to the mtn. We'll be at MP 3-4 hours.
Floods happened when Machu Picchu got 1 months worth of rain in 2 days. There are trains trapped near Cuzco. So remaining few trains are totally booked.
The MP site is 8000 feet.
Cuzco is 11,000, and Puno is 12,000 feet.
Optional tours: Maras 600 year old salt mine that is still used today. And Moray circular terraces. Return around 3:30.
Drive from Cuzco to Puno for 10 hours. We'll stop every 2 hours. It would be 6 hours non-stop. We'll arrive about 5:30 in Puno.
Learn about Tiahuanaco? Culture in Puno.
Leave hotel by 7 for a 1 hour drive to Juliaca. Then a 2 hour flight to Lima with one stop.
Don't drink coca tea before you go to bed. To make 1 kilo cocaine, it takes a swimming pool of coca leaves.
Keith said that you can buy coca tea legally above 12,000 feet.
7:30 meet in the hotel lobby for dinner.
We drove to Love Park. There's a huge 3-story outdoor shopping mall here! We enter on the top story, then take escalators down to the restaurant. There's people everywhere.
La Dama Juana is on the bottom (first) level. We are directed to one long table. We were at the back of the group so we were at the far end of the table furthest away from the stage. The dinner includes one drink. I got lemonade because I could still feel the effects of Pisco Sour that I had earlier. The buffet was excellent. Many choices of Peruvian foods and dessert. Rice pudding that they serve with a sweet red jelly.
I'm glad we got there before the entertainment. The dancers were really good. 8 different dances on the stage. We didn't see very much of the first dances because someone in our group of filming a video and blocking our view. I finally left my seat and sat on some wooden steps to I could see the show. Seems like he could have sat on those steps to film. Anyway. The show was very good. There was a very unique dance by men who held scissors. Wow.

DAY 3, Sunday May 2 - Fly to Cuzco, Visit Ollantaytambo & Chinchero Market
Itinerary said: Flights, Lima-Cuzco
This morning, transfer to the airport for your flight to Cuzco. Upon arrival, drive to the Sacred Valley to visit Ollantaytambo. During the Incan Empire, this site was the royal estate of Emperor Pachacuti and served as a town and ceremonial center. Marvel at the architecture of the Incas before continuing on to the bustling Chinchero market where you can bargain for alpaca wool scarves, jewelry, and other hand-crafted goods. After the tour, transfer to your hotel, balance of the day at leisure
Overnight: Urubamba Sacred Valley
Meals: Breakfast, Lunch
OPTIONAL Dinner at Sonesta Posada del Inca Yucay Day #3 $22 - Tonight enjoy an optional dinner at your hotel. Select your choice of an appetizer, entree, and dessert including a hot drink. All other beverages are not included and may be purchased at the restaurant.
Sunday schedule:
5:45 wake up call (yeow)
6:30 bags out
7:15 transfer to Lima airport
9:40 Star Peru flight to Cuzco
11 am arrive, go to the Market.
Our 5:45 wake up call came at 5:35 (10 minutes early). I was dreaming when the phone rang. Ughhh..
Had a very nice breakfast again with Natalie and Martin. Super nice couple.
They brought all of our bags down to the lobby. You have to locate your bag and watch them load it onto the bus. That is comforting.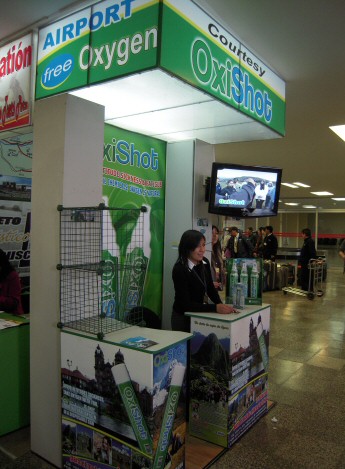 7:15 and we are leaving the hotel to go to the airport.
9 am now and here we are sitting at the airport gate. It has been a very calm morning except for the wake up time. I like groups where everything is taken care of. A lot less stress.
Flight time is about 1 hour. Full plane holds 78 passengers. We have 52 in our group.
When we arrived at the airport in Cuzco there were many, many tourist information booths. If you are looking to hike the trail or get a hotel or a tour, this is the place to find it at these booths in the airport. There is even booth where they are selling oxygen. No kidding. $15 or 40 soles for a can of OxiShot. There are 180 shots of O2 in the can. Cool.
So we are walking in a group to our bus that is parked in the airport parking lot. There are about 5 people taking many many photos of everyone in the group. Someone said that they will find us later in the city and try to sell us the photo of yourself. Im just sure.
Its noon now and we just got on the bus at Cuzco airport. Our guide is Jose or Pepe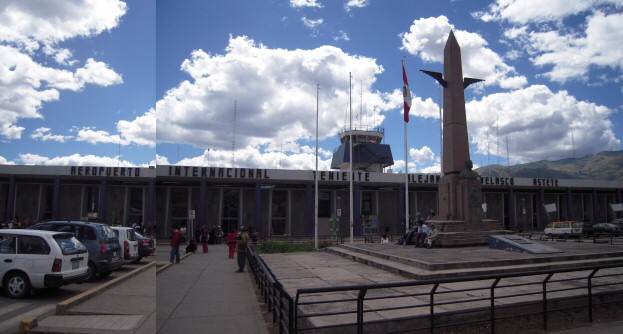 Very nice drive to the Chinchero Market.
Here is a growing city up the mountain side!

If you are going on this tour, the Chinchero Market is one of best places to buy souvenirs. Priscilla was armed with lots of advise from Keith. She was a good bargainer. I wasn't interested in shopping, so I held her bags so people would leave me alone. Here is Keith perusing the goods (souvenirs - not Peruvian women!) He bought lots and lots and lots of souvenirs.

Priscilla enjoying the local kids
At this market, I paid 1 Soles to go to the bathroom/bano. No kidding, they gave me a ticket. Why do we need a ticket when your enter the bathroom right after you pay. I guess you could use the ticket for toilet paper. It says:
Municipaidad Distrital de Chinchero. Porv. Urubamba - Dpto.Cusco.

R.U.C 20164370349

SERVICIO HIGIENICO No. 038386

S/. 1.00
Seems like we could have spent more time at the market. But I was getting a little hungry.
2 pm lunch was really good. It was in a beautiful tranquil setting. Priscilla and I sat at a table with Alonzo and Keith. Food was on a buffet. There was lots to choose from. Start with salad dishes, then main dishes, then dessert. The trout is pink here. Very good. Keith was smart to get dessert early. I should know better. They were out of clairs, so Keith gave me one of his. Yummers. Thanks Keith.
On the drive to Ollayantantembo
The mountains are all green now. In June (winter), they are all brown. Some mountains are very eroded because terraces were not used. You can see terraces in the photo above almost all the way up the sides of the mountain.
3:40 in Ollayantantembo
Ollayantan was the ruler (a General) at that time.
tembo means a stopping place for travelers. There is a Tambo usually about one day walking distance.
This place is a fortress temple built in the mountain side. It was built from the bottom up. You build the bottom first so it supports the building on top. The temple at the top left is unfinished. Stopped building in 1527 at the end of Inca culture.

Priscilla was taking lots of photos here. She saw the most amazing things in the rock formations - faces and animals. She showed me a photo a lion that she saw in the rock. Very cool.

Pepe told us some history at the bottom the of fortress, then we were free to climb. I did all the steps up with Alonzo. Then he went up even further. That was a good work out. It seems mean to take us to a place with hundred of steps so early in the tour. I can tell we are in high altitude. Its a similar feeling when Im on a snow skiing trip. I need to keep sucking in oxygen. Deep breaths. Ill sleep well tonight.

This photo is from the bottom looking up. There are unfinished temple at the top

From about the middle looking down onto the terraces:

We hiked all the way up and then had to come all the way back down
The visit to Ollytamtembo was over around 5 pm. Then we went to a ceramic factory.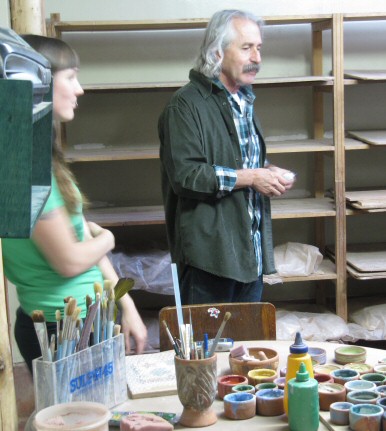 Pablo Seminario . The workshop that we visited is located at:
URUBAMBA
Sacred Valley of the Incas
Phone (51-84) 201002 Fax (51-84) 201177
E-mail: kupa@terra.com.pe
He is finally starting to get world renown. His work will be featured in the Smithsonian American Indian Museum July 12 18, 2010.
And in the Chicago field museum showing Contemporary Native Art. Chicago bought 40 pieces on display.
Pablo said I didnt know what I was doing before, but now I know what Im doing
Pix of Pablo holding a light sconce - light shade.
Pablo will teach / lecture on how native culture techniques and ceramics.
They have llamas, turtle, ducks, monkey, macaw that they rescued.
The pieces are glazed for daily use, the material used are non-toxic. The final result is a ceramic of high quality and beauty. One that harmonized with nature while preserving ecological integrity.
In Cuzco, you can see his works at Seminario Gallery. Portal de Carnes No 244, Plaza de Armas Tel: 246093
In Urubamba, at Taller Workshop gallery, Calle Berriosabal no 111, Tel 51-84 201002
From his pamphlet:
The magic and beauty of clay - Magia y Belleza de la Archilla
Since 1979, the Seminario Ceramic Studio has been dedicated to the discovery of techniques and designs from ancient Peruvian cultures. Pablo Seminario and Marilu Behar present a new art expression, providing continuity to these cultural inheritances. He forms group of artisans who hand make each piece.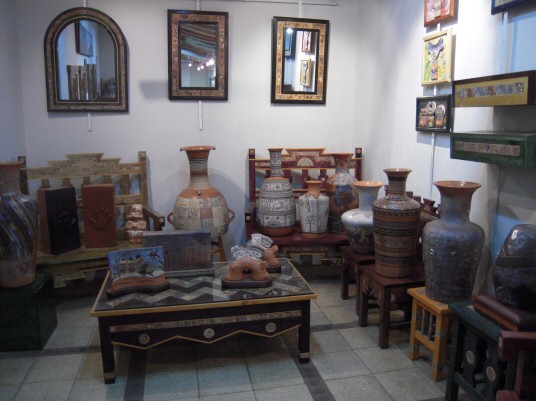 Our group is in 2 buses. We have 21 in our group and there is 31 in the other. I think there are only 31 seats on the bus. Keith, Alonzo and I have the back row. It is really bumpy!
We have been moving for 12 hours straight now. Finally we checked into the hotel around 6 ish.
Sonesta Posada del Inca Yucay ( 3 star )
Plaza Manco II de Yucay 123
Urubamba, PERU
Phone: 084-20-1107
Very beeeeutiful hotel. Tranquil setting. Very comfortable beds, silky sheets, spa aromatics and wonderful soaps, shampoo and towels in the bathroom.
There is no formal group dinner tonight. We had paid for the optional dinner, but it was not a group dinner. We can just go down to the hotel restaurant whenever and eat whatever.
Priscilla and I showered, changed and went down to the restaurant for dinner around 7:40. Very nice, quiet. Since we had pre-paid, we were given the shortened menu to order from. You can get either salad or soup, an entre (choice of three including meat, fish), and dessert. We asked if we could get salad, soup and entre, but no. . it had to be salad or soup, entre and dessert. Whatever. We got a bottle of wine to celebrate my birthday.
The food was very good. I got beef. Priscilla got Trout (looks like salmon). Its pink meat. I had some Trout at lunch and it was very good. I did not take any of the ceviche at lunch. I do not want to risk eating raw fish.
We set wake up call at 7 am.
DAY 4, Monday May 3 - Full Day in the Sacred Valley
Itinerary said:
Today, enjoy the full day at leisure in Urubamba. The Sacred Valley is scattered with ancient ruins and once served as the gateway to the jungle. Today it is considered one of the most important tourist destinations in Peru, and is popular for activities such as hiking, kayaking, rafting, horse-back riding, and bathing in thermal baths
Overnight: Urubamba Sacred Valley
Meals: Breakfast
OPTIONAL Full Day Maras & Moray Tour Day #4 $87 - Enjoy an optional day tour to Maras and Moray. Visit Maras and the terraced salt-pans of Las Salinas and get a lesson on salt extraction from the locals. Later, continue on to discover the unusual Inca ruins of Moray, a large complex of terraced circular depressions in the earth which historians believe were used to study the climatic conditions on crops. As you descend each layer or pit, the surrounding temperature descends as well, degree by degree, making for a unique and highly sophisticated thermo graphic tool.
Monday am, we never got our 7 am wake up call. I had my usual one glass of red wine at dinner last night so I slept great. The beds were really comfortable. I was up at 6:30. We had a nice leisurely breakfast. It was very fancy buffet. I had hot cakes and maple syrup and sausage (good local pink sausages). Good yogurt and granola and coffee con leche. They had the coffee cups in a warmer and hot milk.
9 am departure to the Moray optional tour. Tour lasts until about 3 pm.
Jose/Pepe is our guide. Carlos is also with us as a guide.
It's a beautiful drive through the country and countryside. The people use the mountain sides for graffiti. They scratch the vegetation from mountain side. Use as a billboard, thus "Mountain Graffiti".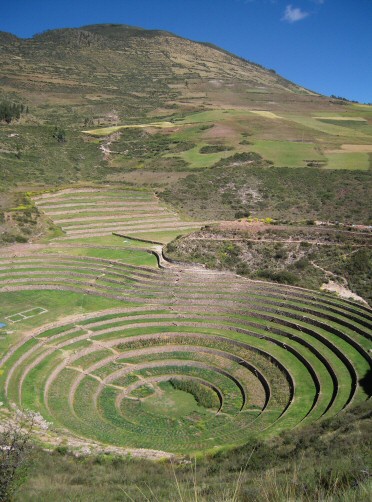 About 9:50 we arrive in Maras. Then we keep going on a dirt road another 15 minutes to arrive at the Moray archeological site. There are a few cars and we are the only bus here!
This is Moray amphitheater. But it is not a theater. It is greenhouse garden on terraces.

1450s 15 century was active. They have done more digging here in last 10 years than in the last 300 years.

The side of all the mountains around here are terraced. The terraces stop erosion and they allow you to grow different crops. He said there is a million acres of land on the mountain sides. There are many Inca hillsides that are still in use today.

Many of these Moray terraces exposed and other were only covered with bushes.

John research Earls conclude this is experimental green house research of Inca people. Earls is from Berkley.

Maybe when El Nino changed the environment. The Incas design water flow system, so it still has water but there is a drought everywhere.

Each terrace represents 1000 feet on the mountain. Each terrace has different soil.

Notice in my photo, there is a crop growing in the lowest middle circle, and on the first, second and third levels.

Our group walked down into the circles. Here's Priscilla hiking further down by herself to the center of the circles. She laid there for a awhile to "feel the energy".

We slowly walked back up to where the bus was parked. Here's Valerie, Susan, and Linda pausing to take in the view:

11 am now and we are leaving the Moray site. It was a very nice visit. It's amazing that we were the only (big) group visiting the site. I got many photos with no one in the circles.
The bus stopped for a short time in the Maras city square. We walked around, sat on the bench, took some photos. There were no vendors, no souvenir stands.
Then at 11:40 arrive at "Morasal Ingreaso A Salineras"
There are about 500 pools here. 200 original pools and the last 200 were added in last 10 years.

They put about one inch water in a pool, then wait 2 weeks for the water to evaporate and leave the salt. Then they harvest the salt.

Someone asked a question: "How do they separate the water from the salt?" Hummmm. Let's think about that one....Inca technology maybe??

This photo shows almost all the pools:

The bus drove us down to the where the two buildings are on the left side of the photo above. So we were at the top of this fields of salt pools. That's where we started our hike down, and down.

First we walked along the edge of the salt flats. That was precarious. This photo below shows some people in our walking on the top edge of the salt pools. We went maybe half a mile balancing on narrow walkways. Sometimes there was water running along side.

Here's a woman working on one of salt pools:

Ahh, the final result - tons of salt!
The hike final led to a narrow road. We were going down the whole time. The temperature was very nice, about 70 degrees, but the sun is very hot. 99% of the hike was in the sun. We made it to the bottom around 1:20 finished hike. I'm guessing it was about 3 miles. I was sure glad to see the bus.
At 1:25 we stopped at a place with a red plastic flag. That is a visual indication of a location that makes Chicha.
We stopped to see how Cheecha/Chicha is made. It is Alcoholic corn beverage.

I was absolutely starving. We had no lunch yet. I am glad that I had made a cheese sandwich at breakfast and I brought it with me. I also ate and a power bar and I bought a coke.

Cheecha is 5% alcohol, so kinda like a beer. Pepe explained that they dry the corn, boil it, filter through a basket that is filled with straw. Ferment 3 days, then drink.

There was a glass of pink Cheecha (directly in front of Priscilla in the photo below). Pink Cheecha is made with beets.

Pepe drank half the big glass of Chicha (beer).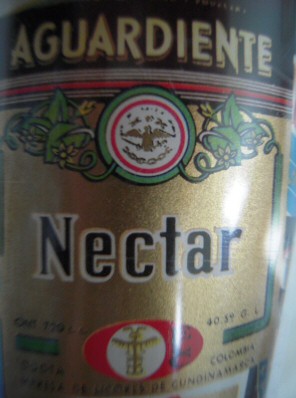 Then Pepe brought out a gallon jug of Aguardiente in a Pisco jug. He said it was 100% alcohol. It didn't smell as harsh as the Aguardiente that we had in our house.
Photo to the right is my Aguardiente:
1:50 we finished Cheecha tour and we are finally driving to the restaurant.
Book: "Cut stones and closed classroom. Ronald Wright. in the 80's.
We went to eat at
Restaurante El Huacatay

Jr. Arica 620 Urubamba Cusco Per

Reservas +51 84 201790 / +51 84 9676876
I ordered the Lamb ravioli. The menu said, huge ravioli, with Chocolate sauce (which is Mole sauce) yum. The first bite was OK, then it got better. Yum and yum, and even yummier.

Priscilla was sitting near the end of the table so she ordered and I didn't see what she got until it was placed in front of her. Alpaca Carpaccio. Yup, she did. She passed her plate down to me and I actually ate a small piece. Yeow. "Carpaccio" means raw meat and I can't believe that I had some. We'll see.
Back at the hotel and we had time to relax. The grounds around the hotel is absolutely beautiful. Sit out on the porch or in a chair on the grass and just enjoy the tranquil setting.
Everyone met down at the bar of our hotel for happy hour. The other hotel was just across the field a block away, so some folks from that group walked over to join us. It was a short walk for them across them. There was a grassy square (fenced off) separating our hotels.
We didn't finished our bottle of wine last night, so Priscilla had that. I wanted to try another Pisco Sour. If I don't like something the first time, I have to try it again before I decide that I really don't like it. It took forever for me to get a Pisco sour (2 for one). Finally I got them and I gave the other one to Alonzo. I sure didnt need two drinks. I sipped it slowly. The raw egg whites make me nervous. So I've tried the drink twice now. I still don't like it.
We hung out in the lobby for awhile. I left with Elaine for a bit to help her call her twin brother, Ron on my phone. The call went through directly. I can't believe how easy Elaine made that phone call with my phone. It has always worked for me. in Kathmandu, Lhasa, Maldives, Sri Lanka, no problem. Elaine left a voice message for Ron. I hope his cancer surgery went ok.
I was hungry and so was Priscilla, so we decided that we needed to eat dinner. We went back to the restaurant at the hotel. We had a limited menu last night, but we could order anything off big menu tonight. Well, I wasn't thinking and I saw a delicious description of a salad.
Ensalada de Pollo Andino - spinich, fried chicken in crispy kiwicha, sweet pepper, fava beans, raisins, confit pecans, pineapple cubes and heart of palm. Served in Agauymanto and rocoto dressing.
That is the first time that I have ordered a salad when traveling. I hope I don't regret it.
Priscilla ordered the burger and fries. My salad was really really good. I don't recall ever ordering a salad when I was traveling before. I knew it was dangerous when I was eating it, but it really was good. Priscilla ate one french fry, took one bite of the hamburger patty. It was very salty. She said she was feeling a bit queezy so she didn't want to eat it. They took to back to the kitchen, then went back to the room.
Natalie, Martin and Alonzo joined me briefly then ended up going to the restaurant where we ate lunch. I ended up eating alone, which is fine with me. I finished my dangerous yummy salad and journaled a bit, and paid 33 soles (about $12) .
It was 8 pm and I didn't want to go back to the room yet. I wandered around for a bit. I watched a very lively game of foos ball with Juan Carlos, Jessica and Amanda.
I went back to the room around 8:45 and Priscilla was asleep.
Whew. What a day. Long hike in the sun, happy hour and dinner.
We have an 8 am wake up call. I think I can do that.
So my roommate had a rough night. As she would say Ruh Oh..... About 2 am she had fever and uncontrollable chills. I gave her 2 Imodium and the comforter from my bed. I put on my long underwear to keep warm and tried to go back to sleep. She didn't sleep well, but she seemed OK in the morning. Just moving very slow. I know that feeling. In all my travels, it has happened to me several times. Juan Carlos told her to take the Cipro. That seemed to help.
DAY 5, Tuesday May 4 - Full Day Machu Picchu
Itinerary said:
Early this morning, transfer to the Urubamba Sacred Valley's Ollanta Station and board the Backpacker Train for Machu Picchu, a UNESCO World Heritage Site. Spend the day viewing the ancient citadel before boarding the train for your return to the Sacred Valley's Ollanta Station in the evening. Upon arrival, transfer to your hotel in Cuzco
Optional: Upgrade to Vistadome or Hiram Bingham Trains
Overnight: Cuzco
Meals: Breakfast
***Please note that for April, May & June departures, travel to Machu Picchu will take place in two stages. In the first stage, passengers will take a 50 minute bus ride from Sacred Valley's Ollantaytambo station to Piscacucho, where they will connect to the second stage, an 80 minute train ride via Backpacker or Vistadome train to the town of Aguas Caliente where normal services will be resumed.
This was the posted schedule for Tuesday May 4. Priscilla and I were on the backpacker train. The Vista Dome is an extra $152 US dollars.
Our Backpacker Train Vistadome Train
8 wake up call 4:30
8:15 bags out 5:15
9:15 depart 5:45
1 arrive Aguas Caliente 9:30
1:30 5 Tour MP 10-1:30
9:30 train depart 3:15 pm
1:30 am arrive hotel 8 pm
Here a summary of our schedule
9:15 am Depart our hotel at Yucay in a big bus
10 Arrive in Ollantaytambo and transfer to smaller buses
10:10 to 10:50 - Narrow dirt roads for 9 miles/14 km from Ollantaytambo to temporary train station in Piscacucho Sign: To Pisca Cucho
10:50 Arrive train station
11:50 Board the train
1:20 Arrive Aguas Calientes (means "water hot" in Spanish) Hot Springs
1:45 Bus on spaghetti roads
2:10 to 5pm at Machu Picchu
5:45 Bus back to Aguas Calientes. Eat dinner
9:20 Board the train
11:15 pm Big bus
1:45 am Arrive at hotel in Cuzco
Here our day with the gory details.
I was up around 7. Priscilla seemed OK. I was so impressed with how organized she is - her bags were already packed last night. She was moving slow and said she didn't want any food. So I wandered down to for a leisurely breakfast of coffee, waffles, yogurt, granola, toast. I made some cheese sandwiches to bring with me. It's going to be a long day.
9:15 am Depart our hotel at Yucay in a big bus
Our guide is Jose/Pepe again. He is a good story teller. Machu Picchu (MP) was closed for 2 months and 25 days. Now we have few visitors. There were 3500 tourists a day in MP in 2008. Only 1500 people a day are allow to visit MP now.
They had many discussions on preservations vs. income. Someone proposed to build a cable car. That idea got nixed. No.
UNESCO also said not build a road up to MP. Make people take the train.
You are fined if you do not vote here in Peru.
10 Arrive in Ollantaytambo and transfer to smaller buses
There are many, many hostels in this town! We are passing Fortress Temple of Ollaytambo. People on the bus saw this huge temple and one guy was scrambling to try to get a photo of the impressive site. I mentioned that this was same site that we hiked up on Monday. Then he wasnt as anxious that he didnt get the photo. He must have been on other tour buses also, because sometimes you only get one opportunity to get a photo and if you miss it, you ll never get another chance. Anyway. Priscilla got a photo. This is the place that Priscilla saw faces in the stone and she showed me a photo of a lion that she was in the stone. very cool.
Ollanta town is where the backpackers start hiking the Inca trail. About the trail:
On the Inca trail, there are peruvian sherpas to help the hikers. The hikers have a union now. So now young, . Porters get better wages. Better food, and they control the maximum amount of weight they allowed to carry.
Finland sent money to repair the Inca trail. The trail was closed a couple months to make repairs. Now only 500 people per day are allowed on the trail.
Ollanta town is also where you normally board the train. However, some the tracks are still not repaired, so we had to get off our nice big buses and transfer to smaller buses. We had 21 people on the big bus, and this bus holds a maximum of 14 passengers. Were packed in tight. 10:10 and we are taking off.
10:10 to 10:50 - Narrow dirt roads for 9 miles/14 km from Ollantaytambo to temporary train station in Piscacucho Sign: To Pisca Cucho
On this drive we followed the river most of the way. You could see the train tracks. We are on stone roads mostly, but there was a short paved section.

The streets that were traveling on through towns were very narrow. Apparently we didnt have much authority. When we encountered another small bus or big vehicle, more than once we were forced to back up so the other vehicle could pass. What the! Thats why it took 40 minutes to go 9 miles.

I saw a sign: Alfamayo is 83 km.

The Andes is definitely a different mountain range . "Craggy" is the adjective that comes to mind. The mountains are very green now. There is lots of character and personality in these hills. Unlike Tibet where the mountains were smooth and brown. I guess these mountains here will be brown soon also.

So we turned off a perfectly good paved road, onto a narrow bumpy dirt road.

We had a good show down with another vehicle come towards us from the other direction. They were not going to stop, so we had to back up so the van coming the other way could pass.

I need to keep writing so I don't have to talk .

We followed the river and we followed the train tracks on this road. It was easy to see how high the river was during the floods. You can tell because of the garbage was really high up the on the banks. There were hundreds of blue plastic bags.

We are driving to the town of "Piscaducho".

Holy cow! We just saw the train tracks that used to be on land and all. The earth was washed out underneath. There was maybe 200 feet of suspended tracks. The train tracks had absolutely no earth under them! Intact otherwise. It was beside the river. I guess that is going to be bridge now.

Yup, those tracks looked very unsafe. I didnt mind the bumpy long ride in this small bus at all.
10:50 Arrive train station and park the bus
This place looks like it was just built. It is a brand new waiting station. All brand new construction for the souvenir stands. They went to the trouble of erecting gutter and water spouts. I guess it rains a lot here.

The bathrooms were very nice, but you still needed a container of water to flush. They weren't designed to get all the traffic.

This was obviously a temporary solution for a waiting area until the tracks were fix and people can board that train at Ollanta town.

They had built number bays with padded seat cushions. Priscilla rested peacefully. She was doing great so far today. Not sure, but I think this is the place that someone in our group, Margaret fainted at train station. That doesn't sound good.

There were constant loud announcements in Spanish and English for train departures. Finally our train announcement.

Juan Carlos gave us the tickets. The cost of the train ticket I think I saw $51.
11:50 Board the train
We were on the "Backpacker train". These photos show the train that we rode, and the train that Mom and Dad rode in 1966:

The Backpacker train is very nice. Wow! A lot nicer than I was expecting. The seats are big and padded. We have assigned seats in the train.

There are 60 passengers per train car. 15 of the seats in our car are empty. So we could move around. Priscilla and I had 2 pairs of seats facing each other - 4 seats for the two of us. We could put our feet up and rest.

What a beautiful view! There are very large windows on the side and top of the train car. We have windows on the corners of the roof of the car so the top corner was all glass so you could see up to the sky to the top of the mountains. Wow. I'm not sure why anyone would pay extra for the Vistadome.
The trains are featured on the http://www.orient-express.com/collection/trains/hiram_bingham.jsp and
http://www.perurail.com/web/tper/backpacker.html. However, the Backpacker train that they showed on that web site did not have any windows on the roof and our train had windows on the roof!
Here is the small description of each train from the Gate 1 tour site. All 3 trains included this paragraph in the description:
Enjoy a full day tour to Machu Picchu, lost city of the Incas. Early this morning, transfer to the Urubamba Sacred Valleys Ollanta train station for the Orient Express Hiram Bingham train service to Machu Picchu, where you will begin you guided tour of the marvelous citatadel. Visit the main plaza, the royal quarters, the Temple of Three Windows, the circular tower, the sacres Sun Dial and burial grounds. Return to the Sacred Valley and on to Cuzco in the late evening.

Backpacker Train Includes transfer from hotel to Ollanta Train Station, Train Ride, transfer to Aguas Calentes Train Station to Machu Picchu, entrance fee and local guide at the site, and return transportation. The Backpacker train is economical, comfortable and secure, with few thrills. Snack service is available.

Sample Itinerary Actual train schedule will be advised locally. Sacred Valley Machu Picchu: Departs 5:40 am Arrives 7 am. Machu Picchu Sacred Valley: Departs 6 pm, Arrives 7:35 pm.

Vistadome Train (Additional $152 ) Includes transfer from hotel to Ollanta Train Station, Train Ride, transfer to Aguas Calentes Train Station to Machu Picchu, entrance fee and local guide at the site, and return transportation. Vistadome trains feature large panoramic windows to view Perus remarkable landscape. Entertainment and hot and cold refreshments are included.

Sample Itinerary Actual train schedule will be advised locally. Sacred Valley Machu Picchu: Departs 6:40 am Arrives 8:15 am. Machu Picchu Sacred Valley: Departs 4:50 pm, Arrives 6:15 pm.

Hiram Bingham Train (Additional $683 ) Includes transfer from hotel to Ollanta Train Station, Train Ride, transfer to Aguas Calentes Train Station to Machu Picchu, entrance fee and local guide at the site, and return transportation. Named after the explorer Hiram Bingham, who discovered the fascinating remains of the Inca citadel Machu Picchu, carriages are elegant and distinctive, in the style of the 1920s Pullman trains. Morning route includes a full brunch. At the days end, gourmet dinner is served on the return to the Sacred Valley.

Sample Itinerary Actual train schedule will be advised locally. Sacred Valley Machu Picchu: Departs 9 am Arrives 12:15 pm. Machu Picchu Sacred Valley: Departs 6 pm, Arrives 9:25 pm.

The train ride is 1 hour and 20 minutes. It goes about 18 miles per hour.

There are orchids and other pretty flowers (vermilions?) are all over the mountain side.

I took a photo of the big mountain - the Inca trail goes behind that mountain up to an elevation of 14,000 feet

12:25 and we are still following the river.

Such a beautiful ride. We are in the last train car and I found a great spot at the back of the car where I can take photos.

At one point (around "102") there were workers on the rail line. You can see the workers in the photo below.

The river was very wide here. Pepe said that the train tracks had washed out and they were on the other side of the river !!!

We followed the river the whole way.

1:15 and we are arriving. It looks very tropical here. Impatiens, banana trees.
1:20 Arrive Aguas Calientes (water hot) Hot Springs
Exit train, gather on the train platform. Bano stop, then our group walked a few minutes through the town, by restaurants, through small alleys lined with souvenir stands.
Priscilla is moving along just fine. She feels "a little rough" and no sense of humor. That's OK.
We arrived at the bus station. These are shuttle buses that take you to the top where MP is located. The bus ticket says 126 Soles ($45).
They fill every seat on the bus before it can leave. The bus is packed, they fill every seat. No empty seats allowed and there is no air conditioning. It is going to be HOT up there.
1:45 Bus on spaghetti roads
They told us is would be about a 35 minute ride on these spagetti roads, but it was more like 20 minutes. I guess it depends on the driver. Our driver was very fast on these narrow winding these roads. I guess they know all the other bus drivers and they know about when to expect a bus coming the other way.
I saw many neat big piles of rocks. The road seems paved. Nope. The road is not paved. Bumpy dirt!
2:10 to 5pm at Machu Picchu (MP)
We got off the bus and gathered at the entrance. There is a place where you can store things. So Priscilla and I packed her bag with our extra rain coats, umbrella and check it in.
We had two groups: Jose/ Pepe's group and the other group and we all walked in together. 2:20 start tour for about 2 hours.
Our ticket says: Boleto de Visita Cuidad Inca MACHUPICCHU

Cineto Veintiseis Con 00/100 Nuevos Soles ($35. US)
The Main Entrance is a spectacular site. You are about half way up the ruins and you can see all the way up, and all the say down the terraces. Wow. We all walked slowly gawking and snapping photos the whole way.
Pepe stops below the Torreon or the Tower. The Temple of the Sun, also called the Military Watch Tower. A semicircular building standing on an enormous rock. I was very excited to see this place because I had a photo of Mom looking out the window. The steps were roped off so I couldn't go up to the platform. Priscilla took a photo of me standing at the top of the steps in front the same window.
The circle building was being restored. They numbered every stone, cleaned it, then put it back together with new mortar.
The photo on the left is Mom in the window in 1966. On the right, I'm standing on clean restored steps.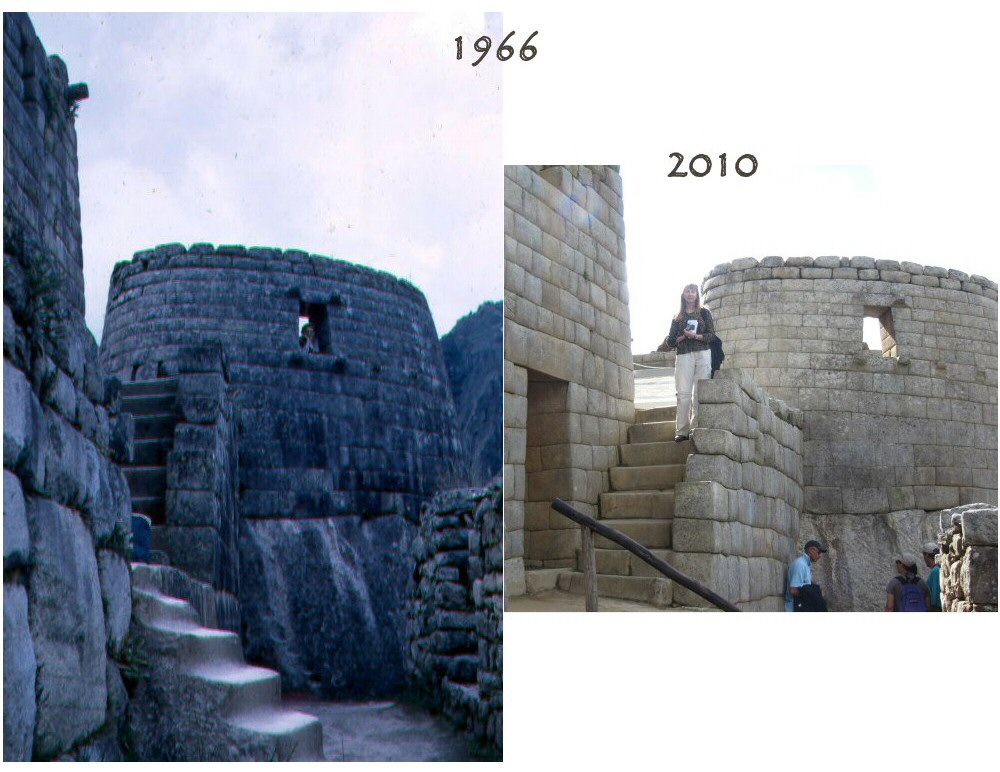 I thought is was very interesting to see the stones steps that had worn down over 45 years of use. They built wood stairs for to use instead. Like at Taj Mahal they built wood steps over the (slippery) marble steps up the platform.
Next to the tower is the Priest's House where the supreme priest in charge of all religious "occupations" lived. The window is called "The Window of the Snakes". It has small holes where you can see Huayna Picchu. Building was also astronomical observatory because it has 2 windows "guided to the sunrise during the soltices". Incas used these as landmarks in their elaborate agricultural calendar for crop planting and sowing.
Pepe lead us further up to a place where we could sit down on a terrace. Then he told us stories and the history of MP.
MP is about 8000 feet (2400 m) high.

Built around 1400 AC. They used communal labor to build this place. They gathered masses of people from different regions to build.

There is an agricultural sector with the terraces, and an urban sector with houses, then they built the temples, palaces.

Estimates that only 1000 inhabitants here. Only one "1" generation of people lived here!!!!

They abandon it suddenly. Maybe so the Spaniards wouldn't find it, or maybe it was an epidemic. The area was lost for 400 years, lost under vegetation.

Before Bingham was here, two families lived here and grew crops on the lower terrace levels.

In 1911 when Hiram Bingham was here and discovered the temples.

At one time one family in Cuzco owned the whole archeological site. Then 5 families lived here and maintained the site and rented the land.

The Incas worshiped rainbow - ROYGBIV - Red, orange, yellow, green, indigo, violet - That is why there are 7 colors in the Inca flag.
The big mountain is Huayna Picchu. On the tour, I saw the gate to "Wayna Picchu".
Machu Picchu means "Old Mountain" and Huayna Picchu means "young mountain".
At 7 am they allow 200 people through the gate hike to tippy top. Then at 10 am 200 more people are allowed through the "control door". That is the limit for the day. You have to register before you go up. You go along "a narrow road, steps, tunnels, and a group of platforms capriciously worked into the stone and integrated into the mountain on the edge of the abyss."

Pepe said to climb, it takes about one hour climb up. Coming down, if you miss a step, it may take you 5 minutes to get down. The terraces at the top did not appear to be for crop, but maybe for flowers. To decorate the mountain.
While Pepe was talking, I walked back to the tower to get some photos. Priscilla and Elaine were down there. They realized that they probably could not keep up with the tour so they were going to hang out on the terraces, be still and soak up the sun. This place does indeed inspire Peace. I also saw Margaret. She was in the same situation. I found out later that Margaret actually got so dehydrated that she had to get an IV, right there on Machu Picchu. I think they said it only cost her $115 US dollars. Now that is a story to tell.
So on with our tour.
I did not see this place, but when I got Priscilla's photos, she had found "The Royal Tomb". It was under the rock where the Sun Temple was built. Human remains were found here and it was also used "to give cult to the Pacha Mama or Mother Earth". There is a table alter where the "possibly carried out sacrifices for the Mother Earth"
Next hike up, and up a little more. Up to "The Sacred Square". From up here you can look all the way down and see the river Urubamba "Sacred River of the Incas".
In the Sacred Square is the Temple of the Tree Windows templo de las tres ventanas. The 3 windows are guided towards the sunrise. It is a trilogy of what the Incas believed in. The 3 elements of life are The Sun, the Water, and the Earth. Another trilogy philosophy:
HananPacha - the cosmos, sky, habitation of the gods. Represented by Condor

KayPacha - the world, the earth, place where people live. Represented by the Puma.

HujPacha - the sub floor, habitation of the dead. Represented by the Snake

Jose said that everything here is a mystery. The tour guides tell you things, and they can make up stories, and nobody really know for sure... The marketing brochure said "It is mystic place that invites us to think in the reason the Incas chose such an inaccessible place to build this monumental work. Their history and function continues to be an enigma."

The rock in front of the 3 window temple - was it used to distribute food? or was it where a virgin laid down to be sacrificed? - maybe.

On top - The "Intihuatana" - The "hitching post of the sun". This rock is part of the mountain. Served mainly as an astronomical observatory where they watched the Sun and calculated solstice and equinox dates in to order plan the calendar. On June 21, on the shortest day of the year, it casts the longest shadow. Good luck taking a photo here with no one in it. Many tourists lingering around this rock in this very special place. Here's Dad's photo from 1966 and my photo:

Vegetation displayed for tourists had these labels: Chirimay, Granadilla, Cetico Toroc, Yuca, Yanay, etc

This is where I lost Pepe's group. I saw a guide with yellow shirt, so I walked down around the Plaza Main square. It was the other Gate 1 tour group. He was also a very good guide. He brought us to room where the walls were covered with plants on the side of the rocks. I got a photo of the Peruvian chinchilla about 20 feet up on the wall. He was about 5 pounds.

Next to "Room of the Mortars". Described as "one of the enigmatic places".

Mortars maybe for mixing food, mixing medicines. Maybe for mixing ink for textiles. Or maybe put water in it and see stars in the reflection of the water and room used for astronomical (astral) observation.

The windows look like they are blocked closed, but the are not closed windows - the cubbies were used for storage and closet and hangers. Pix if his hat hanging. They don't have furniture.

Next to Temple of the Condor Templo del Condor . But this place never really served as a temple.

You can see the body, head, eyes, beak all represented in the natural form of the rock. The wings are two enormous rocks on each side. Communication with other world below in cave below the condor. Or it was used as a jail where prisoners were kept. 3 worst things: Lying, lazy, and Thief
The tour was over about 4:30. MP closes at 5.

I showed the guide the photo of dad laying on the rock and I asked him where was this rock. He pointed up, up, up. Yeow. Damn it. I had pretty much decided that I was not going to go up there like everyone else does to get the same postcard picture. Well, I had to get the same photo as dad, so I started climbing up, up, up. It was about 200 steps. Up to the Recento del guardian or the Guardhouse (circled in this photo):

I walked past the Guard House and there it was! Very cool. I found the rock that dad was laying on!

Jose was up there. He could see the I was very excited to find the rock. I asked him very nicely if I could lay on to get same photo. Understand that you are not supposed to even touch some of these sacred rocks. Well, Jose let me jump over the security rope, climb up on top of the rock and lay down to get the photo. Thank you Jose!

Someone else asked if they could also do that and he said no. I sure am glad that I was carrying that photo with me.

It was so tired. I was sweating, but I got the photo. After all, that is my hobby to take the same photo many years later to compare how things have changed. I have Angkor Wat, Hermitage, Checkpoint Charlie, etc...

Here's the "postcard picture"

So after that, I realize that I have get down and out of there. It was 4:40 and was still at the top and the place closes at 5 pm.

So now hike down down. On the walk back down there was a trail with uneven rocks, but it was well maintained. It went behind the Deposito Qolqas or Storage buildings, then continued down.

Right before we exited the gate, there is little room where you can go to get your passport stamped. You actually do the stamp yourself.

I was at the meeting area near the entrance by 5:10. Priscilla and I paid 1 Soles each to go to the bathroom. It was run by the Sanctuary Lodge http://www.sanctuarylodge.net/web/omac/machu_picchu.jsp .We got a printed ticket "Boleta de Venta" and receipt that said "SS.Higiencos S/. 1.00). I can't think of anywhere in the USA where you can get a receipt for going to the bathroom. That's the second receipt this trip. Anyway.

We got the checked bag.

And waited.
5:45 Bus back to Aguas Calientes. Eat dinner
Our group waited at the entrance until about 5:45. Then we were they packed us into the bus and we headed down the long and winding road back down to the town.

We walked as a group through the town.

They took us to a restaurant near the square for dinner. About half of our group opted to keep walking and find someplace else. There are about 15 of us seated at a big table. We were the only ones in the restaurant. We waited, waited, and waited. I finally walked over to 3 wait staff and asked if we could have menus. A girl handed me one menu. I asked for more, but she would not give them to me. So I walked back to the table and started reading the menu to everyone. They finally came over and distributed more menus.

I went with my very safe order of a small marguerita pizza. When I'm in a strange place/town/country, Italian is usually a good choice. Oh yeah, I also ordered banana milk . yum.

Priscilla got chicken soup. Funny that it always says "diet chicken soup" on all the menus in this country. Odd. It went right thru her very fast (before we left the restaurant). Yeow. After dinner, we walked up the road, then back to the square. We found a good place on the steps of the police station where Priscilla could sit and relax. I walked around the square trying to get a photo of all the performing people.

The population of Machu Picchu is 2000 locals and another 2000 people a day filter through the town. The town is very safe because all locals know each other.

At 8:30 we met back at the restaurant, then our group walked about 15 minutes to the train station. Priscilla found a bench to lay on. It's been a very long 12 hour day so far.

Cost printed on the train ticket said - 9:30 pm US $32.00 from MP to "OLLANTA" 26 + 5.11 tax = 32
9:20 Board the train
We are a very very tired group of people. Priscilla and I were very lucky again to have 2 pairs of seats facing each other - 4 seats for the two of us. We could put our feet up and rest.

When we were planning this trip, I remember Priscilla saying that she wanted to stay at MP as long as possible, so we would take the last train out. I guess we are doing that now.

One hour and 20 minute train ride. They kept the lights on inside the train so you could not see anything outside of the dark black windows. Priscilla slept almost then entire way. That was good. I was jumpy and fidgety. I could not sit still. I am definitely a night person (as in "not a morning person"). I stood for most of the way. I was remembering that very crowded 4-hour train ride in Sri Lanka where we had to stand the whole way. The previous day we had hiked Adams Peak: 4800 steps up to see the 6 am sunrise, then 4800 steps back down. My legs were so sore after that hike. On this train ride, it was my body that was just so tired. My body is beat up from the downhill hike at salt mines, the hike at Moray amphitheater and now the hike at MP. geezzz. I can't imaging how Priscilla feels. She's a trooper.

It's 10 pm and now I am really really tired.
11:15 pm Big bus
Get off the train and walk up to the parking lot where the big bus is parked. I'm so glad that we were on the Backpacker train. We had a bigger group, so they had the big bus here for us to ride. The other Vistadome smaller group of folks had to ride the smaller, more uncomfortable buses all they way from here to Cuzco. Yeow.

It's about a 2 hour bus ride.
1:45 am Arrive at hotel in Cuzco
Jose Antonio Cuzco Hotel ( 4 star )
Av. Pardo 1080 Cuzco, PERU
Phone: 084-239030
There is 10 am Inca Ruins tour tomorrow that we signed up for. Then there is a 2 pm city tour. My body is tired. I might sleep in late, and switch to the later city tour. Or I could do both. See how I feel tomorrow.
I can't believe that my camera battery lasted all day today at MP. I took over 200 photos!
Information from Pepe:
He said they get 80 inches of rainfall a year.
Machu Picchu (MP) was closed for 2 months and 25 days. Now we have few visitors. We miss you says Pepe.
There were 3500 tourists a day in MP in 2008. Only 1500 people a day are allow to visit MP now.
Many many people were stranded in MP. Helicopters picked people up near MP train station. There were long long lines of people. Some people were trying to hire helicopters to get out. The Police had to keep everyone orderly in line. The helicopter priority - sick, 60 and up, women children.

In the square there was a communal area, and another communal place in the school where people could sleep.
Good night.
DAY 6, Wednesday May 5 - Full Day in Cuzco
Itinerary said:
Spend today at leisure in "The Imperial City". The city of Cuzco is also a UNESCO World Heritage Site and once served as the capital of the Inca Empire. Take time to sightsee or shop independently. Cuzco is declared the Historical Capital by the Constitution of Peru and hosts nearly 1 million visitors every year. Visit some of the numerous Inca monuments or investigate the culinary secrets of Andean cuisine
Overnight: Cuzco
Meals: Breakfast
OPTIONAL morning Half Day Inca Ruins Day #6 $60 - Take an optional tour to the archeological sites of the Inca empire surrounding Cuzco. Start the tour at the Kenko (Qunqo) amphitheater, a mysterious limestone formation decorated by intricately carved depictions of mythical entities. Explore the winding underground passageways and a semicircular amphitheater before continuing on to other famous sites. Visit Sacsayhuaman, located on the northern slope of Cuzco, this impressive fortress took over seven decades to complete and is a prime example of Incan military architecture. Complete the day with a visit to Puca Pucara, which literally translates into "Red Fortress". Believed to be named for the color its stones once emitted when reflecting the twilight, the fortress offers impressive views of the Cuzco Valley.
OPTIONAL afternoon - Half Day Cuzco City Tour Day #6 $47 if pre pay. I paid $52. - Join an optional city tour of Cuzco. The tour starts at the impressive Colonial Cathedral in Cuzco, which contains over 400 paintings from the Cusquea School in addition to colonial art. Continue on to visit the Temple of the Sun, whose walls and floors were allegedly once covered by sheets of solid gold. This temple was once the most important religious site of the Incas.
OPTIONAL Dinner at La Retama Day #6 $30 - Enjoy and optional dinner and show this evening at La Retama restaurant. The restaurant offers international cuisine and a fascinating folklore show to entertain its guests.
I slept great. After I got up, I decided to go on the 10 am morning tour of Kenko and Sacsay. Priscilla was still a bit queezy so she did not go on morning tour. Elaine also stayed at the hotel.
There was supposed to be an 11 am shuttle to the Alpaca Factory that Priscilla was waiting for, but it never arrived. So she went to the market across the street from the hotel. She had a very productive day shopping and bargaining at the market. For lunch she said she ordered a cheeseburger. It was really yukky. veggie patty with stale bun. She should have found some Italian...
So I was on the 10am Inca Ruins tours.
Jose was our guide again. Driver is Danny.
Mid 70's temp today. Perfect.
We're visiting a bunch of places this morning.
Our ticket says: Boleto Turistico del Cusco, Capital Arqueoligica de America
S/. 130.00 (Ciento Treinta Nuevos Soles) ($46.00 US)
This ticket is good for Sacsayhuaman, Q-enqo,Pakapukara, Tombomachay, Pisaq, Ollentaytambo, Chinchero, Tipon, Pikillacta, Santo Domingo.
First we are going to Sacsayhuaman http://en.wikipedia.org/wiki/Sacsayhuaman
Sacsaywe means "Satisfied eagle"

If you say the same of this place, in English it sounds like "Sexy Woman"

It is 1.5 miles from Cuzco and 11,500 feet (3220 m) high.

Origin of this place is uncertain.

Entrance cost is 60 soles ($21). That seems expensive, but I guess they have to finance the site somehow.

It was built in the mountain.

The 3 temples are all gone now, but the foundations still remain.

This is a temple dedicated to lightening. But it is called a "fort".

The walls run East to West. They were 3 times higher than they are now. 40% is still here. 60% gone

The limestone quarry is 5 miles away to make the walls.

To break the rock, they used wet wooden wedge in holes in stone. Waited for wood to dry and split the stone.

5 mile road to transport. Theory: used "ball bearings" with small round stones to roll the big stones (maybe)

Restoration process put smaller stones to fill in missing big stones. no mortar.

Inca used templates. Make a clay imprint to know how to chisel the top huge stone to fit on the bottom.

They did not have chisels or iron.

It took 45,000 people to build it over 50 years. 20,000 at one time working on it.

The biggest stone is 28 feet (8.5m) tall and weighs 361 tons.

It had 3 towers for military strength. Also a religious place there was a temple to Sun God.

The Spaniards destroyed the towers and constructions
Population of Cuzco is half million metro Cuzco, downtown, 1 million if include the suburbs. There is 5 million in the area, and 10 million in whole empire before the Spanish came.

There were many other cultures before Inca.

1000 BC there were sophisticated, well organized cultures "pre-Incan". The Incas conquered many cultures, there was no building while they were acquiring territory. Inca weapons were small clubs, slingshot only. They learned how to conquer territory by cutting their water off.

Inca integrated all the other cultures "through the women"

They learned everything that they could from the other cultures, "they did not invent anything"

Then they started building. in 1400's.

Used the llama animal to move things. Llamas can only carry 70 pounds max. any more and they refuse to work.

Spanish conquered the Inca but never really used the area. Spain became very rich. But Spanish war with English, then Spain lost it all.

There is a doorway and to the left of doorway is a stone with a gash - some say: a golden snake was encrusted in the stone.

So we are slowly walking along the length of the ruins and I see it. I had brought photo with me that Dad took in 1966. I threw off my backpack, pulled out the pictures and there was Jesus. I had no idea that the statue was here. I was so excited to find another photo of the places where Dad visited.

In 1947 they put up this Jesus statue. It is a duplicate of the statue in Rio de Janiero.

Our group did not walk up to the statue. I have a photo of Mom standing at the base of the statue.
11:15 now so we spent less than an hour at Sacsay. Now we are going to Tambomachay aka Tambu Machi - Temple for the Springs.
12,200 feet (3700 m) high. A short distance (a couple miles) away.

We got off the bus and walked about half a mile to the site.

There is a fountain where the Inca built 3 falls of water in stone channels.

From Wiki: The function of the site is uncertain: it may have served as a military outpost guarding the approaches to Cusco, as a spa resort for the Incan political elite, or both.

Its at 12,000 feet, there are no trees, just bushes but pesky Eucalyptus grows to 13,000 feet high.
I took the same photos as the 1960 pix that I brought with me:

12 noon and we are leaving tomb.
On the walk to the site, there was a lady asking for money on the walk. Some people gave her US$. On the way back, she got Juan Carlos' attention. He tried to help her out by giving her Soles for the US$ for a good rate. But she would not take it. US currency used here, but there are black markets on the streets everywhere to exchange money.
We also saw Puca Pucara
Puca means "red" and Pucara means "fort" in Quechua

It is being restored now.

It is a military architecture that also functioned as an administrative center.

Army lived here to protect Incas.

Double wall fort
Next to Quenqo
A shrine and sanctuary made of limestone. It was cut from 1 piece of rock so the Spaniards could not destroy it. Instead, they covered it up. The rock in the center was the shape of a puma:

You gotta love those marketing writers. The tourist brochure says:

it constitutes one of the finest Inca example that shows the great rock carved in-situ. It is an enormous exposed calcareous stone to the surface, erosionated and perforated with artistic carved form of the rock.

I took of photo of the rock altar.

There is zig zag pathway called Kenko.

We walked into a cave. There was an altar in the cave here. sunshine thru hole to light the cave.

Series of temples - I took photo of what looks like piles of rocks. There are animals carved into stone.
The morning Inca ruins tour was very nice, slow moving. Got a lot of information. So now the bus is taking us shopping.
Alpaca Factory
"Baby alpaca" is the first sheer. You don't need to brush baby alpaca. Cost is
$45 - 160 baby alpaca. wash in cold water. dry flat or dry clean.
$15-55 alpaca
$5 synthetic or "maybe alpaca"
"Kuna" brand is 100% Vicuna. I took a photo of a $900 US $ scarf in a box.
There are only 150-200 grams of Vicuna wool per shear - they take it only fro the stomach area. And only done 2 times a year.

There are only 2 places can process it. Places that sell it must have a registration number.
Also got photos of the front bill board of a Vicuna, Guanaca, Alpaca Suri, Alpaca Huacayo.
I tried on a shawl. The cost is $70 (minus 10% if paying cash)
A Pashmina shawl is $63 US.
Boy does that shawl I tried on really shed. I regret trying it on. My white shirt had fuzz all over. Yuk.
Pepe told me that Dads pix of statue was Spaniards. It got down in early 90's. Also in The Plaza de Armas there was an American Indian statue. About 1969 students pulled it down.
The price of a car, cost of an apartment, electronics, all prices are in US$. People are paid here in US$.
1:45 and were are back at our hotel. The City tour is at 2:15. So get a quick lunch.
Market visit
"Maca" is an Andean radish. He explained that it is "Andean viagra without the side effects". The wrapper on the package says "Maca Tofee Natreaceutico. Deliciosos Energeticaos"

Also saw a package of "COCA Toffee"

Many many beautiful colors and smells in this place.

Took a photo of dried potatoes - lots and lots of dehydrated potatoes.

Took lots of pix of the market: a whole aisle of flowers, breads, finally meats and chicken feet.

White and black corn on the cobb. The make Cheecha Morada from the black corn:
Temple of the Sun
From Wiki: The Church of Santo Domingo was built on top of the impressive Qoricancha (Temple of the Sun)

The city's Inca architecture has withstood the 1650, 1941, and 1950 earthquakes. Many of the old Inca walls were exposed along with the granite retaining walls of the Qoricancha were exposed. Restoration work at the Santo Domingo complex was conducted in such a way as to expose the Inca masonry formerly obscured by the super-structure without compromising the integrity of the colonial heritage.

Our ticket says: Convento de Santo Domingo del Cusco Qorikancha

Adulto / Full Ticket S./ 10.00 ($3.50 US)

This place is a fusion of Inca Spanish and Moorish architecture. It is "the finest example of Inca stone works". This photo shows the church.

The buildings to the left in this photo show how the houses were are built on top of original Inca walls. The Inca building is the sturdy foundation and build the modern houses on top.

The Inca structues are perfect stones put together......

2 billion US$ worth of gold and silver taken from this temple

Monastery and church built right on top of the temple.

Photo of stone door - a part of the temple that they used in the church

Perfect stones put together.

Basalt rock is Very hard. They use the vacuum technique - polish the stones, and then weight and gravity push them together.

There is "14-angle stone" on the right side of doorway - that means that one rock has 14 sides. How in the world did they do that?

In my photo looking at doorway - the original wall is on the left, and the new wall is on the right. On the original side - I looked through a crack and saw light on the other side. The stones are so absolutely perfectly aligned you can see light between them!!!

The Incas do not use arches.

Photo of colonial mural decoration. "Pigment on plaster" in that room - there is a single 90 degree cut stone in the corner every other layer.

Baroque style Bell tower. Built in 1950.

Photo of the display of stone pieces: andesite, diorite, limestone, show the technology and quality of workmanship known to Tawantinsuyo stone workers.

There are 3 windows perfectly lined up. This photo is the 3rd window. It shows the original Inca structure and how the convent/church was build above and around the the Inca buildings.

Photo taken from the convent - the very prevalent ""El Peru" Mountain Graffiti. Dad took of photo of this exact same graffiti in 1966. His photo did not include any ugly cell towers though.
Cathedral
The ticket says S/. 25.00 (About $9 US)

Before you go into the Cathedral, there is an entrance to the left in corner of the building. It is a book store now, but before it was the doorway where you were taken if you did not convert to Catholicism and killed during the Spanish inquisition.

Church was built late 1600. 100 years of construction 1579-1679. It was built in sections before the first opening, it collapsed. It was rebuilt with funds from Spain. The last 8 years UNESCO and Telephonica company pay for restoration. There are 14 columns, 21 arches all reinforced with iron bars in case of earthquake.

The Alter is 2 tiers - 3 aisles of panels. The screen is gilded with 22 carat gold. It is topped by a representation of Eternal Father. The altar dates from 18th century. Dad had a photo of the altar in this church.

There are chapels for patron saints. One saint of Our Lord of the Earthquake is "very important in our religious life" It is the "Capilla del Senor de Los Temblores" it is said that he stopped the earthquake of 1650 when he was taken out in a procession.

Choir was crafted in 1636. Choir has 83 sculpted figures. Made of red cedar wood. There are 63 stalls and the elbow rests are carved women (their wife). Their abdomen looks pregnant represents potato tuber. In the middle there is a huge rotating book rest. There are two 17th century organs.

In the Main altar, 5000 bars of silver was used. A rich person donated 1.25 tons (1250 kg) of silver.

There is huge painting by Marcos Zapata called the The Last Dinner or the Cuzco Last Supper because roasted Guinea pig. No kidding. Look at my scanned postcard below. There is a "cuy" for the last supper. The oil painting is about 30 feet wide by 40 feet. It is "flat painting". It has no perspective. Not like Da Vinci works that had depth.
The Sacristy "La Sacristia de la Cathedral"

It had many huge portraits o Cuzo bishops only.

A beautiful painting : Retablo del Cristo de la Agonia

Jesus Crucified painting determined not to done by Van Dyck but by Alonso El Cano.

The painting is "endowed with extreme perfection" it is written.

Over 400 oil paintings decorate the cathedral.

The church was reconstructed 2 times
He recommends to go to the "Inca Grill" restaurant on the main square for guinea pig (cuy).
7 pm dinner. We had a great buffet. They had Carpaccio on the buffet. That is living dangerously. Then entertainment. Dancing. Carol got asked to participate in a ceremony where they offer coca leaves to the gods. Here is Priscilla, ?, Keith, ?, Martin and Natalie enjoying the show:

I hope Elaine got through to her brother on my phone today!
DAY 7, Thursday May 6 - Transfer to Puno, Andahuaylillas, Raqchi, and Pucara
Itinerary said:
This morning transfer to Puno by bus. On the way, stop in Andahuaylillas, the Incan archaeological site of Raqchi, and the artisan town of Pucara before continuing on to Puno. Upon arrival, transfer to your hotel, the balance of the day is at leisure. Puno is located on the banks of Lake Titicaca, the world's highest navigable lake at 12,421 feet above sea level
Overnight: Puno
Meals: Breakfast
Half Day Sillustani Tombs Day #8 $32 - Join this optional excursion to pre-Incan burial ground of Sillustani to view the "Chullpas" of Sillustani where the ancient Aymaras used to bury their high priests in cylinder-shaped tombs. These mysterious tombs display architecture that is more complex than that of the Incas, and can stand up to 36 feet tall.
Summary of Cuzco to Puno.
5:45 wake up call

6:30 bags out

7 am bus departs

10 hour journey to Puno. We will stop a few times.

5 pm arrive in Puno.

Free evening.
Wow! I have never been on a bus like this before. We are on the second story of this bus. There are seats below and seats above. Here's a comparison of how we traveled all over South America when I lived there in the 1960's. No more back packing for me (at least on this trip)!

7:30 am and we are off on hour bus adventure.
Juan Carlos had the microphone and he was telling interesting things:
Elevation Cuzco 11,000, Puno 12,000, in between Cuzco and Puno is La Raya highest point 14,000 "the Lion"

We are traveling 235.6 miles (380 km) from Cuzco to Puno today. It will take us 10 hours because we stop a lot. There is also train that goes from Cuzco to Puno. It also takes 10 hours. Probably because is has to go so slow.

I am positive that Mom and Dad also did this same trip. I have a map where Mom penciled "alpaca, rugs,etc" in Sicuani, "highest point" at La Raya, "lunch" at Ayaviri, "pottery" at Pucara.

There is a minimum wage of 550 soles per month ($180) for basic jobs

Average income teacher police, government employee is US $400-500 per month. Professionals make more - 3-4-5000 US$ per month. Congressmen make $7000 US per month. Yes, there is corruption in govt.

You need about $600 a month for an average middle class family with 2 kids to get by. If you rent apt and the kids go to public school.

There is NO support from government for unemployed, blind, deaf, wheel chair. you are on your own.

There is "informal " recycling here in Peru. 2 years ago they created a "Ministry of Environment"

Agricultural crops in the sacred valley include: corn, potatoes, fava beans. "CIP" Central International do la papa (potato) in Lima has identified about 2000 varieties of potatoes. 800 varieties actively farmed.

There are some potatoes that are the size of marbles.

Lake Titicaca is the highest navigable lake in the world at 12,5000 feet. It is about 1000 feet deep. It never freezes.

10 years ago, the mountain tops were covered with snow. Now there is very little snow.

My hand is tired of writing. I wish he would quit talking so I can quit writing. It really is an obsession. Sometimes I move away from the tour guide so I can't hear them. Because if I hear them, then I have to write. Such a problem.
Tile making tour.
They use clay from the area. Kiln is heated by burning eucalyptus so this area smells like mentholatum.
There are very few tin roofs in Cuzco. In Puno, many tin roofs.
8:20 to 8:45 visit Andahuaylillas church
I can't believe were taking this huge bus through these streets. We are one foot from the roof tiles on both sides!
Inside the church is frescos that were painted by natives. Frescos and paintings of life of Jesus. Spanish-Italian mason maestros directed local natives in painting to educate the local about Catholicism.
1575 finish building church.
Above the doorway of the baptistry was writing in 4 languages - Latin, Spanish, Puklena (this language is gone), Chechuan. The writing says "I baptize you in the name of the Father, Son, and Holy Spirit"
This church almost reminded me of Sistine chapel because of the huge oil paintings high on the wall flush against each other.
There is a Women's project near the church. Web site is www.qewar.com
12 million Incas were here when the Spaniards arrived.
Simon Bolivar helped liberate Peru from Spaniards
We are on 33 constitution.
1968-75 communist dictatorship started. 1980 back to democracy
11 am next stop Raqchi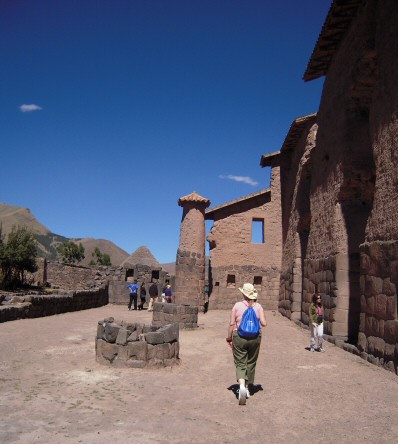 We arrived at Raqchi at 10:30.
Our ticket says: Conjunto Arqueologico de Raqchi

S/. 10.00 ($3.0. US)
Paid to go to toilet again and got a printed receipt for "Servicios S.Higiencos Valor S/. 1.00." What a waste of paper. Maybe you can show the paper later if you have to go to the bano again.
Raqchi means "pottery"
These wall are 46 feet high now, but they were over 60 feet. The real Inca wall stones are at the base and adobe on top. This is the only place where you will see circular columns.
The "Inca Cross" made of stones around each window.
Pre-Inca wall on top of hill (Pris photo)
Round thatch roof.
There a lots of 2 story condos in this complex.
Next stop: Lunch. We had good basic food: unique paps / potatoes/ tubers
pork? chicken? stuffed pepper (hot / spicy)
Priscilla is avoiding food with that spice "Guacathai"
I took a small sample of almost all the dishes that were offered. Keith had a big plate with samples of all the food on the buffet. Alonzo took one look at Keith plate and turned green. Priscilla was doing better, but now Alonzo was going down.
12:40 finish lunch.
Small vehicles are "motor taxi" or "taxi chola" or "tuk tuk"
Quenoa/Qeenoa - look for it at breakfast. A healthy grain.
On the bus ride they served us coca tea, lemon candy. After lunch they served us water / cola. That is a first to have two bus attendants joining us and catering to us on this journey.
Only Ichu grass grows at this altitude.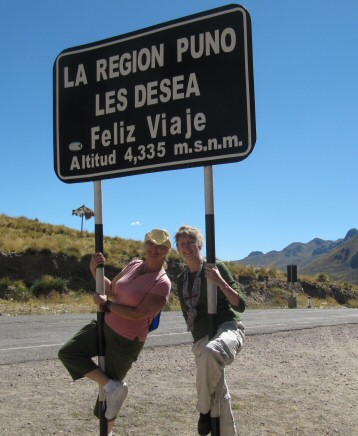 Next stop is at La Raya. We are 14,000 feet high!
At La Raya, this is where the East and West mountain ranges of the Andes meet. After La Raya the mountain ranges separate again.

We stopped for photos and shopping.

Took of a photo of a display of Peruvian instruments:

small guitars: mandolin, charango

drum - wancara

deep drum - bombo

flutes - Tablasico

incasico

jachasico

Italaki

khantu

sanka

julajula

single flutes - kharhuani, choquela, quena, pinguillo, pifano, pusi

plani, wacatinque

flat flute - Tarcasalina

FYI - this is one of the best places on this trip to buy stuff.
Souvenirs at La Raya:

I have not purchased any souvenirs. Every place that we go, I see things that I already have.
The photo below shows the souvenirs that I already had at home. I grew up with 10-inch high fuzzy Llama, decorated gourds, fancy Pisco bottles, ruanas, bottle opener. The sellers were a generally very nice and not too insistent. When a vendor gets pushy, Priscilla had a great idea and suggested to try something to sell them! That would be a turn around.

Next stop Pucara.
This is where the bulls are made: The "Bulls of Pukara"

There are 2 bulls on top of the homes here, one for Prosperity and on for fertility. A cross means they are Christian/catholic (not the same thing).

Mom had penciled "pottery" beside Pukara on her map. I'm sure she purchased a pottery bull in 1966. I remember that she put it in the guest bathroom for decoration.
Here on the plateau sometimes see pink flamingos in the lake here.
Thatch roof is replaced every 2 years.
Really bumpy road here. But overall, the bus ride today was fine. Great comfortable, huge bus. With servers! And we had well timed stops for bathroom.
Check into hotel. It is right next to a big square.
Hotel Royal Inn Puno ( 4 star )

Ayacucho Street Nro. 438

Puno, PERU

Phone: 051-364574
Hotel is located near the Main Square of the city. Lima Boulevard is where most of the stores and restaurants are located. Here's a photo of the church in the square:

Our room was on the second floor in the hotel. There was an Internet terminal available so Priscilla stopped there and I went on to the room. The window was open and it was freezing cold in the room. There was a heater by window. I tried to turn it on but it did not crank out the heat very well. We called the front desk and got an extra heater. It didn't work very well either. Then the toilet clogged. We were too tired to do anything about it and I couldn't fathom the thought of moving rooms. We went sleep. Mistake. Toilet overflowed about 2 am. It went all over the rug in the entrance hallway. yuk. Priscilla called front desk and a guy came to mop it up.
At 7 am we woke up and called the front desk to ask if we could switch rooms. We moved 3 doors down to a room that Alonzo had vacated yesterday. I think it was because of the music we hear. whatever.
DAY 8, Friday May 7 - Excursion to Uros Islands
Itinerary said:
Today begins with a boat trip to the Uros Islands. These islands are completely man-made structures, and their inhabitants, the Uros, continue to maintain them as they have since pre-Columbian times, using totora reeds from the lake to build not only the islands, but also their houses. Return to your hotel later in the day and enjoy the balance at leisure
Overnight: Puno
Meals: Breakfast
Summary:
Arrange our own wake up call.

9 am Uros tour

12:30 return hotel

2 pm tour Sillustani

House visit

5:30 pm return hotel

Free evening.
Story from Elaine and Laura.
When they book this tour, Gate 1 put them on an airplane that stopped in Bogota. When I booked, they asked if I wanted to stop in Bogota. I considered it because we used to live there in the early 1960's. Dad was joining us on the tour and he still speaks S. American Spanish so we could maybe go see our house in Bogota. Well, I opted against it and we got the direct flight from Miami to Lima instead. That was a good decision.

So, Laura and Elaine's flight stopped in Bogota. They found out that they did not have guaranteed seats on the flight from Bogota to Lima. They found seats on a very late evening flight. They had about 10 hours to waste so they went into downtown Bogota. They even rode the city bus. Now that is adventurous. They didn't how unsafe that town can be. Sometime it's better not to know things. They were fine. They made it back to the airport and got the late flight to Lima.
9 am Tour to Uros
Our guide Delfina Goya.

She told us a little about the festival they have here in February. 15,000 people dance for an entire week. There are 400-500 people per group that dance. That's quite a party! It's bigger and lasts longer than Carnival in Rio.

There are 17 in our group today. We have a 25 minute boat ride to get to the floating islands.

Here's a photo of the channel that they cut through the reeds. You see the buildings of Puno on the mountainside:

When they cleared this channel it really helped the island people because they piled the sediment that was dredged up and reinforced island spots where the Uros people could raise pigs.

On top of our boat, only 10 people at a time are allowed on top. There was an accident last year when everyone was on top, and boat turned over.

We are only going to the Bay of Puno today.

We are 12,500 feet high.

The deepest part of lake is 900 feet (300 meters)

Bolivia La Paz is 2 hours from here. 10 hours to Chile.

Winds on this plateau are strong.

Lake Titicaca (LT) minimum temperature in June, July is 3 degrees C

There is "Junio" potato that you can store for 10-12 years. You freeze, then dehydrate it and store a long time in this weather.

They don't have refrigerators here for locals. Meat lasts a week in a dry ventilated place.

They use gas bottles for oven to cook, or "cow gas" dung. and kerosene.

There are 6 hotels right on the LT.

Economic activity includes agriculture, mining, tourists

The reed is the "totora" plant. Totora does not float. It is rooted so it only grows in the shallows.

58 percent of LT is Peru = "Tita"

42 percent is Bolivia - that is "caca" part.

When turn the map of the lake upsidown, it is shaped like a puma jumping up and catching a rabbit.

LT is the "Puma Lake".

"Titi" means "puma"

"caca" means stone

There are 5 rivers that run into LT. One river exits to Lake Popo.

The lake is fresh water

It is 102 miles across at largest part and 38 miles wide

There about 50 floating islands here. About 2000 people live on islands here!!!

We rode by a blue and white canoe. She said that was the ambulance.

Then we saw an Escuela, a "school".

The number one economic activity is tourism. Tourism is their economy. A boy do they cater to us. Each island had very colorful ladies trying to beckon our boat to visit.

The women wear a minimum of 3-4 (very colorful) skirts. They put weights on end of braids to pull to make hair grow faster.

I'm sure each tour guide has a favorite island where to stop. We passed this island and stopped at a place that Delfina arranged.

There are about 7-10 families live on each island.

There is 1 mayor representative for all the islands.

There is 1 president per island (elected once per year).

The President of this island is 26 years old with wife. Their first child sunk and drown in lake. So they make sure that all children can swim (what about adults? I hope they can swim!)

One island has running water so that one island supplies water to all the other islands.

One of the duties of the President is to get up in the tall tower and look for floating pieces. Then you have to race to get it. The winner can either enlarge island, or sell the piece to another island. The use wood pegs with a rope to tow pieces. Then you have to rope pieces together, then layer of totora interwoven. They have to build a platform of totora for a house. Then build the house on top of the platform. You have build a new house every year. And 5 times a year you have to reset reeds under house.

Every 20 (or did I write 70?) days, they have to set new layer of reeds.

The island is about 2 meters deep.

They had a very good demonstration of how the island are built. This photo shows how deep the island is and how they pile reeds on top where they walk and live:

They have to anchor the island to keep them from floating away. On July 20, 2009 there was a storm and all of the islands were pushed North about 3 km. Houses blew away.

There is one judge for all the islands to keep the peace.

If you have a problem with a neighbor, you can just cut island to get rid of your neighbor. No kidding.

This photo to the right shows a 6-foot tall saw that they used to cut island in half!

The toilet is a 5 minute row away.

They have electricity via solar batteries. There is lots of sunshine here. The use TV, telephone. They phone Puno for take out, pizza, chicken.

The use reeds for fuel, but they must be cautious. Three years ago a family burned.

They used to use candles and things are better now with electricity.

In the shallow part of lake in the dry season the totora dies.

They have very careful placements of ovens. This photo shows solar panels and a kitchen:

There is about one boat per family.

There is iodine and fiber in reed ends. The president guy said he ate about 20-30 reeds a day.

They eat fish, birds that they shoot.

Women make tapestries to sell and the men make reed boats, mobiles for tourists.

In the middle 15th century, people were forced to live here.

Uros did not want to join Inca civilization, so they lived on islands.

The Spanish took the Uros people and forced them to work in the mines and they died.

When someone dies, they used to float the dead body off in a boat. There is a cemetery on mainland now.

20 years ago, there was only 7 islands! Check out this photo that I scanned in from the April 1987 issue of National Geographic magazine:

I climbed up the tower on our island and took this next photo. The are reed-woven skiffs", so called "Caballitos de totora", or "reed-horses We rode in this boat to the school.

School canoes transport the kids to school.

It's 11:35 and we are in this school house on Uros.

There are 20 kids, only 8 boys. There are more women than men in Uros.

The children are 6-13 years olds. There are 2 teachers.

Sponsored by 7th day Adventists.

The children sang for us Chechen language, Spanish. They can also sing in German, French, English, Japanese. we were serenaded on the boat.

English finally.

We also sang to them.
All of the children came around and hugged all of us. There's over 20 of us. All kids hugged all of us. That was really nice.

They asked for donations to keep the school going. Several people in our group brought school supplies with them to distribute to the kids.

I was writing a lot in my journal while I was sitting in that tiny little chair in the first row. Some girls were looking at me writing.

After all the hugging, I gave my book to a girl and asked her to write her name.

Four girls signed my book:

Mery Vilca Jilapa

Elizabeth

Norma Lujano Suana

Rosalinda Seana

These are photo of them signing my journal.

We've had very nice weather today. Almost hot today. upper 70's on the boat.

So the sickness hit more people in our group. We are dropping like flies. Natalie was hooked up to O2 on the boat coming back.
After the tour, back to the hotel. Priscilla and I had lunch in hotel. It's so nice to have her back in real world today - laughing and joking around. I got a big plate of spaghetti napolean (tomato sauce) yum. I have learned that Italian is the safest food to eat when your traveling. She got club sandwich. Hmmm, maybe not a good idea since may have mayonnaise on it. The mayonnaise that we ate in Minsk, Belarus made everyone sick on Smolensk and Moscow, Russia. So I try to stay away from anything that has mayonnaise. It was a big sandwich so she only ate half of it.
Have to remember that digestion takes longer at altitude. That's why they eat a huge breakfast and very small amounts for dinner.
2 pm optional tour to Sullustani Ruins.
It's a 40 minute drive. We stopped for photos of city and Lake Titicaca (LT). There are two hotels on Lake Titicaca: on this left is...? on right is San Antonio.
We are at 13,000 feet now. At the top we will be at 13,050.
This place is an important person's cemetery. This is located in the crater of a volcano - a Lake surrounds this place. This lake feeds Lake Titicaca. From wiki:
Sillustani is a pre-Incan burial ground on the shores of Lake Umayo near Puno in Peru. The tombs, which are built above ground in tower-like structures called chullpas, are the vestiges of the Colla people, Aymara who were conquered by the Inca in the 1400s. The structures housed the remains of complete family groups, although they were probably limited to nobility. Many of the tombs have been dynamited by grave robbers, while others were left unfinished.

The towers were built between 14 and 15 century. All towers had roofs. And they built a small door that faces to the east at the bottom of the tower. People could go thru the door and sit below the mummy to pray.

There are 2 chambers in each tower. Corpses were mummified in a fetal position to recreate their birth and they were buried with all their possessions. Companion usually buried with important person.

Mystical people come here to get spiritual energy.

Biggest tallest burial tower (chullpas) is 2000 year old (oldest).

These photos show how much they have restored this chullpa in 45 years: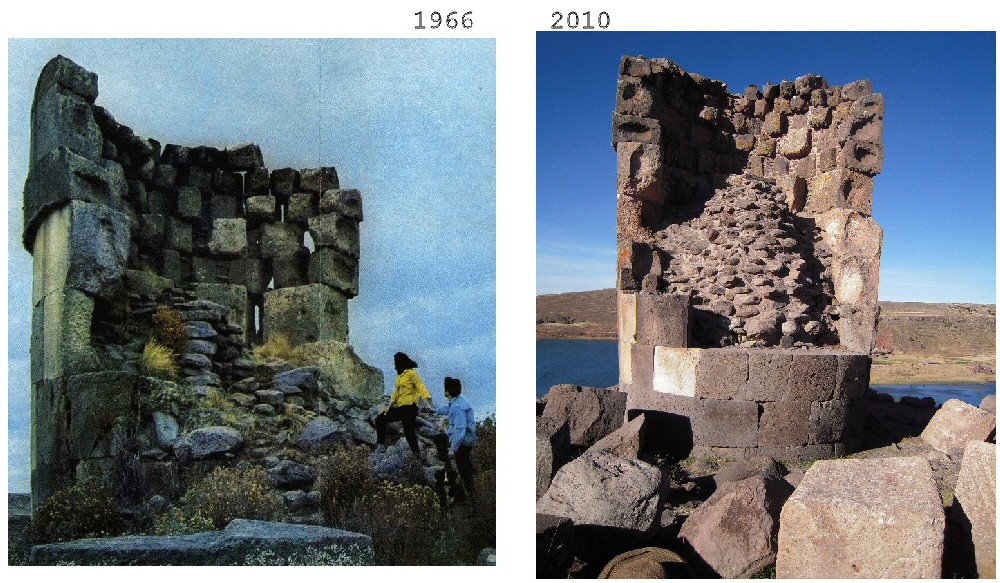 We walked up where The Temple of the Sun building was located. There are now 2 circular rock formations where the temple was. The building was maybe only about 4 feet tall.

coca, flowers. llama, alpaca fat was burned to please the gods. We take so much, we owe so much to the earth. We pay back with prayers and some unofficial human sacrifices maybe still happen in Peru.

We walked over the biggest tower on the grounds. This tower was knocked down by lightening? maybe. Inca's started to rebuild it but the Spanish came so they could not finish rebuilding it.

The biggest rocks are in the middle of the building. This entire chamber was rebuilt with cement. The original tower was built with no cement.

You could go in the door to an empty chamber at the bottom of the tower to pray.

The used a type of tenon and mortice to link rocks together.

They had much knowledge of engineering and medicine to preserve mummy. You must have correct humidity. There are water canals that maintain perfect humidity so you look at mummy and it looks like a live person that is sleeping.

I took 4 panoramic pix right to left.

There are 50 vicuna that live on the island in the middle maintained by one family so they are not hunted.

No motor boats, no noise pollution, and no human pollution are allowed in this lake.

This will be a national park soon. This place is very quiet (except for this blowing plastic).

There was tower that was held together with iron rings. But it might still fall down.

We saw a baby vicuna only 3 months old.

You can not buy a vicuna. But I wonder how much a llama costs?

To exit, we had to walk down some rocky steps. Oh no! Jessica fell coming down the steps. A twist and sprain. At least it's not a break. She slowly made it down the rest of the way. Carlos actually found some ice for her ankle. That's the first ice that I've seen on this trip. Thank goodness she was OK the next day.
We all loaded back on the bus. Driving along on a road where there are houses, then the bus pulls off the road. We're going visit a family in their house.
We stopped the bus to visit a "typical" family. The husband is 29, Isabel is 28, Melissa is 8, and they have 2 month old boy. She is carrying baby on her back in this photo. They carry the child until 2 years old. Some nurse up to 4-5 years old.
In the front yard they had a white alpaca and a brown llama. If possible, she said that llama and alpaca bathe every day. And they only have one place to use the toilet. but sheep drop while eating.

We got to peek inside their home. The room/building where they slept had a bed a one end of the room, and another bed at the other end of the room. Lots of heavy blankets on both beds. There was about 8 feet between the beds. Clothes hanging from the ceiling. I have to say this place was a lot nicer than the room we saw in Tibet.

In the side the building, a razor and toothbrush were stuck in a hole in the wall.

In back there was a guinea pig enclosure. More buildings where backpackers could stay. 2 twin beds in a very nice room with toilet and shower. And a kitchen and long table for dining in another building.

She had a display of some food: lima beans, quinoa, potatoes. They cut open a round of cheese and also served small potatoes that you could dip into the gravy made with clay. No kidding.

And nobody believed me when I told them that people in Georgia eat a clay called kaolin. From http://whitedirt.samsbiz.com/:

There are many uses for this natural product. Kaolin (white dirt) is used medically to treat diarrhea, dysentery, cholera, and is also used in paper making, paint, fiberglass, porcelains and ceramics, china, and toothpaste. Some of the most popular products made with kaolin (white dirt) are Kaopectate, Rolaids, Di-gel, Mylanta, and Maalox.

That was a nice family visit.

I wonder what their life span is here.
5 pm - got back to the hotel. The bus dropped us off I ventured out to find water. I ended up walking all the way across the square. There was a pharmacy where I bought 4 bottles of water. Natalie and Martin were buying drugs. When I got back to the hotel, I saw Alonzo in the lobby sucking O2. They had a O2 tank and mask that anyone could use if they were feeling light headed.
I didn't want to wait till later to go out to eat. Keith was in the lobby so we decided to get something to eat in the hotel restaurant. Keith had a full meal: a big salad, and an alpaca steak. I had a delicious bowl of soup. Vegetarian Qiunua Andean soup is wheat, quinoa, tunta, olluca. There was a hot drink listed on the menu "TE Piteado" What is that?
So my roommate had a few more problems tonight/this morning. She felt so good yesterday that she gave me her prescription of Cipro so I could take it on my future travels. She works at a hospital so it's not as difficult for her to get a prescription filled for more pills. So I was frantically looking for those pills in my suitcase at 2 am. I could not find them, so she took one of my pills. I finally found her pills in the morning. She didn't think that she would need them again, but she did! Life is full of fun little surprises like that sometimes.
We have had so many people go down (Elaine, Alonzo, Natalie on Uros trip). I have never done this before, but I am taking an Imodium pills for prevention. I don't care if I get constipated. It's better than the alternative.
DAY 9, Saturday May 8 - Fly to Lima
Flights, Juliaca-Lima
Itinerary said:
This morning transfer to the airport for your flight back to Lima. Upon arrival, transfer to your hotel, the balance of the day is at leisure
Overnight: Lima
Meals: Breakfast
Phone: 01-444-0306
OPTIONAL Half Day Indian Market Day #9 $35 - This afternoon, experience the opportunity to visit a typical Peruvian handicraft market. Located in Miraflores, the Indian Market is one of the most famous markets in Lima. Here you will find colorful alpaca throws and shawls, hand-carved wooden artifacts, jewelry, and many other unique items. Spend time leisurely browsing the market and try your hand at bargaining, or simply just enjoy the atmosphere.
Summary:
5 am wake up

5:45 bags out

6:15 depart

8:50 Lan Peru flight. It was supposed to stop in Cuzco, but we changed to a direct flight.

10 arrive Hotel

2 pm Market

5:30 Return hotel.
We did not get a wake up call this morning. My alarm clock beeped at 5:10. Ughhhh. There was a loud band playing music in the streets somewhere outside and we heard firecrackers. Juan Carlos said it was a religious ceremony before the 6 am Catholic Mass. That was almost a bad as hearing the 5 am call to prayer in the Muslim country of the Maldives. At least we weren't trying to sleep through this noise. Get up, get dressed, put suitcase out in the hall, go down to breakfast. The dining room was very very smoky because the wood stove wasn't working. We opened doors so we could breathe.
I got pancakes and they had deeeelicious Dulce de Leche to put on top of the pancakes. Yummers.
What a crazy hotel with flooded toilet, St. Louis Carol key broke off in lock. It took them one hour to get into their room.
6:20 am and we are on the bus enroute to Juliaca.
The average family has 5 members. The population is growing but not as fast now.
In the country side people work 12-14 hours a day. wake 3 am. the eat a big breakfast, chew on coca, 5-6 hour s a day between meals. coca leaves have vitamins, calcium.
They have coca flower pills - like Tums.
3 month rainy season. very dry now - green turning brown.
Juliaca is a young city and it is also bigger than Puno. Countryside people migrate to city. It's flatter in this area and easier to build. This city has airport and train transportation.
The buildings all have rebar poking out of the first floor. The steel bars are ready to support a second story when they have money and time to build it.
"Aeropuerto Internacional Inca Manco Capa Juliaca Peru" - letters on top of Julaca aeroport.
There was a strict weight allowance for baggage on the Peru domestic flights. 50 pounds to check and 15 pounds to carry on. Keith knew he was over the limit, but he didn't care because he got some super great bargains for his 50 ponchos, hats, etc. He only had to pay an extra $25 US for over weight baggage fee.
Gil says "This is Active Touring" yup. Very active. I'm worn out.
Driving to the hotel I got a photo of the John Lennon statue by the water. John Lennon everywhere! In Havana Cuba, I said I wanted to see the Lenin statue and they took me to the John Lennon statue. I wanted to go to the Vladimir Lenin statue!
They sure have some ugly cell towers in this town. And the houses don't have a yard. Instead of a garage, you park outside in a fenced in are to protect the car.
Back in Lima and back to the hotel where we started this tour. They had totally torn up the street!
El Condado
Alcanfores 425-465
Lima PERU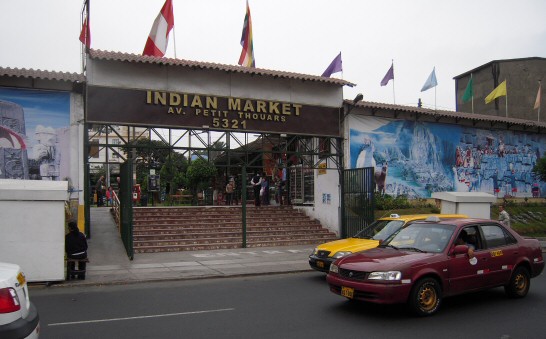 In the afternoon, we went on the Inca market tour. We prepaid for this tour which was probably not necessary. We found out that you could take a taxi for much less than we paid for the tour.
The market had very few shoppers so they are very desperate to sell. If you enter a stall, the vendor follows you around, points at things and says the name of whatever he is point out. It's really a bad practice. Because, if you had entered the stall to look at something specific that you might be interested in, they start pointing out other things and draw your attention away from the reason you entered the stall in first place. So you end up not buy anything. They should just leave you alone to shop and look at what ever you want to look at.
I did not like the feel of that place. Typical tourist destination. It was too well laid out. The stalls were like buildings. You could still bargain.
If you are on this tour, buy all your souvenirs roadside open markets and the stands along the way. Like the Cinchero Market, the La Raya market were great shopping opportunities.
We got back to hotel about 4:30.
Whew. What a trip.
Wake up call is at 3 am. What the!
Keith is on the midnight direct flight to Atlanta. Maybe I could have gotten on that flight, but I really don't want to go home. I don't mind hanging out at Miami airport for a little while.
DAY 10, Sunday May 9 - Depart for the USA
Itinerary said:
Transfer from hotel to the airport for your departure flight
Meals: Breakfast (NOT)
We had a very early wake up call for our early shuttle to the airport. Shuttle departed the hotel at 3:25 am (way before the sunrise) Our American Airlines flight departs at 6:25 am (still before the sunrise).
On the way to the airport Juan Carlos started telling us more interesting things. I was so tired I didn't want to write. But if I can hear what is being said, I have to write it.
He told us about the Japanese embassy hostage crisis.
This is from Wiki: http://en.wikipedia.org/wiki/Japanese_embassy_hostage_crisis

The Japanese embassy hostage crisis began on December 17, 1996 in Lima, Peru, when 14 members of the Tpac Amaru Revolutionary Movement (MRTA) took hostage hundreds of high-level diplomats, government and military officials and business executives who were attending a party at the official residence of Japan's ambassador to Peru, Morihisha Aoki, in celebration of Emperor Akihito's 63rd birthday.

Most of the hostages were soon released. After being held hostage for 126 days, the remaining dignitaries were freed on 22 April 1997, in a raid by Peruvian Armed Forces commandos, during which one hostage, two commandos, and all the MRTA militants died. The operation was perceived by most Peruvians to be a great success, and it gained worldwide media attention. President Alberto Fujimori initially received much credit for saving the lives of the hostages.

Reports have since emerged suggesting that a number of the insurgents had been summarily executed after surrendering. These findings have prompted civil suits against military officers by relatives of dead militants. In 2005, the Attorney General's office in Peru allowed the charges and hearings were ordered.

There's alot info on the Wikipedia page....

Book "Bel Canto" by Ann Patchett references the incident.

He told us that there is prison specially built to hold the terrorists. It is an underground prison. They on see sunlight one hour a day.

Movie 'They Live" about the 70's soccer team event

Movie "The Dancer Upstairs" in 2002 by Director: John Malkovich. True movie about the capture of the terrorist leader of the Shining Path group.

Che was killed in Bolivia jungle. Movie - Motorcyle Diaries "Diarios de motocicleta" (2004) The dramatization of a motorcycle road trip Che Guevara went on in his youth that showed him his life's calling.

Lori Berenson from New York was in love with one of terrorists. She was arrested in 1995 plotting to take over Peru's congress. She met and married a terrorist leader and they have a kid via invitro. Shining Pack group and "Tupac" She was moved to a prison in Lima because of pressure from her parents on the Peruvian government.

She is still in jail. UPDATE: On May 28, 2010 there was an article in the Atlanta newspaper. She's out of jail now. See articles below.
So we get to the airport. It's crowded and busy. Long check in line, but we have plenty of time.
09May10 American Airlines, AA 2110
From: Lima, Peru (LIM) To: Miami, FL (MIA)
Departs : 6:25 am, Arrives : 1:10 pm
5 hours and 40 minutes
People in the Andes never say "Good Bye", we just say "Until We Meet Again" which in Quechua is TUPANANCHISKAMA !!
Get to Miami. Say goodbye to Priscilla. She was really missing her family and wanted to get home.
I didn't have much of layover in the airport before my next flight home.
It was a very long day of travel to get home. I was really glad to get back to an empty house. I'm not used to be around people 24/7 so a quiet evening with a glass of red wine was exactly what I needed.
Now, where should I go next? Pyramids in Egypt? Israel, Jerusalem, Amman Jordan, Black Sea cruise? I've been to 96 countries so far. I'll get to 100 soon!
---
Atlanta Newspaper articles about Lori Berenson
Peru judge paroles New York woman who aided rebels http://www.ajc.com/news/nation-world/peru-judge-paroles-american-535270.html
By FRANKLIN BRICENO
Tuesday, May 25, 2010
LIMA, Peru A judge granted parole Tuesday to Lori Berenson, the 40-year-old New York activist who has spent 15 years in Peruvian prisons on a conviction of aiding leftist rebels.

Judge Jessica Leon granted a request by Berenson, who gave birth a year ago, for conditional release at a hearing at the Lima prison where the American has been held since January 2009.

She said, however, that Berenson cannot leave Peru until her sentence for terrorist collaboration ends in November 2015.

Berenson nodded assent but did not speak when asked by the judge if she accepted the decision. Bespectacled and wearing earrings, with her braided brown hair hanging over an embroidered sweater, Berenson looked serene during the one-hour hearing.

"I'm happy with the sentence because justice was done," said her lawyer, Anibal Apari, who is also father of Berenson's child, Salvador.

Apari said Berenson, whom he met in prison and married in 2003, would be freed within 24 hours. Their child has been living with his mother in prison since his birth last May.

Apari is a former member of the Tupac Amaru Revolutionary Movement, or MRTA, the now defunct leftist band of which Berenson was convicted of helping.

Berenson's father Mark, a former Baruch College statistics professor, was overjoyed at the news. "I let out a shout that I think my daughter heard in Peru."

"I'm feeling great, I had three glasses of wine, this is an incredible, incredible feeling," he told The Associated Press in New York. "It solely will be topped only when I see my daughter and grandson in freedom."

The judge's decision, read by a clerk, said Berenson had "completed re-education, rehabilitation and re-socialization" and demonstrated "positive behavior."

"I'm very glad that the judge saw all the evidence and agreed that Lori earned and deserved the parole," Mark Berenson added in a telephone interview. "It shows that justice and democracy in Peru can work."

Berenson had for many years denied any wrongdoing, maintaining she was a political prisoner and not a terrorist.

But her defense team said in papers submitted to the judge that she "recognized she committed errors in involving herself in activites of the MRTA." She said in her parole request that she planned to work as a translator if released.

In Washington, Justice Department spokesman Dean Boyd said he had no comment when asked if Berenson faces any charges in the United States once released.

In an e-mail sent to supporters on Tuesday, Berenson's parents said their daughter would be raising Salvador as a single mother.

"Anibal and Lori are legally separated but remain friends and both share concerns for Salvador's proper upbringing," they wrote.

They said their grandson "will certainly enjoy the opportunity to run around outside the confines of the prison. He is learning both English and Spanish but babbles continuously in 'unknown tongue.'"

Photos of the Berensons with their grandson are posted along with the message on the couple's website.

Their daughter had dropped out of the Massachussets Institute of Technology in 1989 to pursue a passion for social justice. After a time in Central America she worked as private secretary to El Salvador's top rebel commander during peace negotiations there she traveled to Peru in 1994.

Berenson was arrested in 1995 and initially accused of being a leader of the MRTA, which bombed banks and kidnapped and killed civilians but was nowhere near as violent as the better-known Shining Path insurgency.

It is blamed for, at most, 200 killings.

Police claimed she helped coordinate Tupac Amaru activities and obtained weapons for the group. She was convicted of treason by a military court in 1996.

But after an intense campaign by her parents both of whom took early retirement to dedicate themselves full-time to their daughter and other supporters, she was retried in a civilian court in 2000. It convicted Berenson of the lesser crime and reduced her sentence to 20 years.

The U.S. State Department had pushed hard for the civilian trial, saying Berenson was denied due process by the military tribunal. Her case soured relations between the administration of U.S. President Bill Clinton and that of former Peruvian strongman Alberto Fujimori.

Fujimori stepped down in disgrace in 2000 before Berenson's retrial, and is now in state custody on convictions for crimes including murder, kidnapping and corruption.

Berenson's spent much of her captivity especially the years before her retrial in harsh mountain prisons.

She was transferred to Lima in January 2009 from a prison in the northern province of Cajamarca after being diagnosed with a herniated disc that was aggravated by her pregnancy.

___

NY woman who aided Peru rebels free after 15 years http://www.ajc.com/news/nation-world/ny-woman-who-aided-536810.html
By RICK VECCHIO

Thursday, May 27, 2010
LIMA, Peru New Yorker Lori Berenson walked out of a Peruvian prison with a smile on her face Thursday, then pushed through mobs of reporters before settling into a neighborhood that met her with hostility.

"Go away, terrorist!" one of her new neighbors shouted.

Now 40, she looked smaller, more austere than the strident young activist who nearly 15 years ago shouted that the leftist rebels she was accused of aiding were not terrorists but revolutionaries.

Busy with a young son and nursing a bad back, her once-flailing hair tamed in a braid, Berenson has, a prison psychological reports states, been calmed by motherhood, occupies herself with translations and wants to open a bakery.

At least one thing hasn't changed: She has never denounced the Tupac Amaru Revolutionary Movement she was convicted of abetting.

When she was arrested in November 1995 with the wife of the group's leader, prosecutors said Berenson was helping plot a takeover of Peru's Congress. The alleged plot was thwarted in a gunbattle at a rebel hideout that Berenson was convicted of having rented. In the house, the police found a forged ID card bearing her photo.

Berenson was convicted of treason by a military court in 1996 and sentenced to life in prison. But after an intense campaign by her college professor parents and pressure from the U.S. government, she was retried in a civilian court. In 2001, it convicted her of the lesser crime of terrorist collaboration and sentenced her to 20 years.

A judge granted her parole Tuesday, noting defense documents that said Berenson had "recognized she committed errors" getting involved with the rebels.

Many Peruvians expressed displeasure, even anger, at Berenson's release.

"Go away, terrorist!" shouted 42-year-old Carol Philips as Berenson and Anibal Apari, her lawyer and husband, pushed their way through journalists to get into the apartment building in the upscale Miraflores neighborhood where she is to live.

"I think terrorists like Lori don't repent in this country," said Maria Castillo, 39, and the wife of a police officer. "The terrorism prisoners never change because they are jailed for their ideals."

The Miraflores district mayor, Manuel Macias, told reporters Berenson should find a home elsewhere: "The way out of this perhaps is her expulsion from the country."

That could happen.

The judge who paroled Berenson said she must stay in Lima until her sentence ends in November 2015. But Peru's Cabinet chief, Javier Velasquez, said the ministers would meet to decide whether to commute the sentence and deport Berenson. It was not known when the Cabinet might meet.

Berenson's release Thursday from Santa Monica women's prison was a tempest in itself. She squeezed through a horde of reporters into a car that Apari drove to the Miraflores apartment. Two Peruvian reporters jumped into the car, which had a minor collision a block away with a TV channel's vehicle.

Outside the apartment, Berenson appeared calm, almost bemused, as she sat for some five minutes in the car, surrounded by journalists. She wore dangling bead earrings, a khaki green button-down shirt with the sleeves rolled up and carried a black bag with blue straps.

She did not speak to reporters.

A psychological report on Berenson, dated Nov. 27, says she performed in a prison musical group, sought the company of other mothers and would like to work as a translator and own a bakery. It calls her "timid" but also "friendly and cooperative."

Berenson's son, Salvador, has been living with his mother since his birth a year ago. He was taken to the fifth-floor apartment separately by her parents, Mark and Rhoda Berenson, who flew in from New York City on Wednesday.

The couple told The Associated Press they came not just for the joy of their daughter's release but also to help childproof the apartment.

Mark Berenson said he was looking forward to frolicking with his only grandchild, and was excited to introduce his daughter to the Internet: "Can you imagine not having seen virtual reality?" he said.

Lori Berenson dropped out of the Massachussetts Institute of Technology in 1989 to pursue a passion for social justice. After a time in Central America she worked as confidential secretary to El Salvador's top rebel commander during peace negotiations there she traveled to Peru in 1994.

After her arrest, Berenson was initially accused of being a leader of the MRTA, which bombed banks and kidnapped and killed civilians but was nowhere near as violent as the better-known Shining Path insurgency.

She has long maintained she was a political prisoner. At a public appearance after her arrest she shouted to reporters: "There are no criminal terrorists in the MRTA. It is a revolutionary movement."

Almost a year later, the Tupac Amaru gained notoriety when 13 of its members stormed the Japanese ambassador's residence and seized hostages. Among their demands was Berenson's release. The standoff ended after 126 days with all the rebels killed.

Senior MRTA leaders remain in prison with life sentences though many others have been paroled.

Berenson has now apparently softened, the years in captivity, many in frigid, windowless prisons on the high Andean plateau taking their toll. The judge who paroled Berenson said she had "completed re-education, rehabilitation and re-socialization" and demonstrated "positive behavior."

After the parole hearing, Apari was asked by a radio reporter whether Berenson was repentant; he did not answer. A former Tupac Amaru member who was paroled in 2003 after serving 13 years in prison, Apari also was asked whether he himself was repentant. He would only say, "I assume responsibility."

Berenson's parents said their daughter and Apari would be legally separating and that Lori would alone raise Salvador, who was born in May 2009 by cesarean section.
Mark Berenson told the AP before his daughter's release that he was anxious about her health, particularly her degenerative back ailment, for which she underwent a seven-hour surgery in November.
He attributed her bad back to lifting 20-kilogram (44-pound) sacks of flour in the bakery she ran while at Huacariz prison, 850 kilometers (530 miles) northeast of Peru's capital, Lima.
"Her health is not good," Mark Berenson said. "All the pains came back and the surgeon saw her two weeks ago and he's very unhappy. He wants her to go through a million more tests because they're worried about potential nerve damage," he added. "You see her and her posture is twisted."
A decade ago, Lori's parents, both Ph.Ds, took early retirement to campaign for her freedom.
Her treatment before the retrial strained relations between the administration of U.S. President Bill Clinton and that of former Peruvian strongman Alberto Fujimori, though Washington's ambassador at the time, Dennis Jett, made it clear he believed she was guilty.
Fujimori stepped down in disgrace in 2000 before Berenson's retrial, and is now an inmate in state custody on convictions for crimes including murder, kidnapping and corruption.
___
Paroled New Yorker seeks expulsion from Peru http://www.ajc.com/news/nation-world/paroled-new-yorker-seeks-538363.html
Sunday, May 30, 2010
LIMA, Peru A 40-year-old New York woman paroled in Peru last week after serving 15 years in prison for aiding rebels is asking the president to commute her sentence so she can be deported.
Justice Minister Victor Garcia tells The Associated Press that Lori Berenson wrote President Alan Garcia with the request.
He said Sunday that Berenson also apologized to the people of Peru.
Cabinet officials are to meet Wednesday to discuss whether to commute Berenson's sentence. Terms of her parole call for Berenson to remain in Peru through 2015.
If Berenson wants to take her 1-year-old son with her, she will need to get permission from the boy's father, a former rebel from whom she is legally separating.
Neither Berenson nor her husband could be reached for comment Sunday.

__


This page and all other pages in the http://www.mytrips.com web site, along with the journals, images, and photos are Copyright © 1997-2018 by Suzanna Travels. All publication rights are reserved. Email: web@ mytrips.com Remove the space after the @