China Pictures
I visited China, Thailand, and Singapore in 1993.
I went to Splendid China Theme Park in Orlando Florida in 2002
Click here for a journal of this trip
Take a look at these comparison photos!
| | |
| --- | --- |
| 1960 - Grandfather's picture of Wat Arun in Bangkok, Thailand | 1993 - My picture. |
| | |
| --- | --- |
| 1993 - My picture of the entrance to the Forbidden City in Beijing, China. | 2002 - My picture of the same thing in Splendid China, Orlando Florida |
Splendid China, Orlando Florida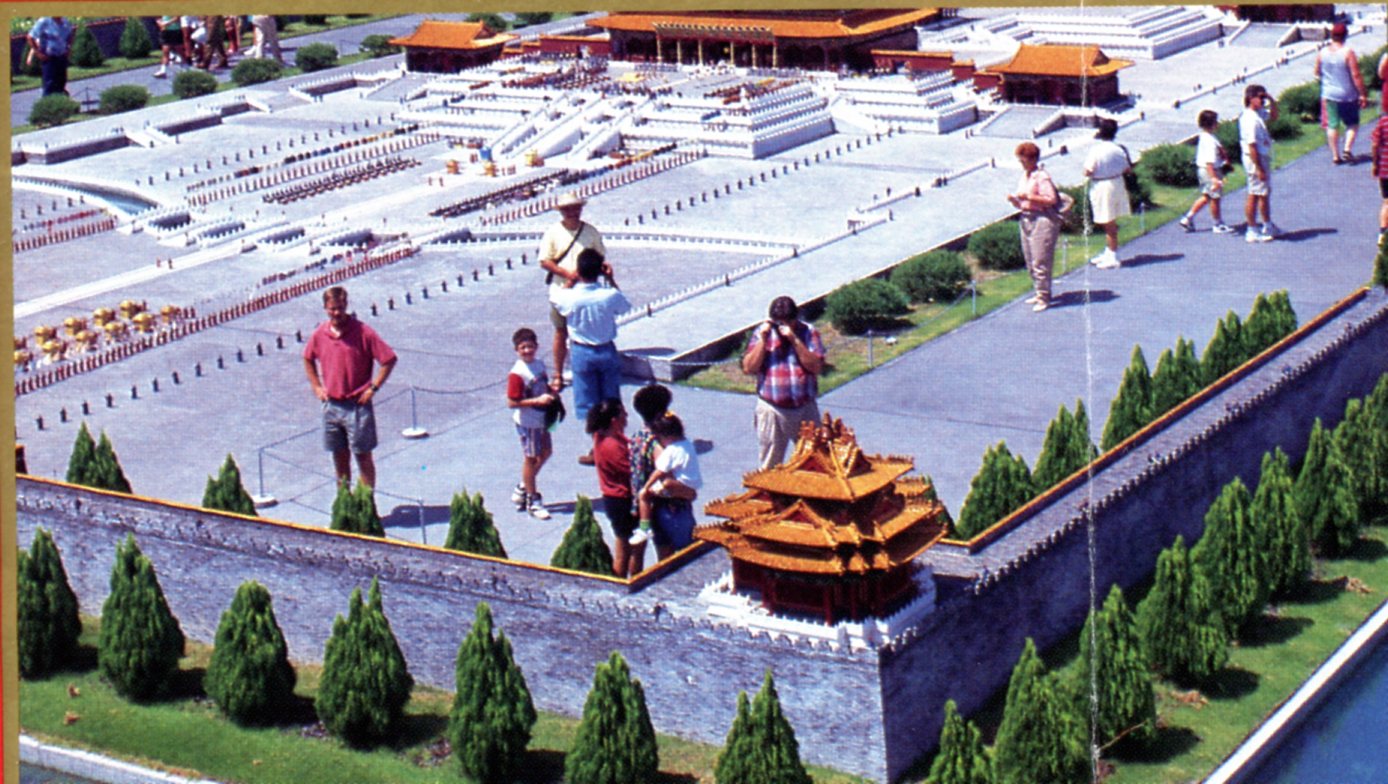 1993 - My picture of the Terra Cotta soldier in Xian,China.

Uncovered in 1974. 8000 individually carved soldiers and horses

2002 - My picture of the same thing in Splendid China, Orlando Florida
Splendid China, Orlando Florida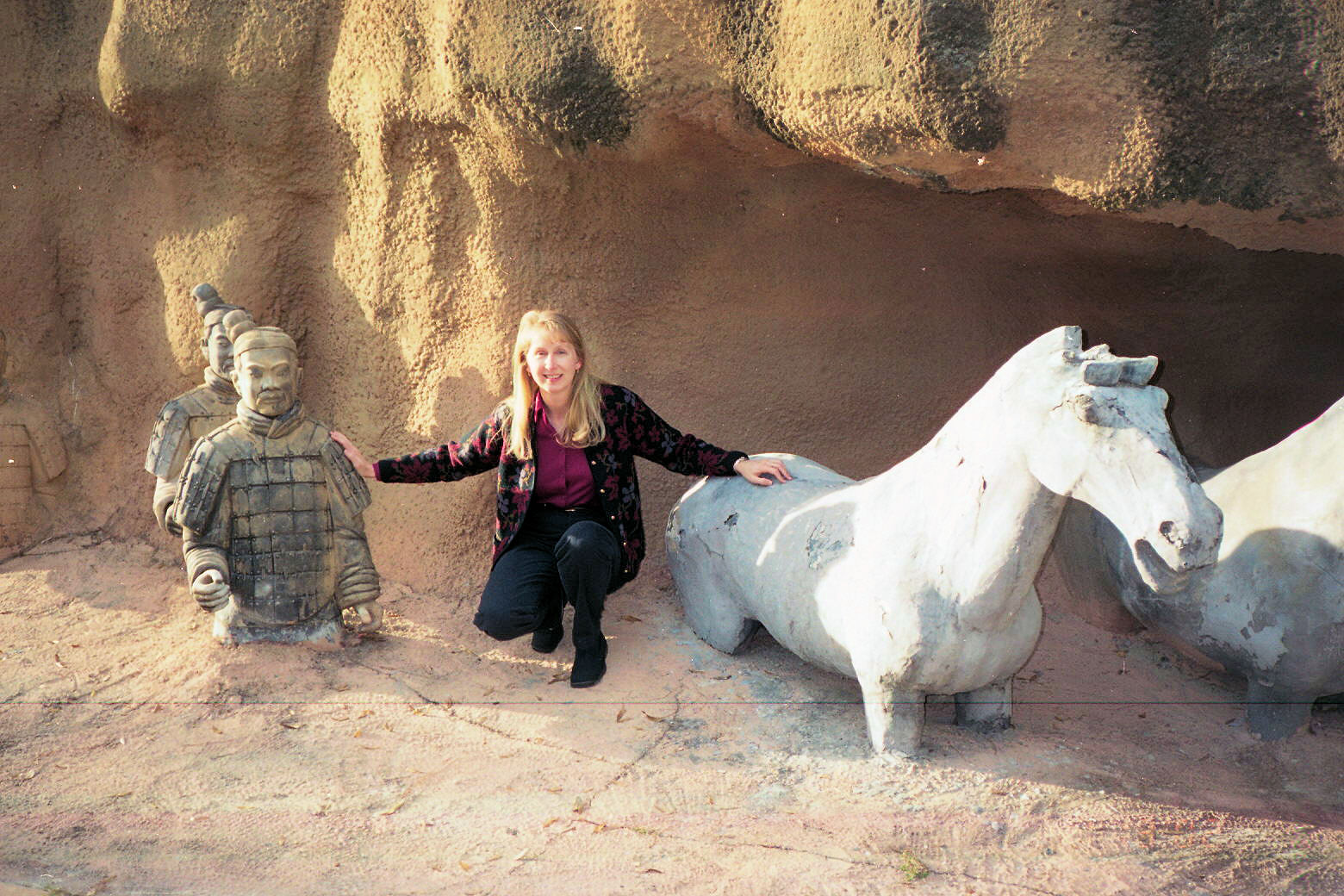 | | |
| --- | --- |
| 1993 - The Great Wall. 4200 miles long in China | 2002 - My picture in Splendid China, Orlando Florida. 4 feet tall, half a mile long. |
Splendid China, Orlando Florida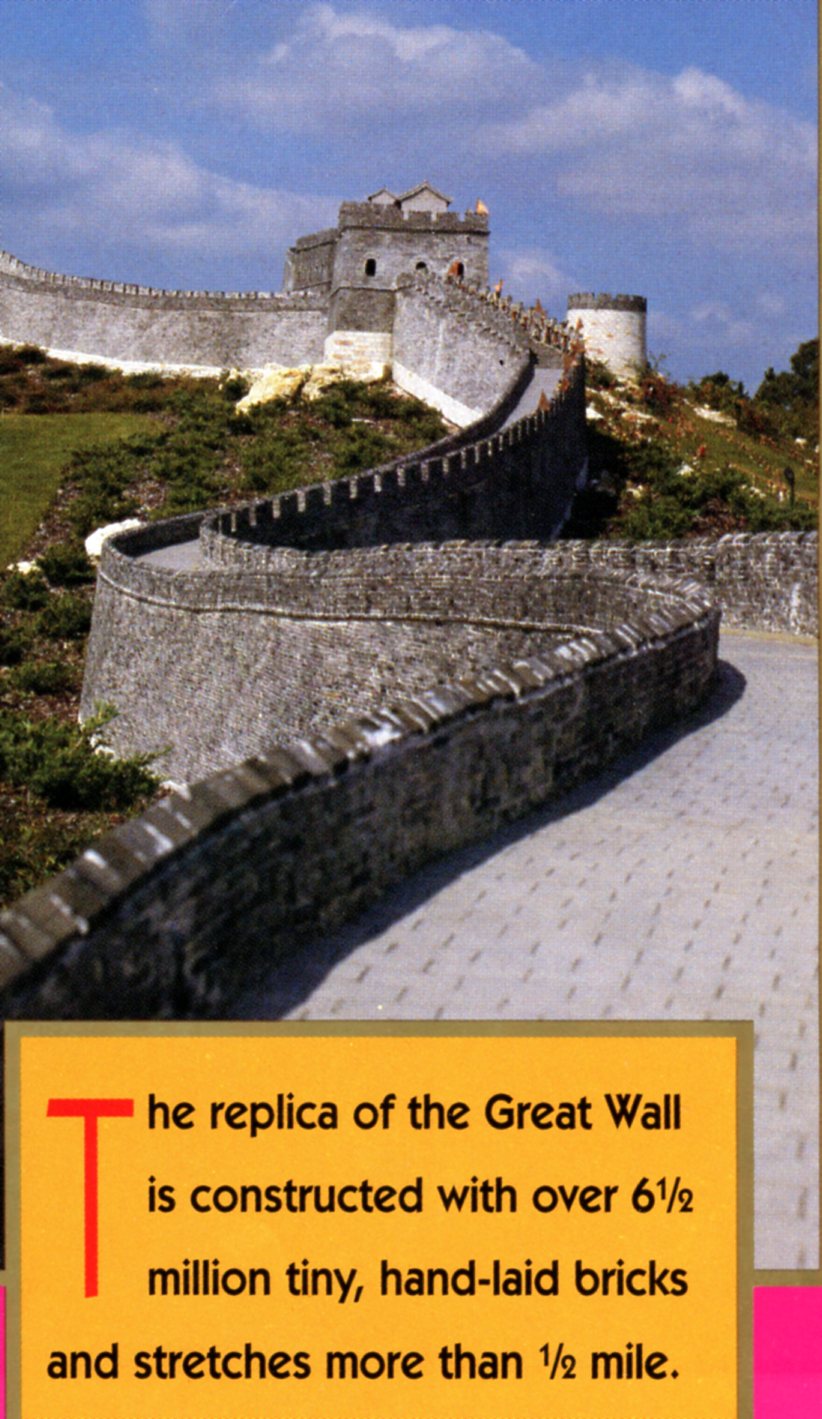 Splendid China
Splendid China was a theme park near Disney in Florida. It opened in 1993, and closed on December 31, 2003.

www.floridasplendidchina.com doesn't work, so go to http://www.lostparks.com/china.html


3000 Splendid China Boulevard Kissimmee, Florida 34747 (2 miles from Disney World on U.S. 192 west, three miles west of 1-4 (exit 25B), between mile markers 4 & 5)

1-407-396-7111 or 800-244-6226 email: schina @ earthlink.net

This is a 76 acre park. The pathways are landscaped with bonsai trees.

It features 60 exhibits replicating Chinese landmarks in miniature. There are knee-high buildings, bridges, and temples. You can see:

The Great Wall - It is half a mile long and waist-high, made of 6 million 1- and 2-inch bricks put together one at a time by Chinese craftsmen brought to Florida especially for the task. The domino size bricks are terra cotta.
The Imperial Palace in the Forbidden City is 6,000 rooms. It has been reproduced on a small scale, stone by stone, tile by tile.
The Potala Palace is a featured replica in the park. The real palace is where the Dalai Lama, Tibet's traditional leader lived until he fled the Chinese occupation of Tibet in 1959.
The Leshan Grand Buddha is more than 35 feet tall. It is a miniature version of the original 23-story sculpture.
There is recreation of the Terra Cotta warriors and horses - the 1974 archaeological discovery of 8,000 life-size and individually carved statues of soldiers and horses that Quin Shihuang commissioned to protect his spirit upon his death.
The display features hand-crafted hand-painted porcelain figures of people and animals. There are "tens of thousands" of figures on a scale of 1 to 15. The figures are mounted on steel posts and imbedded in concrete.

There are four restaurants and 13 gift shops.

We watched a performance by Chinese dancers.

Built by China Travel Service of Hong Kong at a cost of $100 million.

Entrance cost is $23.55

The Splendid China park opened in December, 1993. I visited in January, 2002. It closed shortly after that.
Jan, 2002 . Mom and Dad drove down from St.Aug. I flew from Atl. Stayed at Renaissance Worldgate, 3011 Maingaite Lane, Kissimmee, FL 34747. www.renaissancehotels.com. Total cost for 4 nights was $162.75 = ($35 x 4 ) + 16.80 tax + 5.95 processing fee on priceline.com. Not bad!!!
This page and all other pages in the http://www.mytrips.com web site, along with the journals, images, and photos are Copyright © 1997-2018 by Suzanna Travels. All publication rights are reserved. Email: web@ mytrips.com Remove the space after the @