Vail, Colorado
Been to Vail several times. First time in 1989 with Atlanta Ski Club, 2002 to visit and ski and again in January, 2015.
Skiing (and partying) with the Atlanta Ski Club. Sandy lead a fabulous trip.
If anybody has the group picture, or any group pix or other pictures you want to share, please email it to me and I will post it here.
Brother and Sis having fun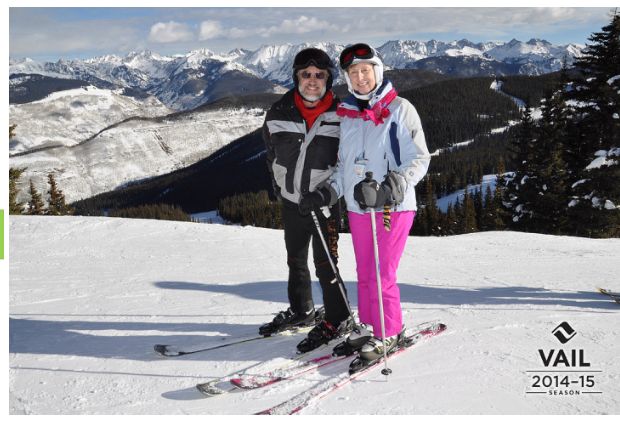 The "Paul Splat" - William McKinley's video is here: https://www.facebook.com/video.php?v=762925923755727
William warned Paul about the half pipe. Paul went all out and unintentionally passed William. William had a smooth finish. Paul didn't....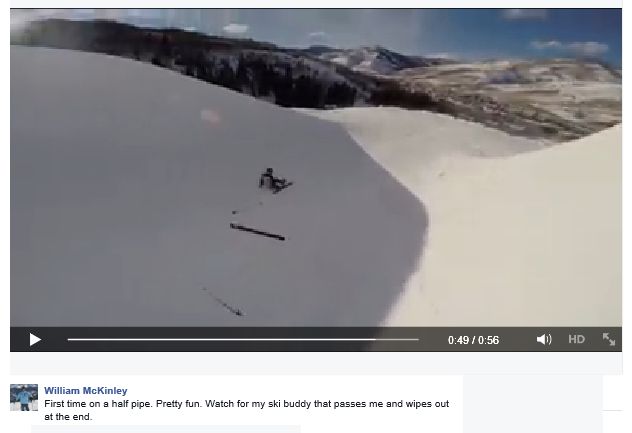 Here is Paul pointing to the half pipe where it all happened
It snowed all Monday night. Tuesday skiing on over 10 inches of new snow. Williams video: https://www.facebook.com/video.php?v=762751387106514
Harriet and I did China Bowl Poppy Fields - it was wonderful. Paul and Harriet: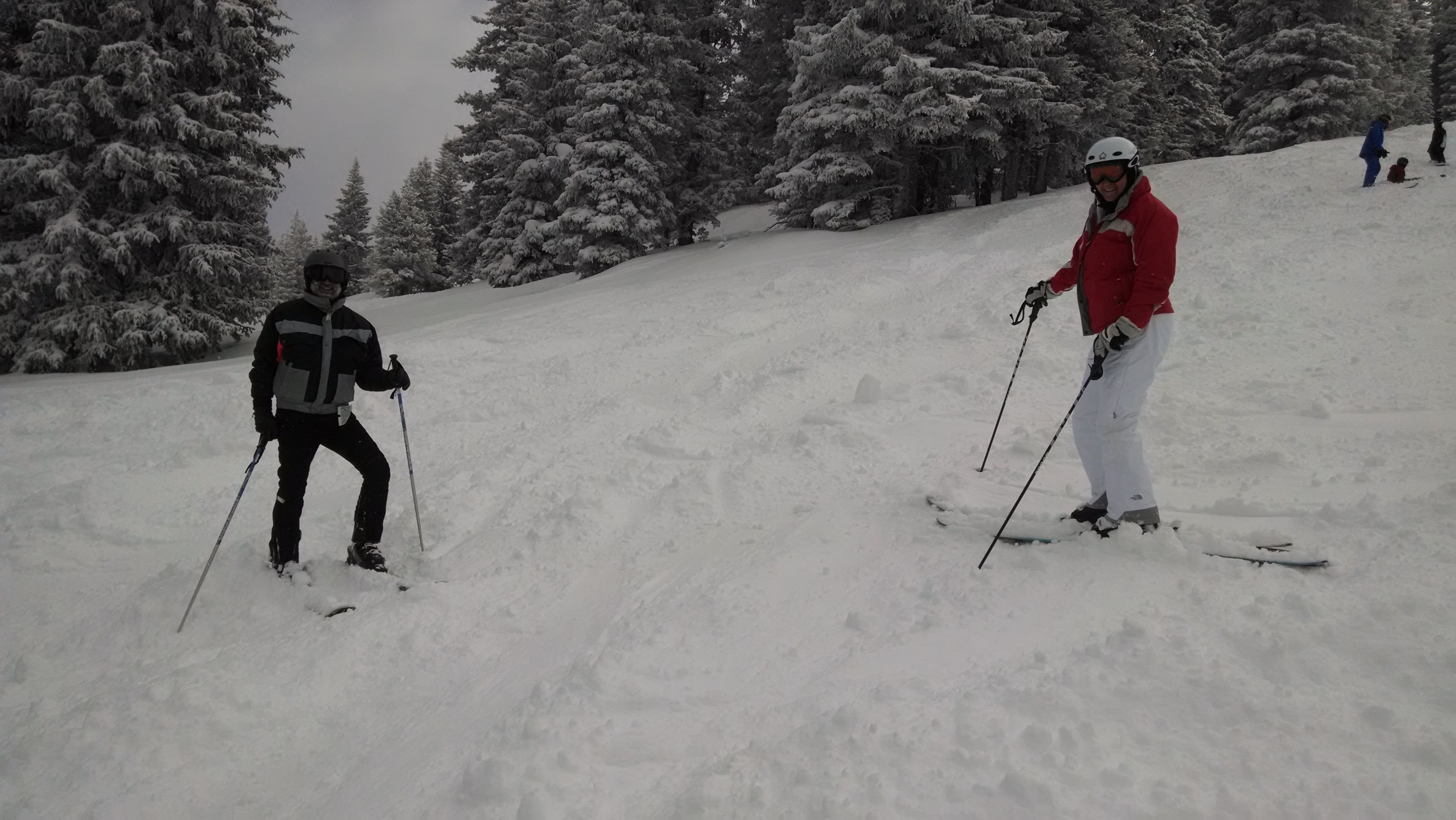 With John (our new friend, Harriet, Whitney, Paul, Suzanna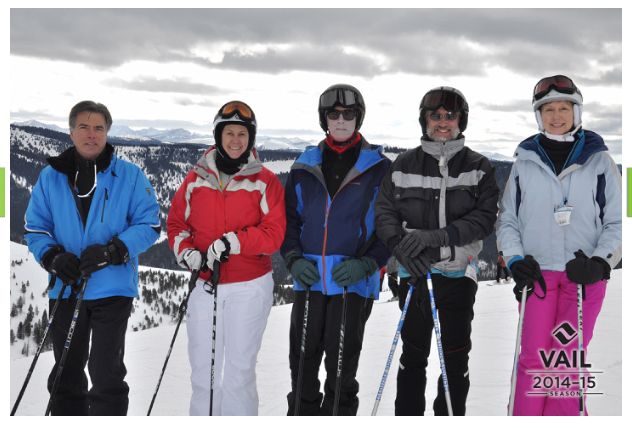 The Epic Mix system scans every lift that you ride and tracks your skiing every day. Skiied 23,061 feet one day!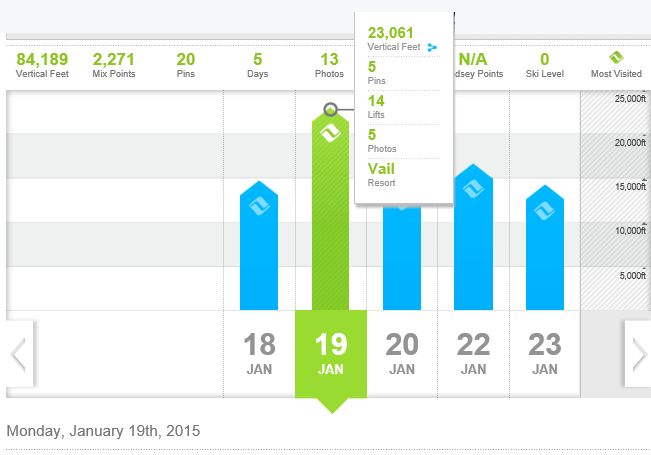 ATLANTA SKI CLUB VAIL 2015 TRIP
Saturday, January 17
8:20am Delta 1816 - Atlanta to Denver, arrive Denver 9:47am
10:45am or so Head to Applejacks for Grocery Store/Liquor Store stop
3:00pm or so Ski Rental pick up at Christy Sports (closes at 8pm)
TBD Welcome Partyt. Notch room at Vail Manor - pick up lift tickets, get mountain info, etc.
Post-Party Dinner on your own or just unpack and unwind (and hydrate!)
Sunday, January 18
Daily Breakfast Buffet in Mt. Powell room, open from 7am to 10am
8:30am Lifts open. Slopes Await
10:15am Optional Free Mountain Tour. Top of Eagle Bahn Gondola
1:00pm Lunch at Eagles Nest
4:00pm Happy Hour The Red Lion, Vail Village
5:30pm Hot Tub
7:00pm Dinner– Chili /soup night in Trip Captain's condo
Monday, January 19
8:30am Lifts open Are you ready for round 2?
11:30 Lunch at Look Ma (Mid Vail)
4:00pm Apre Tavern on the Square at Arrendale, Lionshead
5:00pm Hot Tub
6:00pm Margarita Monday Party
7:30pm Dinner on your own
It snowed all night!!
Tuesday, January 20
8:30am Lifts open - See ya on the Slopes
11:45am Lunch at Two Elk
4:00pm Apres Ski Garfinkels, Lionshead
Dinner on your own
(Optional Snowshoe trek to Bistro 14 for dinner details at Welcome Party)
Wednesday, January 21
An off day for some - Ski, Horseback, Snowmobile, Shop???
8:30 Lifts Open - Are you ready for the bowls?
11:45am Lunch at Wildwood
4:00pm Apres ski Los Amigos, Vail Village
7:30pm Pot Luck Pasta Dinner in condo (BYOB)
Appetizers The Leavell , Suzanna , Paul , Mark, Kevin and William
Main Course, Bread and Salad Trip leader condo + the Hillmire , John F. & Gilbert
Dessert The Pirkey , Jacob, John R. and Sue Martin
Thursday, January 22
8:30am Lifts Open
TBD Group Photo and Group Lunch
4:00pm Apres Ski— The Red Lion
5:30pm Hot Tub
7:00 Dinner on your own
Friday, January 23
8:30am Lifts Open Last Day €Ski Hard
12:00n Lunch at Eagles Nest
4:00pm Apres Ski Golden Peak Grill
7:00pm Farewell Party TBD
Saturday, January 24
9:00am Luggage pick up
9:45am Bus Departs for Denver, Delta 2442 leaves Denver 2:45
7:40pm We arrive in Atlanta
Lift tix 4 of 5 370
5 of 8 455
6 of 9 513
*****************
Your Responsibility Code - Be Safety Conscious
1. Always stay in control, and be able to stop or avoid other people or objects.
2. People ahead of you have the right of way. It is your responsibility to avoid them.
3. You must not stop where you obstruct a trail, or are not visible from above.
4. Whenever starting downhill or merging into a trail, look uphill and yield to others.
5. Always use devices to help prevent runaway equipment.
6. Observe all posted signs and warnings. Keep off closed trails and out of closed areas.
7. Prior to using any lift you must have the knowledge and ability to load, ride and unload safely.
ATLANTA SKI CLUB – FUN FOR ALL SEASONS <![if !vml]>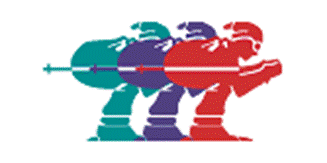 <![endif]>
360 degree views off Pete's lift
Stayed at Manor Vail Lodge 595 E Vail Valley Drive Vail CO 81657 970-476-5000 manorvail.com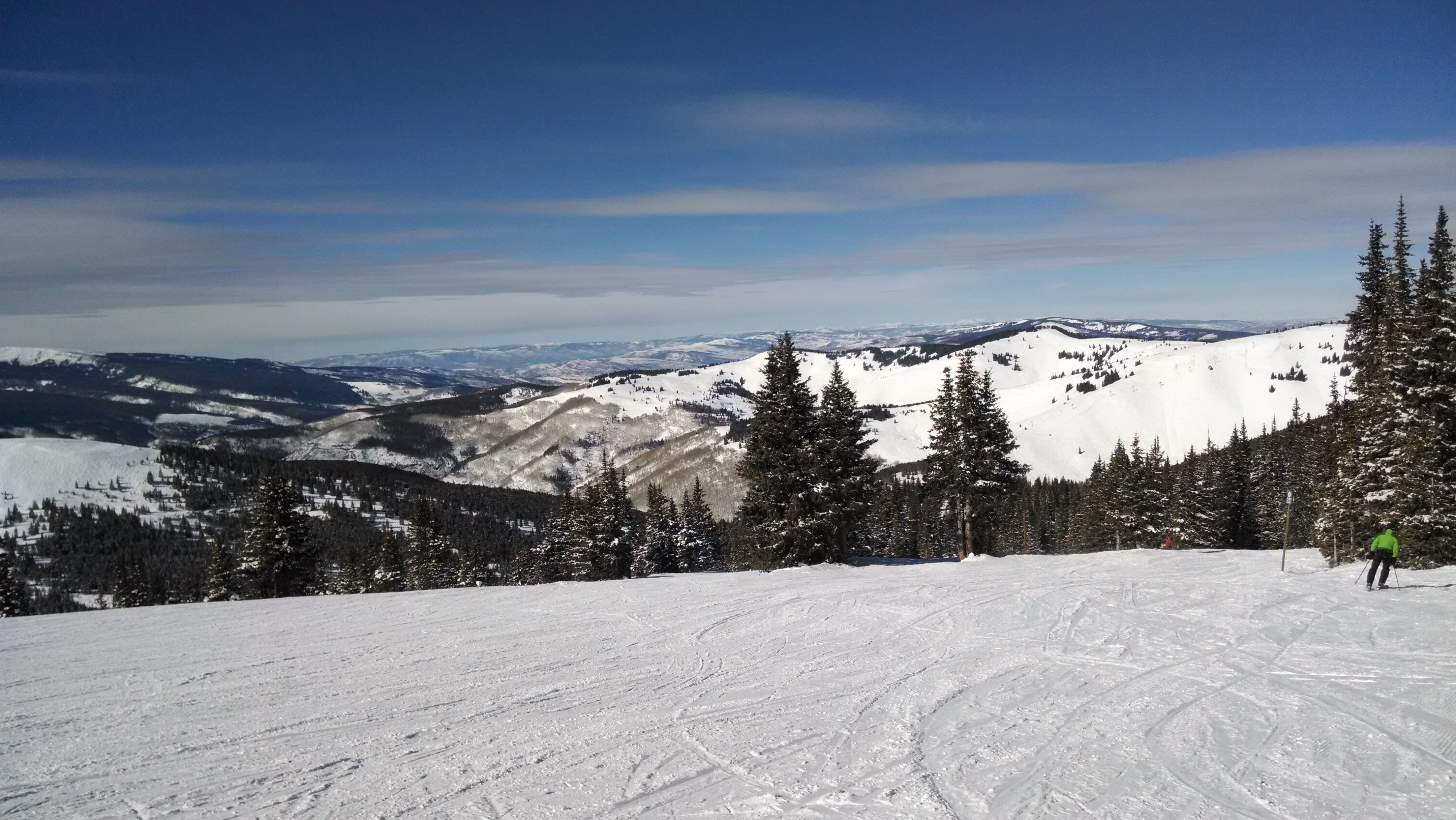 This page and all other pages in the http://www.mytrips.com web site, along with the journals, images, and photos are Copyright © 1997-2018 by Suzanna Travels. All publication rights are reserved. Email: web@ mytrips.com Remove the space after the @