Where in the world is Suzanna going now? I drew green circles around the destinations for this trip: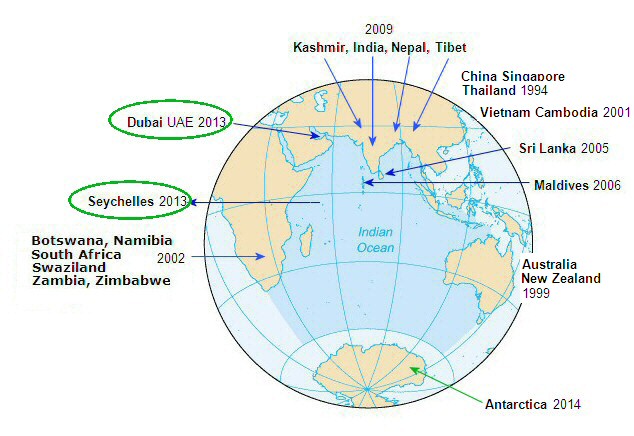 I drew green circles around the four Seychelles islands that we visited. We stayed on Mahe for 2 nites, and Praslin for 2 nites. We visited La Digue and Moyenne.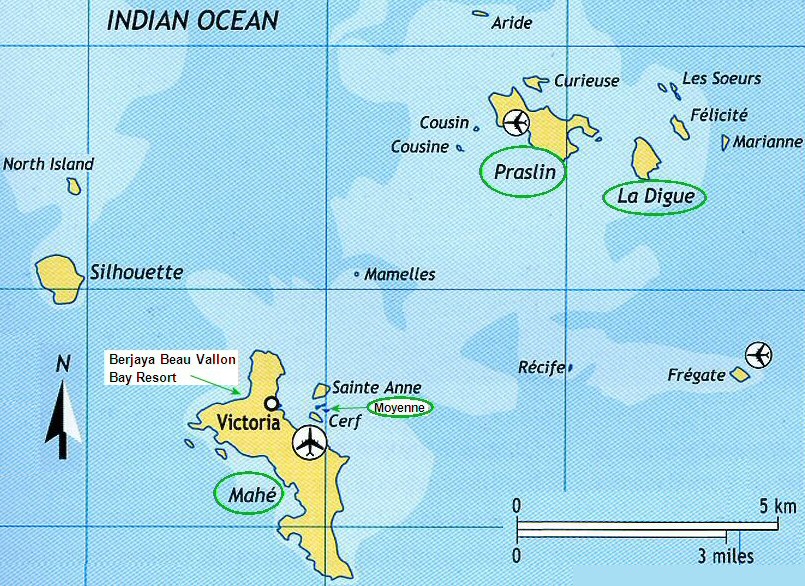 I did this trip with
Adventures For Singles Inc www.adventuresforsinglesinc.com
Suzy Davis <suzy@adventuresforsingles.com> ( our "GTL" Gracious Trip Leader)
1907 Daniel Green Ct Smyrna GA 30080
Georgia: 770-432-8225 Elsewhere: 877-813-9421
I learned about the Suzy Davis Adventures for Singles in 2002. I was on a direct 21-hour flight from Atlanta, Georgia to Johannesburg, Africa. I was on my own Africa tour sitting upstairs on the plane. I walked downstairs and I knew people on the airplane! They were doing a Suzy trip to Africa. I had some other places to visit (Israel, Egypt, India, 2 trips with Mom&Dad), so this 2013 is the first opportunity I had to take one of her famous trips.
After finishing this Dubai/Seychelles trip, I can definitely see why so many people go on Suzy trips. I have used many, many different tour companies (Globus, Cosmos, Gate 1, Intrepid, Adventures Abroad) so I speak from experience when I compare this trip experience to other tour companies. Suzy has a genuine energy and true love of travel and sharing the experience of going places with others. She provides a different, unique feel to the trip a lot of unique events and some relaxation (if that is what you want) with a bit of free time. There is no single supplement and she is very good about matching roommates. She has very loyal followers that take her trips and I am now one of them.
From trip description:
Seychelles - A Thousand Miles From Anywhere & Dubai Too!
Come to a glittering archipelago of perpetual summer, about as far away as anyone can get, just as Will and Kate did for their honeymoon. The Seychelle Islands offer a natural purity that is synonymous with simplicity and tranquility. 115 coral islands sparkle in the middle of the Indian Ocean. They are the world's oldest mid-ocean islands and sanctuaries for some of the rarest flora and fauna on earth.
Imagine that white powder sand between your toes after a full day glass bottom boat tour. Or snorkeling in an ocean so warm and clear that it looks like a living aquarium. See the octopus and spiny lobsters. In just one dive you can be surrounded by 800 different species of fish.
You've done islands before, but who can say they've been to this authentic tropical island paradise? Seychelles represents the ultimate island escape with the primal essence of nature, known for the most magical sexiest beaches anywhere. It's the most unique destination for AFS ever. For decades, it's been cost prohibitive, but we negotiated a rate you could never achieve on your own and it's so much fun to visit with a group of like-minded travelers.
What's to do here? How about some diverse Island Hopping by boat, each a miniature world with its own character. Snorkeling and diving where relatively few have ventured is a marine extravaganza here. There's nature trails, horse rides, water sports and herbal oil massages on the beach. Under the stars, there's plenty of clubs where you can try the local dances like Sega and Moutia.
You'll meet unique people from a harmonious fusion of ethnic diversity. People who know they need tourism. Taste their exotic Sechollois seafood dishes with Creole flavors. Seychelles was forgotten for centuries until the French made it their home in the 18th century.
Discover unique ecosystems with stunning landscapes. The world's largest tortoises are found here, 80,000 of them, in huge colonies. Also there's rare lizards and bird colonies found nowhere else. We'll visit UNESCO Site Vallee De Mai. According to legend, this is the original biblical Garden of Eden. The forbidden fruit from the Tree of Knowledge is the rare Coco de Mer, shaped like female vulva with a phallic stalk, it s only found in this mysterious primal rainforest.
No visa, no shots, no malaria for this Africa destination. We make it so reachable, only on award winning Emirates Airlines with one stop. To make this extraordinary, we begin with 2 nights in thrilling Dubai! Dubai is more sleek and extravagant than any there place on earth with its countless marvels. We'll offer plenty of options for enjoying this modern and vibrant Emirate.
Two incredible countries in one vacation with extreme diversity. The dry desert sands to the water wonderland of coconuts and turtles. This can satisfy any travelers dreams. Come for the fun. Come for the serenity. It could be your aha moment!
Time difference - Dubai and Seychelles time is EST +9 hours
Money - Acceptable currencies and methods of payment in Seychelles
The GB Pound Sterling (), the US Dollar (US$) and the Euro () are all accepted, as well as some other major international currencies. Visitors can also pay with Seychelles rupees. Credit cards are also widely accepted throughout Seychelles. Visa & MasterCard are widely accepted throughout Seychelles. American Express is accepted in certain establishments. BE WARNED! It is a criminal offence to change money with any person or business other than those authorized to do so and who are mentioned above.
A calculator helps, but I just used my conversion charts below. You can change money on arrival at airport, or in the hotel, bank or draw from ATM. ATM's only dispense local currency. Prices can be listed in USD or Euros. Visa and MC most accepted at large establishments. Do not change on black market.
I called my CC companies to tell them I would be traveling. Am Ex said they already noted that because of the ATL to JFK airline ticket that I had purchased with that card!
Before I left on the trip, I changed some money in Atlanta at;
American Express Travel Services "Altour / AMEX - Atlanta" 3384 Peachtree Rd. NE. Atlanta GA 30326 (404)262-7561.
Sold to customer on 11/5/13
@rate 0.305, Inv. Rate 3.26, No commission, $5.00 USD Service Fee. I got 500 Dirhams (United Arab Emerites) for 157 USD.
@rate 0.103, Inv. Rate 9.16, No commission, $10.00 USD Service Fee. I got 2000 Rupees (Seychelles) for 217 USD.
Here's conversion charts that I carried with me:
Dubai "Emirati Dirham" vs US Dollar

Dubai Dirhams 3.67 = $1 USD or 1.00 AED = 0.272264 USD
1 AED = 0.272264 USD 1 USD = 3.67290 AED
AED USD EUR
1 .27 .20
10 2.7 2.0
20 5.4 4.0
30 8.1 6.0
50 15.6 10.0
75 20.4 15.0
100 27.2 20.0
Seychelles rupees 13=$1
Seychelles rupees 13=$1 or 1.00 SCR = 0.0834126 USD
1 SCR = 0.0834126 USD 1 USD = 11.9886 SCR
SCR USD EUR
1 .08 .06
50 4.1 3.0
100 8.3 6.1
150 12.5 9.2
200 16.6 12.3
500 41.7 30.7
1000 83.41 61.5
Insurance - From the AFS site:
You have several ways to purchase travel insurance
1. Click this link and order from the TravelSafe Insurance website https://www.travelsafe.com/index.php/consumer/portal/ADVGA02
When asked about Tour Operator choose "Other" found at the end of your drop down list or just leave blank.
2. Phone TravelSafe directly at 888-885-7233 and give them code "ADVGA02"
3. By US Mail. To request by email click here email us. This e-mail address is being protected from spambots. You need JavaScript enabled to view it Please include your name and address
4. Phone AFS directly at 770-432-8225 to request an insurance form or click here to download it now
https://www.adventuresforsinglesinc.com/images/pdfs/TravelSafe_11-12.pdf
Insurance 101: http://travelinsurance101.tumblr.com/
Land Price:
$2195 Dubai & Seychelles. Includes: Transfers, first class accommodations, breakfast daily and meals as stated, daily guided tours, entrance fees.
Tips: Suzy arranged ALL the tips. We gave her $65 and she took care of all gratuity tips for guides, drivers and assistants. (In the Middle East, it's called baksheesh).
Group Air: After months of research with Eithad, Qatar, Air France and Seychelles Air, we discovered the most direct route to maximize your time is on award winning Emirates Airlines (EK). We negotiated long and hard with award winning Emirates Airlines (EK) with the most direct route possible. Figuring some will do own air, I only reserved 30 seats on first come basis. Price for all four legs is $1698 base plus $362 fuel/taxes (fuel/tax subject to change until group is ticketed). The sooner we ticket you, the better to lock in the tax rate. Times are great with no need to overnight in NY.
This did not deter me, but it sure got my family worried. I enrolled in STEP (Smart Traveler Enrollment Program). I still get notices from Egypt where I visited in 2012.
Embassy of the United States Abu Dhabi, UAE
U.S. Consulate General and U.S. Embassy Closed on August 4, 2013
August 1, 2013
The Department of State has instructed certain U.S. Embassies and Consulates to remain closed or to suspend operations on Sunday, August 4. The Department has been apprised of information that, out of an abundance of caution and care for our employees and others who may be visiting our installations, indicates we should institute these precautionary steps. It is possible we may have additional days of closings as well, depending on our analysis. The U.S. Embassy and Consulate General will be closed on Sunday, August 4. U.S. citizens requiring emergency assistance in Abu Dhabi should contact the Embassy at (971) (2) 414-2200. Those in Dubai and the Northern Emirates may contact the Consulate General at (971) (4) 309-4000.
The Department, when conditions warrant, takes steps like this to balance our continued operations with security and safety. However, beyond this announcement we do not discuss specific threat information, security considerations or measures, or other steps we may be taking.
For further information, we refer you to the Worldwide Caution put out by the Department dated February 19, 2013, repeated below: http://travel.state.gov/travel/cis_pa_tw/pa/pa_4787.html
As a matter of general practice, U.S. citizens should avoid areas where large gatherings may occur. Even demonstrations intended to be peaceful can turn confrontational and escalate into violence. You should avoid areas of demonstrations, and exercise caution if in the vicinity of any large gatherings, protests, or demonstrations.
Review your personal security plans; remain aware of your surroundings, including local events; and monitor local news stations for updates. Maintain a high level of vigilance, take appropriate steps to enhance your personal security and follow instructions of local authorities.
We strongly recommend that U.S. citizens traveling to or residing in Egypt enroll in the Department of State's Smart Traveler Enrollment Program (STEP). STEP enrollment gives you the latest security updates, and makes it easier for the U.S. embassy or nearest U.S. consulate to contact you in an emergency. If you don't have Internet access, enroll directly with the nearest U.S. embassy or consulate.
For the latest security information, U.S. citizens traveling abroad should regularly monitor the Department of State's Internet website at travel.state.gov where the Worldwide Caution, Country Specific Information, Travel Warnings, and Travel Alerts can be found. Follow us on Twitter and the Bureau of Consular Affairs page on Facebook as well. Download our free Smart Traveler app, available through iTunes or Google Play, to have travel information at your fingertips.
Up to date information on security can also be obtained by calling 1-888-407-4747 toll free in the United States and Canada, or, for callers outside the United States and Canada, a regular toll line at 1-202-501-4444. These numbers are available from 8:00 a.m. to 8:00 p.m. Eastern Time, Monday through Friday (except U.S. federal holidays).

The U.S. Embassy in Abu Dhabi is located at Embassies District, Plot 38, Sector W59-02, Street No. 4, and P.O. Box 4009. The telephone number is (971) (2) 414-2200. Information regarding services to U.S. citizens can be obtained at the Embassy's web site at http://abudhabi.usembassy.gov.
For after-hours emergencies in Abu Dhabi, contact the Embassy's Duty Officer at (971) (2) 414-2200.
The U.S. Consulate General in Dubai is located at the corner of Sheikh Khalifa Bin Zayed and Al Seef Streets on the Dubai Creek in Bur Dubai. The telephone number at the Consulate General is (971) (4) 309-4000. The web site for the U.S. Consulate General in Dubai is http://dubai.usconsulate.gov/.
For after-hours emergencies involving U.S. citizens in Dubai, contact the Consulate General's Duty Officer at (971) (4) 309-4000.
An informative pretrip email 2/18/2013
----- Forwarded Message -----
From: "suzy@adventuresforsingles.com" <suzy@adventuresforsingles.com>
To: Suzy Davis <suzy@adventuresforsingles.com>
Sent: Monday, February 18, 2013 7:07 PM
Subject: Seychelles Tips
Hi Seychelles Group:
AFS Seychelles & Dubai 2013
Please print this out to refer to later.
Prepare to be thrilled by this dual destination island and urban adventure. Nov. will come sooner than you expect. Anticipation is half the fun and fun is mandatory on this one!
We have 37 singles with added space for 3 more, so tell your friends now. It's a perfect medium size group not too big to feel lost or too small to get on each other's nerves. After final payments, we'll send you room and contact lists. (If you do not wish to share your email address with your fellow travelers, send us an email and you're info will be listed as "private.") For now, Terry has set up a private Facebook group page for you to content. Just follow this link and ask to join. https://www.facebook.com/groups/431475283595526/
I plan on being your GTL (gracious trip leader) on this if nothing interferes or I become overwhelmed with 2014 bookings. I love Dubai and Seychelles has been on my bucket list for years. The Maldives, Mauritius and Seychelles have always been cost prohibitive for the average traveler as accommodations cost a fortune. After meeting with Seychelles operators, we were able to negotiate a great price one could not obtain on own through our high-end supplier called Seychelles Select there.
Trip Prep: No shots or visas, oh boy! Ensure passport is valid to May 2014 with 2 blank pages now. Final payments due 90 days out by Aug. 25 ($1795 land plus air) and we'll send email reminder.
Nov 26 check in with your e-ticket at EK ticket counter JFK by 8pm. See you there or at gate. We have a layover in Dubai airport enroute. There are places to rest and things to do.
Dec 5 we land in JFK t 1:50pm. Allow 2 hours between connection home to clear customs.
Bags: Think light to ease your burden! We change hotels 3 times and ferry boats between islands limited to 50lbs. Bring 1 carry-on and 1 medium suitcase not to exceed 50lbs.
Packing: Summer casual clothing. Seychelles is not in cyclone or monsoon belt. Temps avg. 76 - 86. Bring swimsuit, sun hat, sun screen. (Snorkel gear available but you may want to bring own and wet shoes.)
Ladies in Dubai dress modest. This means cover elbows to knees.
Electric - Hotels have hair dryers. Its wise to get a worldwide outlet adapter that will fit 150 different countries. If youre a techie with many items (cellphone, iPod, laptop, camera etc.) You should buy an international power strip. In general, most common electronics are compatible with multiple voltages, except hot rollers, irons and hair dryers (in room). Your laptop, cell phone, digital camera, tablet, Blackberry and shaver do not need a converter. They automatically convert and need only the proper plug adaptor. For iPads, however, check your charger as there are different versions.
How to find info for any specific appliance? The input specs appear on the appliance or charge next to model number. Adaptors or plugs. There are various shapes of 2 or 3 prong plugs to fit sockets, Walmart, Target, Amazon, Radio Shack, etc. have worldwide sets. See voltage & outlet requirements by country. http://kropla.com/electric2.htm Seychelles takes 3 prong, Dubai EU 2 prong plug.
Cuisine: See Seychelles below. Dubai fresh and flavorful kabobs, hummus, lamb & rice dishes, great
Pastries and cardamom coffee. Bottled water available. Cocktails expensive. Stick with beer or wine.

Retail Therapy: Seychelles Not much to buy except souvenirs, sarongs, art and jewelry. Dubai, endless! Mall of Emirates (world's largest is next to hotel. Inside is Ski Dubai!) In Old Market you can bargain for exquisite spices, handicrafts, jewelry and gold.

Hotels: These can change, but rare. Google each property. Nov 28 30 Mahe Berjaya Beau Vallon Bay Hotel. Not fancy, but good value on beach so most group's book here. 79 rooms, 1 restaurant, 3 bars, yoga classes, bikes, WIFI.
Dec 1-2 Praslin Paradise Sun. Beautiful beach resort. Free sea kayaks, canoes, bikes and snorkel equipment.
Dec 3-5 Dubai Auris Plaza 5 star hotel, rooftop pool, deluxe Spa, 4 restaurants (dine in Zuni), 2 bars, Hookah Lounge and WIFI. Free shuttle to Jumeirah Beach Park. Hotel is right on metro line.

Getting Around: Seychelles If free time, use scooters, taxis or buses called "tatas." Cat Cocos Catamarans run twice daily between islands. Dubai Ride the new metro anywhere. Taxis cheap and Hop On Off buses are fun.
Tours: Exact tour times will be presented on arrival. Seychelles are full days around 9-6. Dubai Half day City tour will cover major sites. There's endless options for free time. Shark Dive at new Aquarium. Ski Dubai. Dine at the Burj. See fountains of Burj Kalifa. Hot air balloons, desert dune safari, bus to Abu Dhabi for Hop ON-Off Tour or thrilling Ferrari World. All tours can be booked on spot at hotel. Hotels here have great happy hour spreads.
Photography- The culture and scenery is incredible here. Bring large memory card. If you are running out of space on your card, drop your pixel size down to get more room. This will give you room for hundred more photos without deleting.
There is no real need to shoot at 10 megapixels unless you plan on making a poster. Edit/delete each night. Also bring extra batteries. Best light is 6-10am or 4-6pm. Use Shutterfly.com or other online service to share your best shots. After final payments well send you a list of participants. We encourage you to share extraordinary photos. All I really want are your AFS people pictures please. Let's get crazy group shots.
Communication - Hotels or internet cafes are best. If you must bring cell or smartphone be sure to check with your provider for rates and coverage. International roaming rates (used by Facebook and other apps) can be extremely expensive. Texting is best.
Emergency contact- Terry@adventuresforsingles.com cell: 770.367.4909 or Carol (770) 841-0471
* If all else fails, upon your request I will mail the form to you.
Please understand that whenever you visit outside the USA, things are not like home. International travel works best for those with an open mind, flexible attitude and adventuresome spirit. Any American abroad is an ambassador for your country. Be polite to the locals knowing that kindness begets kindness. (This goes for your roommate too. We all live on our own, but share when traveling together.) Our common goal is to experience different cultures, make new friends, get great photos, have large fun and return home safely with memories worthy of recollection.
Gratitude, Suzy Davis
Notable Websites: http://www.seychelles.travel/en/home/index.php?rc=1, http://www.virtualseychelles.sc
http://www.select-seychelles.com, http://www.definitelydubai.com you can spend hours on this site
Day 1 Day 2 Tuesday, Nov 26 - Fly to JFK > Dubai > Seychelles
Whoops. This trip is not getting off to a good start. Ill start at the beginning.
I set my alarm for 5 am. I woke up at 4:55. Get ready, leave the house, park the car at Park 'N Go on Camp Creek Parkway, shuttle to the airport by 7:30.
I follow a tried and true practiced ritual on my drive to the airport: I go to McDonalds and get an egg McMuffin. I cram it into my carry on and Im not allowed to eat it till Im sitting at the gate.
TSA lines are harried. I veer left and follow the tunnel to the other search area. So they arent kidding, they mean it when they say everything out of your pocket. Even Kleenex. Excuse me? Shoes off. Stand legs apart, feet on the yellow outlines. Hands up, strike a pose for 3 seconds.
They found something suspicious on me to so I was pulled aside. She was just as uncomfortable padding me down as I was having it done. Then grab all my stuff and shuffle (I use that word because I had to take off my belt and my pants were falling down so I couldnt walk normally) to the put yourself back together station. Shoes on, etc.
At 8:45 I arrive at the gate for this flight - (There are at least 4 flights a day from Atlanta to JFK. I didnt pick the earliest. I picked the next one. )
DELTA AIR LINES
ATL to JFK : DL 2350 Depart: 9:28 AM Arrive: 11:40 AM
Atlanta, GA to New York-Kennedy, NY

FLIGHT TIME: 2h 12m
So we are all waiting to board the plane and now a big. Ohhhh Nooooo....!
And what in the world is going on here? They wheeled a dead person off the plane! We are supposed to get on that plane!
Now they need to switch planes and our estimated departure is 10 am.
I was tired of standing. I sat on the floor and what do I see peering out at me from an open case on the floor a very quiet cute, groomed coffee-colored (thats coffee with cream and sugar, not black coffee) Bishon Frze. Very very cute. Gives me an inquisitive look asking who are you? with her eyes. But most important, she is quiet.
So I am sitting on the floor by the gate. There is a dead person on a gurney in front of me, a baby screaming behind me, and a very cute furry doggie in a carrier right beside me. I think I need a coffee.
In all my evenings of watching TV and flipping through channels, there are so many crime/solver/ stopper programs - I don't consider my evening complete until I see at least one dead person on a gurney. Well, there it was. Right in front of me. In person. But this time I can't switch the channel to get rid of it.
Delta is handling it. Officials are scurring everywhere. They talk in hushed tones. Police , fire rescue, counselors. I did not see a single photo taken. Amazing. That is respect. OK I admit, the thought crossed my mind to take a photo, but I didn't. So how do journalists know when they cross the decency line?
It felt like a photo would cross the line.
I digress about this journal - I was thinking that some time in the future after I retire that I possibly would act on my aspirations of maybe being a travel writer some time, later. Not sure how to do that yet. Start with something. In the mean time, I compose and publish these trip journals so I can remember the trip, and so others on the trip can remember the trip. Many people on the trip told me that they stopped journaling because I was. Yes, that is what I do. I write. That is who I am. I am a Technical Writer at work, which I really enjoy, and a journal writer on these trips. It's a lot of work to organize and publish this trip journal, but it will be my rocking chair memory. So I gotta document it now while I can remember. But I also know that the less I write, the less I'll have to type later...
We finally get to JFK. I roll my carry-on bag off the plane. I don't need to collect luggage.
CNN news broadcasting from the east coast airports are cancelling and delaying many many flight because of the weather. I was on the second flight, and there are 2 more flights to JFK just in case my flight didn't go. So now I'm here in New York.
I am relaxed, no travel stress. I have to meet the group at JFK for an 11 pm departure on Emerites to Dubai. Now I need to find a comfortable place to lounge at the airport. There is no carpet, and the floor is cold. Then benches have arm rests so you cannot lay down on the seats. I found a wonderful place. After you go through security, you have to take escalator down . At the bottom of the escalator turn toward the windows and there are wide window sill where I laid down, read and napped. Just a bit chilly though. I watched the snow plows line up ready to charge out and keep this airport open when needed. I watched a luggage puller do bumper cars to push another one out of the way by denting the front with a hard shove till there was enough clearance for him to get along. Thats entertainment.
Suzy told us to meet at Emirates in JFK. She arrived Nov 26 @ 7pm. "Will see you at check in or gate. I'll have AFS sign." She was on one of later flights from ATL to JFK. Weather got worse that afternoon, but no flights were cancelled and Suzy made it to JFK just fine.
We had a group reservation and e-ticket numbers on award winning Emerates Airlines via Dubai. Check in begins 3 hours prior departure and closes 45 minutes prior. Just show our passport to get boarding pass.
EK= Emirates Air, JFK is an airport in New York, DXB = Dubai, SEZ= Seychelles

GROUP NAME: DUBAI & SEYCHELLES GROUP, ADVENTURES FOR SINGLES INC. 1907 DANIEL GREEN CT SMYRNA, GA 30080
11/26/2013 - 11/28/2013 EMIRATES AIRLINES Flight No: 202 (30 Ticketed Passengers)
From: New York (JFK) Departure: 11:00pm on 11/26
Dest: Dubai (DXB) Arrival: 08:30pm (next day+1) on 11/28
I found Suzy and the gate and met some others on the trip. This is going to be a great experience (I'm referring to the trip). The JFK to Dubai plane trip was NOT a great experience. I was ... I can't find the appropriate adjective here.... The babies (plural) on the plane were not cute, quiet, little treasures; they were loud, obnoxious and somewhat annoying. How to handle a loud baby. Loud implies crying and every other noise that comes out of his lungs, over the vocal chords and out of that tiny little mouth. "How to handle" is not correct. You dont handle the baby, so maybe better to say: How to survive crying babies (plural).
Ear plugs, good head phones cancel out feature, good music, sleeping pill, Benadryl,
Be thankful that Im not right beside the poor wailing, sleep deprived, child and have sympathy for the parent that did not even get a nap and has to care for the kid.
Be thankful that the flight will end, eventually. Albeit, 12 hours later, but it will end.
We are 37 minutes before landing. Its a chorus of cries. 4 very upset children with very frustrated parents.
A cacophony of cries. Sue called it stereophonic screaming.
We finally get to exit the plane. Dubai Airport is empty when we arrive, but it quickly fills with people. We have a 2:30 am flight so we are almost to the Seychelles! I am so tired. I cant even think straight. I was awake so many hours on the 12 hour flight. I might have slept 4 hours off and on. At least the food has been good on Emerites. Great airline. Well, except the Cheese omelet was not very good on airplane. I'm already eating too much.
OK, my yawns are out of control now. Jan (next to me on airplane) understood about my writing obsession. It is not a bad thing. It is what I do.

At 2 am the airport was packed with people. I saw the Starbucks and had flashbacks to Amman, Jordan.
Gate A12 1:00 pm
DUBAI- SEYCHELLES
11/28/2013 - 11/28/2013 EMIRATES AIRLINES Flight No: 705 (30 Ticketed Passengers)
From: Dubai (DXB) Departure: 02:30am on 11/28
Destination: Mahe Island (SEZ) Arrival: 07:05am
4.5 hour flight.
I left Atlanta on Tuesday. On Thursday, I arrive in the Seychelles. This little airport in Seychelles holds the Guinness record for smallest international airport.
Mahabe desk is the Welcome desk.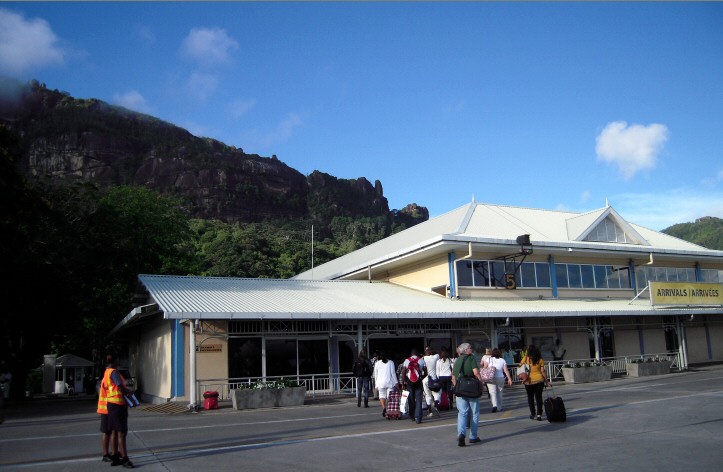 .
Day 3 Thursday Nov 28 - Arrive Seychelles, the land of timeless beauty at 7am. B & D

We are on the Seychelles islands from Thursday 11/28/2013 to Tuesday 12/03/2013
From trip description:
Located only 3 miles from the capital Victoria on one of the island's most beautiful beaches. Our Berjaya Beau Vallon Bay Hotel features a casino, 4 restaurants and bars as well as a waterspouts and Dive Center. Enjoy the recreational activities and the beach.
Tonight is our Welcome Dinner to get to know your fellow trip mates. B,D Berjaya Beau Vallon Bay Resort
Seychelles, Overview, Introduction and other Information
Seychelles (pronounced SAY-shells) Facts:
Population of 90,000 is the smallest population of any African state.
Seychelles is a member of the African Union. It has the highest Human Development Index in Africa and the highest income inequality in the world, as measured by the Gini index
Median age of Seychellois is 32 years.
A person living in Sechelles is a Seychellion
Mahe has coconut palms, wild cinnamon, and graceful albizia trees. The beaches have palms and gnarled takamaka trees for shade.
Average daily temperature is 84 F (29 C), humidity is 80%
Island of Aldabra is the worlds largest Atoll and home to 150,000 giant tortoises.
An atoll is a ring-shaped coral reef including a coral rim that encircles a lagoon partially or completely. There may be coral islands/cays on the coral rim.
Giant tortoises are only found in 2 places in the world: The Galapagos, and Seychelles. They grow up to 1.6 ft high, weigh 330 pounds (150 kg) and live up to 200 years.
History of Seychelles
1275 Marco Polo tells Kublai Khan of the roc bird in the Indian ocean.
1502 Amirantes island named after Portuguese navigator Admiral Vasco da Gama (islands of the Admiral).
1609 1st British landing by John Hourdain
1742 1st French landing by Lasare Picault
1756 Islands named name Sechelles (after Jean Moreau de Schelles, Louis XV's Minister of Finance). The Stone of Possession (to signify French claim) is laid. 1st settlement in 1770.
1814 Contested control, but the French finally ceded Seychelles to Britain.
Cede: to give control of (something) to another person, group, government, etc.
1: to yield or grant typically by treaty
2: assign, transfer
1835 - Slavery abolished
1903 Seychelles became a colony separate from Mauritius
1971 - Airport opened by the Queen. Tourism soars
29 June 1976 Independence from Britain / England. James Mancham is President
5 June 1977 Prime Minister Albert Rene coup detat
1993 1st multiparty elections. Rene won with 60% of vote. President 1977-2004
2006 Wavel Ramkalawan contests presidential election
2005 Arab, Russian, land/holet investments. Chinese infrastructure investments.
There are elections every 5 years. Now they are on their 3rd president. The elect parliament from each district. There are 4 political parties.
In January 2013, the country declared a state of emergency; the tropical cyclone Felleng caused torrential rain, and flooding and landslides destroyed hundreds of houses.
Geography and Location of Seychelles, an island nation
115 (granite and coral islands) + 8 (reclaimed artificial islands) = 123 islands that are scattered across 154,000 square miles (400,000 km2). The Constitution of the Republic of Seychelles lists 155 islands.
There is a special ship used to make the formed, artifial islands. They needed flat land to build because the mountains.
They lie between 4 and 10 south of the Equator and between 480km and 1,600km (1000 miles) from the east coast of Africa (Kenya)
The islands as per the Constitution are divided into groups as follows.
There are 42 granitic islands, in descending order of size: Mah, Praslin, Silhouette Island, La Digue, etc etc
There are 2 coral sand cays north of the granitics
There are 2 coral islands south of the granitics
There are 29 coral islands in the Amirantes group, west of the granitics
There are 13 coral islands in the Farquhar Group, south-southwest of the Amirantes
There are 67 raised coral islands in the Aldabra Group, west of the Farquhar Group
According to the president of Nauru, the Seychelles has been ranked the ninth most endangered nation due to flooding from climate change.
SIZE and Population
170 km2 Mahe biggest island pop. 78,000
24 km2 Praslin pop. 6500
18 km2 Siloette pop. 800
11 km2 Ladig pop. 3500
Seychelles Population on all islands: 90,000
No one lives on half of the islands
When is the best time to visit Seychelles?
As the Seychelles islands are blessed with a warm, tropical climate year-round, its always a good time to visit, although different times of year may be better suited to your particular interests.
Two opposing trade winds generally govern the weather pattern: the north-westerly trades blow from October to March when wind speeds average from 8 to 12 knots; and the brisker south-easterly trades blow from May to September with winds of between 10 to 20 knots, bringing the cooler and windier conditions ideal for sailing.
The periods of calm between the trades produce fairly warm and wind-free conditions throughout April and also in October. Conditions for swimming, snorkeling and especially diving are superb during April/May and October/November when the water temperature sometimes reaches 29C and visibility is often 30 meters plus.
Do I need a visa to visit Seychelles?
Irrespective of the nationality of a visitor and his or her family members, there are NO VISA requirements to enter Seychelles. However, the following travel documents must be shown in order to obtain immigration clearance at the Seychelles International Airport:
1. A passport valid on the date of entry to and exit from Seychelles
2. Return or onward ticket
3. Proof of accommodation; including contact details
4. Sufficient funds for the duration of the stay
Presentation of all of the above documents will grant you a Visitors Permit that will be issued upon arrival by the Seychelles Department of Immigration.
All visitors must be in possession of a current passport valid for six months after the scheduled date of departure from the Seychelles, as well as an onward travel or return ticket. A visitor's permit, obtained upon arrival, is good for one month and may be extended for another two months with proof of sufficient funds. Reconfirm travel document requirements with your carrier before departure.
Inter-Island flights in Seychelles only allow 10-15kgs. Is there any storage space for the excess luggage at the Seychelles International Airport? This service is provided at the Seychelles International Airport by Left Luggage . For further information about this service, please contact your local ground handler once in the Seychelles.
Is there GSM coverage on all of the islands? There is GSM coverage on Mah, Praslin and La Digue and most of the Inner Islands. However there are landlines at all hotels, which you may request to use.
Tipping - Most charges (restaurant, hotel, taxis, porters, etc) already include a 5% to 10% service charge or "tip" and so tipping is not obligatory in Seychelles. However, as a reward for exceptional service, a nominal tip is sure to be warmly received.
Water - Tap water meets W.H.O. (World Health Organization) specifications and is safe to drink nation-wide. Because tap water is chlorinated, visitors are advised to drink bottled water but there is no imperative to avoid soft drinks, alcoholic drinks and ice.
Dos & Donts
Although Seychelles has a relatively low level of crime it is advisable not to carry large sums of money, items of value or important documents such as passports on your person. Most hotels offer facilities for safeguarding these. Similarly, do not take these to the beach or leave them in your hired vehicle or on display in your hotel room.
 Please resist the urge to collect seashells along the beaches as many are used as habitation by hermit crabs. Collecting shells is prohibited in nature reserves, marine parks and reserves in Seychelles. The unique and unusual tropical flora is beautiful and for it to remain so, it is important that you admire it, but leave it for others to enjoy. Any flora taken as souvenirs must have a certificate and an official export permit which must be produced, when checking in at the international airport.

 Be considerate towards the fauna and sensitive to its sometimes fragile nature. Please walk carefully on the reefs and do not feed sea birds, mammals, turtles or tortoises or disturb them or their nesting grounds.
Potpourri
Nature preserves cover 40% of the country.
Moyenne Island in the Ste. Anne Marine National Park is known for its buried treasure, ghosts, the House of Dogsbuilt in the early 20th century as a home for stray dogsand an English man who lived there for 30 years in a Robinson Crusoe-like existence among the giant tortoises.
By official decree, no hotel can be taller than the palm trees. According to local legend, anybody who eats breadfruit in Seychelles is sure to return. Breadfruit is served in a variety of ways. One of the best ways is to grill it.
Dining Overview
The Seychelles' mixed heritage is evident in its cooking. Seafood (called pwason in local Creole) is the local staple, combined with spices, vegetables and tropical fruits (the mangoes, passion fruit and bananas). Try octopus or chicken curry cooked in coconut milk, or the king of seafood dishesgrilled red snapper. Bat curry (civet de chauve souris) is considered a local delicacy. Other meat is usually imported.
SeyBrew is the local beer, and it's quite good.
Languages: Creole, English, French.
Electricity Electricity arrived in 1926. Throughout Seychelles the voltage is 220-240 volts AC 50 Hz. Seychelles uses the British standard square three-pin, 13 amp sharp electric plug.
We stayed 2 nights on Mahe island and 2 nights on Praslin island.
Mahe, Seychelles
Picture a huge granite mountainits colors ranging from pure white to pitch blackrising nearly straight up from the sea: That's Mahe. Dotted with palm and other green trees and surrounded by more than 60 white-sand beaches, Mahe is the largest, most populated island in the chain and the group's economic and political center (90% of Seychellois live on this 17-mi- (27-km) -long island). The country's only town, Victoria, is one of the world's smallest capitals.
A miniature clock tower marks the town center. Is was erected 1903 to commemorate full colonial status. It chimes twice each houronce on the hour and then again five minutes later for anyone who missed it the first time. Or another version of the reason, the first time to wake you up, and the second chimes to tell what time it is.
There is also an open-air market, a cathedral, a colorful Hindu temple, several art galleries and a botanical garden. Victoria has a suitably quiet, lazy atmosphere. You can walk from one end of town to the other in 20 minutes.
Mahes coastline has 75 beaches and coves (known as anse in Seychelles)
Mahe has more beaches, more hotels and more tourist facilities than any other island in the Seychelles. The hotels are located throughout Mahe, but our favorites are on the beach of Beau Vallon. If you're looking for a truly great beach, go to Anse Intendance on the southern end of the island.
Snorkeling is very good right at the beach hotels, but we think some of the best snorkeling is at Port Launay Marine National Park, off the island's western coast. Divers and snorkelers will want to visit Ste. Anne Marine National Park, in the harbor off Victoria, which offers splendid views of coral and sealife100 species of coral and 900 species of fish live in the waters surrounding the islands.
Ste. Anne was where the first settlers in the Seychelles lived. It has been a whaling station and a World War II gun battery, and is an important nesting site for the endangered hawksbill turtle.
Other island activities include great hikes on organized trails and excellent deep-sea fishing (wahoo, dogtooth tuna, marlin, bonito and others). Anse aux Pins (just south of the airport) has a nine-hole golf course, and several hotels offer tennis. There are casinos at Berjaya Beau Vallon Bay Resort (at Beau Vallon) and the Plantation Club (at Baie Lazare).
87% of the population of Seychelles lives on Mahe
Average GDP per capita (2010) was US$10,788, the minimum wage per omnth US$582.
Prince William and Kate honeymooned in the Seychelles in the 6 + star resort. They booked the entire hotel.
Praslin Island, Seychelles
The main attraction on Praslin is the Vallee de Mai . It is 45 acres (18 ha). It is a UNESCO World Heritage Site that's home to the endemic coco-de-mer palms that produce the world's largest nutsthey can weigh as much as 40 lb/18 kg.
The nuts got their namesea coconuthundreds of years ago when they washed up on the shores of Africa and Asia. When its outer shell is removed, the nut looks amazingly like a woman's pelvis, both fore and aft, which explains the nut's status as a collector's item. (The "male" part of the tree looks appropriately male, leading to predictable iconography to signify ladies and men's restrooms.)
Praslin is also home to some of the world's rarest birds, such as the black parrot, fruit pigeon and Seychelles bulbul. Take the self-guided walking trail to tour the Vallee de Mai (in the south-central part of the island), allowing at least two hours for the stroll (it can take a full half-day if you walk every trail).
The island's best beach, exquisite Anse Lazio, is picture-perfectworth the hilly walk to reach it.
The people on Praslin are exceptionally friendly, and the slow pace of life is very appealing. We suggest a stay of at least three nights. 30 mi/50 km northeast of Mahe.
More Marketing fluff:
These Indian ocean islands are soaring mountains covered with lush jungle. Although travel to Seychelles might be considered a luxury, Seychelles is without question a spectacular destination. The Seychelles Islands are filled with physical beautydistinctive granite rock formations, white-sand beaches and clear blue waters surrounding Seychelles' beaches.
The Seychelles may be the only country described exclusively in hyperbole."Paradise," "Garden of Eden" and "spectacular" seem to be among the mostcommon terms employed. We can confirm that the hyperbole is well-earned, but what impresses us most has to do with people, not the scenery. We'reconvinced that one reason everyone comes back raving about the Seychelles is that, in addition to a beautiful setting, thesociety's attitude toward tourism is remarkably healthy.
It seems to have avoided the atmosphere of mutual exploitation that exists on many Caribbean or South Pacific islands whose economies also rely ontourism. In the Seychelles, the gap between rich and poor is not striking:
Local residents are as likely to be managing well-run properties as makingbeds. Pride in their islands is near universal, and resentment toward visitorsis, though not entirely absent, seldom expressed.
Of course, this may change as the government continues to develop the islands for increased tourism. More cruise ships are visiting and new roadscart boatloads of people to once-isolated beaches. Numerous five-star hotelsand luxury resorts open every year, and older hotels are being refurbished toever-higher standards. Residents have been turning their homes into guest houses. Travelers who seek paradise may want to go sooner ratherthan later.
There is one factor, however, that will always limit the number of visitors:cost. Its expensive to get to the Seychelles, and food and hotel prices arealso rather high.
The foremost attractions of the Seychelles are beaches, bird-watching,snorkeling, scuba diving, waterskiing, big-game fishing, tropical scenery, windsurfing, surfing and local cuisine.
After our 4.5 hour flight (that left at 2:30 AM IN THE MORNING!) from Dubai to Seychelles, we arrive on Mahe island. Feel the warm, humid air. I'm truly on VACATION and loving it. Forget that you've been travelling, on the go, for 50 hours. Forget that you are dehydrated, hot and tried. You can't be grumpy. We are in PARADISE!
All the suitcases made it. Load us onto two different buses, suitcases went on a third bus.
So now it is 8:30 am and Im sitting in the bus. They give us wet wipes for our face and hands and a beautiful blue shaped bottle of water. I'm hot, tired, no longer dehydrated, and there is a smile on my face because look where we are!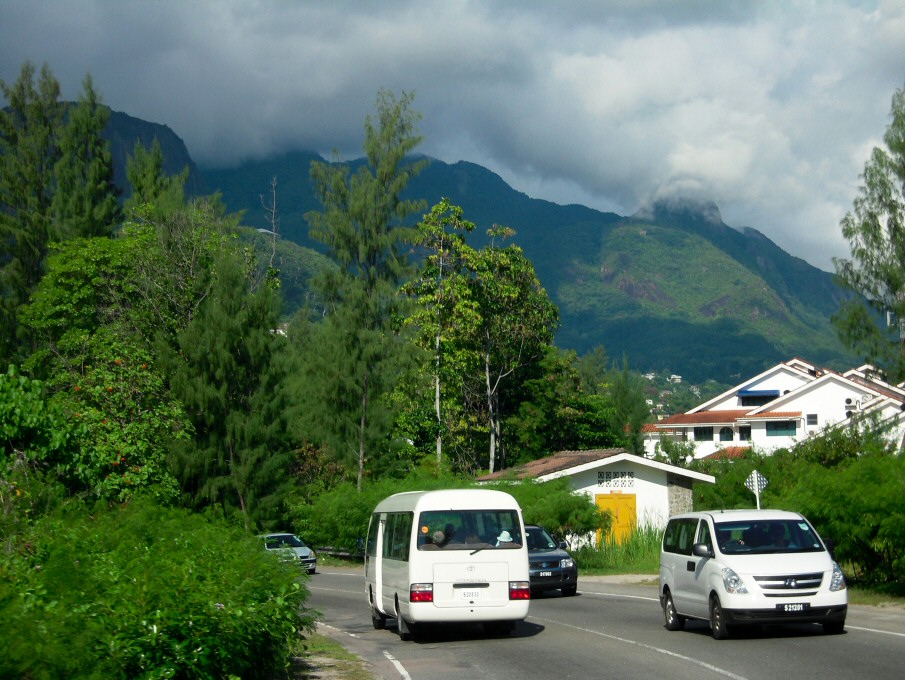 Sutan is our guide. Our driver is Mr. Santille.
They drive on the "other side" of the road here.
It is 85% humidity and the temperature is 31 = 81 F

We arrive at the hotel that we are staying at for two nights Nov 28 and Nov 29.
Transfer to Berjaya Beau Vallon Bay Resort.
P.O. Box 550, Victoria Mahe, Seychelles
Tel : + (248) 4287 287 Fax : + (248) 4247 943 Email : mahe.inquiry@berjayahotel.com
Beau Vallon means beautiful valley. It is indeed beautiful.
Walk through the lobby of the hotel and you see this pool enveloped by the mountains.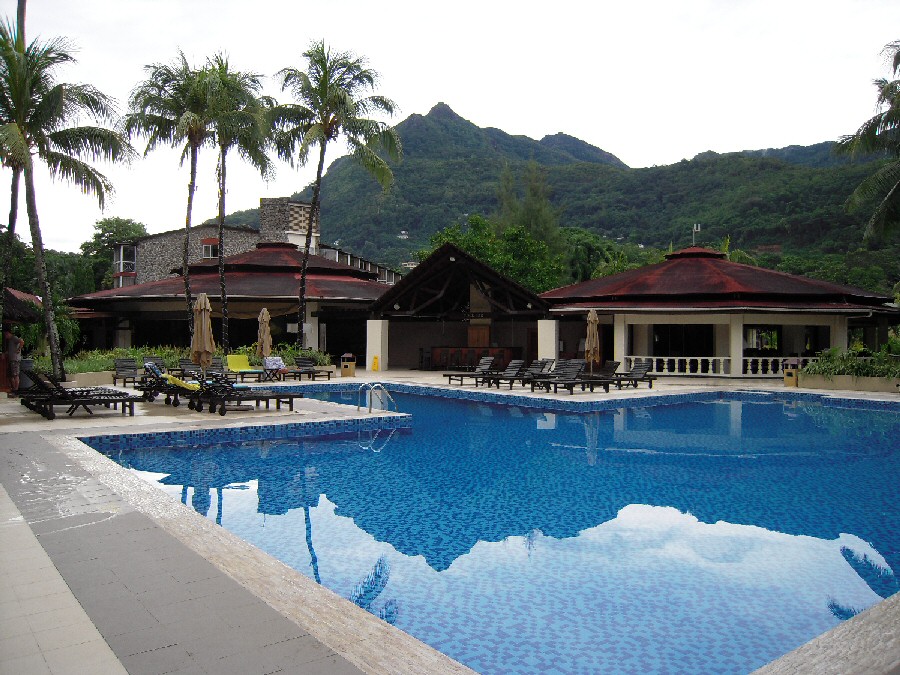 .
..
Just past the pool is exquisite amazing perfection for pacifying the soul:
.

.
Chairs that beckon my butt to be in them: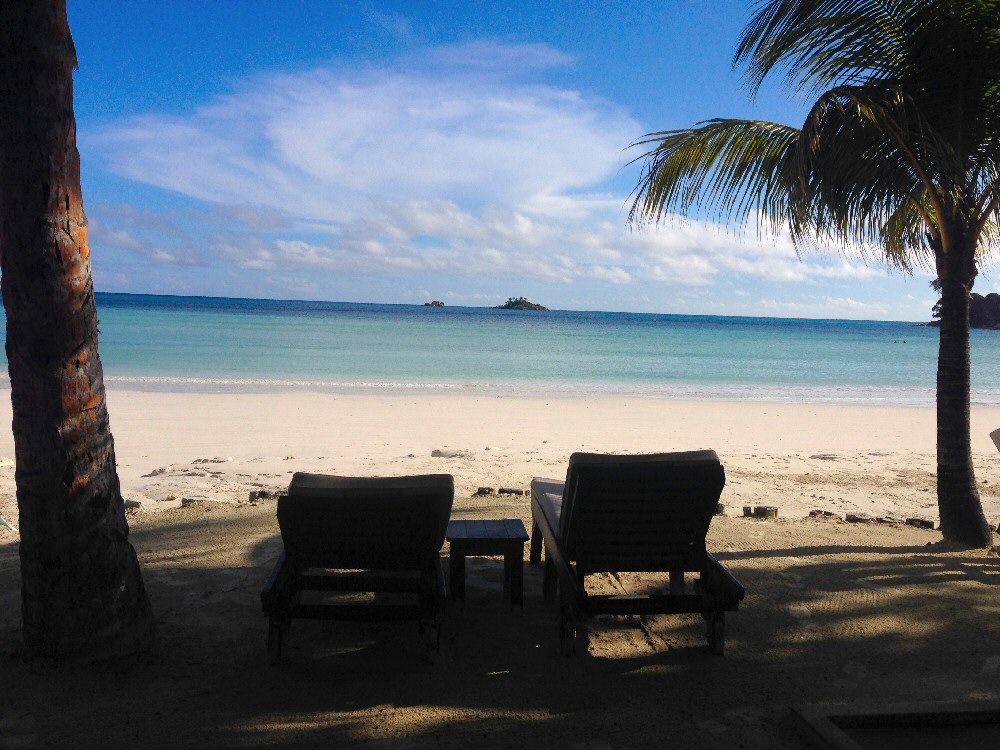 .
While the hotel was getting our rooms ready, some people waited in hotel lobby. Some people went to the ocean, some out by the swimming in pool.
He said the ATM location if you want to get local currency: turn left on the road, change money at reception, but bank is better in Victoria.
Daniella, my roommate, finally showed up! Shes been here in the Seychelles for 2 days already. Stayed at B&B on the S side of the island. A couple days ago she emailed me to make sure I leave a room key at the front desk. She is a very experienced traveler if she is thinking about that!
This hotel has a huge chess board with thigh-high chess pieces. Further past that was a tortoise enclosure.
Tortoises are very slow moving, plant eating reptiles weighing an excess of 85 kilos and are known to live a long time.
The largest population of tortoises are to be found on Aldabra, where the latest census count was 156 thousand. Tortoise are endangered species.
Don't feed us! We are being looked after
So please be gentle.
Tortoise Feeding Session Time 4:00 pm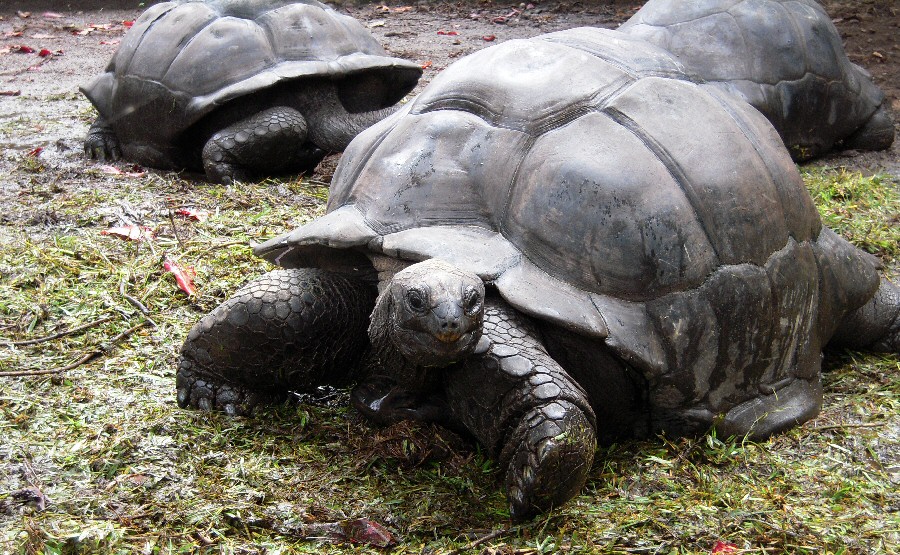 About 11 am we got our room key. It's a long walk down the hall on the second floor. Very comfortable room with 2 full size beds, couch, desk. Shower in the bathroom.
I took a short nap. Daniella was out all afternoon. Shes was the ocean, in the waves, drinking in the sun.
I think its about 4 pm. Im so incredibly tired.

And Im really enjoying relaxing.



After 6 months of stressful mandatory Monday-Wed-Friday 10 am meetings

30 people in each meeting to get this software release ready, its finally in beta and Im on vacation.

Yeah!

I was also on vacation last weekend in St.Augustine where Scott ran a half marathon.

That was a great vacation leading into this even better vacation!

Sitting on a chaise by the pool, I love listening to the endless waves.

Theres an occasional sprinkle of rain here.

Just like the summers in Florida and Georgia.

There is so much humidity, the clouds have to release some moisture.

Each drop is so loud when it hits the big strong bread fruit tree? leaves above me.

Im wondering how Tom Hanks in Cast Away survived so long in the this.

That was not Forest Gump. No thank you

--- - - - - - - - - - - -- - - -->

Walking out to dinner we were greeted by this colorful splash in the sky.

This place is heaven sent

- the turquoise waters and fine sand is the gold at the end of this rainbow

---------------------->


Dinner


Oh my goodness. Some people really dressed up for dinner.

Very nice, but I hope it's not going to be like that every nite! I had a reversible long dress that I wore.

Dinner was a delish, delicious buffet.

The hit, the best dish, at the buffet dinner was, dont laugh: Fish balls with banana curry. Very yummy.

Also very good: the fried bread fruit chips. Bread fruit is the Tree of Life.

Leaves are like giant oak leaves. Green cannonball fruit weighs up to 7 pounds (3 kg).

serve as chips, mashed, pudding with coconut milk, or baked.
Our schedule tomorrow
7:30 breakfast
9 am departure
Spice garden etc
Tour till about 5 pm
Back to top
Day 4 Friday, Nov 29 Full day tour B & L

From the trip description:
In many ways, Mahe is a spectacular island with towering mountains, 75 secluded beaches, nature tails and colorful markets. It is the largest island of 152 sq kilometers and the cultural hub of 85,000 diverse ethnic people from Africa, Asia and Europe.
Today enjoy a full day tour which begins up Sans Souci Rd for breathtaking views. We visit Mission Lodge with relics of the school of children of the freed slaves. This is your best Kodak moment. Then we discover the landmarks of Victoria such as the Catholic Cathedral, National Museum and famous Clock Tower. Visit the bustling market for local spices and unique handicrafts. (Good duty free shopping also here for tanzanite and other gems.)
Continue to La Plaine St Andre, a plantation house built in 1792. It has a story to tell. You'll learn about Seychelles settlements, traditions and island species. Visit extensive medicinal herb garden: At Takamaka Bay Rum Co here, we get a guided tour of the distillery. Sample the famous spirit of Seychelles.
Later on the mountainous southwest, we visit Jardin du Roi or king's garden set. 1771. Here's a re-creation of a working plantation which grows tropical fruits, aromatic spice plants, endemic palms and more. Also see various animals like parrots, fruit bats and giant tortoises. We have a lunch here with superb local dishes in the rustic Creole restaurant overlooking Anse Royale Bat. (The owner makes herbal ice creams here as well.)
Evening at leisure at resort or head into town. Jeeps and buggies are say to hire. Visit bars, pubs and an open air club with live music. Local mix freely with visitors.

B, L Berjaya Beau Vallon Bay Resort
Our tour is from 9-5 today.
Ciril Cereal Siril is our guide and our driver is Mr. Sanvil
He said "there is always a chance to buy water."
The group is divided into 2 buses of 20 each so we got the smaller group feel with this large group.

Tour Schedule:
Hindu temple
Victoria market
Catholic church
Mission lodge
Tea plantation
Michael Studio artist
1:15 lunch included
1:30 spice garden
Anse Royale beach
3:30 craft village
This is the traffic in Victoria, the capital of Seychelles. This is the main street through the city.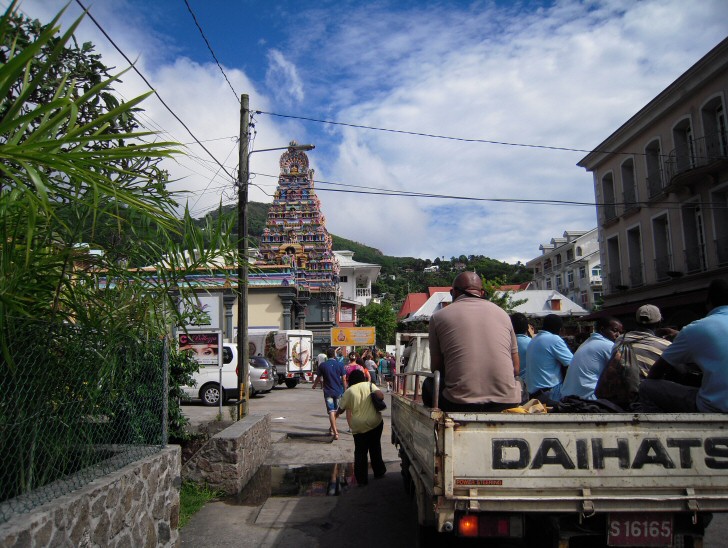 .
We parked and went into the Hindu temple:
.
.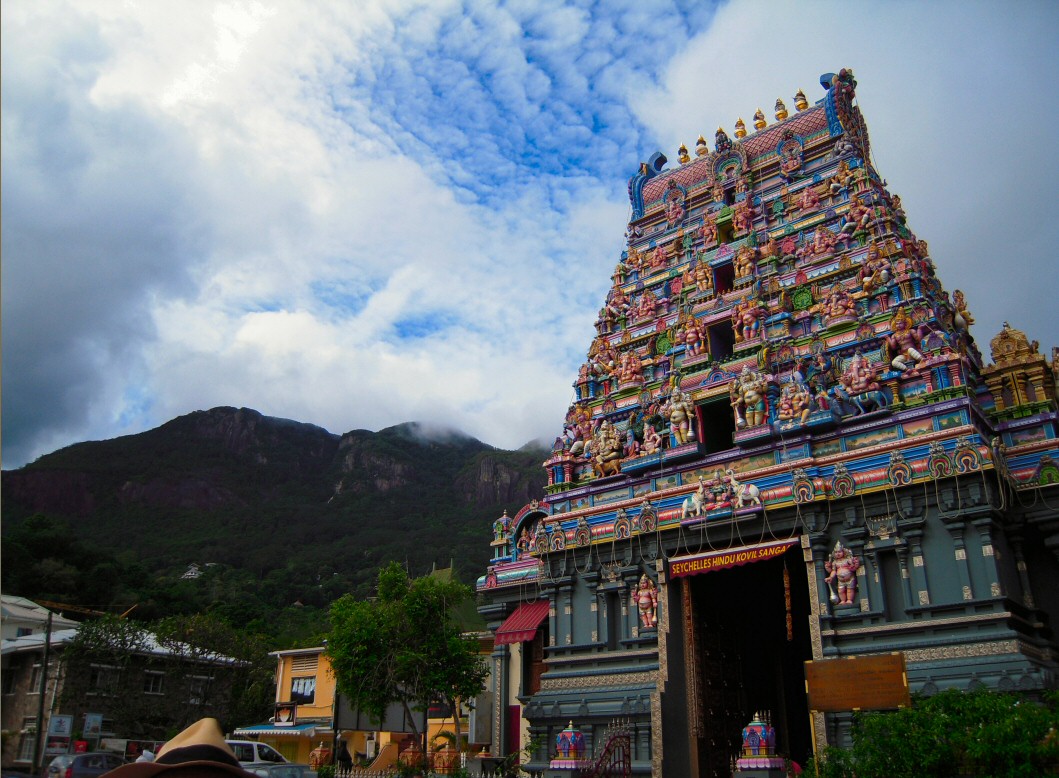 Very colorful.
.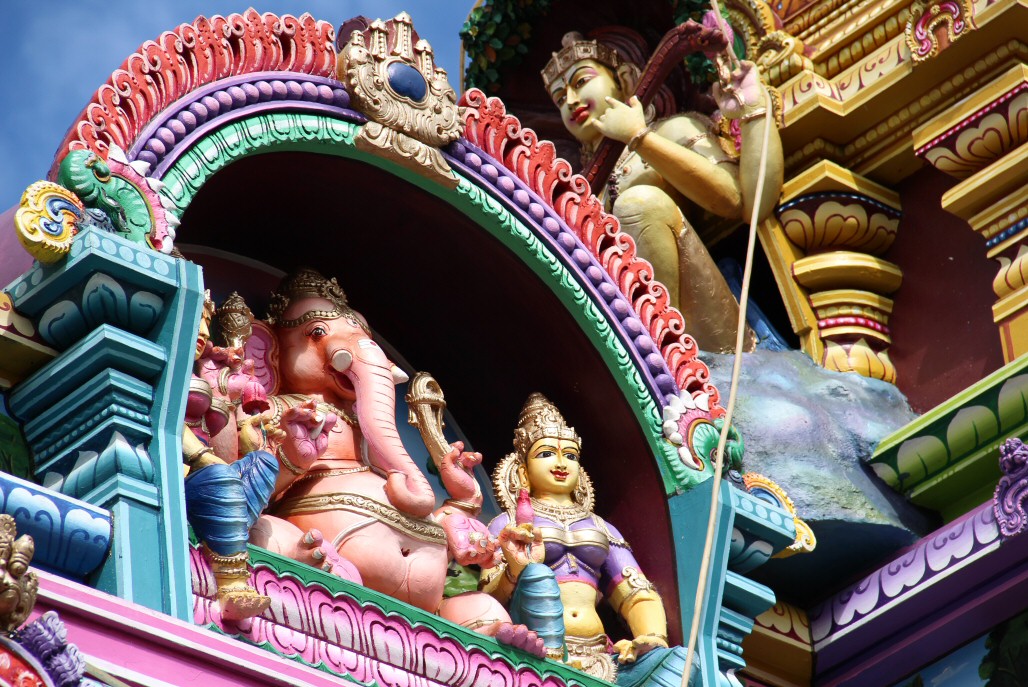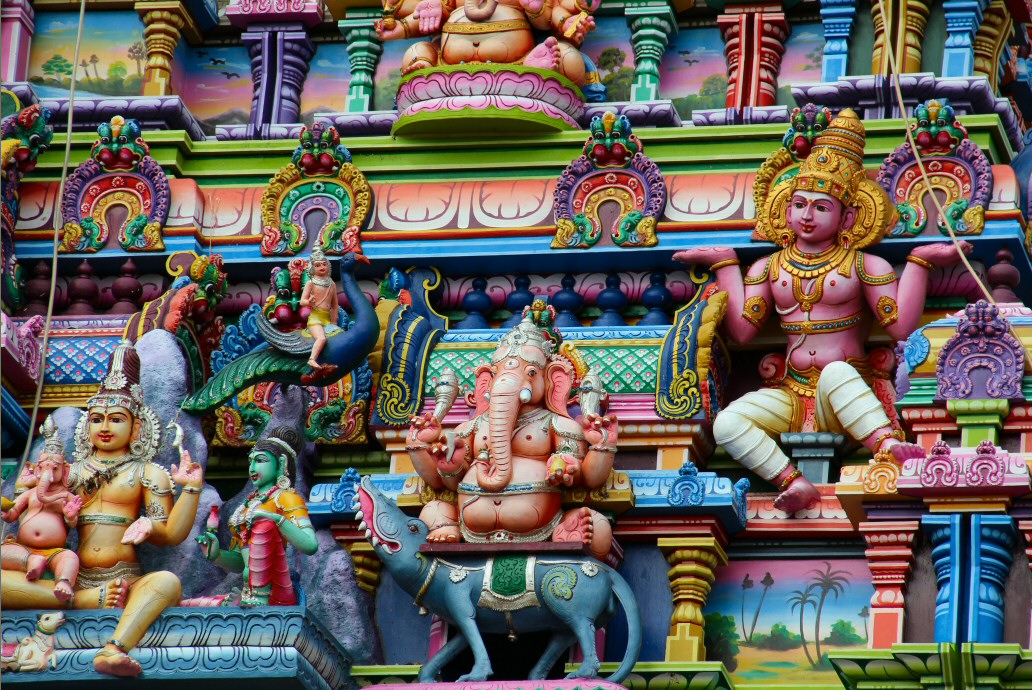 .
Next we went to Victoria Market.

The market was started in 1939.

All the prices are fixed - there is no bargaining here.

You dont need to change money. He told us to use US dollars.

There are a lots of fruit, vegetable and a fish market. Also clothing and this is the best place to buy souvenirs.
I think this is bread fruit
11
What is this? Prickly fruit?


This is not a pansy! 41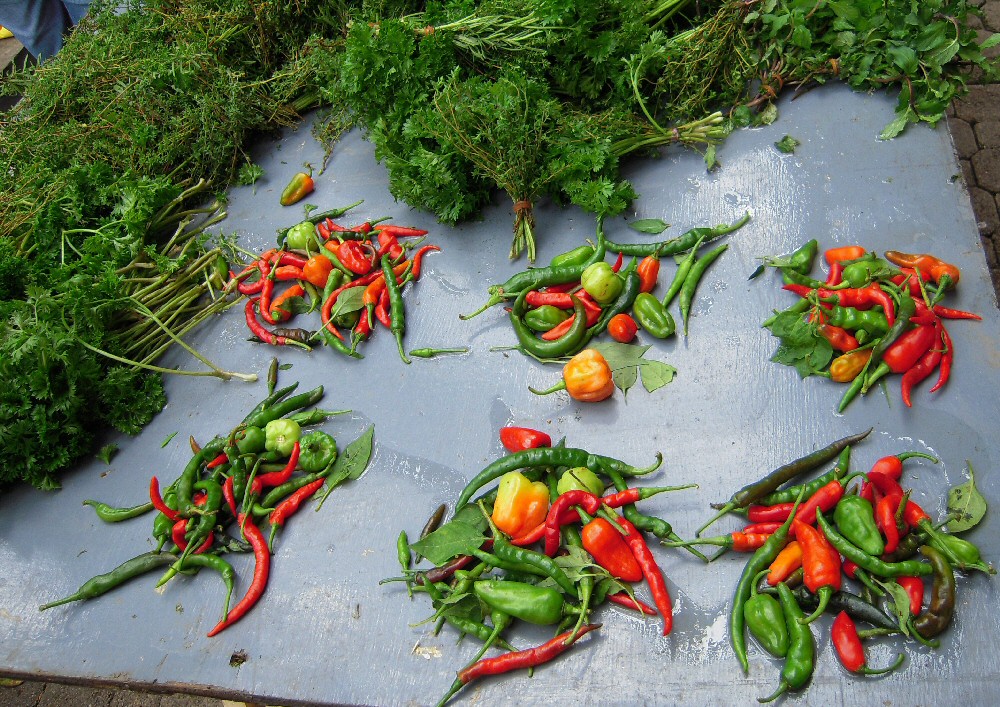 Are the peppers above or the fish below more colorful ?!?!?!?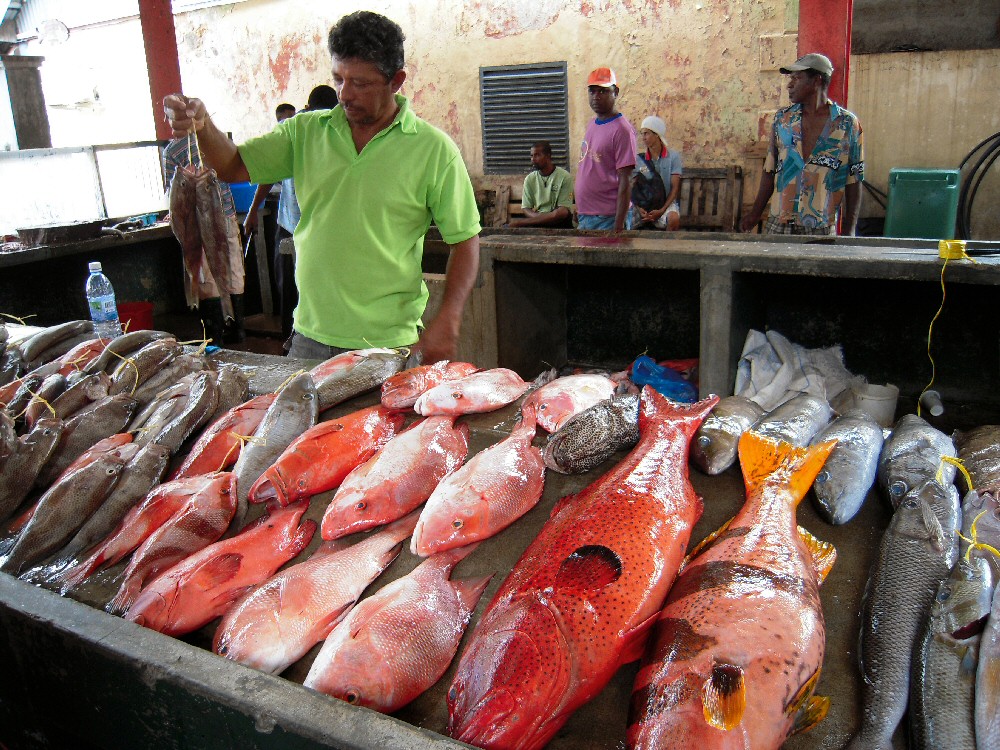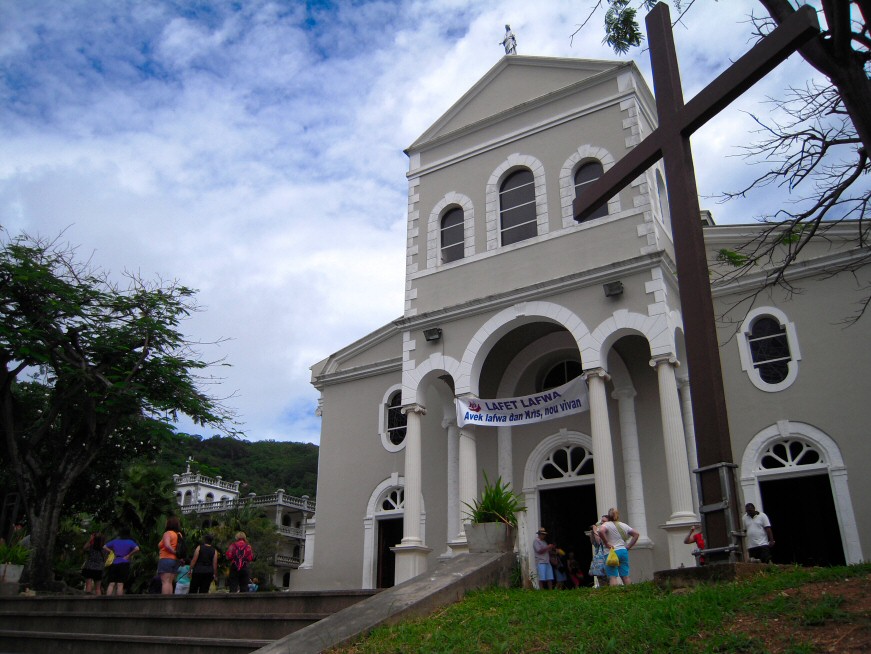 Next we visited the Catholic (Roman) church.
It was built in 1890
Adjacent to the church is a beautiful house of the Bishop and Moorishan Monk built 1936.
It has an underground hiding place build in WWII
Here is the text from the sign in front of the church
Cathedrale de L'immaculee Conception
- Cathedral of Immaculate Conception
Horaire des Messes - Time of Masses
Lundi / Monday 6.15 am
Mardi / Tuesday 6.15 am
Mercredi / Wednesday
Couvent St. Joseph 6.15 am
Cathedrale / Cathedral 12.15
Jeudi / Thursday
Couvent Ste. Elizabeth 6.15 am
Cathedrale / Cathedral 5.15 pm
Adoration,Confession et Messe
Ventredi / Friday 6.15 am
Samedi / Saturday 4.30 pm
Dimanche / Sunday 7.00 am
9.00 am
There are 18 religions.
Predominant Religions: Christian (Roman Catholic).
According to the 2002 census, most Seychellois are Christians:
82.3% are Roman Catholic (our guide said 88%)
6.4% are Anglican
4.5% are of other Christian denominations.
There are small minorities who practice Hinduism (2.1%) and Islam (1.1%).
Other non-Christian faiths account for 1.5% of the population while a further 2.1% were non-religious or did not specify a religion.
Inside the church: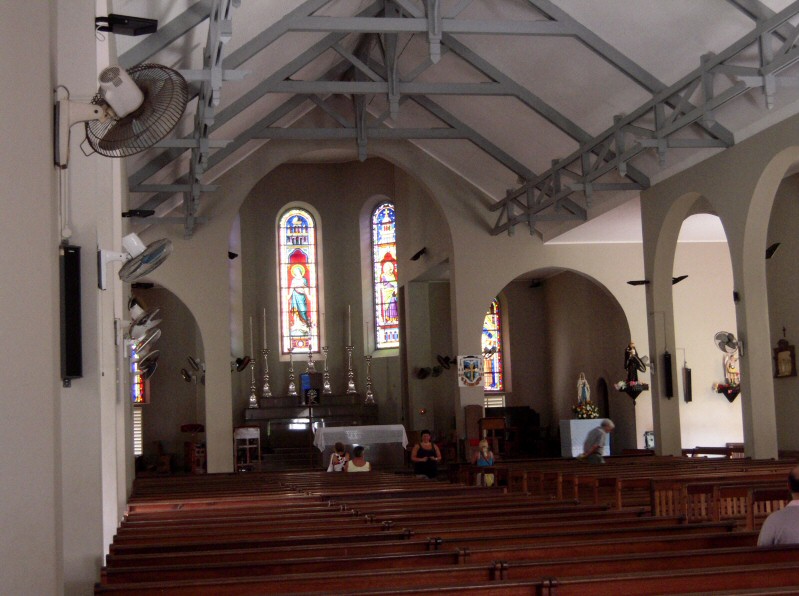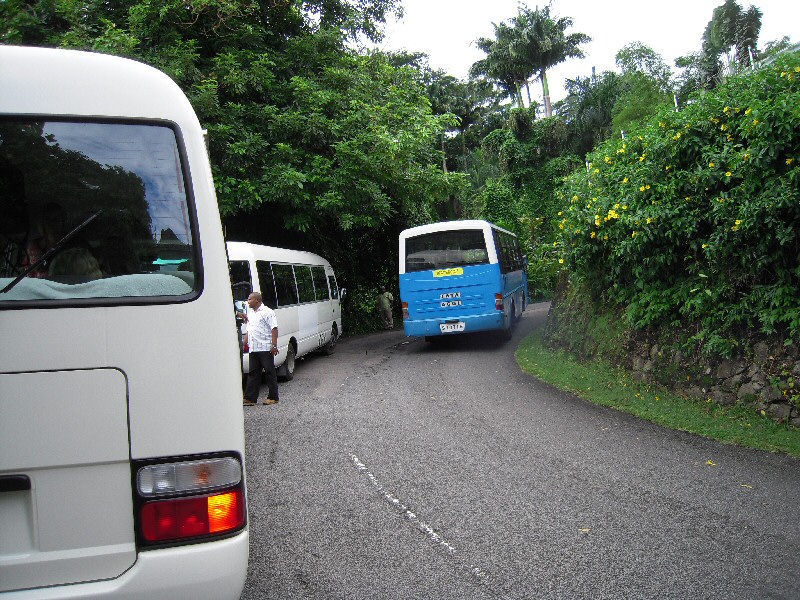 Next we drive up Sans Souci mountain.
.
We stopped to look at a cemetery. He said the cemetery was started by pirates, then slaves, then people with leprosy.
A Giant (2 meters / 6.6 feet) tall is buried here.
.
We passed the house of the American ambassador.
.
We stopped the bus on the side of this narrow road so we can get out and take photos.
.
.
The photo below shows mountainous islands where they cannot build houses, so they have to make "artificial islands".
Blow sand until you can build on it.
The islands populated with houses and red roofs are the man-made islands.
The islands with mountains were made by God.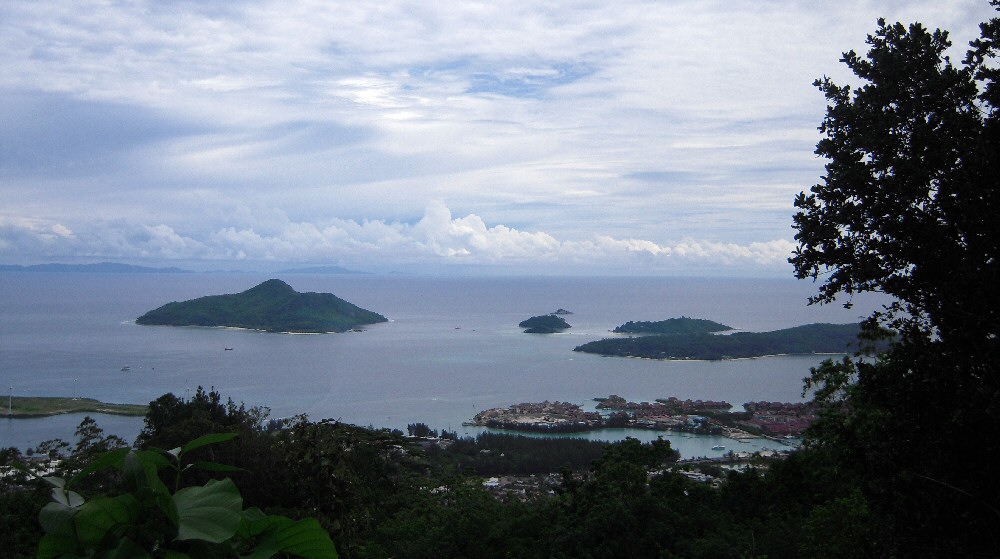 Economic and other information
2.5 megawatts fans provide wind power. About 3 months ago they built the fans. It was diesel generators
There is social security tax.
There is unemployment payments.
You work till you are 63 years old, then get pension till you die.
There are public medical clinics. No pay be there are private clinics also.
Public school is free and there are private schools also: 8,000 rupees for 8 months term.
There one university now. Built 2 years ago. Accounting, business.
Average income $250/ month wages.
There is no unemployment
There are many resorts that need workers.
800 people are needed to work in the Tuna fish factory. Only 250 are from Seychelles.
The company provides food and living.
95% of the houses here are private owned. The government builds social houses.
Tourism #1 economic income.
Import meat fruit, soft drinks.
There are 3 flights a week of imports.
Export fish
There are 30 types of bananas
and 30 types of mangos
2 acres cost 3 million rupees 200,000 EU
150,000 EU for a nice house.
There are 2,000 - 3,000 soldiers in the army for the coast guard.
There are about 80 pirates are in prison.
Car 16,000-20,000 USD
Or 100,000 rupees + 100% tax.
Our next stop is the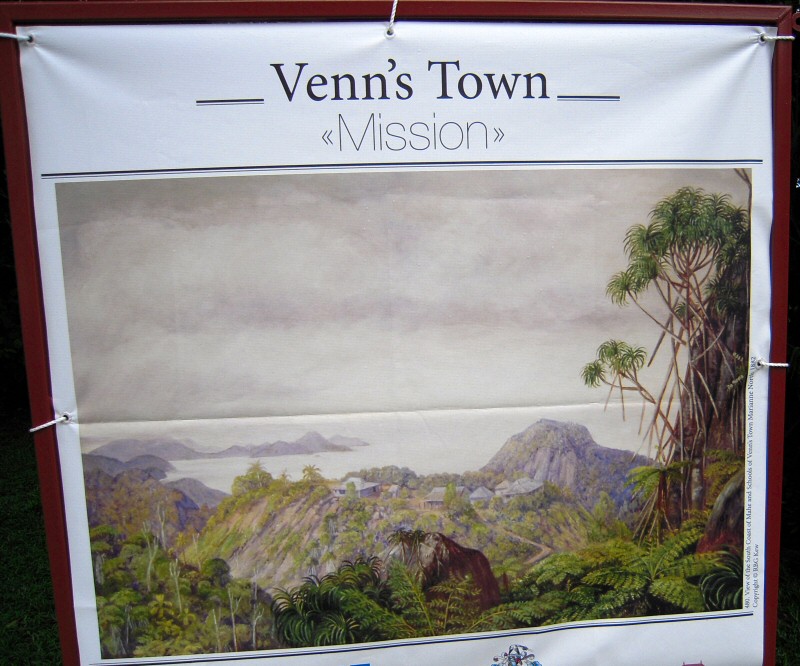 Mission Lodge
Venn's Town Mission
Venn's Town, better known as "Mission" was a settlement whereby a boarding school was founded in 1875 by Reverend William Chancellor of the Church Missionary Society of London to care for and educate the children of slaves freed by the British Navy.

The Mission officially closed in 1889 when the pupils deserted to attend the new Mission Schools in Victoria but carried on unofficially until 1903.
Sign:
1835 Abolition of slavery by England. The Royal navy intercept Arab dhows doing the trade of East African slaves.
1860 2409 African slaves are set free on Mahe in the next 10 years
1872 First concern expresses about the freed children
1874 The Anglican Church Missionary Society proposes a training institution
1875 An appeal is made for funds from abroad
1876 The colonial Government allocates 20 hectares for the school project
1876 Venn's Town school officially opened at Capucin (March 20th)
1883 Visit of Marianne Noth who does several painting on site
1885 E. Locock is the fourth and last know head of school (1885-1894)
1908 Official reports mention Mission as a forestry experimental site
1972 H.R M. Queen Elizabeth II inaugurates the viewing lodge
1976 Independence of Seychelles
1979 The Morne Seychellois National Park is designated.
Text from Mission Lodge Sign:
This site represents a momentous period in the history of Seychelles.
Here, you will see the ruins of the Institution that was established by the Church Missionary Society in 1875 to give Sanctuary to the children of liberated African Slaves. It was named Venn's Town, after Henry Venn (1796-1873) who was an Anglican Evangelist.
Seychelles is working on the dossier for the site to be inscribed as World Heritage. La Reunion is supporting Seychelles in its effort to protect and preserve this valuable heritage site.
Long after the emancipation act of 1835 had come into force, the despicable activity of slave trade continued unabated along East African coast. Slave were brought from the interiors of Africa and shipped to the slave market in Zanzibar and sold for around L100 to L120 each to Arab and Persian dealers.
As from1861 ships of the Royal Navy patrolled the waters of the Idian Ocean and intercepted Arab dhows and confiscated their cargoes of slaves which they bro sent (sic) to Cape Town, Mombassa, Aden, Bombay, Port Louis and to Mahe as well. This led to a considerable increase in the population of Seychelles, the liberated slaves doing mostly agriculture and public works.
As from 1875, the children of the liberated slaved were brought up to Venn's Town where their welfare and education were attended to. Besides lessons which consisted mainly of bible stories and psalm-singing, the boys and girls were taught wood work, and they tended the coffee and vanilla plantation, the revenue of which went to the upkeep of the settlement.
When the children reached the age of 16 years, they were allowed to leave the institution. The Institution accommodated an average of 50 children at any one time. The Main building consisted of a large and spacious mission cottage, two dormitories, a few outhouses, kitchens, washrooms and a dozen huts for the laborers who worked on the property which covered 50 acres of land. Venn's Town had several British administrators who resided on site with their families: the Reverend W. Bartlett Chandelor (1876-1880), H. M. Warry (1880-1885), and E. Lucock (1885-1889).
Venn's Town closes in 1895.
These are my notes from the guide

In the 1800s slaves were forced to come to the Seychelles.

The population was 3,000 rich white people.

130 of the slaves revolted, and escaped to this place to hide and to live.

Transport was by horses.

In 1835 all slaves were freed.

Some returned, some stayed and marry whites - and that is how our population started.

Seychelles people came from Africa, Arabia, India, Europe, Persia and even China ancestors.

.

The picture to right is the remains of their houses.

The picture below is their view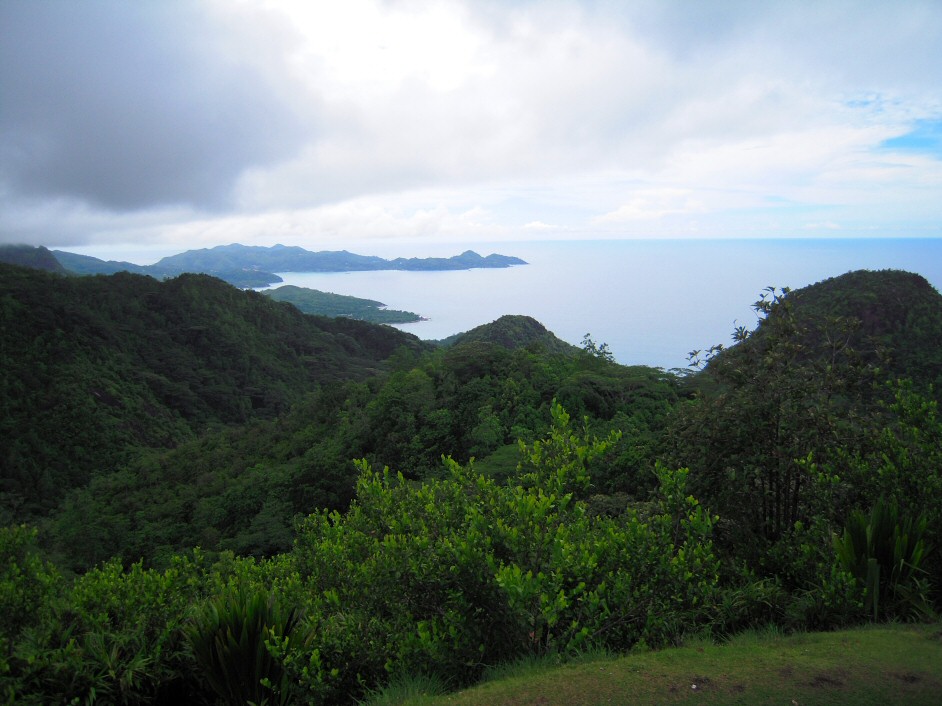 A the base of this tree is the grave of a slave.

Are those coconuts???


After the mission, we drove through the Morne Seychellois National Park.

We are about 2000 feet (600 meters) high. That's a high mountain on this island!

He pointed to cardamom plants that grow wild here.

Then he exited the bus to carve some bark off the cinnamon tree.

We passed the bark around the bus and it very potent.

Cinnamon is an invasive (not evasive) plant.
We stopped at a natural water fall to refill water bottles. Someone on the bus had a one word for that "giardia" and then came another Imodium.
I didn't hear about anyone getting sick from this pure, fresh, mountain water - .....
Kim, Manny (getting water) Mary, Kim, Lisa ready to refill.
.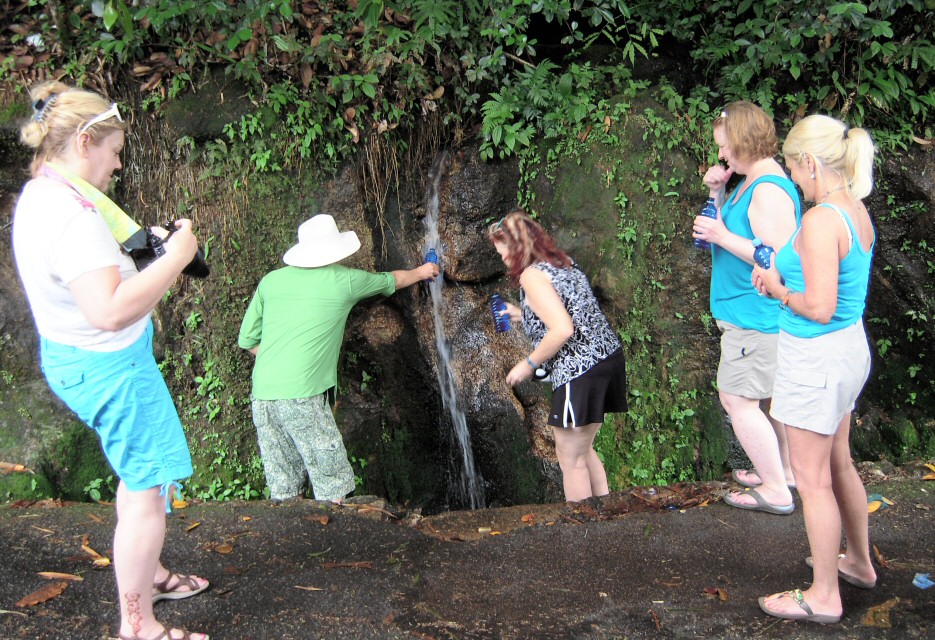 Now we are going to a tea plantation.
In 1964, the English opened a tea factory.
Workers are required to collect a minimum of 8 kilos of tea leaves per day.
After they collect the minimum, they are paid for everything that they collect after that.
Put leaves in a bag with their name on the bag.
The bags are collected from the side of road and taken to the factory to process.
No tea is exported from the Seychelles. All tea is for local use.
Coffee plants all died so coffee must be imported.
We get to the other side of Mahe near Port Glaud and stop for photo again.

The island in this picture is owned by a Russian.

When you own an island, the beaches are still public,


There is a restaurant on the island you can walk to it during low tide, but for high tide, you must take boat.


In the bottom left corner is a building. It was a Sheraton 5 star hotel.

He said the 2000 Miss Universe pageant was held there, but on Wikipedia, I found it was really the 1997 Miss World pageant.

Now the building is deserted and "under renovation.

We are driving South along the western side of the Mahe island.

Down to Anse La Mouche.

This is where the 2004 tsunami hit.

Only 2 people died in this area


"Anse" means "beach"

1
2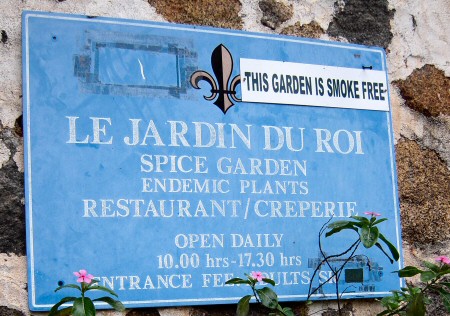 Near Anse La Mouche we stopped for lunch and to tour their herb garden.
Some things for sale in the shop: Museade (nut), Patchouli
Our table was the last group in line for lunch. They served us and there was plenty of food. Yum, yum, yum.
Fish (delicious)
Banana in coconut milk
Lentils
Pumpkin for our Thanksgiving
Dessert was carmelized water apple and Ice cream lemon grass and cinnamon flavors.
On the sign below:

Blue Pigeon Seychelles Chameleon Coco de Mer

Lodoicea maldivica

Paradise Flycatcher Seychelles Kestrel Leaf Insect

Phyllium bioculatum

Seychelles Magpie-Robin Pitcher Plant Scops Owl

Seybrew Frog Giant Tenebrionid Beetle

Beericus Deliciousi




Since 1972, SeyBrew has been the most enjoyed beer throughout the islands of Seychelles.

Brewed and bottled by a 150-strong team of Seychellois professionals,

using the finest ingredients imported from three continents,

SeyBrew is more than a beer - it's an institution. A symbol of national pride.

An icon that, to this very day, remains distinctly Seychellois.

We had a very nice tour of the their herb garden
Here is picture of Turmeric

The "largest vegetable garden" on the islands. They build roofs to shade for less sun. We need to build a roof to keep the heat in our green houses.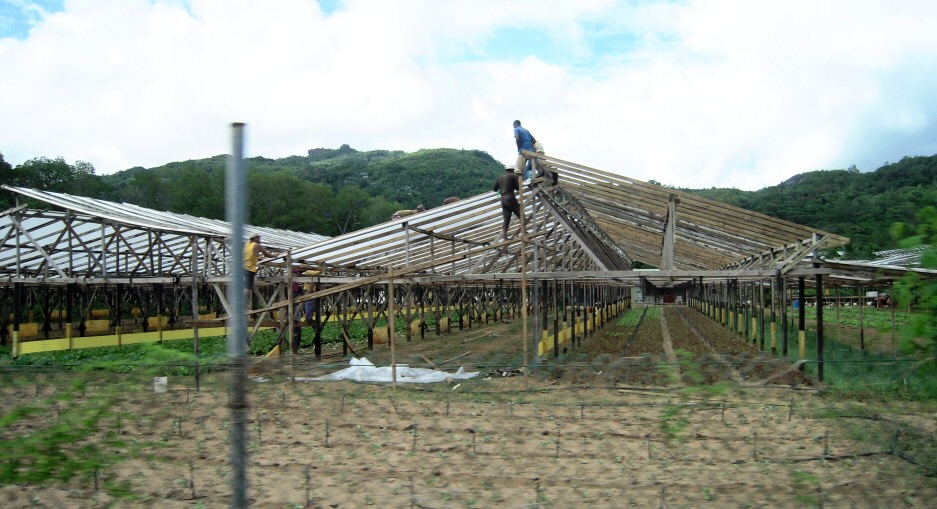 Hospital (financing from the Chinese). Our guide said the "Hospital is free of charge. And the Cemetery is also free of charge."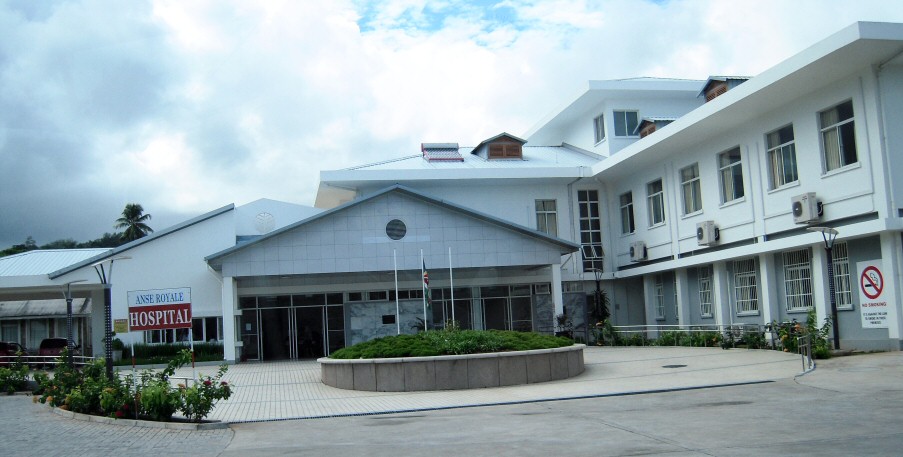 We drove back across the southern tip of the island from the West side to the East side to this beach: Anse Royale
The beach has beautiful blue/green water.
The bus stopped at the side of the road. There some parking for cars, but not for busses.
We got out and walked along the side of the road. Some people crawled down on the rocks, but we kept walking another 50 feet to the beach entrance.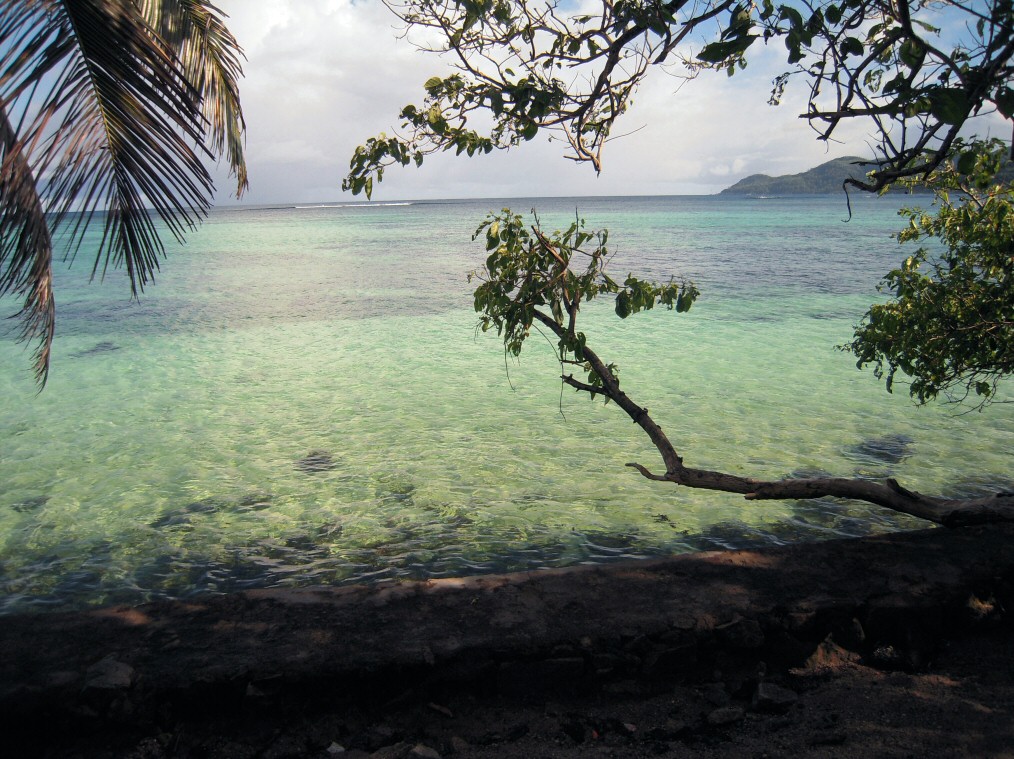 .
Nice, small beach with white sand.
We are here for 45 minutes and there is a light rain so I am parked under a big leaf tree staying dry.
There is about 10 from our group in the water. GORGEOUS Water !!!!
Next stop about 4 pm is the Craft village.
There are lots of shops with souvenirs. Big hats, Indian coral strand.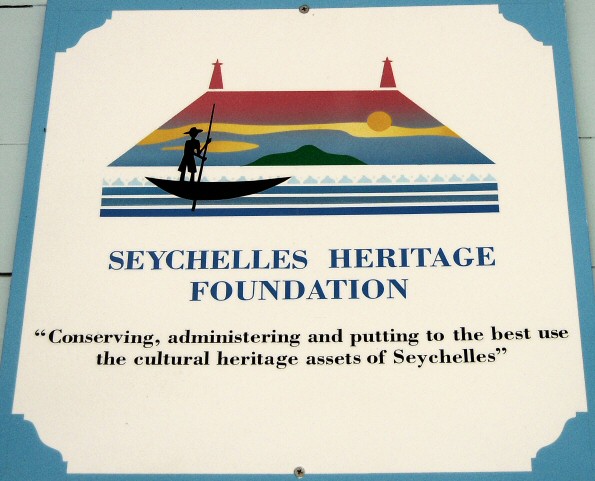 They also had a beautiful colonial home that was restored by the Seychelles Heritage Foundation.
Conserving, administering, and putting to the best use the cultural heritage assets of Seychelles"
There was no cost to go inside the house. It reminded me of Hemingways house in Havana. Open windows for air to blow through. Gingerbread lattice. Ornate white picket fence around the wraparound porch.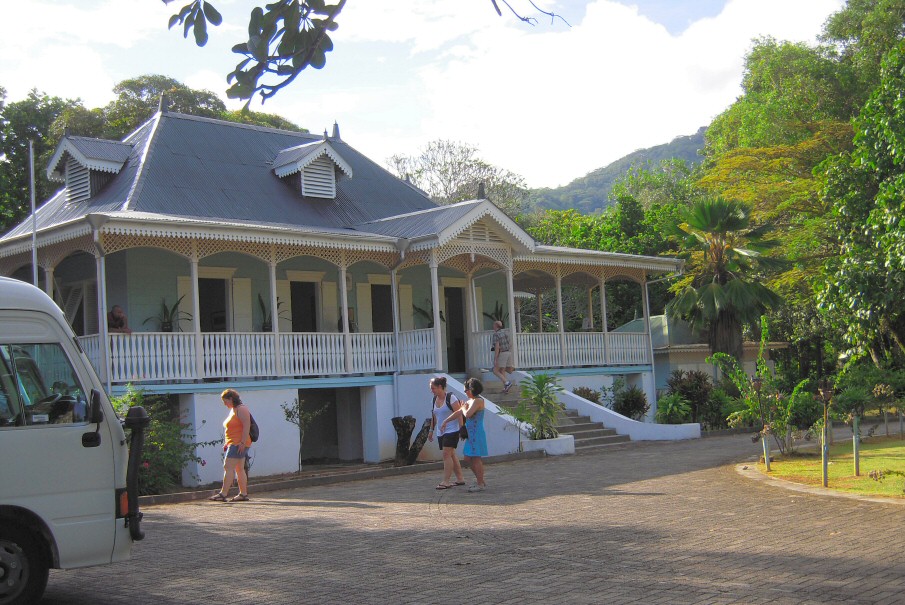 .
I didn't feel like venturing out for dinner so I stayed in the hotel and ate with Dixie and Jan at the a la carte Chinese. I got
230 Chicken Thai Sauce
210 Fried mixed vegetables
76 House Red wine
51 Service Charge
77 VAT
---------------
645 Total, which is $58.00 USD.
Great conversation and good food. Yum. I love vacations.
Our schedule tomorrow:
Depart 9:15. Tour till about4:30
Bring Swim suit, towel, snorkel, sunscreen.
Restaurant boat house. The Boat House buffet dinner on the beach
Day 5 Saturday, Nov 30 - Full day in St Anne Marine National Park & Moyenne island

From the trip description:
Today we discover the magic of the colorful underwater world of the Seychelles. This wonderful glass-bottomed boat excursion is a must for any visitor.
The marine park was created n 1973 for the preservation of wildlife. They are the nesting site for hawksbill turtles. See nurse sharks, stingrays, angle fish and barracudas.
We cruise over incredible sea grass meadows to 3 islands; Ste. Anne with exquisite resorts, Round Island, a former leper colony and Moyenne which has a population of two! (and a restaurant for the 2). We stop to snorkel and swim clear waters that reveal glorious coral reefs. See a variety of fish, such as the parrot and butterfly fish, bottle nose dolphins and giant Aldabran turtles frequent theses waters. Delicious BBQ lunch is served on the beach.
B,L Berjaya Beau Vallon Bay Resort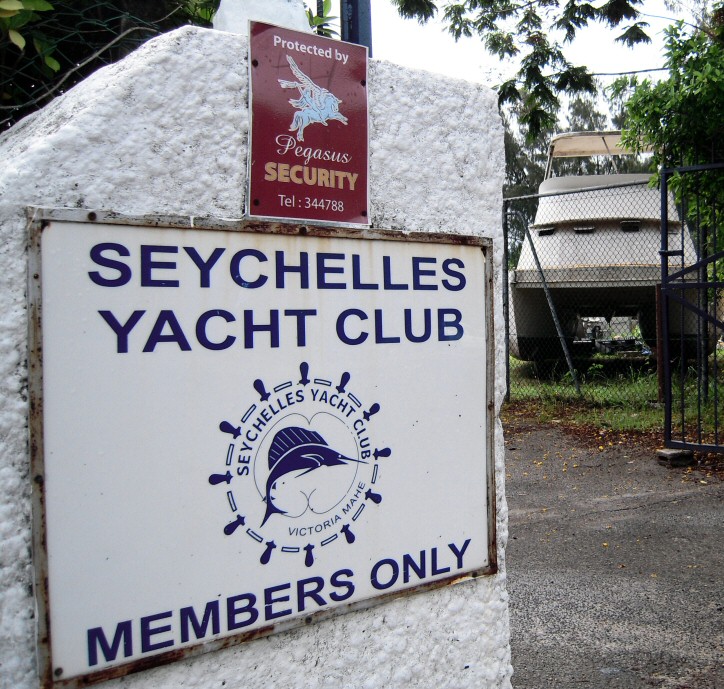 There was a wakeup call, but we did not need it. Daniella was up before 6 and out of the room to document the sunrise.
This morning I woke up to a pouring rain at 7 am. I think it rained all night. It should stop by 9 am. I hope.
Wow. We had great tours on our first day (yesterday). I got to see temples, churches, and the market in town.
Looking forward to another wonderful day in paradise.
So I'm going down to breakfast in my swimsuit and cover-up. This is a first. They had porridge on the breakfast buffet yesterday. Yum. I love porridge. Ill also get eggs today.
Today is a beach day. 9:15 depart 1 bus, and 2 other vehicles.
We rode past the Seychelles Yacht Club to the dock.
They loaded out group onto glass bottom boats.
Val, Mary, Valerie, Kelly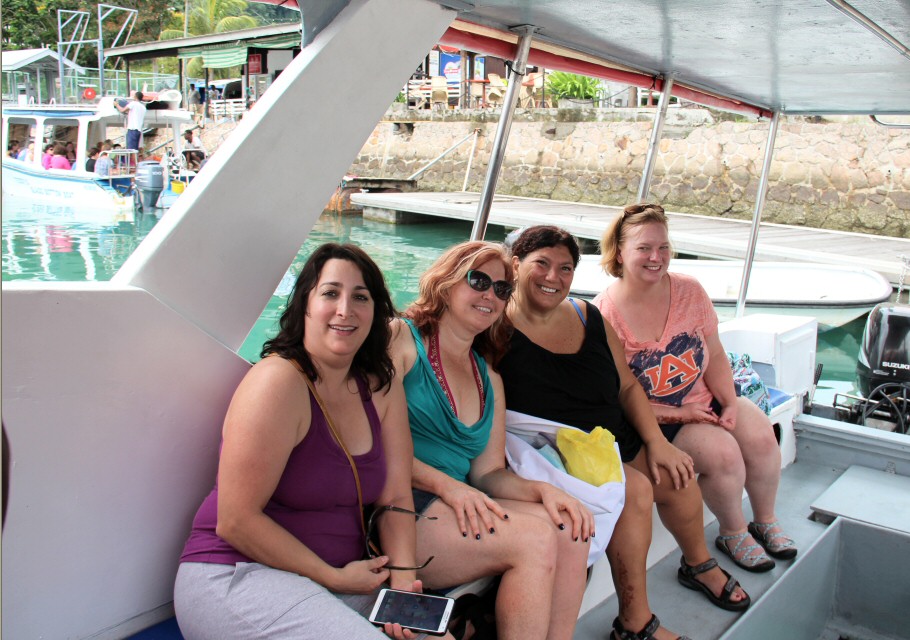 Suzy, Lisa, Christa hangin' out

We passed the wind turbins:

We saw the Coral reef in glass bottom and fed the fish.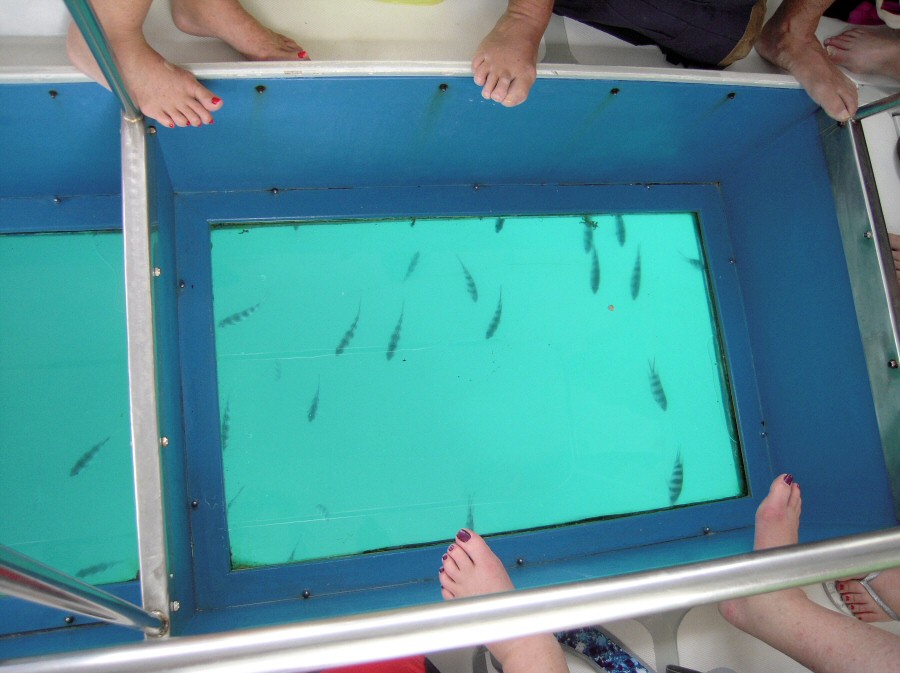 .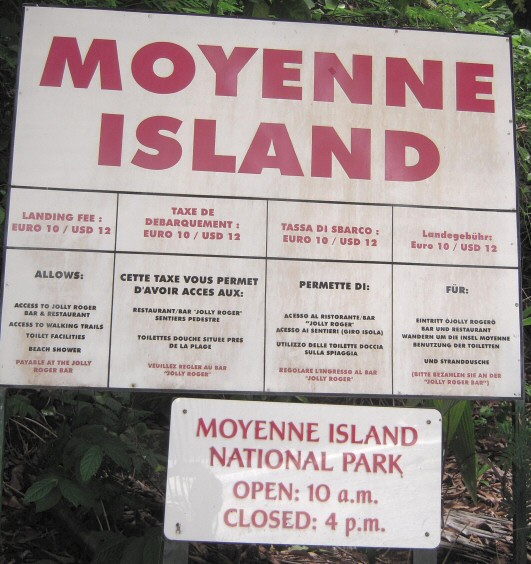 While the boat was running, the guide tried to lecture us on a history lesson of the island country.
That didnt go over very well. The diesel engine fumes wafted in the air, we really need to get moving instead of sitting there inhaling fumes.
Finally, we're on our way to the next stop:
Moyenne Island
The entire island, just for our us!
The sign says:
Landing Fee Euro 10 / USD 12
Payable at the Jolly Roger Bar
Allows:
Access to Jolly Roger Bar and Restaurant
Access to walking trails
Toilet facilities
Beach shower
.
.
The smallest National Park in the Seychelles
Moyenne is a beautiful island, set like a jewel in the middle of the Ste Anne Marine National Park, and only 20 minutes by boat from the main town of Victoria. Moyenne is the only island within the Marine Park to have been declared a protected area, and at only 9 hectares, it forms the smallest terrestrial National Park in the Seychelles.
The island's lush tropical woodland imparts a feeling of natural peace and tranquility, and together with the small white sandy beaches and surrounding coral reefs teeming with fish, provides the best of both terrestrial and marine worlds.
The island was bought by an Englishman, Brendon Grimshaw, in 1962 but he only came to live on the island in the early 1970s. Brendon and his Seychelles friend, Rene Lafortune, gradually and painstakingly "created a nature reserve out of what was formerly a hunk of waterless bush", restoring the island by hand from scrub to a more natural wooded environment in which Giant Tortoises roam free and birds abound, and a number of endemic plant species now thrive.
Rene unfortunately did not live to see Moyenne Island declared a National Park in 2008. And when Brendon himself died in 2012, the island was bequeathed to the Moyenne Island Foundation Society, which Brendon established in 1998 as a non-profit NGO, and which is now responsible for the island's management.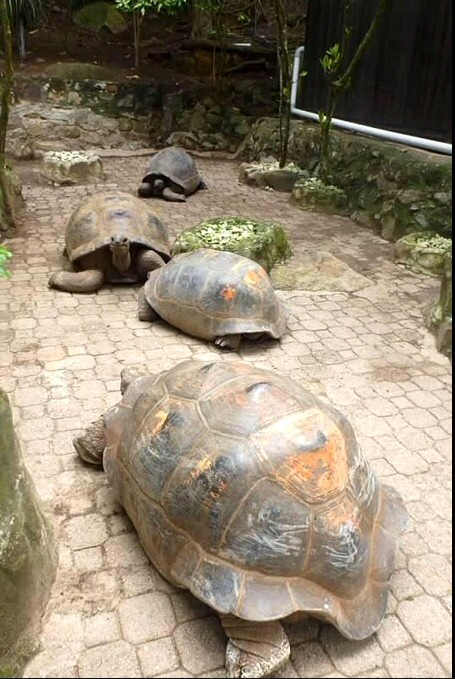 The text from the brochure:
The island has a fascinating history, with tales of pirates and huge treasure (which Brendon was never able to find) and stories of ghosts (with whom Brendon had personal encounters).Two of the graves in the tiny cemetery are reputedly those of pirates, In the more than two centuries of human settlement of the Seychelles, only four owners of Moyenne have actually lived on the island.
The main path around the island passes the ruins of two old houses. One was occupied by the earliest traceable owner, Melidor Louange, ages 16. He was a carpenter and married Jule Chiffon, ages 16. They lived on Moyenne for 42 years until they sold it to Alfred d'Emmerez de Charmoy for 301 rupees, a princely sum in those days. Alfred is reputed to have used 10 rupee notes to light his cigars!
The other ruined house, known as the House of Dogs, was built by the next owner, Miss Emma Wardlow Best, an English woman who loved animals. She collected stray dogs from neighboring Mahe and gave them a good home at the house between 1899 and 1919, when she died. Miss Best left island to two friends with strict injunction that nothing, "not even a rat" was to be killed.
The cool veranda at the top of the island's main steps provides a magnificent view over the water of the marine national park towards the mountains of Mahe. Maison Moyenne, Brendon's house while he was alive is to be converted into a museum reflecting the life of this amazing man who with his close friend Rene, turned a small neglected island into a tiny tropical paradise. Brendon's grave lies next to the little chapel, along with that of his father, Ray, who came to live on the island at the age of 87
.
in 1982, and of course the two pirates.
Brendon left a wonderful legacy of Seychelles, residents and overseas visitors alike - a place for nature to thrive, an environmental treasure trove for all who step ashore. Enjoy the island in peace; take home photos and wonderful memories (and also any packaging or other rubbish!) leaving only footprints and the tranquil natural beauty that you found.
Enjoy exploring the island along the main path, which is marked and easy to follow - the small sandy coves, huge granite boulders, tiny chapel, a museum... or follow other smaller tracks to discover Hanni's haunt or Treasure Peak, taking special care as these smaller trails can be slippery, and watch for the deep holes ("digs") where treasure was searched for but never found!
There was a book about the 2 men living on the island. I did not get the title. Anyway.
Manny with a tortoise!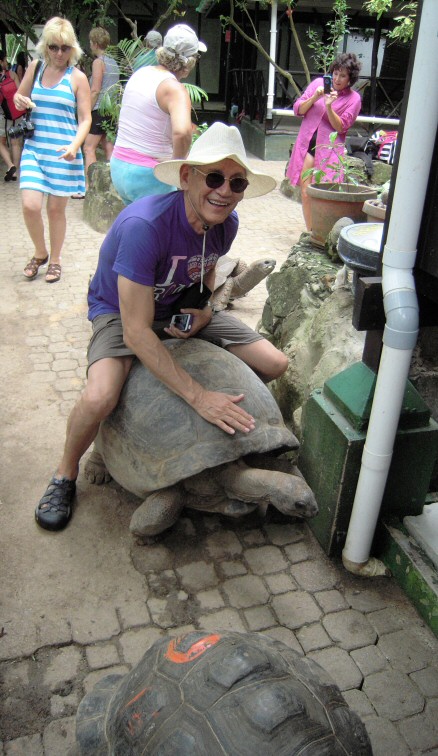 Our boat pulls up on the white sand beach (called a "Sandspit" on the map below).
We get out of the boats to enjoy our island paradise experience.
Walk along the beach a short way to the steps that lead up, up, to the house, "restaurant" and toilets (the "Jolly Roger Restaurant" on the map below.
When we get up there, there are turtles, HUGE turtle, I mean "tortoises" everywhere! Everybody was taking pictures.
The guy said you could sit on the turtle!
Yes, that is a very obnoxious touristy thing and looking back, probably not very proper to do.
Mr. Tortoise didn't seem to mind.
He started to walk! No problem.
That's one strong Ninja turtle!
The female turtle shell is flat, the male is rounded.
Ages 30-90. Oldest is 200 on Seychelles.
Giant tortoises are only found in 2 places in the world: The Galapagos, and Seychelles.
They grow up to 1.6 ft high, weigh 330 pounds (150 kg) and live up to 200 years.
Giant Seychelles tortoises have survived for 150 million years, since the age of the dinosaurs.
Some of those seen today on La Digue are more than 90years old.
They have no teeth, drink water through their noses and their biggest threat is the sun.
We had some time before the dinner, so a boat took a group out to good spot on the marine reserve where there is good snorkeling.
Some people stayed around the house, some stayed on the beach and another group did a hike around the island.
The guided hike just went to the graves and church. Some small group continued around the island.
The hike around the ENTIRE island, with the pause on the other side beach, I'm guessing took about 45 minutes.
The hike was difficult in places. Climbing up and down rocks.
If you go here, take the time to find spots labeled on this map. Allen did all the hikes and found some real treasures to photograph.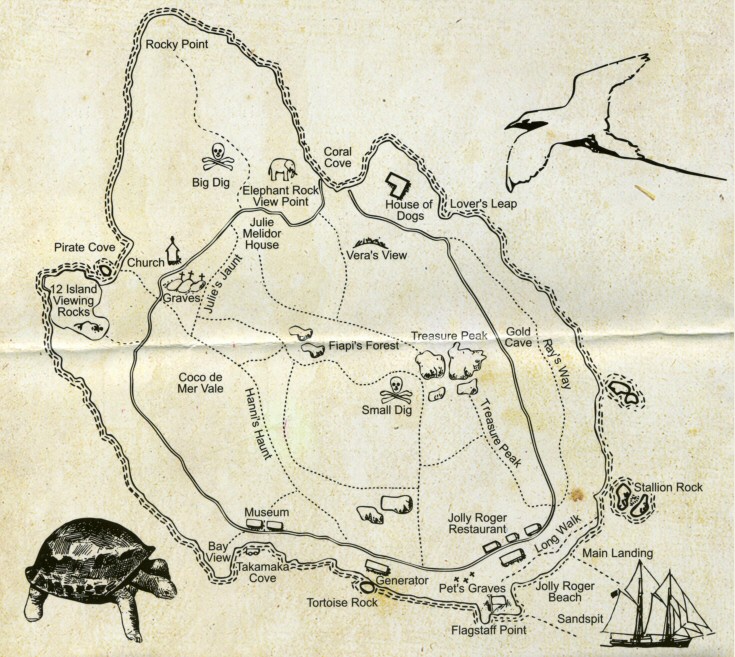 Here is the graves and the church. The label on two of the graves is "Unhappily Known", presumably pirates are buried there.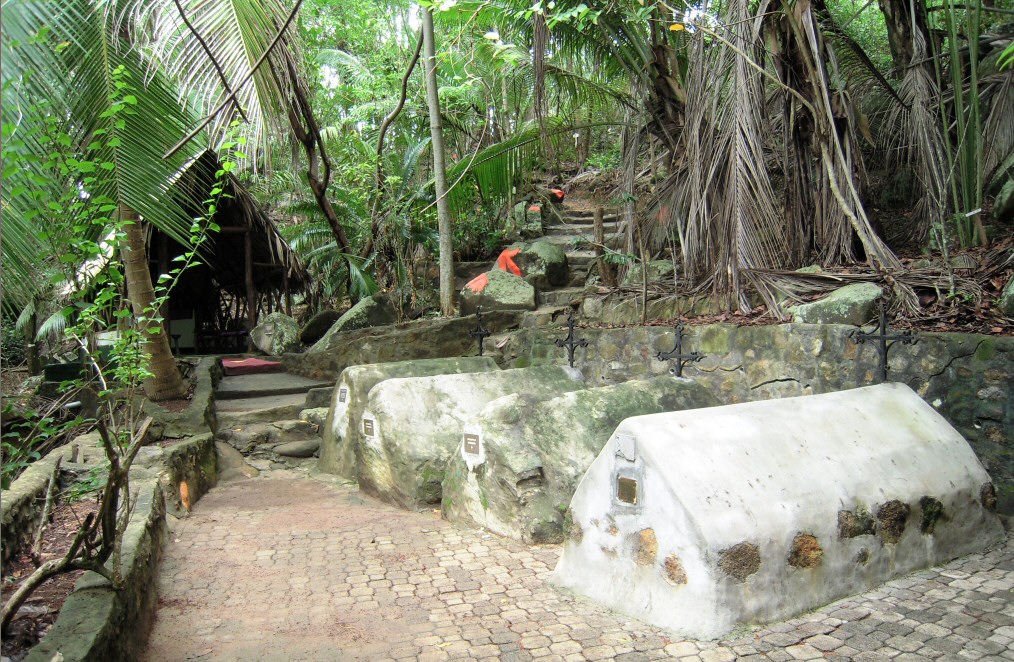 They have posted "Tortoises have the right of way" and then you see Mr. Tortoise in the middle of the path.
Hmmm, do you go over him, around him? You need to get out of his way!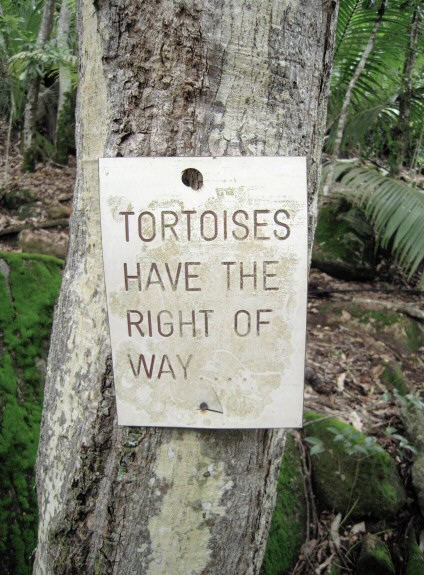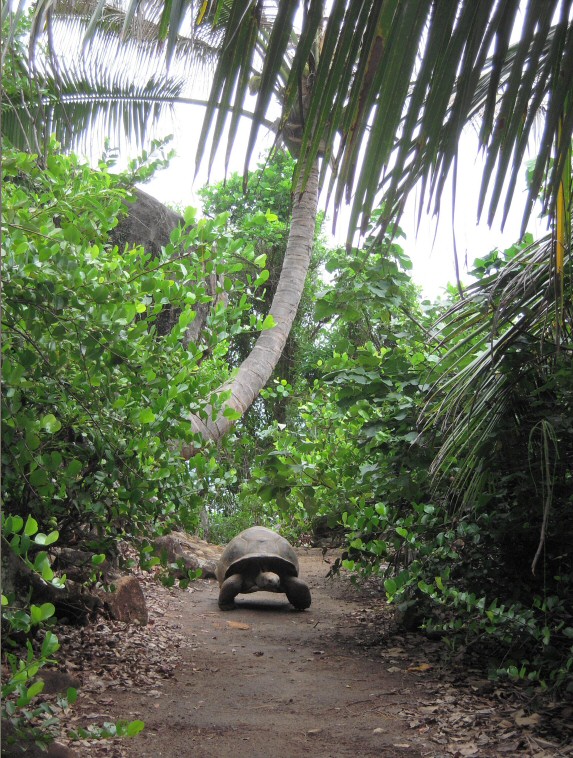 And what is this dude up to? What a show off! Do a little dance !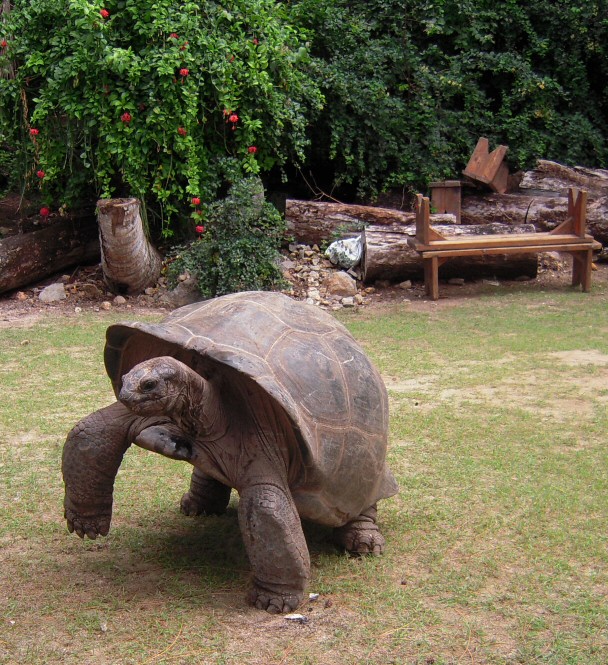 The BBQ lunch was really good BBQ. Yum. Beer and sodas were included.
Back at the hotel, I was relaxing by the pool and watched a fully covered woman and her husband walk out to the beach. I wonder if most Muslim women have any idea how comfortable it is to feel the breeze against bare arms and legs. The cooling effect. It is the lady's choice to cover. She does it out of respect for her husband.
Being a tourist destination, they are really hung up on how many stars each hotel has. This hotel has 3 stars so it is not fancy, but good value and on the beach.
So I thought this was a great hotel. Daniella and I had no problems with our room, food, charges, towels, flooding, beds / cots.
I walked to dinner with Dixie and Jan last night. We walked on the beach. We barely made it to the Indian place. Did not want to go further. They love Indian food. I found a good chicken broth soup with almonds, and lentil ravioli with yogurt sauce (sorta sweet) appetizer. Deelish. Ive been eating too much on this trip...
We walked home on a not-so-dark beach. Nice to hear waves crashing . that was a first.
Back to top
Day 6 Sunday, Dec 1 - After breakfast check out and transfer to Mahe

From trip description:
After breakfast check out and transfer to Mahe Jetty for a 1 hour boat ride over to Praslin Island which is famous for its vanilla orchids, endemic lizards and the black parrot. With just 7000 inhabitants, it covers 27 sq. miles.
Transfer from pier to Paradise Sun Resort. This gem has lush gardens and sits right on Cote d'or beach. Discreetly tucked behind granite boulders, there is a crescent shaped bay with our white powder sand beach 2 miles long. Aquamarine waters stretch to an endless horizon.
The resort has WIFI in your room and even on the beach! There are bicycles to hire and taxi boats for a nominal charge. Onsite is the Whitetip Dive Center with all snorkel and dive equipment so no need to pack it. They offer fun water sport tours to 17 sites. Also yoga, nature walks, volleyball, pool, shops and Creole cooking lessons.
Day at leisure to enjoy the heavenly beach, spa or perhaps visit some outer islands. It's easy to visit Cousin Island or St Pierre Marine Park from here.
Dinner tonight included, a themed buffet dinner or barefoot at the resort Beach Restaurant. B, D Paradise Sun
Breakfast omelet station fruit juices. Cheese breads, last night leftovers and porridge. Yum.
At breakfast this morning some were worried about sea sickness and people on the trip were offering pills to help. It's great to see the group looking out for others we had water retention cures, tummy problems, etc. concern to help others.
Today we are taking a ferry to another island - Praslin (you don't pronounce the "s")
Its 9:15, bus leave at 9:30.
We were transported to the ferry. We have to check in our luggage and have it weighed.
Zeke gave his sis Farley a beautiful Berington flower!
When we were lined up to get on the ferry, I ask Suzy if I could distribute my card. Everyone could see that i was writing the entire trip, so I want to share this journal with everyone. No one expected it would take so long to document this short trip though...
It 10:45 wow. Very cool and comfortable temp.
We boarded the ferry. Very few of us downstairs in the air conditioning. Next floor up is open air and people up on top. This is an adventurous sun seeker group. I found a place to lay down and write. It doesnt get much better than this.
1 hour ferry ride to this island.
I circled our hotel location below:
Hotel Dec 1-2 Praslin Paradise Sun. http://www.paradisesunhotel.com/Praslin%20Seychelles/Home
Beautiful beach resort. Free sea kayaks, canoes, bikes and snorkel equipment
Physical Address: Paradise Sun Hotel, Anse Volbert, Praslin Island, Republic of Seychelles
Telephone (+248) 4293 293 Fax (+248) 4232 019 Email paradise@seychelles.net
.
Suzy warned us that that most of our rooms are on second floor. Porters are available.
Information:
7 - ? Breakfast
7-9? Dinner. There is no dress code
6 pm meet at the restaurant
7 pm dinner
Danielle bag got there first. She put on her suit and was out.
I waited on the balcony, gazing out to the beach

1:15 wow. Now this is paradise. Sitting on the balcony of our room looking out on crystal clear blue water.
Quiet waves gently washing up on shore. Plenty of lounge chairs on the beach with thick pads.

2:30 more of paradise in the restaurant on the beach. Warm (not hot) wind blowing. Nice.
(I think I might be the only woman on this trip that did NOT have painted toe nails!! )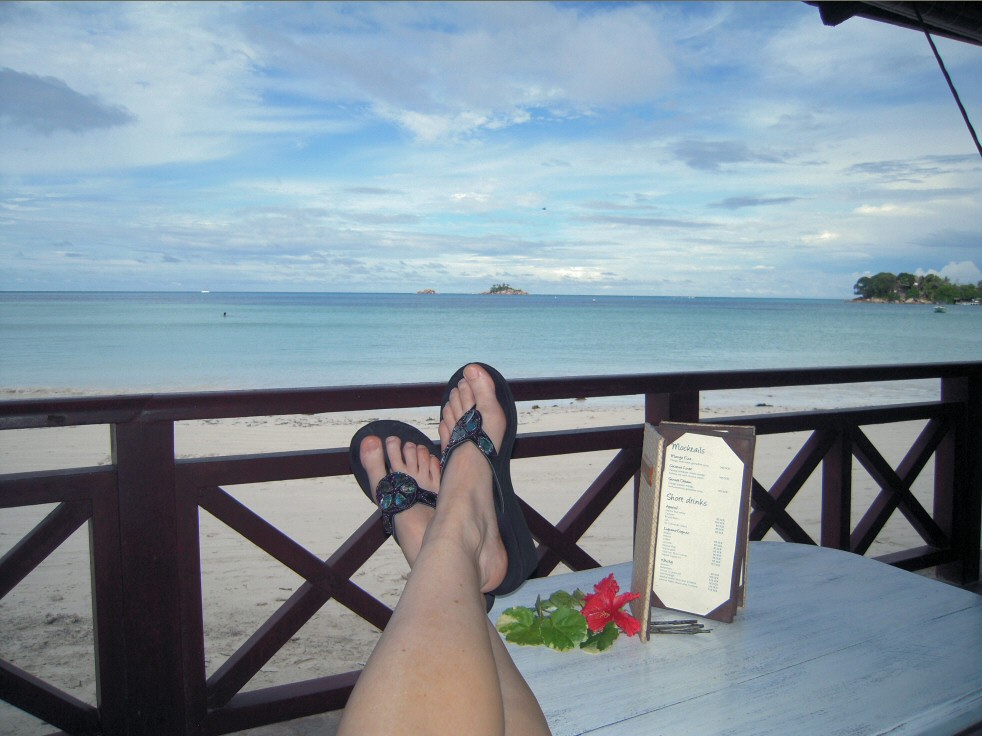 Yup, Paradise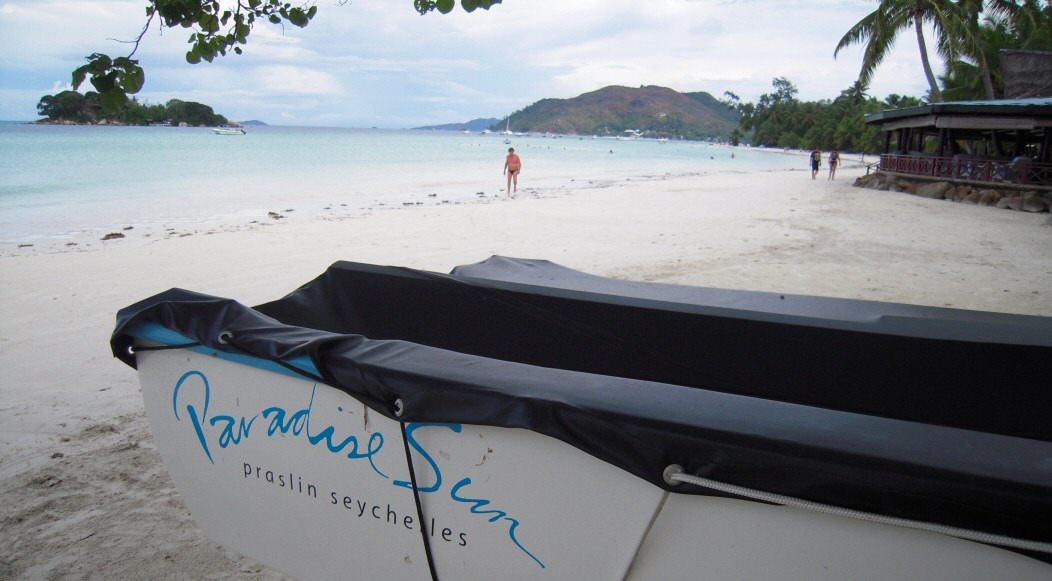 And I'm here to take it in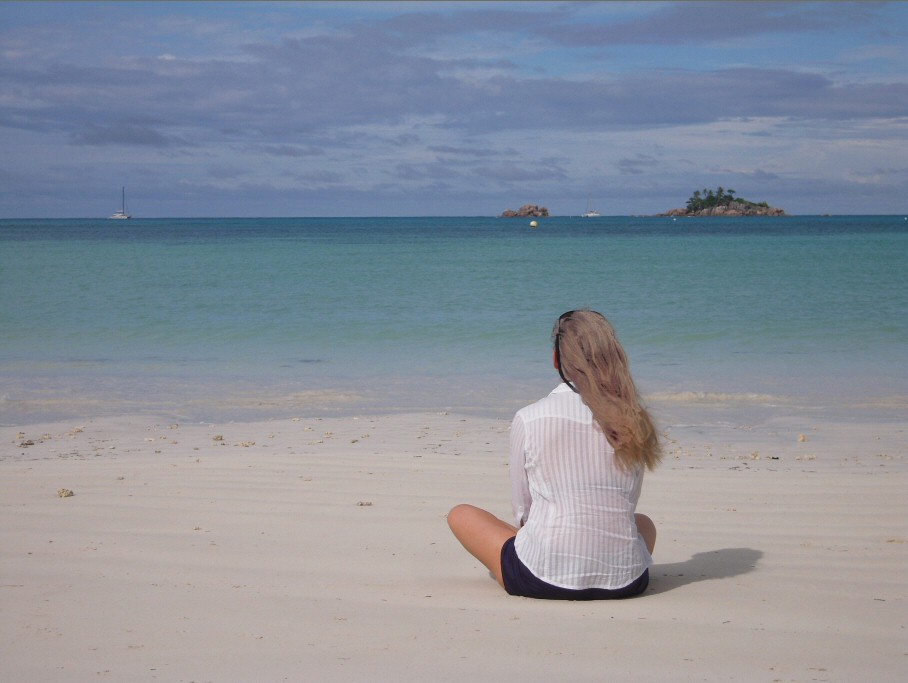 At our Paradise sun 6 pm pre-dinner meeting, Suzy briefed us on Dubai
We will arrive Dubai 1 pm
The Bursh sail shape
High Tea $120
Bursh Kalifa Atmosphere 127 floor.
9-2 or 8 to noon - city tour, then gold souk.
Desert safari 4:30-10
Several groups were booking High Tea, etc.
Here is Happy hour with the honey moon couple enjoying a cocktail: Bob and Kathy. Behind is Cheryl and Manny.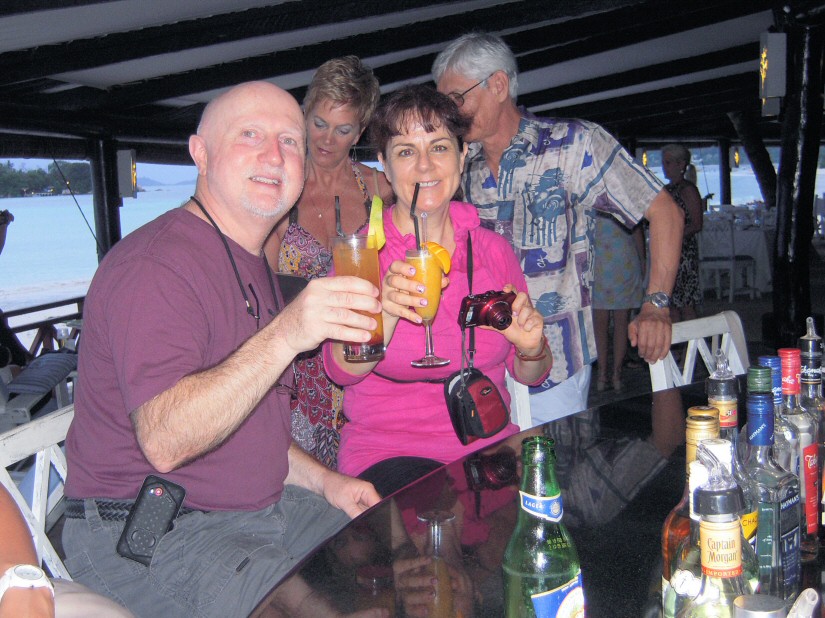 Dinner was in this "dining room" - the chairs are on the sand.
As the evening progresses, your front chair legs sink further into the sand, so you are leaning forward..
.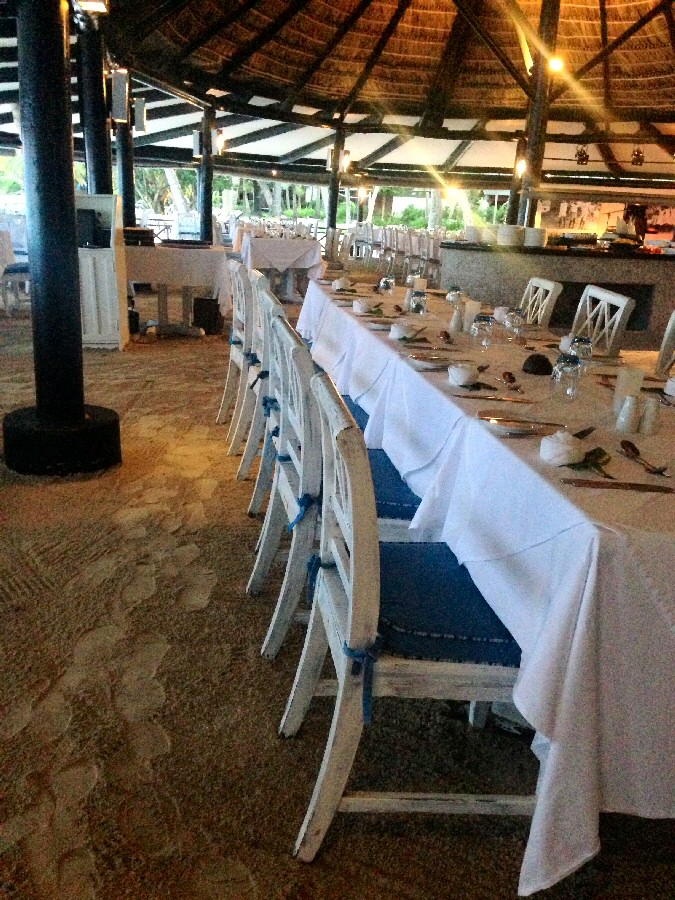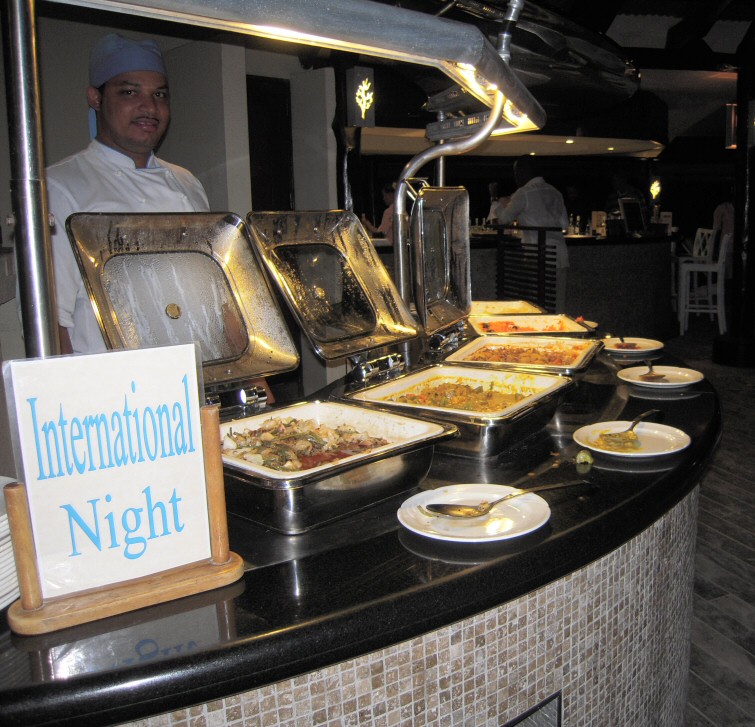 7 pm yummy buffet dinner. Grilled pork, chicken fish, eggplant. International buffet had potatoes au gratin, mashed carrots, chicken curry, salad station, bread.
Dessert island A BIG chocolate cake. Huge round 20-inch choc mouse. 5 high with thin layers of cake yum.
I sat across from Suzy at dinner. She answered lots of questions and we traded travel stories.
I shared my worst travel experience of a naked Jennifer at Petra, and again a naked Jennifer in Amman, Jordan closing down the airport. Yes, that really happened, read all about it here.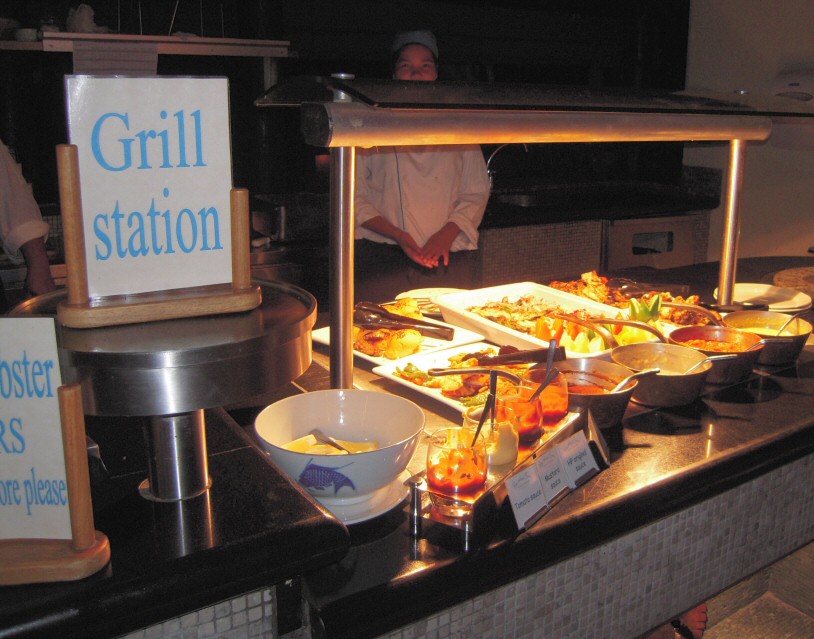 There was live music after dinner. Show songs and Christmas music. Yes, it is almost Christmas and here I am sweating in the tropics.
After I heard "I saw mommy kissing Santa Claus" in English and the he sang the song AGAIN in French!, that was too much.
Off to bed.
Back to top
Day 7 Monday, Dec 2 - Full day to tour Praslin and La Digue

From the trip description:
After a tour of Praslin, we visit Vallee de Mai, UNESCO WH Site of a botanical paradise. It's believed to be the original Garden of Eden for its endemic Coco de Mar, the world's largest nut which only grows in this amazing forest. You'll learn about these unique male and female palms that mate. Then our tour takes us to the exquisite Anse Lazio Beach. Year after year, it is voted as "the world's best beach" with astonishing beauty of living corals and balmy waves.
Later we transfer to pair for a boat ride over to La Digue Island. It is protected with masses of pink granite rocks which seem to have exploded on the coastline. This is the home and breeding ground of the rarest birds like Black Paradise Flycatchers, Waxbill and more.
In La Digue, time stands still. Transport is only by ox carts and bicycles in an area of only 10 sq miles. The island trademark must visit is L'Union Estate with its coconut oil mill, old kiln and fine colonial house set in vanilla and coconut plantations. As you stroll here, you can pet the gentle land tortoises before we settle on another stunning beach of Ansse Source d'Argent. Set against exceptional rock formations, it remains a source of inspiration for artists and it will take your breath away.

Tonight we'll celebrate with a farewell dinner. B,D Paradise Sun
This hotel has wonderful breakfasts! The offerings were extensive. Some things included:
Coconut nougat, Tropical fruit jam, guava jam, star fruit jam, banana jam.
Creole biscuits, cassava gallet, carrot juice, mixed tropical juice, banana smoothie, mango smoothie, fruit and juices,


In the hotel lobby where we were all gathered, Suzy reviewed our Praslin Tour day schedule today
8:15 depart
Wear your Swim suit, bring bug spray
walk in the park 1:15.
Boat to La Digue island.
Coconut processing plantation
Life in the past.
Vanilla plantation.
Arse beach, swim, lunch.
Shopping.
4:30 return to boat.
5 pm back to hotel.


8:15 meet the bus
Moyra is our guide today.
Our schedule
She said we will visit the nuts. Well see the only place where coco de mer grows
10 am boat to La Digue. 15 minutes.
Coconut plantation
Lunch
Cast away beach.
There is a small airport here on Praslin
It is the rainy-hot season now, so there is calm water. Water is rough in August.
Our guide said there are Jobs for everybody. There are many resorts here.
There are jobs that people dont want to do
Tourism, fishing, agriculture, arts and craft.
Reclaimed land is artificial"
For the houses (flatter land)
Hospital is free of charge. Cemetery is also free of charge.
.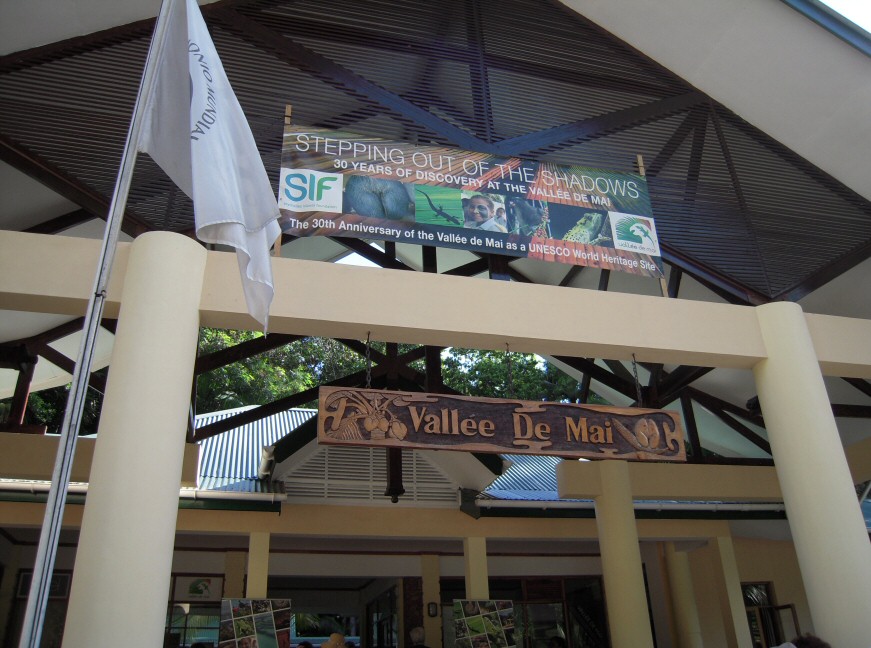 Here we are at the Vallee De Mai
.
The signs says
Stepping out of the Shadows
30 years of discovery at the Vallee De Mai
The 30th Anniversary of the Vallee de Mai as a UNESCO World Heritage Site

The Vallee de Mai supports:
the largest coco de mer population
core Seychelles black parrot breeding habitat
one of the only two populations of the rare giant bronze gecko
at least 14 species of endemic reptile and amphibians
invertebrates which are endemic to coco de mer forest
healthy populations of five of the six endemic Seychelles palm species
This is a World Heritage Site in 1983 because of extraordinary palm producing the worlds largest nut and home to endemic Black parrot.
Entrance fee is SR 335.
We are going on a hike through this beautiful forest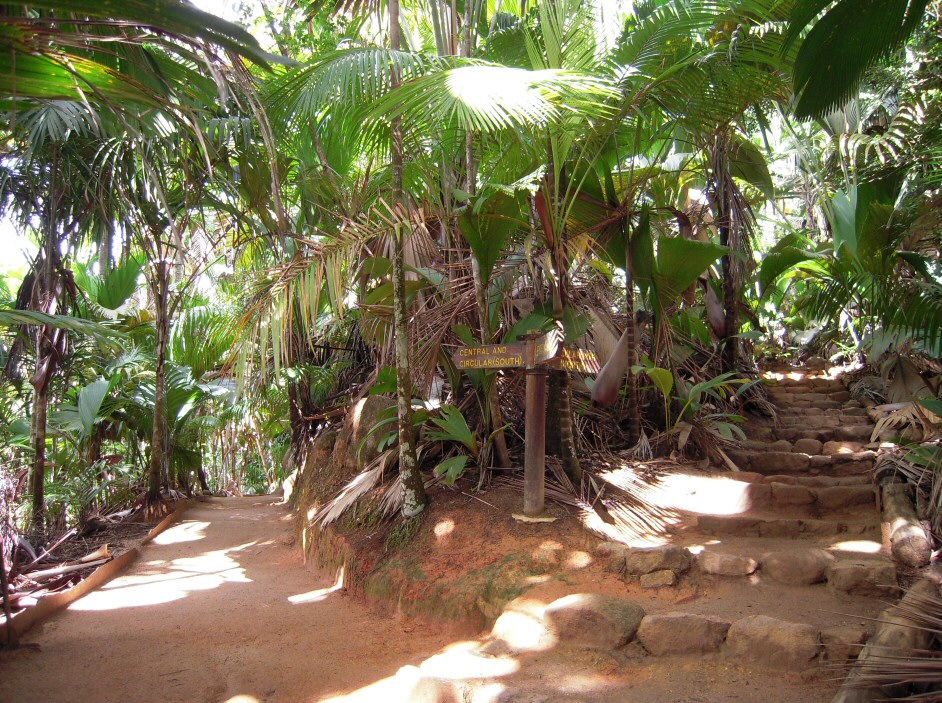 At the first stop, the guide shows us the FAMOUS Coco De Mer palm tree parts.
Coco de mer palm trees or KOKO-D-MER (Lodoicea maldivica) PALMAE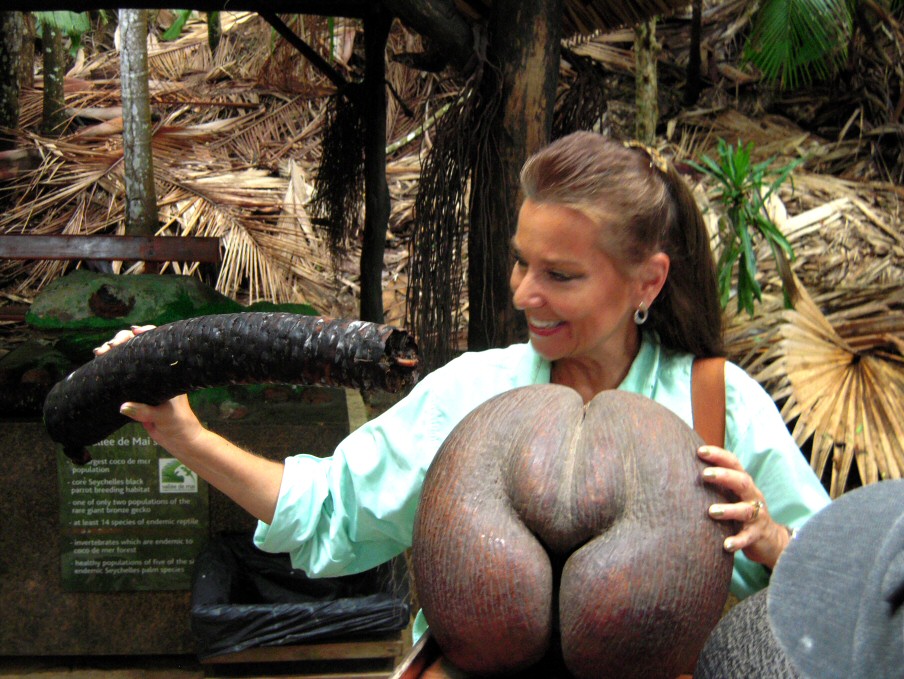 The coco de mer palms have given Seychelles its exotic reputation as the islands of love
Sometimes nicknamed the "love nut" because of the shape of its fruit which, with the husk removed, presents a "double" coconut resembling buttocks.
Male catkins and double female nuts bear a striking resemblance to the respective human reproductive organs
The coco-de-mer produces the world's heaviest seed pods. The jellyfish tree is to be found in only a few locations on Mahe.
This strange and ancient plant in a genus of its own (Medusagynaceae) has resisted all efforts to propagate it.
For the Coco de mer tree, you wait 20-40 years before you can see it is male or female tree.
There are tree with boy parts - Dont eat male parts. Male parts are only used to reproduce.
And the female trees with THE NUT
Female Coco de mer coconut palm that produces the coco de mer nut - we were calling it the butt nut.
The jelly inside the nut is sweet.
After 9 months and jelly is solid then you cannot eat it any more.
It is the biggest nut and Biggest aphrodsiac.
The nuts can weigh as much as 40 lb/18 kg.
Yellow flower on male part is only there for 24 hours to make the fruit it takes 7 years.
Female tree only receptive to the flower once in its lifetime.
Has a split leaf base
Here is our GTL showing us the Coco de Mer tree parts
Here is a male coco de mer: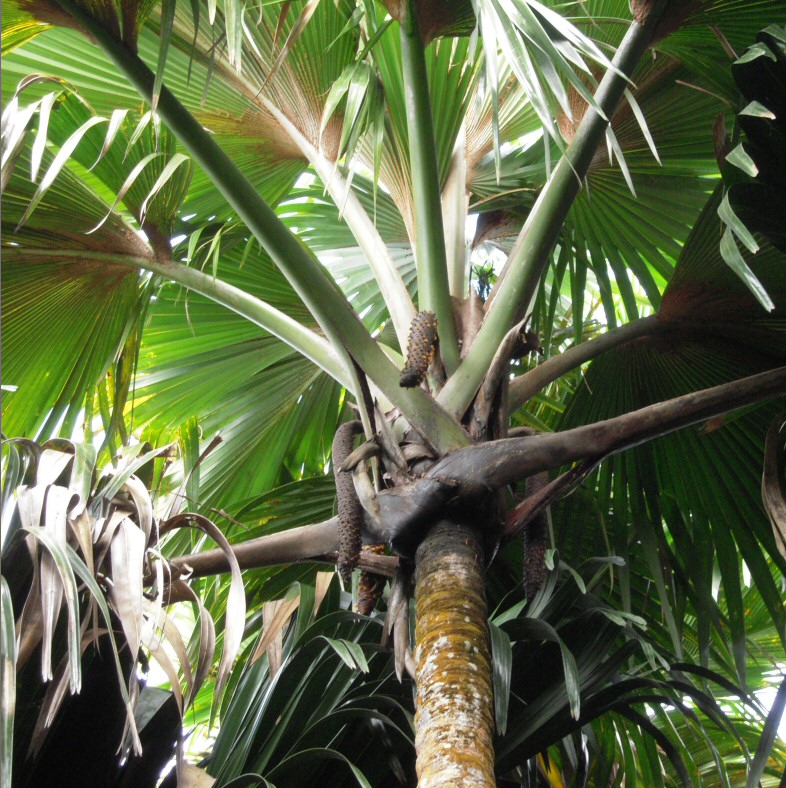 Here is the text from some signs that were posted in the forest:
Male Coco-de-mer
Coco-de-mer palms are either male or female, but until a tree first produces flowers, sometime between 15 and 40 years, there is no visible difference.
Male "catkins" are the phallic male inflorescence can reach an impressive two meters.
Some male palms produce 2 or 3 of these at once. Between the overlapping brown "bracts" are deep pits containing the male flowers.
There are 60 to 70 flowers in each pit. opening sequentially.
Each flower has prominent yellow anthers and produces a strong heavy scent.
The nectar and pollen are food for several endemic animals ... bright green geckos (Phelsuma spp.), white slugs (Vaginula seychellensis) and insects.
The split at the base of each large leaf stalk allows water to seep down the trunk to the roots.
Juvenile coco-de-mer
The leaves of young coco-de-mer palms are amongst the largest in the plant kingdom, dwarfing the other palm seedlings and swaying gigantically above us. They form an excellent device for catching and channeling rainfall down to the roots, which in a palm do not spread out very far. A trunk is formed only after about 15 years.
Young coc-de-mer plants provide several useful products, including weaving material for hats and bags, strong flexible string for tying thatch, and decorative wall and ceiling linings. The fine brown fibrous material on the underside of newly opened leaves was once used for dressing wounds and stuffing pillows. Palms within Vallee do Mai are fully protected.
Coco-de-mer bowl
At the base of the a coco-de-mer palm is an extremely dense and durable "bowl" which is punctured by numerous finger-sized holes, and resembles a huge colander. The bowl forms a socket, into which fits the bulbous base of the trunk. The tough, flexible, rope-like roots pass through the holes in the bowl anchoring the palm to the ground.
It is thought that this arrangement allows a certain amount of movement of the trunk in strong winds, for the trunk itself is inflexible and cannot bend in the wind like the trunk of a coconut palm.
Dead standing coco-de-mer trunks slowly decay and are in the favored nesting site of the Seychelles black parrot. The coco-de-mer bowl, however, is extremely resistant and remains for many years.
Marketing fluff:
General Gordon of Khartoum (in 1881) was convinced that the Seychelles islands were the original Garden of Eden and the coco de mer was the "tree of knowledge of good and evil." Of the many myths surrounding theretically shaped coco de mer nuts, a local fable tells that when the moon is full, the trees make love. Should you be a witness to this phenomenon, however, you will instantly be turned into a black parrot. Rudolf II, Holy Roman Emperor (1552-1612), promised to pay everyone who'd bring him a coco de mer the astronomic sum of 4,000 golden florins (probably more thanUS$200,000 of today).
There are 70 varieties of palm trees. 6 varieties are endemic.
We saw a palm tree where the roots grow down from the trunk to stabilize the tree.
She showed us a "4 spice tree". One leave contains the seasoning of four spices: clove, pepper, nutmeg, cinnimon in one leaf in the plant.
Here is picture of durians on a tree.
Tastes like heaven, smells like hell.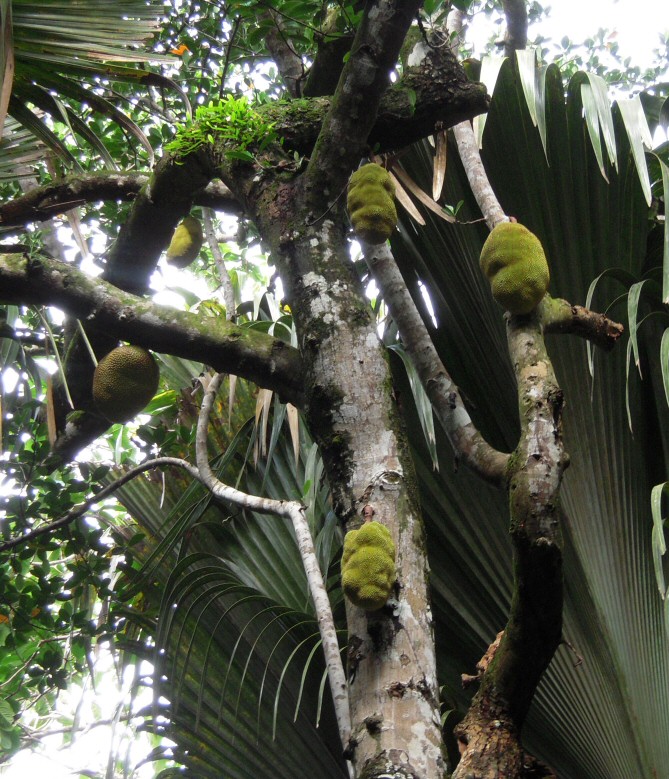 The Black Parrot is very rare and found only here and on one other island in the world.
They estimate only about 150 are alive today?!? AND WE SAW ONE! We saw a black parrot!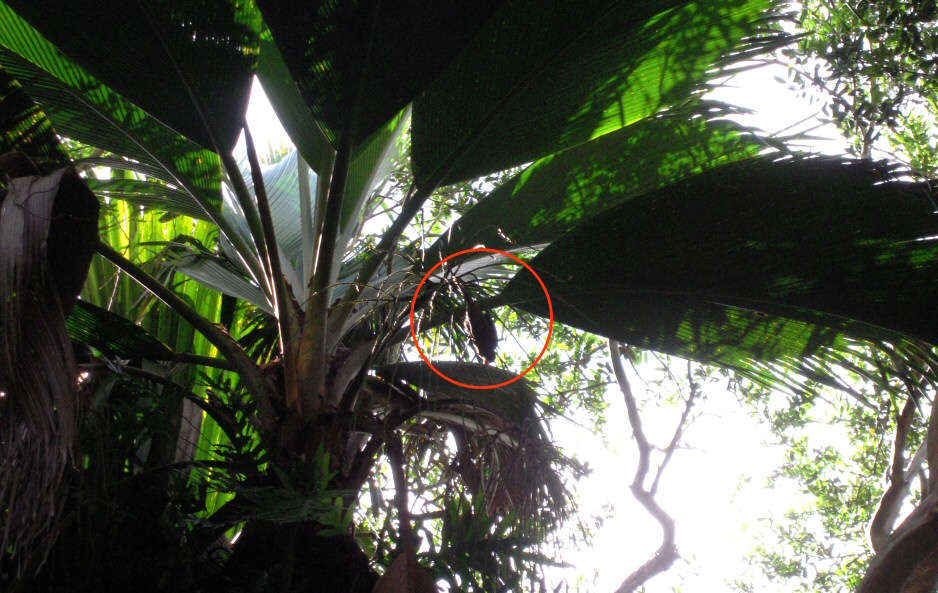 Daniella managed to take photo of two very rare giant bronze geckos. From Wikipedia:
The giant bronze gecko (Ailuronyx trachygaster) is a species of lizard in the Gekkonidae family endemic to Seychelles
Ailuronyx is a small genus of geckos from Seychelles, commonly known as skin-sloughing geckos. They have a reputation for delicacy and especially for shedding strips of skin if handled.
Classification of genus Ailuronyx
Seychelles bronze gecko, A. seychellensis
Seychelles dwarf bronze gecko, A. tachyscopaeus
Giant bronze gecko or yellow gecko, A. trachygaster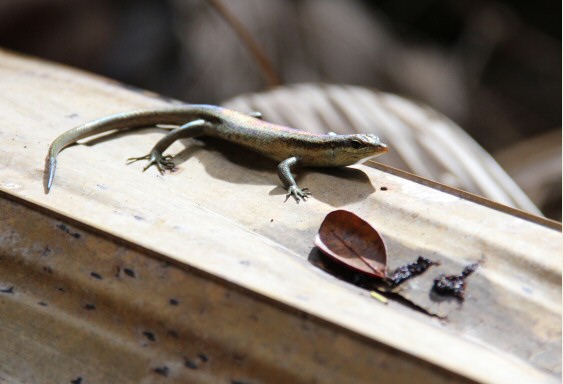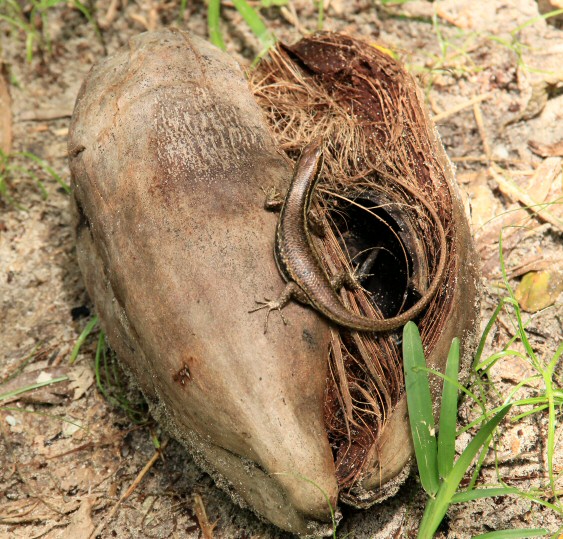 Solicitation fluff:
The Seychelles Islands Foundation (SIF) is responsible for the management and protection of the Seychelles two Natural World Heritage sites:
Aldabra Atoll and Vallee de Mai. SIF strives to maintain the outstanding universal values of both sites for humanity. You can support the preservation of these two sites through your donation. Thank you very much!
At the end of the hike, we went back to the building where they had some shops.
And we found out that we have a some shoppers in the group.
Manny was all smiles when he got on the bus showing off his (butt) nut!!!! He got papers with it to show it is legal to own.
So now it is 9:45 and we have to drive to the dock to get onto a ferry that leaves at 10 am!
We made it to the dock and the ferry just in time.
We are going to this island: La Digue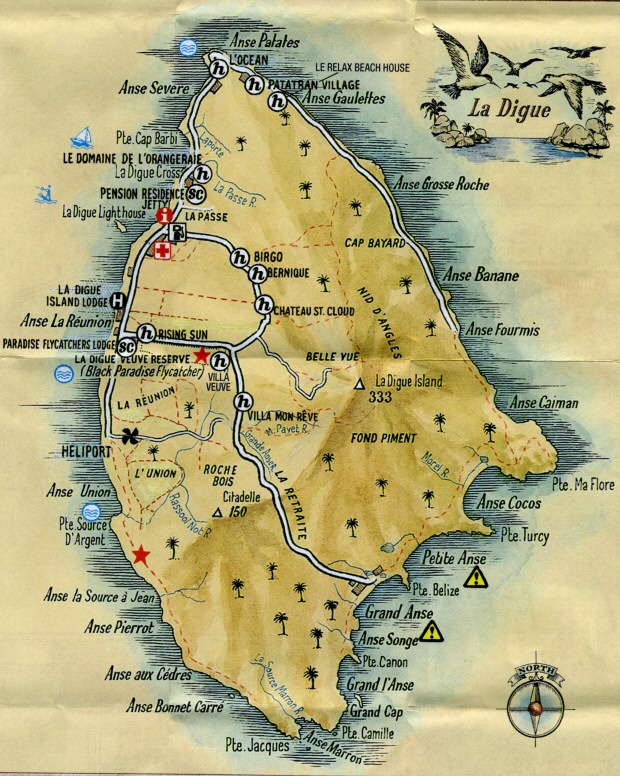 We are herded toward these ox carts. How cool. The driver kept telling us the scoot forward so we don't strangle the ox!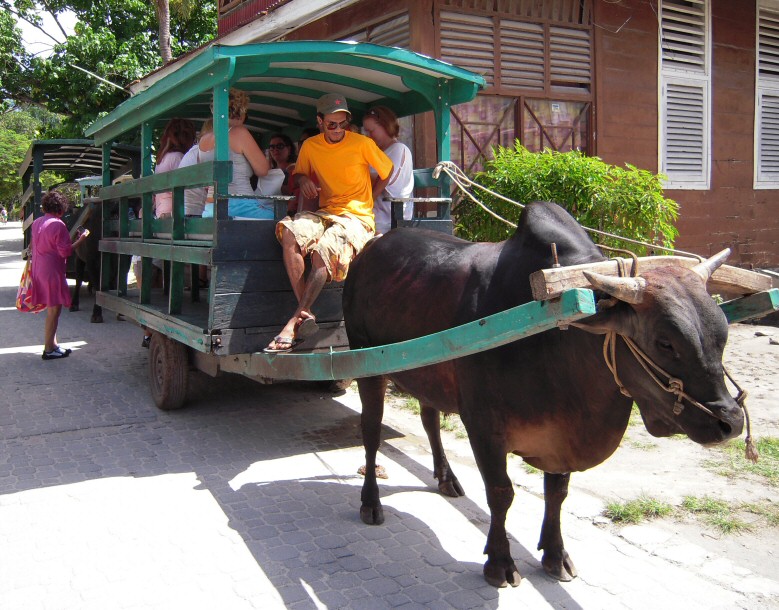 Allan feeding the ox puling the cart behind us: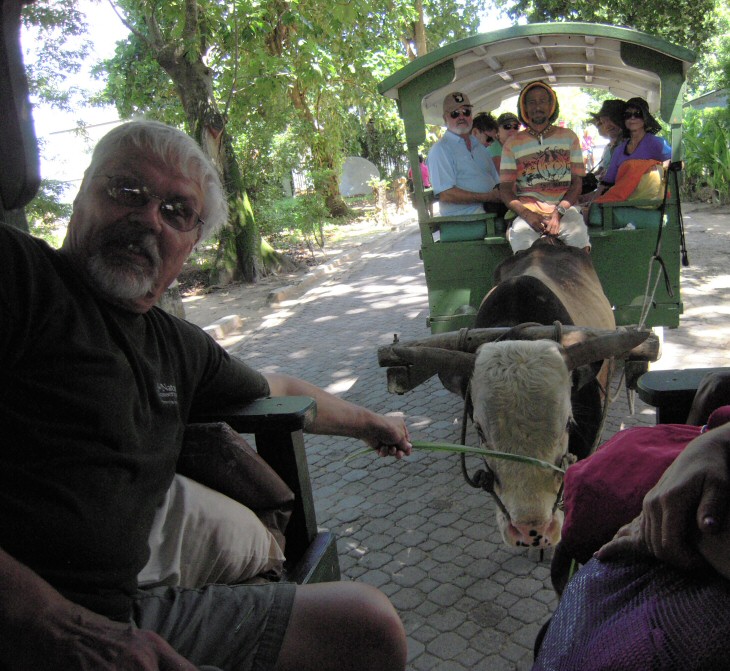 The ox's take us the "Coconut factory"

In the morning, they pick up the coconuts, remove the husk, then take them to the kiln to dry for 4 days.

They dehydrate and it transforms into an oily component called copra. They put the copra into the center barrel (in the picture below), the bulls goes around which moves the center trunkc and presses the copra and extracts the oil. They showed the oil from the short demonstration for our group.

The leftovers are called pumak and that is fed to the chicken and birds.

Back in the 70's we would slather coconut oil all over our skin to "get a better tan". If had no USP sun protection, so you just end up getting burnt.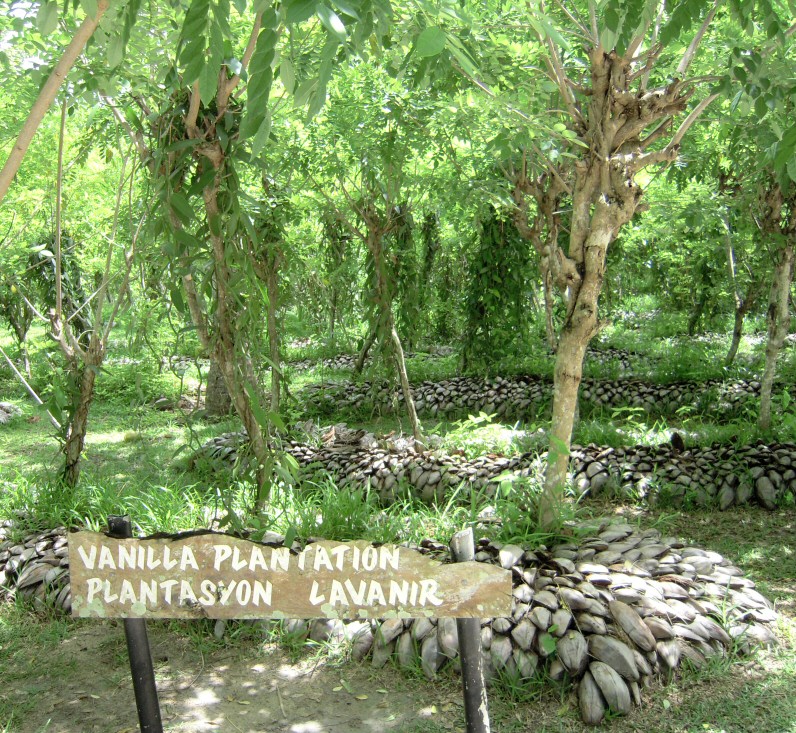 Vanilla is cultivated on the islands.
This is a Vanilla plantation.
Vanilla planifolia, an orchid, is a creepingvine that clings to a host tree. Each flower has to be hand-pollinated. The long, bean-shaped pods are later picked by hand and dried on racks in thesun for four months. Pure vanilla essence is distilled on La Digue.
From flower to kitchen, it takes 9 months to prepare.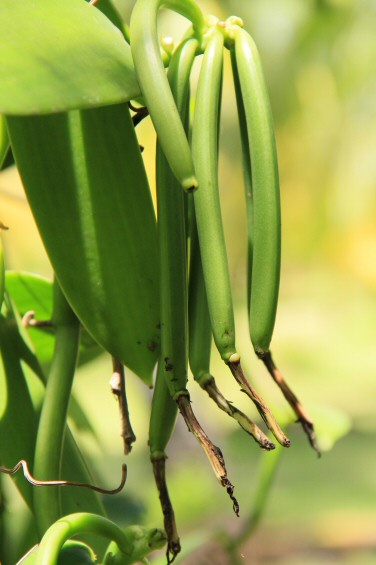 She is cleaning the vanilla in this picture. Manualy wiping each strand.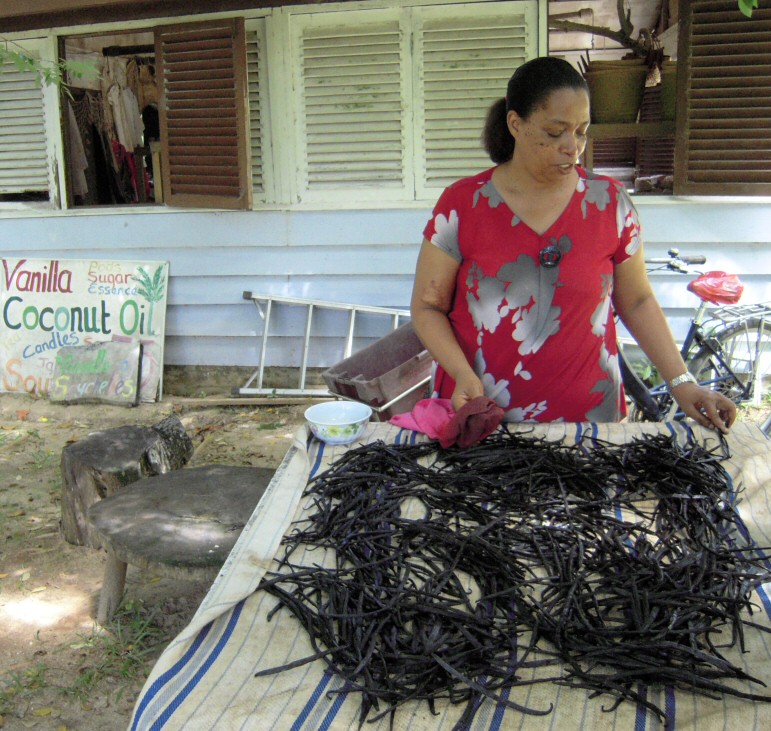 There was a cemetery right next to this - the sign said:
La Digue Cemetery
The cemetery was the private burial place for the Mellon family who was among the first settlers on La Digue during the early 1800's. Mrs. Louise Mellon (nee Desjardins) was the first owner of L'Union. Her sons, friends and relatives are buried here. Her descendants still live on La Digue
Restoration Project of the l'Union Cemetery by the Seychelles Heritage Foundation (SHF) in partnership with the Cantier d'Histoire et Architectures Medievalies (CHAM) and with the participation of
a) (From La Digue) L Union Estate La Digue Island Lodge District Authorities La Digue Community
b) La D.R.A.C Couseit Regional Conseil General La Prefecture
c) L'Ambassade de France aux Seychelles.
It was in this cemetery that the first inhabitants of La Digue were buried.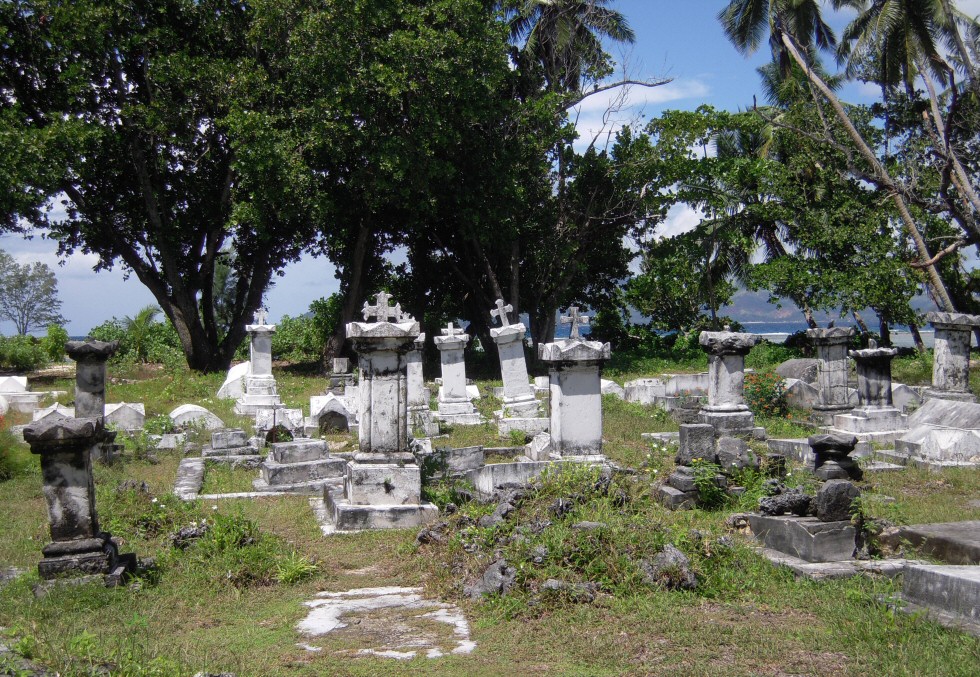 La Passe Jety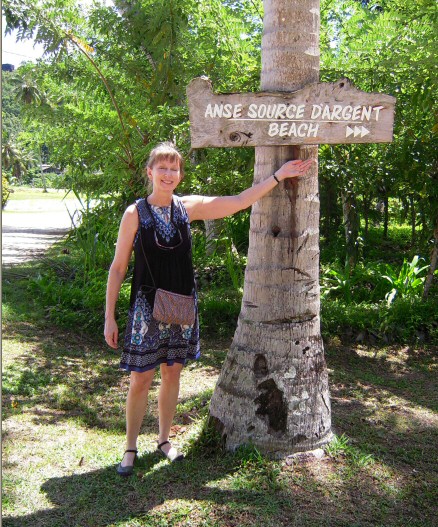 We did a nice, long, slow walk to the next beach. Anse Source d'Argent
This is the beach where portions of the movie Cast Away with Tom Hanks was filmed.
You could walk a long, long way along the beach, or behind the beach through these beautiful boulders: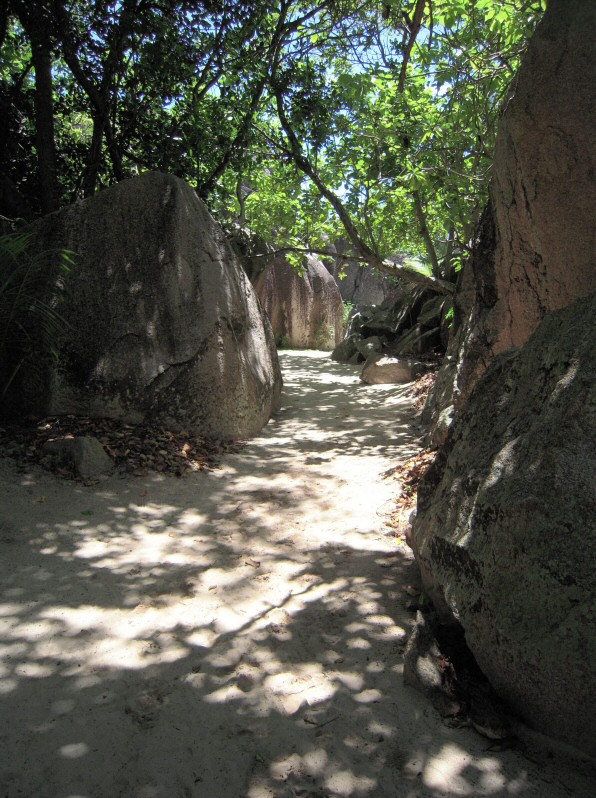 I spy a bride!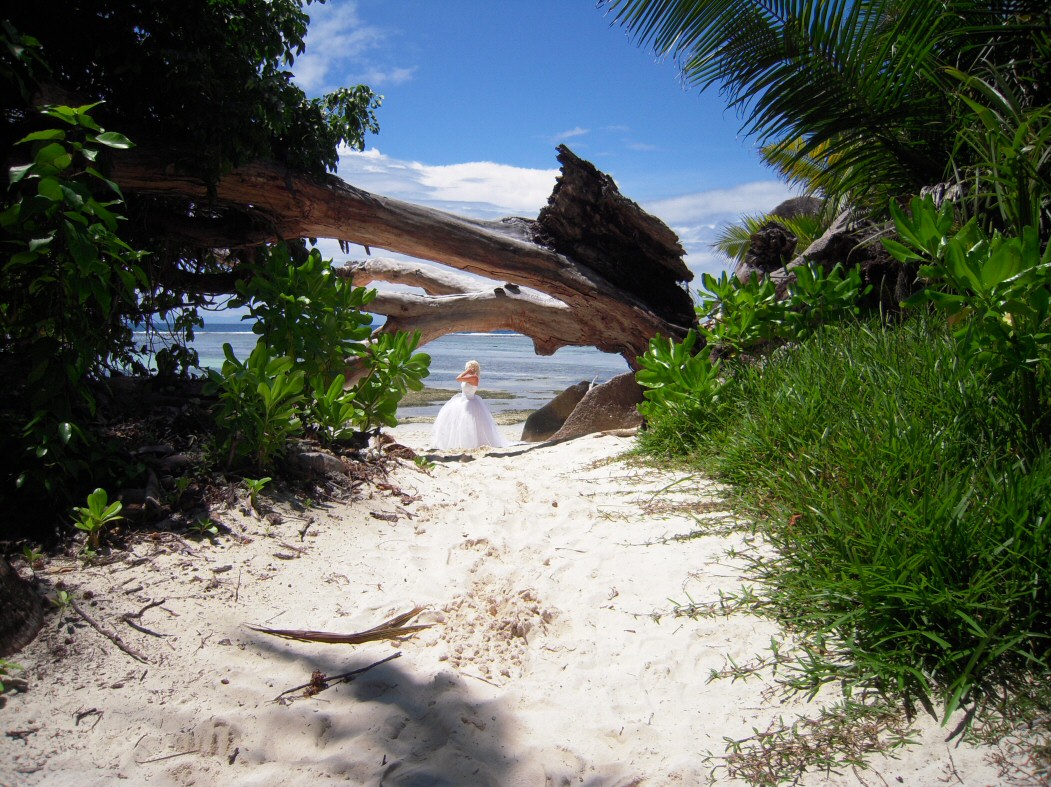 xx
Keep walking along and you pass boulders, more turquoise water
Keep walking and you pass draping palm trees adored with beautiful women: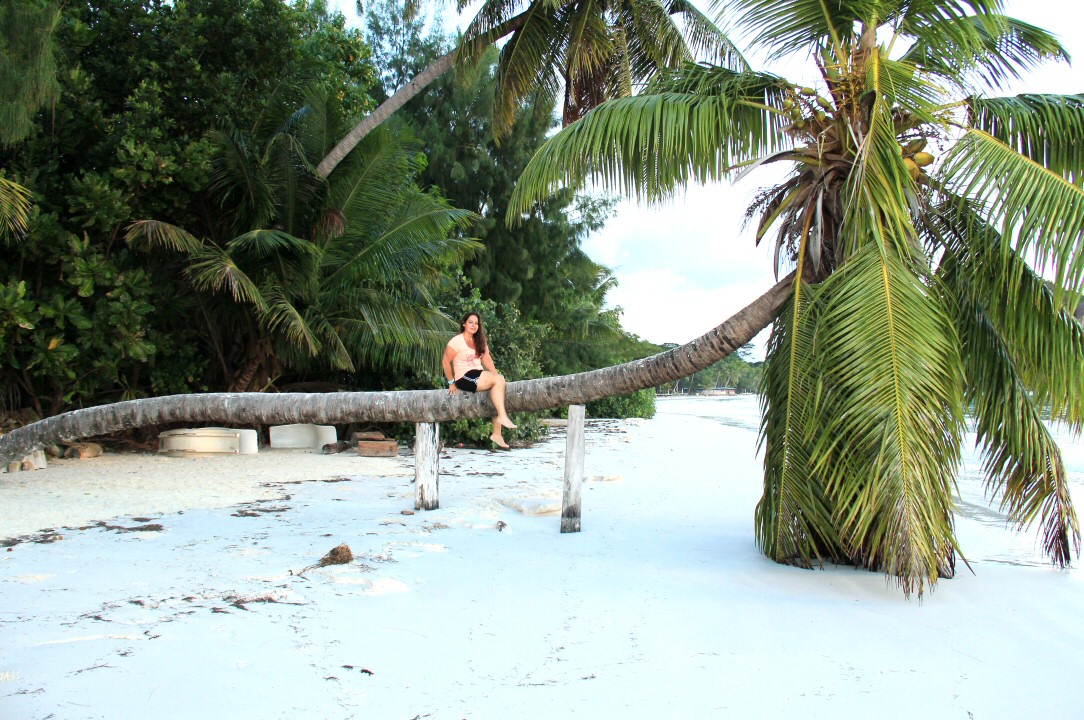 Keep walking along, and you pass more turquoise water, sand beaches: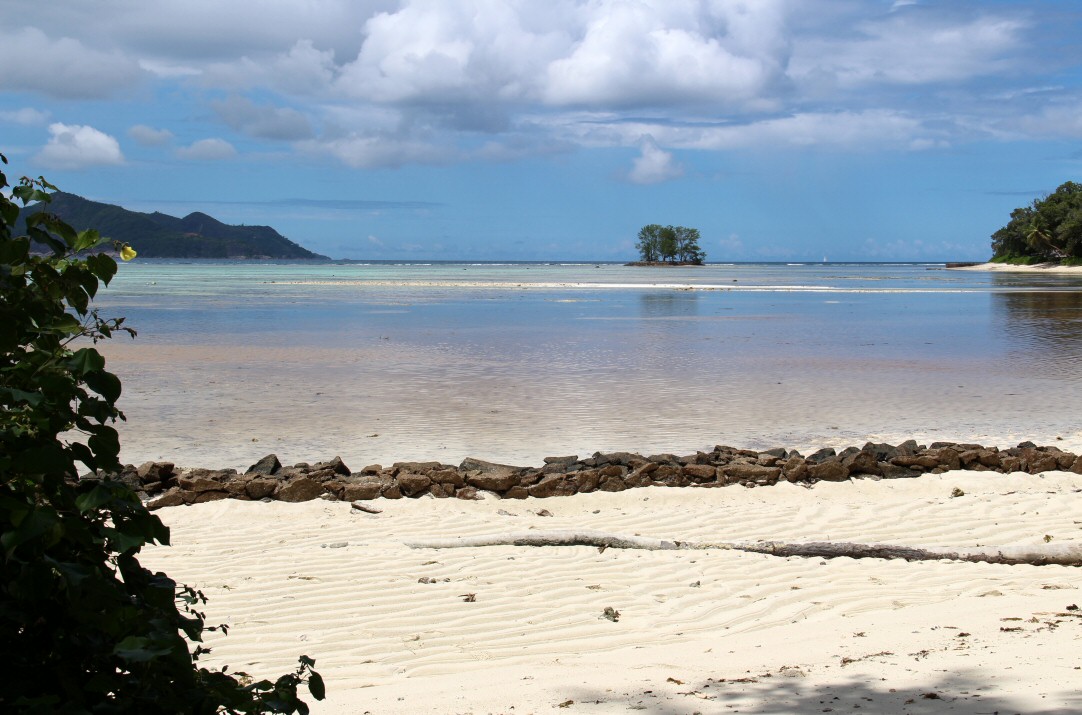 Beauty and perfection goes on forever
.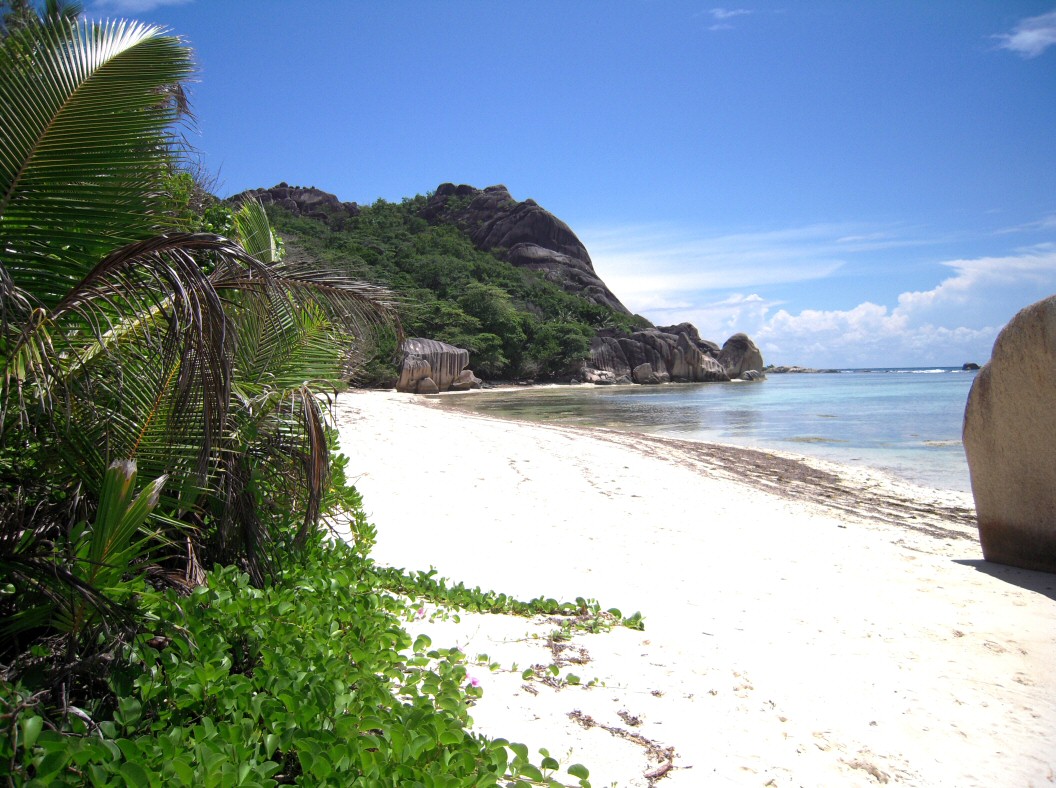 Allen enjoying the view: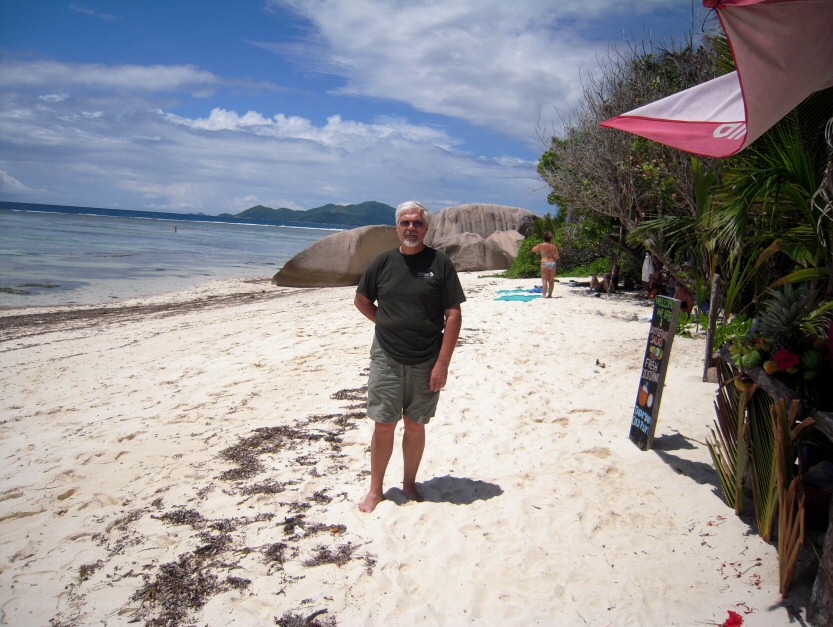 I walked with Allen as far as we could walk, then we had to get back to eat lunch. That was a great afternoon. But it wasn't over!
After lunch they had two trucks waiting for us to transport us the most Top-rated beach in the world!
Grand Anse beautiful beaches, dangerous currents.
There are very intense strong currents and waves. I call it "Pull your pants off waves".
The best way to get out was to dive under the waves to get out further.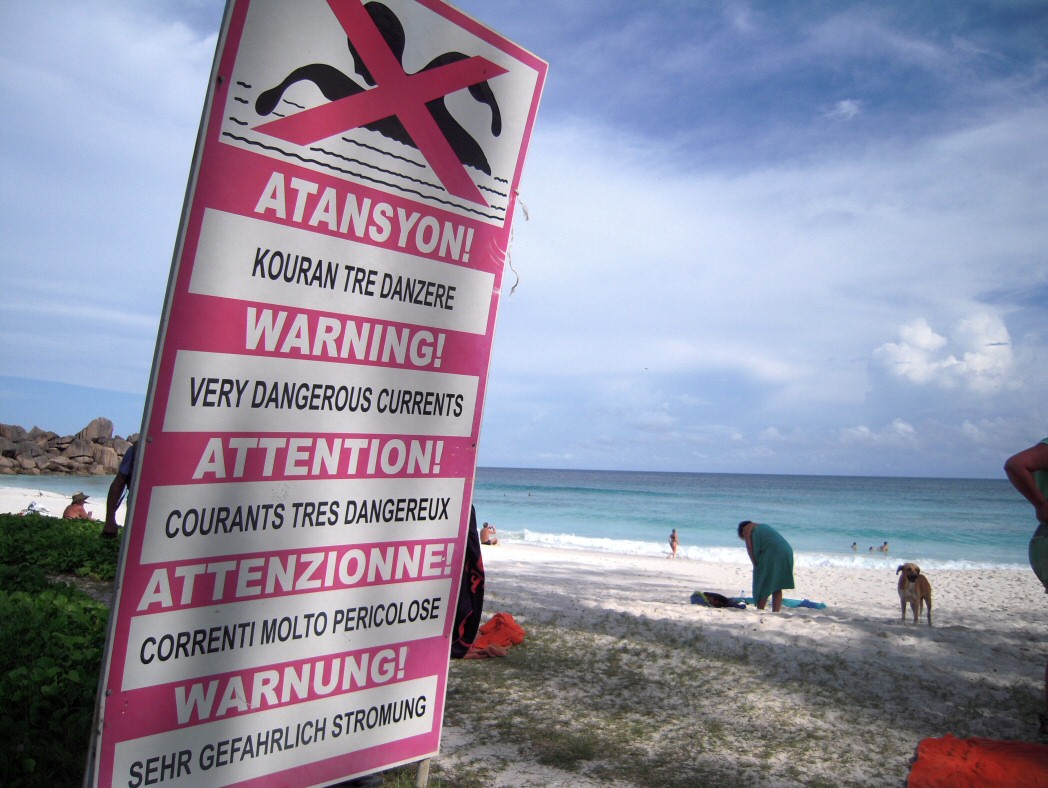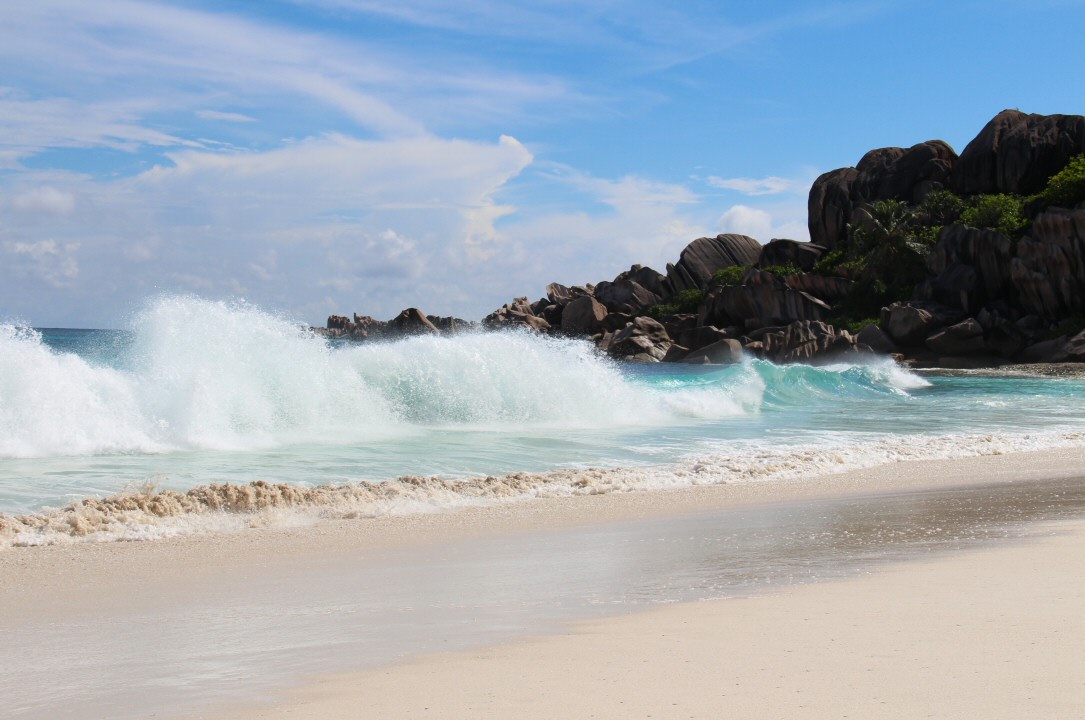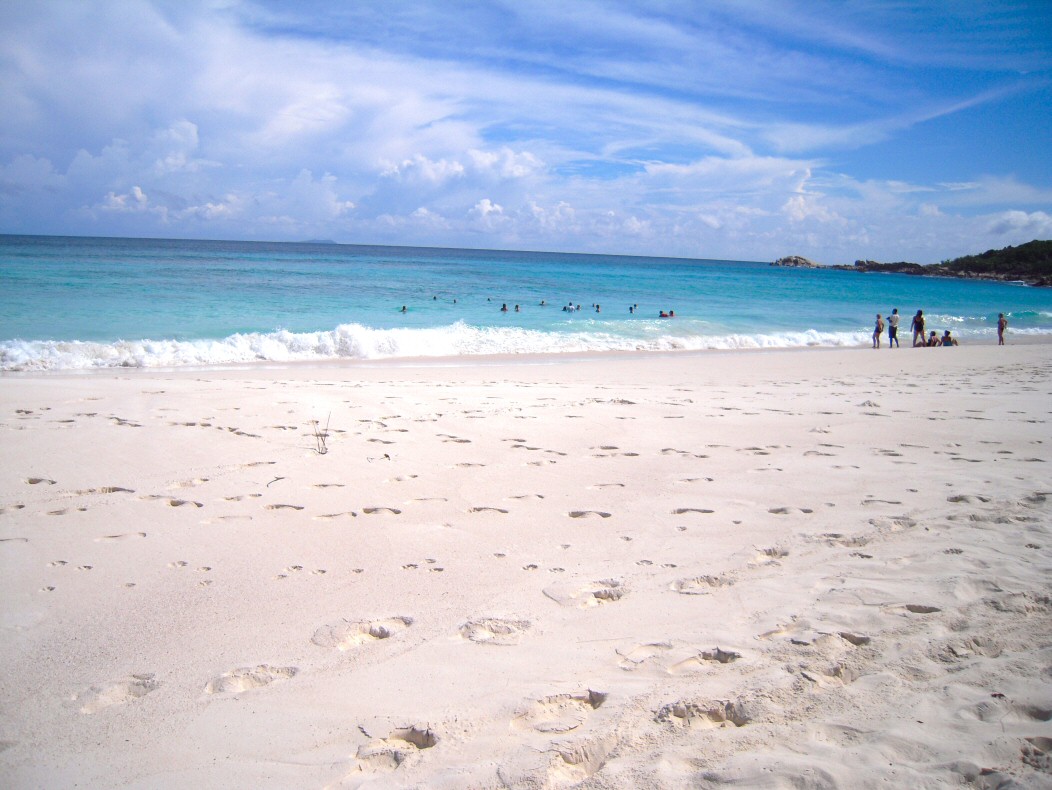 Very cool photo of Daniella and Melissa by Juliana: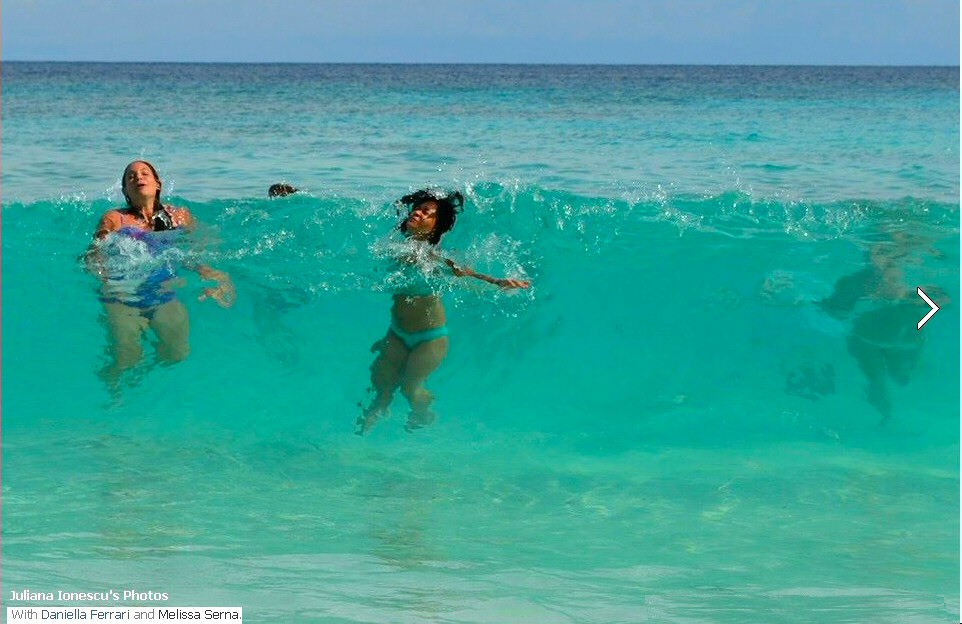 We were at this beach from about 2:15 to 3:15. Then back on the 2 transports. We rode back of 2 trucks.
There was lots of exhaust on our bus. I was in the front cab on way there. 3:50 back at the dock.
Small souvenir shops. Soda , beer, Kim went on a mission to find ice cream for our guide.
Showing purchases on the dock waiting to board, Amy said I went into the ocean in my pajama pants, so I bought these wild pants to sleep in Very cute.
Evening and tomorrow's schedule
7 pm cocktail hour
7:30 dinner
9 pm to room
Close out room charges
3:15 wake up
3:30 bag out
Box breakfast.
4:15 group 1 depart
4:40 group 2 depart.
15 minutes flight
Check in Mahi.
7K 14 pounds carry on
22k 42 pounds checked luggage.
7 pm. Happy hour in the hotel lobby.
They were passing out glass of rum punch. I told the barender I dont drink rum . So he is trying to accommodating. I said "I drink vodka". So he says ok, there is vodka in there also! And he named 3 other rums!. I got the virgin fruit drink. Someone called it bug juice.
Dinner was the same buffet delish grilled station, salad, desserts, yum, yum and more yum.
Last night they had rice pudding. This nite, chocolate rice pudding. Sue and Farley headed to bed. Zeke wanted a beer and I wanted to enjoy a glass of red wine before bed. The band was pretty good. Listened to one more song then off to bed.
9 pm pack. Set out tomorrow clothes, zip up suitcase.
Back to top
Day 8 Tuesday, Dec 3 - Transfer to airport for our 8:30am flight to ultra-modern Dubai! Arrive hotel by 2 pm
Continue with Part 2 Dubai - Part 2 of Dubai/Seychelle Journal (Day 8 through Day 10, The Palms Mega islands)