Andersonville, Georgia
and Plains, Georgia
I was the "Andersonville" movie! In 1995, Ted Turner spent $12 million to bring the 4-hour story of the Confederate camp to TV screens.
I was one of the extra's in the movie filmed in Coweta County. Since I was girl, wardrobe gave me a jacket.
It was cold that day and the jacket kept me warm during our 12-hour day of filming.
I was sent to the make-up department (tent). The pulled my hair up under my hat and put black soot all over my face, neck and hands.
I was assigned to a unit of soldiers and we learned to march together.
The scene that they were filming that day was when the confederate army was trying to convince the union prisoners to defect.
They would be free, but they would have to fight on the confederate side. We did many takes and re-takes.
A bright shiny ring caught the sun, so everyone had to remove their jewelry.
Some white running shoes were not appropriate in one take, so that guy had to walk around barefoot the rest of the day.
I wore my big, black shoes that were already caked with red Georgia clay from my yard work.
Since I had "correct" shoes, they put me on the outside of the column as we were marched around the camp.
It was quite an experience! It really made me appreciate the horror that the soldiers endured.
So in 2002 I went to Andersonville National Historic Site: http://www.nps.gov/ande/. In 1970 it was designated by Congress as an official memorial to all American POWs. I saw the re-creation of the Civil War (Confederate and Union) encampments and re-enactments of battles. In Andersonville, there were 45,000 Union soldiers imprisoned. 12,920 (29%) of them died.
From the National Historic Site of Georgia Official Map and Guide:"Of 194,732 Union soldiers held in Confederate prison camps, some 30,000 died while captive. Union forces held about 220,000 Confederate prisoners, nearly 26,000 of whom died."
This picture show sentry boxes, or "pigeon roost" as the prisoners called them. They stood at 30 yard intervals along the top of the stockade. Inside, about 19 feet from the wall, was the " DEADLINE ," which the prisoners were forbidden to cross upon threat of death.
I also saw the National P.O.W. Museum http://www.andersonvillegeorgia.com/pow_museum/. Opened in April 1998. hidden: I met some friends from the Atlanta Travel and Social club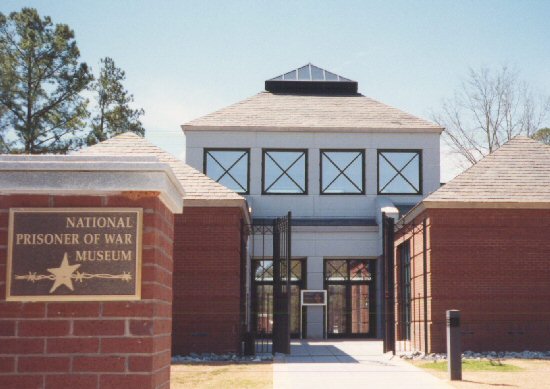 The museum is incredible. It is a memorial to All U.S. prisoners of war. It shows how the 800,000 Americans who have been held as prisoners of war all over the world since 1776 have suffered painfully similar experiences.
The entrance looks like the outside of a prison with towers and bars. It includes information on all POWs including prisoners being marched in captivity in freezing Korea and in the intense heat of the Philippines. Living conditions, news and communications with original letters, a Vietnam POW.
"You've got to want to come here. You don't get to Andersonville by mistake." I wanted to come here.
I've been to the Killing fields: Choueng Ek Genocidal Center and the Tuol Sleng Prison Museum of Genocidal Crime in Phnom Penh, Cambodia.
I've been to the KGB Museum of Victims of Genocide in Vilnius, Lithuania. "Lietuvos Genocido Auko Muziejus" - This is the only place in the world where you can see what the KGB did.
I've been to the American War Remnants Museum in Ho Chi Minh City (Saigon) Vietnam.
In Vietnam it is called the American War. From my journal: "The Tiger Cages really affected me. Oh my God."
So now I'm in this POW museum in this remote little town of Andersonville, Georgia. I turn the corner in the museum and there is the same Tiger Cage that I saw in the Vietnam museum. I got the the same awful feeling as when I saw those terrible torture cells in Vietnam. It's a horrible way to treat another human.
I would highly recommend going to the Anderson Historic Fair. Usually the first weekend in October.
These sites have some good pictures
http://www.civilwaralbum.com/misc/andersonville.htm.

http://www.angelfire.com/ga2/Andersonvilleprison/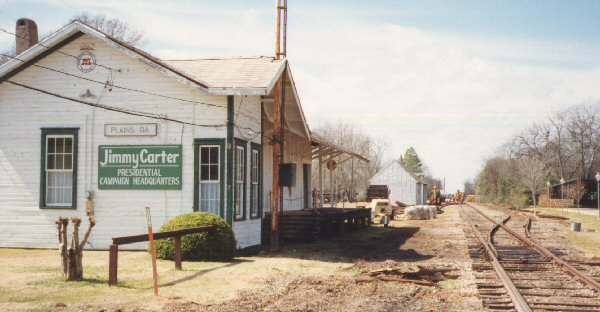 I also visited
PLAINS, GEORGIA
Plains High School is the visitor center. There are films and exhibits depicting the history of Plains and the 39 President of the United States.
I also visited the Carter boyhood home. Go on 280 West, at blinking light, turn right and it's on the right. You can also go to the Sunday School class that Jimmy Carter teaches at Maranatha Baptist Church http://mbcplains.com
The Andersonville Trail is a 90-mile sight-seeing loop off I-75 in Southwest Georgia. It includes interesting places to visit in Byron, Fort Valley, Warner Robbins, Perry, Marshallville, Montezuma-Oglethorpe, Andersonville, Americus, Plains, DeSoto, Cordele, and Vienna. This site has details on what you can visit in each city: http://www.andersonvilletrail.freeservers.com/.

Stayed at Americus Days Inn http://www.daysinn.com.
1007 Martin Luther King
US 280 & US 19
Americus, GA 31709 US
Paid 40.76 a night. The location of the hotel was great: 1 block from Habitat for Humanity Headquarters, and 10 miles from Plains, GA - home of President Jimmy Carter.
Also stay at Best Western 125 W Lamar Street, Americus, GA, 31709, United States Phone: 229/924-1555
Make sure to stop in McDonough, GA at Truett's Grill (678) 432-2221. It's a Chick-fil-a with white table cloth, and sit down and order menu.
From 1968 to 1973, Mom planned travel trailer vacation trips for our family (3 kids and a dog) every summer. We visited 33 president's homes!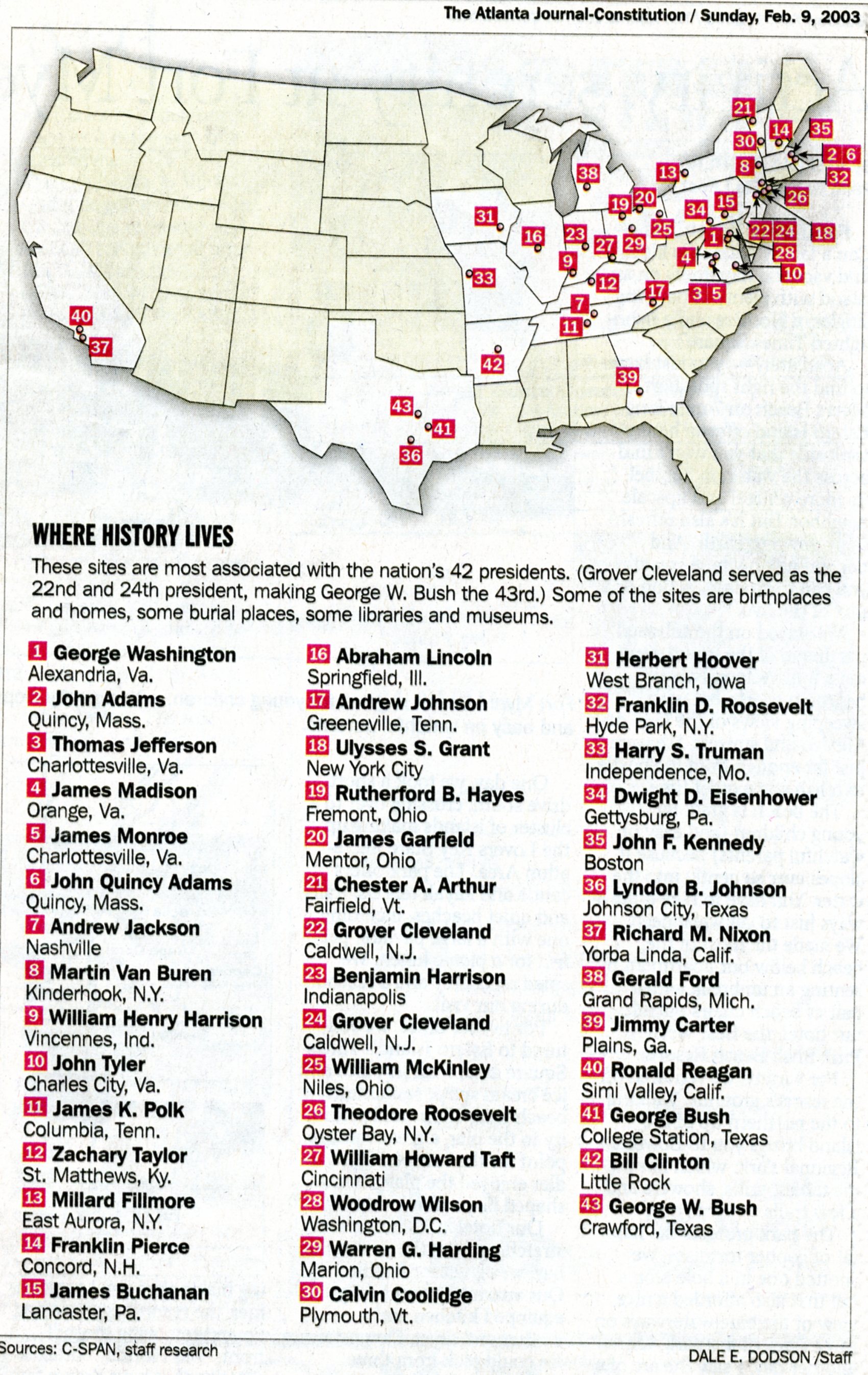 George Washington (February 22, 1732 – December 14, 1799) was the first President of the United States from 1789–1797. By 1853 his home was smothered in weeds and overgrown brush.
Ann Cunningham founded the Mount Vernon Ladies Association and raised $200,000 to buy the home, renovate, refurbish, and restore the house and grounds to what they looked like n 1799.
See the exhibit at the National Building Museum http://www.nbm.org/
Online source
www.americanpresidents.org https://www.c-span.org/series/?presidents
https://www.nps.gov/findapark/index.htm https://www.nps.gov/nr/travel/presidents/
https://www.whitehouse.gov/1600/presidents
---
This page and all other pages in the http://www.mytrips.com web site, along with the journals, images, and photos are Copyright © 1997-2018 by Suzanna Travels. All publication rights are reserved. Email: web@ mytrips.com Remove the space after the @