Holy Land
Also see Israel - 2011 **Journal and Pictures ** and

Suzanna's Brother Travels to Israel

These pictures from the Holy Land Experience in Orlando, Florida www.theholylandexperience.com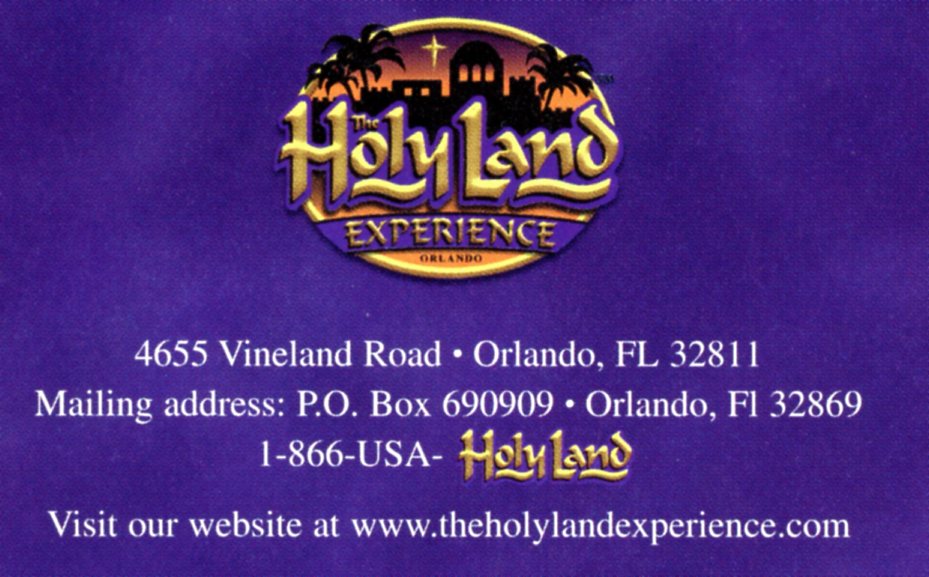 My photos were taken in 2002. The 1961 photos were taken by my Grandfather in Jerusalem, Israel.
In 2010 they had up to $42 million in contributions.
In 2014 they had about $2 million in contirbutions and a $1.3 deficit.
July 22, 2016 Atlanta Journal Constitution "Christian theme park puts items up for sale" in a massive estate sale.
August, 2016 the web site does not indicate that the park is closed, yet....
The Holy Land is a living, biblical museum designed to give you a glimpse of what life was like during the time of Jesus Christ. It is a multi-sensory experience that transports you 7,000 miles away and 3,000 years back in time to the ancient city of Jerusalem. They have recreated in elaborate and authentic detail that historic city and its religious importance between the years 1450 AD and 66 AD.
1450 BC during the time of Moses when the Isrealites were wandering in the desert for 40 years.
Jesus teaching, his crucifixion, and the destruction of Jerusalem and the city's Herodian Temple by the Roman in 66 AD.
They combine costumes, dramatic enactments, music, theatrical event, high-tech, multi-media presentation, and film.
The Temple of the Great King. Gods home on earth. Where Abraham offered his son Issaac as a sacrafice.
Location of King Soloman's Temple.


1961 - Jerusalem Wall - Damascus Gate


2002 - Jerusalem Wall in The Holy Land Experience


1961 - Grandfather's picture in Israel


2002 - Calvary's Garden Tomb in the Holy Land Experience, Florida


1961 - Calvary's Garden Tomb in Jerusalem, Israel


The Holy Land Experience model of Jerusalem A.D. 66


The Wailing Wall in the model

This page and all other pages in the http://www.mytrips.com web site, along with the journals, images, and photos are Copyright © 1997-2018 by Suzanna Travels. All publication rights are reserved. Email: web@ mytrips.com Remove the space after the @