Part 1 of 3
India, Nepal to Tibet, and Kashmir Trip
April 17 to May 8 (22 Days) in 2009
This is part of my journal for the vacation that I booked with Himalayan International Tours http://www.himalayantours.com/
126 Madison Avenue, 2nd Floor , New York, New York 10016, Phone: (212) 564-5164 , (800) 421-8975

Map of

India, Nepal

to

Tibet, and Kashmir Trip
. This was really three separate trips:
Part 1: Day 1 to Day
6

: Delhi to Jaipur to Agra

Part 2: Day 7 to Day 16: Kathmandu, Drive 5 days to Lhasa, Tibet
Part 3: Day 17 to Day 22: Kashmir and then home
Table of Contents
Before I left
I booked this Tibet with India and Nepal tour http://www.himalayantours.com/tibet.w.india.nepal.html with Himalayan International Tours, Inc. 126 Madison Avenue, New York, NY 10016, Tel. 212-564-5164, Fax. 212-564-2188 www.himalayantours.com. Email Lou at agt@himalayantours.com.
Buy Trip Insurance - I got the Classic Comprehensive plan from Access America www.accessamerica.com.
I did my research and the India Visa requirements said that "passport must have at least two blank visa page. last 2 amendment pages are not acceptable." So, my passport didn't have enough blank pages for this trip! I had to mail my passport off to the National Passport Processing Center in Philadelphia, PA so I could get more pages sewn in.
Then I in February I had to mail it off to Travisa Outsourcing to get the India Visa put in my passport. https://indiavisa.travisaoutsourcing.com/homepage I had to get a multiple entry visa for $80.00 (plus processing & shipping fees total cost was $94). Single entry is only $30.00.
I registered my trip with the US State Dept https://travelregistration.state.gov/ibrs/ui/
I made my own flights arrangements to India and back home, but they book all the flights during the tour. Himalayan Tours sent me a link to www.virtuallythere.com where I could check my reservations.
From: air-himalayantours <air@himalayantours.com>
Sent: Thursday, April 2, 2009 6:01:45 PM
Subject: Travel Reservation
Himalayan Tours is pleased to deliver your complete travel itinerary through Sabre Virtually There. Click here to access your reservation.
I sure am glad that I printed out all the flight information before I left. That was the only proof that I had flight reservations. I used those printouts to check into some of the flights. It sure helps to be over prepared before you leave.
They also gave me the names and phone numbers of my contacts in Delhi, Kathmandu, and Srinagar. That was comforting.
So something else happened that was not comforting. At one point there was 8 people signed up for this tour. There was a group of 6 people from California. It was March, 2008 and we still had not gotten confirmation that Tibet was going to be open for tourists. The California 6 got worried, so they rescheduled their departure to July. I checked if I could reschedule, but I have so much going on this summer that I could not move my departure. The April 17 departure date was about the only time that I could do this trip. Im doing my first triathlon on June 5, the Peachtree 10K Road Race on July 4, the Caribbean cruise with my sorority sisters July 31, another triathlon on August 9, and another 10K race on Sept 7. I also checked the weather and there is absolutely no way that I would do India in June or July with the monsoons and heat. In April: the temperature and rainfall is ideal for India, Nepal, and Tibet in April.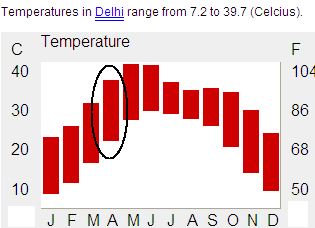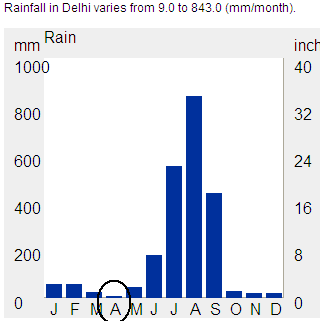 So instead doing the India/Nepal/Tibet tour, Lou asked if I was interested in spending 14 days in Kashmir instead. No thank you. I had to see the Taj Mahal, Kathmandu and Tibet so I was not going to substitute going to Kashmir for 2 weeks. But if my tour was in jeopardy of being cancelled, I scrambled that day and night to see if there was any other tour that was available.
I did so much research to find this trip. I found many many many tour companies that go to India. But my requirement was to see Taj Mahal, Kathmandu, and Lhasa on the same trip. Very few tour companies do that combination. To price the tour I started with comparing apples to apples - usually every company has a "Golden Triangle" tour (Delhi / Jaipur / Agra), then I needed to add Nepal and Tibet.
http://www.generaltours.com/ had a Delhi/Jaipur/Agra/Khajuraho/Varanasi/Kathmandu/Delhi 13 days from $4200. Does not go to Tibet.

http://www.gate1travel.com/ had a Delhi/Jaipur/Agra/ Khajuraho/Varanasi/Kathmandu/Delhi 15 days from $3500. Does not go to Tibet.

http://www.sitatours.com/ had a trip departing April 17 Delhi/Jaipur/Agra/ Khajuraho/Varanasi/Kathmandu/Delhi 10 days $5000. Does not go to Tibet. The agent at SITA said that the other 3 people signed up on their tour wanted a private tour. So much for that option.

http://www.virginholidays.co.uk/ Golden Triangle

http://www.intrepidtravel.com/ I love this tour company. I would definitely recommend these trips - very economical. I wish I could have worked it out to do this trip with Intrepid, but they weren't offering the tour when I wanted to go.

Kathmandu to Delhi Overland 15 days $1172 (This is original trip that I had always planned on booking. I found this trip in 2002)
Golden Triangle 7 days $700
Tibet Adventure 10 days - Drive Lhasa to Kathmandu $1900
A Taste of Tibet 15 days (via Hong Kong) $1220
Tibet Overland 11 days Drive Lhasa to Kathmandu with Everest Base Camp $2030

http://www.adventures-abroad.com Himalayan Kingdoms Tour Length: 12 days - Kathmandu / Lhasa / Shigatse / Lhasa / Kathmandu - about $3000, Highlight of Tibet $3000, Nepal & India 24 days $6000

http://adventure-himalaya.com/ AMADABLAM ADVENTURES - Highlights of India and nepal 14 days $2000
Kathmandu to Lhasa 7 days $1515, Tibet Adventure & Everest Base Camp 14 days, Tibet Overland 11 days

http://www.adventurecenter.com/ had a Delhi/Jaipur/Agra/Delhi 7 days from $600 and a Tibet Overland 12 days for $2000 and Overland to Lhasa 12 days $2400

Tibet tour:

http://www.bestway.com/itineraries/t031.php TIBET ENCOUNTER : Kathmandu / Lhasa / Gyangtse / Shigatse / Tingri / Zhangmu / Kathmandu . Cost in 2005 was $ 1735 + 315 single, in 2008 $1740 + 285 single
International air Kat to Lhasa $325, ins $65, Tips - so About $2500

http://www.exodus.co.uk/ Delhi to Kathmandu 15 days $3200

http://www.explore.co.uk/ Delhi to Kathmandu 2030 without flights, Golden Triangle 9 days

http://www.iexplore.com/ Tibet Experience 11 days - Lhasa / Gyantse / Shigatse / Shegar / Everest Base Camp- Rongbuk / Shigatse / Lhasa - $4895

http://www.gapadventures.com/ Delhi to Kathmandu Adventure - 15 days $1200 and Tibet Adventure 15 days $2400

http://www.geckosadventures.com/

http://www.globusjourneys.com/ Secrets of India with Varnasi and Nepal 21 days 4020 + 1509 single (2005 price) I love this tour company. They don't go to India any more.

http://gutsywomen.net/ Golden Triangle $4300

http://www.himalayantrekking.com/ Govind Shahi or Peter Owens (from Frommers article)

http://independenttraveller.com/ Across The Roof of the World 13 days from 2440 pounds

http://www.justyou.co.uk/ The UK's No.1 for single travellers. Nepalese Experience from 1433 pounds.

http://www.nepaltoursdestination.com/

http://www.onthegotours.com/ Classic Golden Triangle 9 days $3000 and Nepal to Tibet 13 days $4300

http://www.peregrineadventures.com/

http://www.sti-travel.com/ India's Majesty with Nepal 15 days $2160 (2005 price)

http://www.incredibleindia.org/index.html 1-800-953-9399

http://www.tourismofindia.com/
The next day. Lou said that my tour and departure date is still possible. Yeah. Perfect. That is what guaranteed departure means with a reputable tour company. I booked this tour in August 2008 and I paid in full for the trip.
I also booked my flights back in August 2008. I used 120,000 frequent flier miles and I paid $150 US dollars for First Class round trip tickets from Atlanta, GA USA to New Delhi, India. Not a bad price. I checked the retail price was $9754.97. Heres my receipt:
Receipt Information
Fare Details: ATL DL X/EWR CO DEL Q25.00M0.00CSM600/FT251 AF X/PAR DL ATL Q25.00M0.00CSM600/FT251 NUC50.00END ROE1.00 
Fare:         50.00 USD           Form of Payment  AX**********000
Tax:          99.29 TX              FP A/CUSD0.00/TL100.00
Total:       149.29 USD         Org Tkt 

00761006
My passport didn't have enough blank pages, so I had to mail my passport off to get more pages sewn in.

Then more excitement. Wednesday, February 18 2009 The Tibetan News reports "Tibet is Closed". Click here for text of article. I still planning on going on the trip, but was looking at possibly cancelling or delaying. Not point in going if I can't go to Tibet.

So I'm supposed to leave on this trip on April 17 and finally, March 30, 2009 the news "Tibet Will Reopen to Foreign Tourists on April 5" Yeah!

But even more upheaval. I was checking on my flights about once a month. So in March 2009, I notice that the return flight on Air France is gone! What the !!! They cancelled my return flight home ?!? So I scramble. There are no frequent flier seats until a couple days later. So I was either stuck in Delhi for a couple days after the tour is over, or I could sign up for the tour extension to Kashmir. But I was very apprehensive because of the state government report. Boy did that look scary. See Sunday May 3 journal entry.

Lou assured me that it would be a nice place to visit and safe. OK, but I asked if could talk to someone who had been there. He gave me two people to talk to .Emily? said she felt very safe on the houseboat. We talked about my concerns and she made me feel comfortable enough to sign up the extension. So well see how it goes.

I book the Kashmir trip and another return flight home.

The night before I left on this trip, I ate salad. Lots of salad at Ruby Tuesdays. That is the last chance for 3 weeks that I will have to eat salad. The night before, I ate a pork chop, and the night before that I ate a steak. Good old American food. So now maybe I am ready for curry Indian food. Ugh. The curry was pretty good in Sri Lanka. I really enjoyed the people on that tour. I sure hope I do OK with the other person on this tour. At least I hope there is another person! Im just going to go with the flow.

ABOUT India

Interesting about India by historian Michael Wood: http://www.pbs.org/thestoryofindia/

Became independent in 1947.

It is the seventh-largest country by area

Second-most populous country (with over 1.2 billion people in 2011) population 1951, counted 361.1 million people. population grew by 17.64% during 2001–2011
The most populous democracy in the world. The govt is elected by the people.


Life expectancy in India is at 68 years

literacy rate in 2011 was 74.04%

India has no national language.

Hindi, with the largest number of speakers, is the official language of the government.
English is used extensively in business and administration and has the status of a "subsidiary official language";


Religion 2011 census

Hinduism (79.8% of the population)
Islam (14.23%)
Christianity (2.30%)
Sikhism (1.72%)
Buddhism (0.70%)
Jainism (0.36%) and others] (0.9%).[8]
India has the world's largest Hindu, Sikh, Jain, Zoroastrian, and Bahá'í populations, and has the third-largest Muslim population—the largest for a non-Muslim majority country.
Friday April 17 - Day 1 and Saturday April 18 Day 2 - Fly USA/DELHI:
11:20 am. This is definitely not a normal trip for me. Right now, I do not have an overwhelming desire to write in my journal. But I dont want that same thing to happen as before when I was typing the Jan 2008 Spain journal and the June 2008 Cruise journal. I did not keep detailed notes on those trips and regretted it later when I was typing the journal. I could not remember things and the journal didnt flow there were gaps, etc. Maybe I forgot to write about a nice meal or event. Well, I will try not to do that on this trip. I am making incredible memories on this trip. Like the Vietnam/Cambodia trip, S. Africa, Sri Lanka/Maldives now that was a trip.
I am very relaxed at the moment. I packed everything I hope. My suitcase weighed 45 pounds. My carry on will last a couple of days if necessary. My super nice wonderful neighbor CC took me to the airport. I wheeled my suitcase across the street around 8:45 am, we dropped little Ricky off at day care and then drove on to the airport. I got there in plenty of time to go thru security, take train to concourse B. I found the Crown Room and sweet talked my way in. Traveling solo with a smile really gets you places. I dont think he was supposed to let me in, but I am going International in first class and he doesnt know I used frequent flier miles and I was 2 hours early for my flight. Its going to be a long day. He said I could go on in. Yeah. It was very crowded for about 20 minutes. I got an apple and some water. There was no food, just pretzels. I got a coffee and she asked if I wanted a shot of Baileys Irish Cream. Hmm. thanks, but no thanks.
Our arrival gate in Newark is B25. Its 1:56 min flight time. Were a little late taking off.
For the lunch meal, I chose salad/ham sandwich instead of turkey sandwich.
It was a very nice flight to Newark. Great weather on the East cost. Awful weather in Texas and Colorado today. Hail and ice storms.
Its 4:10 pm and I am sitting in Continental Presidents club room in Newark. There is huge area and a couple hundred chairs. There are many little business cubbies, a very nice bathroom, and there are maybe 8 shower rooms in this place. The shower rooms have big mahogany doors so it looks like the door to a conference meeting room. The sign outside the door says In Use. There is also a long bar lots of alcohol and the food consists of chips, cheeses, crackers, fruit.
My plane boards at 7:30 pm. I guess I try to call pop right before I board. There are lots of people walking by me with cocktails, beer etc. Wonder if Ill get a headache from no alcohol and no coffee. I do need to stay alert for this trip.
6:30 pm. I got a sandwich in the food court now Im back in the Continental room. We board in an hour for our 14 hour flight. My head has a brief pain occasionally that I can shake off so far.
We start boarding our B777-200 at 7:30 for the 8:30 flight.
Welcome aboard your flight to Delhi.
DELTA CONFIRMATION:
Fri 17 APR DELTA flight #2012 LEAVE ATLANTA 1219P Seat 2D First Class ARRIVE NEWARK 240P
Fri 17 APR CONTINENTAL AIR flight #82 LEAVE NEWARK 825P First Class ARRIVE DELHI INDIA 815P
If we leave at 8:30 pm, then add 15 hours, so we arrive 11:30 am and that is about 9pm India time. Yeow.
On the flight to Delhi, we had to pick what entre we wanted. We had three choices:
Tandori Cod Fish, Dal Masala, spicy simmered lentils, Also methi, potatoes with fenu greek leaved, Biryani, rice, kheera raita, yogurt flavored with cucumber, Meetha numbu achar.
OR
Herbed breast of chicken with "broccolini", couscous
Or
Lamb shank and red wine sauce with chanterelle mushrooms, asparagus, carrots, jicama and turnips and mashed potatoes and chives.
Duh, Im getting the lamb.
Wow, dinner was unbelievable. Starts with cheese and caviar. Then we are served salmon and horseradish cream. Then an excellent salad. And finally the main entree: Lamb shank wow. I took a before picture and then I devoured the food. The huge bone was hanging off the plate. I tried to pull the fat away and eat all the meat. Wow. I also had a glass of red wine. Now it is bed time. I hope I can sleep a little.

Geez so we just finish our entire meal and here comes the cart serving cheese and crackers and fruit. Uh, no thank you.

We flew over Moscow. Were over Kabul now with 1.5 hours to go. Next we go over Islamabad (very near to Srinagar). Oh boy do I need to relax. I climbed over by sleeping friend to go to the bathroom. That was a huge relief. Im telling myself that Im the one that has been saying this will be a tough trip. Now Im believing it. Just hope that someone is waiting for me at the airport. Go straight to the hotel and relax. Till morning. The we hit the ground running. When I planned this I though I was arriving a day early but this ended up being a private tour. Oh geez. I sure hope the other person is nice. I hope there is another person. Hmmm, so why am I doing this? To see the world. This is it. Except for Jerusalem, and the pyramids.

We had breakfast on the airplane. Swiss cheese, omelet, fruit. Now Im watching the sun set over Delhi. It will be night when we arrive. 8 pm.

We are beginning the decent. Delhi is dark! I took a photo of very bright Newark lights as we ascended. In Delhi, I see very small areas of faint light otherwise it is total darkness down there.

My new friend, Rita is so nice. She is from Connecticut. 2 girls, she Tina and

Amie

. Went to NYU. Shell be in Delhi a month. She has a car

and she wanted to show me around tom

o

rrow. But I have full tour schedule that was so nice of her to offer. She told me to call in an emergency. Very comforting.

OK, finally

m

ore lights down below

! There is a big city down there!

At baggage claim, Rita was so nice to call JP on her phone. Yeah, he was here at the airport.

After getting your suitcase, you have to change money before you exit. I saw Thomas Cook but I remembered the high commission to exchange money in Italy. I did not want to pay that again. So I opted instead to go to the State Bank of India where they had a sign "No Commission". Two days ago, the rate was 65 on XE.com two days ago. It is 63 now with no commission. I waited for him to count money, and count more money, and more money. Finally he acknowledged me. I handed over my passport and 300 Euro. At 63.50, he gave me 19050 Rupees (Rs). I asked for receipt. He didnt like that. I waited, waited, waited.

I just stood there and smiled. I had said something or asked again, it would have taken even longer. I f

inally got my receipt.

Heres my India Rupees exchange table that I brought with me:
1 Eu = 65.65 Rs

50 Eu = 3282 Rs

100 Eu = 6565 Rs

200 Eu = 13131 Rs

250 Eu = 16,412 Rs

400 Eu = 26262 Rs = $526

526 divided by 22 days = $24 a day

$1 = 49.80 Rs

$100 = 4980 Rs

$200 = 9960 Rs

$524 = 25095 Rs

1 Rs = $0.02 = .015 Eu

100 Rs = $2

200 Rs = $4

400 Rs = $8

1000 Rs = $20

2500 Rs = $50

5000 Rs = $100

10000 Rs = $200

20000 Rs = $400

$1 = 0.76 Eu

1 Eu = $1.31

5 Eu = $6.55

10 Eu = $13.10

20 Eu = $26.20

400 Eu = $524
I walked out of the arrival hall and JP Sangar calls out Suzanna. He took my suitcase. I ask him about the other person (on the tour). He said he talked to her on the phone. So I assumed the other person on the tour was already in Delhi. Well, he was talking about Rita is the other person that he talked to on the phone. I didnt know that. I asked more questions and I finally realized that there was no other person on this tour! It was just me. Lou had alluded that there was one other person I am guessing because I would be less likely to back out of the tour. Well, they put everything together and arranged everything for me, just me. So, OK. Cool. I can definitely handle this.

He called the car, loaded my suitcase and we drove to Hotel Parkland- Nehru Place http://www.hotelparkland.in/

CC 27 Nehru Enclave Kalkaji, New Delhi, 110019, IN


A-56, Lailash Colony, New Delhi 110048 +91 11 4668 8888, 8800

Hotel Location - Del Airport 6 Mi/10 Km N. Hotel Parkland Is Situated Atnehru Place And Its Just 10 Km Far From The Airport Towards south Near Lotus Temple.
Cannaught Place 6 Mi/10 Km Nwdelhi Hat 11 Mi/18 Km Negurgaon City Centre 9 Mi/15 Km Neindia Gate 8 Mi/12 Km Sekarol Bagh 9 Mi/15 Km Nelotus Temple 1 Mi/1 Km Snehru Place Market 0 Mi/0 Km

P

arliament House 8 Mi/12 Km qutub Minar 8 Mi/12 Km Swred Fort 11 Mi/17 Km

It sure seemed like a long drive

to the hotel

. It was 10:10 pm and JP was checking me into the hotel. I showed him my pictures and told about some things that I wanted to do. Yeah! I will be able to see all the places where I brought pictures. Red Fort, Mahatma Tomb, etc.

Another Yeah. A very nice single room with a very comfortable queen size bed, nice sheets. Great bathroom.

The time in India is 10 hours ahead of USA time (EST). So to get EST, you add 2.5 hours to the current time and change am to pm. If India time is noon, it is 2:30 am in Florida. If India time is 10 pm it's 12 noon in Florida.

I wrote:
Its midnight. Im finally showered organized and settled. Im really, really tired, but I wonder if I will sleep. High stress. This is definitely not my usually travel routine. I usually arrive a day before the tour starts so I have a day to rest before the starting the tour. I thought I was doing that on this tour because I was originally told that the tour in Delhi would start on Monday April 20 and that is why I arranged to arrive in Delhi on Saturday night so I would have Sunday to rest. But no, this had become my very own private tour, so they arranged to start Delhi tour on Sunday. So try to sleep tonight and I will hit the ground running tomorrow. So go for it. Im here, enjoy it.

WAD (Word of the Day): Phenomenal.
---
Sunday April 19 - Day 3 - In DELHI
This is what the itinerary said:
After breakfast, sightseeing tour of old & new Delhi, that includes drive past by
Rashtrapati Bhavan (the Presidential Palace) and the Secretariat buildings - the center of Government activity, down the impressive Rajah (the main avenue), to the World War I memorial arch, India Gate, the High Court Building and the Old Fort. Visit Humayuns Tomb built in 1565 AD by his grieving widow Haji Begum, and the Qutab Minar Tower, 72 meters high and the ruins of Quwat-ul-Eslam Mosque, Raj Ghat, where Mahatma Gandhi the Father of the nation was cremated in 1948. Drive by Red Fort (closed on Mondays) built of red sandstone dating from the very peak of the Mogul power. Opposite the fort are the black and white onion dome and minarets of the Jama Masjid, the most elegant mosque in India.

This is my account of the day:

Wake up 8:30. My tour doesnt start till 10 am so I thought I had plenty of time. Get dressed, go down to breakfast in the hotel restaurant.

Butterflies in my stomach, anxious and nervous about getting started on this adventure. Yup, this is going to take some getting used to. My Word of the Day hier was phenomenal, and that is quite a state of being. Had a rough night because Im still dealing with the time change. I dont even want to think about what time my body thinks it is. I sure wish I could rest for a day before starting out, but the touring starts now! I need to put sunscreen on today. Its gunna be a hot one.

I was the only person in the dining room for breakfast. I asked for some toast with jam and coffee. I really didn't feel like eating anything. They kept asking me if I wanted something else. They guy kept saying "omelet?". I guess I said yes, but I knew I couldn't eat it. I know I was a little nervous about the day and not fully rested. I forced myself to eat some bread, butter and jam. Drink some coffee. Less butterflies now.

Then the omelet arrives. I had one bite and it was good. I knew that it was going to be a long day and I needed to eat. So at 9:45 am I was forcing myself to eat some of the omelet. Then the hotel guy says my taxi was here. That was comforting. He was early. I had them wrap up the toast to go.

It was still before 10 am. I went out to the lobby and met "Harry", my guide for the day. I asked him to wait so I could go back up to the room and to brush my teeth (with bottled water). Then I was ready to go.

"Irshad" is the driver. We took off on our first day of touring. Today we had a sightseeing tour of Old Delhi and New Delhi.

Here is some information about Delhi:
They will be holding the Commonwealth games in 2010 here in Delhi.

Population is 14 million people within in 1600 square km.

Delhi The seven cities we are in the 8th capital now.

Sufi are Holy people. They had "a century of Sufi's Antiquity of the city to 1500 BC.

1877 Queen Victoria was Empress of India and the new capital is New Delhi

It can get up to 48-50 C in Delhi.

$1000 USD - 2 bedroom

Petroleum (gasoline) about 1 USD per liter.

There are no time zones in India.
From India newspaper:
Cost of
a flat in

India March 09 Rs per Sq ft

($ equivalent shown) Flats are about 160-350 square feet!

Delhi
South East
13,000-15,000

$280-324

South Central 18,000-20,000

$ 390-432

Gurgaon

3,800-5,000

$82-108

Mumbai
South
27,000-34,000

$583 - 735

South Central 34,000-43,000

$735-929

Central

14,000-24,000

$302-520

Banglore
Central 5,500-6,500
$

118-140
To compare ---- around Atlanta a $200,000 for 2,000 aquare feet is $100 a square foot. Wow.
This is Sunday so there is very little traffic. Sunday is the best day for sightseeing in Delhi. I am feeling much better now that my breakfast has settled. Irshad and Harri are talking between themselves so I can relax and write. Writing is good for me for relaxing.
Moguls (from Mongolia) ruled over India for 400 years, and the British ruled for 200 years. In 1945, India gots it's own government. These government buildings are from the English rule era.
We drove down the impressive Rajah or the Rajpath (the main avenue). "Kings Highway"? It's a very wide road with impressive buildings all along the road and at each end of the road. At one end of the road is the National Stadium and the India Gate (World War I memorial arch). Along the road is the National Museum, Indira Gandhi National Center for the Arts, Vijay Chowk (Victory Square is the big intersection of roads), and the Secretarists: Sansad Bhavan (Parliament House) the center of Government activity, High Court building and finally Rashtrapati Bhavan (the Presidential Palace). There is big park Buddha Jayanti Park behind the palace.
We stopped the car so I could get out and walk up to the front gate of the Presidential Palace (with 352 rooms). The sign in front of the palace said:
Visiting Days: Monday, Wednesday, Friday & Saturday. No visits on closed holidays.
Visiting hour: 9.45 am to 12.00 noon. 2.30 pm to 04.00 pm.
Send your requests to:
Deputy Military Secretary to The President
Presidents Secretartiat
Rashtraphati Bhavan
New Delhi 110004 (Fax: 001-23014570)
For more details, contact: Tele: 011-23014321/Extn No. 4229 and 4479
Secretariats buildings
The government building were built by the British when they moved the capital from Calcutta to Delhi in 1911. The massive European - style buildings display the vast reserves of British power. These buildings in the heart of Delhi angered the Indians and became a lightning rod for criticism. In one memorable outburst, Gandi described them as "architectural piles".

There a very symmetrical buildings crowned with a baroque dome that house the government ministries.
Along Rajpath there were large fields of grass. There were many cricket games being played.
Then to see the India Gate
An All India War memorial in memory of the 90,000 soldiers of the indian Army who dies in WWI, the Afgan war of 1919, and Indo-Pakistani War 1971.

138 feet (42m) high.
This is my Grandfathers picture: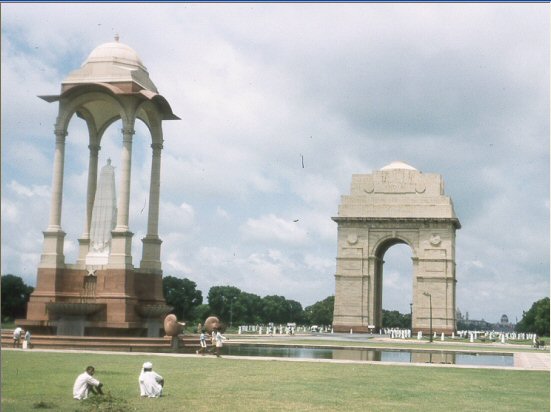 This is my picture - notice that the canopy is vacant in my photo. King George V statue was moved to Coronation Park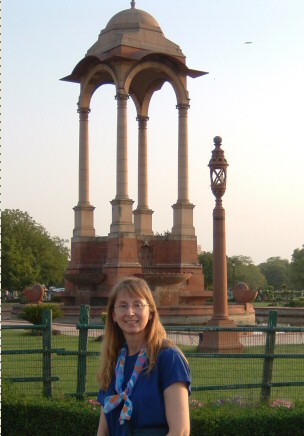 I don't think that we visited Humayuns Tomb -built in 1565 AD by his grieving widow Haji Begum
We drove to the North part of city to Old Delhi to see the Red Fort.
Built 1639 (nine years to build) at the very peak of the Mughal emperor Shah Jahan power. Red sandstone soaring to 100 feet (33.5 meters) high and perimeter stone ramparts 7 feet ( 2 meters) wide.

You enter through the famous Lahore Gate. It is three stories high. The Chatta Chowk is a covered passageway filled with shops.

We saw the Diman-i-Am (Hall of Public Audience). Royal court of common audiences. Where emperor would sit on Peacock Throne and everyone else would stand. The panels adorned with flowers, birds, trees were creafted in Florence and returned from the British Museum in 1903

There are several private palaces (Hall of Private Audience). The Mumtaz Mahal (Palace of Jewels) housed the harem. The Rang Mahal (Palace of Colors), a white marble pavillion, ceilings were decorated with silver, and embedded tiny mirrors that reflect the candlelight.

We also went into one of the three museums. In the archeological museum, he took me directly to important thing to know.

OMG OMG it was so very very hot. I started to get that overheated feeling that I got with Paul and Stef at the water park. I knew better this time. I had to sit down. Fast. Before I started loosing my hearing and hallucinating. I had serious jet lag and here it was 110 degrees (40 centigrade - yikes) and we were walking around in the sun. I felt so weak, almost like I was going to faint. I'm sure it would have been a very interesting museum, but instead we exited where he could buy me some water. I drank the entire liter in one sitting. I was a lot better after that.
There were very few (Western) tourists. I saw maybe 10 other Westerners here. But there were many Indians out and about sightseeing. Sunday is a family day.

Opposite the fort are the black and white onion dome and minarets of the Jama Masjid, the most elegant mosque in India. Very beautif

u

l.

We drove by the Meena Bazar - by the Jama Masjid. It's famous for "Dhabas and food stalls serving Indian non-vegetarians delicacies". It was Sunday and there was alot of people out and about. There was a camel walking around. Harry said it was only for entertainment. 400 Rs a ride.

I have not seen very many cows. A couple bunches, maybe. 10 cows total so far. I also saw a bull. He was standing on the raised island in the middle of a busy road. How in the world did he get there? Harry said that Bulls are not dangerous here. But what about during mating season? I imagine bulls will act like bulls then.

Next we drove North to Old Delhi.
There are 14 gates to the city. We passed by Agra gate (so named because it faces Agra). The shops are all closed, so there is a lot of activity on the sidewalks. They are selling everything! You can pay 300-500 Rs to ride a camel for fun. I got a pix of 2 camels on the road.

I finally saw some beggars - I kept writing because there beggars at the window of the car. These were the first that I've seen on this trip. There aren't very many. That is probably because there are so few tourists this time of year.
Note sure what this note is for

and why I wrote it

: Kite Runner. 1000 splendid suns.

Next we went to Raj Ghat
The memorial to Mahatma
(Mohandas) K.

Gandhi (Father of the nation) who was cremated at this spot after his 1948 assassination by a Hindu extremist.

His ashes were divided, stored in steel urns, and sent across India for memorial services. In 2010 (62nd anniversary of his death) some of his ashes were scattered in Durban, South Africa.

On this monument in Delhi, Gandhi's name is notably missing - the only inscription bears his last words "Hai Ram" ("Oh God").

I brought a photo that Grandfather took in 1960. It looked very different now. The white marble is now black. Harry took a picture of me standing in the same place where grampa was standing. He was showing the photo to other people around the tomb.

I left the pix with Harry (Harjeet) because he was so intrigued at how different it was in 1960.
| | |
| --- | --- |
| This is my grandfather in 1960: | This is me standing in almost exactly the same place: |
After Raj Ghat we could have walked around the gardens but I said no thanks. I was hungry so off to lunch.
Lunch at "Pindi Restaurant.
16, Pandara Road Market
New Delhi - 110003
Phone: 23387932, 23388703
Lunch was an experience. Obviously a place where they bring foreigners. They sat me in a booth, then they sat another girl in the booth. She is from Canada. Very worldly person also. I need to find her card.
Harry ordered food for me. He highly recommended the Lime water. It's a sweet lime drink. That was good to rehydrate me. I was a teeny bit worried thinking to myself that "this better be OK to drink!" He said they make it with soda water. I also got
Palak Paneer 500 Rs spinach yogurt.

Lentils - Vegetable curry (it was a little spicy).

Tandori? chicken - it was actually Chicken pieces floating in red sauce.

Garlic naan - That was strong garlic. I would opt for NOT garlic naan next time.
Dahl (rice) bhat (lentils) tarkari (veg curry
I did not eat very much. It was just so hot and my body probably thought it was 3 in the morning so I wasn't very hungry. Cost was 533 Rs. Very reasonable.
After lunch, the "tour" was supposed to visit the Cottage industry.
We went to a rug sales place. There are very few tourists visiting India now. There was one other guy at the rug shop. He was getting the huge labored show of rugs flayed out in front of him.

Then I got the show. No thanks. No thank you. No thank you. Yes, maybe it would, Im sure it would feed a village for the price of one rug. I honestly didnt pay attention. He said 255, then 200 for a 2 x 3 rug with 480 knots per inch square made of silk or yak fur.

So sorry, but no. No shawl. No jewelry. That part sure would have been easier in a group. Exit , find Harry and out of there.

No I dont want a rug.
Then we went for a drive. We drove down the street where all the embassy are located. I saw the U.S. embassy.

We drove by the

Lotus Temple, a

Baha'i Temple.
It

i

s

one of most

beautiful

architectural temples in India

- the entire structure is built in white marble

, cement, and dolomite

in the shape of a huge opening Lotus flower.

There are 27 giant white petals of marble. The nine pools and walkways represent the nine unifying spiritual paths of the Baha'i faith.

It's where members of the Baha'i faith go the worship

, but people of any can enter.

There were very long lines of people waiting to get into the building.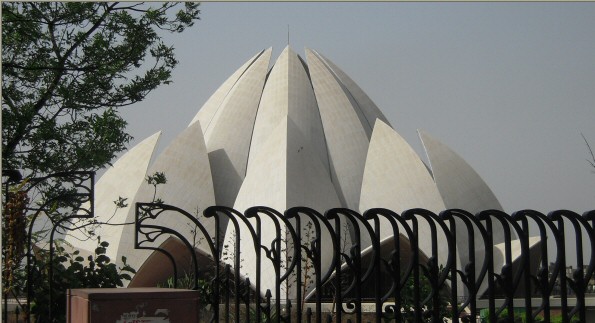 Then we went to the Qutab Minar "Tower of Victory Emblem of the city.
Construction of the complex began in AD 1199. The Turkis

h

established India's first Muslim kingdom here in 1206.

Qut

a

b Minar is 240 feet (72 meters) high exclamation point. Inscription says it was erected to "cast the shadow of God over East and West". It was a minaret for Quwwat-up-Islam (Quwat-ul-Eslam) Mosque.

People h

ave not been a

llowed

to climb it since 1981.

Up to 10,000 visit this tower every day! It's a World Heritage Site.

In May, 2009 Audio Guides are now available for Rs 100. Audio Guides will soon be available at Taj and Red Fort.

I took a took a photo, but we were really at a bad angle with the sun in the wrong position.

After that visit, I said it would be fine if we just went back to the hotel. I wrote "Whew. OK. I'm trying to be pleasant and respectful, but I'm really just so very tired.". We got back around 4 pm so it was a 7 hour day today.

I got to the room, laid down and tried to recover from jet lag. 7 pm I finally got up, ate some delicious chocolate peanut butter on some toast, showered, wash hair and wrote. "I sure was worried about everything this morning. I had trouble eating breakfast and lunch. But it turned out to be an absolutely perfect first day. We had very light traffic on Sunday, but it will be a lot worse tomorrow. But I really am looking forward to tomorrow."

I went to bed at 8. At 11:30 pm I woke up and had to write about more things that I was worried about. I could do that forever, or I could just enjoy the trip. Enough of that. Get to sleep.

If I had time in Delhi, a co-worker, Nirav, said to visit this place: http://www.akshardham.com/. I didn't have time...
---
Monday April 20 - Day 4 - Drive DELHI to JAIPUR. 162 miles (261 km)
This is what the itinerary said:
Morning depart and drive to Jaipur on arrival transfer to hotel.

After lunch visit Jai Singh's Observatory buildin ith e17th century by the founder of Jaipur who, besides being a prince was also soldier, astronomer and builder. This is an architectural feat, drive past the Hawa Mahal an elaborate building encrusted iwth delicate honey comb screens and carved balconies from behind which the royal Zanana, could view the world outside, the City Palace now a museum exhibiting fine Rajput and Mogul paintings, rare manuscripts and an armory.
This is my account of the day:

I was up early so I had plenty of time for breakfast. 8 am wow. What a breakfast! Porridge! Thick and sweet. I had 2 bowls. Very good. 2 grilled tomatoes, some green beans (eat veg when I have the opportunity). Toast, water, and coffee with milk. They had cereal on the buffet also but I didn't get any. I sat at the table writing for a short time.

I had my suitcase downstairs in the lobby at 8:15. We left promptly at 8:30 am. Irshad and I are on the road again. It was about 5.5 hour drive to Jaipur today.

This is second city in the "Golden Triangle". Usually tourists go directly to Agra (to see the Taj) but we are going to Jaipur first. Then I go to Agra for 2 night

s

, then back to the same hotel in Delhi for 1 nite, then I fly me up to Katmandu. What am awesome trip.

I am feeling great after a big breakfast. I had some chocolate pb on some toast last night. I ate very little lunch yesterday, so I know I needed food this morning. And I did eat a big breakfast, but I kepp thinking about everything coming back up. Why is it that I keep myself on edge like that? Just reminding myself to be careful with everything I eat.

OMG. So what in the world am I getting into? So try to keep thinking about stretching this trip experience out as long as possible, instead of thinking of getting this over with. So I'm going to take this trip one day at a time, and stretch it out and take in every moment to make this vacation last long as possible. 'Cuz I don't think this is ever going to happen again. Yup.

So Delhi - what about the city. Its not like any other place that I have been in ever before. Kind of like other cities, but in small ways. They drive on the other side of the road. They straddle the line when driving. Drivers honk horns, but not too many. The roadways are all packed, but not on Sunday.

I would describe Delhi as a rough city. You have to be a tough person to survive and be comfortable. The pollution, the smog, the car exhaust. Hustle everywhere. People walking, breathing that air. And the construction. The building for the Commonwealth games added alot more commotion to the experience.

It so HOT again today.

I have a feeling this heat is going to get me again today. This is an air conditioned car is ab fab.

It

'

s 9 am and we are driving on a more open highway now. 9:20 through a toll plaza. Cost is 17 Rs for us going to Jaipur and the cost is 54 Rs going the other way to Delhi.
We are in Uttar Pradesh: Uttar = North and Pradesh = state.

The license tags on the cars say "DL" for Delhi, "RJ" for in Rajestan, and "UP" for Uttar Pradesh.

Hindus have 30 million gods?!

There are over 40 languages spoken in India.

There are 15 national languages.

There are lots of hotels on this road: Crown Plaza, Radisson, Hilton.

And there is a lot of building construction around here. The Commonwealth games are coming up in 2? Years or next year. It brings back memories of all the road construction in Atlanta for the 1996 Olympics. They are building a metro rail line above ground here in India.

I cannot imagine a marathon running in this city for those games.

We are on NH8 highway.

Horn Please and "Use dipper at night" is painted in big letters on the back of big trucks. "Dipper" is a turn signal.

I also saw on the back of a truck: HORAN PALESE

On the back of the tuk tuk is printed We TWO Our TWO.
It m

eans

a

small family with 2 kids. Irshad saw another one that said We Two Our 10. Now that is a big family!

I have not seen any grass! There are some scruffy shrubs and some green but no grass. Then I saw a sign for a golf course. There are golf courses in deserts all over the world.

Yeah. Sitting here in comfort in this car. So much and there is so much activity on both sides of the entire stretch of road.

I am finally starting to like and enjoy this country I am glad that have this chance to get out of Delhi - to see the countryside in India.

10:45 just getting in Raj around Alwar. We stopped for a minute so Irshad could pay a tax ?

How in the world did he know to stop at that little booth, get out of the car and pay. Yup, he's a great driver.

11 am stop for lunch. I wasn't sure what our schedule was going to be today, so I had some snacks with me - beef jerky, peanut butter, ziplock bag, and napkins for leftover naan. I usually have to eat a little something every couple of hours, so this lunch stop was perfect timing.

We stopped at a deserted (as in void of tourists) restaurant and gift shop. At the "Rajastan Motel Behror" on the Delhi Jaipur highway. My lunch bill said M/s. Peelwa Enterprises, Rajastan Motel - BEHROR 01494-220087, 222219.

This place is near where I ate lunch:
Raj Motel Pacheri
Delhi Mandawa highway
Pacheri (Raj)
Lunch till 11:45. $4 USD.
There seemed to be several of these types of places along the way. I'm sure they are all packed and crowded during the tourist season. I can sure see this place full of bus loads of people. Yup, I've been there. You have to order fast, eat fast, quickly peruse the gift shop, load back on the bus. That

is

the kind of trip Im accustomed to.

In this place, I think there was only about 5 other people eating when I walked in. Irshad walked in with me, made sure I was seated (at table with nice toile tablecloth), then left me. I think the tour guides are told to leave the guests alone. I

like that custom

. So then I can s

i

t and write. I

t difficult to

enjoy the food when you have to keep conversation and talk

and eat at the same time

. Irshad went somewhere else to eat his lunch and wait for me to finish.

When I travel, I always get a little apprehensive when I have to eat. This is the beginning of a long trip on and there is just so much more of the trip to go So, find something safe to eat. I got
Grilled cheese sandwich (190 Rs)
Vegetable soup (110 Rs). Yum and Yum.
A can of Coke (60Rs)
Total 360 + VAT 12.50% 50 = 410 Rs. about $8.50 USD.
It is so friggin' hot outside. I didn't really feel like eating. Its the heat and nerves. I ate my grill cheese and I did not want the soup. When Irshad came back, I offered the soup to him. He asked for a bowl and took half the bowl. But he sat at the table with with me, which was unusual, but the place was empty. I also gave him the rest of the coke which I didnt need either.
I didn't have to go, but I went to the bathroom after lunch anyway. As much water as I drank this morning I didnt have to go much.
The drive was not nice. By that I mean, it was a very hot day and other drivers are crazy. Irshad is a very good driver. And he is nice, interesting, good to talk to, but most important a relaxed, calm driver amongst all the chaos around us.
Irshad has a 2 wheeler (scooter). He is the oldest of 5 boys. We briefly talked about religion. I wondered if there were some topics we was told not to talk about. He finally told me that he was Muslim. I find it fascinating to have the opportunity to talk to people in other cultures and religions. Unfortunately, that is not the case for the majority of close-minded human beings. I think that's why I'm drawn to being with people that travel since you have to be open to hearing and experiencing many different things.
So this private tour guide method is going OK. I never imagined that I would be doing this. But here I am, enjoying every second now.
So we get to Jaipur and drive directly to the hotel. And what a hotel it was! The Hari Mahal hotel http://www.harimahalpalace.com/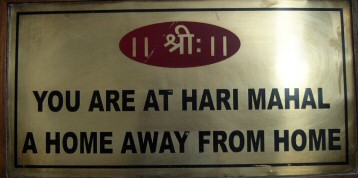 Taj Hari Mahal
5, Residency Road, Jodhpur - 342 001, Rajasthan, India
Tel: (91-291) 2439700 Fax : (91-291) 2614451/52 Email: harimahal.jodhpur@tajhotels.com
They have a swimming pool!
Hari Mahal Palace is spread over 2 acre lush gardens, Hari Mahal Palace comfortably close to the heart of the city, yet barely 2 kms away from the center of the city / pink city and short ride from railway station.
The architecture of 1930 palace is based on Rajput and Colonial era. That masterfully blends prevalent motifs from Amber encompassing Jaipur, with contemporary elegance sweet harmony between the old with new.
The magical allure of the Hari Mahal Palace Hotel embraced in historical architecture and gardens conspires to lift you gently to that glorious age of grace and beauty and transports you back to period of Kings and courtesans. When luxury was a way of life Come; share a glimpse of the past with your feet firmly in the present.
Be prepared for a standard of splendor that you thought was long past. With themed suites, superb banqueting and conference facilities that reflect the majesty of India's kingdoms of old, conferences and meetings can now be held in a world of sumptuous luxury once enjoyed solely by Maharajas and Viceroys.
Built in the 1930 by the descendents of Maharaja Prithvi Raj of Amber (1503 AD-1528 AD), Hari Mahal, a palatial mansion set in huge garden is the perfect example of Rajput and British architecture. The Palace has large spacious rooms that are tastefully done and retained in the century style with none of the furniture or pictures removed from its premises. An interesting feature of the Palace is the fact that almost all the rooms overlook its huge gardens providing an arresting view of lush green lawns, it is quite normal to see peacocks dancing.
The Palace still retains its collection of photographs and portraits. Hari Mahal Palace is the right place to stay in for a taste of luxurious royale style. Situated in close proximity of Pink City yet it maintains a calm and peaceful atmosphere away from the hustle and bustle of a large and busy town. The rooms are self contained, air conditioned and equipped with all modern amenities.

This is the front lawn of the hotel. The small building to the left is the glass-enclosed dining room where I ate dinner. The white lattice building had a breakfast buffet. I sat at the table on the lawn and ate breakfast.
My room was the Udapur suite #103. It was phenomenal!

It was incredibly huge. There was two canopy king size beds. A large sitting area and a living room with sofa, chairs. In the photo, you can't see the separate luggage room, and a dressing room that led into the first part of the bathroom - sink and toilet, then keep walking into the second room in the bathroom where the claw-foot bath tub was featured.

I put my suitcase on one bed and slept in the other. Wow. I hope I sleep well tonight. Last night I woke up too often. Ever hour. Tomorrow, I have to have breakfast and out of my room by 8 am. That means 7:45 because everyone on this trip is always early.

When I checked into the hotel, I had to leave my passport at the desk. Just as I was ready to go down to collect it, knock at my door with my passport. I asked about water. He called back up to the room and asked plain water or mineral water. Hmm, mineral it is. I think I signed for 2 big bottles at 96 Rs + 12.50 VAT = 108 Rs. So 50 cents a bottle. Not bad price. India sure is a cheap compared to going to any country that uses Euros.

I didn't stay in the room very long because we're off to do sightseeing this afternoon.

We drove into town and went to the Peacock Restaurant in Jaipur. Irashad sat me, then left (as is the custom) I ordered a Banana Lassi (60 Rs) that should be good to keep me going for sight seeing this afternoon. Yum Yum and yum. It was yogurt maybe chunks of banana. I also apparently got the dessert sweet ball of dough with honey. Something called "Gulab Jammin" for 50 Rs.

"

Romi" is my Jaipur guide.
This is the 1st planned city. It has a square grid.

In 1876 Prince Edward came here.

The buildings are made of terra cotta and limestone and water make a pink color.

There are cows here. They congregate in designated cow feeding areas.
We parked the car and Romi and I went off to sightsee.
The City Palace now a museum (the Albert Museum)
Built 1729 by Maharaja (Ruler) Jai Singh II. It encompasses 15% of the Pink City's total area.
Filled with scientific and artistic treasures and a harem of over 1000 women.
1947 Democracy, then open to tourists in 1950. You can rent the palace for a party or wedding or movie for 21 million Rs. It has been used in over 400 films.
We entered via Virendra Pol . The first building that we saw has Mubarak Mahal, carved out of white marble. We did not tour the Textile Museum or the Arms and Weapons Museum. There is a sword in this museum that you can wear as a belt, and a sword with a pistol.
Saw the Rajendra Gate - massive brass doors flanked by two marble elephants.
The Diwan-i-Khas (Hall of Private Audience).Two huge silver urns. Guiness-certified distinction as the largest pieces of silver in the world. 53 high 90? Gallons. 345 killograms. They were used to store a reserve of holy Ganges water for Singh who refused to drink, bathe in, or use any other water.
Also The Diwan-i-Am (Hall of Public Audience - Sabba Niwan) with the Art Gallery. India's 2nd largest chandelier. Crystal from Czechosloviakia.
Museum exhibiting fine Rajput and Mogul paintings and rare manuscripts. This museums are supposed to be the oldest museum of the state. They have an assortment of rare articles on its display including textiles, carpets, paintings, metal and wood crafts, pottery, arms and weapons, flora and fauna of the state, toys, dolls and even an Egyptian mummy that belongs to the Ptolemaic Epoch. It is also known for housing the famous carpet, which portrays the scene of a Persian garden carpet with running water streams that was bought at a dear price from Shah Abbas of Persia, by Mirza Raja Jai Singh I
The had some robes worn by the notorious "Fat Maharaja" was a king that was 550 pounds (250 kg), 7 tall and 4 in diameter. Do as I see, not as I do. They played night polo with a fiery ball.
Next, walk over to Jai Singhs Observatory - the Jantar Mantar ("Instrument of Calculation")
Entrance fee was not included in the tour. I paid 100 Rs for "Forgnr Entry".
The Jantar Mantar is a collection of architectural astronomical instruments, built by Maharaja (Ruler) Jai Singh II at his then new capital of Jaipur between 1727 and 1734. It is modeled after the one that he had built for him at the then Mughal capital of Delhi. He had constructed a total of five such facilities at different locations, including the ones at Delhi and Jaipur. The Jaipur observatory is the largest of these.
This is an architectural feat. The largest stone observatory in the world. 18 instruments including a 100 foot (30 meter) sun dial.
#10 instrument calculates the 23.5 degrees tilt of the earth.
Here is the text that was posted from one of the instruments. This is carved in a white marble:
Krantivrtta

(Krantivrtta: declination circle/ecliptic

The Krantivrtta is an instrument that is meant to measure the celestial latitude and celestial longitude of an object in the sky. It is also used for measuring solar sign of the Sun in daytime.

Krantivrtta consists of two brass circles of equal diameter privoted together at one point on their circumference, maintaining an angle of 23 1/2 degrees between them.

The base circle made up of stone is called Nadiratta. It always remaing parallel to the equator of the Earth, while the outer brass circles can be rotated so as to be paralled to the ecliptic, at any given moment. The Nadivratta has 60 degrees marked on its circular scale. Likewise, degrees of twelve zodiac signs are marked on the outer brass circle.

A sighting bar is pivoted to the outer ecliptic circle which, when the outer ecliptic circle which, when the outer circle is parallel to the ecliptic, can be rotated around the ecliptic pole. The sighting bar is rotated and is brough into the nearest alignment with the celestial object. When the sighting bar rests, the readings on the quadrant of sighting bar and brass circle gives the latitude and longitude of the object.
Here is the text for another instrument:
Dhruvdarshak Pattika

(Dhruva: Pole Star, Dar Pattika : viewing plate)

Dhruvdarshak Pattika is perhaps the simplest of all the instruments found in the Observatory. It is in the form of a small trapezoidal structure whose upper surface point towards the Pole Star on a clear dark night.

The angle in the triangular wall is supposed to be equal to the latitude of the Observatory's location (27 degrees North). The instrument is erected on a 3.07m long and 54 cm. wide stone masonry base. Its lower end is about 76 cm. above the ground an dthe upper end, 3.32 m.

This instrument was the compass of an earlier age.
After the Observatory, we got back in the car and drove to the other side of the block to see t

he famous Hawa Mahal (Palace of Winds) right behind the observatory.
This is Jaipur's most recognizable landmark. I can't image how you could see this place in peak tourist season. The building is on a busy road. I was the only tourist when I saw it. We stopped the car and walked across the street so I get a photo of me standing in front of this building.

Built in 1799.An elaborate building encrusted with delicate honeycomb screens and carved balconies from behind which the royal Sanana could view the world outside. It has five stories and is constructed of red and pink sandstone, highlighted with white quakeee quick lime. The side facing the street outside the palace complex has 953 small windows, and the breeze (hawa) which circulates through these windows gives the palace its name, and keeps it cool even in hot months.
Notice no cars in the street behind me. It's nice to be the only tourist sometimes.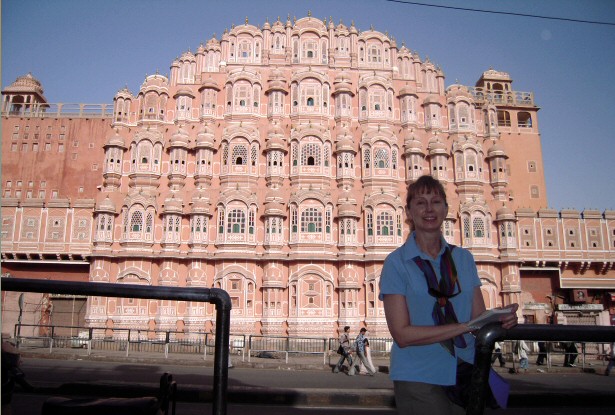 Next, off to a rug shop.
Oh, no. Not another sales pitch! I was not looking forward to being subjected to more rugs being thrown at me and them expecting me to buy something. This place was very different. It was the actual factory. It was not just a show room. I think they should skip the other rug place in Delhi and just take tourists to this place. This visit was a very nice, almost great experience. It was very interesting to actually see them made. It was actually very interesting.

There was a man sitting there singing his song to remember the correct color sequence. The weaver guy sang the colors line that he was weaving
".

After all the knots are tied and done for the whole rug, they showed me how another man skillfully uses scissors to trim the height. I have never seen that done before.

Then the final step. They burn the top of the rug then take a brush to smooth it out and get an even pile. That was also amazing to see.

They were also creating fabric by bl

ock painting. They use one block for each color with a minimum of 3 blocks/colors and a maximum of 7 blocks to create the design on the fabric. It dries in the sun, they wash it in salt water, then wash in machine 48 degree centigrade. It was very interesting to see.

Romi is just right for a guide. He provides just enough information, but not too much.

OK, so we are done with tours for the day. B

ack to my magnificent single room.

I wore my blue Sri lanka shirt today and I sweated a lot a lot today. I rinsed (washed) it in the sink before I left for dinner. By the time I got back to the room 2 hours later, the shirt was completely dry. Nice. Ill travel with a lot less clothes knowing that.

So it's 7:30 pm and I'm sitting at Mahal Palace dinner restaurant. It is a glass enclosed building outside. I ordered
Tandori Roti (50)
Tomato and Dhaniya Ka sorba soup (165)
Total 215
V.A.T. 12.50 % 26.88
Round Off .12
Net Amount 242.22

($5.25 USD)

India sure is a cheap compared to going to any country that uses Euros.

Im glad that Im taking Malaria pills. There are skeeters (mosquitos) are everywhere. They said the pool opened at 8pm. It looks beautiful. I have finally, successfully gotten as much T out of my system as possible so I can enjoy this trip. Also wearing my cross necklace so I can feel grandparents (who were here 40 eyars ago) presence. Cool.
---
Tuesday April 21 - Day 5 - Drive JAIPUR to AGRA 143 miles (231 km)
This is what the itinerary said:
Morning visit Amber Fort - Just 7 miles north of Jaipur. It is Amber with its honey-colored fortress palace in the Aravalli Hills. Enjoy an elephant ride along the fortress ramparts. The sombre exterior belies the richness of the royal apartments, which open on to striking views of the gore. Walk into the Sheesh Mahal and admire the amazing interior decor thought of over 200 years ago. The Hall of Victory presents a galaxy of decorative art panels of alabaster with fine inlay work. Afternoon depart and drive to Agra enroute visit Fateh Pur Sikri, en epic poem in read sandstone, it was build by Emperor Akbar in 1569 and deserted 14 eyars later due to lack of water. Legend has it that Akvar who was without a make heir, made a pilgrimage to this spot to visit the saint Sheikh Salim Chisti. The saidn predicted the birth of a male heir and in gratiude, after his son Jehangir was born, he build Fatehpur Sikri to commemorate the birth. The Diwan-e-Khas, Hall of Private Audiences has a unique interior design. The Di
wan-e-Am or Hall of Public Audience is an open courtyard surrounded by cloisters and adjoining it is the Pachisi courtyard arranged like a gigantic game board, where the Emperor played chess using slave girls as pawns. Arrive Agra and check in at hotel.

This is my account of the day:

Day 5 out of 22 days. It is 7:20 am. I am sitting outside of the beautiful lawn of this beautiful hotel. They had a breakfast buffet out

side

. I'm eating boiled egg, toast, 2 bananas. Coffee. I got up to get some jam and the crows came down from the sky to visit my unguarded plate of morsels. I learned not to do that again.

I slept pretty good last night in that huge room. I got up a couple times to go to the bathroom. Oh yeah, this am, solid is good. I think Im gunna have nerves every day of this trip. Thats ok. Remember my goal to see the Taj tomorrow and Potala next week. This morning I wrote "This is crazy, this whole idea of proceeding with this adventure. That said move on."

OK. So we have another adventure today. 8 am start with Romi to see the Amber Fort. Then this afternoon, a 5 hour (minimum) drive to Agra. It's 5 hours because its a new road. If it wasn't a new road, it would take longer.

So we were supposed to start at 8 am, but here it is 7:50 am and we are off to pick up Romi. Another "hit the ground running" day. I have to say that I cant wait for the last day of this vacation when I'm on that houseboat in Kashmir, I will be able to sleep in as long as I want to I should not think about that now.

We drove into the old part of the city through the Moon Gate (Charpol) again. Down the street with all the pink buildings. They paint it so it gets a darker pink each time.

While we were at traffic light, a little ghost of a girl appeared at my car window. There are some beggars here. I dont dare give anything out from the car I can imagine the hoard it would cause and it encourages the begging. We went back thru the gate, out of the pink city.

We drove by a temple high on the hill. Lord Valishas? For thanks and blessing. A Birla group maintains the temples.

At the Amber Fort. It is 7 miles north of Jaipur. These are my jumbled notes:
We "traveled in the royal style atop festive Indian Elephants along the fortress ramparts." For me there was a 5 minute wait for an elephant to ride it up the the fort. In peak season the wait is more than an hour. There are 147 elephants.

From year 1036-1727 this was the Capital of the territory. People migrated from Southern India 500 km away to this place because they were safe here. It is surrounded by hills meen (?) a tribe.

Wealth was acquired from conquering the area. of money was used to build the fort in 1592.

Pix Maiu Islamic Hall Pubilc ? hindu and Islam. The colors are 400 years old.

Hall Private. 1639. Moror Palace. From belgium.

No stone, no wood, no bamboo, no frame. Molded ceiling on top of sand.

The call is 1.5 meters wide. 12 km long around the top of the mountain.

There are 12 queen quarters around courtyard. These are the ladies apartments. The main wife had a jacuzzi.

3rd courtyard curle ? by Ladies apt. Only the king and uniques sp? Were allowed in here.

3 water tanks. One tank for drinking water. Alum and charcoal filter.

Pix path ancient tunnel.

We were in the Citadel

Royal kitchen. He took a picture of me standing next to huge cooking pot.

Mint, onion, garlic, anise seed flavor of local snacks.

Amber fort. He took me up and then down staircase, hidden from Royal Toilet, queens rooms. He definitely know that place!

This is more information

The Amber Fort is a honey colored fortress palace in the Aravalli Hills. The sombre exterior belies the richness of the royal apartments, which open onto striking view of the gorge.

Today, tourists can ride up to the fort from the base of the hill on elephants. On the ride, one can see the skyline of Jaipur, Maotha lake, and the original city walls.

Amber was originally built over the remnants of an earlier structure, the palace complex which stands today was commenced under the reign of Raja Man Singh in 1592. Amber was modified by successive rulers over the next 150 years.

The structure which is known today as "Amber Fort" was initially a palace complex within the original fort of Amber that is today known as Jaigarh Fort.

Connected to Amber via fortified passages, Jaigarh Fort is located on a hill above the Amber complex, and is constructed of red sandstone and white marble. It overlooks Maotha Lake

Like the entire fort complex, Amber Fort is also constructed of white and red sandstone. The Fort is unique in that its outside, an imposing and rugged defensive structure, is markedly different from its inside, an ornate, lavish interior influenced by both Hindu and Muslim (Mughal) styles of ornamentation. The walls of the interior of the fort are covered with murals, frescoes, and paintings depicting various scenes from daily life. Other walls are covered with intricate carvings, mosaic, and minute mirror work.

Amber Fort is divided into four sections. Each is accessible via large staircases from a central location, or from a broad pathway leading to each of the sections. The pathways are currently used to transport tourists via an elephant ride. The main entrance of Amber Fort, Surajpol, leads to the Jaleb chowk, the main courtyard of the Fort where the staircase to the palace is located. In ancient times, Jaleb Chowk was the area where returning armies were paraded back home.

Just prior to the palace entrance is a narrow staircase leading to the Kali Temple, also known as the Shila Devi Temple, made popular for its enormous silver lions. The origins and purpose of these large lions is still unknown. The Kali Temple is known for its silver doors with raised reliefs. A tourist curiosity is an image of Ganesha at the temple entrance, carved entirely from a single piece of coral.

One of the most striking parts of the fort is the Hall of Mirrors, Sheesh Mahal and admire the amazing interior dcor throughout of over 200 years ago. The Sheesh Mahal (Palace of Mirrors) is located within the Shah Burj block in north-western corner of Lahore Fort. It was constructed under the reign of Mughal Emperor Shah Jahan in 1631-32. The ornate white marble pavilion is inlaid with pietra dura and complex mirror-work of the finest quality. The hall was reserved for personal use by the imperial family and close aides. It is among the 21 monuments that were built by successive Mughal emperors inside Lahore Fort, and forms the jewel in the Forts crown. As part of the larger Lahore Fort Complex, it has been inscribed as a UNESCO World Heritage Site since 1981.

The Hall of Victory present a galaxy of decorative art panels of alabaster with fine inlay work.

Tour guides tell visitors that when the palace was occupied by royalty, the hall could be lit at night by a single candle because of all the tiny, intricate mirrors.
It is 10 am and we are leaving Amber Fort. I saw a huge SITA tour bus. I wonder if that bus was for the 3 people on that tour departing April 17. I checked on joining that tour, but the SITA tour company said that that tour was closed because they wanted a private tour. OK.

Just down the road from the Amber palace, we stopped so I could take a picture of the Water Palace. It is actually one room with a roof. The Royal family spent hot days there. It's gets up to

122 degreed F (

50 degrees

C)

here!

Romi said that the temperature yesterday was 43 C or 109 degrees F. Yeow. that is hot.

So this is one thing that really makes me uncomfortable. As we are walking back to the car, a couple men appear with photos of me on the elephant. I forget the small price that they were asking. I was sorry that they went to all that trouble to develop the photos, but I really really did not want any more photos. I realize that buying something is better than giving someone money, and I guess I could have just thrown the photos away later. But I did not buy them, so I guess they just ended up throwing them away.

Next we drove to a gated neighborhood community where jewelers lived. It was many (27) families that lived in this enclosed area. They made beautiful jewelry. He showed me how they take a piece of rea

l

silver, run it through a machine to stretch the silver, form it into a rough ring, then a mold it into the final product. They also grind and shape all the gems. I took some photos of the process and the gems. They had b

eautiful aquamarine round stones for $40 USD.

I have to ask dad about that ring.

After that visit, I gave my tip to Romi and said goodbye, then hit the road. It took awhile for us to drive out of the city. I really liked Jaipur. It was so much less hectic than Delhi.

It's 11 am right now and we are on our way to Agra finally. Minimum 5 hours drive.

At 12:45 we stopped for lunch. 1 hour lunch stop at Motel Gangaur.
I walk into the place and it's a huge building ready to accommodate many many tour bus loads of people. And right now, I am the only person sitting in this huge room. There are 15 tables and 6 per table = 90 +30. Seating for over 120 people. I bet they get huge crowds like that until March when tourist season ends. So here is it in April and here I am. I was hungry. I ordered Noodles with chicken. Yum. Yum. and Yum. My chicken noodles are fabulously perfect. Cost for Lunch (yum) Chicken noodles 240, coke 60 Rs.

During lunch two ladies walked in. I invited them to join me at my big empty table. They had been to Agra and they were on their way to Jaipur. That is the normal route for the Golden Triangle. I was doing it backwards. Anyway, they were from England. Her husband worked for Nokia and he was on assignment here in India. He got so sick from something that he ate. He was in the hospital here and had to have an operation. The operation helped and he is getting better. The wives were doing this tour while he recovered in the hospital. Great I dont like hearing stories like that.

After you eat a meal here in India, they bring this small tray of mixtures with small spoons. Irshad took some. He explained that it was d

igestive Anise and sugar mixture in your mouth. No thank you . I think Ill stick with Pepto Bismol.

Mmm. I almost bought some coffee cookies with caramel chips. I'm definitely eating enough so I don't need the extra calories.
OMG. It is HOT out here. And Im going out in this so see Fateh Pur Sikri OMG.

Fateh Pur Sikri is 26 miles from Agra. From the place that we stopped for lunch, we have about 1.5 hour to get there. When we arrive Irshad arranged for a local guide to meet us at there. I have to visit this place because I have lots of photos that Grampa took when he visited here in 1960. So this should be fun finding the same photos.

So we get there and Irshad parks and stays with the car. The guide, his name is "Raj" and I walk toward the village. About

Fateh Pur Sikri:
Fateh is of Arabic origin and means "victory". Sikri means old village

Fatehpur Sikri
is "An epic poem in red sandstone" the deserted Sandstone City built by King Akbar. It is a UNESCO World Heritage Site.

Akbar ruled the Mughal empire from 1556 to 1605. He came to Sikri to get help from a Sufi mystic, Salim Chisti, to have a male hier. He had three wives: one Christian, one Hindu and one Muslim. Within a year, he had a son with his Hindu wife so he built Fatepur palace in 1569 to commemorate the birth. It took 25,000 people to build it.

He moved the capital of Mughal empire to Fetehpur Sikri where imperial duties were shared with Agra. The Agra Fort is where a bulk of the arsenal, treasure hoards, and other reserves were kept for security. During a crisis, the court, harem, and treasury could be removed to Agra, only 26 miles away, less than a day's march.

The capital was here for 15 years (1571-1585) until mysteriously moved back to Agra. The decision left a pristine ghost-palace and abandoned city behind. But maybe Fatehpur Sikri was deserted due to lack of water. This imperial complex of forts, palaces, mosques and temples was short lived and today is a haunting testament of that era.

Here is the Agra Gate entrance to FatehPur Sikri in 1960 (my Grandfather's picture)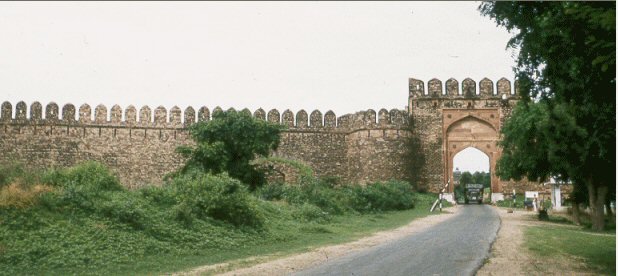 Here is the Agra Gate entrance in 2009 (my picture)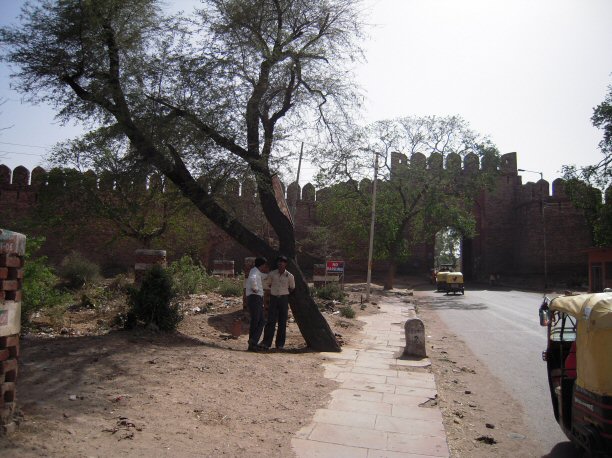 A map of the village. We entered via the Agra Gate, then rode through the Naubat Khana - where the "important arrivals are announced."
It was about half a mile ride via Tuk Tuk (I forget what they called these little motor cars in India, but it was Tuk Tuk in Thailand) from the Agra Gate to the entrance to the Diwan-i-Am. I was sure glad to ride because it was really really HOT.
This is the Diwan-I-Am (Hall of Public Audience)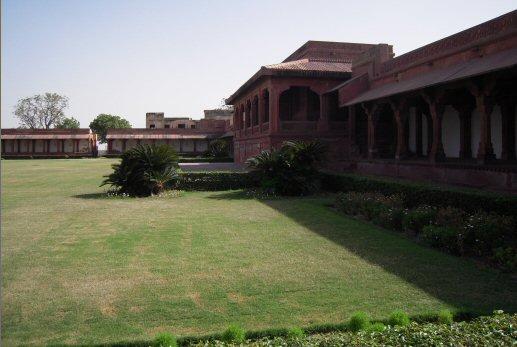 This is the text from the sign by the building:
DIWAN KHANA-I-AM

This historical building known as Diwan-I-Am (Hall of Public Audience) consists of an extensive courtyard enclosed by clusters of one hundre
d

and eleven bays. The walls of the cloisters are cared with deep recesses, which may have be

e

n originally painted. Akbar heard petitions and dispensed justice here steeply and impartially "but without harshness or ill will"

The emperor this hall also for reviewing the animals of the royal stables. The huge stone rings at the foot of the colonnade opposite the imperial pavilion may have been used for fastening the ropes or Shamianas rather than for fettering elephants as is traditionally believed.
FYI: A "Shamianas" is like a covering or a tent
We walked into a huge courtyard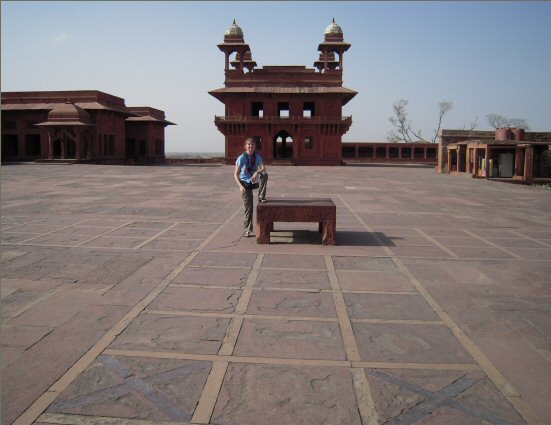 Lots of dancing in this courtyard. Also notice the "X" and "O" in the stone. The game of "Pachisi" was play here. From Wikipedia:
Parcheesi is an American adaptation of the Indian Cross and Circle game Pachisi. Created in India around 500 BC, the game is often subtitled Royal Game of India because royalty supposedly played using costumed dancers as pieces on large outdoor boards (such a court is preserved at Fatehpur Sikri).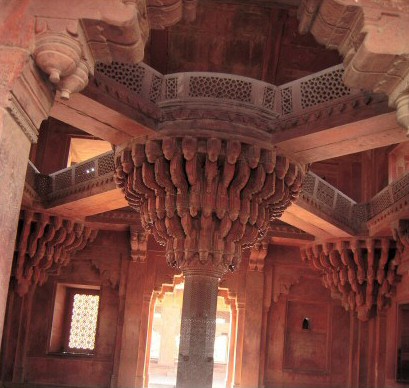 Raj told me that the emperor would sit in the middle of the game-board (where my foot is resting) and scantily-clad lovely ladies were the game pieces moving around the board.
He said something about starting postions for the game. Jewish start 6 points, Hindu 8 position start, and Muslim 5.
The building behind me in the above photo is the Diwan-i-Khas (Hall of Private audience). This is where Akbar met with VIPs.
It is a massive chamber supported in the middle by one ornate column shaped like a budding flower.
The ornate pillar is from one piece of stone. Lotus flower design.
It is a pillar of religion of all peoples. The zig-zag design in the pillar represents: Christian, Hindu, Buddhist, Islam.
Beside the Private Audience Hall is the Treasury building. This building had lots of pillars separating rooms. They played hide and seek games around the building.
The whole courtyard is dominated by the 5-story Panch Mahal. This is the "Wind Palace". There are no walls. Just pillars. The bottom floor has 176 intricately carved pillars. The 5-story building is "for enjoyment".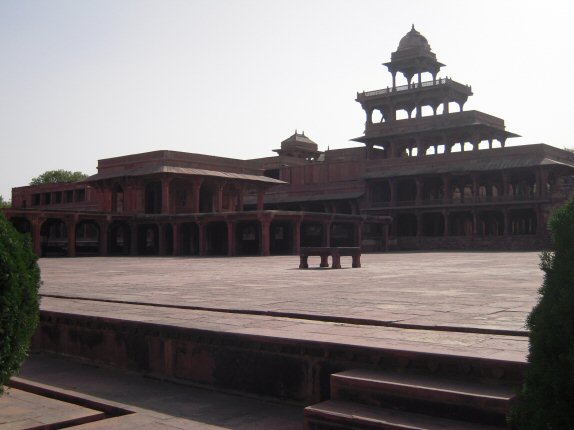 Diwan Khana-i-Khas is the emperor Akbar's chambers. Now this is King-size bed!!!!

Akbar had 550 girlfriends and 3 official wives.
Behind the Wind Palace is Marlam's Palace - where Akbar's Christian wife lived.
Akbar's Muslim wife lived in a very small room "Anup Talao" .
Akbar's Hindu wife had a son, so she had the largest and grandest palace. It is called Jodha Bai's Palace.
The palace building consists of a rectangular block measuring 231x215 feet in dimension, with a single magnificent gateway on eastern side, which was protected by guard rooms. It has a triangular ceiling and other apartments.

Hindu motifs like hams (swan), parrot, elephants, lotus, srivatsa mark, ghant mala etc are decorated in the interior. The colonnaded dalan contains curvilinear square pillars with beautiful moldings and extremely graceful brackets. The western suite, which serves the purpose of temple, contains beautiful curvilinear pillars with brackets. This suite contains vedikas and several Hindu motifs. The super structure of the building is comprises of chhatris, chhaparkhats with eight pillars, semi circular domes and triangular khaprel roofs, The corner domes and khaprel roofs bears traces of arabesque designs in glazed tiles.
Jodha Bai's Palace in 1960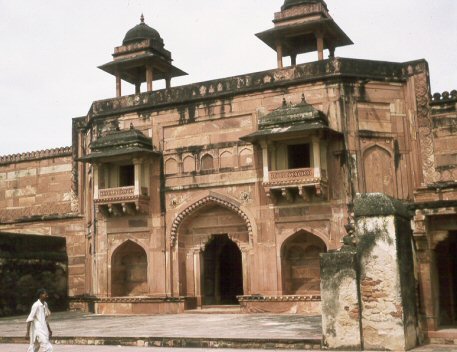 Jodha Bai's Palace in 2009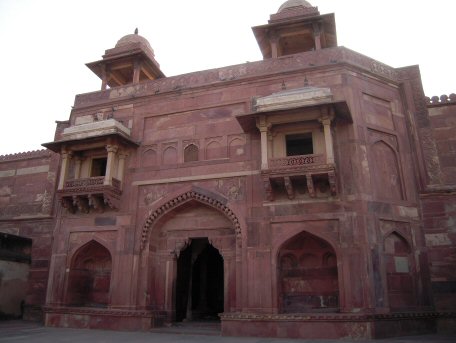 I saw Iran Minor - a 72 foot minaret tower the Akbar built as a memorial to his favorite elephant. It has protruding tusk-shaped stones.

Th

e photo below is

Jama Masjid. The mosque is built in the manner of Indian mosques, with liwans around a central courtyard. A distinguishing feature is the row of chhatri over the sanctuary.
Liwan - A word used since ancient times more than 2,000 years ago and now into the present to refer to a long narrow-fronted hall that is open to the outside. The liwan house was essentially a covered terrace, supported by retaining walls, with a courtyard in front. Complex liwan is has a large ceremonial entrance hall (liwan) at the front of the complex, divided into sections, and flanked by smaller liwans. The back opens onto a columned peristyle courtyard from which the main room and the private apartments opposite can be accessed. Mats and carpets are typically spread along the length of the floor of the liwan, and the mattresses and cushions along the length of the walls make up the diwan or divan seating area.

Chhatris - Elevated, dome-shaped pavilions used as an element in Indian architecture, or funerary sites in India which have such structures built over them. Chhatris are basic element of Hindu as well as Mughal architecture. The term "chhatri" means umbrella or canopy.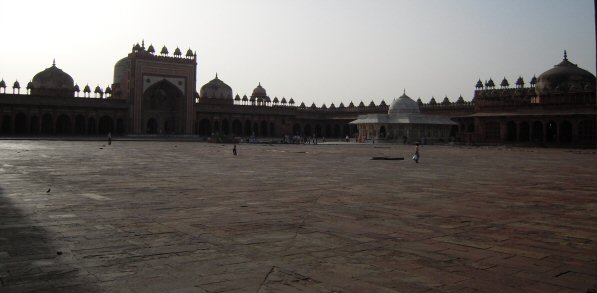 Friday Mosque is very crowded.
Akbar built the white dome worship hall for the priest Salim Chisti - whose blessing brought the king a son. Salim is buried here in a white marble encased tomb here in the Jama Masjid's courtyard.
This is the view Buland Darwaza from the Jama Masjid (courtyard) in 1960 (Grandfather picture)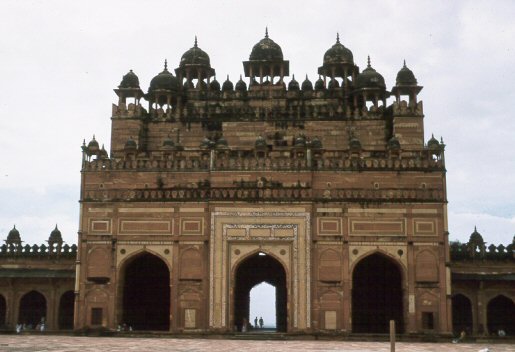 The same photo in 2009: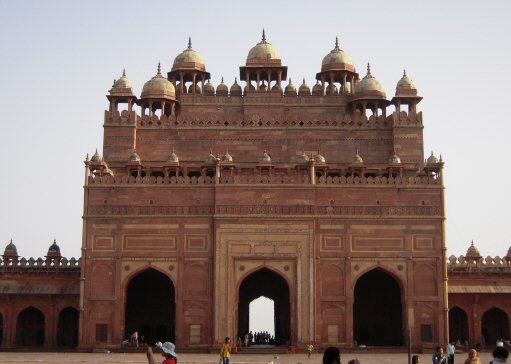 Walk through and look up to this archway - This is the famous Buland Darwaza

Buland Darwaza is the highest gateway in the world. It is 177 feet (54 m) high and 115 feet (35 m) wide.
It means 'high' or 'great' gate in Persian. It is also known as the "Gate of Magnificence".
It is an astounding example of the Mughal architecture. It is built of red sandstone and inlaying of white marble.
The Buland Darwaza is semi octagonal in plan and is topped by pillars and chhatris. Buland Darwaza echoes early Mughal design with simple ornamentation, carved verses from the Koran and towering arches. A Persian inscription on eastern archway records Akbar's conquest over Deccan in 1601 A.D.
There are thirteen smaller domed kiosks on the roof, stylized battlement and small turrets and inlay work of white and black marble.
On the outside a long flight of 42 steps sweeps down the hill giving the gateway additional height.
Buland Darwaza has a very famous inscription written on it. This inscription is actually a quote attributed to Jesus Christ, who is revered equally by both Christians as well as Muslims. It says, "The World is but a bridge, pass over but build no houses on it." yes!!
Finish seeing Fateh Pur Sikri. Now we are going to Fatima (?) Not sure what that is, or why I wrote it....
The tour was 2.5 hours of walking around in the hot sun. 3 to 5:30 pm.
After the tour, I had to fill out a form to critique the my guide "Raj" or rather, "Maharaj". He was excellent. His tour number is 009358931598.
Then after Fatepur, it will take us about one more hours drive to Agra. But it's only 26 miles from Agra. Why is it going to take us more than an hour? This is 2009 and the traffic is very very heavy.
When Grampa was here in 1960, if they traveled at 26 miles an hour it would have only taken them an hour to come from Agra to this Fatipur Sikri place. It bet they didn't have traffic and congestion. I bet they had the same HOT heat though.
This sure seems like an out-of-way place to visit. It's seems so far from the Taj (Agra). Whatever possessed Grampa to come to this place.
I'm sure they stayed over night in area? What month did they come? Unbelievable.
We drove through an area of the country where bricks were made. There were many many chimneys, with black smoke coming out of the top.
A bridge is a fly-over.
Finally a Welcome to Uttar Pradesh sign. We are in Agra. There is a cow in the road! I also saw a pig, and a horse.
Wow, this is first day of the trip that I have seen a woman on a motor bike. The I also saw another woman wearing jeans on a motor bike.
2.5 million population in Agra.
I checked into my hotel.
Howard Park Plaza http://www.sarovarhotels.com/Howard_Park_Plaza.htm

Fatehabad Road, Agra - 282 001
Tel .: +91 562 404 8600 - 699 Fax : +91 562 400 4866
Email : hpp@sarovarhotels.com
My guide for tomorrow met me in the lobby. His name is "Bilal". His tour number 09319697497. We sat in the lobby and I showed him Grampa pictures that I wanted to duplicate.

So this next conversation was worth all the money that I paid for this trip. On group tours you don't have a choice. I remember in Cambodia, we were up at 4 am to see the sun rise over Angor Wat. No thank you. I do NOT need to see the sun rise over the Taj Mahal. So, he suggested 8 or 8:30. We agreed on a start time of 9 am. That was plenty early for me. We are go to see Taj Mahal first and since there are no tourists here in India now, that time was fine and there would be no wait to get in.

I LOVE my single hotel rooms. It is a very comfy room for 2 nights.

I had an absolutely awesome day today. Breakfast, hit the road. Amber fort, gems, Fatipur Sikri. Wow.

I called Dad tonight. It was 11 am his time.

It was so easy to make a direct call: 001 - area_code - 7-digit_phone_number

Bedtime at 10 pm.

7:30 am wake up call. Tomorrow I tour from 9 am to noon, then I get to rest!
---
Wednesday April 22 - Day 6 In AGRA
This is what the itinerary said:
After breakfast visit Taj Mahal, the most extravagant monument ever build for love. On the death of his beloved wife Mumtaz Mahal, Mogul Emperor Shah Jahan build her this memorial over wich 20,000 men labored for 22 years to create a masterpiece in white marble inlaid with semi precious stones; the art is called pietra dura. Agra Fort where Shah Jahan spent the last years of his life imprisoned by his son Aurangzeb. The most impressive part of the Fort are Dewan-e-Am, Hall of Public Audience and Dewan-e-Khas Hall of Private Audience where he recieved foreign dignitaries and royalty.
This is my account of the day:
School bells woke me up at 7:30 am. My 7:30 Wake up call came at 7:45.
It's 8:25 and I'm sitting here eating breakfast. This hotel is ready for tourists. They have a big restaurant with a huge buffet of everything. I got French toast, porridge (aka oatmeal), glass of milk, potato cakes, grilled tomatoes. I had 2 little glasses of milk with breakfast! Thatll have to do for awhile.
I need to eat fast because I start at 9 am; but now I know that really means 8:45 with this tour company. They are always early. Bilal said We do our jobs properly here - meaning that they are never late.
On the first day of this trip, I start saving toast because I remembered that was the only thing that I could tolerate the day after Italy tour. That was a rough going. God thanks for keeping me healthy so far, please keep me healthy for at least 16 more days while I'm traveling.
9 am depart hotel and we are off to visit Taj Mahal.
We drive directly to the Taj. The driver stops and Bilal and I get out of the car. It looks like we could have been let out closer, but they have obviously made a pedestrian only area around the Taj. Lucky me, I seem to be the only tourist here. We get many offers for transport, but I was welcoming the opportunity to take a nice walk. It was not that hot (yet). So we walk on very wide paved roads. I'm sure cars traveled on these roads at one time. It was barren of people. But better yet, no aggresive souvenir salesmen.
I'm sure during tourist season this entire pavement is covered with people and sellers. I am approached by some souvenir salesmen, but they realize I'm not interested when we keep our fast pace to get to the Taj.
We arrive and there is a short line to buy ticket. Remember now that it's about 9:20 am. I'm sure people have waited hours and hours and hours in this line. Like when I went to Potala Palace April 30, 2009. Tibet was closed March 2009 so tourists couldn't enter. We waited in line 10 minutes. The 1-hour limit to be in the palace didn't start till May 1, so we could stay as long as we wanted. Anyway. I digress. I really do have a lot of good luck. I told Henry that when I walked into the dance place with the free Hot Chocolate that I got. I get close parking spaces and things just seems to work out for the best for me. Thank you God. So I hope the biopsy is benign. So now I seriously digressed. Such is life.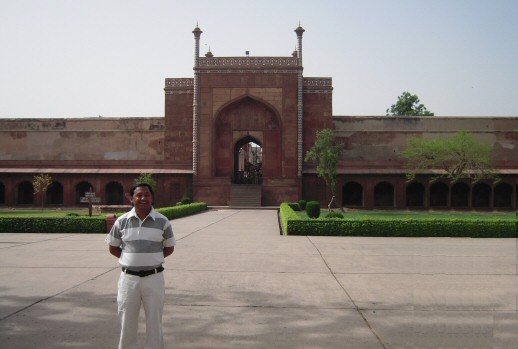 9:20 am Temperature seems like about was 82 degree F and there was a breeze. Very comfortable.

Bilal and I get to the ticket window and there is NO LINE! Not single person waiting to at the window where I have to buy a ticket and a tourist pass.

Entrance fee was not included in the tour.

F

or my ticket, I paid 250 Rs ($5.00 USD) to see the Taj then I had to buy a 500 Rs tax coupon. You only have to pay the tax once, and you have to show the coupon at other sites, like Agra Fort.

When I was buying my ticket, Bilal went to another window, maybe for tour guides and purchased something - turns out to be shoe covers. What a great idea that was.

So then we walk right into THE TAJ. Through one tall arched gate, then another, and another.

This is Bilal my guide in front of one of the gates.

Here is the final gate that you go through. This is the Great gate (Darwaza-i rauza)gateway to the Taj Mahal. Notice that there are very few tourists!!!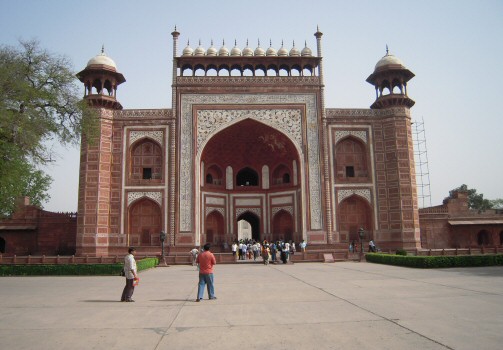 The main gateway (darwaza) is a monumental structure built primarily of marble which is reminiscent of Mughal architecture of earlier emperors. Its archways mirror the shape of tomb's archways, and its pishtaq arches incorporate the calligraphy that decorates the tomb. It utilizes bas-relief and pietra dura inlaid decorations with floral motifs. The vaulted ceilings and walls have elaborate geometric designs, like those found in the other sandstone buildings of the complex.
We go through this gate and we are there. And it is SPECTACULAR.
On the other side of this gate, there were a lot of Indian tourists pausing to take photos. Everyone is here to experience the same thing. To see the Taj. Wow. and I really mean WOW. It is incredible. We walked in and I saw IT. WOW. Everyone was very accommodating to wait/pause because everyone wanted to take the same pix taken by the entrance with THE TAJ and background.

It looks like the Taj is floating on the platform. This is my Grandfathers photo. Notice the scaffolding on the left rear minaret: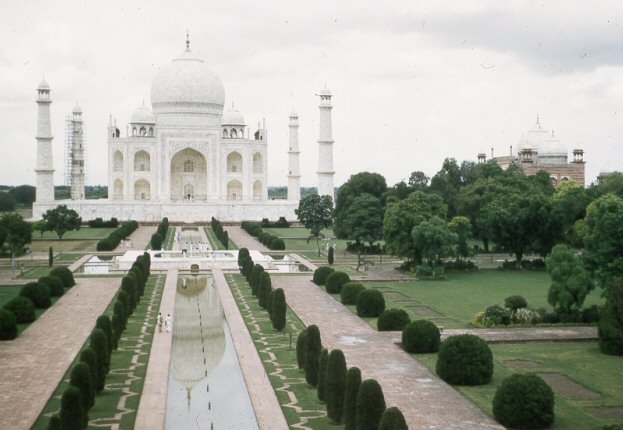 To build the Taj, about three acres was excavated, filled with dirt to reduce seepage, and leveled at 160 feet (50m) above the riverbank.
The garden complex is around 3300 square feet (300meter square) garden with avenues of trees and fountains. At the center of the garden is the raised marble water tank. The pool reflects the image of the mausoleum. The reflection of the Taj also appears behind in the river.
Bilal and I went off to the right side. He took my camera. I had shown him my Grampa's photos and he knew exactly how to duplicate the experience. He took some photos of the palace with my camera.
Then we started to walk toward the Taj on the sidewalk to the right of the building. I had had to slow him down so I could enjoy the experience. Wow. I was truly incredible. Getting closer. Seeing that building explode into my line of sight. I can't explain how beautiful this structure revealed itself to me. If you have been there, then you know what I'm talking about. If you have not been there, then there are no words to describe the splendor in front of me and the feelings that enveloped me when I got closer to that structure. It pulls you in "come see me". And it's only a tomb to a dead wife. But the beauty that you are surrounded by is truly astounding.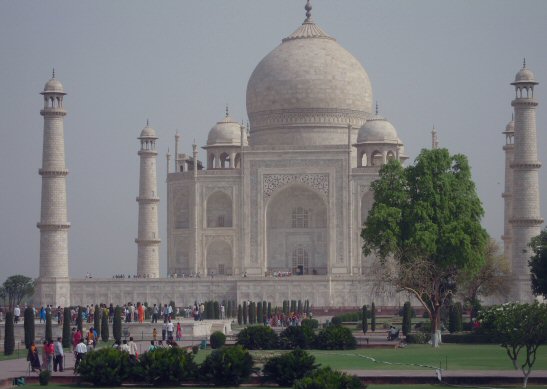 The Taj is built on a marble platform. The matching buildings to the left and right of the Taj are not on the marble platform. You can see the platform in this this photo.
Everything is symmetrical with the wife's tomb in the middle. The only thing that is not symmetrical is the the Kings tomb next to her tomb inside the Taj.

The buildings on each side of the Taj match exactly. The western building on the left is a mosque and the other building, its precise architectural mirror on the right is the Jawab (it means "Answer"). The primary purpose of this building was architectural balance, although it may have been used as a guesthouse. No one lived here.

We veered right of the Taj and visited the Jawab, the answer.
The arches and walls were beautiful.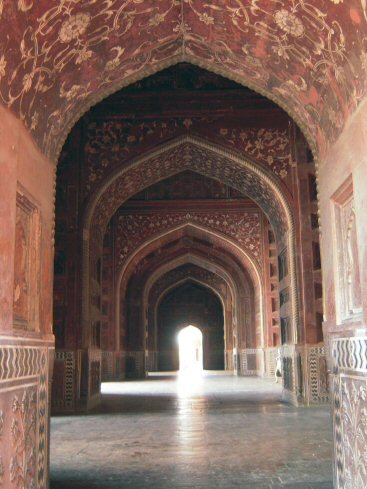 This photo is taken through the arch of the jawab.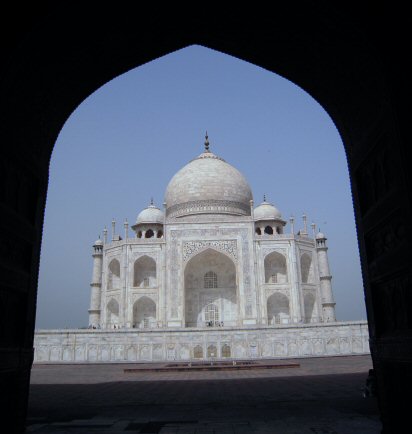 When you are standing here looking at the Taj, take 10 paces forward and 10 paces back and you see the illusion of the Taj moving towards you. Cool.
And now we walk toward the Taj.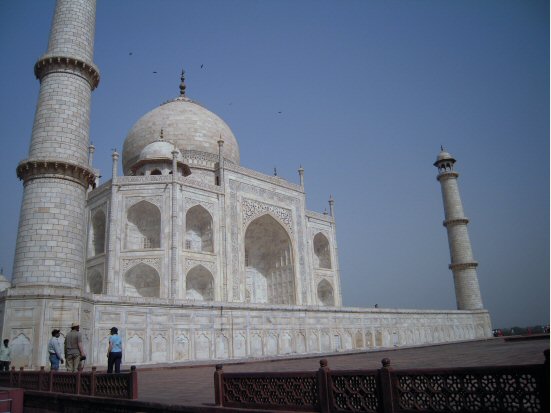 The dome that surmounts the tomb is the most spectacular feature. It is made of white marble.
It is 115 feet (35m) high, about the same length as the base. It sits on a cylindrical "drum" which is roughly 23 feet (7m) high.
The minarets, which are each more than 131 feet (40m) tall, display the designer's penchant for symmetry.
They were designed as working minarets a traditional element of mosques, used by the muezzin (a Muslim crier who calls the hour of daily prayers) to call the Islamic faithful to prayer.
Bilal told me that the Minarets actually lean out 2 degrees. There are stairs to the top of each minaret.
The marble was transported 350 km from Jaipur using elephants and by ship on the River Yamuna that flows behind the Taj.
Before you go up to the marble platform, you have to remove your shoes. Marble never stains, but they don't want to get the white marble dirty either
I was with a guide that knew what he was doing. When we got to the marble, he gave me some shoe covers. When I was buying my ticket, he went to another window and purchased shoe covers for us. There were hundreds of shoe cubbies. Everyone was removing shoes, walking around in socks or bare feet. But we just put the cloth covers on our shoes. I was wearing my sandals today (and yesterday) so I put the covers over my sandals.
Going barefoot reminded me of Sri Lanka where we had to remove our shoes everywhere. Oh, the ground and the stones were so hot and so rough on our tender feet. But here, I could keep my shoes on and walk on the marble pedestal that the TAJ was built on. Thank you Bilal!
The shoe covers really made this an even more perfect day. The temperature seemed like is was 82 and there was a breeze. Very comfortable.
Here are the stairs to get up to the platform. This photo is my Grandmother: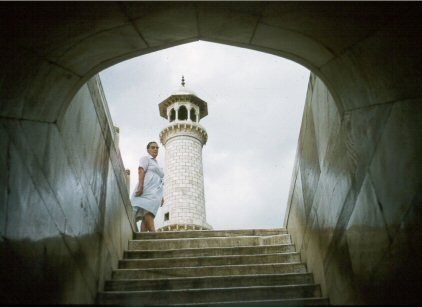 40 years later, this is me standing in the same location. Notice they have built wood stairs to cover the marble. Bilal said that the marble steps are very slippery during the rainy monsoon season.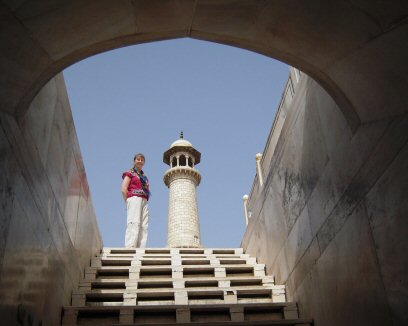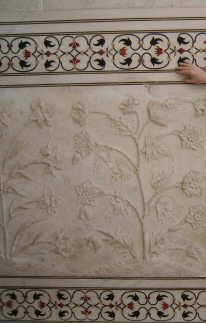 As we walk into the Taj, Bilal points out the "meandering floral patterns". He borrowed a flashlite from one of the guides and showed how the stones are translucent. Very beautiful.
Cornelion red
Malechite, jade - green
Lapis blue
Jasper or black marble
Yellow marble
The whole building is a mausoleum and the central focus is the dimly lit domed main chamber inside where the tombs are located, "cenotaphs of Shah Jahan and Mumtaz Mahal". Her tomb is placed at the precise center of the inner chamber and his (the only thing that no symmetrical) is beside it. Her's is elaborately inlaid with precious and semiprecious gems. The calligraphy found on the marble cenotaphs in the tomb is particularly detailed and delicate. Calligraphic inscriptions on the casket identify and praise Mumtaz and has 99 names of Allah.
These are actually "false sarcophagi" and the actual graves are at a lower level. Muslim tradition forbids elaborate decoration of graves and hence they lay in a relatively plain crypt beneath the inner chamber with their faces turned right and towards Mecca.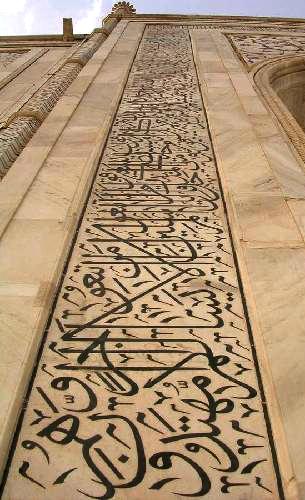 The flowers on the walls are also are framed by elegant Arabic script. Passages from the Qur'an are used as decorative elements throughout the complex. The calligraphy is composed of florid thuluth script, made of jasper or black marble that is inlaid in white marble panels. As shown in this photo to the right ---> (I grabbed this pix from wikipedia)
It is said that the entire Qu'ran is written on the walls of the Taj.
Higher panels are written in slightly larger script to reduce the skewing effect when viewed from below.
Bilal and I walked back into some of the other rooms in the Taj.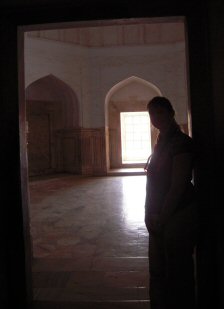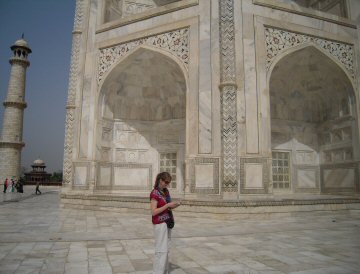 A journalist at work.
The zig zag pattern on the outside of the building looks like star shape, but it's an optical illusion. It is really flat.
The guide book said "Marble from Rajastan, precious stones from Yeman, Russia, China. At a cost of 14 million Rs. " Bilal also said the cost was "14 million Rs when 1 gram of gold is 15 Rs". Yup. that is directly from the sign out front. Hmmm. That doesn't tell me much. How much does 14 million Rs translate to in terms of dollars. And how dos the price of gold figure into that. At today's conversion rate, it is $300,000 USD.
About "THE TAJ"
20,000 workers. 22 years. 1000 elephants.

The sheer beauty of the palace is so overwhelming that no amount of overexposure can diminish it.

This "marble prima donna", unofficially crowned by her ardent fans as "the most beautiful building in the world".

A masterpiece in white marble inlaid with semi precious stones; the art is called pietra dura.

The entry arch to the Taj is one of the most well-designed architectural approaches in the world. The tomb building and the four principal minarets rest on a large pedestal of white marble.

The most extravagant monument ever built for love.

The tale is a sad, sweet, love story. This is from a travel guide book:

In 1612 Shah Jahan married Arjumand Banu Begum (born 1592, so she was 20 years old). 1627 he became emperor and 3 years later in 1631, Arjumand (Mumtaz Mahal meaning "Ornament of the Palace"), died giving birth to their 14th child. One year later, in 1632, work on the Taj began. 20,000 people worked non-stop for 22 years. It was completed in 1653.

During the building, the Mughal capital moved from Agra to Delhi. In 1658 one of Shah Jahan's sons, Aurangzeb was in power. In 1658, Aurangzeb staged a coup, violently surmounting the opposition of this three brothers and imprisoning his father in Agra Fort. Shah Jahan lived out his days under house arrest, staring out across the Yamuna River at the Taj Majal. When the deposed emperor died in the winter of 1666, his body was buring next to his wife's.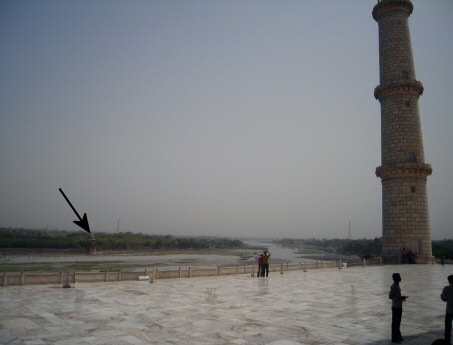 So the guide book says the son put the father in jail.
And Wikipedia says: "A popular local myth has it that Shah Jahan planned to construct a second Taj of black marble, to the North, on the other side of the Yamuna river."
Bilal told me the story around these stories.
We were seated behind the Taj looking out over the river and Bilal explained:
"Shah Jahan used the peoples (tax) money to build the Taj Mahal. After the Taj was finished, he started to build another Taj Mahal made of black marble, jasper. This was being built on the river directly behind the white Taj.

One of his sons, Aurangzeb, was a very hard-working man who worked his entire life. 3 of his greedy brothers were living off the king's bank.

Aurangzeb, thought that building another Taj was an incredible waste of money. There was a coup and this "good son" killed the 3 brothers and put his father under house arrest.

Aurangzeb became king and he stopped the building of the black Taj. He also gave the money back to the people instead.

The father was forced to live in the Agra Fort. The father lived to be 76 years old and died natural death. "
The arrow in the photo above points to the circular bastion in the Agra Fort where the father (Shah Jahan) was imprisoned and spent his final hours gazing wistfully at his Taj Mahal, which was reflected in mirror positioned at every angle in his cell.
This is my photo of the of the Taj from the Agra Fort: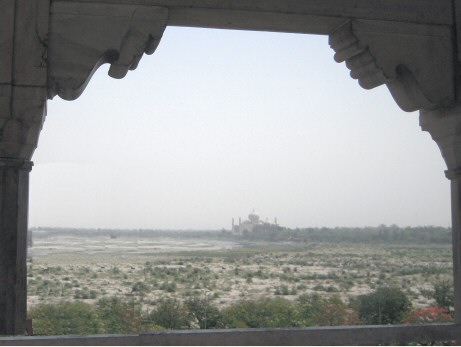 This the text of the sign in front of The Taj Mahal:
The Taj Mahal was built by the Mughal Emperor Shah Jahan in commenoration of his favourite wife, the empress Mumtaz Mahal. Shah Jahan married Arjumand Bano (Momtaz Mahal), granddaughter of Itimad-ud-Daula, the Wazir of Emperor Jahangir in 1612 . Mumtaz Mahal died in 1631 at the birth of her 14th child. The grief-stricken emperor sparted no effort in building the tomb in her memory, which is universally acknowledged as one of the most beautiful creations on earth. After his death in 1666, Shah Jahan was buried in a tomb beside his beloved.

Artisans were requisitioned from all over the empire and from Central Asia and Iran. While bricks for the internal framework were locally made, white marble for external surfaces was brought from Makrana in Rajastan. The building was completed in 1648 after 17 years, at the cost of rupees four crores (40 million) at a time when gold was sold at Rs 15 per tola (11.66 gm).

Shah Jahan, grandson of the emperor Akbar, had a passion for architecture, and under his aegis, Mughal architecture reached its zenith, entering its classicla phase. The emperor oversaw the building and the architect for the most part is believed to be Ustad Ahmed Lahori. The Taj plans display strict bilateral symmetry. The central point is the tomb (rauze) and its four minarets, flanked by a mosque and an assembly hall (Mehman Khanah). The Taj is exactly as wide as it is high (55m or 180 feet) and the height of its dome is the same as the height of its archade facade. A highlight of the monument is the exquisite carved pietra dura inlaid with semi-precious stones.

The colour of the translucent marble keeps changing from dawn to midnight diving it a magical aura in keeping with Shah Jahan's vision that the tomb and garden should represent paradise on earth.
After the Taj we visited the Agra Fort around 11 am.
The fort was built in 1565 by Emperor Akbar.
Sign in front of the Fort:
Agra Fort is the most important fort of India. The great mughals: Babur, Humayan, Akba, Jahangir, Sharjehan and Aupangzeb lived here, and country was governed from here. It contained the largest state treasury and mint. It was visited by foreign ambassadors, travellers and the highest dignitaries who participated in the making of medieval history of India. No other fort of India had this honour.

Agra Fort stands on an ancient site just by the river Jamuna. It was a brick fort and Chauhan Rajputs held it. It is metioned for the first time in 1090 A.D. when Ghaznavide force captures it. Sikandar Lodi (1487-1517) was the first sultan of Delhi who shifted to Agra and lived inthe Fort. he governed the country from here and Agra assumed the prominence of a second capital. He died in the For in 1517 and his son Ibrahim Lodi held it for 9 years until he was defeated and killed at Panipatin 1526. Several palaces wells and a mosque were build in Fort during the Lodi period.

After Panipat, mughals captured Agra Fort and vast treasure - which included the diamond later named "Koh-I-Noor" - was seized. Babur stayed in the Fort in the palace of Ibrahim. he buildt Baoli (step well) in it. Humanyun was coronated here in 1530, after his defeat at Chausa in 1539, he returned to Agra. Nizam water-carrier (Saqqa), who had saved Humayun from drowning, was crowned here for half a day and issued a menial currency. Humayun was defeated at Bilgram in 1540, Sher Shah held it for 5 years. The mughals defeated the Afgans finally at Panipatin in 1556.

Realizing the importance of its central situation, Akbar (1556-1605) decided to make Agra his capital. He arrived here in 1558. his historian Abul Fazl recorded that this was a Brick Fort, known as "Badalgarh". It was in ruined condition and Akbar ordered it to be rebuilt with red sandstone. Foundation were laid by expert architects and it was massively build with bricks in inner core and stone on external surfaces. Some 4000 builders daily worked on it and it was completed in 8 years (1565-1573).

The Fort has a semi-circular plan, its chord lying parallel to the river. Its walls are 70 feet high. Double ramparts have massive circular bastions at regular intervals, battlements, embrasures, machicolations and string courses. Four gates were provided on it's four sides, one "Khizri-Gate" opening on the river, where series of ghats (quays) was also built.

Abut Lazl recorded that 500 buildings in the beautiful designs of Bengal and Gujarat were build in it. Some of these wre demolished by Shah Jahan to make room for his white marble palaces. But they were mostly destroyed by the British between 1803 and 1862.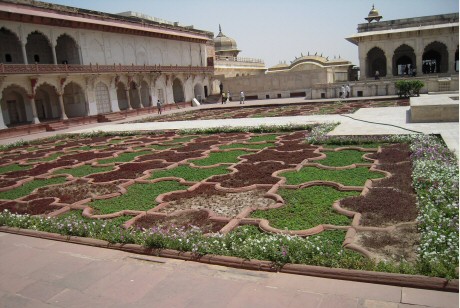 Agra Fort is where Shah Jahan spent the last years of his life, imprisoned by his son Aurangzeb. The most impressive part of the Fort are the unique interior design of the Dewan-e-Am, Hall of Public Audience and the Dewan-e-Khas, Hall of Private Audience where he received foreign dignitaries and royalty.
The buildings on the left are the Hall of Private Audience and building on the right is the left corner of the Hall of Public Audience.
Emperor Akbar who built the fort had 3 wives Hindu, Muslim, and Christian. His son, who built Fatipur Sikri also had 3 wives Hindu, Muslim and Christian.
At Fahtipur Sikri, the Muslim wife had the smallest living quarter, Hindu wife who bore a son had the largest most ornate rooms. At Agra Fort all 3 wives seemed to have similar quarters around 3 sides of the square. Here's a photo the women's bedroom pavillions.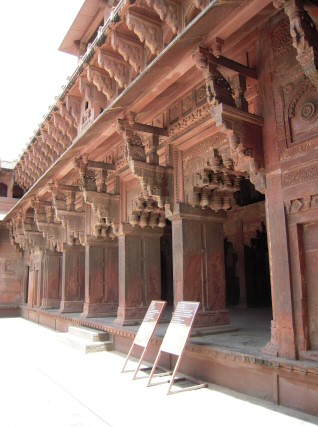 The Sheesh Mahal is where the women of the court bathed. This is sign in front of the building:
The Shish Mahal (The Glass Palace) (1651-4 A.D.)

This was built by the Mughal King Shah Jahan as a summer palace. It was two tanks with fountains interconnedted by a canal, and a waterfall (Asshar). These water-devices were provided to keep it cool and comfortable in the scorching heat of Agra. the distinctive feature of this palace is the glass-mosaic work which has been done, one a wide variety of stucco designs, on all its walls and ceilings. Glass pieces have high mirror quality. As the building is made up of thick walls with only a few openings, the semi-dark interior required artificial light, which glittered and twinkled in thousand ways through this glass work. It created anethereal atmosphere. It was not a Hammam.

This glass was imported from Haleb (Aleppo in Syria) which is why Shah Jahan's historian Lahauri has referred to it as "Shishaye Halebe" Glass mosaic was originally a Byzantine art. Shah Jahan built glass palaces also at Lahore and Delhi but this is his finest Shish Mahal.
Text from another sign:
Babur's Baoli and Overhead Tanks (Water Works) (1527-1573)

This is the spot where Babur's Baoli and water-works were situated. Babur recorded in his memoirs that he build a stone Baoli (step well) in Agra Fort. It had three-storeys. The bullock turned the water wheel (Rehant) for raising water. In the second storey all these opened on the stairs which descended down to water. It was completed after the battle of Khanwa in 1527 A.D. and Babur placed there an inscription. A well was attached to it at a higher level and water from the Baoli was first raised to this well. A 'Rehant' also worked in it "by means of which water is carried along the ramparts of the high garden", as Babur recorded.

This was altered when Akbar built his palaces (1565-1573). It was necessary to use a third 'Rehant' to raise water. Therefore, a three-storeyed water-pavilion was erected on the mouth of the second well and three overhead tanks were built on its roof. Water from Babur's Baoli was conducted into these tanks. The northern wall has 27 pipe-mouths (9 in 3 series) with circular persian tablets above them denoting the Hammams, canals and tanks to which the pipes conducted water respectively. This water-works was thus fully controlled.

This plan was again altered when Shah Jahani-Mahal was built. Massive walls were raised in the middle of the Babur's Baoli and well, and the rooms were closed up. The Baoli became defunct. Alternate arrangement of water-supply to the overhead tanks was made and they were again used with relaid pipes leading to the new palaces. Babur's Baoli is now buried in the basement apartments, just below this spot and is only partailly accessible. The overhead tanks with inscribed tablets have survived intact.
Shah Jahan was imprisoned here and spent his final hours gazing wistfully at his Taj Mahal, which was reflected in mirror positioned at every angle in his cell. Such beautiful inlay work.
Bricks then sandstone then white marble when they did the taj.
There are 2.5 km of red sandstone walls that enclose the fort.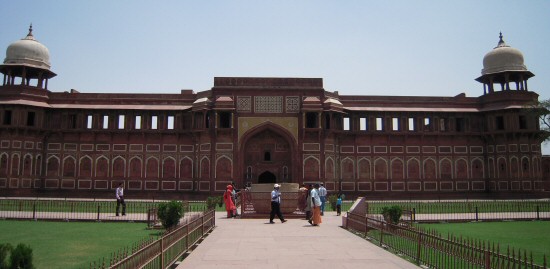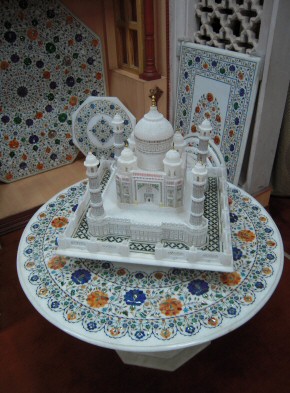 We visited marble inlay artisans and factory. This is an example of what they make:
This is how they make it:
Paint it red to see the scratches in the design.


Organize the pieces of stone.

Jasper brown and yellow

Jade, tiger eye, onyx, coral, malechite, caorleen, mother of pearl.

The Lapis stone is from Chile

A small flower may require 17 pieces of stone. Each piece must be individually ground and shaped.

Stick with cement.

The 13th generation of inlayers is working here. There are 73 people in the factory.

1 good worker can do produce maybe 2 flowers a day.

It takes about 40 days for for 2 skilled workers to make a small table.
That was a very interesting tour. After it was over, they left me in the gift shop. Everything was so very pretty, but I did not buy a thing. I'd like to support the local population, but I can't do it on my own. They don't realized that I'm already paying hundreds of dollars a day to take this vacation. Or maybe they do know that so then they think I can afford to spend a couple hundred more and buy something. Whew not sure that I was supposed to tip him either.... geez.
It's 12 noon and I'm back at the hotel.
Before Bilal left we had to decide on a departure time for tomorrow morning. I have a 1:40 flight to Kathmandu tomorrow so they decided on a departure time of 5:30 am for Delhi tomorrow. Yeow.
So now can relax this afternoon. Yeah!
When we were exiting the Agra Fort, there was a big bunch of tourists were going into the Fort. That was a sight. I guess I have been part of that sight before. Sure its 100 degrees, but the sight of large cellulite legs just is not attractive. What in the world do they think of us Westerners? We are in general very large people (by that I mean over weight). Large people tend to get hot faster so they wear less clothes. That is not something I want to see. Out of respect for the people in the country that I am visiting, its better to cover up.