December 15, 2005 to January 9, 2006 (27 days) 2005/2006
Sri Lanka was the first part of this vacation.
Maldives journal posted March 19.
Explore Worldwide tour http://www.explore.co.uk/ on a Voyages Maldives boat www.voyagesmaldives.com.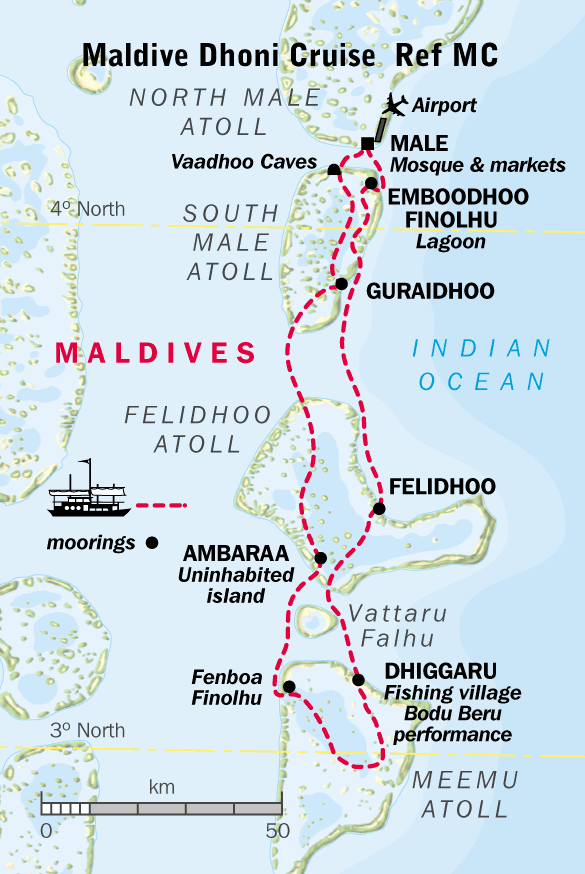 TABLE OF CONTENTS
Travel Tips (TTs) for this Maldives Trip Page 1
Helpful Web Sites (Including Tour companies) Page 2
My Day 1 to Day 17 See Sri Lanka Journal Tour Days 1 to 15 Page 4
My Day 18 / Maldive Tour Day 1. Sunday Jan 1. Fly Colombo to Male Page 5
My Day 19 / Tour Day 2 Monday Jan 2. Male Hotel, Speed Boat Transfer to Dhoni moored near Guraidhoo Kandu island in the South Male (Kaafu) Atoll. Sail to Bodumohoraa in the Felidhe (Vaavu) Atoll Page 5
My Day 20 / Tour Day 3. Tuesday Jan 3 Sail to Fenbo Finolhu in the Mulanku (Meemu) Atoll Page 6
My Day 21 / Tour Day 4 Wed Jan 4 Sail to Diggaru Kandu island in the Mulanku (Meemu) Atoll Page 7
My Day 22 / Tour Day 5. Thursday Jan 5 Sail to Farulolhu Kandu in the Felidhe (Vaavu) Atoll Page 9
My Day 23 / Tour Day 6 Fri Jan 6 Sail to Embudu Village island in the South Male (Kaafu) Atoll Page 11
My Day 24 / Tour Day 7 Saturday Jan 7 Sail Near Embudu Village in the South Male (Kaafu) Atoll, Male tour Page 12
My Day 25 / Tour Day 8. Sunday. Jan 8 Tour ends Male Page 14
My Day 26 / Monday, Jan 9 Fly Home Page 15
Explore Trip Itinerary Maldive Dhoni Cruise Page 16
Use clear plastic zip-lock (water-tight) bags to pack.

Put stuff in 1-gallon bags and clothes in 2-gallon bags. This offers some comfort in case your case is dropped in the Indian Ocean when it is being transfer from boat to boat.
If you get sea-sick, bring pills or something else.

Pat ran out of pills so the pressure point wrist bands worked for her.

Bottled water is always available on the boat. A 1000ml bottle was USD $1.

Bring a smaller water bottle. Drinking from a 1 liter bottle is a little awkward on the boat.

Pack a towel.

We got a fresh towel on the first day and another one in the middle of the trip (Wednesday).

The bed had b

ig comfortable pillows. We had one top sheet that was changed once during the week.

Make sure they get your shoe size so your flippers fit.

If you don't like the idea of using their mask and fins, bring your own.

Do not put sunscreen on your face when snorkeling it causes you mask to leak!
Bring some clothes pins to hang clothes and towel on drying lines strung on the side of the boat.

If you use safety pins to tie your clothes to the line, they may leave rust spots.

Glasses will not work with a mask. Get contacts.

Do not bring expensive sunglasses. They get coated with the salt air so you can't see anything. If you wipe them off, risk scratching , so you should rinse with fresh water first.

You do not need to bring snacking food on this trip. Food is available all the time. Also drinks and the bathroom is always accessible.

Bathroom sharing was not a problem. Make sure you bring soap.

Bring a copy of your airline tickets.

They took our tickets before we got on the boat so they could confirm the flights home at the end of the trip.

I was a little uneasy handing over my tickets to a stranger.
http://www.bsactravelclub.co.uk/reports/maldivesliveaboard1.htm
Flight Tracker http://www.flightview.com/TravelTools/default.asp
Travel Warnings and Consular Information Sheets http://travel.state.gov/
World Health Organization: http://www.who.int/en/
I booked my own flights on Delta http://www.delta.com and Singapore air http://www.singaporeair.com/saa/. Everyone else seemed to use Emirates http://www.emirates.com/. There is also Sri Lankan air http://wwi.srilankan.aero/travelplanner/routemap.asp
We were on a boat from this company: www.voyagesmaldives.com
PATA Maldives : http://www.pata.org/patasite/index.php?id=1137#5
Maldivian Air Taxi: www.mataxi.com
Communication: www.dhiraagu.com.mv and http://www.dhivehinet.net.mv/
Tour Companies: www.sunholidays.com www.vilureef.com www.olhuveli.com www.aquasunmaldives.com www.innermaldives.com  www.parahol.com www.sultansoftheseas.com  www.nqcruise.com www.movinmaldives.com www.sunlandmaldive.com.mv www.maldives-safari.com www.muni.com.mv www.guraabu.com.mv  www.blue-horizon.com.mv
Resorts: www.angsana.com www.planhotel.ch www.orchidmaldives.com www.bandos.com.mv www.banyantree.com www.universalresort.com www.aitakenspenceholidays.com www.cocopalm.com  www.cocoa-island.com  www.dhigufinolu.com  www.dhonvelibeach.com www.embudu.com www.equatorvillage.com www.aaa-resortsmaldives.com www.universalresorts.com www.fourseasons.com/maldives www.villahotels.com www.gangehi.com www.halaveli.com  www.helengeli-maldives.com www.hilton.com www.villahotels.com  www.huvafenfushi.com  www.kuramathi.com.mv www.kurendu.com www.lilybeachmaldives.com www.lohifushi.com www.machchafushi-maldives.com www.makunudu.com www.meeru.com www.mirihi.com www.kaimoo.com www.nadandhurapalace.com  www.nickmaldive.com www.olhuveli.com  www.oneandonlykanuhura.com  www.villahotels.com www.ranveli.com.mv www.reethibeach.com www.six-senses.com  www.summerislandvillage.com  www.tajhotels.com www.thulhaagiri.com.mv  www.unisurf.com www.vadoo.net www.vakaru.com www.velavaru.com  www.keells.com www.veliganduhuraa.com www.vilureef.com  www.maldiveswhitesands.com  www.dhonimighili.com
Money and Cost
Local currency is Rufiya. I USD is = 12.75 Rufiya. I did not change any money in the Maldives here. I used US dollars when I wanted to buy something on the islands. I got Maldivian Rufiyaa for the change.
In USD cost of the Explore Worldwide Maldive Dhoni Cruise is USD $1090. I did the Buddha's Island + Maldive Dhoni Cruise 18-Dec-05 to 08-Jan-06 for USD $2,220. Airfare 38.45.
Weather
Perfect temperatures in January. It was definitely hotter in the southern Atolls. Sleeping at night was uncomfortable one night when we had to close the windows when it rained. I wore long pants one night to dinner when there was cool breeze.
http://www.wunderground.com/cgi-bin/findweather/getForecast?query=Maldives
Located about 310 miles (500) km SW of India. About 115 square miles of the Indian Ocean.
There are anywhere from 1100 to 11,000 islands (depending on your definition of an island).
Hundreds of islands and coral growth collectively form an "atoll". There are 26 different atolls
The coral and sand islands were formed by volcanic activity.
They are surrounded by a halo of sugar-sand beaches, a coral reef, and crystal clear seas.
About 200 of the islands are inhabited by locals, and there are over 80 resort islands.
Some islands are used for specific purposes: oil tank workers, fishing, cemetary.
Population 300,000 in 2005, 427,000 in 2017. In Male 80,000.
The lowest lying country in the world. Average elevation is 3 feet above sea level.
Religion Islam (Sunnites)(converted in 1153 AD) All Maldivian's are Muslim
In 2003 more than 500,000 tourists visited Maldives. There are over 80 resort islands enticing you with sun-kissed beaches, tranquil lagoons, turquise-blue waters studded with pristine corals, and swaying Dhivehi ruhs (coconut palms), splashing rich hues of jade, azure, and sapphire shades so quintessentially tropical.
Capital is Male. It is crammed onto an island 1.8 sq km in area, Male houses a fifth of the total population.
From Time magazine April 25, 2005.
People are spread out across 200 islands. No matter humans do, the oceans will continue to rise. This is terrifying news for souls in the Maldives . Data from a tide gauge collecting data since 1989 indicates that sea levels around Male do not appear to be rising quite as fast as in many other places in the world.
The islands of the Maldives little circles and half-moons of platinum sand seems as fragile as they are exquisite. They are visible crests of massive limestone reefs that extend from the sea floor to the surface.
Hulhumale is an artificial island being built from scratch just across the lagoon from Male. It towers at more than six feet above sea level. Residents of low level island will be relocated here.
On the island of Kandholhudoo, the tsunami last year rendered all buy eight of some 500 homes uninhabitable. Plans are being made to move the population of the entire island to a nearby island, 12 miles away.
From International Herald Tribune January 1, 2006
In the Maldives, paradise is drowning. There is a realistic threat that we could be the first environmental refugees in the world said Mohamed Shareef, the chief government spokesperson.
When the tsunami water reached their peak, most of the Maldives disappeared under the Indian Ocean for a few minutes.
Maldives is a pro-American Muslim country exemplifies by their attitude toward liquor: don't drink it, but overcharge foreigners for it.
History
1153 - Buddist king converted to Islam
1558 - Portuguese
1658 - Dutch
1796 - British
1965 - Independence. It is now a Presidential Constitutional Republic.
About our Dhoni Boat
The Dhoni is the traditional means of transport of the Maldives and is thought to have derived from the Arab Dhow. Our vessels were live-aboard cruise boats with couchette accommodations. There was a saloon area inside plus plenty of room on deck both in the sun and shade for relaxing and watching the world go by. Meals on board were planned around the catch of the day - a treat for those that enjoy seafood!
On our bigger Gahaa boat, there were 9 people and 3 bathrooms (shower/toilet). 4 in the crew. On the other boat, 6 people and 2 (smaller) bathrooms. All double cabins.
We were on Voyages Maldives tour: www.voyagesmaldives.com
Gahaa Dhoni http://www.voyagesmaldives.com/html/gahaacruise.html
Size in feet 60 x 7.5 x 20 beam. In meters 18.2 x 2.3 x 6.0 beam
Year Built 1992
Cruising Speed 10 Knots
Guest Cabins 2 cabins with double beds.
4 cabins with twin couchette.
3 toilets with showers.
Crew 4 including captain & chef
Equipment Dinghy with outboard engine.
Snorkeling gear and fishing lines.
Sound proof genset
Communications CB radio, Icom HF transceiver
Two dining tables: one up front (sit in folding chairs) and one in back with benches.
9 people on our Gahaa boat: Mike and Rona, Mark and Angie (Angela), Len (Leonard) (very cute guy), Annelise, Pat, Me (Suzanna), Maria
The captain, crew and cook were fabulous. Sheefa (very white teeth!) was very nice. The wonderful cook on our Gahaa boat: Adanka Warnajith, Voyages Maldives, PO box 2019 Male, Maldives.
Sea Farer Dhoni http://www.voyagesmaldives.com/html/sea_farercruise.html
Size in feet 56 x 5.2 x 17.3. In meters 17 x 1.6 x 5.3 beam
Year Built 1988
Cruising Speed 10 Knots
Guest Cabins 2 cabins with double beds.
2 cabins with twin couchette.
3 toilets including 1 with shower.
Crew 4 including captain & chef
Equipment Dinghy with outboard engine.
Snorkeling gear and fishing lines.
Sound proof genset
Communications CB radio
One dining table: one up front (sit in folding chairs)
6 people on the Sea Farer boat: Gloria and Steve, Maureen, Jill, Dave and ?
The attention to detail on these boats and for every meal was truly impressive. The table cloth on our first buffet was beautifully draped the top. The designs on top of the butter. The napkins the beautiful folded designs pushed between the fork tines so I looks like a bird flying.
You can buy a can of beer is 1 (or 2) USD. Hard liquor is sold by the bottle : Gin or vodka is $15 a bottle.
Cruising the Atolls We left main North Male Atoll behind, we aimed to head through South Male and Felidhoo Atolls, stopping in small harbours and uninhabited islands along the way. We continued south to Meemu (Mulaku) Atoll, a group of islands with very few resorts, where we visited small fishing villages and saw boatbuilders at work. At another village Dhiggaru - we enjoyed a traditional 'Bodu Beru' (Big Drum) performance.
There was plenty of opportunities for swimming and snorkeling in the clear blue waters to see the varied and vibrant marine life that abounds.
Tsunami Disaster
01 January 2005 - Of the 87 resorts in the Maldives 64 are currently in operation, 17 registered considerable damage and 6 were extensively damaged.....
05 January 2006 Situation Assessment - As of to-date 78 resorts are in operation; 9 resorts remain closed and is being renovated.
Day 1. Colombo / Negombo
Day 2. Tile Factory, Coconut Shell Processing, Toddy Tapping, Hindu Temple
Day 3. Anuradhapura; Mihintale
Day 4. Aukana, Dambulla, Batik Factory, Elephant Ride
Day 5. Polonnaruwa, Jeep Safari
Day 6. Sigiriya, Wood Carving, Spice Garden; Kandy Tooth Temple
Day 7. Kandy Botanical Gardens, Gem Shop, Elephant Orphanage, Cultural Show
Day 8. T-shirt Shop, Univ, Tea Factory, Christmas Drive to the Tea Plantation
Day 9. Adams Peak
Day 10. Train to Bandarwella, Nuwara Eliya
Day 11. Waterfalls, Drive to Unawatuna
Day 12. Unawatuna
Day 13 Galle Tour
Day 14 Colombo Tour, River Boat Ride, New Years Eve
Day 15 Colombo, National Museum. Fly to Male at .
Fly

Colombo
to Male
flight from Colombo Sri Lanka to Male.
Steve, Gloria and I arrive in Male on Hulule 'airport island'. Go through passport check. Immigration wanted to know the name of the boat. I had just written Explore tour Dhoni He finally accepted that.
Pick up luggage, go through immigration, suitcase xrayed. Look lost after we exit the building. Somehow we found our contact, Shifal . He took our tickets, gave us a receipt then left us sitting here. He said that he is taking us to a hotel, but we have to wait first. Maybe 30 minutes. So far.
Everyone else on the tour was transferred to the Dhoni yesterday and they set sail for a nearby island. They have already had one night on board. We get this extra little adventure of staying the hotel.
Seems a little cooler here. Of course is .
We dragged our suitcases to a boat and take a water taxi from airport to another island. We had to handle our own luggage. Lift it over the water to the boat 2 feet away. Lift it off the boat. Drag it a couple blocks. Check into the Hotel Relax Inn. Gloria and Steve have been escorted up to their room. It's and I'm sitting in the lobby of the hotel . Finally I was escorted up a different elevator that didn't stop level with the floor and then guided into the hall way. The hallway was pitch black. Room was nice. Air conditioning worked. Thin walls so I could hear a loud snorer in the room next door. , I put my ear plugs in and try to sleep.
Slept 2 good hours from to . Never got my wake up call. Wash face in cold water, brush teeth, wash, eat a little day-old bread and I'm in the lobby of the hotel waiting at .  Gloria and Steve did not get a good room. They had no AC and no electricity. The stresses of travel
We dragged out suitcases outside to a taxi and rode to the dock jetty about 3 blocks away. The guy that got us at the hotel this morning paid taxi driver. We're at the Jumhooree Faalan
and a speed boat speed boat arrives. Gloria, Steve and I hoist our luggage onto the speed boat. It's about a 45 minute ride to get to the Dhoni. It's and were off speeding along. There are 3 guys on the crew. They seem to know where we are going. Looks like they have definitely done this before. This is about a 50 foot boat and it is going fast enough to barefoot ski. It has seats for 20 people. The buildings in Male are getting smaller and smaller. The sun on the horizon is getting bigger and bigger. Wow, I am seeing yet ANOTHER sunrise.  And I am NOT a sunrise type of gal. However, this is a major VACATION, so I'm loving it.
and there is no land in sight. A beautiful sun is rising over the horizon. Perfect Perfect Perfect.
The Dhoni had already sailed (without us). The others on the boat had already been swimming and snorkeling today.
Tour leader (?!) is Nahu . He showed me my room and the bathroom. Do not put toilet paper in the toilet! It goes in the bin beside the toilet. We get one big bottle of water a day. Beer is 1 (or 2) USD. Gin or vodka is $15 a bottle. That's about all the instruction I got.
The room is adequate. The top bunk is narrow, but I'll survive. There are 3 big drawers. I unpacked everything that I needed into one drawer. There are 3 shelves in the room. I can reach the top 2 shelves from the top bunk.
I joined the group for breakfast at . I knew within an hour that I was going to like this group. More English people.
Food was good. Coffee, tea, toast with butter and jam (pineapple, strawberry, and apple?) Omelet's.
we got on our way to the next mooring. Very windy. I had my ticket from the Colombo Museum tucked in my writing pad. The wind blew that in the water. You have to keep everything tied down on this boat. I found the pads on top of the boat and actually slept a little.  I was woken up by some excitement - we saw sting rays swimming in the water. Big black blobs in the water. Amazing to watch.
Late morning snack orange juice and fresh coconut.
We stopped and anchored at literally a pile of sand in the middle of the ocean. The pile of sand was about 50 yards long. It was surrounded by a coral reef that was maybe 100 feet deep. I swam over to the island first time. Every one else had their faces down in the water so I swam back to the boat to get my mask and fins. Wow. I saw what they were gawking at. Hundreds of fish. So many colors and such beautiful colors. Tiny fish and large fish.
Snorkeling was so amazing! The group was requesting a lot more snorkeling. Diving seems unnecessary in these shallow reefs. The reefs bring the fish close enough for snorkeling.
My contacts are fine so far with the wind and snorkeling. I hope I can keep them in all week. .
After snorkeling, lunch was deep fried obergeen (eggplant) potatoes au gratin, paste with tomato sauce, fried tuna. So good. No curry.
They closed all (batten-down?) the hatches and we were off on our afternoon cruise run. We were going through rough seas so they moved all of us to the back of the boat. Sprays of cold water showered the boat when the front hits big waves. And they are big waves out here. Lots of rocking to and fro.
It is not as nice at the back of the boat, but it was fun watching Mike and Mark catch fish. They caught a blue fin? Tuna and a parrot fish - very pretty fish. Adanka cooked the tuna in a very delicious fish curry at dinner.
I took a shower before dinner. Washed off all the sunscreen and mosi stuff. It felt great to be clean instead of greasy.
This first day on the boat was nothing short of incredible. I made my cubby space on the top bunk. Looks like it will be very comfortable for sleeping tonight.
Coffee and tea at 7 in front. breakfast. Pancakes (yum) this morning and eggs if you wanted them.
The waves really kicked up last night. I slept right through it. They told me there was a lot of commotion and yelling. Supposedly our two boats slammed against each other around . It broke the electric wire strung between the boats.  I didn't hear a thing. I was so tired and I love the rocking motion of the boat.  It is a very narrow bed on top bunk. I'm surprised I didn't roll out. It was a great night sleep for me.
The bottom bed is a lot wider, but it's warmer - not as close to the breeze from the windows. Also Pat said my sheet fell over the side my top bed so it got very hot and stuffy in the tent . Oops, I'll try to keep it in the little bed on top.
and we are off. I think I heard someone say we had about a 3 hour ride today. I think they to the message that it was too long of a travel time on the boat yesterday. We didn't like sitting at the back of the boat either. You could smell the diesel yuck.
So today we are up front. We are traveling slow in deep, dark water. The captain started turning the boat to the left toward churning water. A huge school of dolphin. There were over a hundred, or hundreds? swimming in the water. They swam effortlessly in front of our boat. Others were jumping out of the water, like they were showing off for us. Wow. What a show! I went up to the front of the boat to see them swimming so close it looked like they will almost hit the boat. They move so fast yet it is effortless for them to swim that quickly. It was absolutely amazing!
Now we are passing right beside a shallow coral reef with aqua clear water on the right. There's another shallow reef to the left about 200 yards. This captain knows his waters.
Three of us are still up front. They took the rest to the back of the boat. There is a language barrier but we figured out what they were telling us to do. I'm laying on top on a pad. The boat rolled left and the horizon disappears on the right, then the boat rolled to the right and all I see is water. The Sea Farer, our sister boat, is traveling beside. Looks like they are hunkered down on the back also.
Seafarer captain was our captain's nephew. He steered the Sea Farer by pushing the handle on the rudder with his feet! Mike tried and said it was very difficult . They lost 3 minutes time when he tried. You need very strong ankles and hard calluses. The captain was surprised that Mike was not bruised just trying. Gahaa had a steering wheel.
Gazing out to see nothing but water deep blue color. Then you see a sliver of aqua in the distance. The aqua patch gets bigger as you approach. The colors are amazing. Slower boat now. The peaceful tranquilness of the constant engine rumble.
Orange juice and coconut served about mid morning. You do not need to bring snacking food on this trip. Food is available all the time . Also drinks and bathroom is always accessible. Bathroom sharing has not been a problem at all. Make sure you bring soap.
I have absolutely no concept of time here. I don't want to, except to know when to wake up and when to eat.
After cruising (not necessarily sailing ) the Gahaa anchor and the Sea Farer tied to Gahaa. We snorkeled, and then they brought us back to the boat.  It soon became obvious that that something was happening on the island, but here we are on this anchored boat. The crew is shuttling things over to the island for a BBQ dinner. It took all afternoon to prepare.  At one point there was a huge fire where they were staring the BBQ.
We started the G&T's (gin & tonic) and watched from the boat. It was pitch black when they shuttled us over from the boat to the island. They had lit candles all over the beach. Make a serving table in the sand covered with sheets. Our dining table was in the shape of a dolphin. Again, covered in sheets. Leave laid all around the edge of the trench where we put our feet. The fish was delicious. They served it to each person individually and that is after we had already filled our plate with all the side dishes. Beautifully presented vegetables. Sliced cucumber, tomato, deviled eggs, bread, pasta. They went to so much trouble to prepare all that for us. They has a little party themselves when they were preparing all this. We could tell they were really enjoying themselves on the beach.
The whole dinner on the beach was absolutely fantabulous. That is a memory to bring to my mind during a status meeting at work.
When I'm remembering this trip, I want my mind to drift back to our spot last night. Our deserted island BBQ.
Unbelievable day today. It is Wednesday.
We have a 45 minute ride to the next reef. We are racing ahead of the other boat, then they pushed ahead. They are cruising very close beside us. Then we were ahead and the race was on. Our captain let Mike drive. Our captain's nephew is the captain of the other boat. They came so close. Mike said they tried to push him off course. It was entertaining.
I wish I could write so I could explain what we saw this morning. Snorkeling they took us out in the dinghy boats to take us closer to the reef. Put on your mask and fins and fall into the water. Then float. That's it. Absolutely no effort. Hold your hands behind your back and let the current take you while you enjoy the show below. What a show! What a spectacular show! We were almost drifting faster than the fish were swimming . If you wanted to stop to observe a fish, you had to fight the current to stay in one place. I think I drifted over 300 yards.
The guys on the boat were always with each group of snorkelers to make sure we are OK and so we don't get lost in the sea of coral. We followed the reef the whole way. If you float 5 feet toward the sand pile (island), you kick the coral. If you float 5 feet out the other way, you are in 100 foot deep water. Really amazing. We drifted about a quarter of the way around the island and the dinghy was there to pick us up. If you keep your flippers on, you can give a good, strong kick and flop up over the side of the dinghy. Then back to the boat for our lunch. The highlight was tuna that Adanka marinated in a tasty sauce. Yum.
Relaxing then 5 more people snorkeled again on the reef to the our right. Everyone is coming back with stories of what they saw. Annelis knows many fish. Pat brought printouts of pictures of fish.
and we are off again. The ride after breakfast really was not that rough. We all stayed at the front of the boat. We anchored at a spot by a reef about 500 yards long. Beyond the deep water on the other side of the reef, there is a sand island with trees.
They took us in the dinghy rafts to the far side of the island and we floated around the reef right back to the boats.
My mask was really leaking this time. Too much sunscreen on my face. Oops. My entire mask and breathing tube filled with water and I gulped a big helping of hot water. I almost panicked in the water when that happened. I could not breathe!
The guy floating with our group grabbed my arm and helped me get a breath of air. That is when I realized that there is no language barrier he asked if I was OK with perfect English. I had to hold my mask on my face the rest of the time. (I washed the mask with fresh soapy water and I was fine snorkeling the next time.)
There is definitely a knack to this snorkeling procedures. Annelise is most impressive. She has an under water camera. She dives straight down vertical for 15 feet to take a photo of a fish. Yesterday the captain was helping her stay down by holding his hand on her back. Gosh, so many stories to tell. What a wonderful vacation.
Wednesday, and I finally washed my hair (with shampoo) this afternoon. After snorkeling you can use the fresh water shower on the back of the boat to rinse the salt off your body and out of your hair (The guys even wash with soap.) I had been using that shower, but a clean feeling from soap is a lot nicer.
This afternoon we docked at the captains village (island) of Dhiggaru. This docking was a lot more complicated than anywhere else. Dinghy's shuttled the anchors away from the boat in all directions. We are really tied down for the night.
At this point of the journal, let me interject some information that we did not discover until the end of the trip. The Explore guide that we were supposed to have could not make it (broke his leg?), so we had someone who agreed to lead the trip on very short notice. We did not know this during the trip. Our short-notice tour guide was Nahu Ibrahim Nahshal (or Nahusahal? ) Nasir.
If Nahu had shared this bit of information with us at the beginning of the week, we would have given him more sympathy instead of a lot of frustrated grumbling because of lack of information.
Nahu was so shy and he would not address the group. He only spoke with one person at a time, then that person usually communicated it to the group. He gladly repeats it to each person individually. Sometimes information did not get communicated. It was difficult to get information from him and it was very frustrating sometimes not to know what is going on. He was not available for a majority of the trip, maybe he was staying on the other boat? Anyway, he seemed more qualified for a different position. 
That being said, he was a very nice person. He said that he started doing tours when he was 18. His is now 25.  Sometimes these tours are back to back and he doesn't get home. He is from Male: M. Metro-villa, Shaariu Vardhy, Male, Republic of Maldives. After this trip, Nahu is taking a 6 hour transfer boat. 30 $USD to another island.
On with journal, so here is our island visit
Compared to the other islands, this one is small. Population about 1000 (or 1175?).
There is a huge ugly tower on the island for communications. Cell phones are the only way to communicate here.
This a fishing village. They fill a 1.5 ton container with tuna fillets every 2 days!
They cut up the tuna and keep some parts of it to cook here (liver, stomach, and eggs), then push the rest into the water.
The fillets are salted and put into a bin 10 feet by 6 feet? Dry it 4-5 days to take the moisture out. Salty fish goes to Asia. Quality fish goes to Japan. 1.5 tons of salted tuna fillets in the container.
Nahu lead us on a walk around the island. He would walk up front and tell two people that were with him what we were looking at, then walk ahead. I got to the spot where he was talking and I would have to call him back so he could tell the rest of us. It was very frustrating.
We stopped to watch a group of women moving piles of rocks. Nahu explained to each person in our group that they were sorting the rocks for cement.
They have seats that hang from the trees called a jolly . It is a park bench Maldive style.
There were some very cute kids posing for us to take a picture. It's wonderful that they have not learned about asking for money.
A small television set is USD $400 on this island!
We stopped at another spot, so I called Nahu back to ask what was significant. He pointed out some re-rooted palm trees That was something like I'd never seen before.  He also pointed out a Banyon tree.
I took a picture of garden with the ocean in the background.
The group stopped to look a tied up bird. A family pet I presume. Looked mean to me.
I took a picture of Maldivian fishing boats and the wood for making boats. Empty yellow cans are tied to a frame to make a float for a dock.
The walk around the entire island took about 20 minutes. It was starting to get dark, I guess that's why we were hurrying.
We were waiting at the dock and I commented to Nahu that I must have missed it when he pointed out the mosque. He pointed to a path and said it was on that (dirt) road on the right. He said I had time to go see it. I walked over to the mosque and took a picture. A bunch of girls were walking by. I asked them if they covered, and said they cover when they pray. I asked if everyone is Muslim. She said Yes, are you Muslim? No, I am Christian. I am from America Big smile.
I hurried back to the dock and the group was still waiting. Our boat guys are also on the island somewhere.
Some boys were talking to people on our tour. There was a group of about 6 very articulate, confident 16 year old boys that spoke with us. They spoke were good English, but maybe they wanted to practice their English more. Or, they were just being friendly.
One boy had been off the island to Male once. He told us the tsunami water was about 6 to 7 feet of water here. One child died. The coral reef around the island helped break the power of the wave. On another island, 5 people died. The air pressure changed and the wave hit at here. Their school is on the edge of the beach, and water rushed right through the school, washed everything out.  He told us there are Island Chiefs and elected Atoll chiefs. A lot of corruptions in those positions.
The boys seemed to pair off. One putting his arm around the other's shoulders as very good friends. That's OK for boys and men to hold hands, they are very tactile with each other. It's also OK girls to hold hands, but not for a boy to hold hands with a girl.
There is a team of over 30 boys playing soccer over on the island.
The shuttle boat arrived and I wanted to keep talking to these boys. I learned more from them in 10 minutes than I did from Nahu for the whole trip!
It was a little cooler tonight. I wore long pants to dinner.
We spent the night docked in the harbor of the fishing island where our captain lives.
Thursday morning. It rained last night. Quick strong steady shower. We had to close our hatch windows so it got hot in the room. I heard the call to worship on the loud speaker this am.
I'm feeling the stress of 19 days of travel just a little bit. Although this boat is very comfortable and the people are great, I need a little break away with the iPod. Ozzie takes me away again. The English folks are so nice, but it does get difficult sometimes trying to understand what they are talking about. Pat was so sweet to ask me if I was doing OK with their humor. Yes, I was doing OK. Just relax and enjoy and go on.  This is great vacation.
Our boat was sailing (cruising) at . I slept till when we stopped for breakfast. French toast this morning. We get something different every day. Then everyone asked for a boiled egg.
and we are off cruising again. We were going through the atoll this morning for about 2 hours. Then this afternoon we will be going between the atolls where there is rougher seas. Some people took pills and Pat is trying out the pressure point wrist bands. (Post-trip note they seemed to work)
We were at the snorkel site from about to 3 this afternoon.  I saw a turtle! The captain was swimming near me and he grab my arm and pointed me towards the turtle. Wow!  We have seen tons (many) FISH! Pat had printed many colored pages of fish pictures so we could identify them. See http://www.popweb.com/maldive/. This is a partial list the names of some fish that we have seen:
Yellow coral goby
White tailed humbug
Blue-green damselfish
Yellow-bellied blue damsel
Sergeant Major
Ribbon Striped soldier fish
Sabre squirrel fish
Bocolor parrot fish
Bumphead parrot fish
Dusky parrot fish
Black eyed spine foot
Siz barre wrasse
Blue tail wrasse
Double saddle butterfly fish
Thread fin butterfly fish
Tear drip butterfly fish
Blue striped butterfly fish
Black backed butterfly fish
Long nose butterfly fish
Velvet surgeon fish
Clown surgeon fish
Naso brevirostris
Regal angel fish
Banner fish
Morrish idol fish
Clown trigger fish
Glod lined sea bream
Bullseye
Oriental sweetlips
Black spot emperor
Yellow saddle goat fish
Trumpet fish
String ray
Those are the fish Pat had marked on her picture list.
We pulled up the anchors about for a choppy boat ride. We were in a cold rain for about 30 minutes. Five of us stayed on top. I used the pad that I was laying on to shield the cold wind. We could tell that it is definitely a little cooler as we travel north. We were anchored by at Fulidhoo (population 368) on Farulolhu Kandu island in the Felidhe (Vaavu) Atoll.
As soon as we stopped, we were supposed to be ready to jump off the boat for the island visit. We all thought we would have a little time (10 minutes) to get ready, but no, we had to go now! Nahu asked Are you ready? Ready for what? To go to the island? I was in my bathing suit! No, I am not ready. I need to put on some clothes. I put on pants and a top, grabbed some citronella and we were off to walk about island.
Our first stop was at an aquarium. Maybe a hundred or fifty? tanks of salt water, with fish ready to sell. And we are off walking again, fast pace because it was starting to get dark. Nahu was walking fast so it really spread out the group.
We saw a boat that was being built. It was huge. After I called Nahu back, he told us the boat was going to be for scuba divers for tourists, not for fishing. It is 60 by 20 feet. It takes 8-9 months to build.
Nahu took us to a street where there were (tourist) shops! I was so glad I had a little money with me. I would have bought a lot more if I had more money. I wanted to support the local economy, but Nahu did not tell us to bring money.
A carton of milk was 50 cents.
Waiting at the dock for the dinghy there were some children playing on the beach. I had my butterfly stickers with me so I put stickers on a about eight children. They proudly displayed them for me for a picture. That was cute.
So we had our island walk, then dinghy back to the boat. The island visit really stressed me out. We had absolutely no time to get ready. It was uncomfortable being rushed on a trip where the whole impetus is to relax. Nahu just doesn't seem to be interested in sharing his country with us, or telling us about his country; Maybe he can't believe that people are interested in learning more about his country. He is not concerned about whether we buy things (to support their economy) by leaving money in his country. Nahu is so laid back. The adjective I came up with is lackadaisical about most everything. He is used to not having a schedule. I am not laid back, but I better get used to it.  Anyway.
Tonight was yet another fantabulously awesome, great, tasty, dinner. They fixed a fancy buffet on the front table of our boat. The six people from the other boat joined us. The big highlight was one big fish with side fillets sliced so we could pick at the pieces. There was also another white fish, the pieces breaded and cooked. Very good okra (looked like string beans) with seasonings, potatoes (garlic), cole slaw. We've had many delicious variations of cole slaw.
Tonight was a drumming show. One other boat of tourist was there.
The show was in a building right next to the beach. A group of men sat on the floor, and the drummers sat on low stools on one side of the room. Chairs lined the other walls. I really liked the drumming. It seemed to have more appeal over all than the Sri Lankan type drumming that we heard. All the men dancing made it even nicer to watch. Nahu said that woman also dance and they have their own drums also, but they are preparing for some big festival next week so we only saw men dancing. They would pull us up out of our chairs to dance. It got quite hot in that room. Guys would go out and pull (or push) another guy into the room to dance. It was a fun even since it was so relaxed. Not a formal show, just an example of their culture for us tourists.
Sail to

Embudu

Village
island in the South Male (Kaafu) Atoll
Friday breakfast . I made it up just as they were serving.
We are not going back to Male yet. We'll moor near Male tonight. Male is four hours from here. Hopefully that means 2 hours today and 2 hours tomorrow. From looking at the map, we are only doing about 20 percent of the Atolls on this cruise.
Nahu is not leading the Male city tour (this is good). Some people are leaving early at on Sunday morning. Uuughhh! The rest of us will have breakfast on the boat Sunday am then they will take us to the airport hotel where they will watch our luggage and we can use the pool. My flight is a Sunday. I don't want to go home yet.
I had a small glitch of an off day yesterday. After that island visit, I was enjoying some chocolate vodka trying to chill out. I tripped and ended up spilling most of it. Oh no! I put the empty glass on the floor and that was another mistake. A chair leg broke the glass. Oops. I was quiet at dinner. The trip is nearing the end and I don't want to go home.
I was doing better at breakfast this morning. Then at lunch was back in joke-telling form with my International bathroom joke. Life is good. Very very good.  That is the same joke that I told on the bus in Las Vegas when we were going to visit Hoover Dam. Martha was so embarrassed, I promised to never tell the joke again. But here I was with all these Brits, they actually laughed. It really is a good joke.
You would really be amazed at how little you need to pack for this trip. Definitely 2 cosi's (pronounced causee ), it is a swim suit, short for swimming costume , soap , a towel. We got a fresh towel on Wednesday and a fresh sheets. So we'll have these till the end of the trip.
You don't wear shoes on the boat. I'm not using my silk sheets, just the one sheet that they give us. Pack clothes pins to clip wet items to dry lines are strung along the side of the boat.
Bring lots of high Sun Protection Factor sunscreen. Angie put on 30 SPF and still burned. The sun really is a lot stronger here. At least it seems to be compares to Florida. You don't need any make up, hair dryer. Not worth the effort. You are wind blown every day.
We had a 2 hour ride between atolls was a little rough but not too bad.
Mid morning juice and coconut break. We arrived and anchored at a reef surrounding a pile of sand about 100 yards long. There are no trees on this island, just sand. Shallow water for about 75 yards then reef. There's a channel through the coral where you can swim up to the sand from the deep water without running into any coral. The coral is a little scary when I was floating over it in the shallow water I was scared my knees would scrape. The current seems to take you wherever it wants to. It is tricky getting through the coral to go from the deep to the becoming sand beach.
We snorkeled for an hour. Drifting along the reef about 300 yards. The island was beautiful pure white sand. Very hot to walk on.
My mask was working so much better today since I washed the rubber with soap to remove the oily residue and I didn't put any sunscreen on my face. I was so relaxed today compared to yesterday when the mask was leaking.
Friday. Pull up the anchor and we are off again. Wet t-shirts and towel flapping in the wind, dinghy in tow, bouncing behind. 2 hours to our next anchor spot the night. We had a very brief one minute hard sprinkle of rain, then the sun came out again. I wish I could write so I could explain / describe how totally relaxing this experience this moment, this afternoon, this trip is. We are served breakfast, lunch and ornate dinners ever day. They cater to us, look out for us, They always have someone watch each one of us when we are in the water. Work has crossed my mind, but something else distracts me. (white capped waves, flying fish) I don't think about it long.
You have to buy liquor by the bottle on these boats. Voyages Maldives Bar Prices (in USD)
Tiger Beer or Heineken 2
Sauza Tequila Gold or Silver 35
Gordon dry gin, beefeater gin 25
Smirnoff red 15
Baccardi 25
J&B Rare 35
Champagne 65
Baileys 35
Soft drink or water 1
Also white and red wines 15 and 25.
Our group bought 2 bottles of gin. I looked through the book and previous groups liked buying Bacardi. 5 bottles for one group!  One group (a family from S. Africa) had a 10 day cruise with a $930 USD bill from many many bottles of rum?. They gave the boat $1000. USD. Wow.
One of the guys on the crew is obviously new so they give him the worst tasks. Cleaning fish. They also pick on him. He gets thrown into the water and punched. After they pushed him off the back of the boat, they started throwing bananas at him. Looks like some type of initiation or something.  Muslims can't touch dogs?!?
Sail Near

Embudu

Village
in the South Male (Kaafu) Atoll, Male tour
Saturday. I could see the lights of Male through my window. breakfast. I just grabbed a banana and came back to bed. Luxury is getting to sleep in when you want to. I always get a melancholy on the last day of trips because I don't want to go home.
We have a 10 minute ride to the snorkel spot, then tour of Male which I am looking forward to. Some folks are going to stay on the boat. I have 24 pictures left on my camera. I took out my other chip, but I have 78 pictures left on it. I didn't want to risk loosing the pictures if I lost my camera so I swapped the chips out before It was full. I have two 32 K and one 16 K chip. That's my extra film.
You certainly cannot be self-conscious on this trip. I came out of the shower yesterday and three guys were right there to watch me make my way back to my room.
- End of snorkel stop on our way to Male. I think . Nope, we went to another snorkeling spot. A hard rain fell on the way. I think five people went snoring again. Chilly air temperature. They were taken in the dinghy to a channel where they followed a rope. Divers had a deeper rope to follow. They said it was a great place. One of the best Making us regret staying on the boat. I had to repack to get ready for hanging out at the airport hotel pool. Go into Male, clothes for the day, Sunday, more clean clothes for the plane with a change of clothes.
Snorkeling is better further South of Male because of El Nino in 98(?) ruined a lot o reefs in the area. Water was too hot so the coral reefs were killed bleached .
Male Tour at . Tour ends at when we must be at the Jetty.
We had a very good tour guide.
This is the smallest capital city in the world. 5 km long. 1 km wide.
75-80,000 people, 1500 scooters, 1,000 cars and 7 traffic lights.
There are about 1175 small islands and Male is located almost in the center of the island chain.
In 1150 AD the islands converted from Buddhism to Islam.
Maldives economy is supported by
1 tourism
2 fishing
3 trading import/export
4 building
Prison / jail is an island across from the police station.
They have sea transport to everywhere even to airport. The airport is a 15 minute boat ride to Hulhule island. The President has his own boat and VIP transport boat.
The President's Office building is 7 years old. Democratic here. Elections every 5 years.
We saw the tomb of Abu al-Barakaath Yusef a-Barbari, or Abul Barkaathul Yusuful Barbari
the man who converted the people in the Maldives to Islam in 1153. Called Medhuziyaaraiy , or Medhu Zi Yaariay
MUNNAARU
Walking down the street you see a big call-to-prayer monument, the drum-shaped minaret tower called Munnaaru and mosque Hukuru Miskiiy .
The mosque was initially built in 1656 over 350 years old. It is all built with coral blocks.
They didn't use any cement or concrete.   The minaret was built in 1675 (331 years old).
There is going to be a prayer call at in 2 minutes so he is talking fast. They pray 5 times a day.
Steel bands hold drum minaret together. Surrounding compound has tombs of past rulers, a Royal cemetery with kings tombs by the mosque.
The speaker is VERY LOUD RIGHT NOW!
MULEE-AAGE
Across from mosque is the former Presidential Palace, called Muleeaage or Mulee-aage , the old presidential palace, now government buildings.
Important people from other countries that visit stay there. There are colorful tiles on each side of the gate.
Looking down the street to a fountain with a symbol of independence.
The National Museum est. 1952 inside Sultan Park was closed because it is a Golden Holiday now. We could look in the gate and see the National Garden. This where the king's and queens lived.
ISLAMIC CENTRE
Kalhu Vataru Miskiy Mosque , the Islamic Centre is the biggest mosque in the country. 5000 people can pray all together. It is 3-story building with a shiny gold dome. Opened in 1984 Meet at to pray. 3 languages in schools. The local language is Dhivehi. Arabic to read and write religion and English for business.
To be Muslim it is lucky and it is very lucky .  They can have up to 4 wives, but they usually only have one wife. They are limited to 2 children (but the President has four). The Presidential Palace is blue and white. 8 years of family control (I can't read my writing).
He told us the story of 4 wives because he knows it would be interesting to tourists. He is very aware of the expressions on our face. And reactions to his stories. He asked if were tired. He was really concerned that I got the correct information because if I'm a journalist, this promotes his country. He is very happy about that. Now that is an excellent tour guide. He definitely loves his country and he wants to show it off.
Now to fish and fruit market. Thousands of fish are brought in and put on the display floor. At the market many rows of stalls with fresh fruits and vegetables.
A Maldivian cigarette is made of newspaper and tobacco. 100 cigarettes is USD $1.
Maldivian chocolate called Huvadhoo Bondi is a mixture of coconut and honey, yummmm! Cost is USD $1 for one tube .
Spices for sale: Coconut oil, Furmeric powder, curry powder, grill chili
A local custom Beetle leaves and lime powder, beetle nuts, tobacco, and cinnamon. Wrap it up and chew it. Mouth turns red. But it causes problems. Sounds similar to chewing tobacco here in the states.
The tour guide said I should get the tourist information from the airport there are free maps etc to make sure I record the correct number to promote his country. He pointed us toward the shopping street (perpendicular to jetty) with a warning that there are many crimes here for using and selling drugs. Marijuana, heroine, cocaine. Be careful with personal belongings.
I saw iPods in an electronics store. Cost is USD for 30 GB was $380, 60 GB $500, iPod Shuffle 512 MB $128, 1 GB $163. iPod nano 2 GB $245, 4 GB $300. Web site for the store is www.reefsidemaldives.com
Cost for 3 packages of Milk: USD $1.
The souvenir shops had very obnoxious people trying to drag you into their shops. They distracted me enough so I missed the mosque visit. I wish I had remembered to go to that.
The dinghy picked us up at . We were taken to the Sea Farer boat, then we rode out to the anchored Gahaa about 10 minutes away. We chatted on the deck till buffet dinner on the back of our boat around 8. Great pappadans. Fish curry. Dessert was awesome Creme Brule we smelled it cooking after lunch. Yum Yum. And yum. I ate a lot at lunch since I skipped breakfast.
I got a drop of (salt) water on my camera so there is a fuzzy spot in the middle of the pictures. I'm glad this is the last day of the trip. I hope I got all the pictures that I need since my camera is messing up.
I took a shower then repacked my suitcase to get ready for departure tomorrow. Sleep in blue t-shirt. Put on khaki pants tomorrow. Black pants for the plane. First class will be nice .
I see now why they sailed the first day of this trip so they would get as far away from Male as possible. We heard noisy airplanes and saw the lights of the city.
The end of the vacation. This last day on the boat was a waste. They say the tour ends on Sunday. It should be Saturday.
Some people were shuttled to the airport at for flights this morning. Yeow. At everyone had to get off our bigger Gahaa boat and over to the other boat. People and luggage was transferred to the smaller boat. Gawd. We cruised directly to the airport and dropped off another bunch of folks at the airport island. Bye Steve and Gloria!
After that, we had no idea of any time schedule. Nahu had disappeared. We heard that we may get breakfast.  We anchored in the airport island harbor and eventually they served breakfast. We got the usual toast and omelets.
At nine (without any warning) we were helped off the boat onto airport island. I still didn't have my ticket, but I saw the guy who took it, and I gave him my receipt. He disappeared then came back with my ticket. I went to information booth where they called Singapore Air who said the ticket was already confirmed so I did not need to call. OK, but I still wanted to verify the times. Sure enough, the LAX to ATL changed and I get in a hour later than expected. I'll have to call Martha so she doesn't wait hours in the airport in Atlanta to pick me up.
So were just sitting waiting and we finally learn that we are waiting for the bus to arrive to take us to the airport hotel. For this entire trip, information has only been revealed when necessary. It was very frustrating for me. It was also very frustrating to everyone else also. Maria, Mark, Angie, Jill, Maureen, and I really did some hot talking about how things could have be done different on this trip. I wish Nahu would have made group announcements, instead of just telling one person who may, or may not relay it to the group. And then the message gets distorted.
On the day that the tour started Mark and Angie had to go to a hotel at . They were picked up at and escorted onto the boat at . They sat for 5 hours on the top deck. They could not go below to the rooms. They could have slept longer in the hotel room and picked up at . Marie is staying at Relax Inn Sunday night. She is paying about 60 USD.
So I learned that the Gahaa and a very expensive water desalinization machine. You could drink the water on the boat. No one told me that! That would have been nice to know at the beginning of the trip. That is why the captain would look at me funny when I brushed my teeth with bottled water. Something else, I saw the life preservers, but I was never given any safety instructions. Anyway.
The shuttle on airport island took us to Hulhule Island Hotel to hang out until it was time to go to the airport.
Hulhule Island Hotel (An Associate of SATS)
P.O. Box 20118
Male Republic of Maldives
Tel (960) 33 0888 email: sales@hih.com.mv
The exchange rate at airport hotel 12.85 = 1 USD. I got a phone signal! It registered 472-02 on the phone.
We checked our luggage into the storage room (tag number 6443) and headed out to the pool. One draft Tiger beer was USD 3.00.
Note don't check your luggage with others if you are leaving at different times. Jill and Maureen left before me, so I had some explaining at the front desk before they would let me have my suitcase. I'm glad I remembered that they had a flight to UAE.
After a couple hours, go back to the airport when we took a shuttle to the airport hotel.
I took the shuttle at and my flight leaves at . They let you into the departure hall 3 hours before your flight. I checked my luggage (expanded with souvenirs) then found the (comfortable air conditioned) lounge. More free food and Internet connection.
My Flight Home Itinerary:
Depart Male, Maldives on Singapore Air at 8 Jan 2006. Flight time 4 hours 30 minutes.
Arrive Singapore at 9 Jan 2006. 2 hour layover.
Depart Singapore, first class on Singapore Air at 9 Jan 2006. Flight time 6 hours.
Arrive Los Angeles, CA at 9 Jan 2006
Depart Los Angeles, CA first class on Delta at 9 Jan 2006. Fight time about 8 hours 30 minutes.
Arrive Atlanta at 9 Jan 2006
It's Monday at and I'm in Singapore. I realized that I forgot to give the Male guide a tip. I was the last one in the store, I ran out looking for the group. The guide was looking for me and pointed me toward the shopping street. He really deserved a tip. I screwed that up. Sorry I forgot.
I would like to go to Dubai some day. I found this in Male:Â  Oasis Beach Hotel / Jebel Ali International Hotels, Tel 971 4 399 4444, Email: dineatobh@jaihotels.com, www.jebelali-international.com
Meal on the Male to Singapore flight:
Hors D'Oeuvre Smoked Salmon, chicken remoulade with Waldorf salad. Main course Beef steak with mushroom sauce, broccoli, carrot and roasted lunar potatoes. Dessert fresh fruit gratin.
Coming into Narita we saw the sun set above the clouds. Very pretty. In the duty free in Narita I check the price for the Fuji camera model A345, optical zoom 3x, digital zoom 3 is 17,800 / 112 = USD $158.
I have gone an entire month without ice. What a luxury to have a vodka tonic (V&T) with as much ice as possible in the Narita lounge. I don't want to go home and go back to the grind. But it will come and I will have to do it. I'll be Scarlett for now (O'Hara) I "ll think about that tomorrow. (Later)
Movies for the 8 hr 30 min flight to Los Angeles
In Her Shoes
Just Like Heaven
Proof
40 Year Old Virgin
The Transporter
The Transporter 2
Sky High
Something About Mary
The Alzheimer Case
I can't find it on this flight, but coming over they had a camera on the front and back of the airplane. You could pick the angle and watch the plane land and take off. All the rubber black spots on the runway then see the city lights disappear into darkness. Cool.
The food on the plane was good. There are two menus:
International selection: canapes, appetizer, soup, salad, main course, cheese, fresh fruit, dessert, bread, hot beverage. There is up to 3 options in most courses.
Kyo-Kaiseki (Japanese style): It has 11 courses!
Lunch on the Singapore to Tokyo flight:
Satay with onion cucumber and spicy peanut sauce
Chilled malossol caviar, with melba toat and condiments
Cream of tomoto soup with basil and cream and crouton
Ceasar salad
Seared Chilean bass with truffle crust in sauce verjus, grapes, pak choi, leek and artichoke. (exclusively prepared by Alfred Portale of Gotham Bar and Grill, New York)
Dessert green tea creme brulee with vanilla ice cream, citrus coulis and pistachio crisp.
Land in Tokyo and we must disembark. What a pain. We must take everything with us. They said everything left on the place will be removed by security personnel. I had my suitcase with me last time we stopped I'm glad I could leave it on board last time.
Dinner on the Tokyo to Los Angeles flight:
Satay with onion cucumber and spicy peanut sauce
Balik salmon fillet served with classic garnishes.
Cream of button mushroom with truffle cream
Green salad
Stir fried black tiger prawns with XO sauce with vegetables and fried rice.
Desert warm soft center banana chocolate cake with vanilla ice cream and raspberry coulis.
Oven fresh rolls, coffee, espresso. Cappuccino, tea, pralines.
Breakfast before touchdown in Los Angles
Stuffed strawberry cream cheese French toast with maple syrup and veal sausages.
Los Angeles to Atlanta was the worst. If first class on Singapore Air is five-star , then first class on Delta is one-star . And I really did not want to go home. Martha was waiting a while in the Atlanta airport for me to arrive.
The house was so very quiet. I missed the noise of people and roommates and the English accent as soon as I got home. I'm looking at the cruise around Indonesian islands with Explore.co.uk next .
Maldive Dhoni Cruise Ref MC
MC 30DEC06 & 10MAR07 Please note: group flights departs from and returns to London Heathrow airport.
Amended 20 Dec 2005. Valid from 01 Jan 2006 to 31 Dec 2006
JOINING INFORMATION
Please consult your agent for flights to reach the joining point of this trip. When a booking has been made a separate "joining instructions' voucher will be forwarded to you giving details of our joining hotel and where to rendezvous with the Tour Leader. NB You must bring a copy of your insurance policy with you to show to the tour leader at the start of the tour. NB The joining information is occasionally subject to change and must be checked with your agent immediately prior to departure.
JOINING TOUR ABROAD
8 days/7 nights Land Only Male back to Male. Join Male on Sunday (day 1). End Male on Sunday (day 8). Clients booked on "Land Only' arrangements should make their own way to the joining point in Male. Please refer to separate "Joining Instructions' for exact details of where to meet your tour leader.
SPECIAL HIGHLIGHTS
Among the many highlights featured on this tour, we particularly mention:
<![if !supportLists]> · <![endif]>7 DAY CRUISE on board our Dhoni the traditional boat of the Maldives, similar in many respects to the Arab Dhow.
<![if !supportLists]> · <![endif]>UNSPOILT PALM FRINGED BEACHES time spent on some of the most beautiful beaches on earth.
<![if !supportLists]> · <![endif]>WORLD CLASS SNORKELLING enjoy the warm, clear waters and unique marine life of the Maldives.
<![if !supportLists]> · <![endif]>FELIDHOO & MEEMU ATOLLS cruise through the islands and visit the traditional fishing villages of these unspoilt atolls (groups or clusters of islands).
<![if !supportLists]> · <![endif]>MALE sightseeing tour of this unique island and capital city. This relaxing and free-form voyage takes us through many of the least-developed of the 1190 coral islands that make up the Maldives. We join our traditional vessel in Male, then head south through South Male, Felidhoo and Meemu Atolls, stopping off at isolated beaches, traditional fishing villages and small towns along the way. As well as learning much of the way of life of the local people on the islands, we stop frequently to snorkel, swim and perhaps try our hand at fishing for our lunch! NB: An ability to swim is essential.
LAND ONLY ITINERARY
Note: While the intention is to adhere to the day-by-day route printed below, a great deal of flexibility is built into the itinerary. Actual routes and overnight stops may vary due to the weather, the season, tides and especially the direction of the winds. Accommodation and Included Meals: please find a key to our accommodation ratings overleaf, and note that included meals are indicated in the itinerary below (BLD = breakfast, lunch, dinner).
Day 1. Sunday. Join tour Male; Cruise to South Male Atoll
Arrive at Male International Airport on Hulhule Island. The flight into the airport here is an experience in itself with the runway taking up the entire length of the island and the terminal buildings taking up the remainder of the land space. We walk directly to the waterfront to meet our Dhoni and the captain and crew. Having settled into our cabins, we aim to depart by late morning. We will cruise south for 2 to 3 hours through the Vaadhoo Canal to a nearby island in South Male Atoll; probably Guraidhoo, a small inhabited island where we plan to moor in (or just outside) the small harbour for our first night on board. 7 nights on board Dhoni vessel (included meals: B, L, D).
Day 2. Cruise to Ambaraa
After a relaxed start this morning, we continue to the southernmost point of South Male Atoll before crossing the channel to Felidhoo Atoll. Whilst South Male Atoll is within the "tourist zone', Felidhoo Atoll and the other southern atolls are not. And whereas there are about 20 resorts on the islands of South Male Atoll, there are only two in Felidhoo Atoll. The main industry is fishing and there is a good chance that we will see traditional boat-building on at least one of the islands. Our total travelling time will be about 3 to 4 hours, depending how many times we stop off en route. We should reach the idyllic uninhabited island of Ambaraa by early afternoon, with the remainder of the day free to enjoy the beach and snorkel in the crystal clear waters around the island. (Included meals: B, L, D).
Day 3. Cruise to Fenboa Finolhu; Meemu Atoll
Today we sail south for a further 2-3 hours, crossing to Meemu Atoll. As with the rest of the journey, we are hardly ever out of sight of land (weather permitting) and we actually cruise very close to many of the islands. Meemu Atoll has 34 islands of which 25 are uninhabited. Some of the inhabited ones grow yams, and all of them are almost totally dependent on fishing. Here more than anywhere we are likely to experience the true Maldivian way of life. Shortly after entering the atoll we arrive at Fenboa Finolhu, another beautiful uninhabited island where we aim to base ourselves for the night again with plenty of time to enjoy the beach and to snorkel amongst the reefs. (Included meals: B, L, D).
Day 4. At Fenboa Finolhu; cruise to Dhiggaru
After a relaxed start we head east to the inhabited island of Dhiggaru. Here we drop anchor outside the reef, a great area for snorkelling. Late afternoon is a good time to visit this lively village, which often has large dhonis under construction and very few tourist groups visiting it. We enjoy the laid back pace and traditional way of life of its people; as with all the villages that we visit it is important to remember to dress respectfully and behave responsibly. When visiting a house or mosque, shoes must be removed. We hope to be invited in the evening to a performance of Bodu Beru (Big Drum), the traditional folk music of the country. (Included meals: B, L, D).
Day 5. Cruise to Felidhoo
Today we head back to Felidhoo Atoll and its administrative centre Felidhoo. This is the least populated of the administrative centres with a population of about 400 people. Again, we take time to wander through the village; every visit ashore shows us something new and different about the lives of the islanders. Again, this is a great place to enjoy a Bodu Beru performance. (Included meals: B, L, D).
Day 6. Cruise to Emboodhoo Finolhu
Our journey today is the longest of the trip and takes us right back through the islands of Felidhoo and South Male Atolls. There are plenty of opportunities to stop and swim and snorkel or to explore the islands en route. Our destination tonight is Emboodhu Finolhu, one of the northernmost islands of South Male Atoll. (Included meals: B, L, D).
Day 7. Cruise back to Male
This morning we make the short crossing to Male. We take an orientation tour of this fascinating and unusual capital city. Crammed onto an island 1.8km2 in area, the city is surprisingly clean and friendly considering it has almost 100,000 people living there. The most easily recognisable building is the Grand Friday Mosque with its golden dome and tall minaret. We may also visit the Islamic centre, the National Museum and the local markets, which are full of islanders who have come to stock up on supplies. After exploring Male, we board our dhoni again for the last night on board. (Included meals: B, L, D).
Day 8. Sunday. Tour ends Male
(Included meals: B).
Please note: that clients travelling back to London on the group flight will fly very early on Sunday morning, meaning that they will disembark at the airport sometime around on the Saturday night.
I N D I A N O C E A N -
Moorings
This page and all other pages in the http://www.mytrips.com web site, along with the journals, images, and photos are Copyright © 1997-2018 by Suzanna Travels. All publication rights are reserved. Email: web@ mytrips.com Remove the space after the @