Samoa (Independent, not American Samoa)
A
2016
Island hopping
Before trip research, etc
Day 1 Sat Nov 19 Fly ATL to LAX
Day 2 Sunday Nov 20 Tour Los Angeles, Fly LAX to APIA
Day 3 Monday Nov 21 is lost
in flight across the International Date Line
Day 4 Tuesday Nov 22 Arrive Apia, Samoa
Day 5 Wednesday Nov 23
in Apia
Day 6 Thursday Nov 24
ferry to Savaii island
Day 7 Friday Nov 25, Day 8 Saturday Nov 26
on Savaii island
Day 9 Sunday Nov 27
ferry back to Samoa
Day 10 Monday Nov 28 Fly APIA to LAX
Day 11 Tuesday Nov 29 Fly LAX to ATL
Summary: Fly into Faleolo, taxi to Christine's apartment in Apia. Ferry to the island of Savaii for a couple days.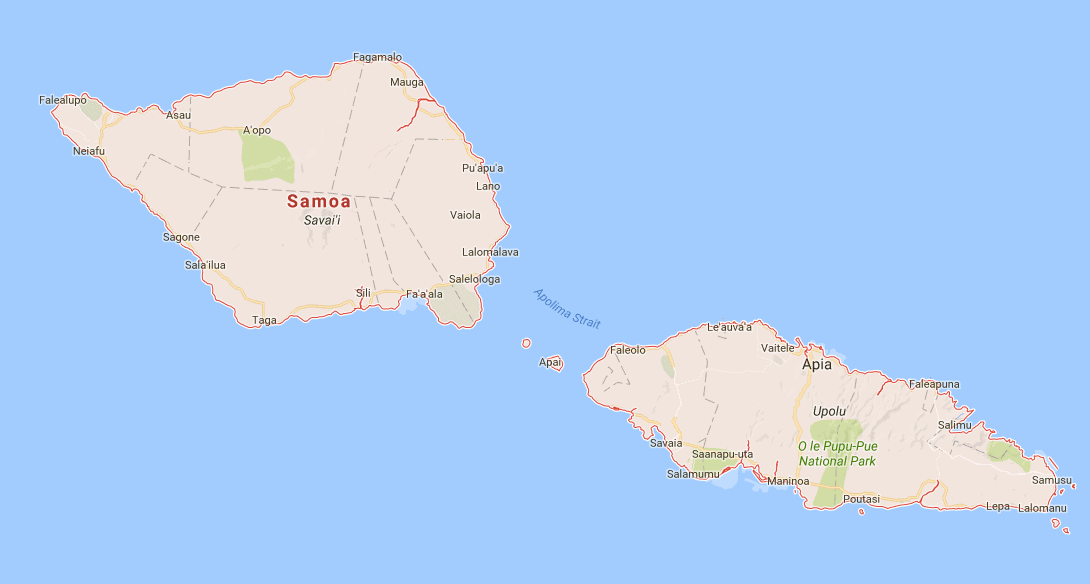 Before trip research, etc
http://www.samoa.travel/page/getting-to-around-samoa
http://www.fijiairways.com/ I flew Figi
http://www.fijiairways.com/bookings/fares-and-special-offers/los-angeles-to-pacific-islands-flights/
http://us.jetcost.com/en/flights/samoa/apia/honolulu-apia/?gclid=CKu6wu_x_c0CFRIdgQodG6oNzA
Air new zealand
The State Department alerts U.S. citizens to the South Pacific Tropical Cyclone Season, which begins November 1, 2016, and ends April 30, 2017.
Snokeling gear:
I found a great price on the full face mask at REI.com. A "Head Sea Vu Dry Full Face Mask" for $79.99. I was only planning on taking a carry-on luggage and this mask was big! I never tried it in the swimming pool. Christine was not familiar with that type of mask, so she wasnâ"¢t comfortable with my purchase. Her comments:
Snorkeling is good here - if your equipment does not work you wont enjoy it.
Basic snorkeling gear is not expensive, its light weight and can easily fit in a suitcase. I purchased some fins over ten years ago for less than $20 and they are still fine.
Rental gear here is awful.
If you want to try to snorkel, I recommend that you go to Diver supply show them your new mask and discuss with them whether it will work. Get a different mask if it wont work¦buy some fins! Also, bring stuff to protect yourself from the sun while snorkeling (long lycra running pants, long sleeved rash guard.) You won™t burn or need to keep reapplying sunscreen and youll protect the fish.
So for $20.99 at Walmart I got the Anacapa Island Snorkel Set. I also bought leggings for $7.99. Then Christine convinced me to go to Diver Supply Marietta 950 Cobb Pkwy S 160 Marietta GA 30060.
I bought
Cabo Fin Adult 4-8.5 BL $19.95
Edge VIsion Mask Blue $19.99
Costa Dry Snorkel Clr Blu $19.95 for a total of $63.48
I returned the REI full face mask snorkel and the Walmart (not a good quality) snorkel
Currency / Electric
Electric plug is Adapter for "Type I" Australian AS-3112
The Samoan tala is a currency used in the Oceanic nation of Samoa. One Samoan tala can be divided into 100 seniti . The names are Samoan pronunciations of English dollar and cent .
Government regulations forbid bringing Samoan tala outside of Samoa. Thus, you will not be able to obtain any Tala prior to your arrival in Samoa. There is a bureau de change at the airport (phone is 42853). A web site said you should find that you get a better rate at the Bank of Western Samoa in Apia, but I got the current rate (2.5) at the airport. For $200 USD x 2.526 = 505.20 tala.
Samoa 1 WST ("Tala") = 0.40 USD, 1 USD = 2.5 WST, Samoa 1 WST = 0.36 Euro, 1 Euro = 2.76 WST
USD

Tala

Euro

1

5

10

15

20

25

50

100

3

13

26

40

50

65

130

260

1.07

4.5

9

14

18

23

46

93
Delta flight using frequent flyer miles. I booked on Aug 10. In retrospect, that was a mistake. Experienced traveler (!?!) that I am did not account for the date difference on the return flight. I arrived back in LA a day before my flight. Since I used FF miles, I could not pay a change fee, you have to use more FF miles to change the flight. Lesson: Use money not miles.
Sat, 19NOV DELTA 1265
DEPART ATLANTA 4:30pm
ARRIVE LOS ANGELES, CA 6:37pm
Cost: $11.20 USD
CARRY ON FREE FIRST Baggage $25USD. I only had carry-on
On the plane, I started writing in my journal.
much to my chagrin. I had vowed not to make the journal the primary focus of this trip. Not to document, not to record. Only to remember by pix (pictures). Is was not to be. The obsession to write is absolutely overpowering. And what is to be done with all these journals, I know not. For myself, and me alone. And so it is. What I wrote on the plane:
I can't fight the urge to get down. Don't want to talk to the man beside me on the flight to LA. 2:37 to go. I'm a little, no I'm alot uncomfortable. He's coughin, sneezing. Yuck. I'm sriting about him right now and he is talking to me. Two guys in front of me have been making out for an hour. He looked back at me. I smiled, they are happy. I am happy. Yup. Definitely want to be with my Gary. Yes, its crazy some times. Get used to it. This man beside me on the plane is large. His elbow is inching over on my side, on my space, a violatin. I'm glad i'm not in the middle seat. Anyway. Made love last night and I was totally sober. It was wonderful. I love how we are together. How he let's me be me - to go on this totally crazy adventure. I'm off and loving the path ahead.

I stayed at Hilton Los Angeles Airport http://www3.hilton.com/en/hotels/california/hilton-los-angeles-airport-LAXAHHH/index.html 5711 West Century Boulevard, Los Angeles, CA 90045
Airport shuttle is every twenty minutes.
Rate per night: Rate: 123.00 USD, Taxes (ans 2 assessments): 19.57 USD Total for Stay : 142.57 USD
A short walk away is a city bus station, where you can hop on a bus to Venice or Santa Monica for a great day trip.
Just outside the hotel you can catch the hop on hop off tour bus to see the sights of LA this is really good value for money. For $65.00 I did the Los Angeles City Tour & Hollywood tour with VIP Tours of CA http://www.viptoursofcalifornia.com/
Another tour company https://www.starlinetours.com/ https://www.starlinegps.com/map Full loop 70-155 minutes per loop. Open-top buses.
My two carry-on bags for the trip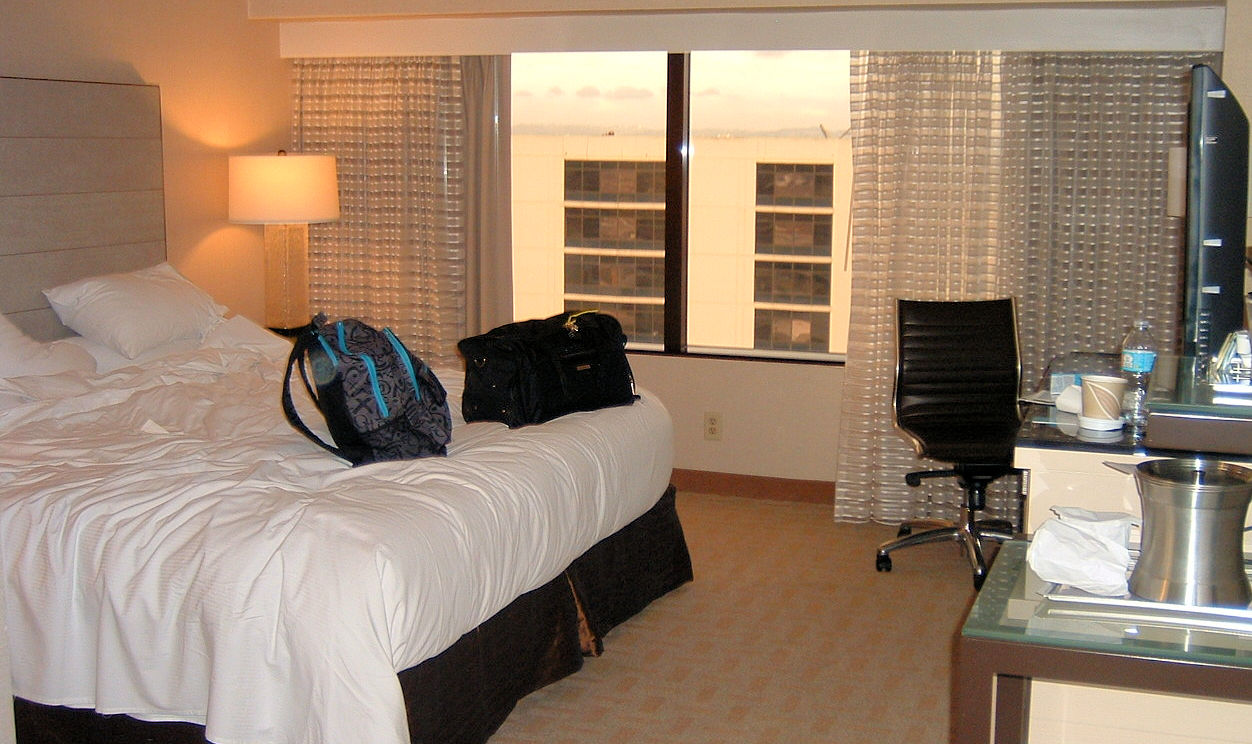 Slept OK. Woke up tired. Already feeling the effects of the trip. Headache (always on the first day of all my vacations - I have to learn how to relax.) Had a great free breakfast in the hotel. They had yummy oatmeal.

Check out of hotel, leave luggage. In the hotel lobby I signed up for the 11 am to 4 pm

Los Angeles City Tour & Hollywood tour with VIP Tours of CA http://www.viptoursofcalifornia.com/

for $65.

Tour Description

Beverly Hills, Rodeo Drive, Farmer's Market, Hollywood, Grauman's Chinese Theatre, Walk of Fame, Century City, Avenue of the Stars, Sunset Strip.

This tour will take you throughout America's most exciting city. Grauman's Chinese Theatre is famous for its permanent collection of hand-prints, footprints and signatures of movie stars such as Elizabeth Taylor, Marilyn Monroe, Arnold Schwarzenegger, Tom Hanks and many others. Take a stroll on the Hollywood Walk of Fame and then head straight to Beverly Hills and Rodeo Drive. See where the stars shop in exclusive stores such as Giorgio Armani, Gucci, Bijan and Chanel. Next to Beverly Hills in Century City, the business center of the entertainment industry and home of 20th Century Fox Movie Studios. On to Farmer's Market & The Grove where the food is the freshest, the produce only the best and the shops unique!

Venice Beach

"A cultural hub known for its eccentricities"

The Ocean Front Boardwalk promenade runs parallel to the beach. There is the famous Muscle Beach, handball courts, paddle tennis courts, Skate Dancing plaza, numerous beach volleyball courts, the bike trail and the business stalls (many are run by "Zapotec-speaking people from the town of Tlacolula de Matamoros, Mexico).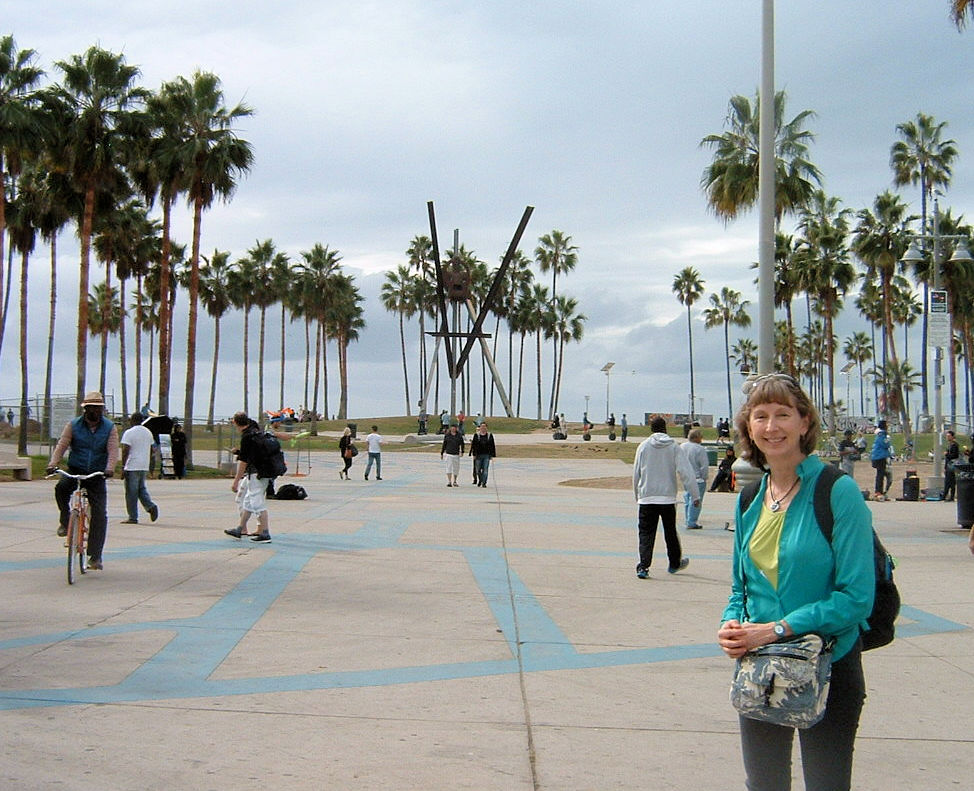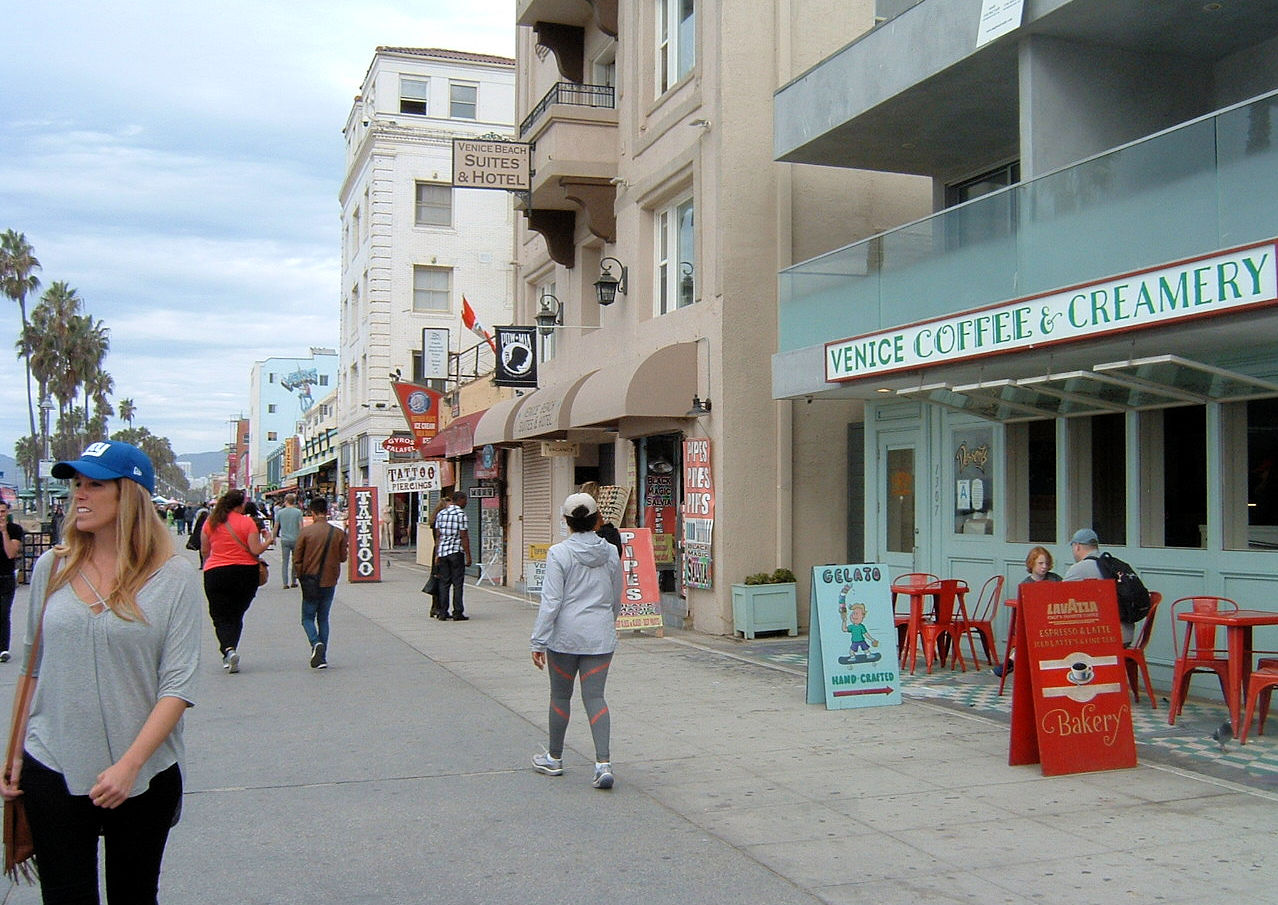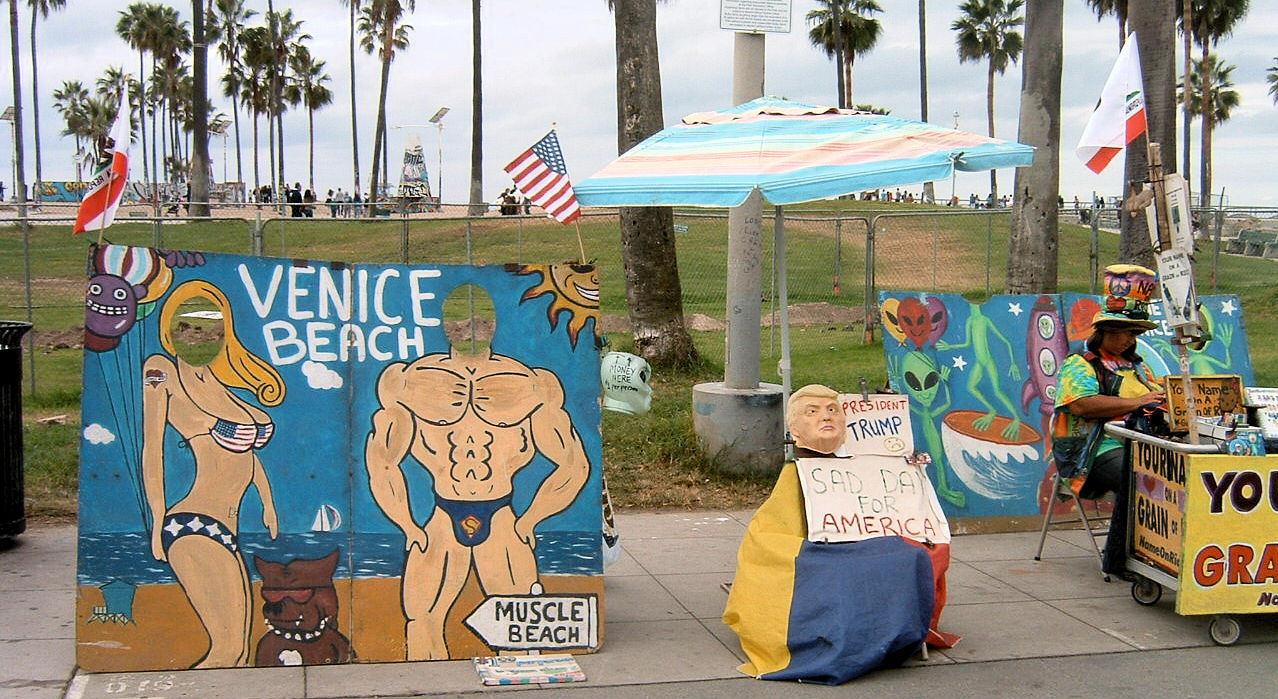 Venice Beach will host Skateboarding and 3x3 basketball during the 2028 Summer Olympics !

The basketball courts in Venice are renowned across the country for their high level of streetball;
numerous professional basketball players developed their games or have been recruited on these courts.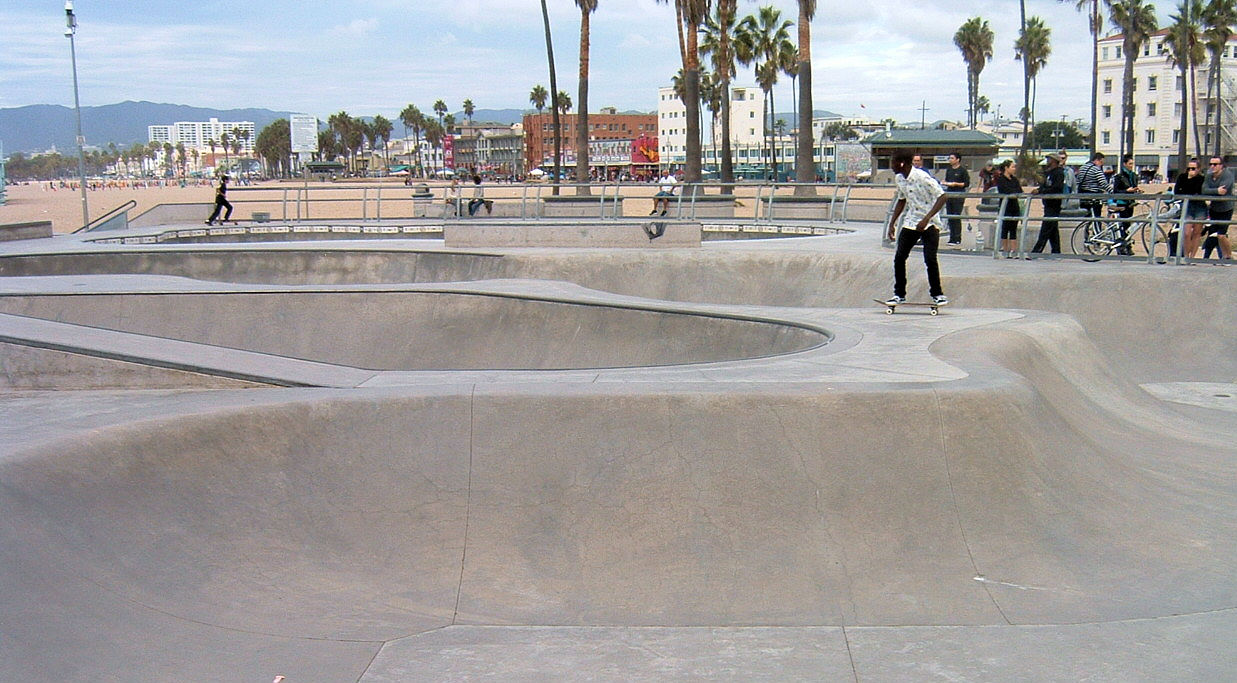 Tour around town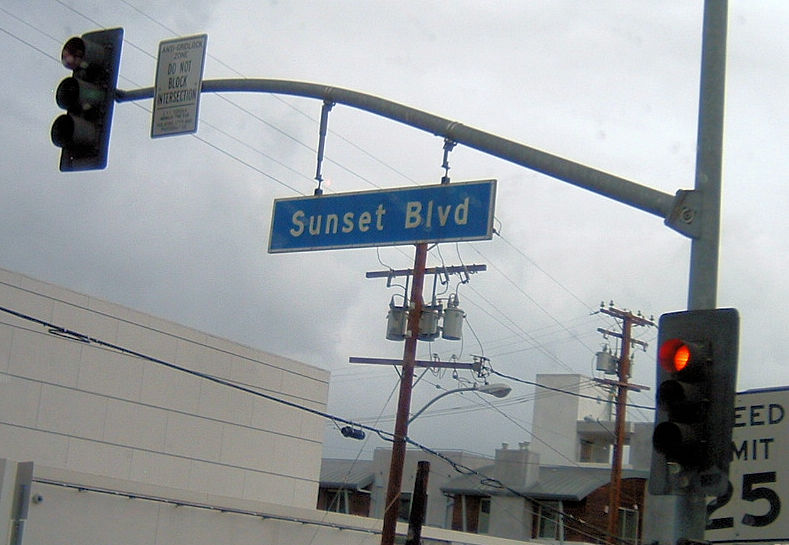 Guide said Loas Angeles is 50 square miles, with 5 International airports, and over 15 cities.
The Chinese Theatre on Hollywood Boulevard

Opened May 18, 1927
It was the first commercial movie theater to have air conditioning.
In 2013, an IMAX theater with one of the largest movie screens in North America, and seats 932 people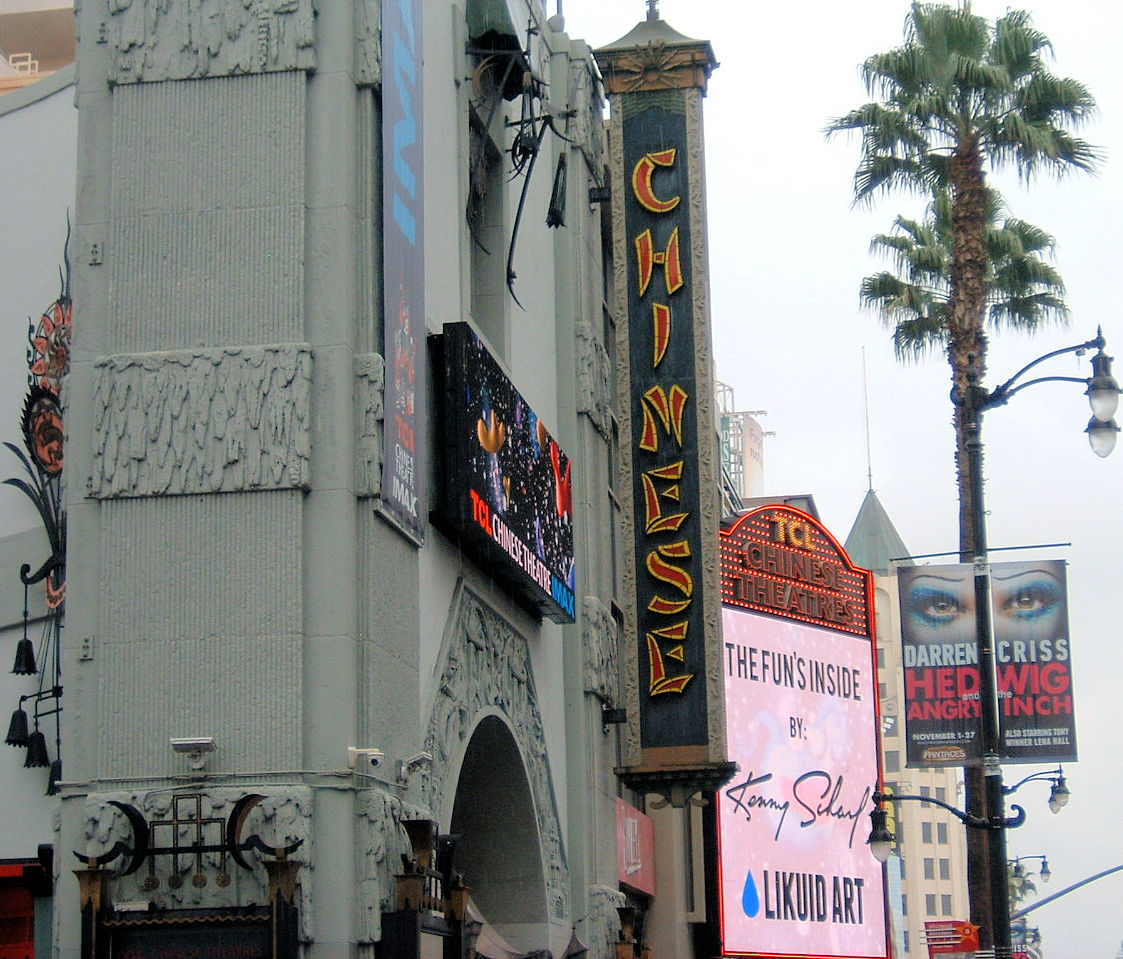 Sunday November 20, 2016 was the first time in the year 2016 that it rained !
And I had an umbrella when I did the Hollywood Walk of Fame
Notice the Starline Tour bus with the open top - not good in the rain. The VIP Tour that I took had closed, air conditioned buses.
I walked through the theater where you can see the famous Hollywood sign, but it was cloud-covered! Oh well!
Tour guide pointed out that there "billboards" and then there are "Sky Posters" HUGE ads !!!

More than 2,600 five-pointed terrazzo and brass stars
Embedded in the sidewalks along 15 blocks of Hollywood Boulevard and three blocks of Vine Street in Hollywood, California.

The stars are permanent public monuments to achievement in the entertainment industry, bearing the names of a mix of actors, musicians, directors, producers, musical and theatrical groups, fictional characters, and others.

It is a popular tourist destination, with a reported 10 million visitors in 2003.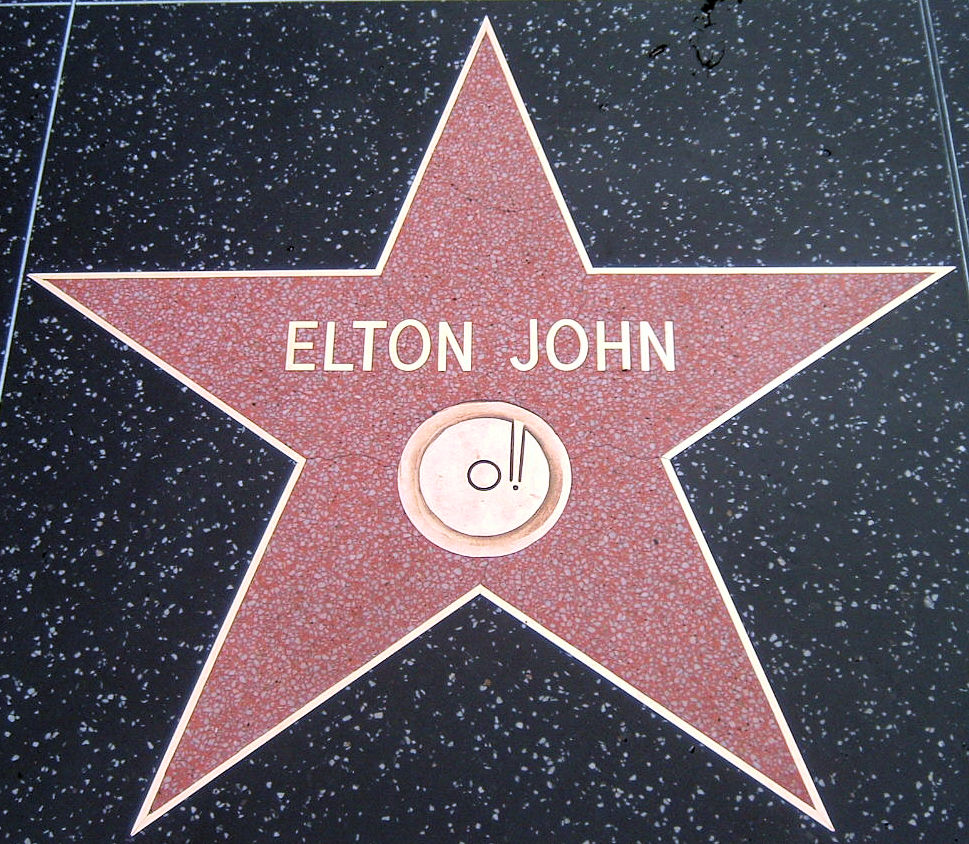 LA's world famous Original Farmers Market offers over 100 gourmet grocers, restaurants

Started in July 1934 when a dozen farmers and a few other merchants parked their trucks at the corner of 3rd & Fairfax and sold their fresh produce from the back of the trucks.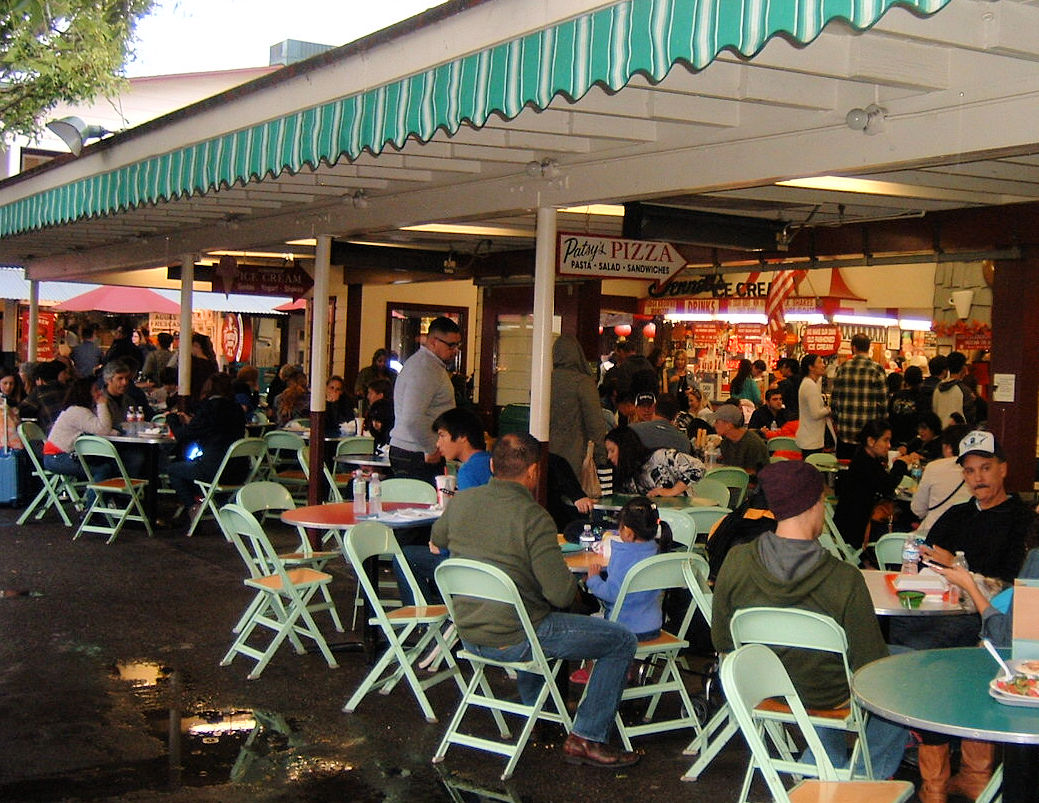 Tour ended back at the hotel. I got my luggage, took the shuttle to the airport. Get ready for a long flight....
Fiji Airways www.fijiairways.com
Los Angeles to Apia
Flight 1 Sun, 20 Nov 2016 confirmed
Departure: 21:30 (9:30 pm) Los Angeles, USA - Los Angeles International, Terminal B
Arrival: 06:00 +2 day(s) Nadi, Fiji - Nadi International
Flight time is 11 hours, 30 minutes , Seat 29a
Airline Fiji Airways FJ 811 Aircraft: Airbus Industrie A330-200
Class: Bula Specials/Economy Restricted
Baggage: 1 piece(s) per traveller
Change of plane required. Time between flights : 1hr:20min.
Flight 2 Tue, 22 Nov 2016 confirmed
Departure: 07:20 am Nadi, Fiji - Nadi International
Arrival: 11:10 am Apia, Samoa (Independent State of) - Faleolo International
Flight Time is 2 hours 50 minutes Seat 4a.
Airline Fiji Airways FJ 253 Aircraft: Aerospatiale/Alenia ATR 72
Class: Bula Saver/Economy Restricted
Baggage: 1 piece(s) per traveller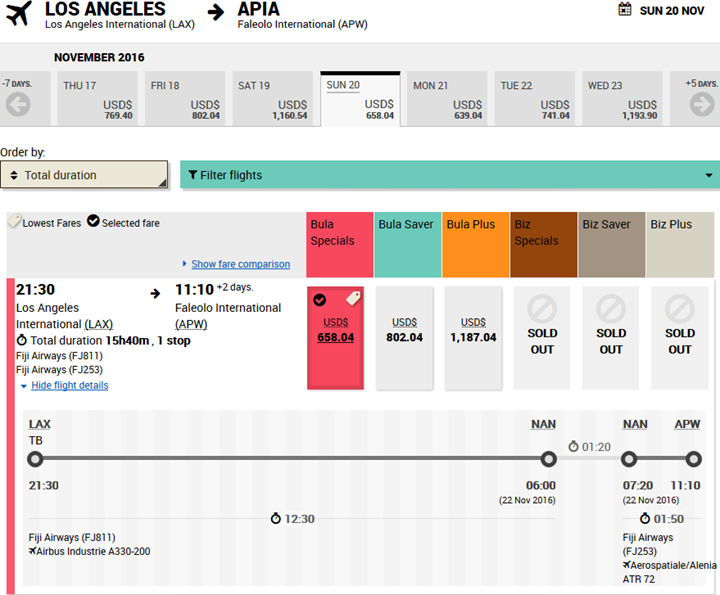 Flight cost was USD $1,290.97 That total includes the $110 in Taxes/Surcharges for
Customs User Fee , Departure Transportation Tax, Arrival Transportation Tax, APHIS User Fee, Immigration User Fee, September 11th Security Fee, Tax description unavailable (FADE), Tax description unavailable (EZSE), Tax description unavailable (VKDP), Tax description unavailable (E8SE), Passenger Facility Charge(s)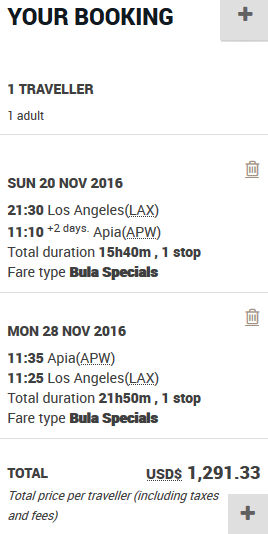 Leave the Hollywood hills of Los Angeles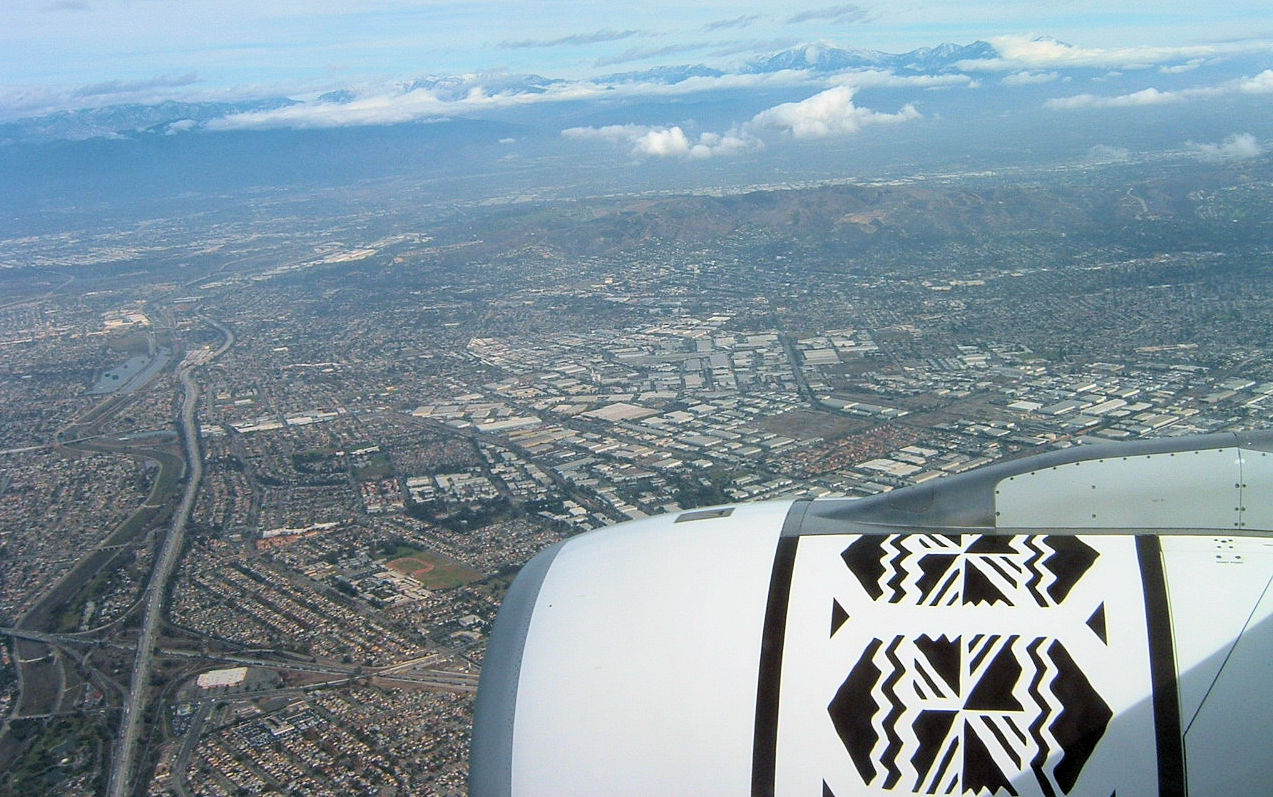 Arrive in (HOT) paradise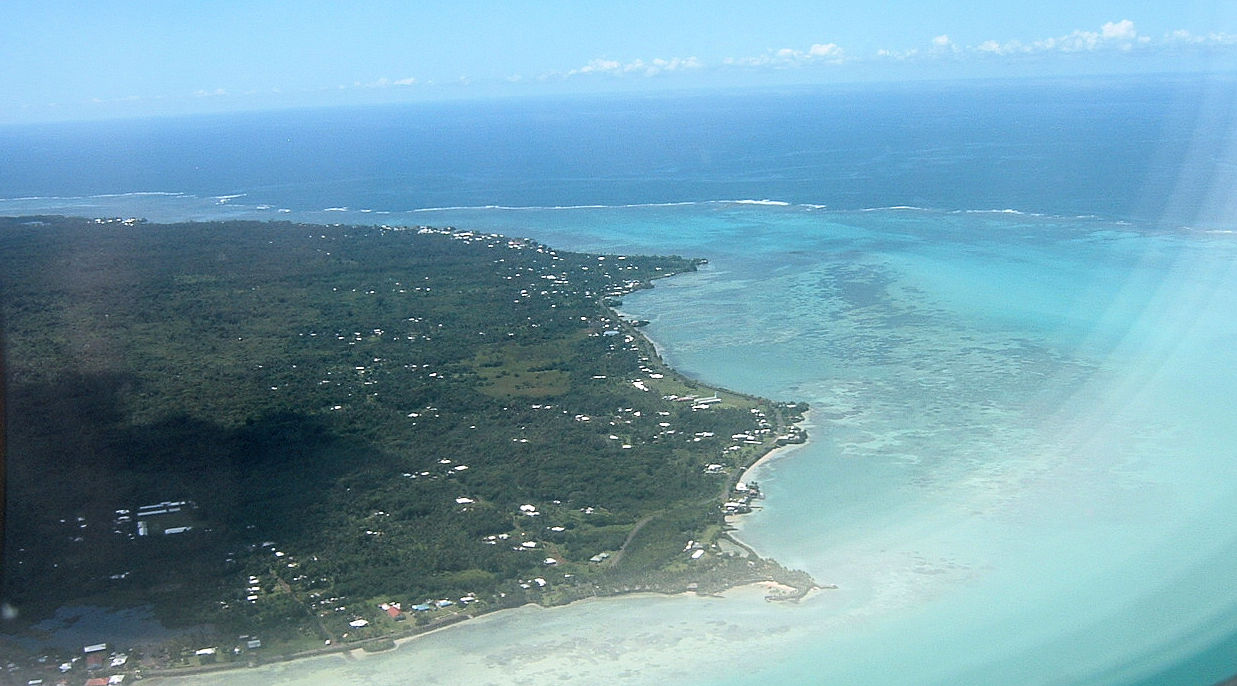 Around 11 am I arrive in Faleolo International Airport.
I exchanged money (at the currect rate !) at the airport at 11:30 am. For $200 USD x 2.526 = 505.20 tala.
If Samoa is a layover stop and you need to rest, The airport Lodge: http://www.airportlodgesamoa.com/
Christine arranged a friend of a friend to pick me up at the airport.
He had a flower necklace for me! The flower is "moso-oi"
We stopped at a local store where I bought a SIM card for my phone. Called home to check in.
The LTA (Land Transport Authority) stopped us to look at "papers".
Driver said about 500 a month to rent an apartment
John William brought the bible to Samoa. There are Catholics, 2 Methodist churches, 3 Assembly of God, also Mormon
Local beer is "Vailima". "The taste of Samoa" Alcohol 4.9% We passed the factory.
1 liter of gas of 2.81
Rubbish bins are elevated (so dogs can't reach them?)
There is a program here to "fix" dogs so there are no puppies
Samoan language:
Talofa - Hello
Malo - Hi
Fa'amolemole - Please
Fa'afetai - Thank you
Tofa or Fa - Goodbye
Soifua - Long may you live
Christine graciously offered me the other bed in her apartment. She works for the EPA and she is working in Independent Samoa at the Ministry of Natural Resources and the Environment (MNRE) for four months. So I couldnâ"¢t pass up this opportunity to visit her in another country! She is living at Amau apartments - room #8. You can also say Amau Mall or Tuxx nightclub.
It is one block from the US Embassy which is on Beach Road on the waterfront. It is 3+ blocks from where I work at the Ministry of Natural Resources and the Environment.
Airport to Apia is about 22 miles. Christine said it is a 60 tala taxi ride - expensive for Samoa but it is a 45 minute drive. Based upon todayâ"¢s exchange rate it is just around $25. You might see if you can find someone to share a cab that is also heading into Apia. Youâ"¢ll pass solar farms near the airport and lots of villages along the way.
That night we went to an Indian restaurant. I got very delishous Lamb Biryani.
Christine told me about
"Palolo Rising". Coral reproduction (reproducing?) that people collect in the water to sell and eat.
A book: "Where We Once Belonged" by Sia Figiel. It de-romanticizes Western perceptions of Pacific Island women.
The youth suicide rate is high, tragically high. "Musu" when teenagers refuse to speak to anyone as a form of protest.
3 year old sibling take care of younger. Rarely get hugs or praise.
They are outwardly friendly but there is an underlying complex code of traditional etiquette. There is a strict and demanding Fa'a (the Samoan Way) that is upheld with expectations that can stifle individuality and enterprise.
They had a different work ethic here.
Fa'a Samoa is "The Samoan way".
Men's skirts are called a "lava lava".
The new airport terminal was build by the Chinese. The MNRE building was also built by the Chinese. The power requirement increase a lot when the Chinese finished the MNRE building.
White Sunday (the second Sunday in October) This is the traditional religious holiday in Samoan being a day set aside for the celebration of children. It is celebrated over two days starting on a Sunday where the children attend church and perform cultural activities that they have practiced dressed in brand new white clothes. The following Monday is a public holiday where the children are feted and parlayed with copious amounts of food. (I'm not sure where I copied that text from....)

I'm writing this journal a year after my visit, so I think Christine had to go to work this morning.
I ventured out on my own to do some sighseeing.
I walked North towards the Embassy, to Beach road and found.
Old Apia Market Address: Beach Road, Apia, Upolu, Samoa
A nice colourful place to visit to buy souvenirs. Prices are pretty standard throughout the market. For me, it lacked the hussle and bustle of a great market but was certainly nice to stroll through. Stall holders did not hassle you.
At the market, I found some gloves that I could wear when snokeling.

Go East and found t

he town clock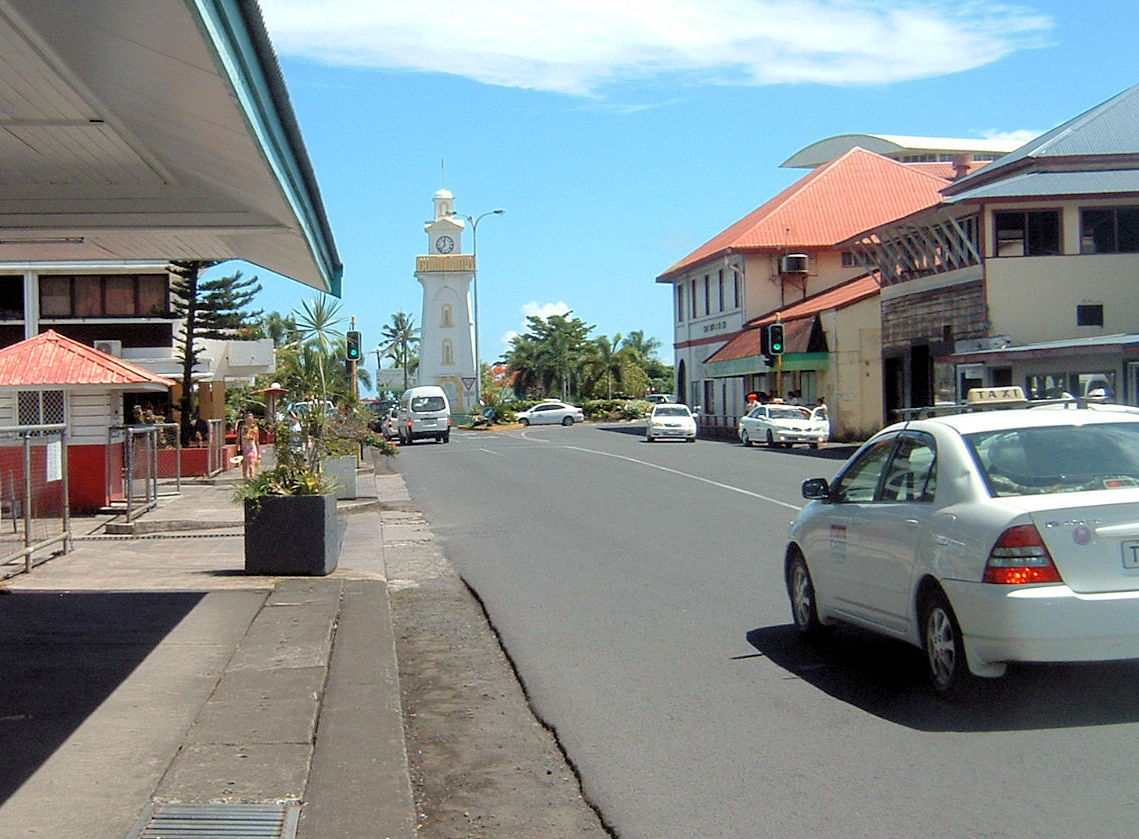 I think this is the Immaculate Conception of Mary Cathedral
Address: Main Beach Road, Apia, Upolu, Samoa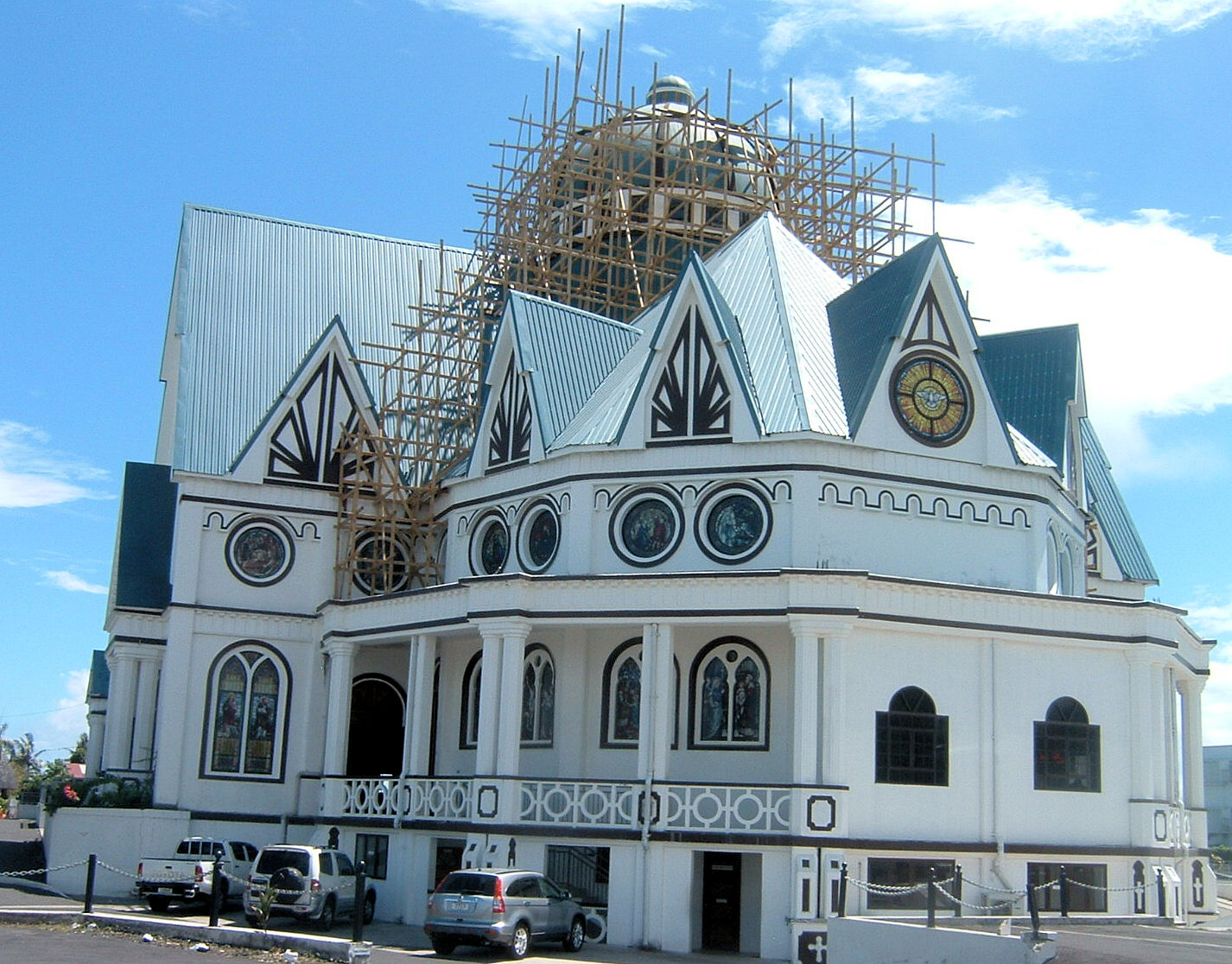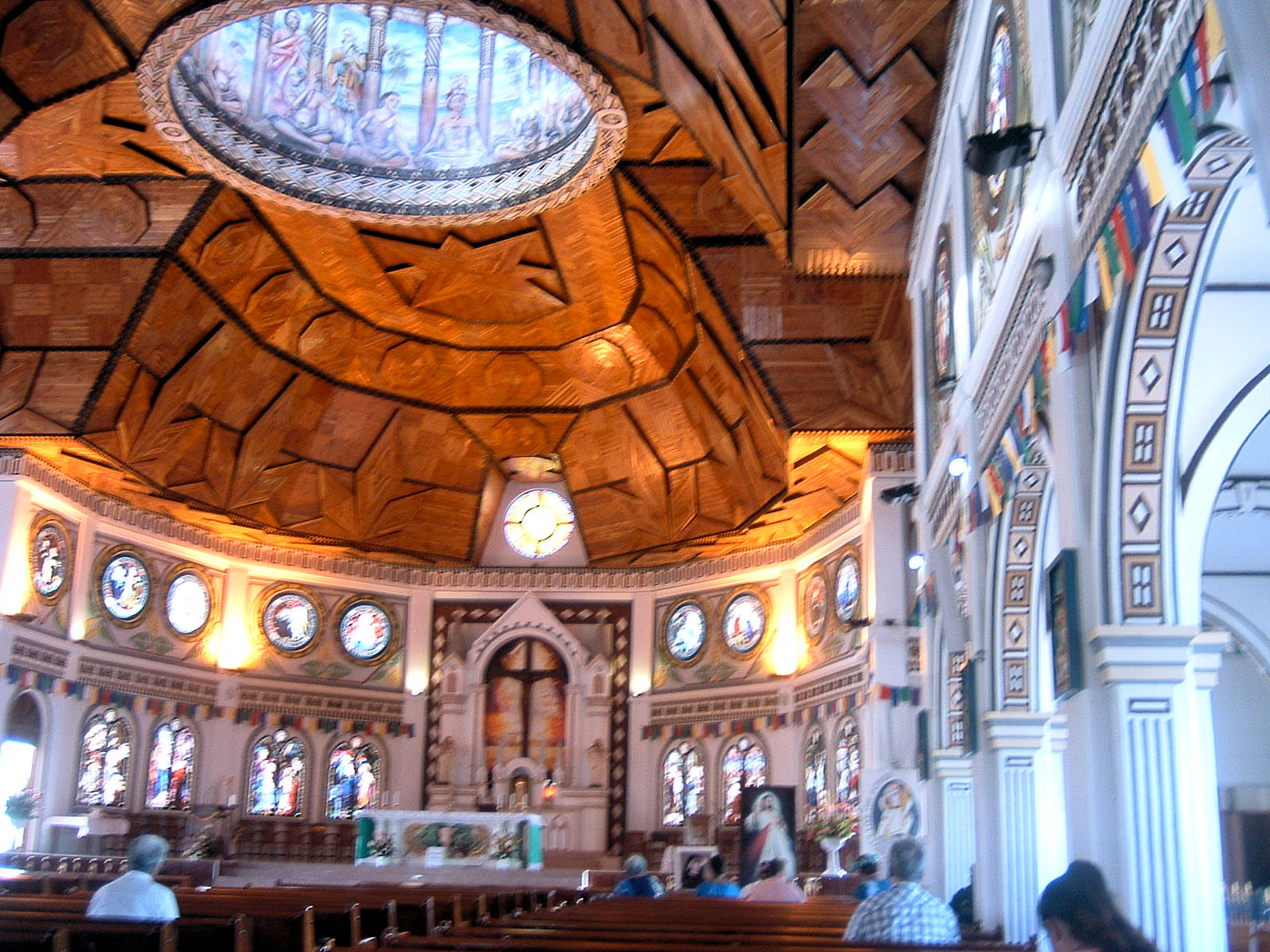 I found
McDonalds. They have a double filet of fish. Double quarter pounder. Big Everything!
Big Mac is $4.80 Meal $7.12
Quarter Pounder $4.70 Meal $6.80
Fish $3.80 Meal $5.80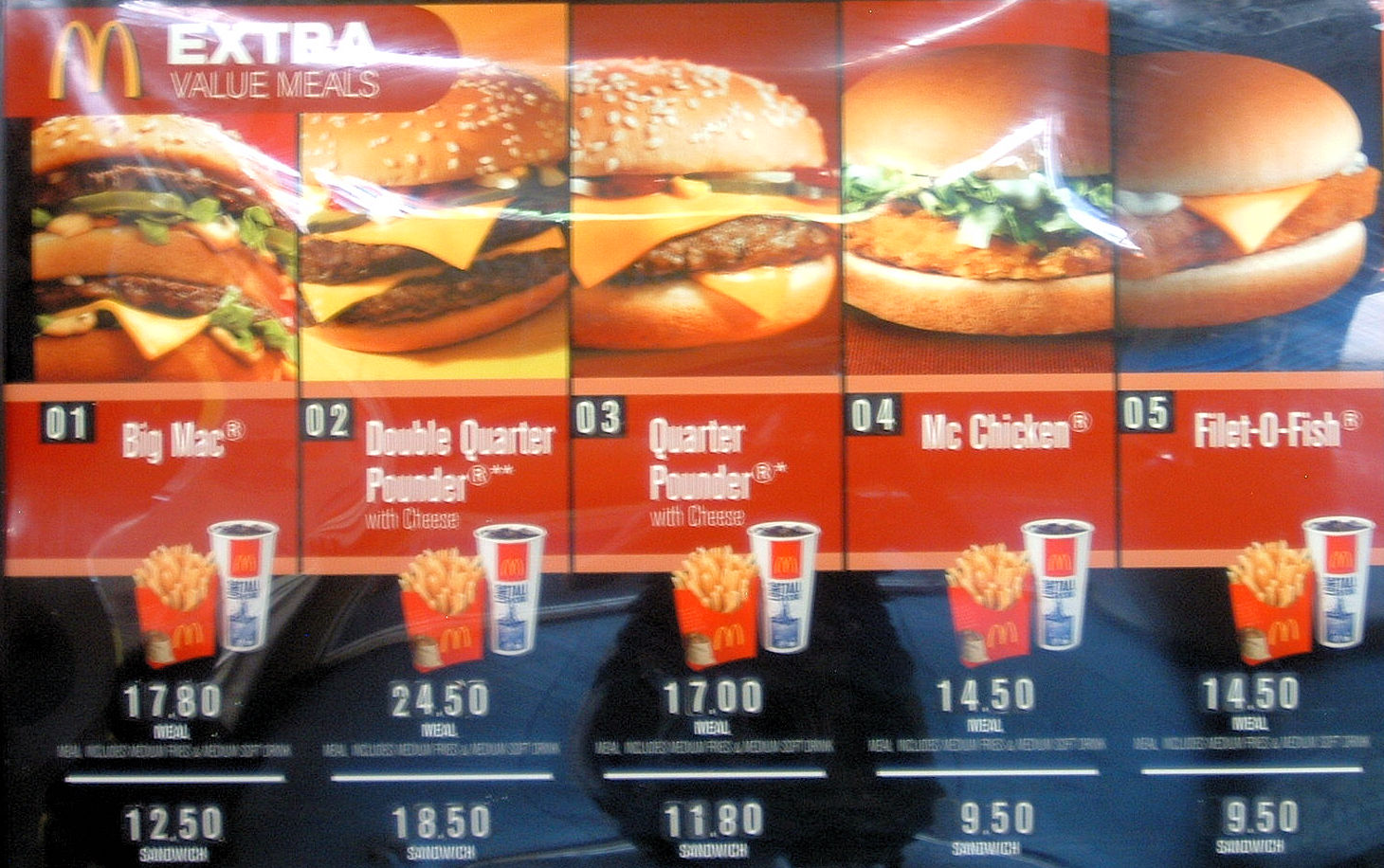 Taxi to Robert Louis Stevenson ("RLS") Museum
This is an "enchanting colonial homestead" http://www.stevensonsatmanase.com/
Address: Vailima, Apia, Upolu, Samoa Phone Number: +685 20798

Robert Louis Stevenson (1850 1894) was a Scottish novelist, poet, essayist, and travel writer.
He wrote Treasure Island, Kidnapped, Strange Case of Dr Jekyll and Mr Hyde, and A Child's Garden of Verses. Also The beach at Falesa (by David Balfour)
RLS was a sickly man with tuberculosis. In his twenties someone suggested he find a South Pacific island to live on, where the warm climate would ease his poor health.
Stevenson loved to travel, once saying, "I travel for travelâ"¢s sake. The great affair is to move."
In his thirties (10 years AFTER that advice) that he and his wife sailed to the Pacific and settled in Samoa.
In 1890, he bought 400 acres from an American. Germans owned the rest of the island.
It took 2 years to build, then he lived in the home 2.5 years until his death in 1894.
He wss 44 years old.
The home in Vailima is known to the Samoans as Tusitala or Teller of Tales.
It was a government building, until the cyclone in 1990 and govt moved out.
1992 a wealthy American came to restore it. Leased 60 years.
$5 US million to restore
In 1994 it became a museum.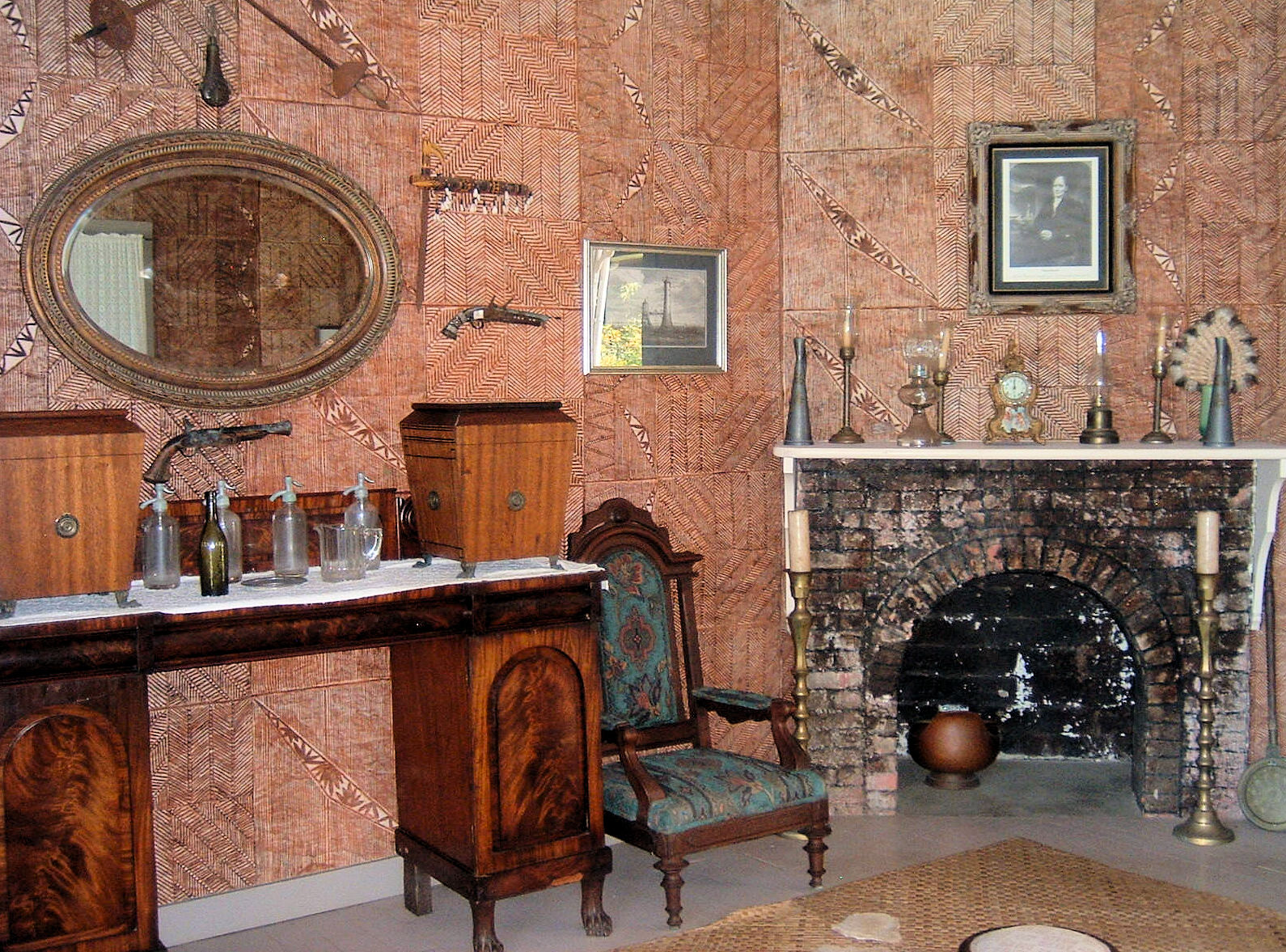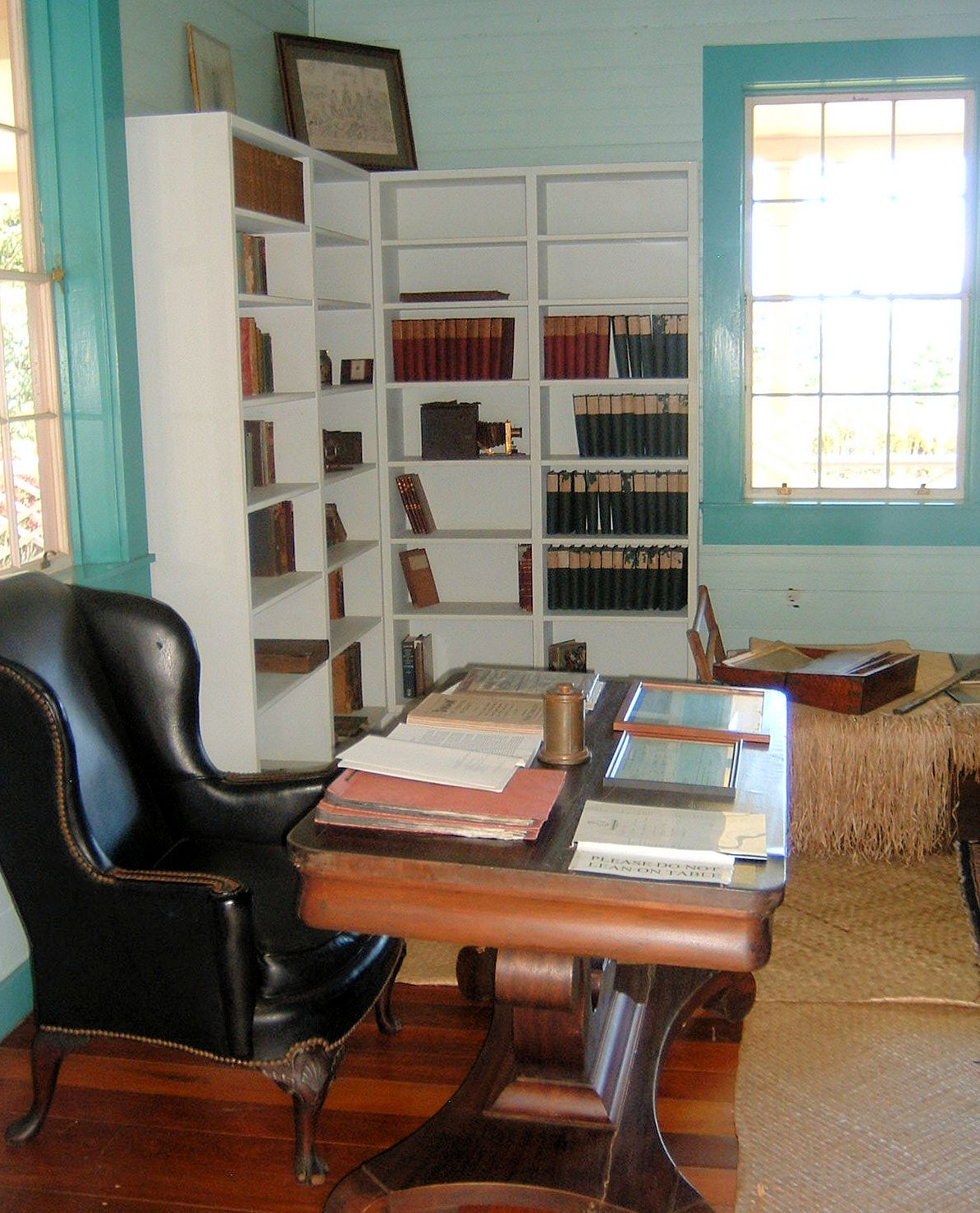 A writer (me) posing in front of the portrait of a writer
They called this painting "Tusitala" or "Dr. Jekyl and Mr Hyde" - Half of Stevenson's face is dark. Painted by Everett Scott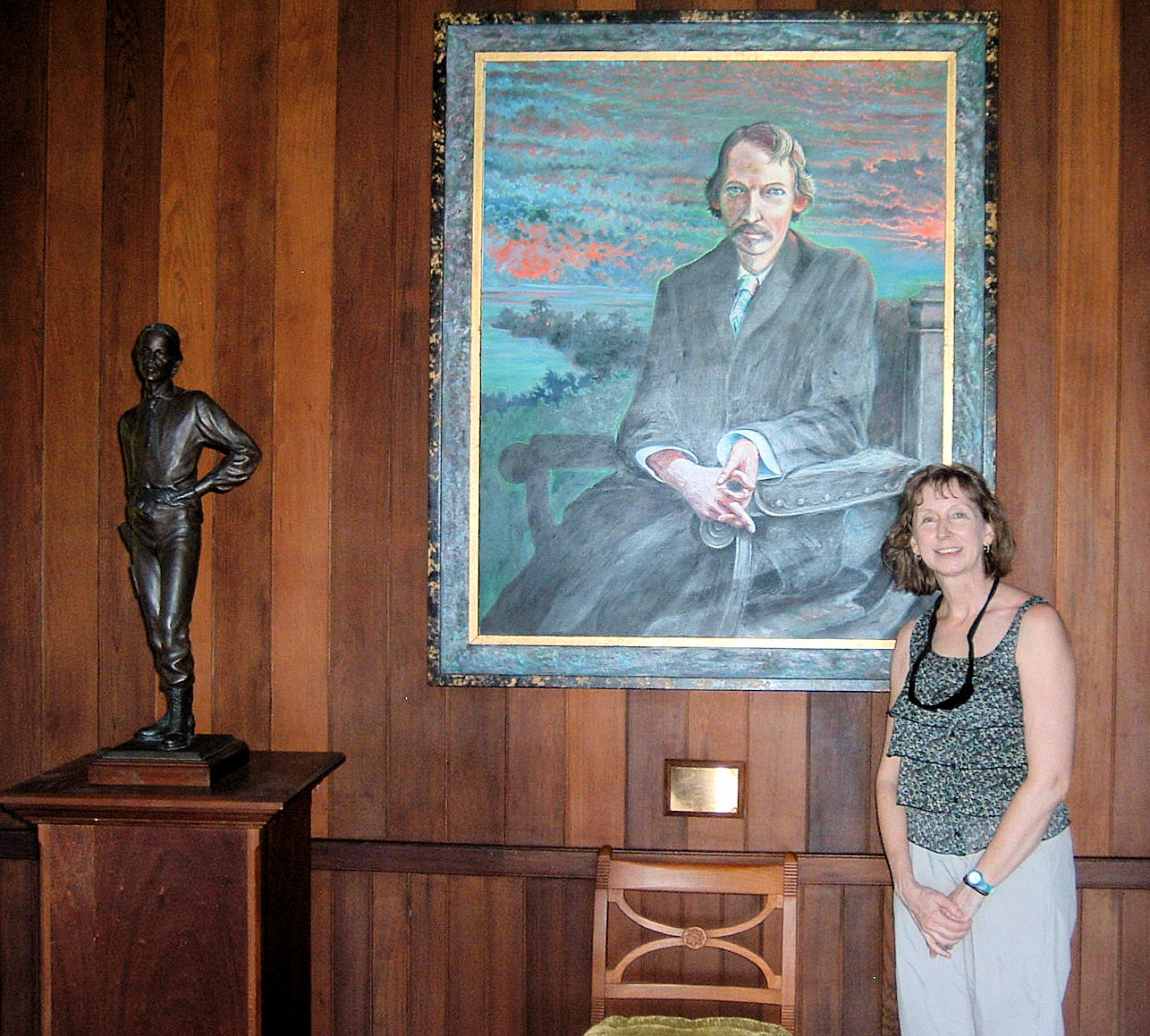 At the base of Mt Vaea is a beautiful Botanical Gardens.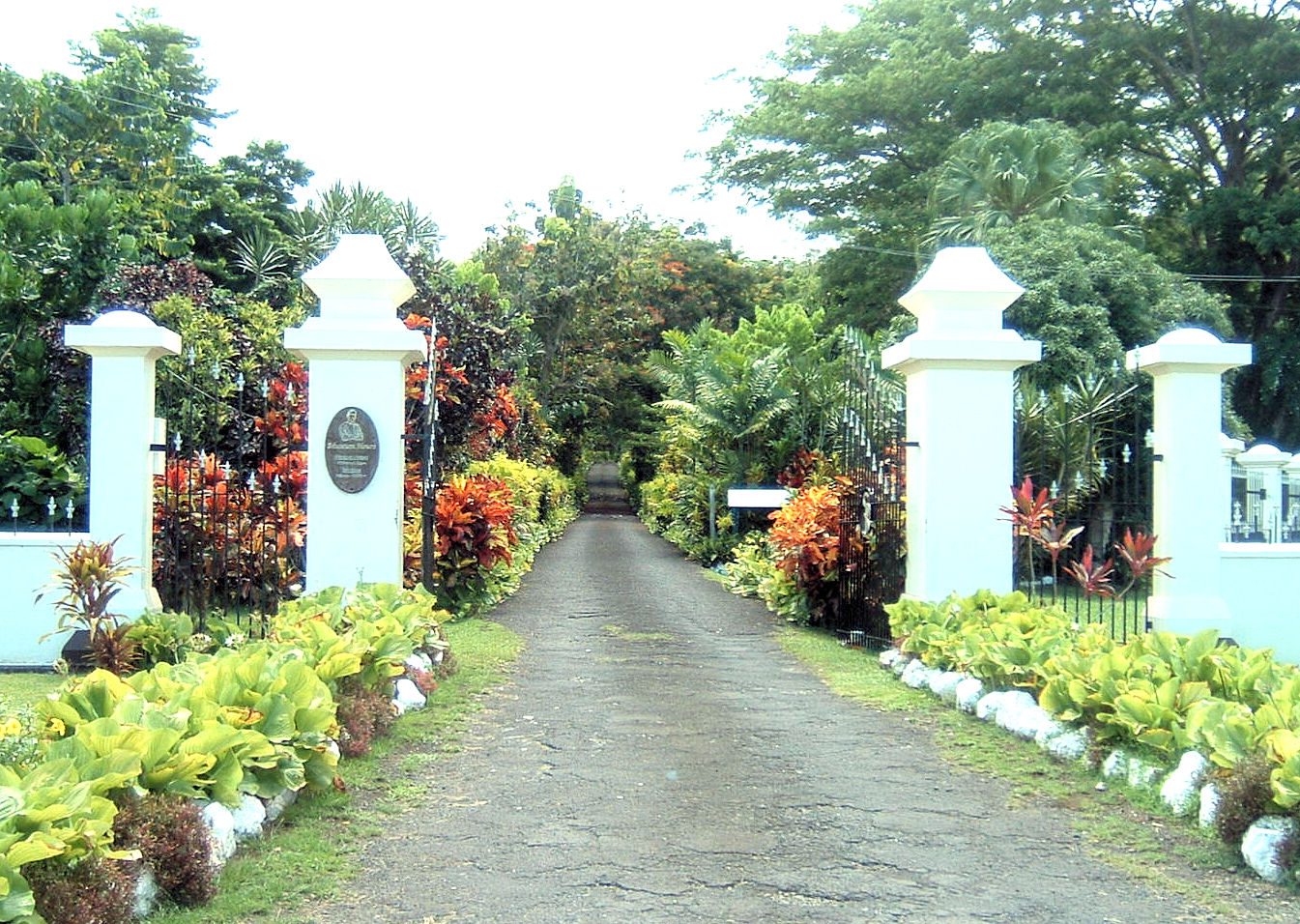 Hike up Mt Vaea on the Tomb Walk to see where RLS rests in peace. Bring insect repellent, food, and lots of water. The heat was stifling.
At the fork in the path left, the left option is 45 minutes. The right option is 30 minutes, strenuous, slippery.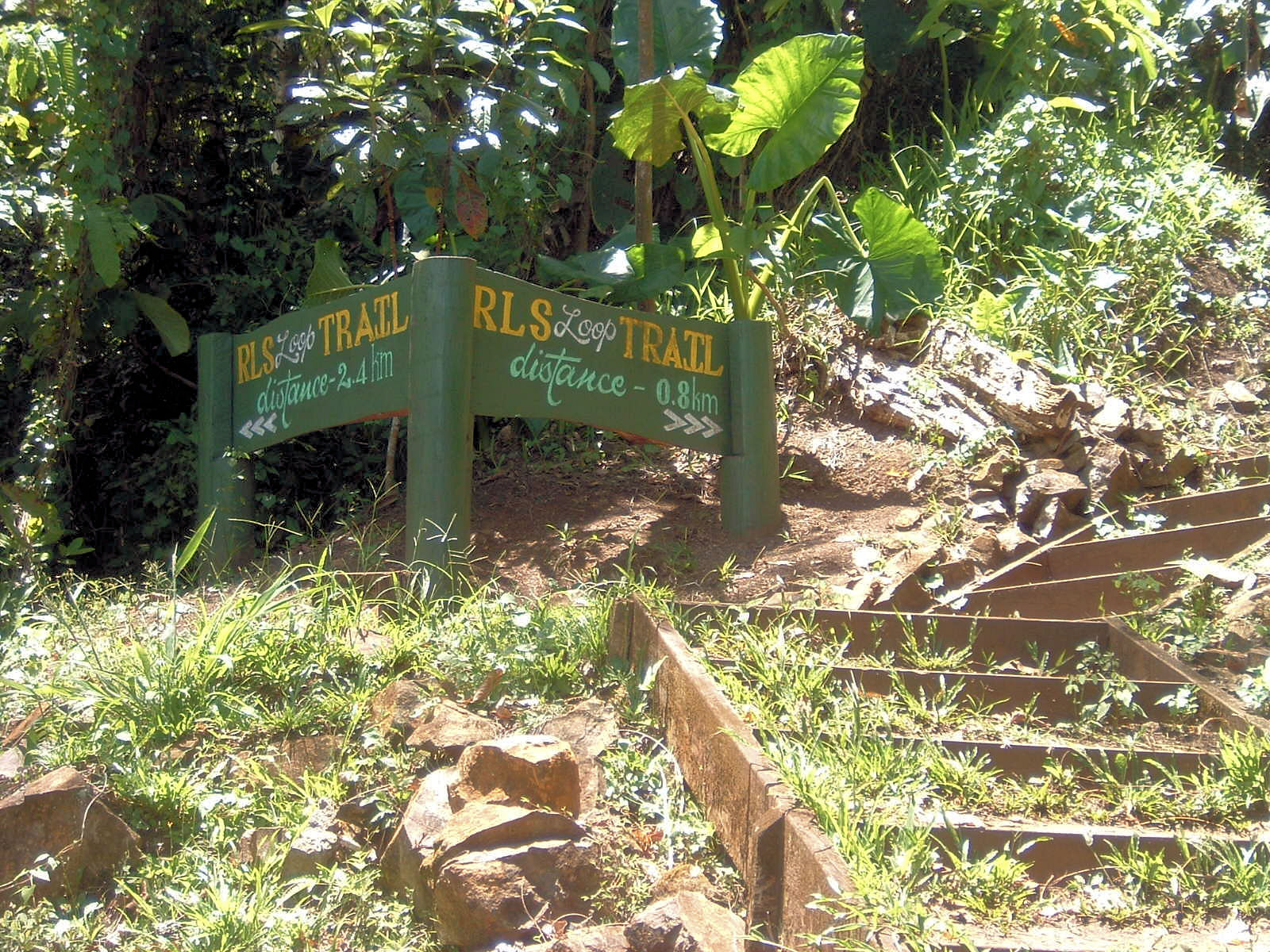 The words etched into Stevenson's grave read:
Under the wide and starry sky, Dig the grave and let me lie.
Glad did I live and gladly die, And I laid me down with a will.
This be the verse you grave for me: Here he lies where he longed to be;
Home is the sailor, home from the sea, And the hunter home from the hill.
Trevor Stevenson is the only Stevenson (other than RLS's family) to have resided in Samoa. He is a lawyer in Apia and has been practicing in the oldest established Law Firm in Samoa.
His wife Ana was the first Miss Samoa for Miss World in 1977.
He named the Stevensons at Manase resort in Savaii after RLS, and many of the rooms and fales are named out of the characters of RLS's novels, his children and grandchildren.
The Tusitala Restaurant and Fanny's gift shop are named after the famous author.
I took a taxi back to the Embassy.
I saw School kids as drove out to the street. Cute. Love the green uniforms.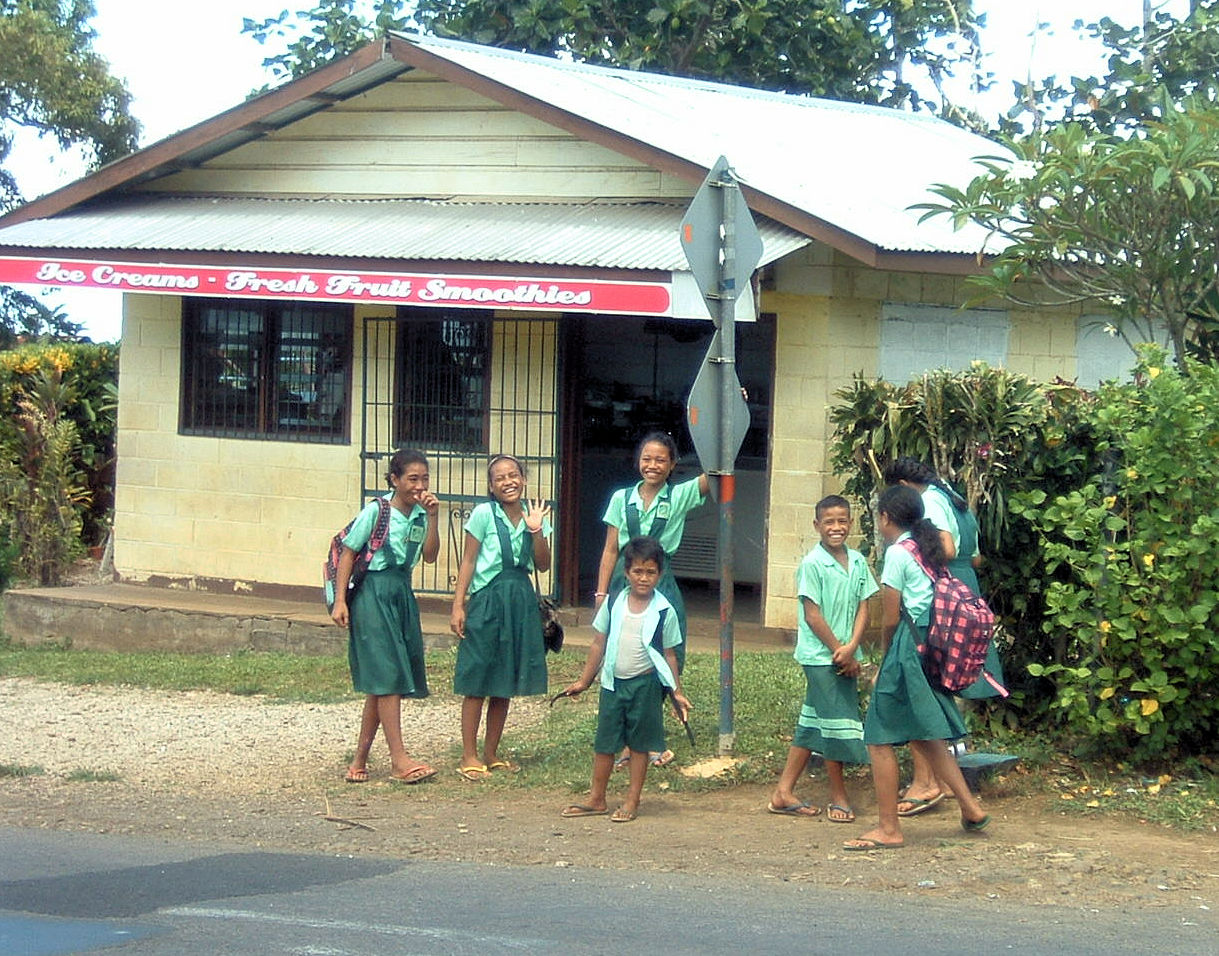 That afternoon we went shopping for some food to take to the island tomorrow.
We went down the street to the Fugalei Market
From another traveler on TripAdvisor: Loved this market and the people are really friendly. If you are going to feed the turtles, this is where we stopped so we could buy papaya. Cost $1 Tala for small or $2 Tala for large papaya. Tell them you are going to feed turtles and they will cut them appropriately for you so you can hand feed
We got fruit, bread, a box of wine !
What a great vacation !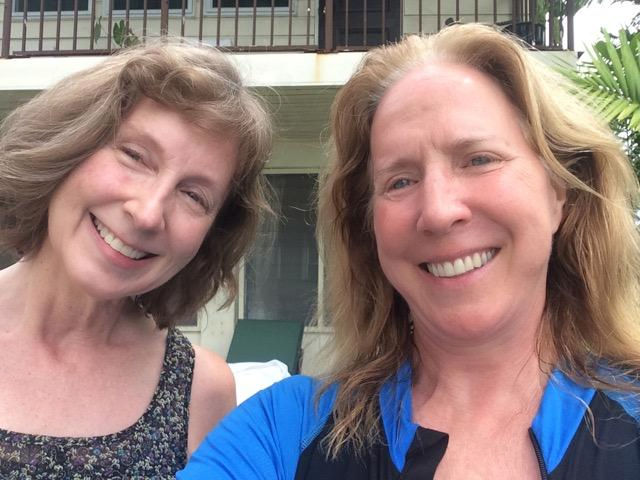 Tonight we walked to really good restaurant.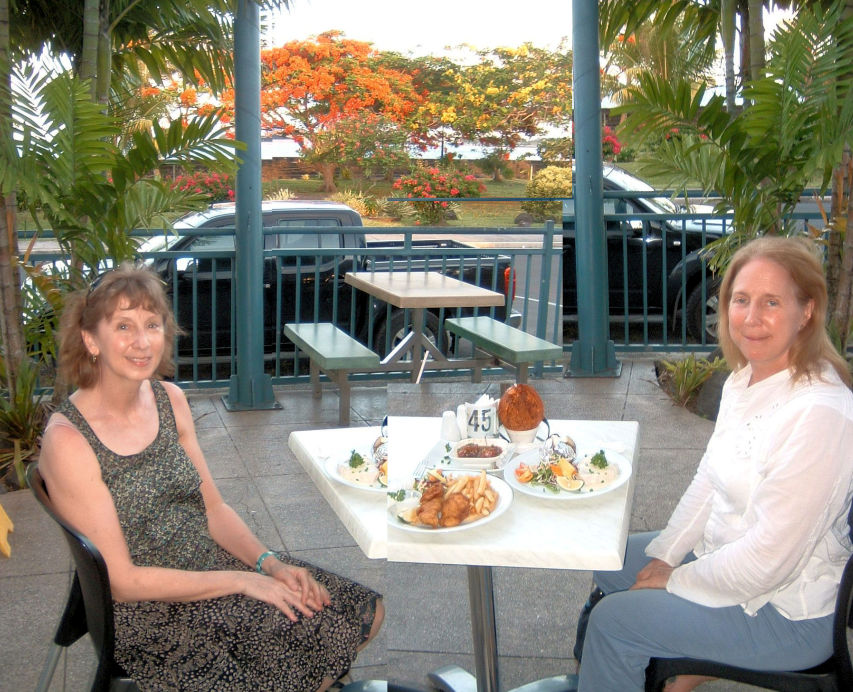 On the way home, we walked through a park.
Christine told me a great story about the solor lights in the park.
They were from China and the Samoans installed the light themselves.
The instructions said the solar panel should face South, but Samoans were smart enough to know their panel should face North, since Samoa is in the South Pacific.
It started to sprinkle. Then it started to rain. We were several couple blocks from home. We had umbrellas, but they were useless in the wind. We were both totally soaked when we got back to the apartment. I knew my clothes would dry overnight, so I was OK. What a great evening!
6:15 am taxi to ferry. We took the 11 am ferry to Savaii. "Salelologa" is the name of the ferry terminal.
The nearby island that we passed in ferry has a population of 45.
On Savaii, pick up rental car.
Thank you Christine for driving! That is very much appreciated.
We passed by local villages
From the ferry to Stevensons (half way around), there are 25 distinct local villages. Each village has a grand
churches, meeting houses, sleeping fales, roaming animals and hundreds of smiling waving children immersed in various activities from local kilikiti to cutting the grass with a sapelu (Samoan bush knife).
We drove by a solar farm. They are building that on the island to handle all the power needs on the island.
We passed these lava fields. People LIVE IN THE LAVA FIELDS!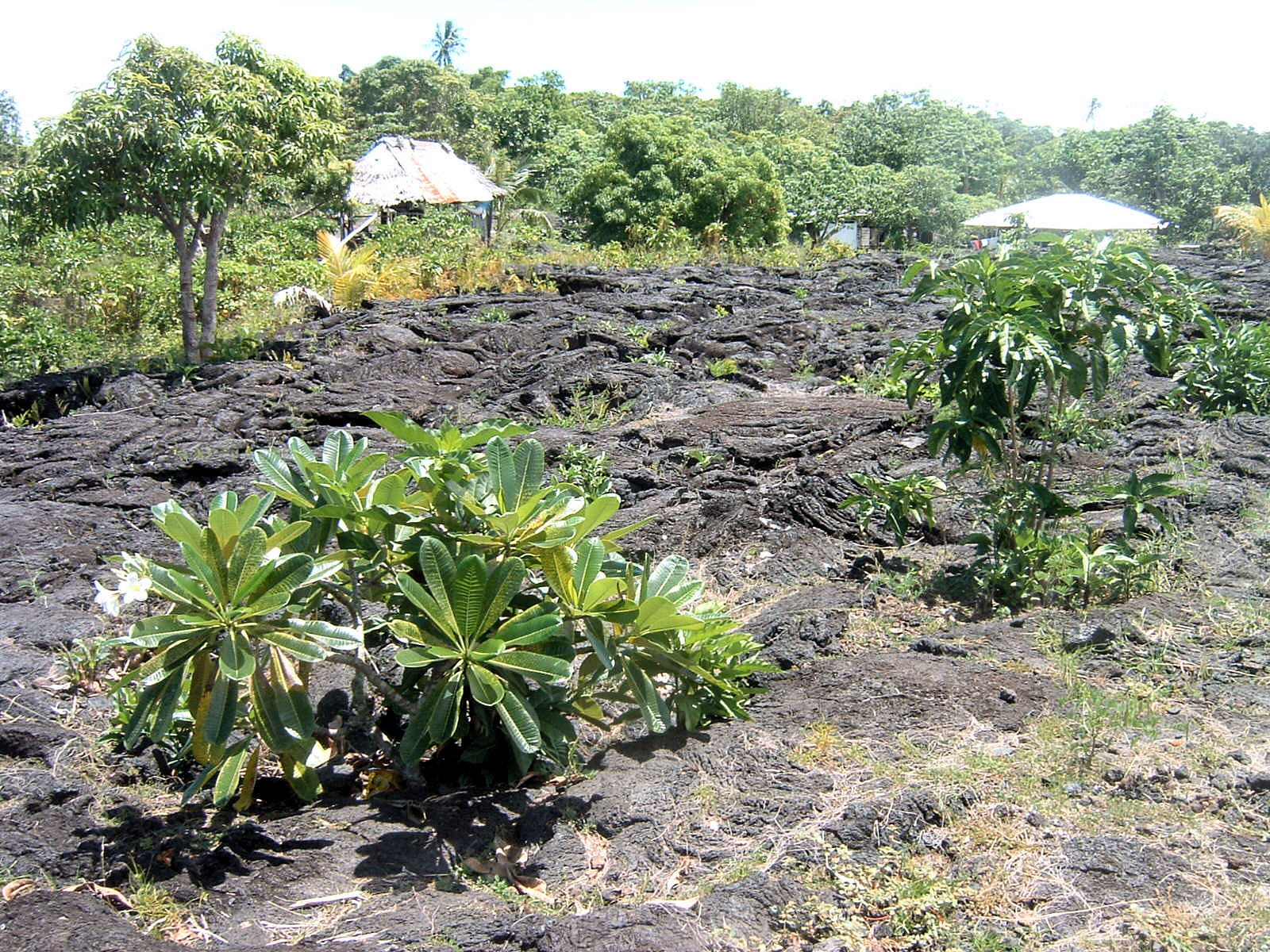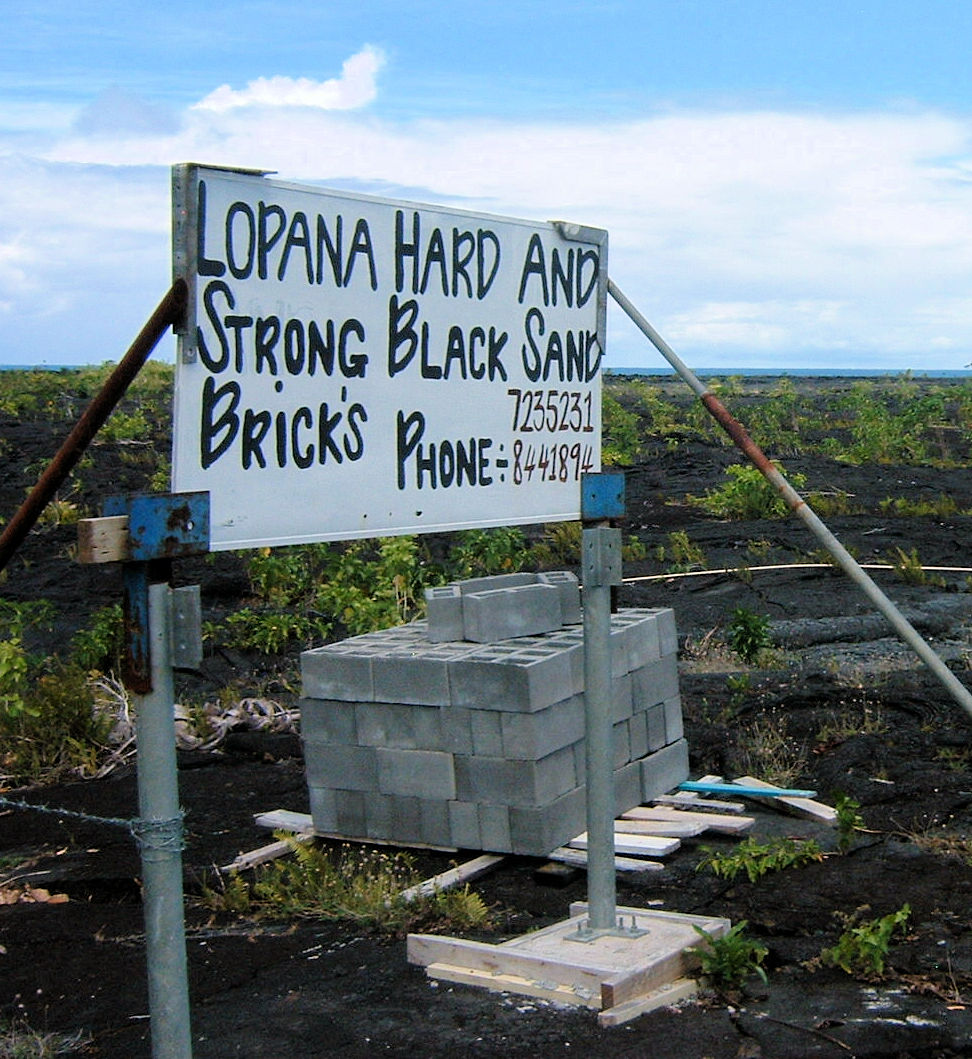 We stopped to swim/snorkel at a water fall.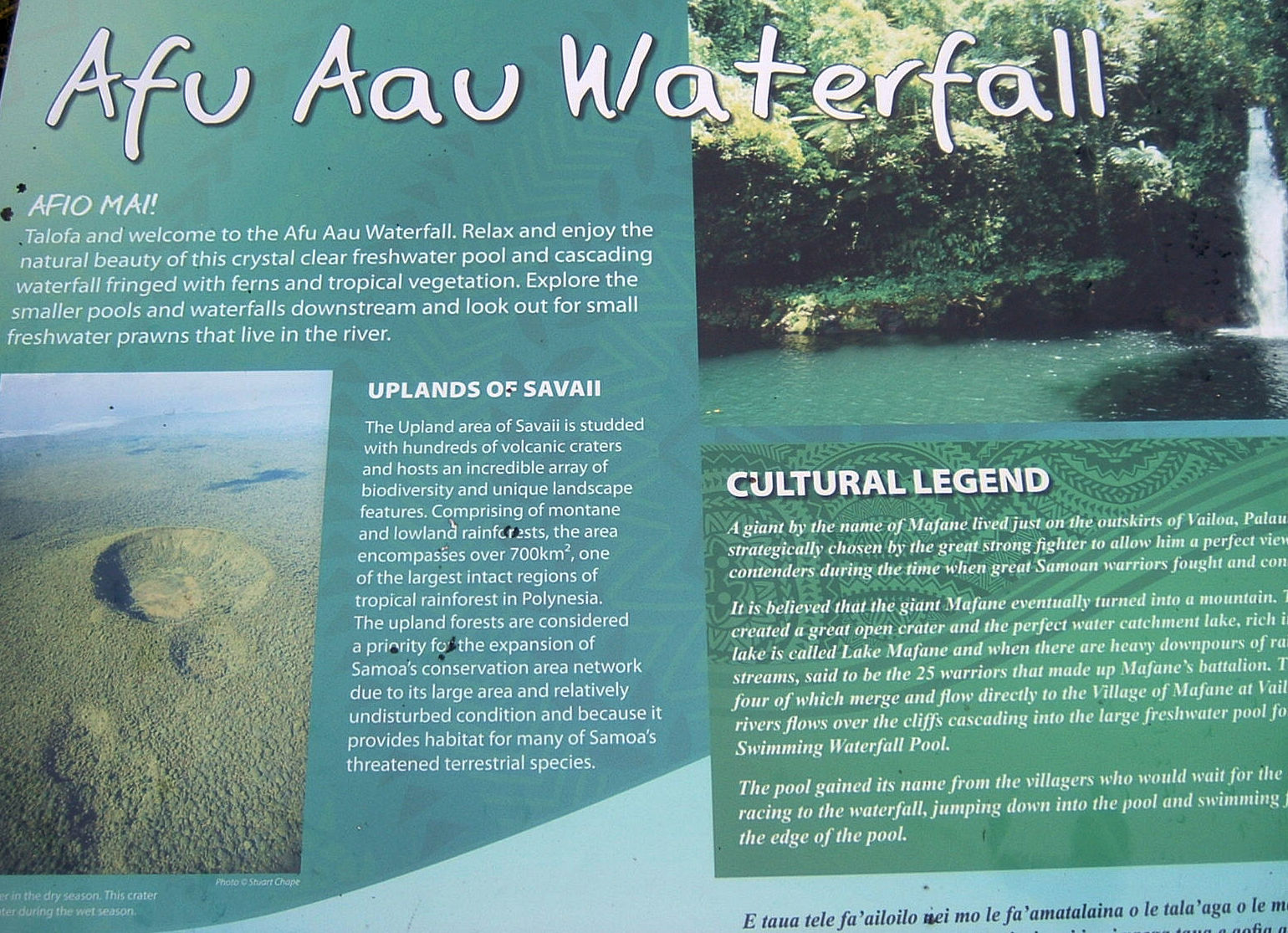 AFIO MAI!
Talofa and welcome to the Afu Aau Waterfall. Relax and enjoy the natural beauty of this crystal clear freshwater pool and cascading waterfall fringed with ferns and tropical vegetation. Explore the smaller pools and waterfalls downstream and look out for small freshwater prawns that live in the river.

UPLANDS of SAVAII
The Upland area of Savaii is studded with hundreds of volcanic craters and hosts an incredible array of biodiversity and unique landscape feature. Comprising of montane and lowland rainforests, the are encompasses over 700lm2, one of hte largest intact reguins of tropical rainforest in Polynesia. The upland forests are considered a priority for hte expansion of the Samoa's conservation area network dur to its large are and relatively undisturbed condition and becuase it provides habitat for many of Samoa's threatened terestrial species.

CULTURAL LEGEND
A giant by the name of Mafane lived just on the outskirts of Vailoa, Palauli Village, a location that
strategically chosen by the great strong fighter to allow him a perfect view of any approaching battle contenders during the time when great Samoan warriors fough and conquered the lands in Samoa.

It is believed that the giant Mafane eventually turned into a mountain. The mountain erupted and this created a great open crater and the perfect water catchment lake, rich in flora and fauna. This crater lake is called Lake Mafane and when there are heavy downpours of rain, the lake is know to feed into streams, said to be the 25 warriors that made up the Mafane's battalion. These streams flow to seven right four of the which merge and lfow directly to the Village of Mafane at Vailoa, Palauli. One of these four rivers flow over the cliffs cascading into the large freshwater pool forming the beautiful Afu Aau - Swimming Waterfall Pool.

The pool gained its name from the villagers who would wait for the heavy rainfall season to compete racing to the waterfall, jumping down into the pool and swimming from the bottom of the waterfall to the edge of the pool.
Christine
x
x
xx
Christine doing what she loves doing: seeing what's under water !
x
After playing in the water, we changed into dry clothes and drove to resort.
Welcome to a small piece of heaven on earth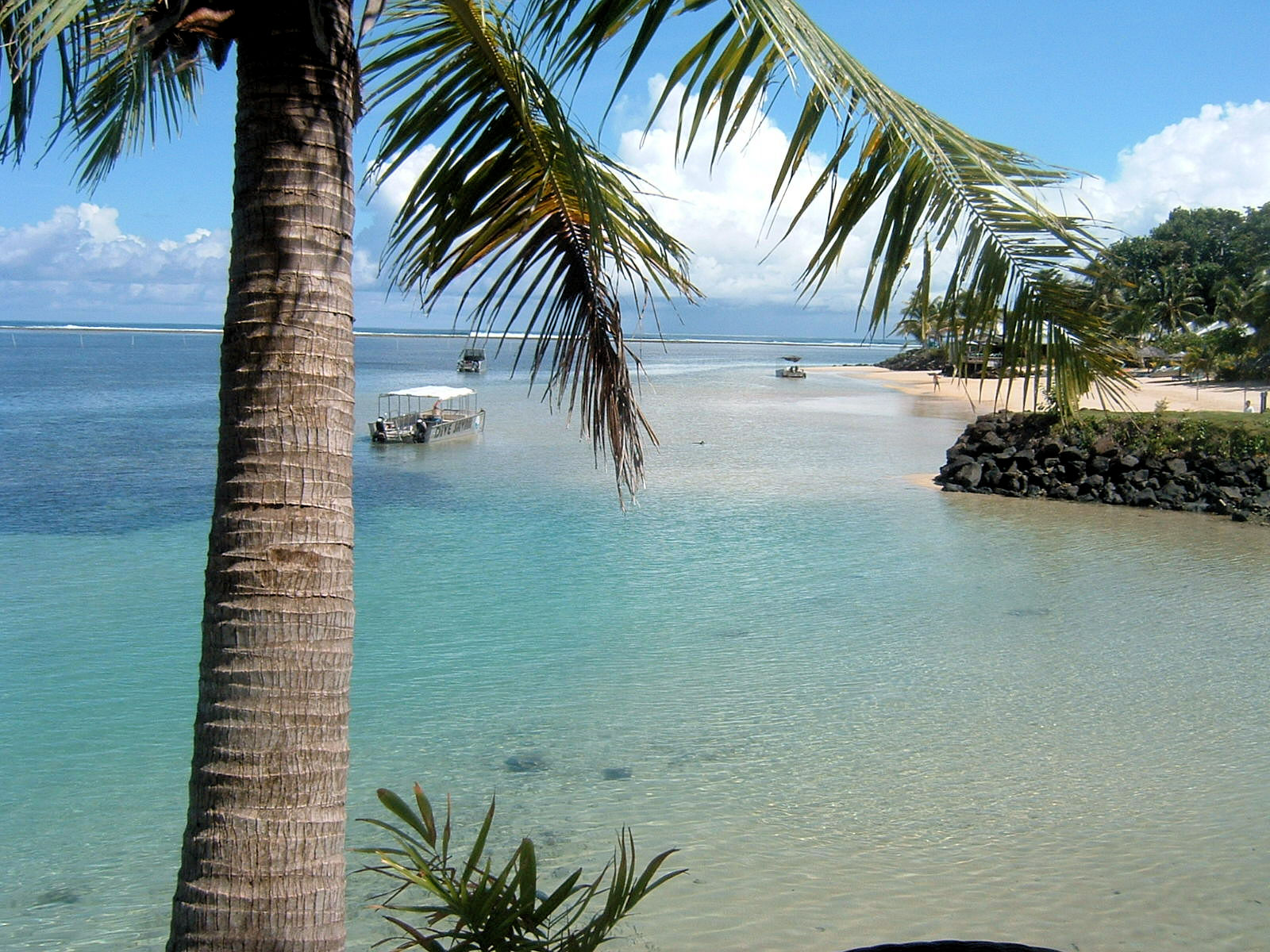 This is a wonderful place!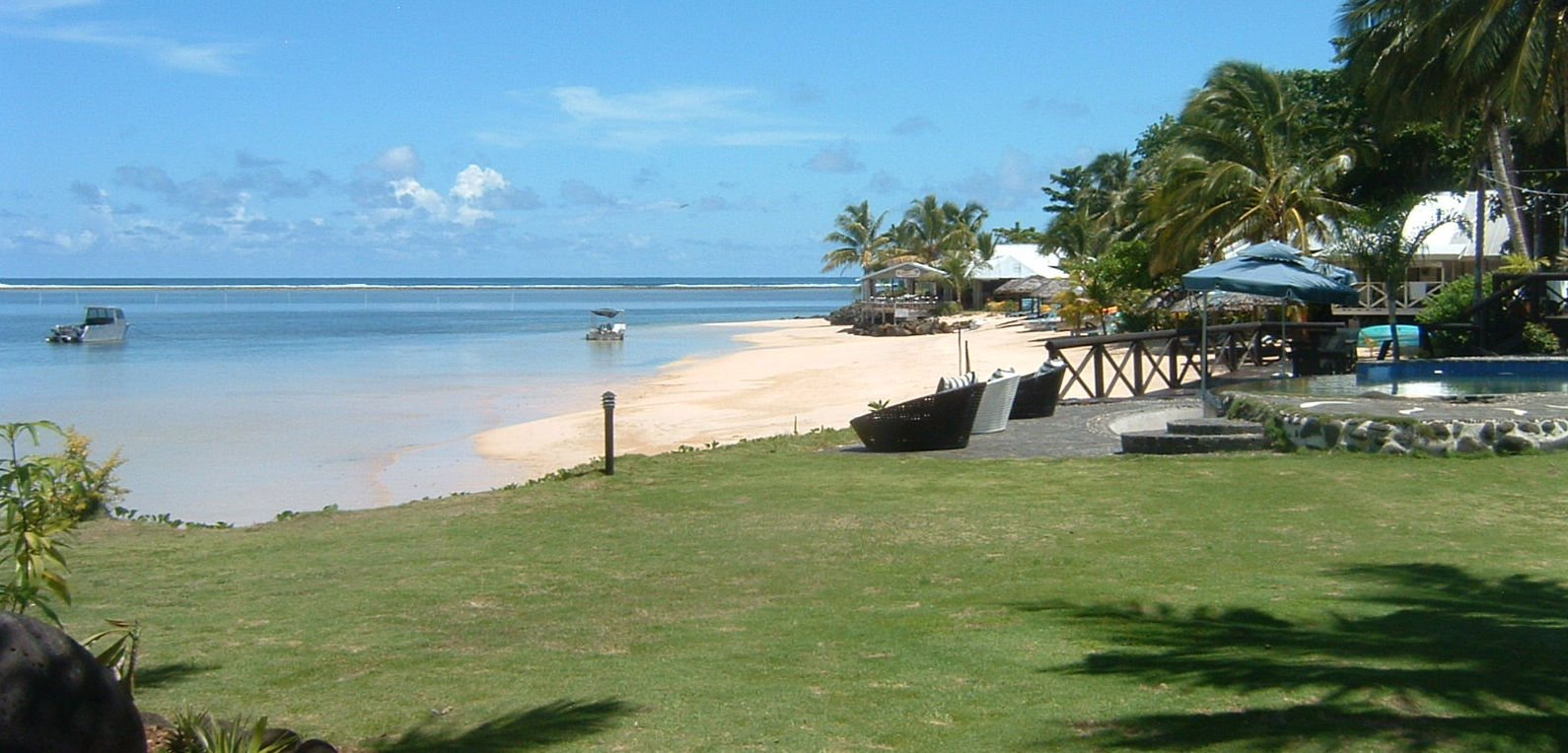 The view from the swimming pool: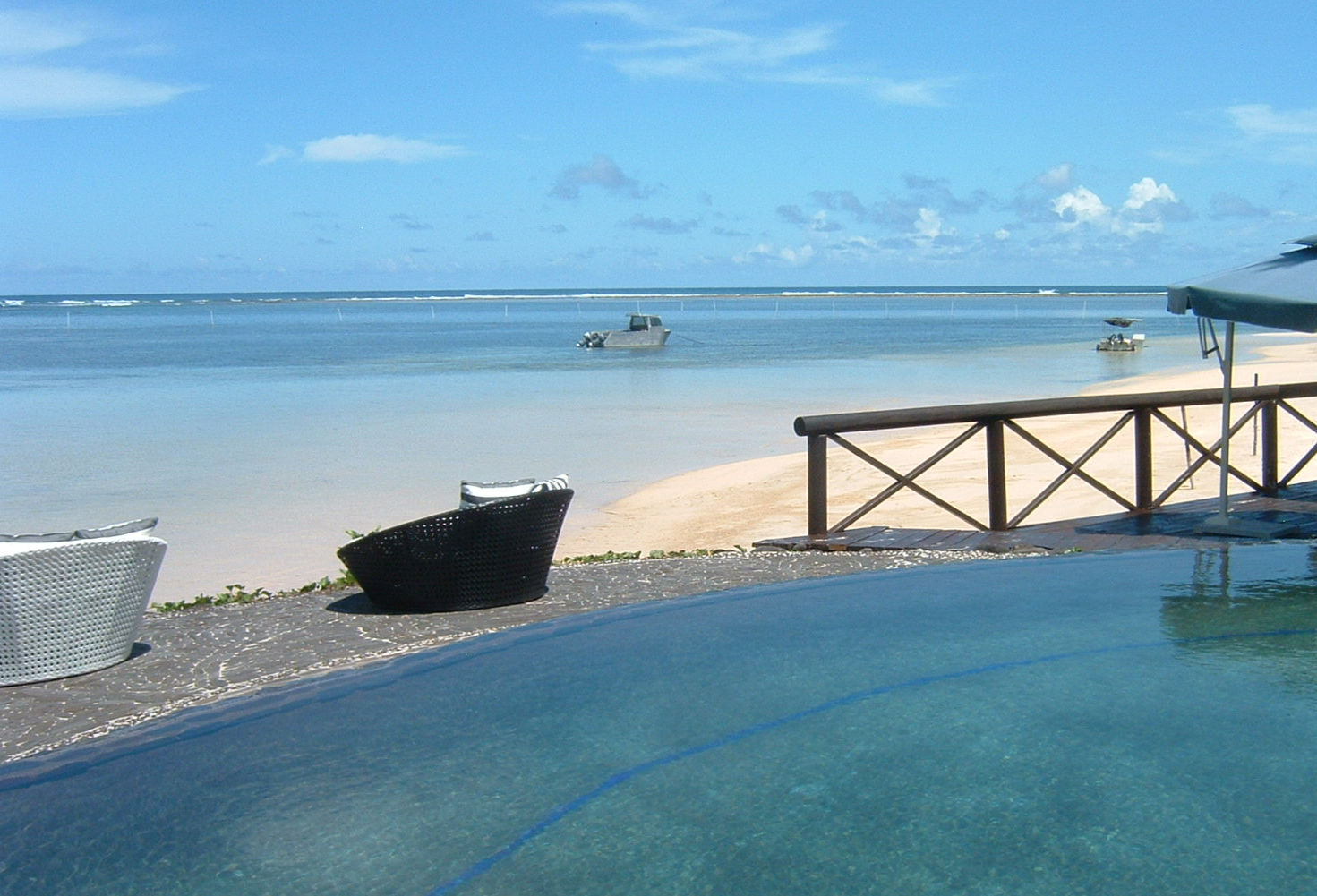 The view at the bar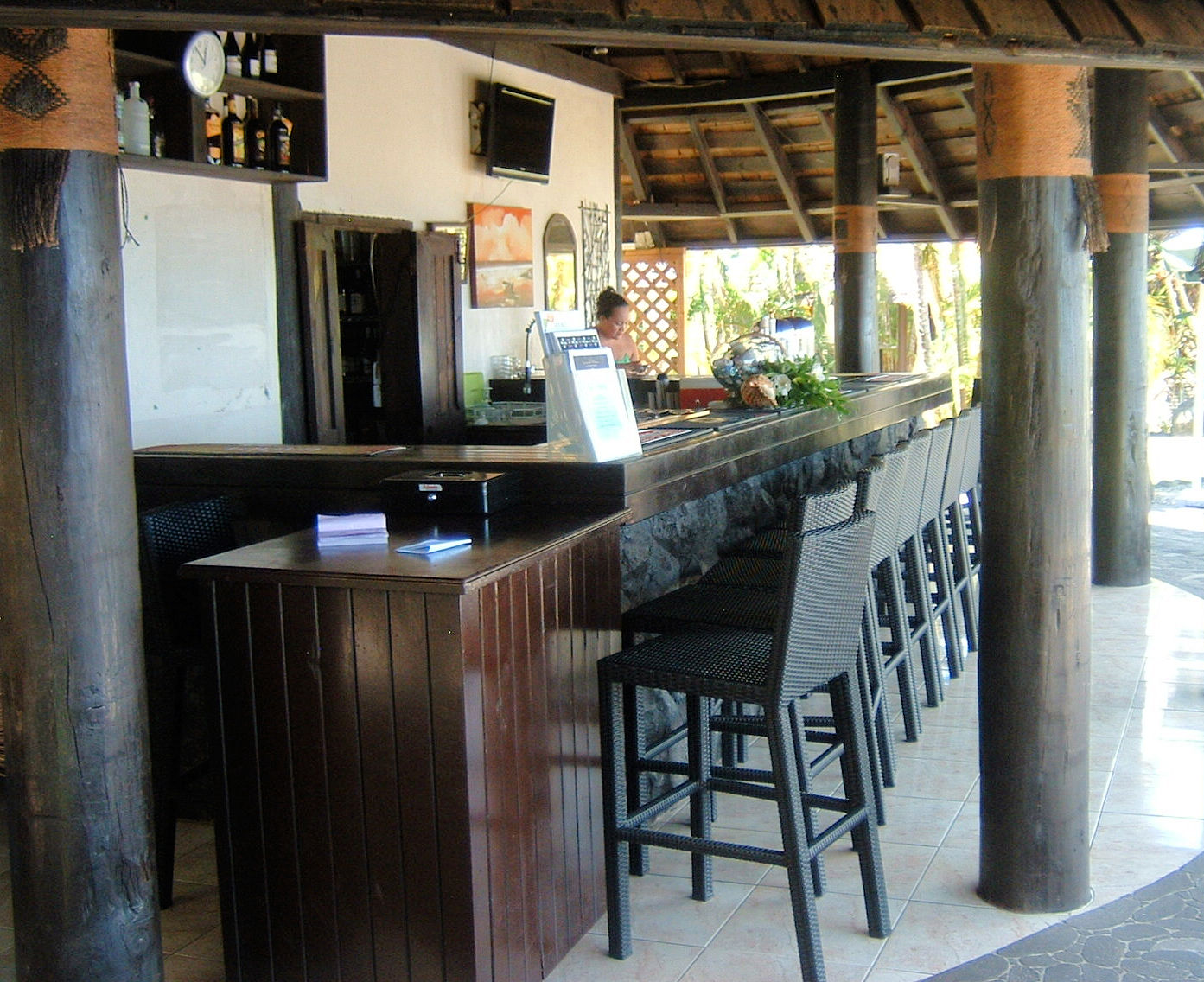 These were the traditional bungalows that two people share: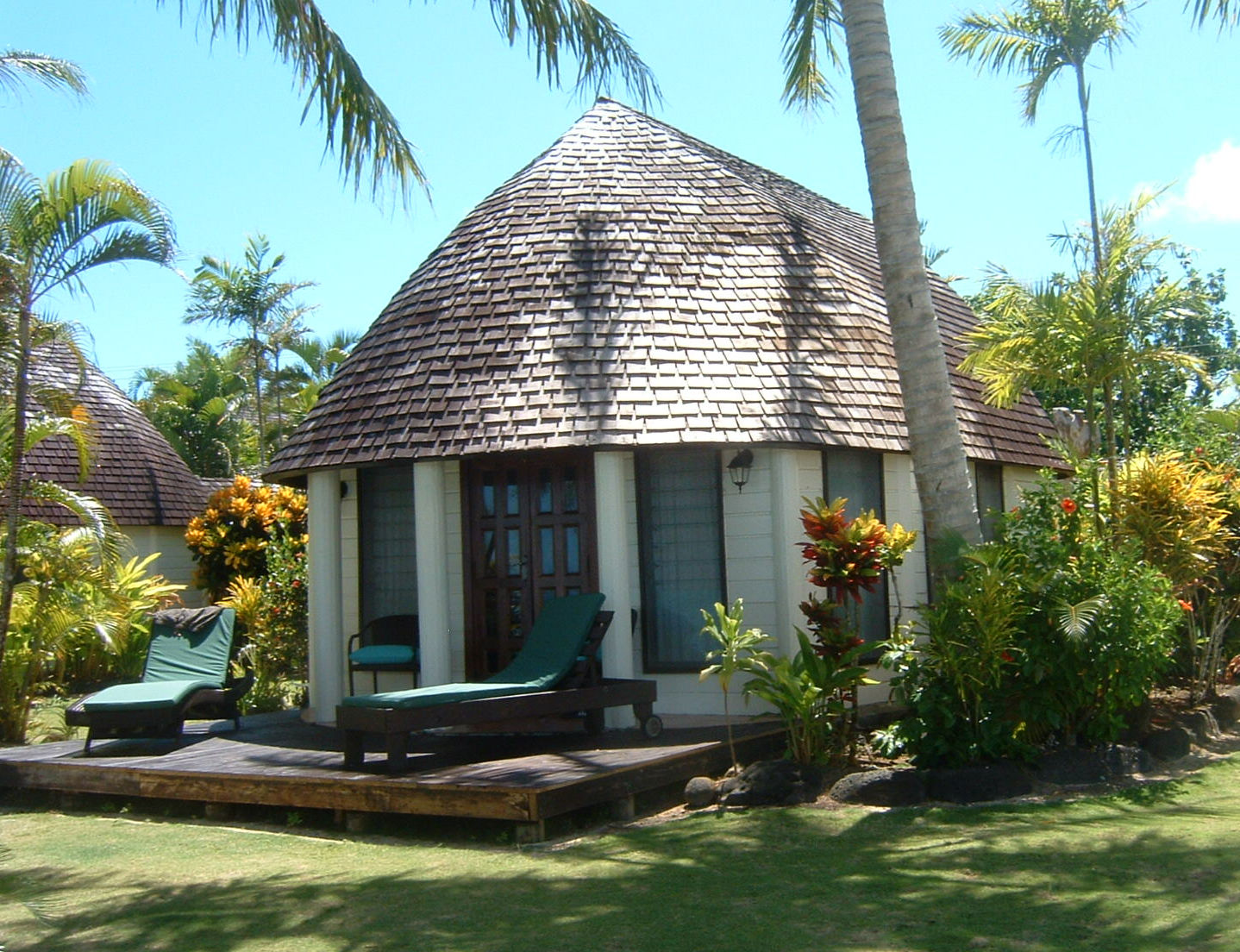 We wanted (and got) separate bedrooms, so we rented the apartment below the Spa.
It had a big living room, big kitchen and fridge. Our rooms were air conditioned, the rest of the apt was not air conditioned.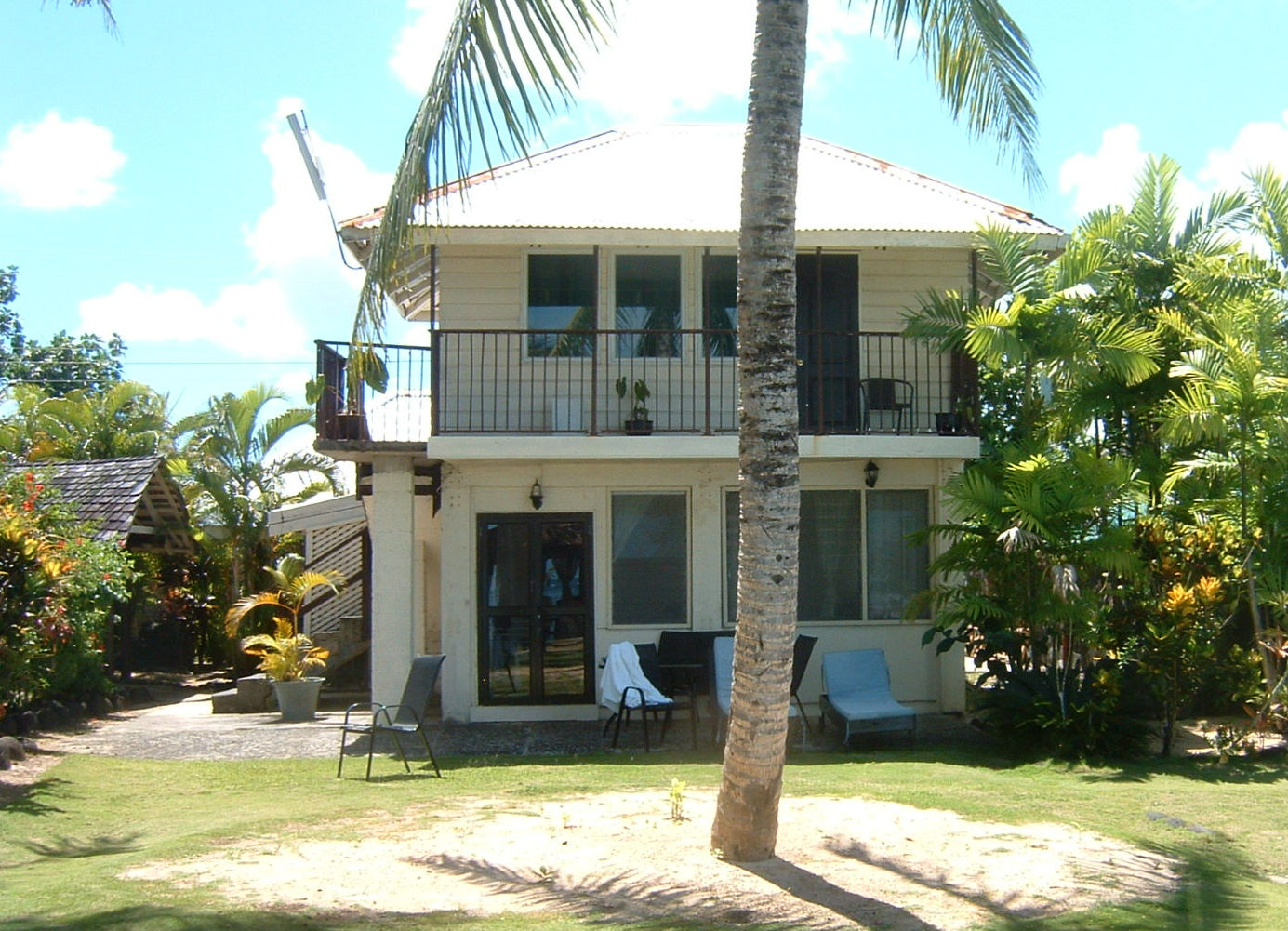 Our email confirmation:

From: "lelagotoreservations@samoa.ws" <lelagotoreservations@samoa.ws>
Sent: Saturday, November 5, 2016 3:52 PM
Subject: Online Booking For Suzanna Travels (B6484) Checking In: 24 Nov 2016

Talofa lava!

Thank you for booking your stay with Le Lagoto Resort & Spa . Here are the confirmation details for your reservation. We are looking forward to your upcoming stay

Please retain this for your reference Prices are in USD

Booking Details for Le Lagoto Resort and Spa

Check In Date: 24 Nov 2016 Check Out Date: 27 Nov 2016

Hotel Address: P. O Box Fagamalo, *, Savaii, *, Samoa Hotel Phone: +685 58 189

Rate Inclusion 24 Nov 2016 $150 - 25 Nov 2016 $150 -26 Nov 2016 $150

Accommodation Grand Total: $450

VAGST (15.0%) Included: $58.70

Apartment: Downstair Apartment

2 adults

The Downstairs Apartment is located beneath the Sunset Spa and next to bungalow 10. It has two bedrooms " the larger with one queen and one single bed, the smaller with one queen bed " and one bathroom, and is suitable for families or groups. Both bedrooms are air conditioned and there is a ceiling fan in the living area.
Please note, this is an older property on the resort and is not in the style of bungalows.
§ Complimentary tropical breakfast included per guest, daily.
§ Complimentary use of kayaks included, for the duration of your stay.
Bonus: two 15 minute massages, per room booking (to be used once during your stay).

Important: the EFTPOS facility at Le Lagoto Resort & Spa takes payments in local currency only. Conversion from US Dollars to Samoa Tala (ST) is calculated daily using the Google Finance Currency Converter. To see the conversion rate, check the convertor at the time of your booking. Note, if your booking is made / received outside of office hours (9am to 5pm, local time), it will be processed on the next business day.

Getting There Location Instructions

Getting to Le Lagoto Resort & Spa is easy " our village, Fagamalo, is a one-hour ferry ride from Mulifanua Wharf on the main island, across to Savai™i, followed by a scenic 45 minute drive along the north coast.
Various transfer options are available. If you require any further assistance or if you have booked our transfer service and have yet to advise your ferry time for arrival and departure , please feel free to email us

Faafetai lava, Gabriella. Tuatagaloa lelagotoreservations@samoa.ws

I got my first snorkel lesson (in the swimming pool). I did fine going under water.

We went out to the beautiful ocean. I was fine near the shore. I did not feel the need to swim out further and follow Christine....

For dinner tonight, we drove up the coast to "Stevensons at Manase"

The Resort is named after Robert Louis Stevenson ("RLS"). RLS constructed his home at Vailima and was bestowed the name "Tusitala" by the Samoan people who took him to their hearts. We ate at the Tusitala Restaurant.

Trevor's family established Stevensons at Manase in 1994; the centennial celebration year of RLS's death.

Since that time the villas have been constructed and named after Trevor and Ana's children. The executive suites, Judicial suite, is named after the late Sir Gavin Donne, a former Samoan Chief Justice who was the instigator of Trevor coming to Samoa and starting his career. The remaining suites are named after Trevor and Ana's grandchildren.

The Resort has "the biggest and best pool in Savaii".

This resort celebrates The Palolo Experience Palolo is a caviar of the South Pacific. This is a coral worm that rises to the sea surface twice a year in its reproduction cycle. The rising can be determined by the position of the moon and has been accurately predicted by generations of Samoans for centuries. Once it rises during the early morning it is skimmed from the surface by locals with hand made scoops which they ladle into flax woven baskets. On sunrise the palolo dissolves in the water and collection ceases. This local caviar has created a traditional local festival which involves the local villagers spending the night before the rise singing on the beach and casting flowers into the sea. It is traditionally cooked in the Samoan umu but it is absolutely delicious when fried with onions for the more Western pallet.

The Samoan Beach Fale (pronounced fah-leh)

A beach fale is a simple thatched hut in Samoa. Beach fales are also common in other parts of Polynesia. They have become popular in tourism as a low budget accommodation situated by the coast, built with a few posts, no walls and a thatched roof with a round or oval shape.

The word fale s the Samoan word for any type of building. A similar word is used in other Polynesian languages, similar to whare in the Maori language.

In Samoan architecture, these simple huts are called faleo'o in the Samoan language. They are common in villages where they provide extra storage or space for dragon boats.
As the term denotes, beach fale are usually located around the coast in villages. In Samoa, renting out a beach fale to visitors is a common means for providing extra income for families.
Some fale rentals here http://www.samoa.travel/accommodation/beach-fale-accommodation-in-samoa


Village Faleo'o

The Stevensons Fale
The design of Stevensons Resort is an endeavour to maintain Samoan culture and architecture. It uses the Samoan fale concept for its restaurant and bar. The Maota Sitivisone, a traditional thatched Samoan fale interspersed with Samoan carvings is ideal for traditional culture shows as well as recreation purposes.

The traditional Samoan fale with a twist! Our Euro Fales overlook the ocean from their open air decks. Awake to the sound of the ocean lapping at the shore only metres from your doorstep. The Euro Fales take this traditional style of open-air accommodation to a new level by offering lighting, ceiling fans, mosquito netting and private, lockable ensuite bathrooms. Relax on your bed, take in the exceptional ocean views from your fale and settle into the true relaxation of island life.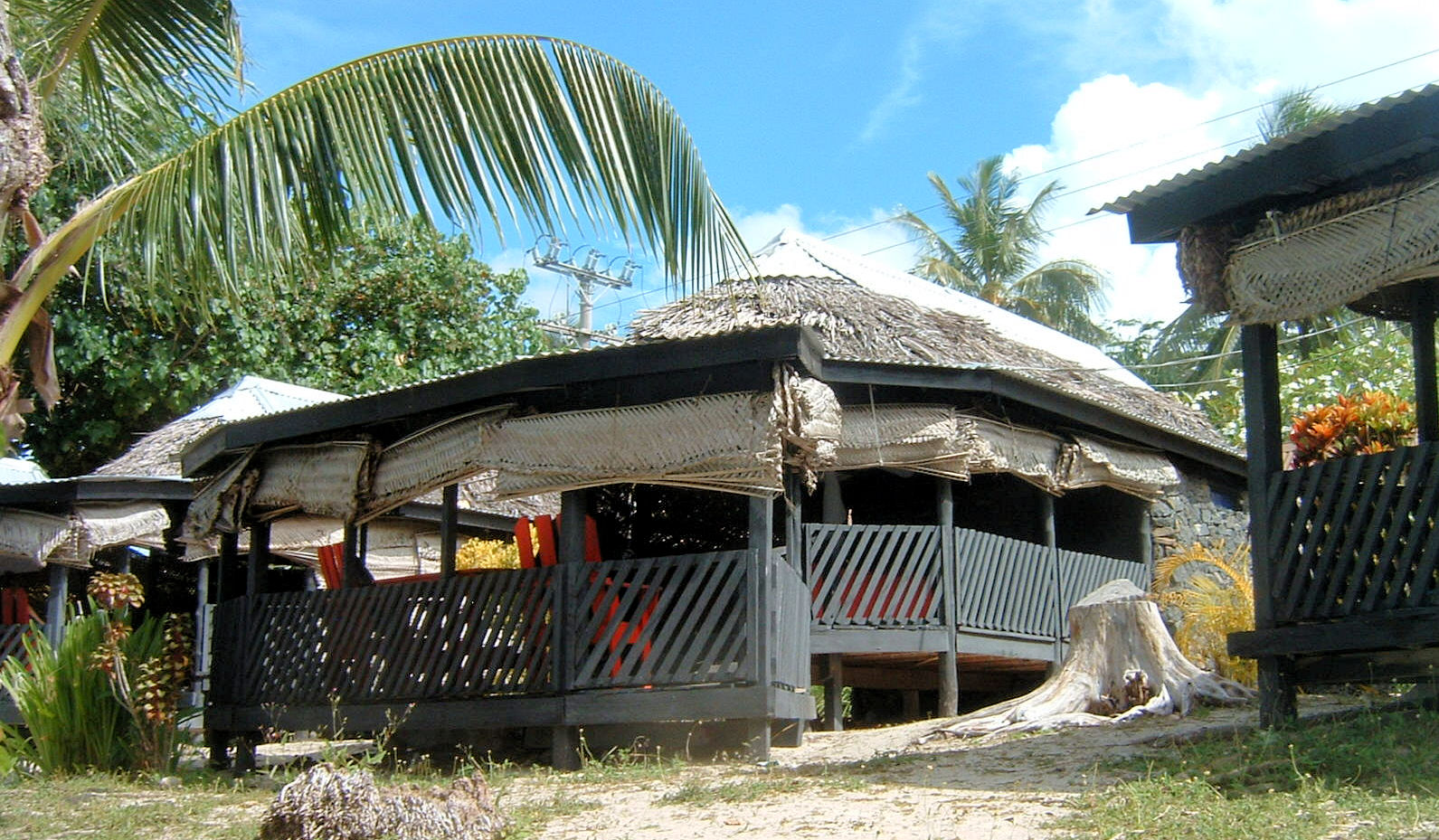 At breakfast I got alot of food. Christine did not like the browned parts of her omelet, so I slid most of it over to my plate and they made her another omelet. Thanks for the yummy breakfast!
We snorkeled around the resort. I stayed close. Found lots of coral, fish, a piece of glass.
Crystal clear water. Now the dilemma: I had to pee. Do you exit the ocean, run to the toilet, or just do it in the ocean (in the crystal clear water would it be visible?). No it wasn't visible.
Waiting for C to get back, wrote in my journal:
Sitting out here in what looks like paradise, but I know the true story of Samoa from Christine. It is a beautiful view. I think Sandals Jamaica was like that. You have to stay in the proteced resort area in Jamaica. Not so much here in Samoa. They are friendly, don't try to sell things. I called Gary. It was so nice to talk to him. I do miss him!
Around 2 pm we (Christine) drove back to Stevensons. Last night they said we could park there and snorkel in the ocean.
We parked (for free), changed into swim suits, walked past the construction to the ocean and snorkeled. We stayed about 2 hours.
I still considered myself a beginner snokeler, so Christine asked if she could give me advise. She said not to use my hand to swim. Hands should be held behind your back. That's fine if you have good fins that propel you in the water. I needed to use my hands to guide me through the water, and to keep adjusting my mask. She asked me why my mask was leaking. I said I did not know how to answer that question. But then I figured it out. I couldn't relax in the water. I had to keep looking up and around to see where she was and that maybe moved the mask on my face. Then I said it was the wrinkles in my face that caused the leaks, or it was cheap mask. I have no idea. Anyway I wasn't comfortable going a mile out into the ocean.
I really had a fun time snokeling. It was time to get back to the car.
I was hungry. We passed a local house/resturant, and I commented that place looked interesting for food. There was a BBQ grill out front. Christine turned the car around and we parked.
I ate while Christine watched me eat. The chicken was good. Half way through my meal, I understood why she did not order food. She was lamenting the Samoan diet: there are 4 protiens in a traditional Samoan meal: fish, beef, chicken and hot dog or sausage? The bananas on my plate looked good, except they weren't ripe, so not much sweetness. I can't imagine eating like that every day! Where are the vegetables?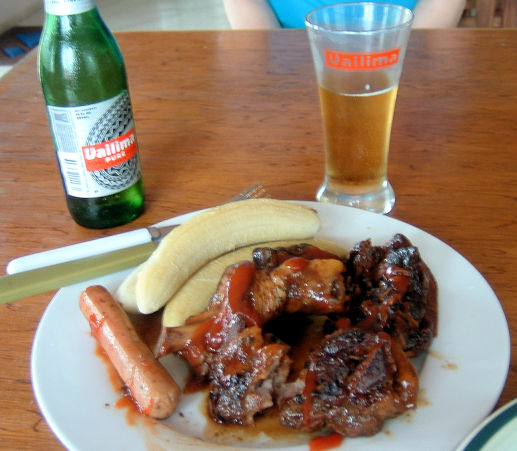 This morning Christine drove off about 8 am to a dive shop for a snorkeling adventure. She can't get enough. I can. I need to practice snorkeling some more.
It is uncomfortably HOT here. We are very close to the equator.
I had a very leisurely breakfast. It was later in the morning, so I was hot, after 10 minutes sweat is dripping down my back.
Christine got back from her trip and we had a late lunch at the resort. This was our table: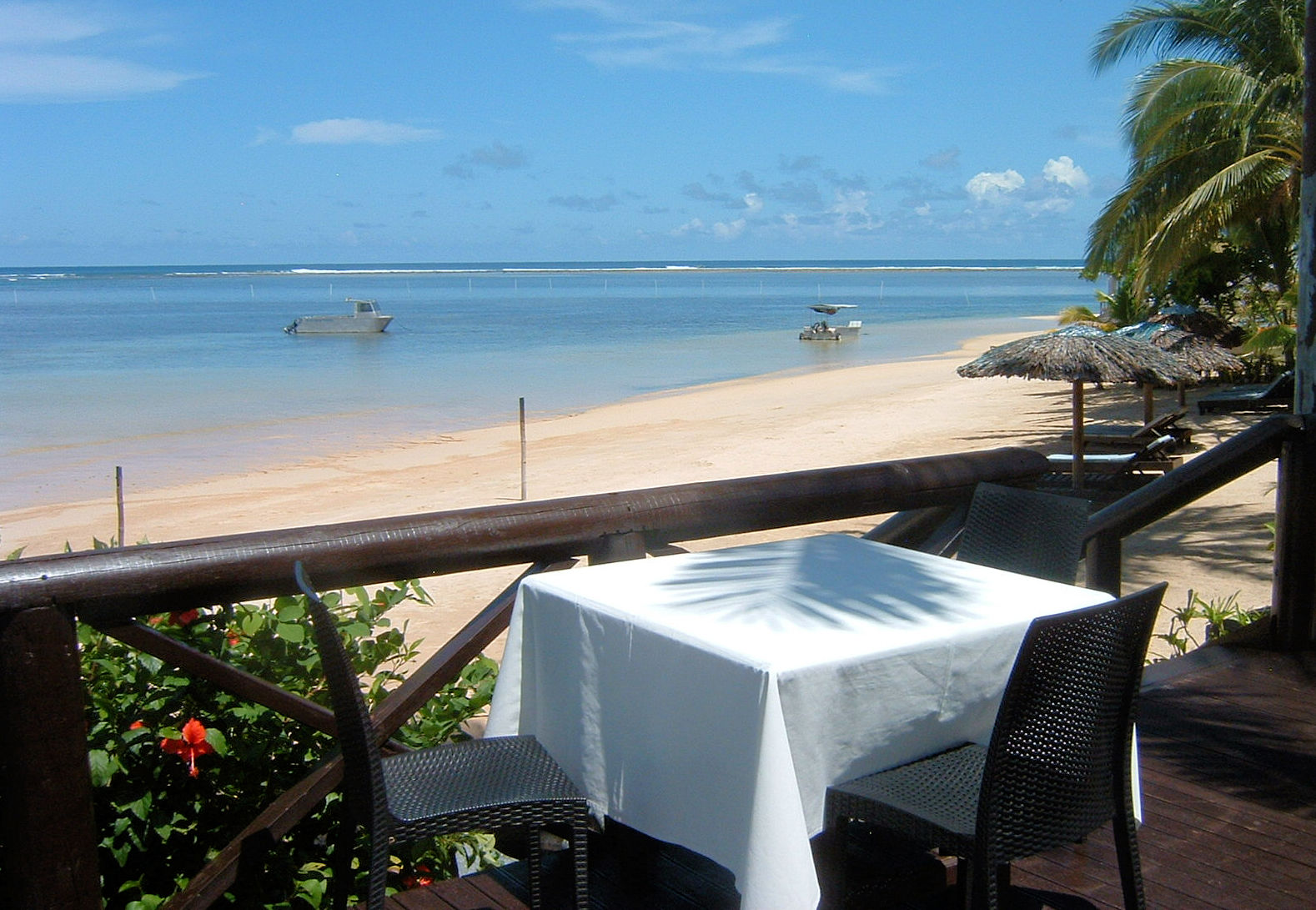 This was our lunch. I had taro chips with chili, sour cream, salsa.
| | |
| --- | --- |
| xx | xx |
After lunch, back into the water. We used a kayak and paddled far out. Christine was in search of the ship wreck she saw on her other snokeling adventure.
I slowly paddled the kayak back towards shore, while she swam. That was a long way!!!
When we got back Christine was ready for her 90 minute massage. I opted for the (free) 15 minute massage. Here is where I got my massage:
| | |
| --- | --- |
| xx | xx |
Sure enough, I got the thumbs pressed hard into my lower back. I hate that. It leaves bruises. I do not like massages.
C went back out to snorkel. I finished reading my book. Then I wanted to snokel. C was just coming in but she went back out with me.
The steps to the water were across from our apartment: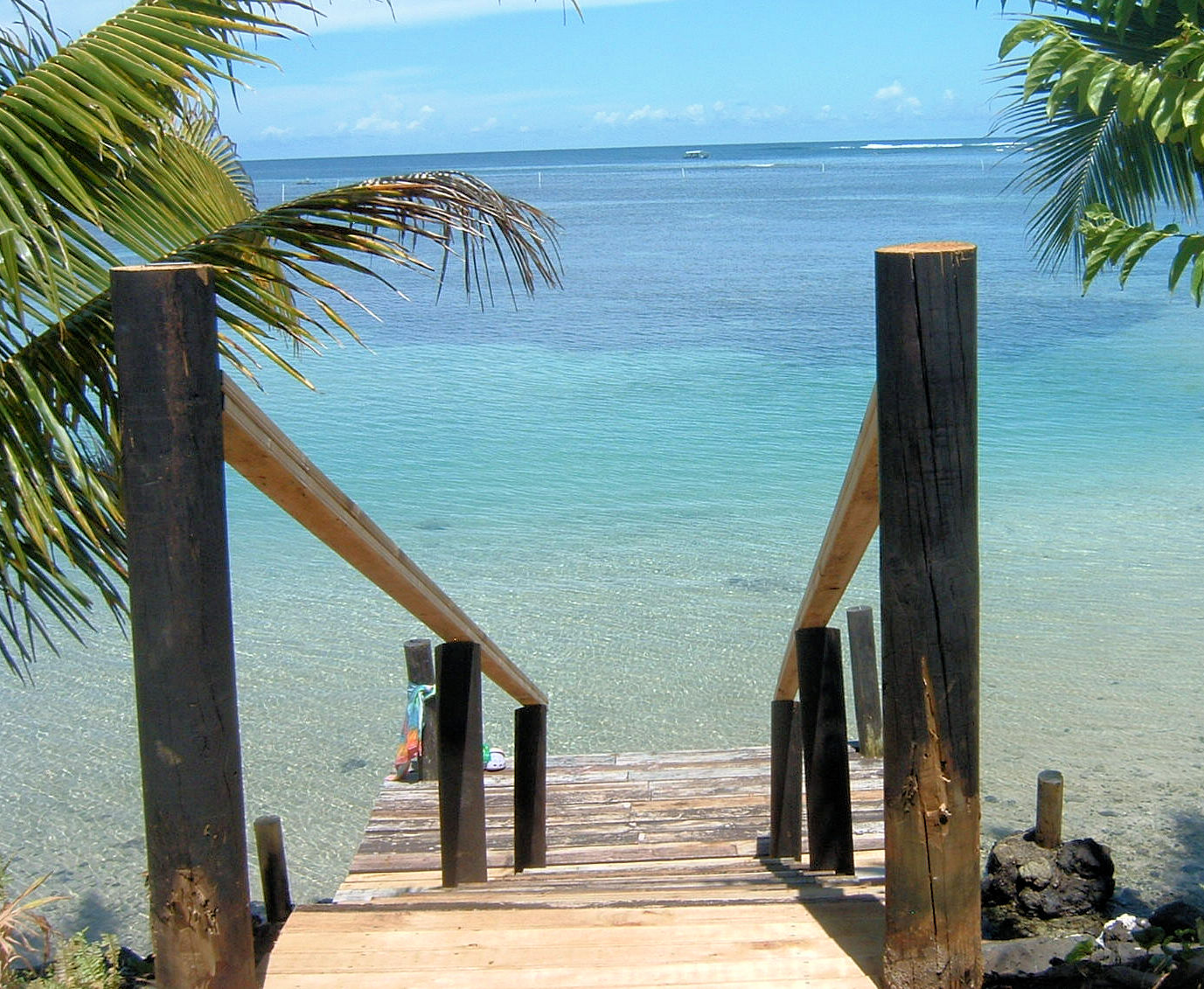 Christine kept prompting me to swim further out into the ocean, but I did not want swim out any further than the DIVE SAVAII boat. I did not follow her out.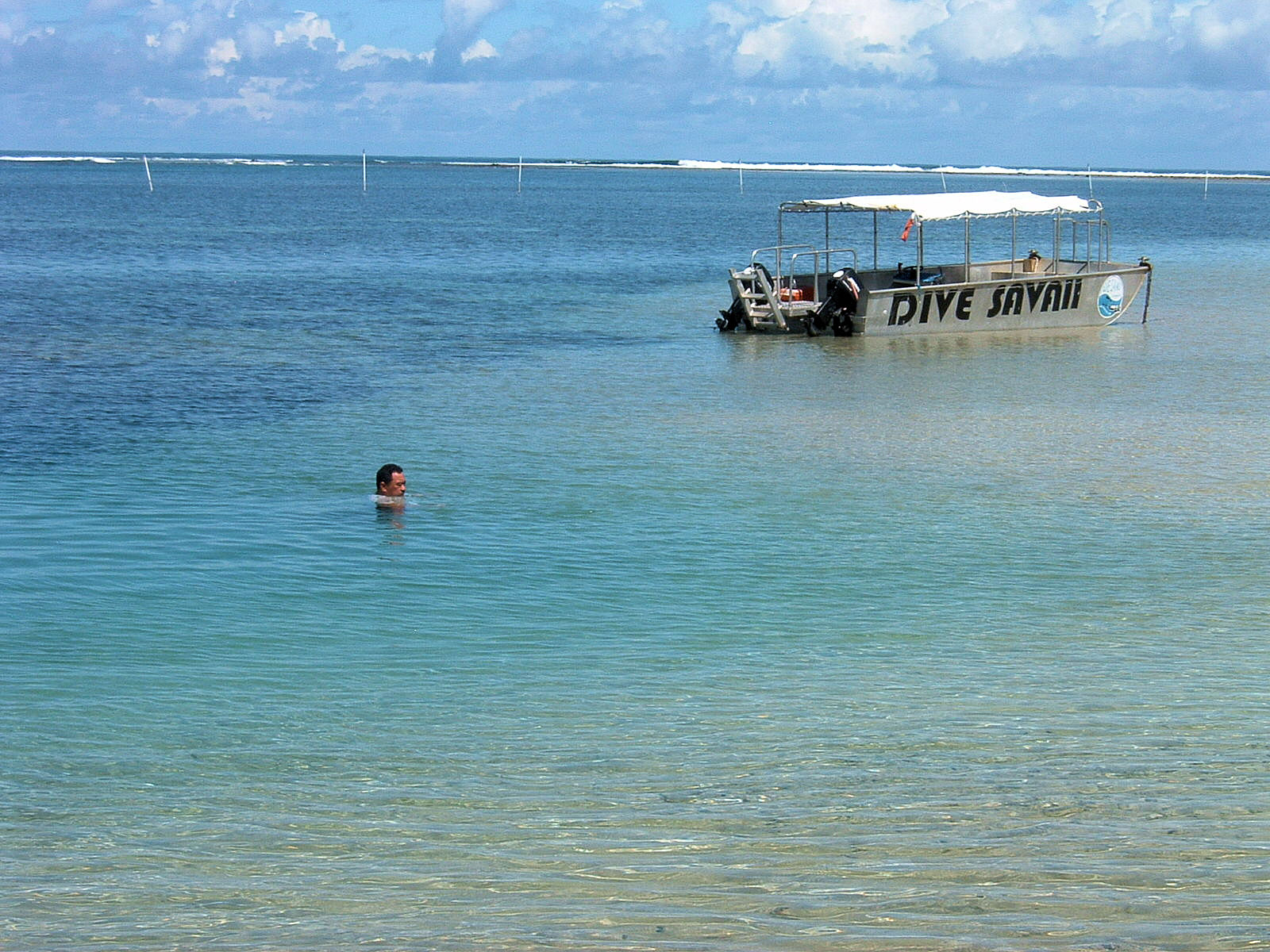 Around the boat I was entranced by these Sea Cucumbers ! Like a million snakes in the water ! A Sea Cucumber is a Sea Snake.
From Wikipedia:
Sea cucumbers are echinoderms from the class Holothuroidea.
They are marine animals with a leathery skin and an elongated body containing a single, branched gonad.
Sea cucumbers are found on the sea floor worldwide. The greatest number of holothurian are in the Asia Pacific region.

Sea cucumbers serve a useful role in the marine ecosystem as they help recycle nutrients, breaking down detritus and other organic matter after which bacteria can continue the degradation process.


Apodida like this Euapta godeffroyi are snake-shaped, without podia, and have pinnate tentacles.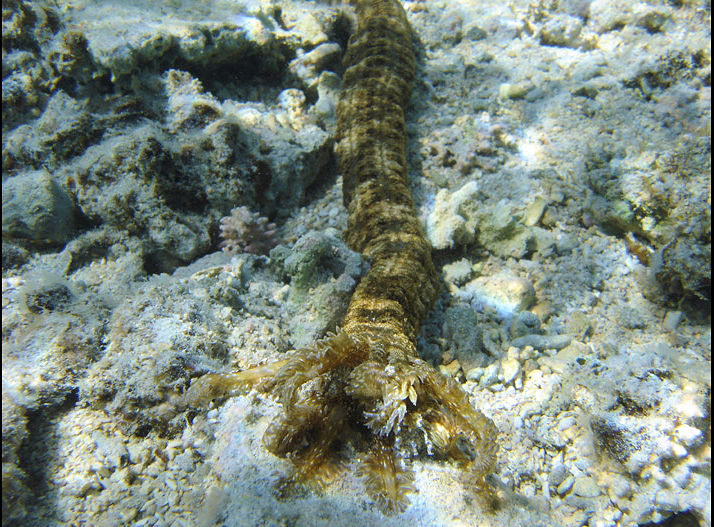 Good night to a beautiful paradise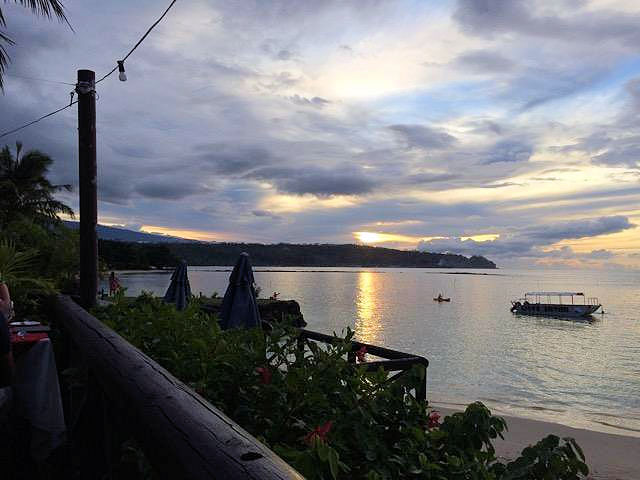 Late morning check out of the resort.
Here is "Mataia Seti Lelepa"
"Mataia" is the title, and "Seti" is his name. He is wearing a "lava lava" (skirt).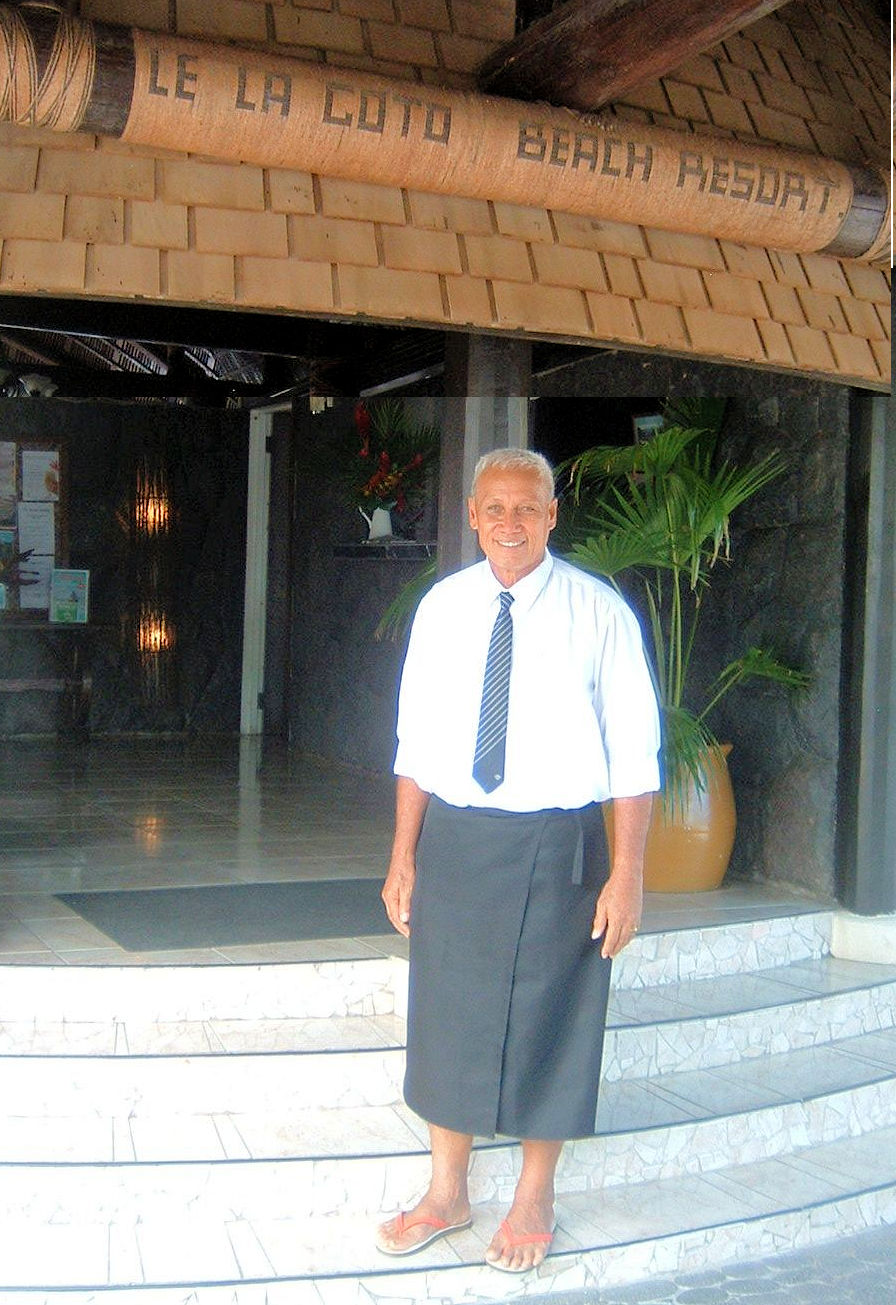 On our drive back to the ferry, we stopped for lunch at Amoa Resort
amoaresort.com
685-53518 on Savaii
It seemed like a very nice hotel. The beach is across the street.
Twice Cooked Octopus was on the menu..... Christine got the Tuna Trio:
Fresh row Yellow fin tuna prepared Samoan (Oko), Hawaiian (Poke), and Tahitian (Ika Mato) style.
Menu is here: http://new-hls.s3.amazonaws.com/hls/data/56/website/resource/files/amoa-resort-menu---summer-dinner.pdf
We also got yummy ice cream shake. What a treat on this hot island to find ice cream.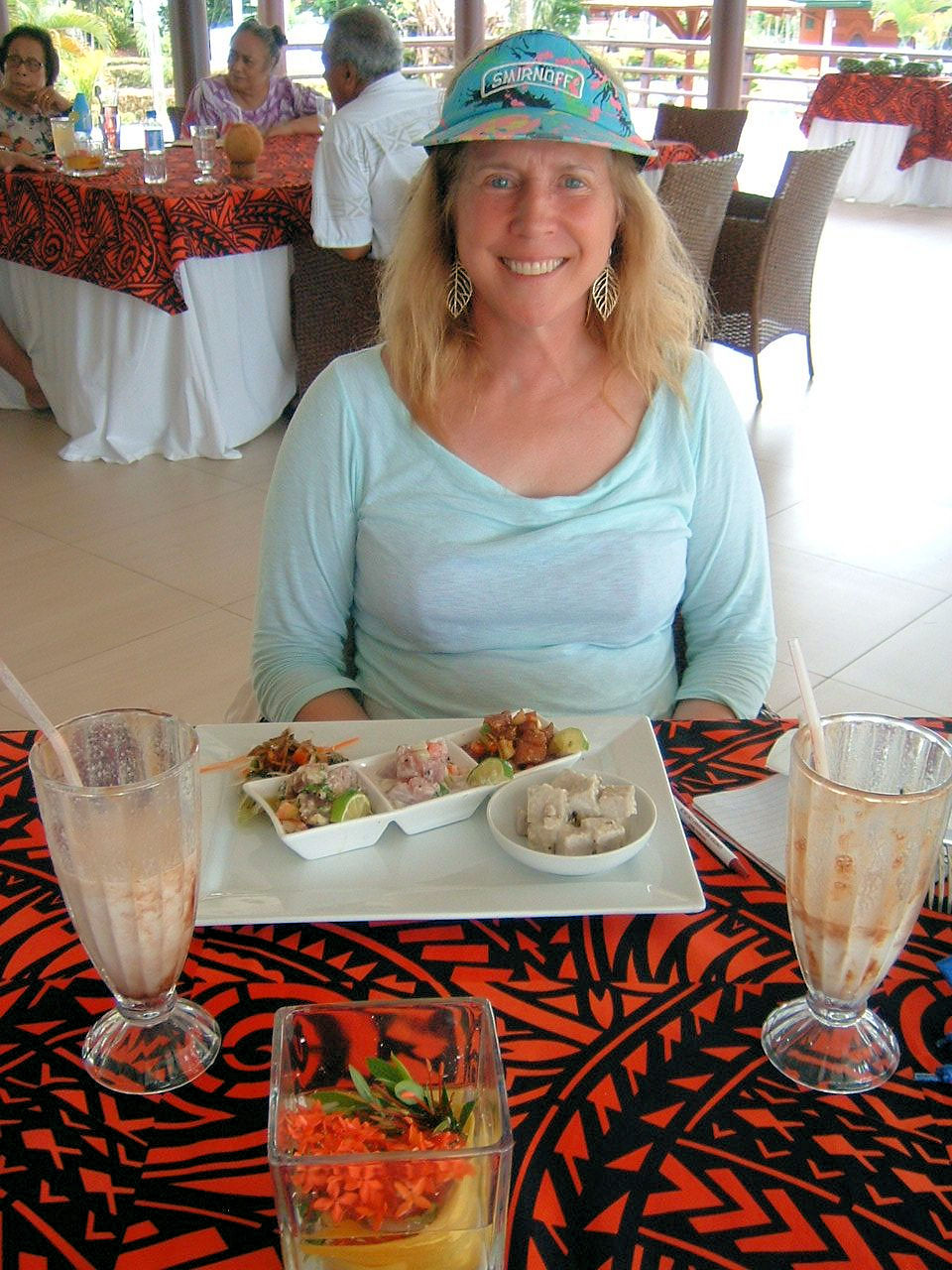 2:20 pm returning rental car.
When we picked up the car, it took 35 minutes to get through the phone line to process Visa.
It took over an hour the return because of the slow/no Internet connection
Finally got to the ferry. It was PACKED full of people and ready to leave the port.
It was very very hot inside. After the ferry moved, AC worked a little.
When we exit the ferry it is pouring rain. Our driver found me, then we found a wet, unhappy, Christine.
45 minute drive back to the apartment in Apia.
For dinner we walked to an Italian restaurant named "Paddles" for dinner.
Along the way I bought some tape for my ripped nylon bag. The tape would hold my ripped bag together for the trip home.
It was a long walk along the edge of the water, near Palolo Deep Marine Reserve. Christine has been there many times to snorkel. From another traveler on TripAdvisor:
Palolo Deep Marine Reserve Address: Apia Harbour, Apia, Upolu, Samoa Phone Number: +685 72 65289
Its not well sign posted and is very much a local run attraction, the snorkelling gear was in poor condition.but. It's very cheap, closer to town and the snorkelling is amazing. You only need to swim out about 100 metres to see beautiful corals and fish. It's a real treasure Really worth the $5Tala ! Make sure you have reef shoes as the coral is sharp when you walk out. we went at low tide on a day when it was overcast and windy - results were still excellent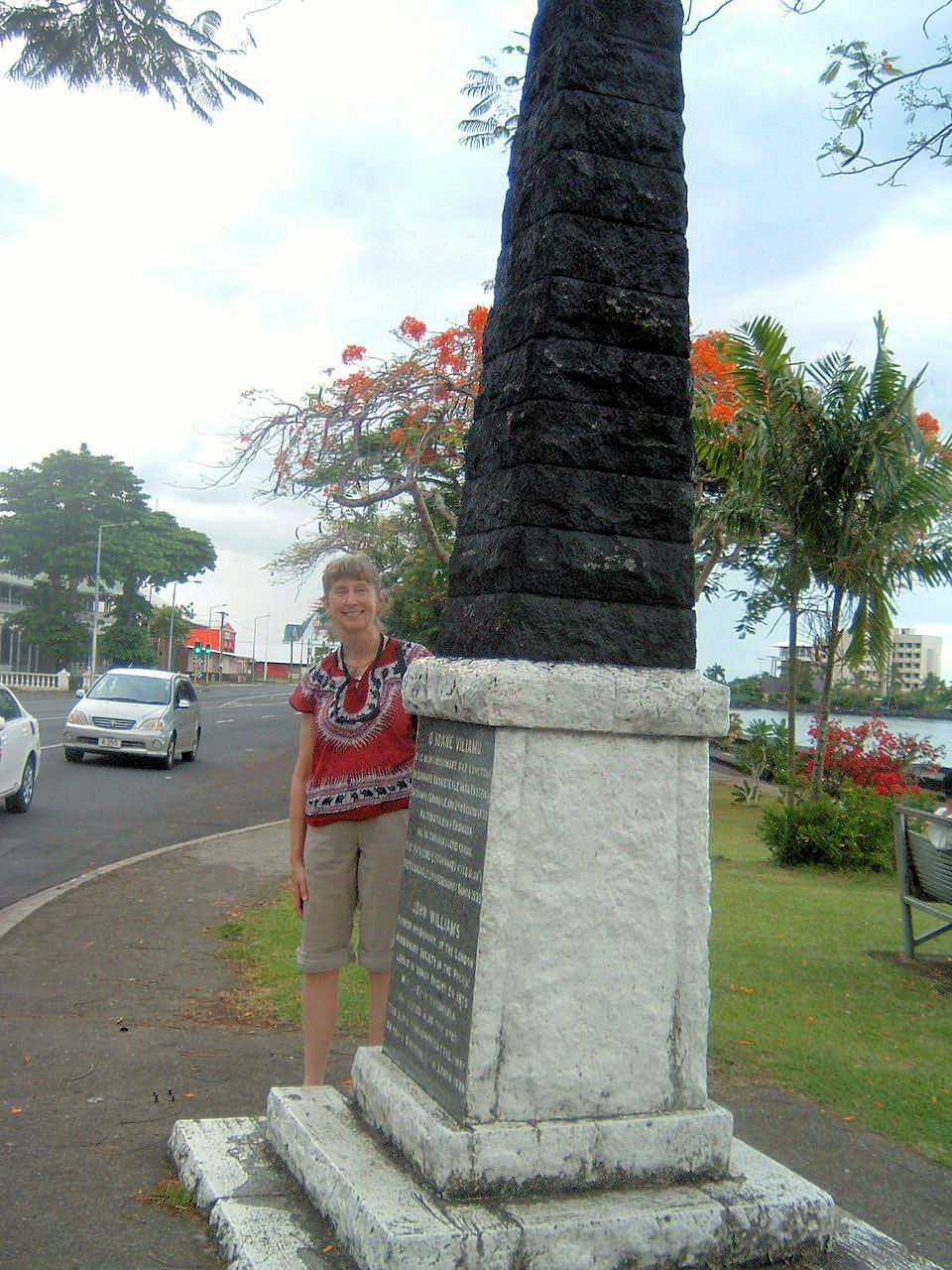 On our walk, we found a short cut, I think it was right through the Samoa Cultural Village Address: Beach Rd, Apia, Upolu, Samoa Phone Number: 68563521
The Village was deserted, but I could see how they would do shows and demonstrations.
Also saw the famous John Williams Memorial
Pioneer missionary of the London
Missionary Society in the Pacific
Landed in Samoa August 24, 1830.
Martyred in erromanica
and buried near this spot
This is one commemorate the first
100 years Christianity in Samoa 1930
The Italian restaurant was closed :( I was disappointed becuase Italian sounded really good. So we took a taxi to another restaurant. We ordered and it took forever to get the food. We were about ready to get up and leave. C was getting many, many insect bites. Odd, I wasn't getting very few.
My last night on vacation. It was a sad day.
Early wake up.
Coffee, cereal this morning.
8 am at the airport for a 10:30 am flight. This place is deserted. But I feel better being here early.
I'm really relaxed now.
C seems to really be having a difficult time adjusting to some things here. Westerners are hugely disillusioned about S. Pacific islands and the type of life of the local people. C is living it and seeing and observing how different. Well, she even sees different in US. Very driven, intense. Has a conscience. That is not always a good thing.
Yup. good decision to come early to the airport. I need some quiet. She was such a wonderful hostess.
3 hour flight Apia to Nadi. Get passport stamped. Get suitcase (they made me check it).
Info booth had a transfer lounge. 5 minutes away. Air conditioned. Relax. I'm sold.
Apia to Los Angeles
Flight 1 Mon, 28 Nov 2016 confirmed
Departure: 11:35 am Apia, Samoa (Independent State of) - Faleolo International
Arrival: 13:40 (1:40pm) Nadi, Fiji - Nadi International
Flight time is 3 hours Seat 4a
Airline Fiji Airways FJ 254 Aircraft: Aerospatiale/Alenia ATR 72
Class: Bula Specials/Economy Restricted
Baggage: 1 piece(s) per traveller
Change of plane required. Time between flights : 8hr:00min.
In Fiji there is a Transit Lounge close to the airport. Airconditioned, comfortable. FJ $39 per person http://www.rejuvenationcentrefiji.com/
I had a great meal at the cafe.
Flight 2 Mon, 28 Nov 2016 confirmed
Departure: 21:40 (9:40pm) from Nadi, Fiji - Nadi International
Arrival: 11:25am Los Angeles, USAa - Los Angeles International, Terminal B
Flight Time is 10 hours 45 minutes Seat 30 A
Airline Fiji Airways FJ 810 Aircraft: Airbus Industrie A330-200
Class: Bula Specials/Economy Restricted
Baggage: 1 piece(s) per traveller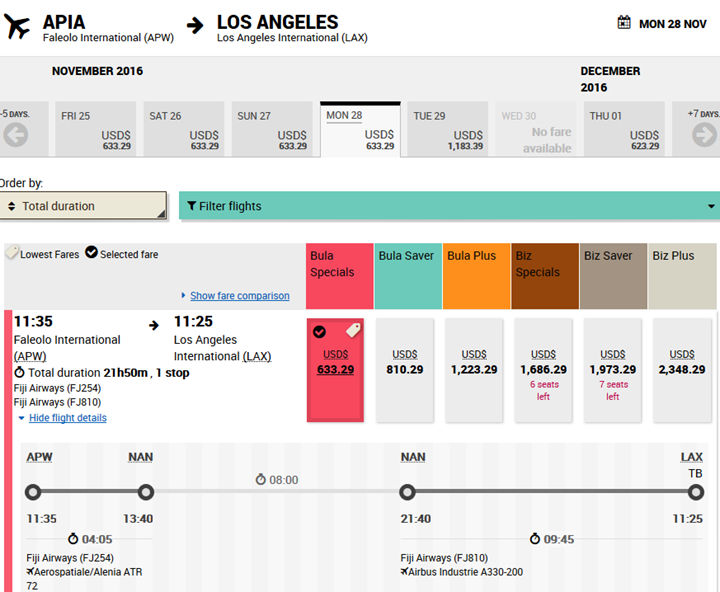 Nearing the end of the 10-hour flight to LAX, they announce the date and time. It is Tuesday. What? No! My flight home isn't until Wednesday. I screwed up and didn't even think about the International Date LIne. I lost a day flying to Samoa, I gained the day back today. But now I don't have a flight to Atlanta!
I had to change flight plans. That's part of the adventure.
Tue, 29NOV DEPART DELTA 1554 LOS ANGELES, CA 3:15pm
ARRIVE ATLANTA 10:20pm
Here are some Other things to do in Samoa


Baha'i House of Worship, Tiapapata, Samoa
Address: Cross Island Road, Apia, Upolu, Samoa

Phone Number: (+685) 20385
Beautiful grounds in a nice location. But the closer you get to the building the more obvious it becomes how run down it is. Have a look at the architecture, but don't spend too long.
Tafa Tafa Beach
Address: Apia, Upolu, Samoa

Phone Number: +685 41736
$20(tala) to park your car up and another 30 each to use a Samoan fale.
We go to this beach almost every time we go to the beach. Its affordable and its safe for kids. bathroom and shower amenities available.And you can take your BBQ stand and hava picnic or celebrate a bday.
There are so many beaches in Samoa and this one is lovely. We only had a short stop but it is ver clean and safe water. Restrooms are clean and people were lovely. Just remember in Samoa, if you stop and park the car, you will be asked to pay. If you use the beach, again it is customary to pay - this is how the villagers survive and it is not too much. If you don't want to pay, then don't stop.
If you need to have a quick dip and dont want to wind your way down a long road to the coast then Tafatafa Beach Falealili is for you....turn down the road on the corner by the Mormon Church where there is a sign with Brenda's Beach Fales and turn left at the end of the road to the fales on the farthest to your left...that's Aunty Mago's Beach Fales....pay for your car and then claim possession of a traditional Samoan fale...mat and pillows included and the warm welcome of the owner Aunty Mago who after many years in Auckland has returned to retire and make people happy at the beach...easy effortless Samoan hospitality at its best...or stay the night mosquitoe net complimentary....
Lefaga Beach
This place is beautiful it's about 35mins from Apia town. We went to the beach here called Matareva it was beautiful. To get in though you have to pay $20 Tala for the car and then $5Tala per person and the beach fale is free. If there's a big group they might offer you a discount. But it's definitely worth it
We loved this place, it was a beautiful day & the water was stunning. Surrounded by palm tree's and in a small, quiet village. 10 Tala to see the clams, 10 Tala to hire a snorkel & 5 Tala to park but well worth it. The snorkelling was great anyway, lots of fish & of course the clams were awesome
Ideal untouched beachline that shows such a beautiful part of the coast. Mostly unspoiled which is rare these days.
Gift & Specialty Shops (5) See all 5 Gift & Specialty Shops, including Plantation House Samoa , Janet's, Mailelani Samoa
Surfing, Windsurfing & Kitesurfing, including Manoa Tours, Watersports Day Tours
Outdoor Samoa Limited Address: Airport Lodge, Mulifanua, Apia, Upolu None, Samoa

Phone Number: 68545991
We hired our bikes from Outdoor Samoa and did a self guided ride around Savaii. I must say that we couldn't have wished for better assistance, suggestions and guidance from Ross and Frances - a fabulous holiday with help from a fabulous couple. Bev
The Vanya Taule'alo Gallery
Address: Mulivai Lane, Siusega, Apia, Upolu 685, Samoa

Phone Number: +685 77 72993
This gallery, which is only a 5 minute drive from down town Apia, is a real must for tourists. Close to the Taumeasina resort, it has a lovely outlook over the lagoon from the outdoor cafe, which is a pleasant stop after purchasing some treasures from Vanya inside the gallery. This gallery showcases the best of Samoan art and craft....
Museum of Samoa
Address: Malifa, Apia, Upolu, Samoa Phone Number: 26036
Museum contains some interesting but limited items. It is small and you have to explore it on your own. We did not see any person or staff around - and had to keep trying to open doors in order to find out what to see.
This museum is free and the 4 galleries are full of information, artefacts, video and photographic displays about the history of Samoa and also its culture. This is the official national museum, no gift shop or promotions thank goodness
EFKS Museum
Address: Main West Coast Road, Malua | P.O Box 468, Apia, Upolu, Samoa

Phone Number: 658-42967
Situated about half way between Apia and the International Airport
If you have an hour to spare please visit this wonderful museum, the entranceway is enhanced by magnificent wood carvings and in the museum the fine art students have displayed marine and land exhibits. Endearing guide explaining it all with a very reasonably priced entrance fee, the place is being expanded and needs every tourist tala it can. I urge you to visit.
This place was a strange one, it wasn't exactly as we'd thought it would be- we were expecting more history but it was purely artwork. Don't get me wrong the artworks were amazing, we loved seeing them. Unfortunately you had to pay an extra 20 Tala on top of your entry fee to take pictures (maybe they'd sell more if they allowed you to take pics & advertise for them on social media?) A nice stop if you're going past.
Fugalei Market
Address: Apia, Upolu, Samoa
Loved this market and the people are really friendly. If you are going to feed the turtles, this is where we stopped so we could buy papaya. Cost $1 Tala for small or $2 Tala for large papaya. Tell them you are going to feed turtles and they will cut them appropriately for you so you can hand feed
Falefa Falls
1 Theater & Performances, including Fiafia Night , 2 Boat Tours, including Manoa Tours, Watersports Day Tours
4 Sightseeing Tours, including
Polynesian Xplorer , Address: Malifa, Apia, Upolu, Samoa

Phone Number: +685 26940
The owner of Polynesian Xplorer, Francois Martel, met my husband and I both on Samoa and Western Samoa to introduce us to our tour guides and check one last time about exactly what we wanted to see. Both days were perfect!!! The guides were so knowledgeable and touring privately without climbing on and off buses with the crowd from the ship is so worth it
Samoa Adventure , Address: Apia, Upolu, Samoa

hone Number: +685 77 83280
All guides were very knowledgeable, especially Fusi, Joe, and Chief Tupu. We learnt so much about the Samoan culture and way of life. For the crater lake hike, take plenty of water and wear old hiking boots - quite muddy, steep climbs, but well worth it.
Oceania Travel Address: Beach Road, Sogi | Kitano Tusitala Hotel, Apia, Upolu, Samoa

Phone Number: +685 24443
Several bad reviews and this one
Sulu at Oceania Travel helped our group organize a sometimes complicated schedule with patience and insight. She was able to arrange everything from overseas prior to our arrival. Her local knowledge allowed us to visit 3 different islands, tour 2 of them with organized tours and sleep well every night.
The local tours we took in both Samoa & American Samoa were led by local guides, Sam & Vanessa respectively, who both took pride in their islands, history, and culture. We learned and saw more than we could have on our own.
Sam (Isama) -

Sunday we took Sam's Church tour. This was an uplifting insight into the role of religion in Samoan culture. We started by seeing the laying down of the umu for Sunday dinner, then went off to a village church service. We were welcomed there by the pastor and made to feel part of the service. We were particularly fortunate in that it was a service to celebrate Father's Day. Afterwards, we went to a Samoan house to share to share sunday dinner. Most Enjoyable
Samoa Scenic Address: Apia, Upolu 669, Samoa

Phone Number: +685 26981
This tour company will show you some great sites and the experiences are worth the money but there were a few unpleasant things that should be mentioned
Manoa Tours, Watersports Day Tours

GREAT REVIEWS
Address: South Coast Road, Apia, Upolu, Samoa

Phone Number: +685 77 70007
Whether it is snorkelling, turtle tours or surf that you are after, Manoa Tours has it all covered and will make sure the whole family has a great time. I can't recommend Neil highly enough.Neil (excelent guide for surfers) will hunt down a secluded swimming spot for the family or a great wave for a surf, with excellent knowledge of local reefs, tides
Tiapapata Art Centre
Address: Apia, Upolu, Samoa

Phone Number: 6857519273
We were invited to a concert here and had the chance to look at the fabulous art as well as the traditionally built meeting house. This is a great resource for Apia and it's beautifully cool in the hills behind the city. We really enjoyed ourselves and thanks so much for the wonderful hospitality. The artworks are very reasonable too - would make a great souvenir of a visit to Samoa. Would be perfect to combine a visit with the walk around the Bahai Temple
Salamumu Beach
Address: Main South Coast Road, Apia, Upolu, Samoa
Along a dirt road off Main South Coast Road, you come across a beautiful stretch of water, and the pretty Salamumu Beach. Lovely snorkelling spot, and apparently good for serious surfers as well. We spent about an hour swimming and snorkelling, saw some pretty fish, coral mostly dead, but enjoyable none the less. Clear water, enjoyed very much.
Falealupo Canopy Walk
Address: Falealupo Village, Savai'i, Samoa
It costs $20 tala pp to enter, for less than 20mins entertainment. Tree is massive and tall, spotted a beehive on it too. The view at the top of the tree is meditating.. think about the admission fee as donation to the village then it might be worthy
Savaii does not offer a lot of "tourist attractions" so you need to be careful not to be underwelmed and accept things like this for what they are....a good attempt by locals to offer something different. Away from the beaches it gives a great view over the tree tops & in land.
The tree walk is not that long ... Probably the length of the climb up the trees and down again. The construction is safe enough but sufficiently of concern that it just adds to the buzz you get taking those risks. The view at the top platform (which is a further climb above the swinging walkway) is above the surrounding canopy. None of the attractions on Savai'i are expensive. It's worth the 20 minute diversion.
Giant Clam Sanctuary
Address: | Le Valasis Beach Fales, Savaia, Upolu, Samoa
There is a short cold swim out in this reserve to a much warmer area in the water where giant clams are thriving. They were easy to find and there were lots of them in all different sizes up to about a metre large. This was an awesome discovery with no other tourist around. Highly recommended.
Well worth a stop over if you are driving around Upolu. No frills, but a treat to see the giant clams - what a beautiful species. A UN supported conservation project. Get changed in the host facilities, then walk to the shore and a local guide will swim with you out to the sanctuary. Float around looking down at the colourful clams. Observe how quickly they can snap shut their huge shells. Keep your ankles well clear. While swimming around, there is some other coral around too and plenty of colourful fish. Then swim back to shore, get changed and continue your journey
This place is wayyy cool. I've never seen so many giant clams in one place before! Truly amazing. Two tips:
1) Check the tides. You can google tides in Apia. You want to aim for high tide so you can swim above the clams. Low tides = no visit. So do your homework!
2) Location. The giant clams are located in Savaia - Southwest coast of Upolu. There is NO sign for the giant clams whatsoever so lookout for the sign below. That is, drive towards Savaia village and when you see the sign below, STOP. You park your car to the left of the sign and the house immediately behind you is the "village house" responsible for collecting your fee. You pay the owner of the house 20Tala and she/he will direct you to the giant clams.
This page and all other pages in the http://www.mytrips.com web site, along with the journals, images, and photos are Copyright © 1997-2018 by Suzanna Travels. All publication rights are reserved. Email: web@ mytrips.com Remove the space after the @