SUZANNA Does DISNEY!
Animal Kingdom | Epcot | Magic Kingdom | MGM Studios
TIPS:
The hours that each park is open is different every single day.

If you like Cajun, drive to Jockamo's in Orlando. It was the best New Orleans cooking that I've had.

They keep their costs down by using

cardboard tray

s

and throw-away containers. There are not glass glasses, so you have to

drink

the Mississippi Mud (like Guinness) out of the bottle. I got the seafood sampler for $7.95.

Note Janary 2012, looks like they ar out of business -

www.jockamos.com

domain is for sale...

.

We stayed at Holiday Inn inside the WDW Resort. 1805 Buena Vista Blvd. Lake Buena Vista FL 32830. (407) 828-8888 or (800) 223-9930. $64 a night with the Entertainment card. Great location because it's the first stop on the Disney shuttle bus and within walking distance of the Downtown Disney. Use the Mears shuttle (407) 423-5566 from the airport RT was $29.

Fastpasses - USE IT! It's free. It gives you a reservation to ride the most popular rides in the park. Put your Disney ticket in the machine and you get a fastpass ticket. The wait was 60 minutes at the Norway Maelstrom, so at 4:13 we got a fastpass that says: "Enter any time between 4:50 pm and 5:50. Another Fastpass ticket will be available after 4:55 pm." You can only have one fastpass at a time. And they run out of fastpasses so don't wait till the end of the day. Why were those (stupid) people standing in that (hot) line?
---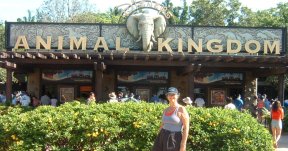 Animal Kingdom
The famous TREE of LIFE with 300 animal images.
The "Tough to be a Bug" show was definitely worth seeing.
I let out a gasp and a scream more than once because of their well-done special effects.
They call it 3-D, but I would say it's 4-D like the Busch Gardens show.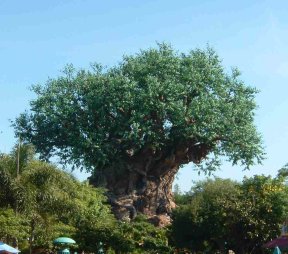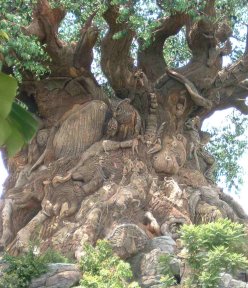 Check out this attention to detail. This is a photo of the tile on the bathroom floor. There's bugs on the floor!
Kali River Rapids. Similar to 6 Flags Thunder River and Busch Gardens Congo River Rapids. This Kali ride had a place in the middle to put your stuff that you didn't want to get wet. The others need to add this great feature. Disney did a superb job with great attention to detail to add Hindu shrines and effects to make it seem like Asia. By the way, the real Kali River is in the southern Indian state of Karnataka. The river in India has a nauseating stench from the canal that flows from the West Coast Paper mill to the Kali, through the middle of the town, has made the life of the people unbearable. I'm glad Disney didn't duplicate the true aspects of the real Kali river.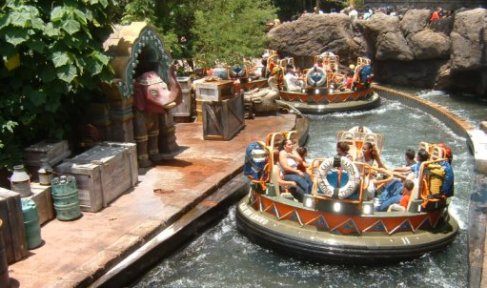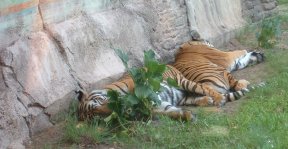 They did such a great job duplicating the same environments in other part of the world. I know, cause I've been there. This is more colorful, but very similar to structures in Cambodia: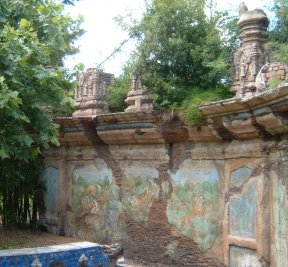 OK, this was sad, sad, sad. The Wildlife Express Train took us by about three sets of buildings that looked like this. We could see inside where the animals were being kept. Maybe Busch Gardens had a similar place, but they sure didn't show it off like Disney. In my opinion, Disney needs to re-route this trains so tourists DO NOT see these awful cement buildings where wild animals are caged. The train took us to Conservation Station which was very interesting.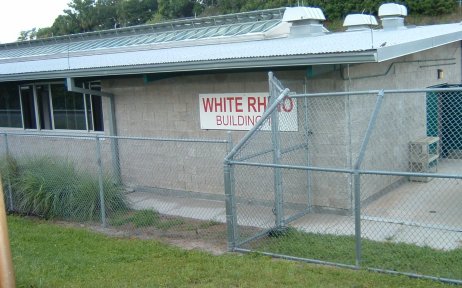 Dinosaur! You're in a time rover and you go back 65 million year. The left side is better.
Kilimanjaro Safari - We saw hippos, zebra, giraffe. The most amazing thing to me was the Bayobob Trees. These trees in Florida looked like 1400 year old tree that I saw in Zimbabwe. I don't think they are native to Florida.. did Disney go to the expense and risk to transplant these amazing trees?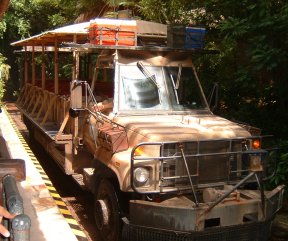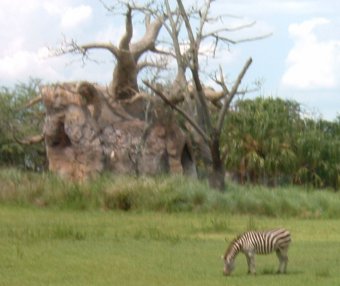 ---
Norway Maelstrom is a fastpass ride. I'm not sure why. Its a high seas Norwegian Adventure. Its a water ride like Mexico, or I prefer the water ride at The Land -it's a lot more interesting.
Mission: SPACE My RC rating *****
Very amazing new ride in 2004. Four people per "shuttle". You can't reach the controls when you get in, but they move toward you and close you in. Cool air blows directly on your face. Barf bags are available on the control panel.
There are four positions in the shuttle: Navigator, Pilot, Engineer. They want you to listen to the program and concentrate on the buttons and push them when you're told. You really get that shooting up sensation, NOT a spinning-around feeling (like the preview shows). You are watching a monitor directly in front of your face. You blast off from Earth, loop around the moon, head towards Mars, go into hyper-sleep, land on Mars and come home. Its quite a trip.
Be careful about riding this one. Heed the warnings! We did it after a 10 hour day and it tossled my stomach.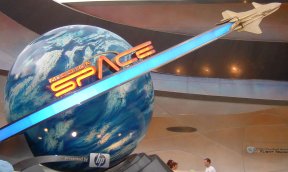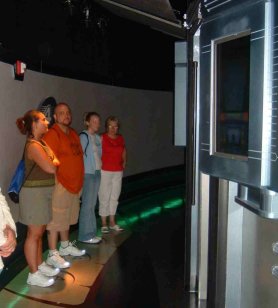 IllumiNations: Reflections of Earth - Music, water, laser and fireworks. Followed by more fireworks because it was July 4.
---
open 8 am to 12:30 am on July 4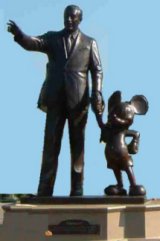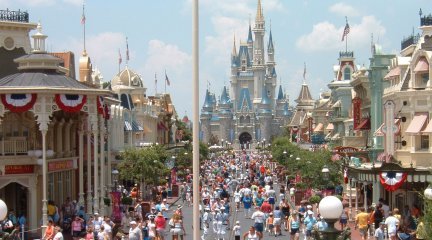 | | |
| --- | --- |
| Make no mistake - This park is for kids. I took this pix in FantasyLand in front of the new Mickey's PhilharMagic show. | |

Space Mountain. My RC rating **
At noon I got a Fastpass and got a 1:30 reservation to ride. At 1:30 the reservations were for 4:30. This ride is definitely showing it's age. It's a steel track coaster, but it's a rattle-the-bones feel. It's dark, but you can see where you're going if you're in the front.
In 1977 and it was 2 pairs of passengers per car. Rear person had to straddle to other person can sit in front. A big belt went around both of you. Now it's 3 people per car with a restraining bar that latches down on your lap.
Pirates of the Caribbean - This scene is also in the movie!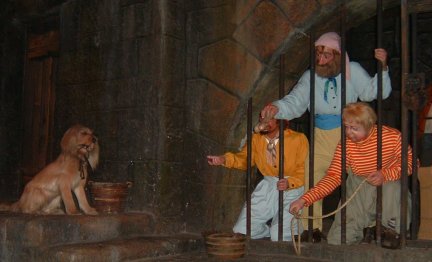 ---
Tower of Terror (what a build-up of marketing and a so-so ride) and the RocknRoller Coaster (My RC rating ****).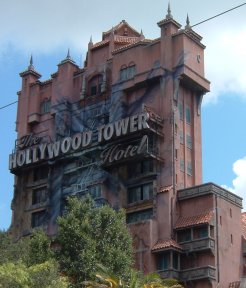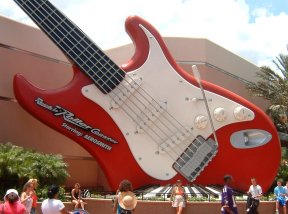 Tower of Terror My RC rating ****

This is how you are seated in the Tower of Terror ride.

You drop from 4 to 120 feet. It's a smooth drop and you bounce so it's not jerky.

The ride is different every time.

Starwars My RC rating **

This is how you are seated in the Star Wars ride. Very rough ride - rattles your bones!
In Downtown Disney, go to Wolfgang's restaurant and get the 24 carrot gold cake.
THE BEST that I ever eaten in my life! It also bought 2004 Olympic pins that I took to Athens, Greece in August!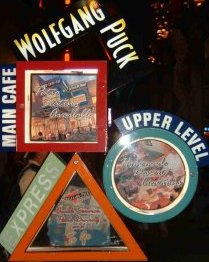 This page and all other pages in the http://www.mytrips.com web site, along with the journals, images, and photos are Copyright © 1997-2018 by Suzanna Travels. All publication rights are reserved. Email: web@ mytrips.com Remove the space after the @