6 Flags Coasters
Between March and September I went to 6 Flags over Georgia ten times with various family members and friends. What a thrill. It's also a great place to get some entertaining exercise walking around the park. I listed my favorite rides in order below. My comments and ride tips are in italics. BIGGEST TIP on this page: Pay the extra money and get the Q-Bot (now called "Flash Pass"). It gives you an exact time when to ride so you do not have to stand in any lines!
Also see Roller Coasters at Busch Gardens Tampa, Disney, Universal Studios, and Universal Islands of Adventure.
MINDBENDER My RC rating ****- I Love this ride! 2.5 minutes of FUN. This is the world's first triple-loop roller coaster (two are vertical). It travels up to 50 mph. Relax and enjoy this one.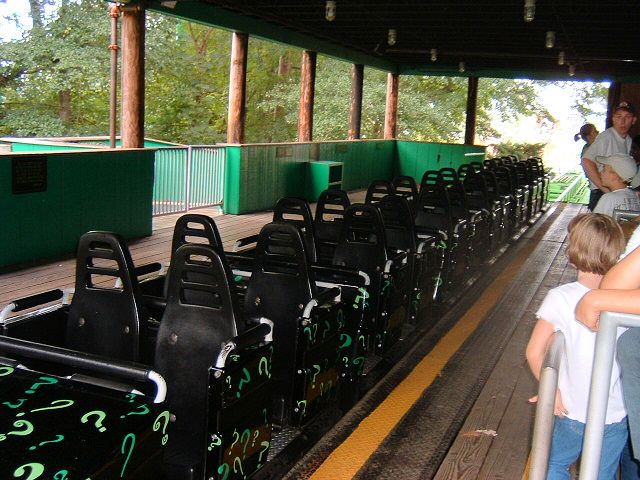 BATMAN - My RC rating *** A suspended looping coaster with 2 vertical loops (77 feet and 88 feet tall), 2 single corkscrews (each 40 feet long) and a one-of-a-kind heartline zero-gravity spin producing a feeling of weightlessness and nothing but air beneath beneath your dangling feet.
Superman was my favorite until I rode this one. Batman has a wilder flying path - more twists and turns.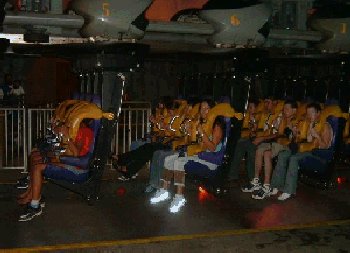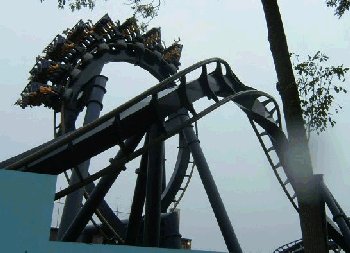 SUPERMAN ULTIMATE FLIGHT My RC rating ***** - GREAT!! Quite the 3-minute thrill ride. You fly face-first through twisted steel track including a series of sharp dives, high-banked curves and a 78-foot pretzel shaped inverted loop, a 360 degree in-line roll at speeds up to 60 mph. I fly in my dreams A LOT. The flight in this ride was truly as good as my dreams!
You are facing the ground as you start this ride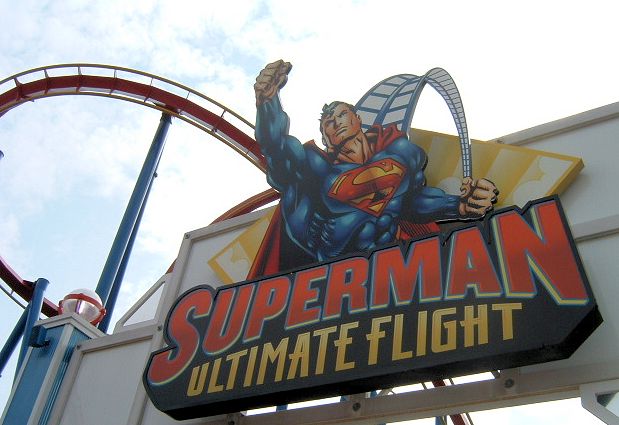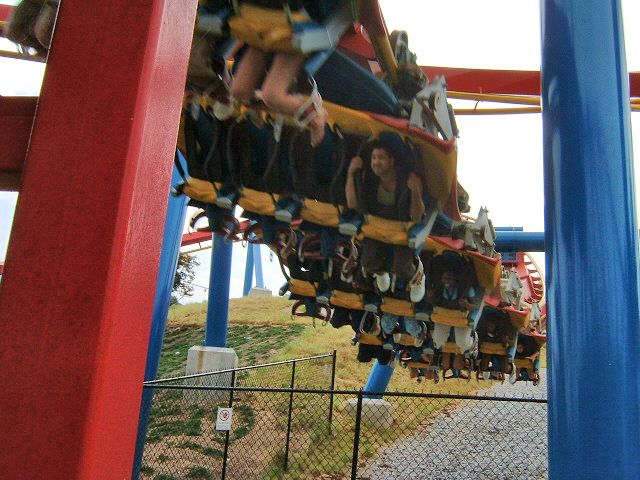 I took this photo from the ground looking up
I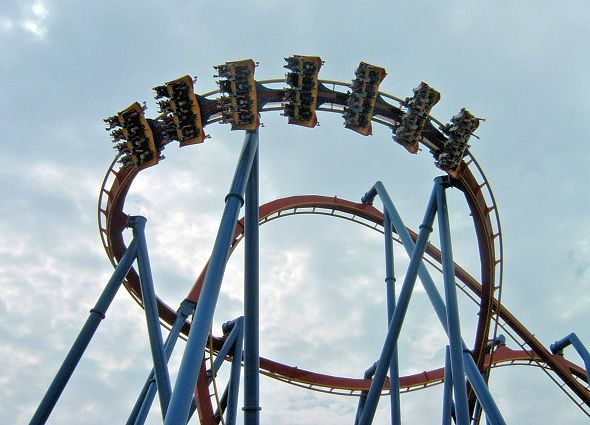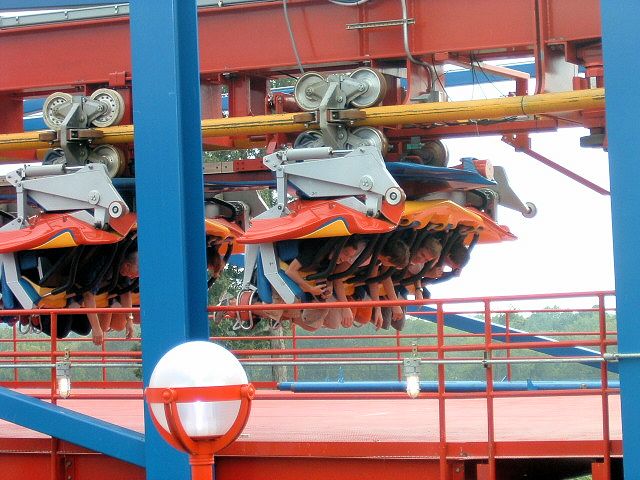 SCORCHER - My RC rating *** You are standing as you blaze through loops, high speed spirals and a figure eight that produces up to four Gs. What a cool change to be standing on a roller coaster.
Check it out - NO LINES!

WHEELIE - Gondolas that rotate to a high speed then lift to a vertical position.
This is my picture taken in 2003. This ride is gone.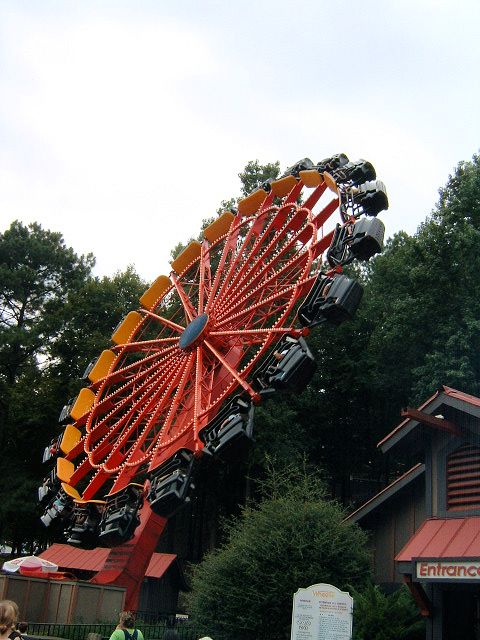 ACROPHOBIA - My RC rating ***** "An abnormal dread of being at a great height." This is a 200-foot rotating tower drop ride. You are standing with your feet dangling and they till you OUT before you are dropped for the 161-foot plummet. This one is a REAL thrill. Don't confuse it with Free Fall (which is a so-so thrill compared to this one.)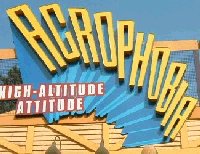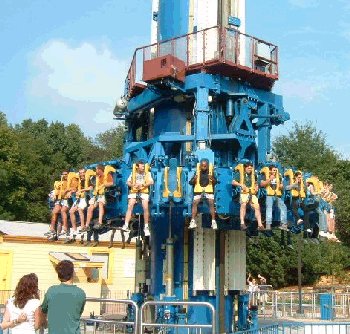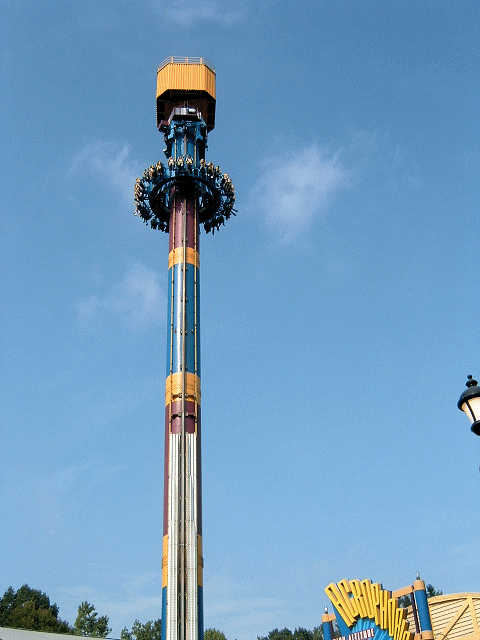 FREE FALL - My RC rating ** Recreates the sensation of falling off a 10-story building. Make sure you hold your head up at the end of this one.
This is my picture taken in 2003. This ride is gone.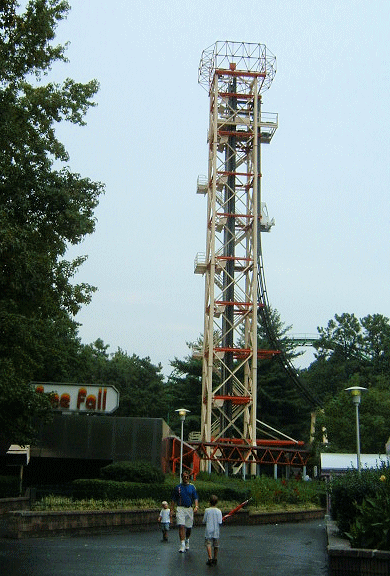 Deju Vu - You are totally vertical facing down, the vertical facing up. The very first drop is the absolute best. The rest is ... fun.
This is my picture taken in 2003. This ride is gone.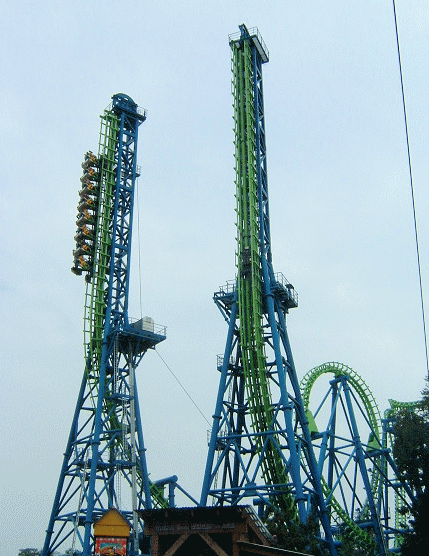 NINJA - My RC rating ** 1.5 minutes of speeds up to 55 mph. The train swing freely from side-to-side a total of 180 degrees through spirals and sharp turns. This is huge coaster in a small space. I don't like this one - it rattles the bones just a bit.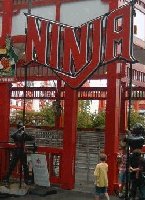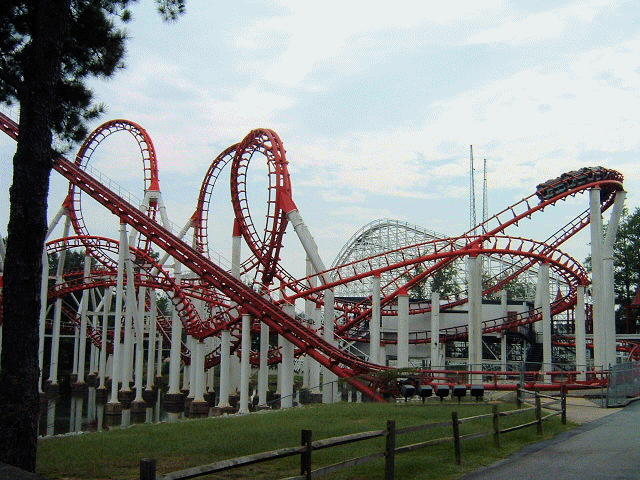 In 2016 the Ninja reopened as "The Blue Hawk". I will ride this coaster now - more comfortable padded cars and a bit smoother ride, but still jolts you a little.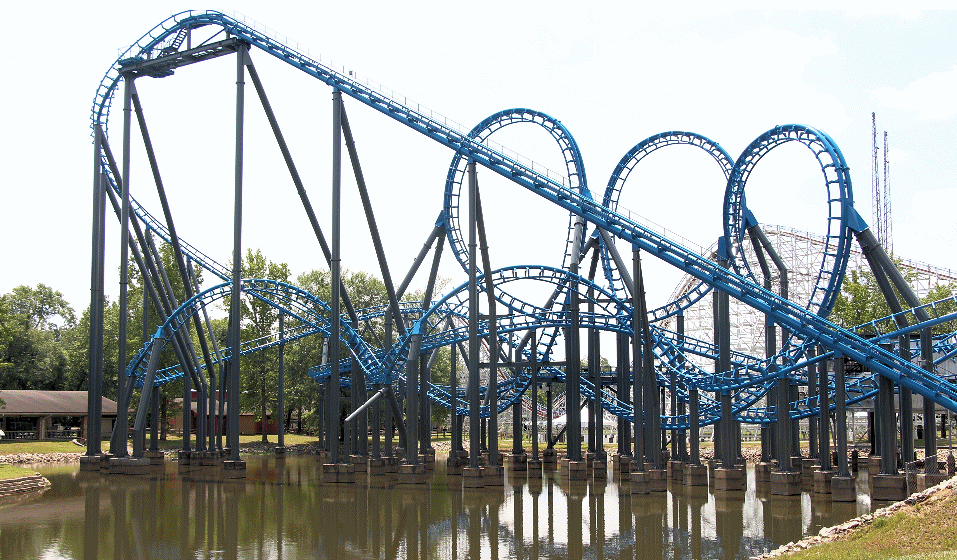 LOOPING STARSHIP - My RC rating **** A shuttle that suspends you upside down. This is controlled swing so it doesn't really take your stomach away. It is NOT a free swing like the (now gone) Pirate Ship. I love the slow upsidown sensation. Make sure the change in your pocket doesn't come out! This is my picture taken in 2003. The Looping Starship ride is gone. In 2016 they opened "The Joker"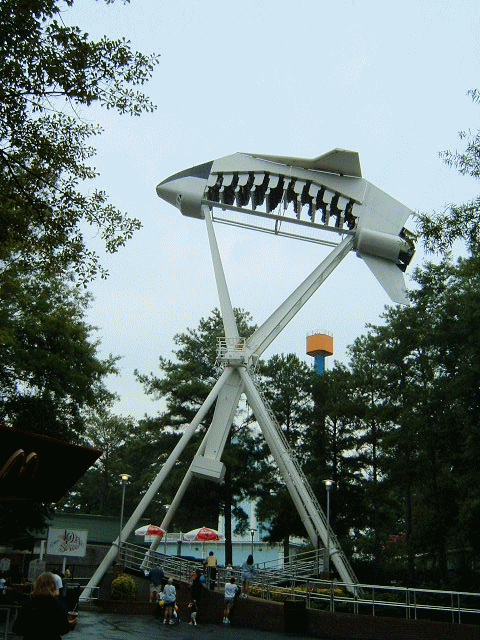 The JoKER: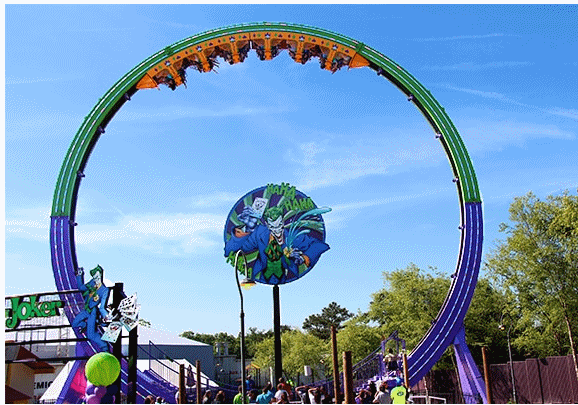 THUNDER RIVER - White-water rafting adventure through roaring rapids. If you end up going under the falls, if you think fast, you can unbuckle your seat belt and lean forward to avoid getting totally soaked. If you want to get soaked, there's always the DEER PARK PLUNGE and SPLASHWATER FALLS - Watery rides of rapids and waterfalls.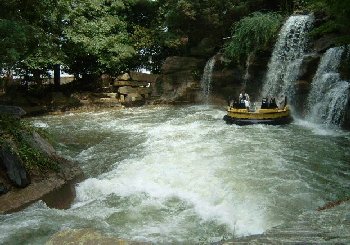 THE RIVERVIEW CAROUSEL - Constructed in 1908. A nostalgic ride and Six Flags contribution to the National Register of Historic Places by the United States Dept of the Interior. This is my favorite horse: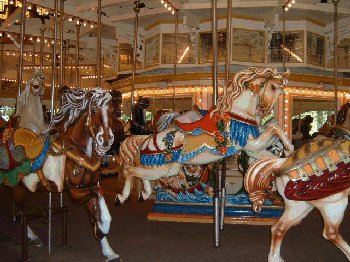 SCREAM MACHINE - My RC rating ** Wooden roller coaster. I've been coming to 6 Flags for 15 years and this ride has really gotten shaky lately. It really jostles your joints. Be careful that it doesn't shake up your inner ear. Also wear a good supportive sports bra.
FEARLESS FREEPS DARE DEVIL DIVE - This hoists you (see black dot below) to a launch height of over 100 feet (where arrow is pointing). You freefall, swooping at 50+ mph just above the ground then zoom back into the air.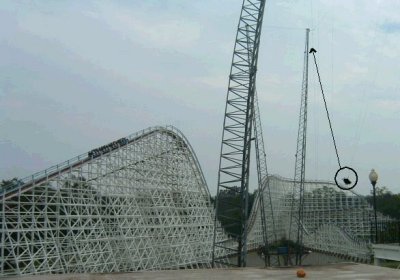 In addition to roller coasters, there are shows and a choo-choo train ride.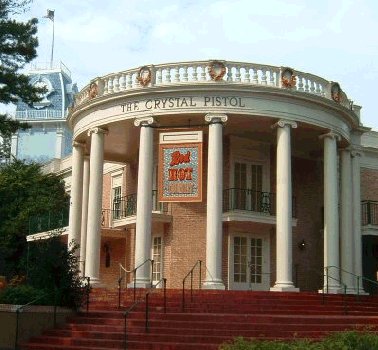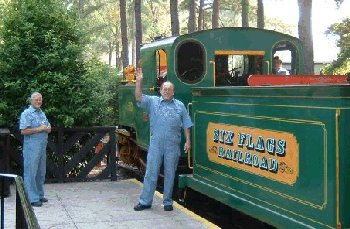 If you're hungry - get a Turkey Leg! Two places sell them in the park. Yum. The Lemon Smooth Fruit Ice Frozen Dessert is the best flavor. Get the Cotton Candy on the stick - the tub is too much.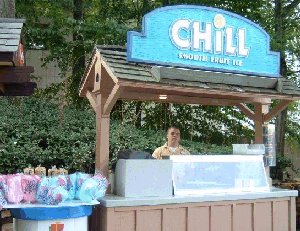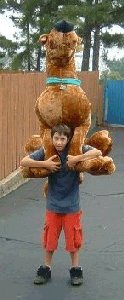 They have HUGE and cute stuffed animals!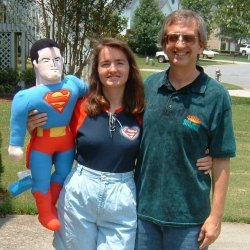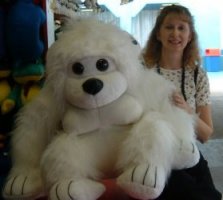 This page and all other pages in the http://www.mytrips.com web site, along with the journals, images, and photos are Copyright © 1997-2018 by Suzanna Travels. All publication rights are reserved. Email: web@ mytrips.com Remove the space after the @