Busch Gardens Tampa Florida
May, 2004 and November, 2004
A fabulously fun day. There were no crowds. I rode all the roller coaster numerous times. We went on the Rhino Rally (10 minute wait) and the safari. Perfect 80 degree day and no rain.
The Atlanta Journal Constitution July 11, 2004 said this:

"The awesome roller coasters as Busch Gardens provide some of the steepest drops and the longest rides in the nation."

I have to agree!

TIPS for Busch Gardens:

Get your ticket on the Internet. We got a season pass for $59. A one-day pass at the gate is $54.
Safari train - Sit on the left side.
Rhino Rally ride - Sit on the left side.
Python coaster - Do not wear post pierced earrings. The head pads are high and your head is bounced from one side to the other.
Kumba coaster - Make sure you're wearing a good sports bra.
Montu coaster - Get a seat on the edge, not in the middle. This was a great ride!
Phoenix - This is a ship that SLOWLY goes upside-down and over (twice). This was the scariest ride for me. There's no G's to hold you in the seat and it goes slow. I did it twice! It's like the Looping Starship at 6 flags.
In 4D show Stine's Haunted Lighthouse - Too cool. You wear 3D glasses, they squirt water and at you and from behind, air on your feet, and the seat vibrates. Plug the holes in the seat in front of you if you don't want to get wet.
Skip the Italian Ice. It stains your mouth and it's not very good.
Skip the Moroccan Rock n Roll show. I'm not a prude, but I thought their attire was entirely inappropriate for Morocco.
Also see Roller Coasters at 6 Flags over Georgia and Disney.
Comparing two roller coasters: Montu vs. Kumba

My Roller Coaster (RR) rating:
Montu My RC rating ***** (the best) I rode this one first thing in the morning two times. It is easy to relax and let the coaster take you for a safe ride. Smooth transitions around the track. No jerks or bumps. Rode it again 8 hours later when I was a lot more tired and I felt RR sensations. 65 mph, upsidown 7 times.

Kumba My RC rating * (not so good) As soon as Kumba started I wanted it to be OVER! In Nov 2004 it was very shakey and rough. Head bounced from side to side a couple times so I tried to hold my head out from padded (?!) restraint. It was impossible to relax.
Montu seating position. Your feet dangle.
Kumba seating position. Notice absolutely no one standing in line. There was NO WAITING!

Montu - 60 foot vertical loop. You pull 3.85 G's. Phamplet said it was "one of the tallest inverted coasters in the world"

This has a outside loop.

Kumba - 135 foot drop 3.5 seconds of weightlessness.

This has double spiral inside loop.

Montu - The track twisted around. Overall it was a very smooth ride. A lot better than the Kumba.

Montu is a little like Batman at 6 flags.

Kumba - These people are upside-down in this picture.

Scorpion My RC rating ***

A fun fast little run.

Scorpion seating position.

Python My RC rating **- (no picture). Also a short and sweet coaster run.

Worth a short wait in line.

Rhino Rally - This was ride was really fun! They drive around, and the vehicle actually floats down the river.

We were VERY CLOSE to the animals. TIP: Sit on the left side of the truck.

WE ALSO SAW ANIMALS.

on the Serengeti Plains

Budweiser Clydesdale horses.

This is the Rhythms of the World Show. It was very good. Skip the show in Morocco.
For you safety, so you don't fall out of the roller coaster:
In 2004 I got a season pass to Busch Gardens. Went with April with May, stayed with her friends. Went again in November, 2004. Stayed at Days Inn - Maingate, 2901 E. Busch Blvd. Tampa 33612. Paid $92 for 2 nights, air 127, car 115, entrance 50, total $384.
What would it be like if you couldn't see such beautiful things?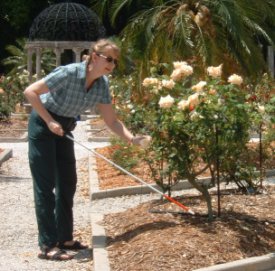 This page and all other pages in the http://www.mytrips.com web site, along with the journals, images, and photos are Copyright © 1997-2018 by Suzanna Travels. All publication rights are reserved. Email: web@ mytrips.com Remove the space after the @