Las Vegas, Nevada
Hoover Dam, Nevada & Arizona
December, 2004 and 1965
.
What a trip!

Lots of walking and late nights.

Major body abuse and I loved every minute of it!

The STRIP

S.
Stratosphere - X-Scream My RC rating ***** Good Thrill. You slide out over the edge of the tower 108 stories high, then it tips down. Other roller coaster pictures and comments: Busch Gardens, Disney, 6 Flags, Universal Islands of Adventure.
Freemont Street

Bull Ride - My RC rating ******

I was screaming the entire time! What a thrill and I only did the slowest speed.
Berlin Wall

27 miles divided West and East Berlin,

and another 66 mille long concrete wall cust through 192 streets

Entire barrier length was 96 miles.

Final Weeks:

Oct 18 - East German leader Honecker removed from power

Nov 4 - half a million protestors marched in East Berlin

Nov 9 - All borders to West Germany opend

Nov 10 - 2 million East Germans cross into West Germany

West Germans reclaimed homes they fled.

In city of Kleinmachnow 8,000 of the 11,000 residents were displaced.

In total about 4 million of Eash Germany's 17 million people were displaced

The Wall from East Berlin. I took this picture in 1979.

The Wall from West Berlin. I took this picture in 1979.

The largest piece of the Berlin Wall is now located in the Men's Bathroom in Main Street Station in Las Vegas.
How appropriate.
Hoover Dam - This is me when we visited the Dam in 1965:


This is me in 2004:


We did the deluxe Dam Tour. http://www.lasvegastours.com/ or http://www.lasvegasandmore.com/

Cost was $42. It included a buffet lunch, visit to the Ethel M Chocolate Factory, and walk through the "exquisite" Desert Botanical Gardens. Tour duration is 9 hours.

The tour leader did a contest to guess the number of gold courses in Las Vegas. I think I remember guessing "40" and I won the contest and a box a chocolate! I was in such great mood. I told a joke on the bus and that's when Martha wanted to pretend that she didn't know me. That's also when I realized that I have alot of my dad in me.
Secret Garden

Rare White Lions
Our hotel. The "volcano" goes off at night every 15 minutes till midnight.
We finally got to see it go off the last night in town.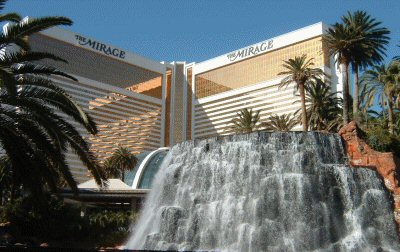 This page and all other pages in the http://www.mytrips.com web site, along with the journals, images, and photos are Copyright © 1997-2018 by Suzanna Travels. All publication rights are reserved. Email: web@ mytrips.com Remove the space after the @